The Grand Canyon, a mile-deep gash in the crust of Arizona's rust-red sandstone, has been a beloved tourist destination for over a century, and it's easy to see why.
With jaw-dropping views in every direction, easy car access, and a wide range of activities for even the choosiest outdoor lover, it's a must-see national park.
We've narrowed down the long list of Grand Canyon activities to eleven that are truly memorable. From overnight mule rides to easy hiking trails to historic railroad depots, here are some of the best things to do at the Grand Canyon.
Related Read: 8 Best Grand Canyon Hiking Tour Companies
Things to do in Grand Canyon National Park
1. Marvel at the Views
The one thing that has attracted tourists to the Grand Canyon for centuries, like moths to an orange sandstone flame, are its myriad of jaw-dropping viewpoints into the mile-deep expanse.
Mather Point, near the park's enormous main visitor center (a hub for shuttle services and home to an epic in-park movie theater) is the first glimpse of the canyon that most people see, staring out at dirt trails crisscrossing the landscape, the churning rush of the Colorado River, and, way down below, Phantom Ranch.
For the auto-touring crowd, Grand Canyon National Park offers several scenic drives, full of developed pullouts, with parking and paved, accessible trails — family and pet-friendly!
During the park's least busy months of December, January, and February, travelers can wheel around Hermit Road, stopping at Maricopa Point, Pima Point, and the stone ruins that give the road its name. All other months? Hop onto a free park shuttle bus and enjoy the ride.
If you're looking for something more off-the-beaten-path, Desert View Drive stays open year-round for private vehicles and offers a quieter look at the less-trammeled eastern edge of the park, with picnic areas and stunning panoramic vistas at Maki, Grandview, and Navajo Points.
Related Read: Visiting the Grand Canyon in Winter: Things to Do & Where to Stay
2. Bike the South Rim
One of the best accessible trails in the world is the South Rim's multi-use pathway, a 13-mile (one way), mostly paved, and mostly level track that cruises along the canyon's edge from the South Kaibab Trailhead all the way to Hermit's Rest.
Biking this trail is one of the best ways to escape the summer maze of cars and explore the canyon on your own terms, feeling the wind on your face and stopping at will, whenever a tantalizing viewpoint beckons.
Bright Angel Bicycles not only rents traditional and eBikes, but they also offer guided tours of several sections of the South Rim Trail, great for cyclists who want a side of history and geology with their breathtaking views.
Related Read: What to See on an Awesome Phoenix to Grand Canyon Road Trip
3. Ride the Rails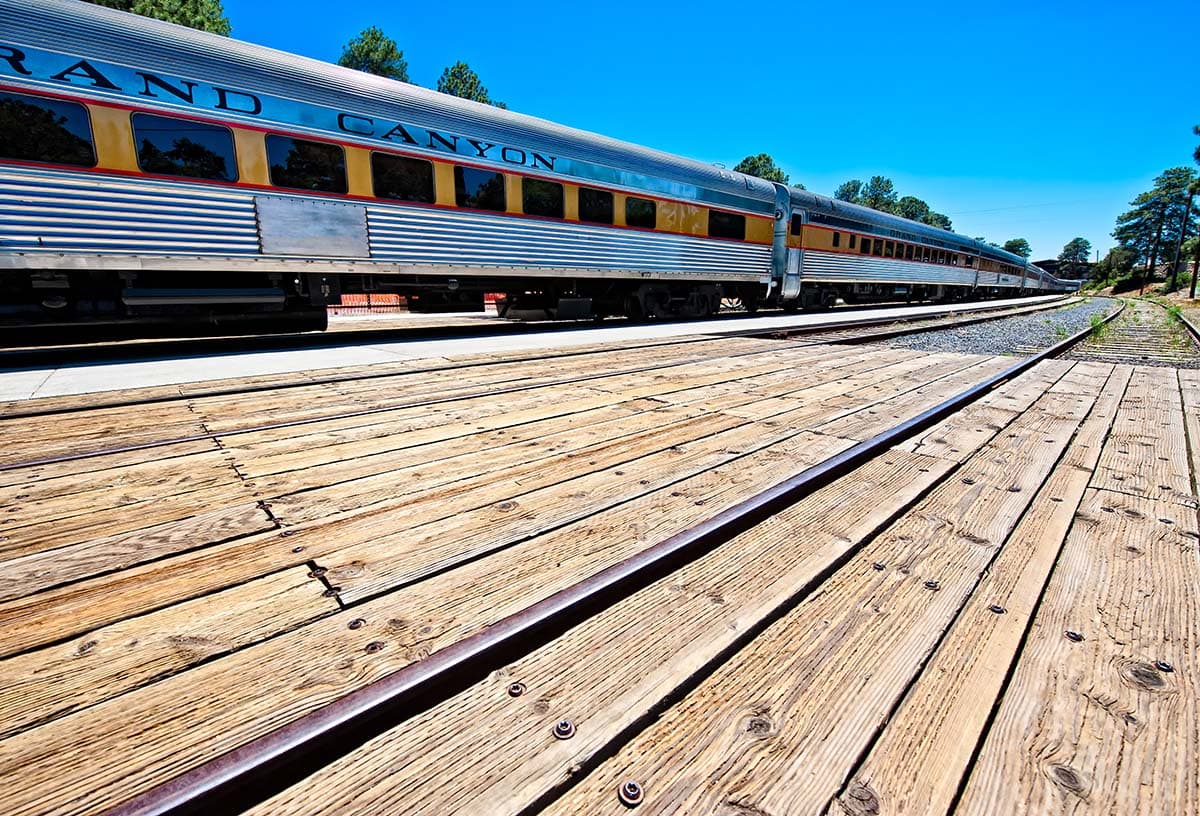 Travel along the same railroad tracks that have been bringing curious travelers to the Grand Canyon for over 120 years on the Grand Canyon Railway. Immaculately maintained vintage trains, some dating back to the 1920s, leave the historic depot in Williams each morning.
From there, guests will near the canyon's South Rim with three hours to explore nearby trails, shops, and architectural hotels. Trips return back to Williams in the early evening.
Along the way, entertainment abounds. Actors playing the Cataract Creek Gang are known to square off with the Marshall, and Wild West-style musicians can be found roaming the train cars, serenading guests with fiddle and folk tunes. It's a smile-inducing, all-day affair for locomotive lovers, young and old.
Related Read: 8 Best Grand Canyon Airbnbs for Adventurous Travelers
4. Hike Below the Rim
While the national park's official stance is to not recommend hiking down to the Colorado River and back in a single day, there are still a handful of phenomenal hikes that offer visitors a unique perspective on the area's sedimentary strata — that's the striped layers of rock, in layman's terms.
Hikers wanting to explore the infamous Bright Angel Trail can saunter down to the Three Mile Resthouse before refilling their water and slogging back up 2,000 feet to the canyon's rim. The aptly named Ooh Aah Point is a great option for trekkers looking for a shorter, two-mile jaunt.
And, lastly, those looking for a less-trammeled all-day affair can drive or shuttle to Hermit's Rest and tramp down the 3.5-mile (each way) path to Dripping Spring.
Related Read: 7 Best Grand Canyon Hiking Tour Companies
5. Explore the Quieter North Rim
Roughly 17% of Grand Canyon National Park's annual visitors venture to the less accessible North Rim, which means that, for the intrepid traveler, it can be a gold mine of uncrowded trails and attractions.
Meander along an easy, half-mile trail to Bright Angel Point, soak up an epic sunset on the patio at Grand Canyon Lodge, or chase waterfalls on a leg-busting all-day hike out to Roaring Springs.
If you're planning a North Rim visit, check the road conditions before you head out; this area routinely closes from November through mid-May, due to snowfall.
Related Read: 12 Best Hikes in Arizona, From Desert to Tundra
6. Sleep on the Canyon Floor
For travelers who really want to get down and dirty at the Grand Canyon, there are two lodging options at the very bottom of this storied ravine. Bright Angel Campground is a backpacker's dream – offering flush toilets, running water, and picnic tables for savvy hikers lucky enough to nab a site.
Meanwhile, neighboring Phantom Ranch, built in 1922, has more creature comforts, with shared dormitories and storybook cabins nestled alongside Bright Angel Creek. There's also a famous canteen that serves up hearty, mouthwatering breakfasts and dinners to campers and cabin dwellers alike, that is, if you can grab a reservation.
Related Read: 10 Best Backpacking Trips in Grand Canyon National Park, Arizona
7. Hop on a Mule
There are several park-sanctioned concessionaires that offer mule rides for animal-loving visitors, ranging from short, half-day excursions to multi-day packer adventures.
These trips truly offer travelers the best of both worlds – the chance to stand in awe of the scale of the canyon from way below the rim's edge without having to endure the leg burn of hiking back up at the end of the day.
Xanterra offers epic 2-hour "vista" mule rides for day-trippers on the South Rim and coveted overnight journeys down to Phantom Ranch (which can sell out up to 15 months in advance).
On the North Rim, Canyon Trail Rides offers a mellow, 1-hour rim tour, as well as trips to Uncle Jim's Point and Supai Tunnel for park visitors who want to descend below the cliff's edge.
Related Read: 13 Waterfalls in the Grand Canyon You Won't Believe are Real
8. Embrace History and Art at Kolb Studio
In 1905, the Kolb Brothers built and maintained a thriving photography business from a small, handmade wooden structure perched on the lip of the Grand Canyon's South Rim.
They were some of the first people to photograph tourists as they began their harrowing mule-ride down what is now the Bright Angel Trail, and they were the first filmmakers to capture their harrowing 101-day adventure through the canyon, boating down the Colorado River.
Now, Kolb Studio serves as a gift shop, museum, and art gallery dedicated to preserving the legacy of these two daring individuals. It's easily accessible from Grand Canyon Village, near Bright Angel Lodge.
Related Read: 12 Magical Glamping Sites Near the Grand Canyon South Rim
9. Raft the Colorado River
Probably the most infamous rafting destination on the planet, any whitewater addict or paddling phenom would be remiss if they didn't set forth along the roaring water of the mighty Colorado. Many river concessioners are allowed to operate inside the park itself, with trips ranging from mellow 3-day trips on smaller rapids to all-out, 18-day extravaganzas.
Wilderness River Adventures operates both motorized and oar-powered rafts along the entirety of the Grand Canyon, stopping for Native ruins and wildlife sightings, while Western River Expeditions tacks on a helicopter landing and dude ranch stay to many of their outings.
All trips book up well in advance, so plan ahead for this once in a lifetime experience. The cost and content of each trip varies greatly, but no matter which you choose, you'll feel as though you're floating through a postcard.
Things to do Outside the National Park
10. Saunter Over the Skywalk
Though not inside the national park itself, the Grand Canyon West Skywalk offers an experience like no other – the chance to feel as though you're levitating 4,000 feet above the ground on a crystal-clear walkway that juts out 70 feet from the bright red rim of the ravine. Go early — this spot fills up after 11am.
There's also a cultural exhibit for visitors to Grand Canyon West that focuses on the Hualapai Nation and their significance to the Grand Canyon area, merging history with the sweeping landscape.
12. Get Your Kicks on Route 66
Often thought of as "the most Route 66iest town in America," Williams is a must-see for any road trip lover passing through Grand Canyon's South Rim area. Not only is it the jumping-off point for the Grand Canyon Railway, it's also home to vintage car shows, malt shops, dive bars, souvenir stores, and a Labor Day Rodeo.
Lodging ranges from quirky Airbnbs to budget hotels to cozy cabins and quaint bed and breakfasts, and the town has all the vintage architecture and Americana fare you could ever dream of.
A half-hour east of Williams, Flagstaff has its fair share of Route 66 nostalgia too, with it's lively historic downtown as the most popular destination. But don't sleep on the elongated stretch of highway heading out to the east side of town, which is home to lots of vintage motels (so much neon!) and classic 66 landmarks like Miz Zips, the Museum Club, and the Crown Railroad Cafe.
Explore Northern Arizona
Sign up for Weekend Wanderer to join 10,000+ readers getting epic travel ideas every week.
Was this article helpful?
---