We research, evaluate and select travel destinations based on a number of factors, including our writers' experience, user reviews and more. We may earn a commission when you book or purchase through our links. See our editorial policy to learn more.
Was this article helpful?
---
I know why you're here. You're planning a backpacking trip into the infamous Grand Canyon. And I'm here to help figure out where to go.
With hundreds of miles of trails, dozens and dozens of routes to choose from, it can be overwhelming. Don't worry, I've got you. As an avid Grand Canyon hiker, I've narrowed down ten killer trips for you to consider.
This is the Grand Canyon we're talking about, so none of them are easy, but the list goes (more or less) from easiest to hardest. If you're a first-time Canyon backpacker, definitely start with #1, and work your way up until you're out there eating miles for breakfast on the toughest trails in the Big Ditch.
A few essential guidelines to keep in mind as you plan your Grand Canyon backpacking trip:
All backpacking trips in Grand Canyon National Park require a backcountry permit
For the more popular routes and in peak seasons, you'll need to submit to the permit lottery about 4 months out
Backpacking in the Grand Canyon is dangerous, so avoid the heat of summer — spring and fall are best
Study your route thoroughly before you go, bring the ten essentials, pack LOTS of water, and travel with at least one friend
Follow Leave No Trace principles
Last but not least….have the EFFING TIME OF YOUR LIFE
Alright, let's do it!
1. South Kaibab – Bright Angel Loop
Why you should go: Lose your Canyon virginity on this classic hike on the canyon's "corridor trails."
Type: Shuttle
Distance: 16.3 miles
Elevation gain: 4,800 feet
Recommended number of nights: 3
The "easiest" backpacking trip on the list, the South Kaibab – Bright Angel Loop is still a hell of a challenge for most folks. If you've never backpacked the Grand Canyon before, I definitely recommend this for your first trip. I also like three nights as a sweet spot of giving a more leisurely pace while also allowing time to enjoy an inner canyon day hike without a 40-pound pack on your back.
This route starts by descending the South Kaibab Trail, a steep and scenic "knee-buster" that will get you down to the Colorado River in just 6 miles. No matter what you'll have to put your name in for a lottery, whether you want to camp at Bright Angel Campground or stay at Phantom Ranch.
Following a three night itinerary, you'll have a layover day to use for a day hike. Consider either the challenging 12-mile round-trip hike to Ribbon Falls or the easier 4-mile round-trip hike into lower Phantom Canyon.
On the hike out the Bright Angel Trail, I recommend spending a night at Indian Garden Campground, which breaks the nearly 10-mile hike to the rim into two more manageable sections. Plus, you're more likely to have the energy for a sunset hike out to Plateau Point (3.5 miles round-trip from Indian Garden).
Because the hike starts and ends at different trailheads, I recommend parking at the South Rim Visitor Center. Ride the Orange Bus from the VC to the South Kaibab Trailhead, and ride the Blue Bus from the Bright Angel Trailhead back to the VC.
Related Read: 11 Unforgettable Things to Do at the Grand Canyon
2. Rim-to-Rim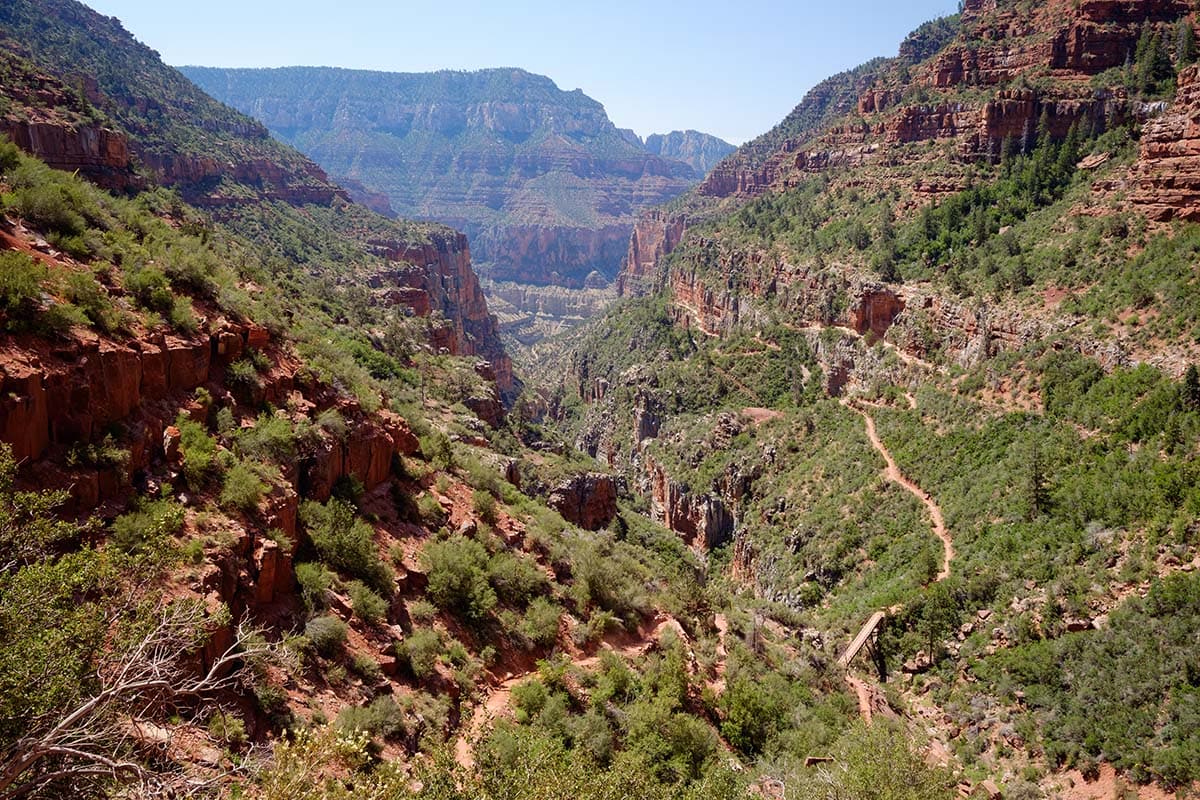 Why you should go: Complete the Canyon's most famous bucket list item, and have a great time along the way.
Type: Shuttle
Distance: 24 miles
Elevation gain: 5,100 feet
Recommended number of nights: 3 or 4
Ask a random person on street for the name of a Grand Canyon hike, chances are they'll say Rim-to-Rim. It's both a right of passage for Canyon enthusiasts and an accomplishment akin to climbing a big mountain. Of course, there are multiple ways to do Rim-to-Rim, including the Rim-to-Rim-to-Rim — a 40+ mile jaunt starting at the South Rim and traversing over to the North then back again.
However, my recommendation for the typical backpacker is the easier north to south shuttle on the North Kaibab Trail and Bright Angel Trail. Because the North Rim is closed to car access for much of the winter and spring, this route typically can only be done from late May to early November. With a time frame including mostly hot weather, ascending the Bright Angel Trail — with its water sources and shadier trail — is safer than the dry, sunbaked South Kaibab Trail.
I recommend three nights, or four if you want a layover day to break up the grind of carrying a heavy pack every day. Backcountry campgrounds on the Rim-to-Rim route include Cottonwood Campground, Bright Angel Campground, and Indian Garden Campground. Plan to stay a night at each one to keep each days work on the trail reasonable.
Related Read: 11 Backpacking Trips in the U.S. That Should be on Your Bucket List
3. Hermit Trail
Why you should go: get a great introduction to backpacking the threshold trails with easy access from the Village.
Type: Out-and-back
Distance: 19 miles
Elevation gain: 4,500 feet
Recommended number of nights: 2 or 3
Named after "the hermit" Louis Boucher — a prospector who lived in Hermit Basin from 1891 to 1912 — the Hermit Trail offers hikers a more rugged experience away from the crowds of the hiking corridor.
Be sure to pack plenty of water on both the descent and ascent, because while Santa Maria Spring usually has water, it is unreliable in the dry seasons. The Hermit Trail ends at a junction with the Tonto Trail after 7 miles, so be sure to turn left here and hike on another 1.2 miles to Hermit Creek Camp.
From here it's another 1.5 miles walking along the bed of Hermit Creek down to the Colorado River at Hermit Rapids. You'll cross the small creek multiple times, so be prepared to get your feet wet.
For campsites, you have the choice of Hermit Creek Camp or Hermit Rapids. Of course, you can camp at both — just keep in mind that it's a long hike from the river to the rim, so I recommend camping at Hermit Creek Camp the night before you hike out. For less experienced Grand Canyon hikers, the optimal trip is two nights at Hermit Creek, with an easy 3-mile day hike to Hermit Rapids on the layover day.
Related Read: 8 Best Grand Canyon Hiking Tour Companies
4. Hermit, Tonto, & Bright Angel Loop
Why you should go: get a good-sized taste of hiking the Tonto Trail — the bread and butter Grand Canyon backpacking loops.
Type: Shuttle
Distance: 26 miles
Elevation gain: 4,600 feet
Recommended number of nights: 2 to 4
The Tonto Trail runs for 70 miles in the inner canyon atop the Tonto Platform, forming a relatively flat traverse on the south side of the river. However, because the trail is so long, most hikes on the Tonto only use part of trail — such as this route. This stretch is a great way to get a feel for the Tonto, especially if you plan on working your way up to the 32-mile stretch of the Tonto known as the Gems.
The Hermit, Tonto, & Bright Angel Loop can be done either direction, but I prefer down Hermit and up Bright Angel. Of course, there are also plenty of variations you do, like cutting it to two nights and 24 miles by skipping Hermit Creek Camp, then just camping at Monument Creek and Horn Creek.
A good reason to do this as a mellower three or four night trip is the day hike opportunities. While the direct route doesn't go to the Colorado River, its only a three-mile round-trip jaunt down to the rapids from either Hermit Creek Camp or Monument Creek Camp. I recommend camping at Hermit Creek, Monument Creek, and Indian Garden, which all have reliable water sources.
Related Read: An Adventurous Los Angeles to Grand Canyon Road Trip Itinerary
5. South Bass Trail
Why you should go: Get in touch with your inner Bill Bass and spend a couple nights on the banks of the mighty Colorado.
Type: Out-and-back
Distance: 15.6 miles
Elevation gain: 4,800 feet
Recommended number of nights: 2
Steeped in both ancient and pioneer history, the South Bass Trail is a more remote option that history buffs will love. Just be prepared for a rugged drive to the trailhead that requires a high-clearance vehicle — and paying a fee to cross a corner of the Havasupai Reservation. In fact, the drive in might be more harrowing than the hike down to the river.
Hiking on South Bass is pretty straightforward — although this unmaintained "threshold" trail is certainly rougher than the hiking corridor, and you may have to navigate some wash outs. Once you reach the Colorado River, livin' is easy. Just be prepared to collect water out of the sometimes silty Colorado — hint: bring a pre-filter.
Of course, to make it worth your while to come to his remote part of the Canyon, you'll want to spend a couple nights, and maybe spend your layover day taking a day hike over to Serpentine Canyon via the Tonto Trail.
Related read: 6 Breathtaking Hikes on the Grand Canyon's North Rim
6. Escalante Route
Why you should go: take a hearty stroll alongside the Colorado River.
Type: Shuttle
Distance: 26 miles
Elevation gain: 7,000 feet
Recommended number of nights: 2 to 4
Okay, okay — calling this a "stroll" is underplaying one of the tougher hikes in the eastern Grand Canyon. But if your dream is to hike and camp along the Colorado River for multiple nights, the Escalante Route should be on your radar.
The Escalante Route traverses the banks and hillsides above the Colorado for 7 miles — forming a rough eastern extension of the Tonto Trail. However, with frequent washouts and other obstacles requiring route-finding and problem-solving, this is much more demanding of a hike than your typical Tonto jaunt.
To access the route, you'll use the Tanner Trail, a raggedly 7.5-mile descent. After this knee-buster, most hikers camp at Tanner Beach, although if you're squeezing this trip into two nights, it's wise to push on to Cardenas Beach for the first night. The stretch of Escalante from Tanner to Cardenas is an easy walk by the river — savor it.
The next stretch is the "meat" of the route, where the route climbs through rough terrain as you traverse Escalante Creek and Seventyfive Mile Canyon. There are multiple campsites along the route which you can use to spread this trip out over more nights. Most likely you'll want to camp at Red Canyon the last night so you're ready for the brutally steep 7-mile hike out on the New Hance Trail.
7. Thunder River, Tapeats Creek, & Deer Creek
Why you should go: navigate a rugged hike into a wonderland of slot canyons and waterfalls.
Type: Out-and-back or Loop
Distance: 24+ miles
Elevation gain: 7,300 feet
Recommended number of nights: 3 to 5
A beautiful collective of creeks and waterfalls await, if you're willing to pay the price in sweat equity. Yes, you will definitely sweat because the trailhead for the epic hike is only accessible from mid-May to late-October. Scorching temperatures are nearly guaranteed on this hike, so begin with plenty of water at the start, and consider caching some reserves along the trail for your hike out.
Most hikers start out on Bill Hall Trail, from which it's a parched 8-mile hike from the car to the roaring oasis of Thunder Spring. However, the descend down Bill Hall is exposed — with 15-foot scramble sometimes requiring packs to be lowered by rope — so if you're afraid of heights, you may consider hiking in via the Indian Hollow Traihead. The caveat there: you'll add 2.5 miles each way to the hike, which can be a killer during high heat.
Once you navigate your way down the the creeks, you'll enjoy cool water and gorgeous scenery. The loop can be done either direction, but most hikers go clockwise, as Thunder Spring is the closest water source to the trailhead on the hike in.
It's possible to do this as a loop — for those comfortable with heights — via an exposed but well-traveled route connecting Lower Tapeats Camp to Deer Creek. It's also respectable to instead backtrack back through Surprise Valley to reach Deer Creek's enchanting narrows and waterfalls.
Related Read: 13 Waterfalls in the Grand Canyon You Won't Believe are Real
8. Clear Creek
Why you should go: visit a remote section of the Tonto Platform, with a chance to see Arizona's tallest waterfall.
Type: Out-and-back
Distance: 32 miles
Elevation gain: 9,100 feet
Recommended number of nights: 4
The Clear Creek Trail spins off from the North Kaibab Trail just north of Phantom Ranch. Most hikers come down via the shorter South Kaibab, and if you have it in your spirit, you could hike all the whole 15-mile trek out to the Clear Creek Camp in one day. However, mortals like myself will opt for a night at Bright Angel Campground on the way in — and out for that matter.
Once you're on the Clear Creek Trail, you'll find the solitude is quite stark compared to the corridor trails you hiked in on. From the junction with North Kaibab, it's a 8.5-mile march on the Tonto Platform to Clear Creek Camp. There's no reliable water between Phantom Ranch and Clear Creek Camp, so plan accordingly.
The peak season for this trip is March and April when hikers hope to catch a glimpse of Cheyava Falls — the tallest waterfall in both Grand Canyon and Arizona — which only flows in the spring after substantial winter snowfall on the North Rim. From Clear Creek Camp, it's a 10-mile round trip bushwhack up to the base of Cheyava, which is no easy task. If you opt for a fall trip to enjoy more solitude — and a better chance a snagging a permit — consider a day hike downstream along the trickling creek.
9. Nankoweap Trail
Why you should go: test your grit on the harrowing trail down to Nankoweap Beach.
Type: Out-and-back
Distance: 25 miles
Elevation gain: 7,300 feet
Recommended number of nights: 2 or 3
With a reputation as the toughest of the official trails in Grand Canyon National Park, the Nankoweap Trail is not to be taken lightly. It's wise to tackle this expert's-only route only after you've done other hard hikes — the Escalante Route as minimum prerequisite.
Nankoweap has two trailheads, with the upper trailhead only accessible when the North Rim is open — typically mid-May to late-October. For the rest of the year you must use the lower trailhead, a remote location 20+ miles into the maze of dirt roads in House Rock Valley.
I recommend avoiding this trail in the heat of summer, so the stats above reflect a hike from the lower trailhead. No matter the time of year, be prepared for a long, bone-dry hike. Load up with lots of water for the hike in, as you don't want to run out before reaching the Colorado River. It's also smart to cache a few quarts midway down the trail for the hike out.
Once you're at the bottom, be sure to climb up to the Nankoweap Granaries, an epic Ancestral Puebloan cliff dwelling reachable by a hefty half-mile scramble.
10. The Gems
Why you should go: Tackle the ultimate Tonto trek as you weave in and out of dozens of beautiful side canyons.
Type: Shuttle
Distance: 45 miles
Elevation gain: 10,000 feet
Recommended number of nights: 6 or 7
Considered the crown jewel of Grand Canyon backpacking by some, the Tonto between South Bass and Boucher is a great place to find seclusion. This stretch is known as the "Gems" as you pass through Ruby, Turquouse, Sapphire, Agate, and Topaz Canyons. While this route can be done either direction, I recommend going west to east and arrange to be dropped off at the South Bass Trailhead, so that your exit is simply riding the Red Bus back from the Hermit Trailhead.
You have the option of exiting using either the Boucher Trail or the Hermit Trail. While the Hermit route tacks on a few extra miles to the trip, I recommend it as it is much easier than the brutal ascent up the Boucher Trail. Plus, Santa Maria Spring is pretty reliable — providing peace of mind after a week of scrounging for potholes on the Tonto.
Speaking of which, this long and unmaintained route is often parched, so hiker's must have expert route-finding and water-finding abilities. Detours down side-canyons to the Colorado River to collect water may be required in especially dry conditions. Spring is typically best time of year for the Gems, when water pockets are more common and the weather is usually mild.
Explore the Grand Canyon State
Get epic travel ideas delivered to your inbox with Weekend Wanderer, our newsletter inspiring more than 10,000 readers every week.
Was this article helpful?
---