We research, evaluate and select travel destinations based on a number of factors, including our writers' experience, user reviews and more. We may earn a commission when you book or purchase through our links. See our editorial policy to learn more.
Was this article helpful?
---
A wonderland of boulders, cacti, and spiny, Seussian trees, Joshua Tree National Park is a haven for desert lovers and backpackers of all ages.
If you fancy yourself a desert aficionado (or just really, really love scrambling around on big rocks), a simple day trip through this storied park probably isn't going to cut it.
For one thing, you'll miss out on the incredible night skies and their sweeping views of the Milky Way — Joshua Tree is certified as an International Dark Sky Park. It's also a fact that sipping your morning coffee while watching the sun rise over far-flung peaks is a hell of a lot better than waking up inside a dingy motel room.
Though the park has crawled its way onto the top-ten most visited list in recent years, few visitors explore more than a mile or two from their vehicles, and even then, it's generally in high-use frontcountry areas. Backpacking into Joshua Tree's 792,623 acres is a fantastic way for hikers of all experience levels to escape the crowds and have their cup filled by the soul-stirring wonders of nature.
Related Read: When is the Best Time to Visit Joshua Tree National Park?
Backpacking in Joshua Tree: Need to Know
Unlike many national parks, Joshua Tree allows for backpacking pretty much anywhere that meets these three requirements: 1 mile or more from roads, 500 feet from trails and water sources, and not a day-use only area. So yes, in theory, you could wander out exactly one mile from a road and pitch your tent anywhere in this gorgeous desert expanse, provided you are following Leave No Trace principals.
No fires are allowed outside of designated, government provided fire rings in Joshua Tree, and, yes, that means that there's no collecting of "dead and downed" wood. The arid desert ecosystem is fragile, and travelers here are required to leave what they find, pack out all trash, and cook and camp on durable surfaces, such as flat rocks and boulders.
Many popular overnight hiking routes have sections that are off trail, so carry a map and compass (or a GPS device with downloaded directions) on all treks.
Lastly, this is the desert! Water is scarce, and the park notes that water sources should be reserved for wildlife only. Pack in all the water that you'll need for your entire trip (typically 4L per person, per day), as no potable water is made available to campers once in the wilderness.
When in doubt, call the visitor center or ranger station to check current conditions.
The Best Time for Backpacking in Joshua Tree
Due to its warm, dry desert climate, fall, winter, and spring are going to be your best bet for a fun, successful, and non-110 degree backpacking trip. Fall (44 to 94 degrees) is when temperatures begin to drop and hiking becomes pleasant again. October and November are great months for climbing, hiking, and backpacking. Winter (38 to 66 degrees) is an ideal season to visit, especially when other California locales are still covered in snow.
Lastly, spring (43 to 86 degrees) is temperate, warmer, and features near-perfect weather for an overnight camping trip. Plus, if you're lucky, you might catch the annual wildflower bloom from February through April.
Related read: Your Guide to Visiting Joshua Tree National Park in the Winter
Joshua Tree Permits and Reservations
Unlike most popular national parks, Joshua Tree does not require any permits or reservations for entry or overnight trips.
The park only requires that all backpackers sign in at one of 13 backcountry registration boards scattered throughout the park, so that they have a general idea of where hikers are and which vehicles they shouldn't tow.
These boards are typically located at the most popular backpacker trailheads, and visitors should be prepared to list their name, car info, trip length, and general planned route.
Best Backpacking Routes in Joshua Tree
1. Boy Scout Trail
Why you should go: Perhaps the most quintessential wilderness trail in Joshua Tree, the Boy Scout Trail is a great beginner backpacking trip, full of epic boulders and thousands of the park's namesake yuccas.
Distance: 8 miles (point-to-point)
Elevation gain:

219 feet

Difficulty:

Easy
Aptly named for its lack of hardcore elevation change and its family-friendliness, the Boy Scout Trail is one of the most popular backpacking routes in all of Joshua Tree National Park. For starters, hikers have the option of beginning at the Indian Cove Trailhead or the Keys Ranch Registration Board, and after just one mile of walking, a bevy of dispersed, high desert campsites emerge.
Pitch your tent right next to a pile of scramble-worthy monzogranite boulders or amidst a grove of spiny, green Joshua Trees — just make sure you're at least 500 feet from the trail when you park it for the night.
If you've got two vehicles, you could park one at either end and complete the trail as a point-to-point hike, or you could simply saunter to the trail's center point, set up a base camp, then return the way you came in the morning. Militant mile-crushers might want to cache water at one end of the trek, pick it up, and double their mileage to a cool 16 on the return journey. It's a choose-your-own adventure trail. And that, we love.
Related Read: The 10 Best Hikes in Joshua Tree National Park
2. California Riding and Hiking Trail
Why you should go: This 37.6-mile point-to-point stretch of one of California's iconic long trails traverses a huge swath of the park, is horse-friendly, and is big on mountain vistas.
Distance: 37.6 miles (point-to-point)
Elevation gain:

3,175 feet

Difficulty:

Moderate
For intermediate backpackers who love the desert and want to try their hand at a longer, 2-4 day journey, there's no better place to start than the California Riding and Hiking Trail. First off, you're never more than a few miles from a road, meaning that water caching and bailing in case of emergency are easier than they might be on a less-trammeled, more remote path.
To plan a successful excursion along this route, you'll need two cars, as the trail spans 37.6 miles, point-to-point. Park one at the North Entrance Station, then steer the other to Black Rock Campground, where you'll start. Along the drive, cache your water. The park allows visitors to cache water and food for up to 14 days if it is labeled with your name, phone number, and the date you intend to pick it up. Ryan Campground and Belle Campground are where most people elect to store their H2O.
Though it may look like a beast at first glance, the elevation gain on this trail is incredibly moderate for the number of miles you'll be hiking. Choose your route with careful consideration of the heat, your water caches, and knowledge of how many miles you can safely walk each day.
Here's a sample itinerary: Black Rock Campground — four miles past Upper Covington Flats – one mile past Ryan Campground — one mile past Belle Campground — North Entrance Trailhead. A plan like this ensures that you're never camping without water more than 1 night in a row and that you're hiking 7-11 miles per day.
Related Read: 11 Backpacking Trips in the U.S. That Should be on Your Bucket List
3. Quail Mountain via Juniper Flats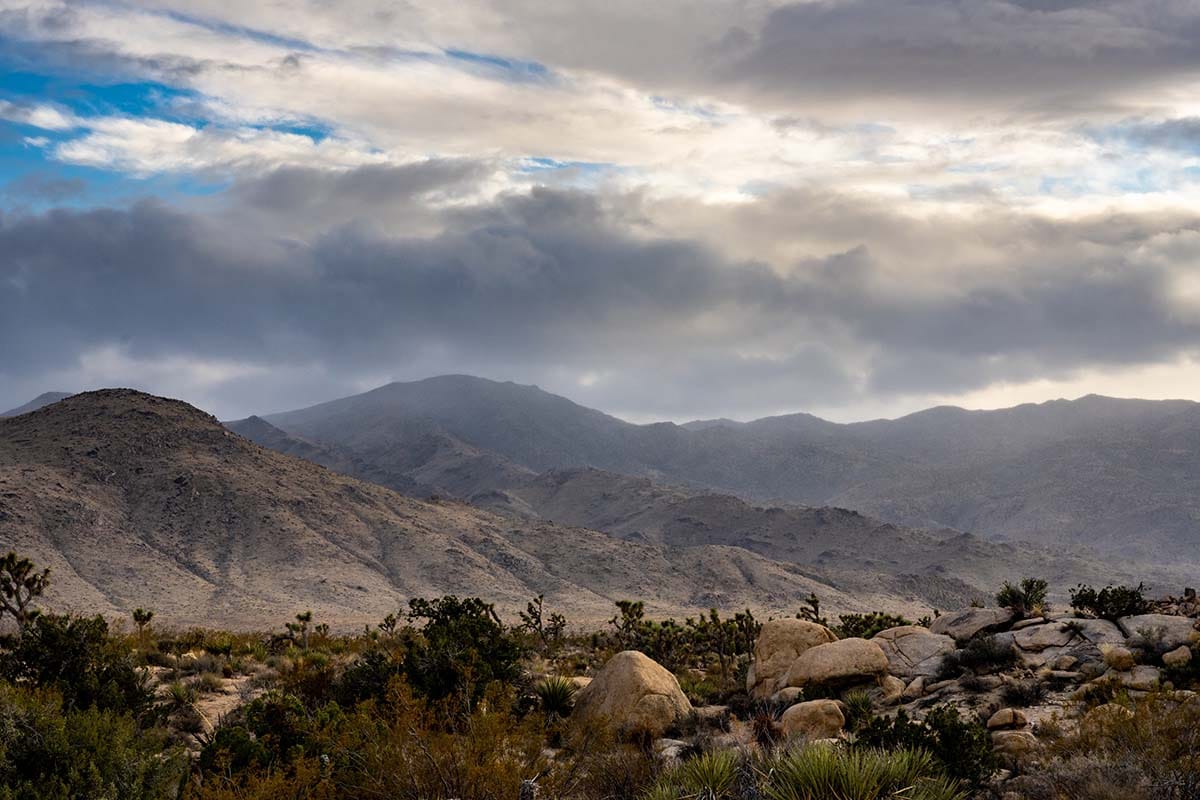 Why you should go: This lollipop loop serves up breathtaking mountain views from the highest point in Joshua Tree National Park.
Distance: 12.8 miles
Elevation gain:

1,679 feet

Difficulty:

Challenging
If you're looking to sleep under the stars in Joshua Tree and want to peak bag while you're at it, this trek up to the summit of Quail Mountain (elevation 5,816 feet) can't be beat. Start off by registering your name and vehicle at the Juniper Flats registration board, then load up your water (at least 4 liters per person, per day) and get ready to climb.
The first 4 miles of this hike are along the California Riding and Hiking Trail. And, since camping here will be in dispersed sites that you'll need to locate yourself, like most backpacking in Joshua Tree, it may be a good idea to drop your heavy gear and set up a base camp roughly 5 miles in, at the end of an old Jeep road called Stubby Springs Trail.
From there, you could opt to circle up and around the summit for a glorious sunset view (the trail will be spotty, at best) or tag the peak in the cooler morning hours after bedding down among the boulders and spiky Joshua Trees below. Either way, you'll gaze out at incredible views of Mount San Gorgonio and Mount San Jacinto.
Related Read: The 20 Best Places to Camp in Southern California
4. Conejo Well and Eagle Mountains
Why you should go: Check out a historic desert miners' well and panoramic mountain views on this moderate trek, fit for solitude-seekers.
Distance: 13.5 miles
Elevation gain:

1,122 feet

Difficulty:

 Moderate
Beginning at the Cottonwood Springs, on the less touristed south side of the national park, register at the backcountry registration board, then head northeast, towards the campground and away from the trail to Lost Palms Oasis.
Keep your eyes peeled for coyotes and roadrunners as you amble around the western flank of Eagle Mountain. Few adventurers embark on this trek each year, and it's a wonderful overnighter for anyone looking to enjoy the park's peaceful wilderness in solitude. Bring a map or a GPS device with you — this trail mostly follows old Jeep tracks left by miners.
To keep the mileage simple, look for a durable campsite on a large, flat boulder when you near Conejo Well at the end. Go February through April to get the best wildflower show in town all to yourself.
5. Black Rock Canyon to Panorama Loop
Why you should go: Hike clockwise and stare slackjawed at desert peaks in every direction on this easy backpacking trip, fit for all ages.
Distance: 6.7 miles
Elevation gain:

1,223 feet

Difficulty:

Easy
Joshua Tree's Black Rock Wilderness is so popular that it has its own website for visitors to plan their overnight adventures. It's filled with so many of the things that make this desert park so memorable – crumbling, rolling hills, thorny green Joshua Trees, and flowering cholla cacti.
Though the hike is rated as a moderate day excursion, we've downgraded it to easy for a two-day overnighter, since travelers will be able to split the elevation between the days. First register at the trailhead, then set off on the Black Rock Canyon Trail, heading south. Once you reach the junction with the Panorama Loop Trail (2 miles in), you can either set up camp 500 feet off the trail or continue uphill to look for a dispersed site with better views of far-off Mt. San Jacinto.
We recommend going clockwise around the loop section of the trail and tacking on a side journey up to Warren View if your legs are feeling strong. Then, return to your base camp and celebrate under a canopy of twinkling stars.
Related Read: 14 Epic Campgrounds Near Los Angeles, California
6. Mastodon Peak and Lost Palms Oasis
Why you should go: Explore the ghostly remains of Mastodon Mine and see the largest stand of California fan palms in Joshua Tree National Park on this moderate trek.
Distance: 8 miles
Elevation gain:

1,276 feet

Difficulty:

Moderate
Every once in a while, you come across a desert hike that really packs a punch. This 8-mile excursion to a hidden oasis, surrounded by boulders, is one such trail.
Register at the Cottonwood backcountry registration board, then hold onto your sunhat and get ready for an adventure. After a brief, .7-mile stroll along a mostly flat path, turn left and begin ascending towards Mastodon Peak. Drop your pack below the steepest section of the scramble, and be sure to enjoy the sweeping views from the top. Then carefully climb down, grab your pack, and meander through the ruins of abandoned Mastodon Mine, a former gold mine once owned by the George Hulsey family that dates back to the 1930s.
When you've had enough spooky mining history, backtrack to the main trail for Lost Palms Oasis and follow this well-worn track for roughly three miles as it undulates along boulder-strewn hills until you see the rippling tips of fan palms down below. Veer right and slowly scramble down to the sandy wash below, setting up your tent amidst the towering palm trees (do not attempt this overnight trip if there are flash flood warnings).
In the morning, quietly sip on your coffee or tea while trying to spot an elusive bighorn sheep, hopping between the craggy rocks all around. When you've had enough of this lush pocket of Joshua Tree, simply turn around and retrace your steps back to the car.
Explore More
Get epic travel ideas delivered to your inbox with Weekend Wanderer, our newsletter inspiring more than 10,000 readers every week.
Was this article helpful?
---