If there's any national park that begs the question "When should I visit" more than any other, it's certainly Death Valley.
To avoid roasting like a potato under the insufferable desert sun, you may want to avoid summer in the valley sands. But if you skip summertime, will you be missing out on the best of what Death Valley has to offer?
The best time to visit Death Valley National Park is a personal question. There is no right answer, but there are plenty of reasons why you may choose one season over another.
Related: 8 Amazing Day Trips From Las Vegas, Nevada
Travel Tips for Death Valley
There are multiple campgrounds and lodging options available in the park, but they tend to fill fast during holiday weekends, and many are closed during the summer. Be sure to reserve your intended space ahead of time, and look to the surrounding towns or (even nearby Las Vegas) for further lodging opportunities.
Be prepared to survive. This isn't your typical walk in the park. Death Valley is a vast, hazardous landscape and you may need to rely on your own wits and supplies in an true emergency situation.
That said, bring and drink plenty of water. Even if you don't work up a sweat, the dry air and excess heat will dehydrate you quickly. You'll need at least one gallon per day, and, other than a few visitor-friendly outpost points, there is little-to-no water in the park.
Cell phones will not work in many areas of the park. If you're planning to traverse the backcountry, you'll need to be self-reliant. A GPS communication device is recommended for remote travel (as is a healthy understanding of backcountry skills.)
Best Time of Year to Visit Death Valley
Each person will have their own favorite time to visit Death Valley National Park, but there are distinct advantages to touring the park at certain times of the year. Here's what to expect each season.
Autumn: The Best Time for Outdoor Activities
Most people will find the fall to be the best time of year to visit Death Valley National Park. This season offers the most ideal temperatures for outdoor exploration. The weather at this time of year is the best it'll be, and that goes for both daytime and night time as well as both low and high elevations. In November, the average high is 77 degrees F and the low is 48 degrees F – pretty great for hiking and camping.
For that reason, most people think autumn is the best time to visit Death Valley. In fact, autumn is when some of the park offerings open for the year.
Death Valley's camping season begins in the fall, as do an assortment of ranger-led programs such as paleontology hikes, tours of Scotty's Castle, and an array of historical walks and talks, all of which are closed or unstaffed during the summer.
What's more, this is the time of year that the majority of special events take place in the park – most notably the Death Valley '49ers Annual Encampment, which celebrates Death Valley's gold mining heritage.
And, despite its wonderful weather, this time of year typically sees lower rates of visitation (with the exception of Thanksgiving weekend.) That means you'll have good hiking weather on relatively empty trails.
For the truly adventurous, early fall is a great time to explore the surrounding areas as well. Not far to the west stands the behemoths of the Sierra Nevada, which become utterly buried in deep snow during the winter, but are sometimes still accessible in October. This is a great time to pair a trip to Death Valley with a trek into Kings Canyon or Sequoia National Parks.
Winter: The Best Time for Solitude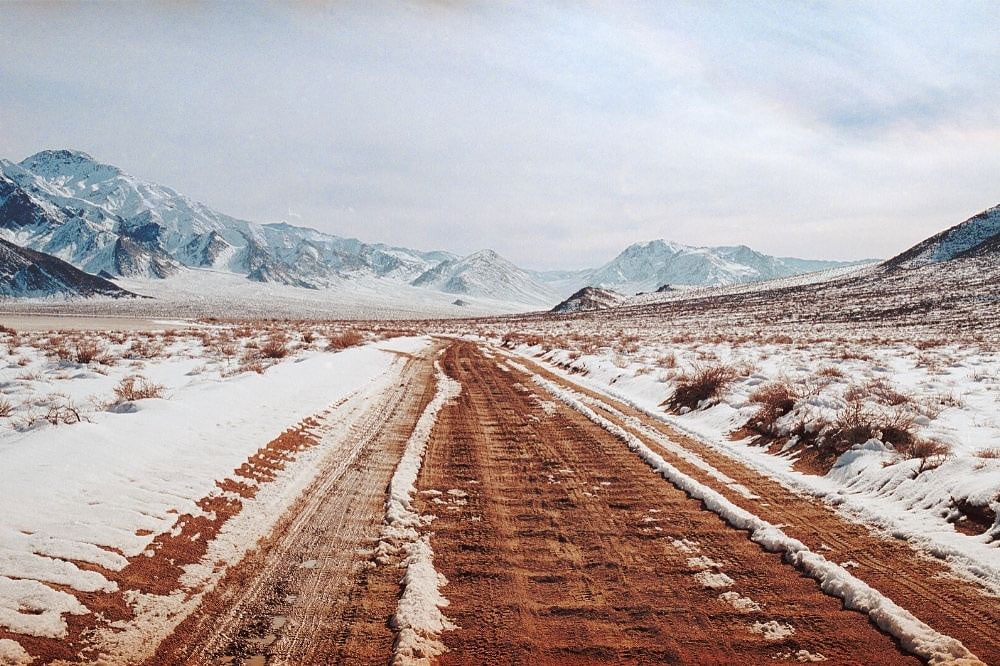 Those who prefer to avoid crowds and don't mind a bit of chill in the air will find winter to be the best time of year to visit Death Valley. Generally, this is when the fewest people visit the park, especially the weeks between Thanksgiving and Christmas, which tends to be the least visited of the whole year.
The average high temperature in the valley during winter is about 60 degrees Fahrenheit, while the low is about 52 degrees. Certainly tolerable, but the temp frequently dips below freezing at higher elevations, and snow will accumulate on the peaks of the Panamint Range.
Rainstorms, though rare, are a possibility during winter. Though the thought of rain in Death Valley sounds pleasant, it can be quite dangerous. Arroyos and canyons can suddenly become filled with torrential streams and become dangerous flood zones during a heavy storm. Likewise, dirt, salt, and sand flats may become too muddy to walk or drive in, and in some cases, may even become temporary lakes.
What the cooler temperatures and additional water do allow for, though, is a more welcoming and hospitable environment for exploration into the national park's rarely seen nooks and crannies. While you always need to prepare properly for travel in remote desert environments, winter is generally the best time of year for driving or overlanding the area's back roads, horseback riding, and backpacking into the far reaches of the park's backcountry.
Spring: The Best Time for Photos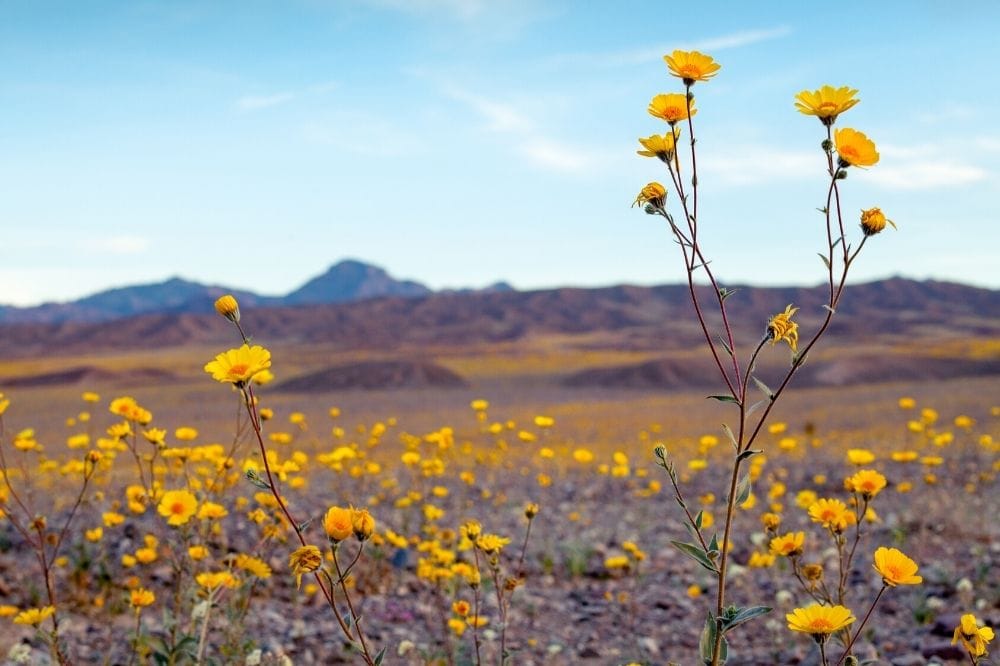 Spring is the most popular time of year in the park. The temperatures become tolerable to the majority of the masses once again and it becomes the most lively time in Death Valley in more ways than one.
Death Valley is a popular destination for the spring break season. The campgrounds and lodging options are sure to be booked through April and May, so it's best to reserve your spot early.
What really makes spring such a good time to visit the park, however, is the short-lived abundance of wildflowers and wildlife throughout the usually barren landscape. If a fair amount of rain and snow fell during the winter, then swaths of Death Valley will be covered in green grass and vibrant wildflowers during early spring.
Imagine the arid sand dunes of Death Valley surrounded by lush green hillsides and snow-capped high-elevation peaks. A variety of birds, mammals, and reptiles crisscross the landscape in search of food and mate during the spring, and there's usually a group of wild donkeys moving across the valley from one flowing stream to another. A scene like that only be experienced in the spring.
Summer: The Best Time for Night Owls
To put it bluntly, summer is not the best time to visit Death Valley unless you want to experience 130-degree heat. Plenty of visitors still do visit at this time of year, but most travel through the park in air-conditioned vehicles and momentarily step out to take photos in the popular points of interest.
Many of the park's services and campgrounds are closed at this time of year, and temperatures can still hang around the upper 90s in the middle of the night.
However, summer night owls will discover a Death Valley unlike any other. There aren't many visitors during this time of year, and even fewer of them stay the night in the park due to the sweltering heat.
Every living creature in the valley comes out at night in search of food and water as the days are too warm. With patience and the proper equipment, you could see the night come alive more so than at any other time of year.
Similarly, the night sky in Death Valley is at its best and brightest during the summer. Death Valley is a Gold Tier Dark Sky Park, as designated by the International Dark-Sky Association. It's the darkest rating they give. This, paired with the lack of overnight tourists, makes this the most spectacular time of year to peer into the cosmic abyss.
Find Your Next Adventure
Sign up for Weekend Wanderer to join thousands of readers getting epic travel and Airbnb ideas in their inbox every Thursday!
---