Being in the wild is dope, and so is keeping it clean for future generations. If you're hiking, camping or backpacking, you can minimize your impact on the environment with Leave No Trace principles and ensure everyone has a good time with basic trail etiquette tips. Now let's get wild.
Was this article helpful?
---
Forget the crowded viewpoints and roadways — experience the wonder and solitude (most of the time) of the nation's most epic trails!
Americans have been walking across our country's beloved public lands for decades. The Long Trail in Vermont (although not on our list below) holds the title for the oldest long-distance trek in the country — it was completed in 1930. The record for the longest hike (which, surprisingly isn't the Long Trail) goes to two trails: American Discovery Trail and Great Western Loop, both of which are 6,800 miles each! There are also the most famous trails like Pacific Crest Trail, Continental Divide Trail, and Appalachian Mountain Trail.
These are all great treks throughout the nation but not everyone has the time, money, or even desire to do a thru-hike. Instead, most outdoor enthusiasts like the idea of finding a bit of solitude without having to log the mega miles. Because the United States is home to thousands of trails to backpack, the list below narrows down your best choices. Whether you're looking for a quick jaunt during a long weekend or weeks-long adventure, there's something on this list for everyone.
As a reminder, backpacking should be taken seriously and isn't the same as going for a long day hike. Make sure you have the proper gear (for some cheaper options, check this out), are in shape to carry upwards of 50 pounds (depending on the length of your trip), and are well-accustomed to outdoor excursions. Regardless of if you are backpacking solo, with your kids, or with your friends, it's always imperative to be prepared.
1. Pemigewasset Loop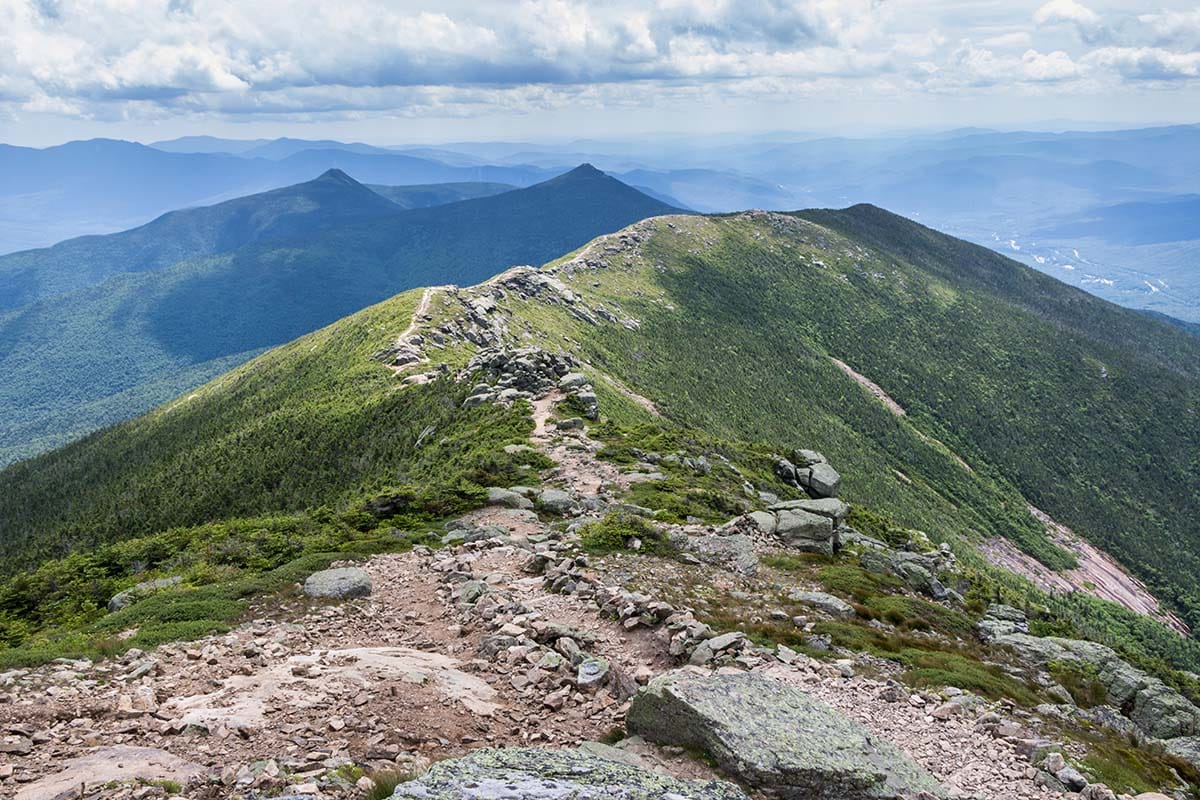 Why you should go: it traverses one of the most incredible ridgelines — Franconia Ridge.
Location: White Mountain National Forest, New Hampshire
Distance: 31 miles
Elevation gain: 10,000 feet
Type: loop
Recommended number of nights: 1 to 2
When most people think of epic backpacking routes, the White Mountains of New Hampshire likely don't show up in your head. The Pemigewasset Loop (known affectionately by locals as the "Pemi Loop"), though, is one of the hardest hikes in the country with strenuous elevation gain and some of the worst weather in the country. It traverses the western half of the Pemigewasset Wilderness and climbs over eight 4Kers (mountains above 4,000' above sea level and on the AMC's 4000-footer list).
You can add other peaks that are not on the AMC's list to add a total of eleven mountain summits! Many people have done this as a brutal day trip, but it's not recommended.
Pro Tip: stay in one of the AMC huts (either Greenleaf or Galehead) where you won't have to worry about trudging uphill with a tent in your bag. Plus, dinner and breakfast is included in the fee for the night.
Related Read: 8 Epic Camping Spots in White Mountain National Forest
2. Cracker Lake
Why you should go: experience Glacier National Park without the crowds.
Location: Glacier National Park, Montana
Distance: 12 miles
Elevation gain: 1,300 feet
Type: out-and-back
Recommended number of nights: 1
Backpack to the brilliant turquoise waters of Cracker Lake. You'll camp at the base of Mount Siyeh whose towering cliffs rival those in Yosemite. The trail to this alpine lake is not as popular as other backpacking routes in the park but you shouldn't miss out on this one.
Skip the Highline Trail and having to battle your way through the hordes of tourists that make the trek every year. Instead, enjoy a relatively moderate hike to a quieter part of the Park. Bonus: the lake has a pit toilet!
Pro tip: go during peak wildflower season. Just do it.
Related Read: Crown Jewels: 14 Majestic Hikes in Glacier National Park
3. 100-Mile Wilderness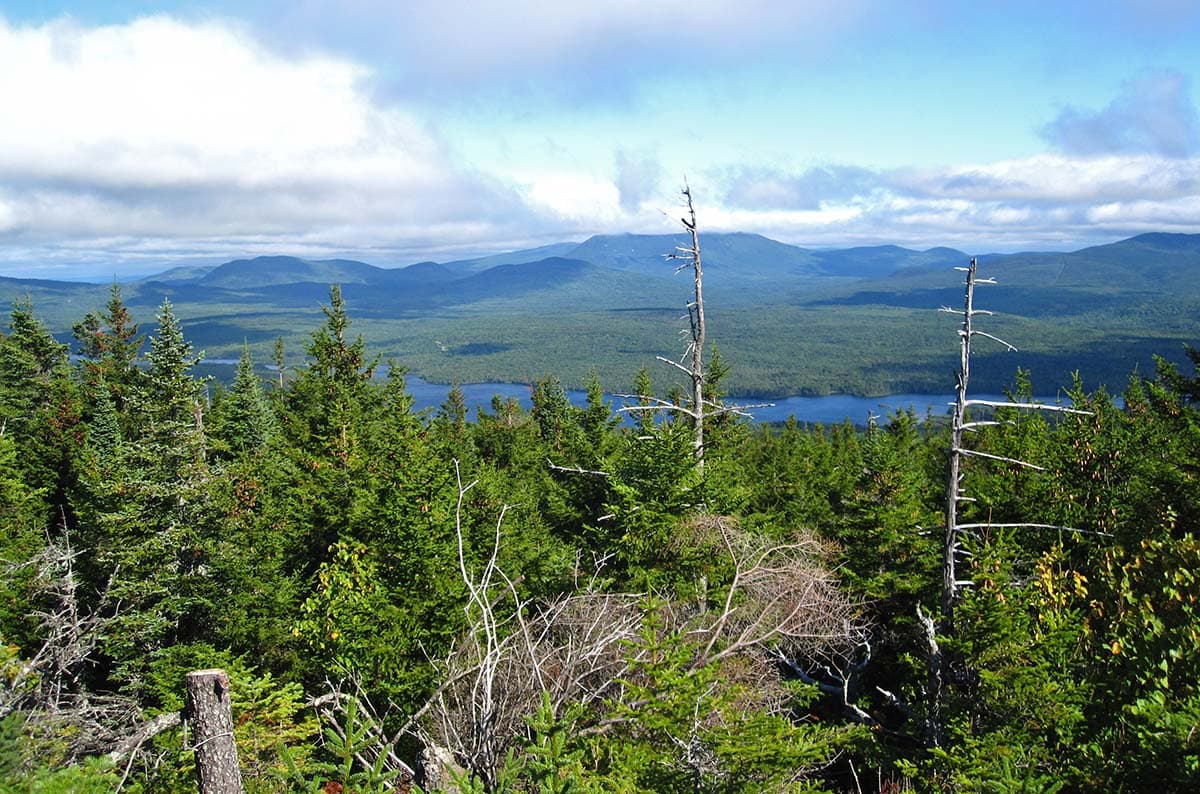 Why you should go: get all the glory of hiking the Appalachian Trail without having to walk the full 2,180 miles.
Location: 100-Mile Wilderness, Maine
Distance: 93 miles (weirdly not 100)
Elevation gain: 15,000 feet
Type: point-to-point
Recommended number of nights: 7 to 10
The Appalachian Trail is hiked by hundreds of thru-hikers every year. Most argue that the hardest part is the last 100 miles before the summit of Mount Katahdin — known as the 100-Mile Wilderness. It is a true wilderness experience and one that should not be your first foray into backpacking.
The backcountry of Maine woods is unforgiving at best and deadly at worst so take heed when attempting this. But if you do decide to do this trek, it'll bring you through some of the most spectacular and remote places in the entire country.
Pro tip: avoid hiking in early June as it happens to be black fly season and they are the literal worst.
Related Read: 14 Best Hikes in Maine for Exploring the Great Outdoors
4. Roan Highlands Section of the AT
Why you should go: considered by most thru-hikers to be the prettiest part of the Appalachian Trail.
Location: Pisgah National Forest, Tennessee/North Carolina
Distance: 22 miles
Elevation gain: 5,000 feet
Type: point-to-point
Recommended number of nights: 1 to 2
If you've ever wanted to know what the undulating trails are like in the Scottish Highlands, look no further than the Roan Highlands (coincidence?) section of the Appalachian Trail.
The 22-mile trek traverses over grassy, bald summits and through the world's largest rhododendron garden. The 360-degree views from the several summits will leave you breathless — although that might also be from the elevation gain.
Pro tip: if you go around the third week of June, the rhododendrons will be in full bloom and are spectacular.
Related Read: 10 Can't-Miss Glamping Sites Near Great Smoky Mountains National Park
5. Greenstone Ridge Trail
Why you should go: where else can you take a seaplane to your trailhead?
Location: Isle Royale National Park, Michigan
Distance: 42 miles
Elevation gain: 4,000 feet
Type: point-to-point
Recommended number of nights: 5 to 8
The Greenstone Ridge Trail allows you a glimpse into the diverse landscape of the upper Midwest. From sweeping vistas, orchid-filled bogs, wildflowers galore, and more lakes than you can count, the ecosystems are endless.
Most begin their journey at the Windigo trailhead which is accessible by boat or seaplane. You end your hike at the Hidden Lake trailhead where you can hop on ferry or charter another seaplane for your return journey.
Pro tip: grab a satellite messenger like this one since cell reception is spotty at best.
Related Read: Traveler's Guide to the Best Michigan National Parks
6. Wonderland Trail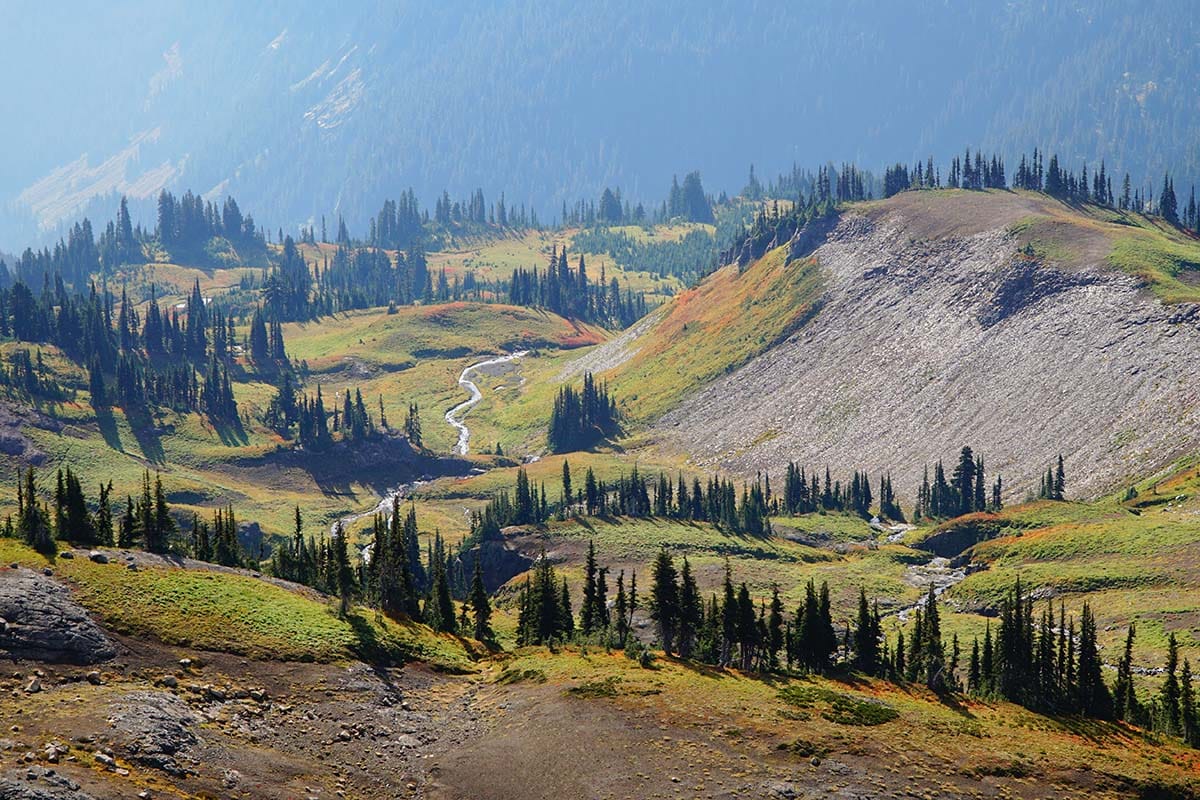 Why you should go: never-ending views of Mount Rainier.
Location: Mount Rainier National Park, Washington
Distance: 93 miles
Elevation gain: 25,000 feet (it's a doozy)
Type: loop
Recommended number of nights: 8 to 12
One of the most exclusive backpacking trails in the country also loops around one of the most famous volcanoes. The Wonderland Trail is a strenuous backpacking excursion that travels through a diverse array of ecosystems.
If you're lucky enough to snag a wilderness permit to attempt the hike, you'll be rewarded with incredible views at almost every turn. You won't need mountaineering experience (that's left for those wanting to summit Mount Rainier) but you should be a practice backpacker before attempting this trip.
Pro tip: have flexibility with your dates since permits for the trail are highly coveted.
Related Read: 14 Jaw Dropping Hikes in Mount Rainier National Park
7. Olympic Coast Trail – North Route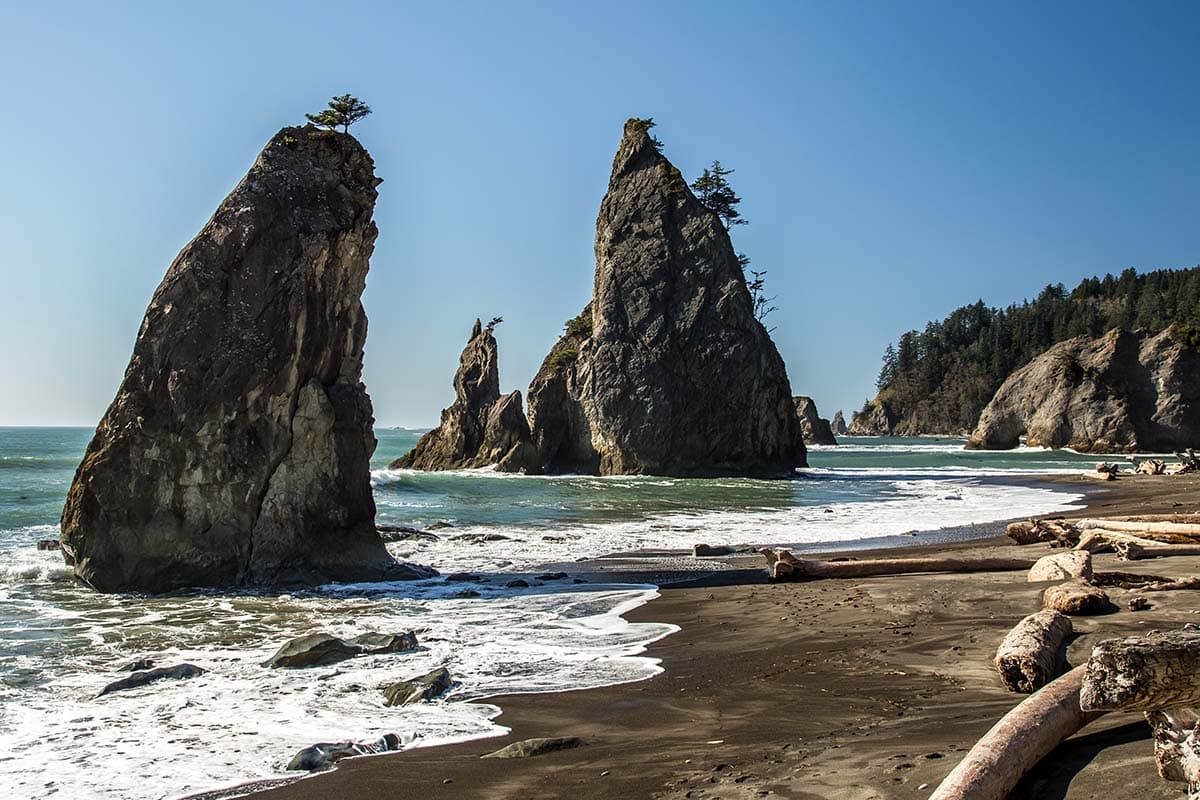 Why you should go: moody beaches but happy campers.
Location: Olympic National Park, Washington
Distance: 20 miles
Elevation gain: 3,000 feet
Type: point-to-point
Recommended number of nights: 1 to 2
The hike from Rialto Beach north to the Ozette trailhead is more than just a walk on the beach. It's home to some of the most rugged coastline and unforgiving weather. Don't let that deter you from a backpacking trip. You can combine the South Route with this hike, but the North Route has the better views and landscape.
Although you're mostly walking on the beach, there are many headlands that can only be rounded at low tide. Sometimes there are ropes to aid during non-low tide times but not always.
Pro tip: always have a tide chart on this trip to plan out when you need to take the overland/headland trails.
Related Read: 13 Outdoorsy Things to Do on the Washington Coast
8. Four Pass Loop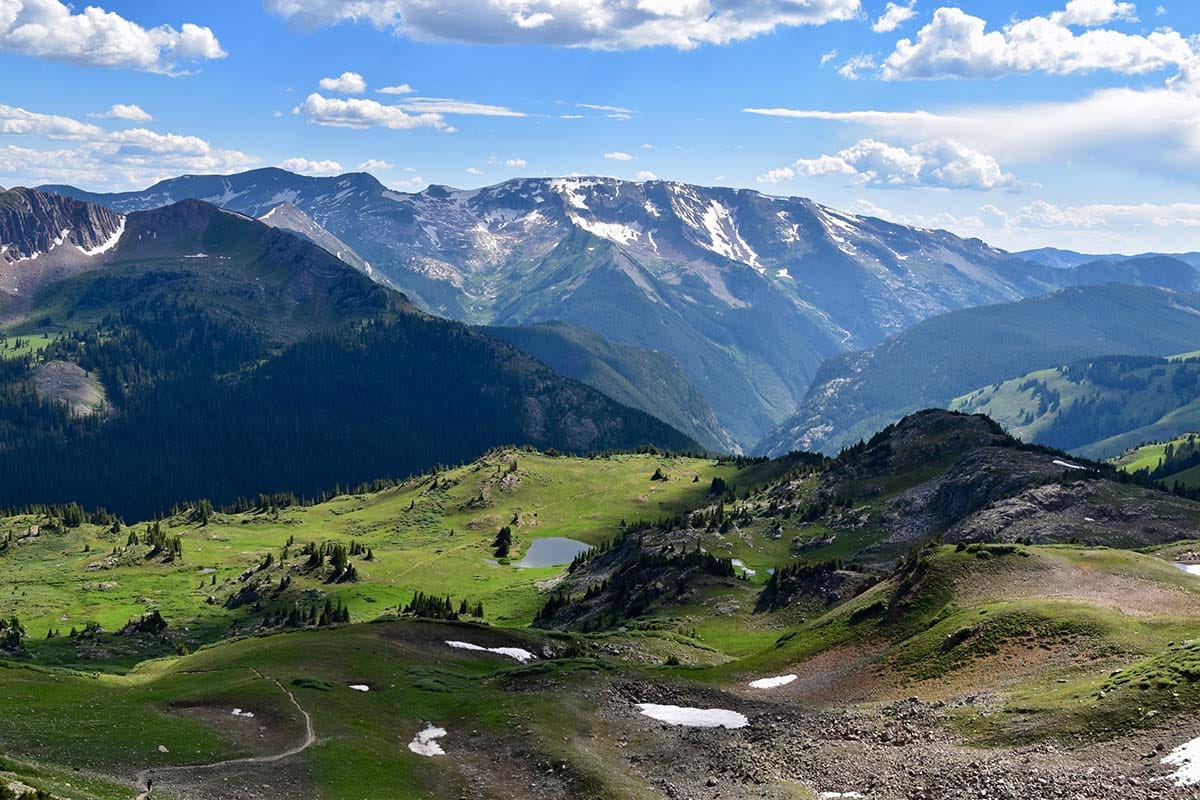 Why you should go: see a side of the Maroon Bells the tourists don't usually experience.
Location: Maroon Bells – Snowmass Wilderness, Colorado
Distance: 27 miles
Elevation gain: 7,800 feet
Type: loop
Recommended number of nights: 2 to 3
Coined as the most popular backpacking trip in Colorado, the Four Pass Loop traverses (you guessed it!) four passes all above 12,000' above sea level.
If you're coming from sea level, you might need to give yourself a few extra days ahead of time to acclimate. Once you're satisfied with your lung capacity, enjoy the majestic maroon peaks and incredible alpine scenery on the trek!
Pro tip: do the loop in a clockwise direction as the trail up West Maroon Valley is easier to climb with a full pack.
Related Read: 5 Spectacular Backpacking Destinations in Colorado
9. Buckskin Gulch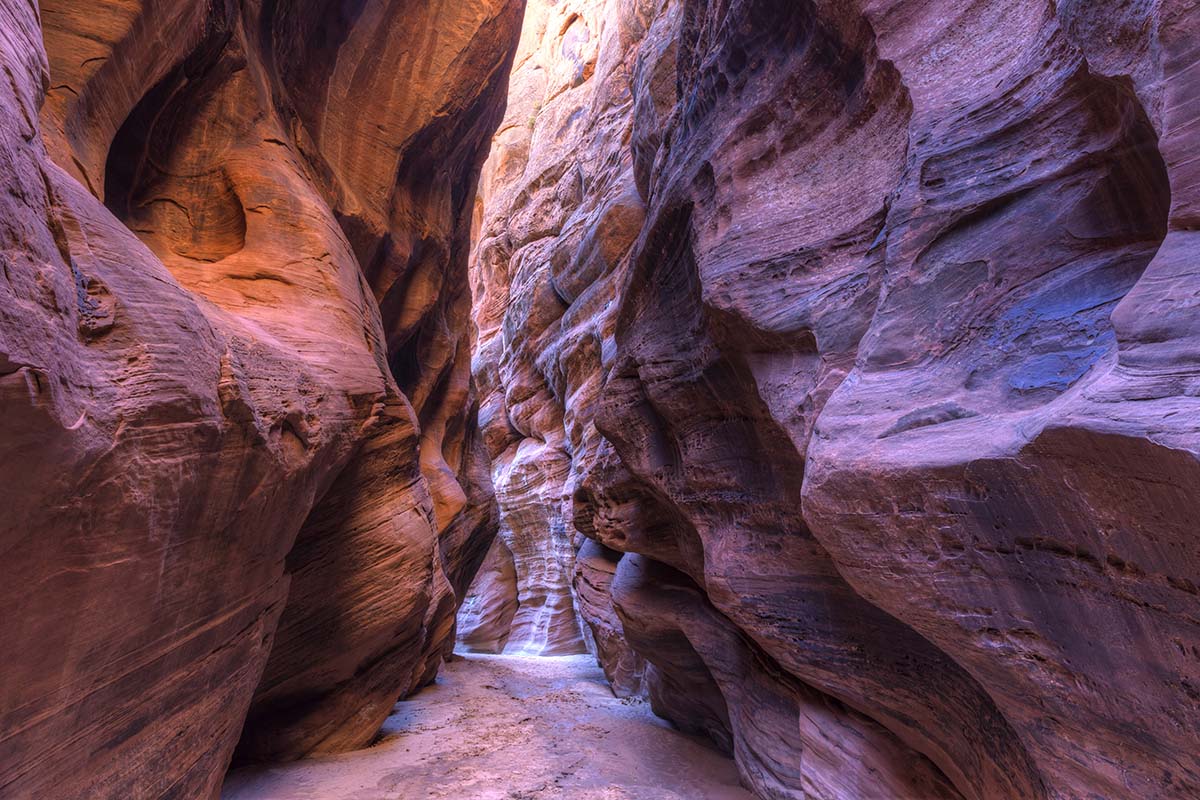 Why you should go: probably the most iconic slot canyon ever.
Location: Paria Canyon – Vermillion Cliffs Wilderness, Utah
Distance: 21 miles
Elevation gain: 3,400 feet
Type: point-to-point
Recommended number of nights: 1
It doesn't get much better than Buckskin Gulch if you're in the mood for some spectacular slot canyon hiking. The permits to get into Buckskin are highly competitive, but that also means you'll have solitude for your trip. For those lucky enough to grab one, you'll be hiking in one of the longest (if not the longest) continuous slot canyon in the entire world.
Flash floods are a real concern here, as with any slot canyon hiking. Make sure to always check the weather for the surrounding areas. If there is even the slightest chance of rain, do not attempt this hike. Avoid hiking during the summer months as monsoon season occurs during this time and the slots can be dangerously hot.
If you can't snag one of the permits, you can always head to Grand Staircase-Escalante National Monument and try one of these hikes.
Pro tip: there is only one escape route once you reach Buckskin Gulch and is aptly-named the Middle-Out Escape Route.
Related Read: The 20 Best Backpacking Trips In Utah
10. Cirque of the Towers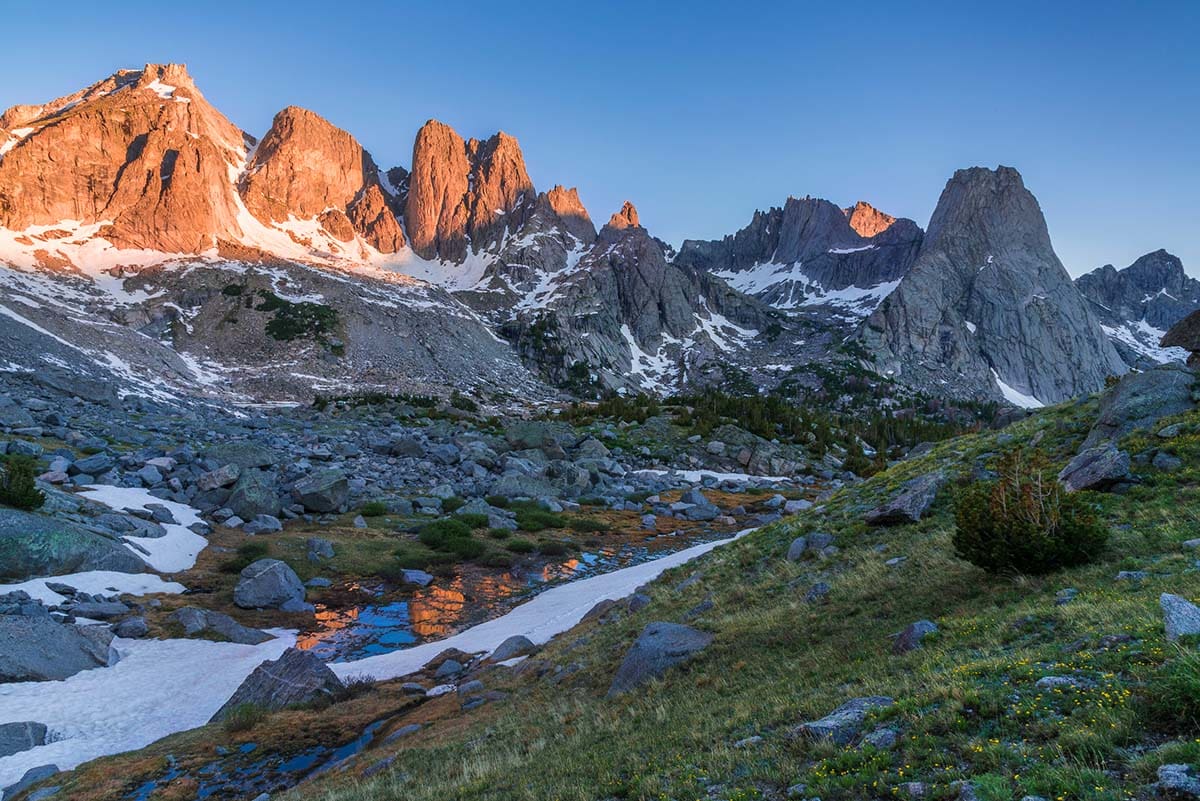 Why you should go: easily accessible and no permits are required.
Location: Wind River Mountain Range, Wyoming
Distance: 24 miles
Elevation gain: 4,000 feet
Type: loop
Recommended number of nights: 2 to 3
You won't find much solitude on the Fremont Trail to Cirque of the Towers. Due to its accessible trailhead and absolute stunning scenery, it's a popular trail. However, Wyoming has got some big sky so even if you have company on the trail, you'll be spread out. Most go in a clockwise direction as that will leave the best views for last.
You'll pass through alpine meadows, around the edge of nine lakes on the path ,and over two mountain passes (one of which is named Jackass Pass). The first views of the Cirque begin when you hit Texas Pass and they just get better from there.
Pro tip: go as late in the summer as possible to avoid the atrocious amounts of mosquitos on the trail. Or bring a bug net otherwise.
Related Read: 8 Gorgeous Backpacking Trails In The Wind River Range
11. Sawtooth Wilderness Loop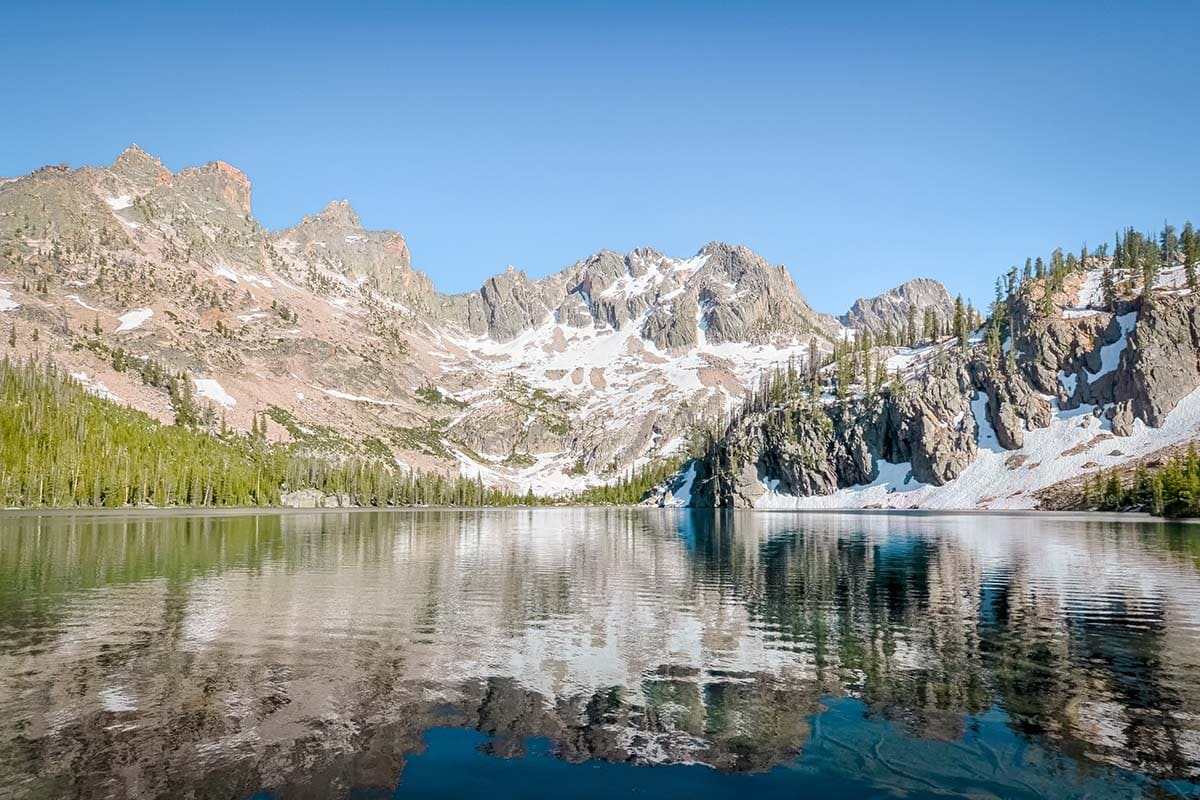 Why you should go: it's as remote as you get in Idaho so way less people.
Location: Sawtooth Wilderness Area, Idaho
Distance: 70 miles
Elevation gain: 12,500 feet
Type: loop
Recommended number of nights: 4 to 6
Basically jumping from lake to lake, the Sawtooth Wilderness Loop brings you on an epic journey through one of the most underestimated states. Idaho is usually passed over for the more epic Rocky Mountains or the Pacific Northwest. But you'd be wrong to turn a blind eye to this incredible wilderness area.
The trail navigates through dense forest, alpine lakes, and even some burn areas. Downed logs are fairly common across the trail since trail crews don't get back into this remote area as much as more popular areas. Nothing is too hard to overcome, though. Just come with some sturdy pants and a good attitude and you'll be all set.
Pro tip: it's imperative to bring a bear-resistant canister (or hang your food) and bear spray as this is prime grizzly bear habitat.
More Backpacking Inspiration
Get epic travel ideas delivered to your inbox with Weekend Wanderer, our newsletter inspiring more than 10,000 readers every week.
Was this article helpful?
---