The Washington coast is nothing short of adventurous.
When I moved to the Olympic Peninsula, a road-trip up the Washington coast was non-negotiable. Having traveled most of the west coast and up and down the east, I was chomping at the bit to see what Washington had in store.
What I found was a rare gem that I'll never get enough of.
Compared to most coastlines, the Washington coast is highly undeveloped and remote. In many ways, the coast here is still very much wild.
From sandy beaches to rocky shores, the Washington coastline is flooded with dramatic vistas, ample wildlife, rich cultural history, and an abundance of recreational activities.
There is one activity, however, that you typically won't find here — sunbathing. The cool misty coast doesn't present the same hot, sun-basking weather like the Pacific beaches to the south. Rather, the Washington coast is all about outdoor exploration.
If you're ready for a true adventure, pack up the car and get ready to hit the road. We've put together an epic road trip guide on the top things to do and places to see on the Washington Coast, so you can experience the breathtaking Pacific Northwest coastline in all its glory.
Related Read: 12 Best Washington Coast Camping Spots for a Peaceful Trip
Explore Ruby Beach
Why you should go: The crown-jewel of the Washington coast offers an expanse of pristine beach and picture-worthy views.
A trip to the Washington coast wouldn't be complete without a visit to Ruby Beach. Located in the coastal section of the Olympic National Park, Ruby Beach is one of the most accessible and picturesque beaches Washington state has to offer.
Here, you'll find miles of pristine beach filled with an abundance of massive sun-bleached driftwood and striking sea stacks. Catch Ruby Beach during low tide and you'll be greeted by curiosity-piquing tide pools and miles of easy-going hiking.
Don't leave without getting an extraordinary snapshot of Abbey Island protruding from the surf. If you've got time, stick around for sunset and you'll be rewarded with a stunning display over this dramatic coastline.
More Information: National Park Service
Hike The Hoh Rainforest
Why you should go: Rich biodiversity and epic trails through an enchanting storybook setting of thriving temperate rainforest.
To sum the Hoh Rainforest up in one word, it's simply magical.
Old-growth and lush greenery transport you to a place that looks as if it's straight out of a storybook. Needless to say, the scenery here is nothing short of enchanting.
Whether you have time for a short stop or a longer stay, we highly recommend squeezing a visit to the Hoh Rainforest into your trip. Located about an hour south of Forks, the Hoh is a temperate rainforest that receives about 14 feet of rainfall annually.
This means conditions are ideal for the moss and ferns that blanket the forest floor. As well as for the impressive Sitka spruce and Western Hemlock that thrive in this type of saturated ecosystem.
To get a glimpse of it all, lace up your hiking shoes and get trekking. The Hoh Rain Forest Loop and Hall of Mosses are just a couple of hikes you should explore. For those who are really want to explore what the Hoh has to offer, plan a backpacking trip through the Hoh River Trail.
More Information: National Park Service
Examine Marine Life At Rialto Beach
View this post on Instagram
Why you should go: Two words — tide pools.
Washington's rocky coast and productive waters make for some wondrous tide pools. While you'll find many spots worthy of a stop, the tide pools at Rialto Beach are a must.
Part of the Olympic Coast National Marine Sanctuary, Rialto Beach offers the chance to see the rich biodiversity of these precious intertidal zones up close and personal.
If you're up for a hike, take a two-mile stroll down to Hole-in-the-Wall. This wave-battered rock arch is rather intriguing and home to one of the most popular tidepools on the coast.
At low tide, you'll be greeted by an array of marine creatures including sea stars, rock crabs, limpets, anemones, and wolf eels, to name a few.
"Great hike, very scenic. I saw a bald eagle, starfish and sea anemones when the tide was out. I'd recommend this hike. Very cool!" said visitor Nathan Schilling.
Beyond the tiny sea creatures, keep a lookout for whales passing by and bald eagles soaring in the sky. As a place where the forest meets the shore, there's no shortage of wildlife nearby.
Hole-in-the-Wall is ever evolving, so watch out for falling rocks and slippery seaweed when you visit. We also urge you to leave it as you found it, so please use proper tide pool etiquette.
More Information: National Park Service
Stroll The Cape Flattery Trail
Why you should go: The most-northwest point in the contiguous 48 states.
If you love a hike with a view, you'll be in for a real treat when you reach the tip of the Cape Flattery Trail. Nestled on the Makah Reservation in Neah Bay, Cape Flattery is the most-northwestern point in the lower 48 states and boasts a million dollar view.
Park at the Cape Flattery trailhead and enjoy the short, easy trek through the gnarled old-growth trees that line the well-trafficked path. As you make your way, please be sure to stay on the trail to preserve the surrounding habitat.
After three quarters of a mile the trees will open up to a jaw-dropping ocean view. While we don't want to spoil it too much, we'll tell you a dramatic coastal photo op is waiting for you.
When you're done soaking in the scenery, be sure to replenish your energy with some scrumptious local fry bread.
More Information: Washington Trails Association
Drive The Lake Quinault Loop
Why you should go: A scenic drive through lush rainforest with plenty of photo ops and lake activities nearby.
Home to the world's largest Spruce, Lake Quinault offers a scenic two-hour drive through 31 miles of temperate rainforest. Surrounded by dense forest, you'll feel as though you entered a whole other realm.
As you make your way around the loop, be on the lookout for waterfalls and wildlife. Don't be surprised if a black-tailed deer crosses the road, or you see a bald eagle perched up in the trees.
If you're really lucky, you may catch a sighting of a cougar or black bear (from the comfort and safety of your car, of course). Wildlife or not, you'll be sure to want to have the camera ready.
If you're the adventurous type, you can explore the Lake Quinalt loop via mountain bike. The area also boasts excellent swimming, fishing, hiking, and camping.
More Information: National Park Service
Paddle Ozette Lake
View this post on Instagram
Why you should go: A serene paddling spot on the largest unaltered lake in Washington.
As the "largest unaltered natural lake in Washington," Ozette Lake is rather isolated and peaceful — making it a perfect spot to paddle. Kayakers and SUPers alike are in for a real treat exploring this freshwater lake.
"Except for a handful of private cabins on the shore, it is wild, remote, and you can pretend you are on an 1800's expedition into the Pacific Northwest," says visitor sailbabe123.
Paddle around the cold waters and explore any of the three islands the lake has to offer. If you still want more, you can venture off into a nearby river. Be sure to keep an eye on the wind forecast as the tranquil lake can go from glassy to hazardous during high winds.
If you're not into paddling, Ozette Lake is still worth a visit on foot. The diverse landscape surrounding the lake offers plenty of opportunity for hikers, photographers, and wildlife watchers. If you have time, be sure to venture to the petroglyphs at Wedding Rock nearby.
More Information: National Park Service
Experience Historic Cape Disappointment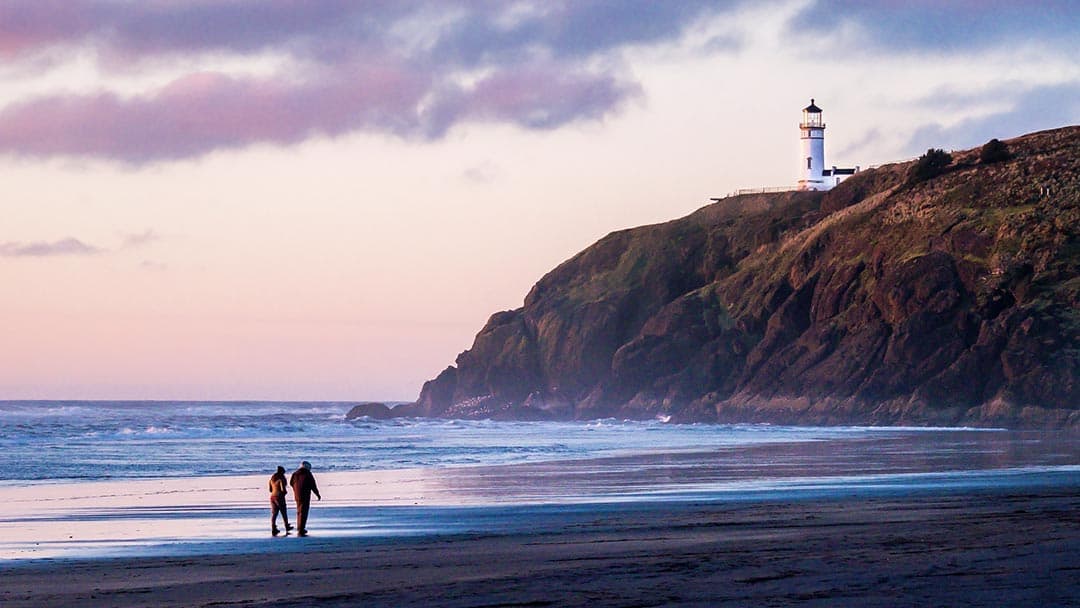 Why you should go: A historic state park with two lighthouses and dramatic vistas.
Ignore the misleading name — Cape Disappointment is anything but. Situated on the southern tip of the Long Beach Peninsula, Cape Disappointment State Park is a stone's throw from the Oregon border at the mouth of the Columbia River.
Visitors can stroll the cape along several miles of trails that will take you from old-growth forest to tidelands. Walk in the sand and gaze up at the rugged cliffs, or head out onto the jetty to catch some fish. Should you visit during stormy weather, the pounding waves and hazardous surf make this state park a dramatic sight to behold.
Perhaps what's most interesting about the cape is its historical significance. To get the full history lesson, visit the Lewis and Clark interpretive center and walk among the ruins of Fort Canby through military bunkers and ocean defense batteries.
Of course, you won't want to pass up a visit to the cape's two functioning lighthouses.
In case it's driving you mad with curiosity, Cape Disappointment was named by the 18th century English explorer John Meares. While searching for the mouth of the Columbia River he happened to sail right past it, leading him to name the cape after his own disappointment.
More Information: Washington State Parks
Backpack To Point Of The Arches
View this post on Instagram
Why you should go: A breathtaking coastal hike that's beyond camera-worthy.
Point of the Arches is an easy eight-mile coastal forest and beach hike located at Shi Shi Beach (pronounced shy-shy). Shi Shi was voted "best nature beach" by Travel Channel and certainly doesn't disappoint. While many will have no problem conquering the hike here in a day, the picturesque landscape is well worth turning it into an overnighter.
Pack your bag and be sure to grab your camera. The sandy stretch provides a stunning landscape during magic hour while the arches themselves make for a worthy subject. Watch for bald eagles and herons while you explore the tidepools and Sitka spruce forest.
While most of the hike is on the Makah reservation, the last couple of miles are through Olympic National Park. So be sure to grab a wilderness camping permit as well as a reservation pass.
If you're really looking for more adventure, extend your trip and hike to Hole-in-the-Wall or the Ozette Loop.
More Information: National Park Service
Camp At Second Beach
Why you should go: A diamond in the rough with epic beach camping.
Waking up to the fresh ocean air is one of the many perks when you camp at Second Beach in La Push. A gem of the Pacific Northwest, Second Beach features a large stretch of sand lined with driftwood and jutting sea stacks that dot the shoreline.
Pack the tent because you won't want to miss the opportunity to spend the night on this scenic stretch.
To get to camp, you'll access the beach via a 0.7-mile hike. Once there, you'll want to find a spot above the high tide line. While there are plenty of good spots to set up camp, this beach can get crowded during the summer.
Should you find Second Beach is too crowded for your liking, head over to First Beach and Third Beach for more elbow room.
More Information: National Park Service
Go Clam Digging At Long Beach Peninsula
View this post on Instagram
Why you should go: One of five areas in the state designated for razor clam digging.
Clam digging is one of the most Washingtonian things you can do, and the Long Beach Peninsula has some prime digging.
The Long Beach Peninsula is the largest estuarine island on the Pacific coast. Here you'll find 28 miles of sand and one of five spots in Washington where you're allowed to dig for razor clams.
Grab a bucket, a clam shovel, and your harvesting license, then hit the beach. Night or day, the best time to dig is at low tide.
Clam season at Long Beach Peninsula typically runs from October to May, but always check with the Washington Department of Fish and Wildlife about shellfish regulations before digging.
More Information: Visit Long Beach Peninsula
Fly A Kite At Ocean Shores
Why you should go: A family-friendly beach with ideal kite flying conditions.
Get the kids in the car and head on out to Ocean Shores for a full day at the beach. This six-mile beach is the ideal setting for family play.
"Always windy, but a beautiful spot to walk, play, surf, or take pics. I love it!" said visitor Lizeth P.
Stop by the local kite shop and pick one up for the family. This beach is known to have a consistent breeze, which makes conditions just right for flying a kite. The kids will be mesmerized by the dancing colors in the sky while you get to kick back and listen to the waves crashing ashore.
Keep an eye out for whale pods or seals swimming nearby. If the kids are feeling brave, slip them into a wetsuit and grab the boogie boards. The crashing waves make for a fun ride.
More Information: Ocean Shores
Catch A Wave In Westport
View this post on Instagram
Why you should go: Surf Washington's breathtaking coast.
Zip up your wetsuit, grab your board, and hit the waves in Westport. The ocean here may not be as warm as the states down south, but the breaks are just as surf-worthy.
Located on the south side of Grays Harbor, Westport is a popular surfing destination. Novice or pro, the year-round surf here is suitable for all skill levels.
If the wave forecast is looking bleak, trade your board in for a fishing pole and test your luck catching salmon.
More Information: Surfline
Marvel At The Kalaloch Tree Of Life
View this post on Instagram
Why you should go: A massive Sitka spruce that defies the laws of gravity.
If you find yourself in need of a good leg stretch, stop by Kalaloch and marvel at the Tree of Life. One of many among Washington's natural wonders, the Tree of Life seems to defy nature in a stunning way.
Also known as Tree Root Cave, the Tree of Life is accessible via a short coastal hike just north of the Kalaloch Lodge. What makes this Stika spruce so special is that it balances between two sides of a cliff with the earth eroded beneath its roots. This, in turn, has given way to a "tree cave" underneath.
Don't forget the camera — you'll definitely want to add this one to the photo book.
More Information: Kalaloch Lodge
For more recommendations in the Pacific Northwest, take a look at 12 Essential Things to Do and See On the Oregon Coast, 12 Epic Waterfall Hikes in Washington, Washington's Best Hot Springs, and the Top 5 PCT Section Hikes in Oregon and Washington.
Explore the Pacific Northwest
Get epic travel ideas delivered to your inbox with Weekend Wanderer, our newsletter inspiring thousands of readers every week.
Was this article helpful?
---