We research, evaluate and select travel destinations based on a number of factors, including our writers' experience, user reviews and more. We may earn a commission when you book or purchase through our links. See our editorial policy to learn more.
Was this article helpful?
---
Glacier National Park is one of the crown jewels of the national park system. With a seemingly endless trail system, there are thousands of ways to explore the park.
In northwestern Montana, the park encapsulates everything awe-inspiring about this alpine environment, from alpine lakes and rugged peaks to trout-filled streams and actual glaciers perched above wildflower-filled meadows. It's impossible to experience everything Glacier has to offer in just one trip.
Glacier National Park, as its name suggests, is known for its extensive glacial system. Unfortunately, over the last 100 years, the namesake glaciers have shrunk dramatically and completely disappeared in some cases. Around 1850, there were roughly 80 glaciers in the park, but by 2015, the number had dropped to 26. Some estimates suggest they'll be entirely gone by 2030.
As you can see from the repeat photography, some glaciers now only resemble small snowfields tucked onto an alpine ledge. That said, just because the glaciers no longer dominate the landscape doesn't mean they aren't beautiful. The dramatic landscapes, lakes, and waterfalls left behind by the melting ice are stunning and, for the trained eye, offer a unique real-world view of how glaciers advance and retreat through a landscape.
Though Glacier National Park is gorgeous any time of year, the best time to visit is late summer to early fall. Not only are the temperatures the most enjoyable, but the snow is mostly melted, the meadows are filled with wildflowers, and you're more likely to see wildlife.
The park is divided by the aptly named Continental Divide. The trails on the western half tend to be forested, a bit more remote, and start around 3,500 feet in elevation. The trails on the eastern side are higher, dryer, and have more expansive vistas that tend to attract more hikers.
Related Read: 11 Backpacking Trips in the U.S. That Should be on Your Bucket List
Backpacking in Glacier National Park
Backcountry camping in Glacier is an amazing opportunity every hiker will appreciate. However, many of the backpacking routes in Glacier are very remote, rugged, and should not be underestimated. Routes are well-maintained and well-marked, but it's still a challenging landscape.
There are a few key things to know about backpacking in the park.
Glacier Backpacking Permits
Permits are required for backcountry camping. From May 1 to October 31, camping fees are $7 a night per person in the group, including children (there's no cost between November and April). Most parties will receive their permit through the application process, which opens in March.
You'll have to list out your proposed itinerary on the application, so do your best to create a manageable plan. Check out the backcountry map to get an idea of what's possible. On occasion, walk-up permits will be available in the mornings, but make sure you're there early, as a line will form before it's even light out. When you arrive to the park, you'll have to pick up your permit at one of the Visitors Centers (and watch a wildlife safety video).
Glacier Wildlife Encounters
Wildlife are abundant in Glacier National Park and you'll need to take extra precautions when backpacking.
Though chipmunks and squirrels are fairly easy to deter, the smell of your food bag might be too much for the local bears. Before heading out, make sure you've taken the correct precautions to safely store all food and scented items while in camp.
Bear canisters or bags are the way to go to keep both your food and the bears safe. While in camp, make sure to use food lockers or hang bags when not in use. If you have safety concerns about bears, check out the park's bear safety website. Every backcountry site has either a bear box or a pole system; pole systems are the most common. So unless you want to lug a bear bin, learn how to use a pole-hanging system (scent-blocking bags can be a nice addition to your pack). If you aren't keen on seeing a grizzly up close, make sure to make lots of noise when hiking sections of backpacking routes in Glacier with poor lines of sight, especially those with huckleberry bushes. You must carry (and know how to use) bear spray.
All that said, you're lucky if you see a bear, and most encounters involve no more than the bear looking at you from afar and wandering away.
Of course, there are other creatures beyond bears. Most wildlife won't bother you. However, rodents, mountain goats, and even deer are all attracted to the salt in sweat and urine. If you leave any sweaty gear unattended, such as boots, clothes, or packs, you may return to find holes munched through them.
Backpacking Weather and Safety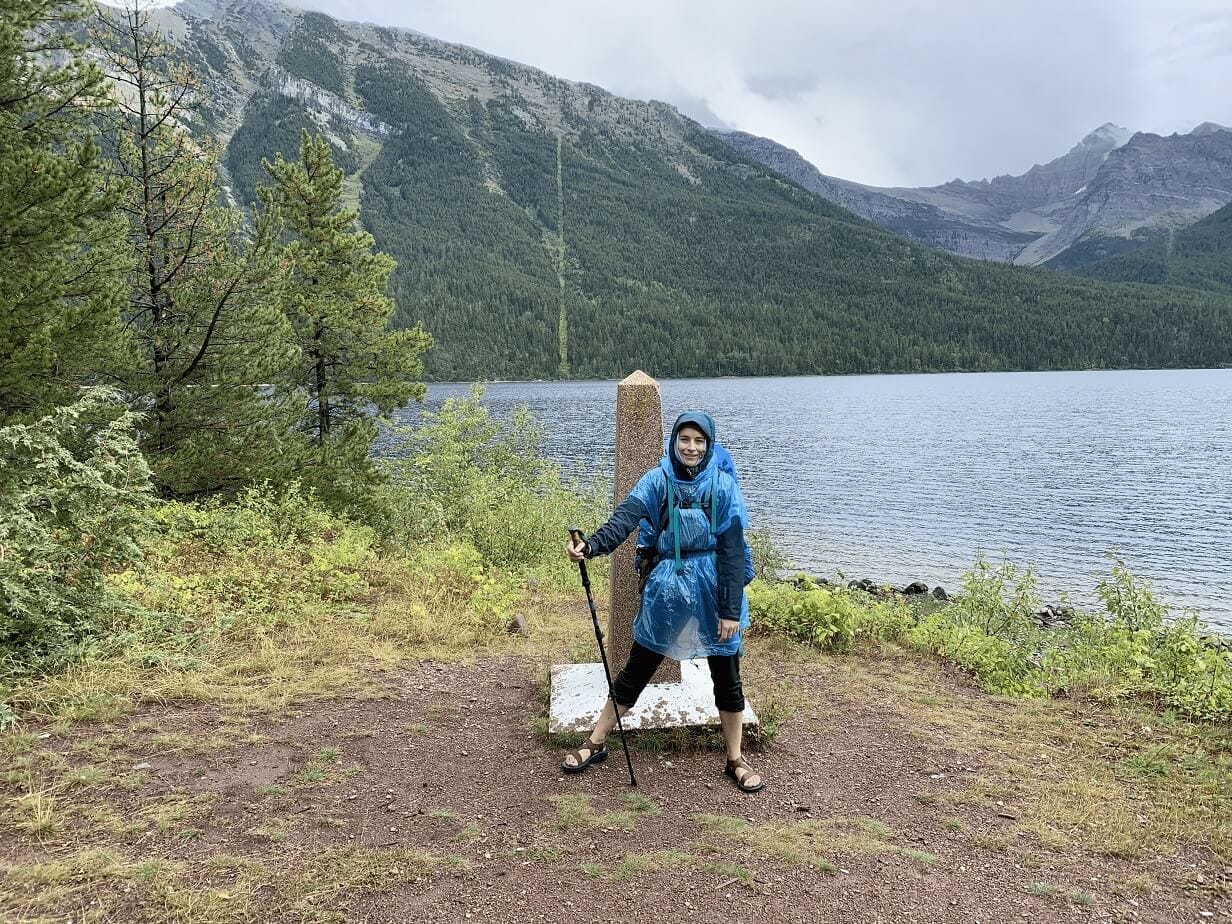 The weather forecast in the park is a bit of a moving target. Weather can change in an instant, so make sure to pack for the elements. In an alpine environment, even in summer, you can get the occasional snowstorm. Summer thunderstorms with hail are not uncommon.
Lightning in the alpine is a real concern, so if you start to see clouds growing taller than they are wide, it's best to keep an eye out for any onset of weather. If you're heading above the treeline, best to go prepared with a warm layer, hat, sunscreen, and even a rain or wind layer to battle the elements.
Related Read: Everything You Need to Know About Backpacking with Kids
6 Gorgeous Backpacking Routes in Glacier
There are numerous great options for backpacking in Glacier National Park and since may trails intersect, you can built any number of unique routes. However, it help make it a little easier, here's a list of the six best backpacking routes in Glacier to help you get started on your lottery application. Good luck!
1. Many Glacier Loop
Distance: +/- 62 miles
Total elevation gain: 11,500 feet
Recommended number of nights: 6
The creme de la creme of backpacking routes in Glacier, this route hits all the highlights in the northern part of the park. At 62 miles long with almost 11,500 feet of climbing, this route will take you several days to finish.
You'll sleep at lakeside campsites, cross atop alpine passes and below roaring waterfalls, and trudge through wildflower-laden meadows while traveling through a mix of open alpine terrain and lush forest. There are so many side trails to explore on this loop that you could easily take a week to cover it.
Related Read: 11 Backpacking Trips in the U.S. That Should be on Your Bucket List
2. Pitamakan/Dawson Loop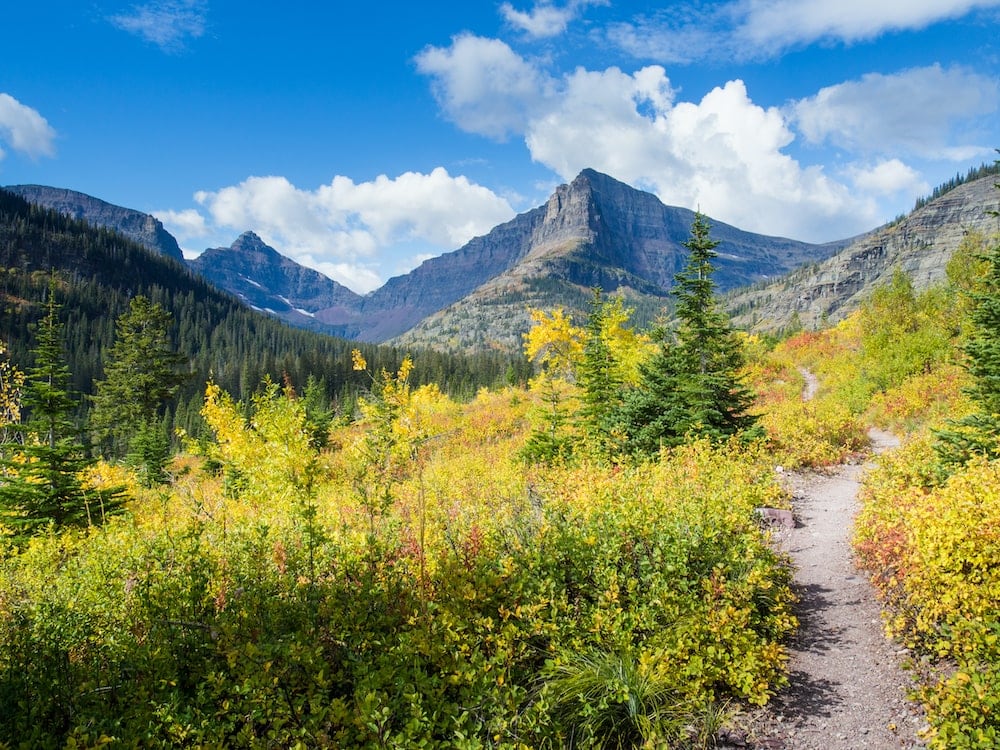 Distance: +/- 18 miles
Total elevation gain: 4,400 feet
Recommended number of nights: 1/2
Located in the Two Medicine Area, this relatively short loop is a great choice for packing the maximum amount of beauty into a potentially one-night trek.  Though shorter than most other backpacking routes in Glacier, it's generally considered to be difficult. The first half of the hike has a steady climb (with ever-increasingly stunning views.)
The hike to Pitamakan Pass can be rather strenuous, but the views and relative solitude are worth the effort. Rugged peaks loom over alpine lakes in both directions; it will be hard to tear yourself away from the vistas. Note that there's a bit of exposure on the route. It's not extreme, but if someone in your party has a fear of heights, this might not be the best option.
Related Read: How To Go Backpacking Solo & Start Enjoying Solitude Like No Other
3. Highline to The Loop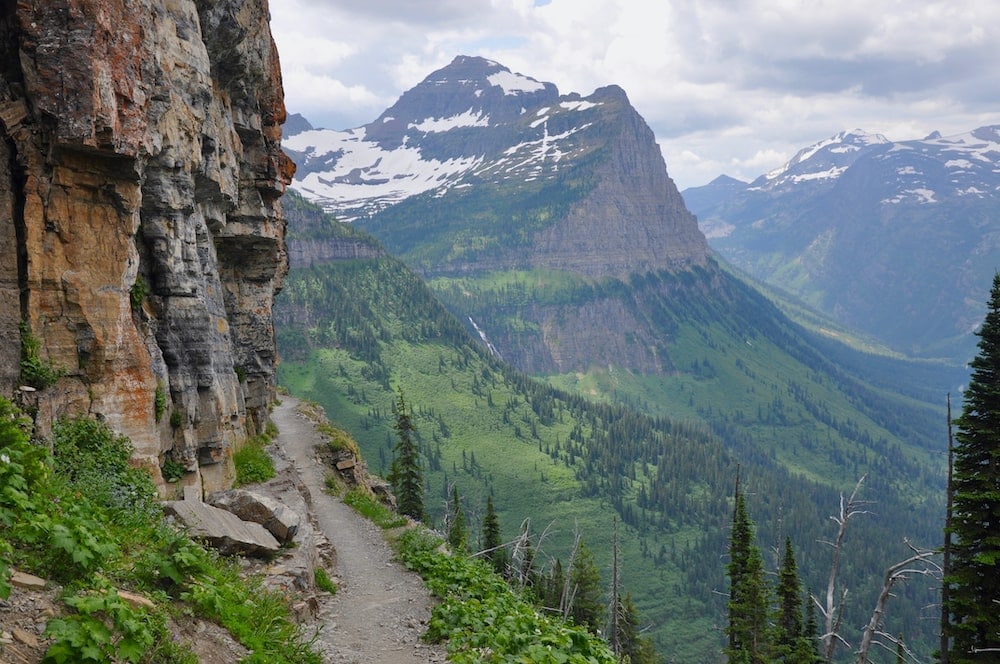 Distance: +/- 12 miles
Total elevation gain: 3,200 feet (5,400 down)
Recommended number of nights: 1/2
If you had to sum up this Glacier backpacking route in one word, iconic would fit best. For some, the Highline Trail is the reason to go to Glacier National Park. Starting from Logan Pass on the Continental Divide, this 11.7-mile route takes you north via the Highline Trail and the Grinnel Glacier Overlook Trail.
The views of Grinnell Lake and Grinnell Glacier are breathtaking and truly seem to encapsulate the essence of the park. Though you could do this as an out-and-back day hike, consider staying instead at the Granite Park Campground and continuing to the Loop Road. You can then grab the free park shuttle to get back to the start.
4. Cracker Lake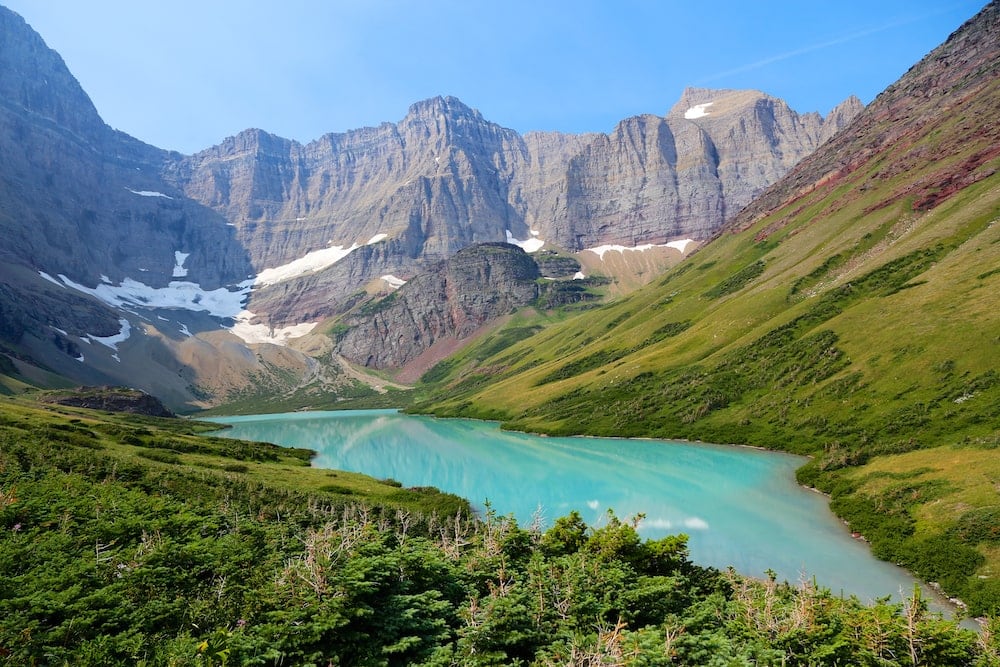 Distance: +/- 12 miles
Total elevation gain: 2,760 feet
Recommended number of nights: 1
Nestled in the basin of Canyon Creek, Cracker Lake shows off brilliant blue waters that reflect the rather imposing walls of Mt. Siyeh. As it's considered one of the tallest vertical cliff faces on the continent (yes, even taller than those in Yosemite), camping at the lake is a special experience.
The grade of the trail is generally easier than other hikes on the list and you won't have to traverse any vertigo-inducing cliff edges or ridgelines to get to the spectacular views. This is an excellent backpacking route in Glacier National Park if you want an easy, one-night trek to get your feet wet, so to speak — and to see how you feel about sleeping in bear country!
Related Read: 11 Extraordinary Glamping Stays Near Glacier National Park, Montana
5. Gunsight Pass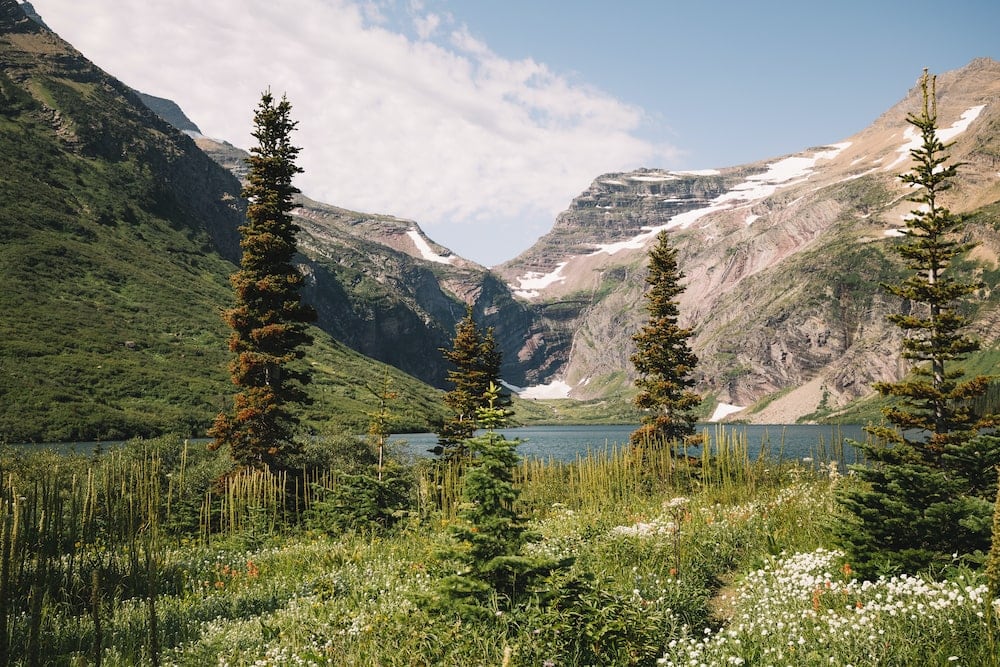 Distance: +/- 19 miles
Total elevation gain: 4,900 feet (6,350 down)
Recommended number of nights: 1
In the middle of the park, the Lake McDonald area is beautiful beyond words, and the Gunsight Pass Trail is a fantastic way to see it all. At less than 20 miles, you can either do this route in a two-day, one-night trip or take your time and enjoy multiple camping spots along the way. This is the kind of trail where you'll be stopping frequently to take photos. The journey is the destination and there's no reason to rush it.
You'll enjoy incredible views, glaciers, alpine lakes, craggy cliffs, and even waterfalls (though they may be pretty dried up by fall). The route ends at the historic Swiss-style Lake McDonald Lodge, for which you'll need to make a reservation far in advance.
6. Bowman Pass to Kintla Lake Loop
Distance: +/- 34 miles
Total elevation gain: 7,890 feet
Recommended number of nights: 3
On the west side of the park is a very unique Glacier backpacking trail: the Bowman Pass to Kintla Lake Loop (also referred to as the Boulder Pass Loop). This point-to-point trek is fairly easy and level along for the first 11 miles or so, traversing the shore of Bowman Lake.
But from there, it's a bit of uphill — most of the climbing is over the next eight miles. But the payment are amazing views from Boulder Pass. And as you climb up and over the pass, you'll walk through seemingly endless wildflowers. The last 12 miles of the hike are mostly flat with a little bit of elevation loss. The final stretch along the shore of Kintla Lake is one of the most pleasant and relaxing finishes to any hike in the park.
Find Your Next Hiking Adventure
Sign up for the Weekend Wanderer to join thousands of readers getting epic travel and gear ideas every week.
Was this article helpful?
---