We research, evaluate and select travel destinations based on a number of factors, including our writers' experience, user reviews and more. We may earn a commission when you book or purchase through our links. See our editorial policy to learn more.
---
Aptly nicknamed the "crown of the continent," Glacier's majestic mountains and hidden gems are resplendent with regal grandeur. We compiled the best hikes in Glacier National Park for you.
Glacier National Park is renowned for its skyscraping mountains, impressive glaciers, and treacherous terrain. Scaling many of the park's famed sky-high trails can be a challenging endeavor — escapades reserved for bold and brave adventure-seekers.
But some of Glacier National Park's best hiking trails are far less intimidating, offering breathtaking routes to sparkling alpine lakes and high mountain meadows that can be undertaken by hikers of any skill level and ability.
Read onward to dive right into the area's best hikes — consider picking up a Glacier trails map before you head out to the park too.
Related Read: 11 Extraordinary Glamping Stays Near Glacier National Park, Montana
The Best Hikes In Glacier National Park
We've put together this list of our favorite hikes in Glacier National Park, and though a few are intense and technical, many can be easily traversed by the entire family.
Among this list, you will find a number of leisurely strolls highlighted by alpine lakes and glacial waterfalls, some moderately challenging hikes with breathtaking mountain views, and demanding trails that lead to where the marmots and mountain goats play.
1. Running Eagle Falls Trail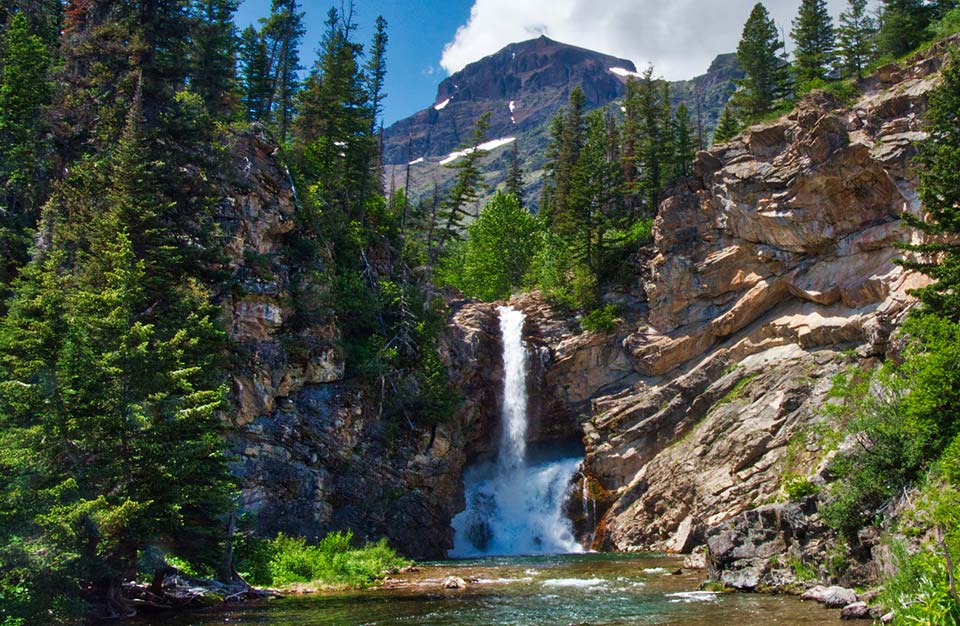 Why you should go: A unique waterfall and great picnic area that's a short walk from the road.
Distance: 0.6 miles
Elevation Gain: 26 feet
Difficulty: Easy
Located right outside of East Glacier Park Village, this little hike to Running Eagle Falls serves as a great reason to stretch your legs after a long car ride into the park. It's time to grab a snack and take the kids to see a waterfall!
The trail is flat and well-maintained, and the hike itself is quick.
Running Eagle Falls is a truly unique spectacle. Spewing out of the cliff face as if born from the rockface, it's an eye-catcher that's well-worth the short hike.
The shallow pool of water at the waterfall's base and the gentle creek which flows from it are filled with smooth gravel, making for a fun spot for the kids to play. There's plenty of space to hang out and have a picnic here.
Additional Information: AllTrails
2. Grinnell Lake
Why you should go: Leave straight from your hotel on a flat trail that hugs the shoreline of three glistening alpine lakes.
Distance: 7.5 miles
Elevation Gain: 300 feet
Difficulty: Easy
Grinnell is a name you're going to see a few times on this list.
The Grinnell Lake Trail is an enjoyable trek along the banks of several glacier-fed lakes, conveniently beginning at the Many Glacier Hotel on Swiftcurrent Lake.
Hikers will find this flat trail a welcome relief that's rife with dramatic topography. The trail skirts along the east side of Swiftcurrent Lake, turning past the prominent pyramid-shaped rock known as Grinnell Point on its way to two other scenic lakes.
At Josephine Lake, the trail divides into multiple routes which can be taken as desired. Hikers can choose to walk around this lake in either direction and will ultimately reach the single trail that leads to Grinnell Lake. There is a short spur on this last section of trail which leads to a viewpoint overlooking Hidden Falls.
Grinnell Lake is marvelous and the highlight of the trail. The pristine glacial water is lined by beach and pine trees, all of which lie beneath the slowly melting Grinnell Glacier.
Additional Information: HikeSpeak
3. St. Mary and Virginia Falls Trail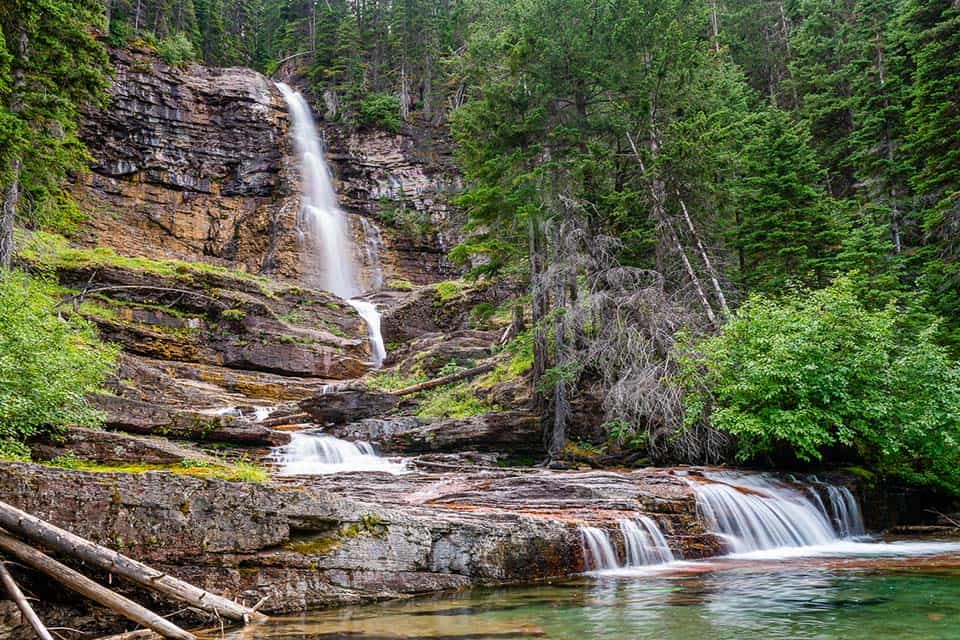 Why you should go: Hunt for a couple of lovely waterfalls set amid a rich landscape on an accessible trail.
Distance: 2.9 miles
Elevation Gain: 452 feet
Difficulty: Easy
A popular trail for its accessibility and beautiful waterfalls, St. Mary and Virginia Falls Trail is a fantastic hike the entire family will enjoy.
Starting at one of the park's main arteries where the Going-to-the-Sun road meets the Saint Mary River, this trail winds deep into a verdant forest that's rich with local fauna and crooning wildlife. Deer and moose are often seen drinking from the creeks along the trail.
The plunging and tumbling waterfalls are the most outstanding features of this hike. Crowds can clog the parking area and waterfall viewpoints at times, but the trail is wide and well-trodden, making for an easy walk.
Additional Information: AllTrails
4. McDonald Creek
Why you should go: A peaceful respite from the crowds that's easily accessible and full of charm.
Distance: 5.0 miles
Elevation Gain: 213 feet
Difficulty: Easy
As one of the less-traveled trails in a popular area of the park, McDonald Creek offers off-the-beaten-path hikers a solitary experience that's far away from the crowds and road noise.
Visitors to the park who need a respite from the popular trails, but aren't looking for a remote mountain excursion, will appreciate McDonald Creek. The pristine glacial melt is crystal clear, and the large rocks which have fallen into the creek make for many interesting rapids and mini waterfalls.
Hikers will find larger cascades at the end of the trail. The sights may not be as epic as other trails, but this trek provides a quiet wilderness experience unlike many other easily-accessible places in the park.
Keep an eye out for moose and bears as you'll likely be alone in this neck of the woods!
Additional Information: AllTrails
5. Trail of the Cedars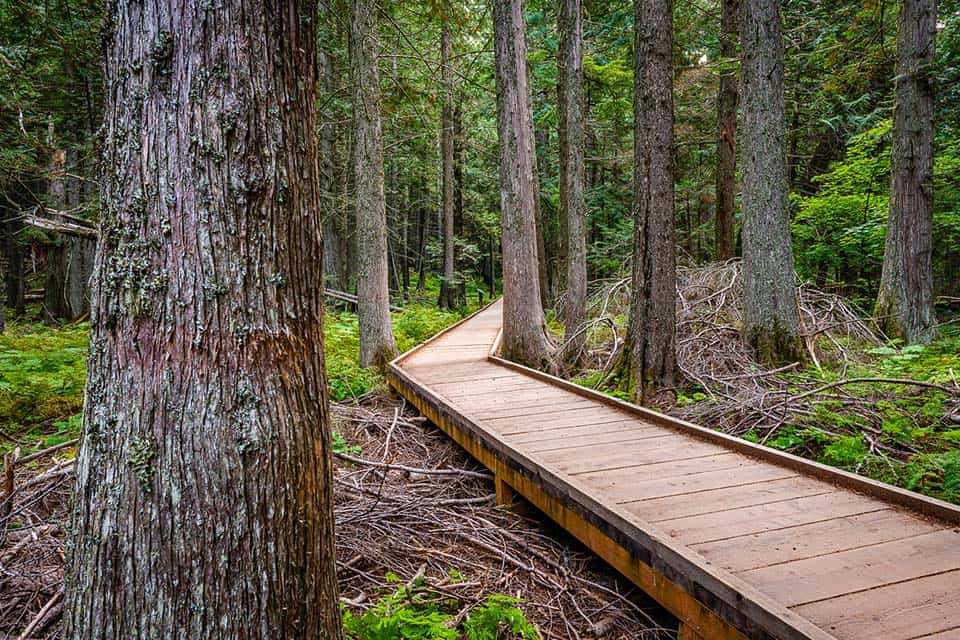 Why you should go: Saunter through the forest on this family-friendly and wheelchair-accessible trail.
Distance: 0.8 miles
Elevation Gain: 36 feet
Difficulty: Easy
Situated next to Avalanche Campground, Trail of the Cedars is a handicap-accessible trail that winds underneath the canopy of giant cedar trees and passes over a beautiful babbling brook.
The trail echoes with the chatter of ground squirrels and chipmunks that rise above the otherwise peaceful forest din. A boardwalk replaces the well-packed dirt path when traveling over marshland, keeping this entire trail accessible to hikers of all ages and abilities.
Interpretive signage and preserved tree root displays exist alongside the path. Avalanche Lake Trail branches off from this path for campers who are looking to take on a more demanding and scenic route.
Additional Information: AllTrails
6. Redrock Falls Trail
Why you should go: Explore a pair of alpine lakes on your way to a modest, yet surprisingly gorgeous, waterfall.
Distance: 4.2 miles
Elevation Gain: 285 feet
Difficulty: Easy
The trail to Redrock Falls is very similar to the Grinnell Lake hike. Tucked within a forest on the banks of two beautiful alpine lakes, you'd hardly be able to tell the two apart, except for the waterfall at the end, that is.
This popular route takes hikers by Fishercap Lake and Redrock Lake, both of which offer stellar mountain views and peaceful resting points along their shores.
After making your way around Redrock Lake you'll soon discover the cascading Redrock Falls as they crash and tumble down a series of rocks toward the lake. This isn't a large waterfall, but it sure is fascinating to look at.
Additional Information: Hiking Glacier
7. Avalanche Lake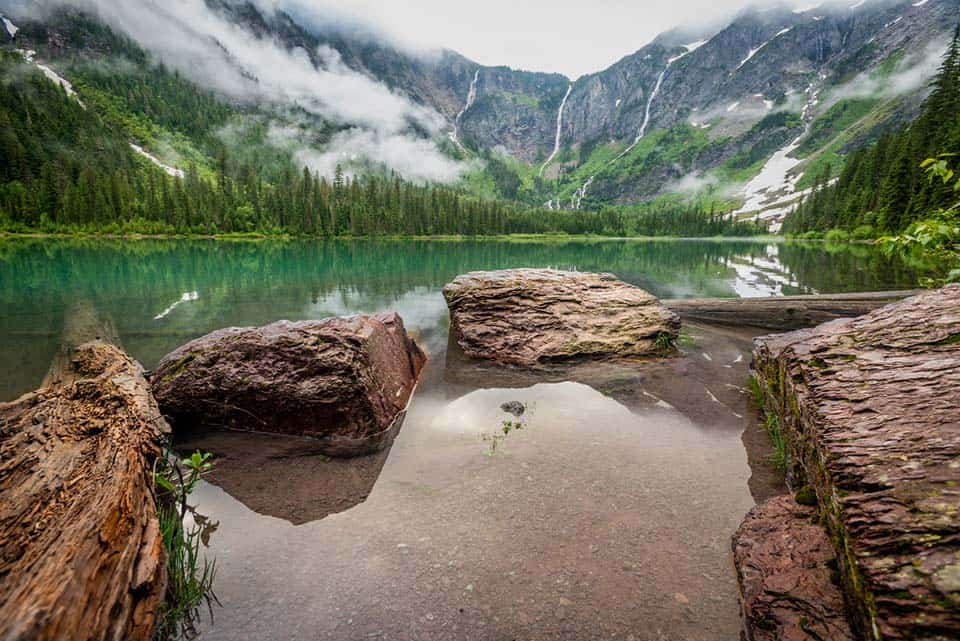 Why you should go: Jaw-dropping scenery and avalanche evidence en route to a pristine glacier-made lake.
Distance: 4.5 miles
Elevation Gain: 730 feet
Difficulty: Moderate
The hike toward Avalanche Lake begins on the Trail of the Cedars, where the damp coastal-like climate gives life to verdant swaths of moss and far-reaching ferns. Hikers will cross Avalanche Creek onto Avalanche Lake Trail where a prominent view of Avalanche Gorge awaits.
Following the creek uphill, the trail winds through expanses of thick forest, but it also crosses barren slopes riddled with downed trees that were uprooted and broken during the winter's worst avalanches.
Upon reaching Avalanche Lake hikers will find a beach that makes for a primo rest stop. Little Matterhorn and Bearhat Mountain tower thousands of feet above the lake and numerous waterfalls can be seen plunging down their cliffs toward the basin.
Additional Information: Hiking Glacier
8. Ptarmigan Tunnel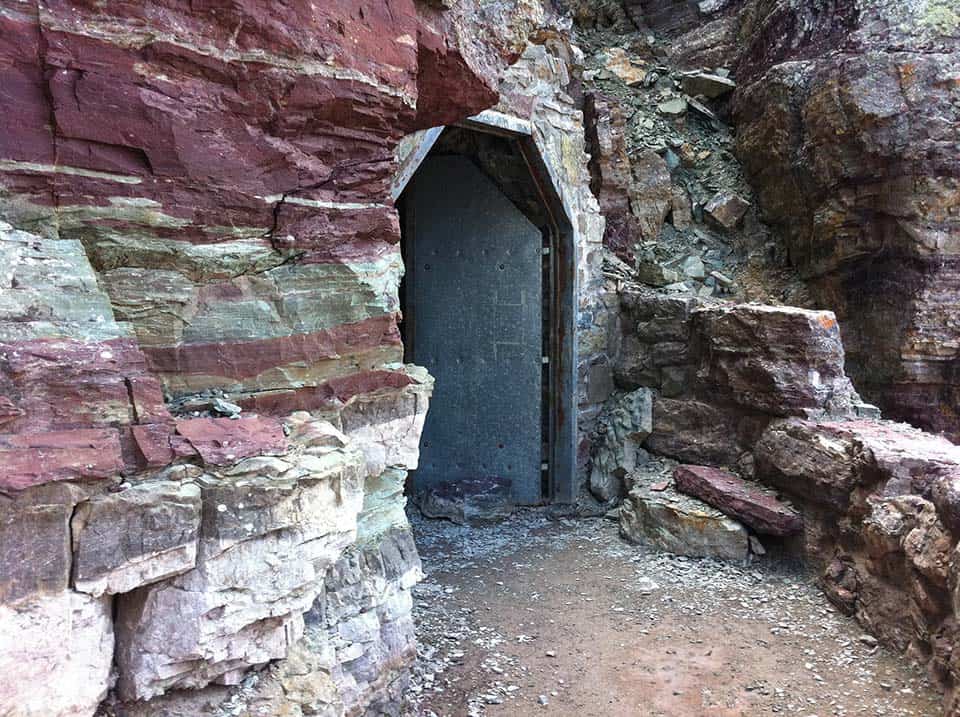 Why you should go: Walk through a tunnel that's been blasted out of a rock wall higher in elevation than most people will ever hike.
Distance: 10.7 miles
Elevation Gain: 2,300 feet
Difficulty: Moderate
The first segment of this trail is through an open area with wonderful views of the surrounding mountains, and it is also a high activity zone for bears. Hike in groups through here and understand that the park rangers may close this trail when bear activity increases to unsafe levels.
Once you start climbing above the valley floor you'll leave the bears behind on your way up to the Ptarmigan Tunnel. As you'll see ahead, the Ptarmigan Wall raises up above the basin, separating the Many Glacier Valley and Belly River Valley.
Hikers will pass by Ptarmigan Creek, Ptarmigan Lake, and a number of waterfalls on their journey to the tunnel.
The tunnel itself was built by the Civilian Conservation Corp in the 1930s for the park. The CCC blasted through the mountain of rock so that hikers and horses could travel through.
And you still can today! Walking through the short tunnel is an eerie experience, but once you pop out the other end it'll feel as if you've stepped into a new world.
Additional Information: Hiking Glacier
9. Iceberg Lake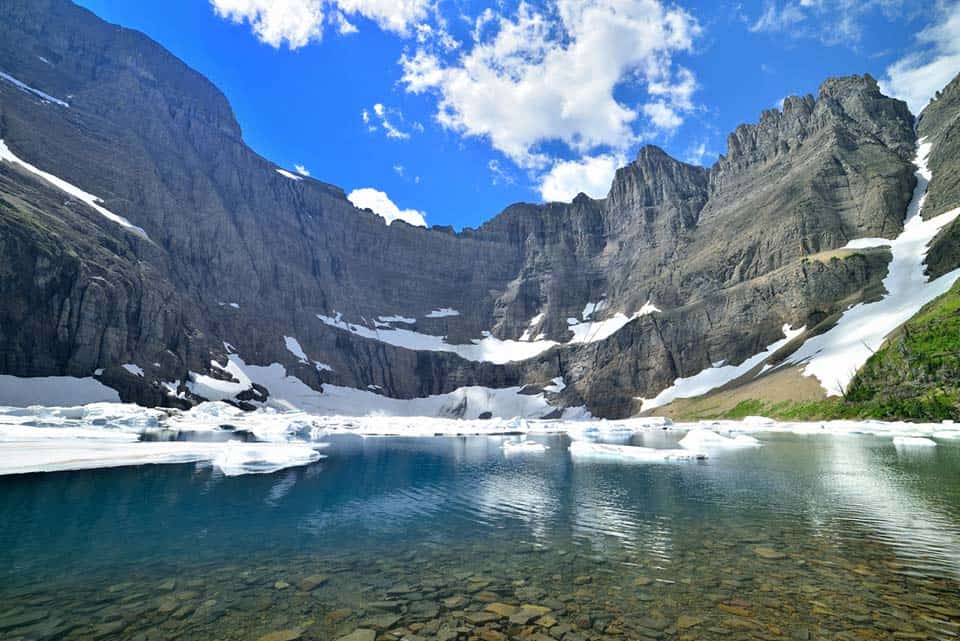 Why you should go: Icebergs and grizzly bears galore. Oh, and a host of amazing alpine scenery.
Distance: 9.3 miles
Elevation Gain: 1,450 feet
Difficulty: Moderate
Iceberg Lake is aptly named for the ever-present icebergs which float in its frigid waters. The lake sits in the shadow of Mount Wilbur and, receiving very little sunlight, is home to large chunks of ice throughout the year.
Other than a short and steep section at the trail's beginning, this is a relatively flat and easy hike with panoramic views for most of its length. Grizzly bears and big horned sheep are prevalent in this area, and the bear activity is sometimes so great that rangers have to close the trail from time to time.
Bring your bear spray and enjoy this trail's consistent wide-open views. There are a few forested sections, but your time in them will be brief. The lake and surrounding rocky peaks create one of the most picturesque locations in the entire park.
Additional Information: AllTrails
10. Cracker Lake Trail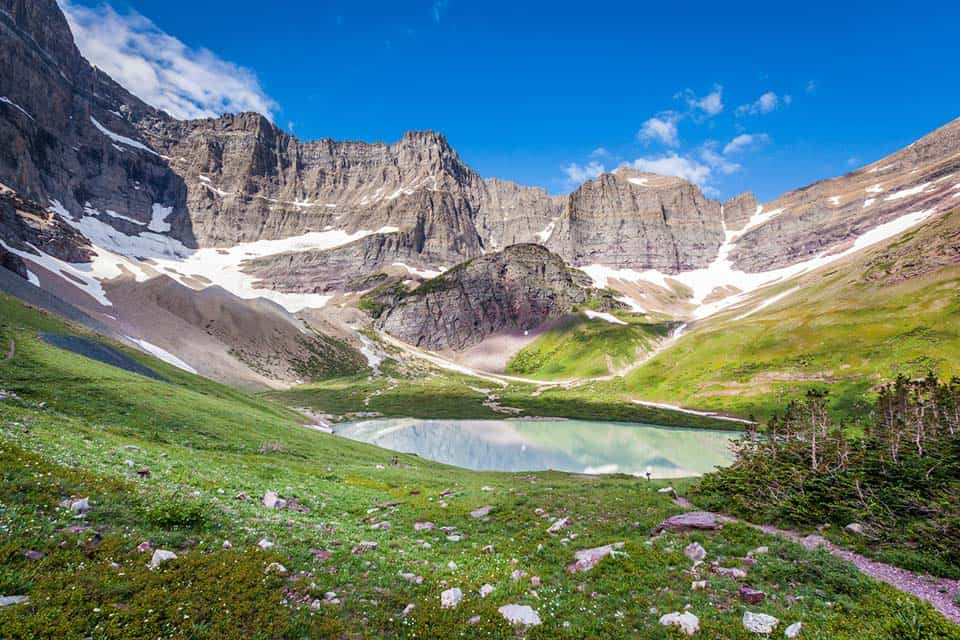 Why you should go: Numerous peaks and bold cliff faces create dramatic views along this undemanding trail.
Distance: 13.0 miles
Elevation Gain: 1,434 feet
Difficulty: Moderate
Popular among hikers, backpackers, and horseback riders, Cracker Lake Trail is gently graded and well-maintained over its entire course. The trail leads through the fabled Many Glacier region of the park.
Festooned with mountain scenery that's decorated with impressive glacial formations and countless waterfalls, the Cracker Lake Trail is a touchstone within Glacier National Park. Many people refer to this trail as their favorite hike in the park.
Cracker Lake rests under the looming presence of SIyeh Peak, a mountain with a large, imposing rock face that rivals the famed mountains of Yosemite in sheer presence. There are many camping spots near the lake fit for anyone looking to spend a night beneath this gargantuan wall of rock.
Additional Information: Hiking Project
11. Hidden Lake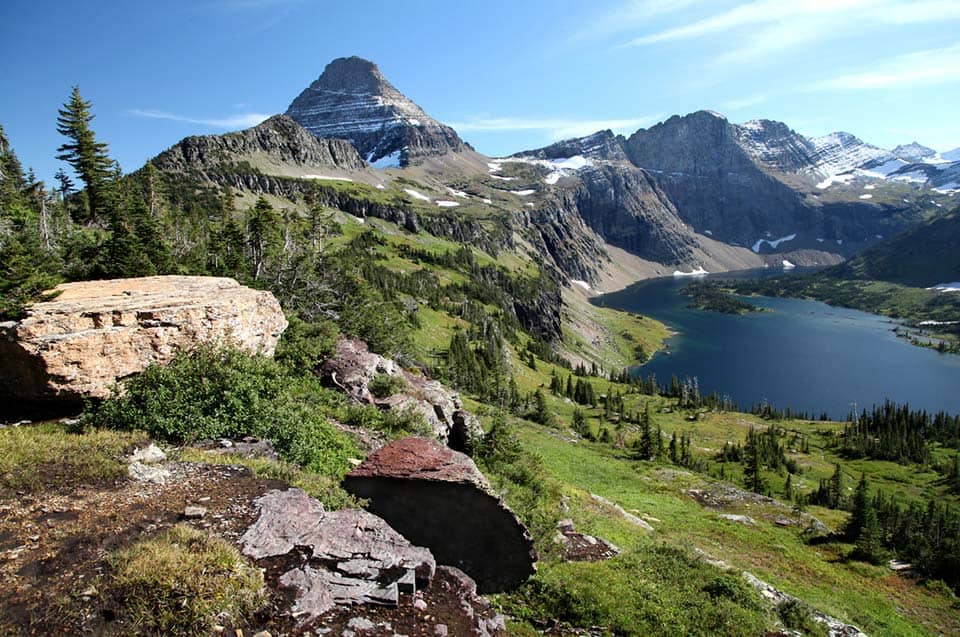 Why you should go: High mountain meadows, dramatic peaks, and an all-encompassing view above a not-so-hidden lake.
Distance: 5.4 miles
Elevation Gain: 1,325 feet
Difficulty: Moderate
Hidden Lake Trail is one of the most popular trails in Glacier National Park, and for good reason. This breathtaking hike starts at Logan Pass Visitor Center, crosses the sublime alpine meadows known as the Hanging Gardens, and proceeds toward an outstanding viewpoint overlooking Hidden Lake and a swath of majestic mountains.
A raised boardwalk guides visitors over the fragile alpine tundra. Territory Supply managing editor Jake Case detailed his experience on this section of the trail when he hiked to Hidden Lake Overlook.
The initial 1.3-mile section to the overlook is the most popular part of this trail, and the easiest to traverse. Continuing further, the trail descends down a series of steep switchbacks to the lakeshore which can be quite strenuous, especially if slick ice is prevalent along the route.
Those who do make it to the end of the trail at the northwest corner of the lake will find an idyllic beach to relax upon. Multiple peaks reign over the glacier-fed lake waters, dominating the view from the lakeshore.
Additional Information: Hiking Glacier
12. Highline Trail Loop
Why you should go: High-altitude hiking over ridgeline trail with a chalet and lodge on the route.
Distance: 11.8 miles
Elevation Gain: 1,950 feet
Difficulty: Challenging
Deceptively named, the Highline Trail Loop isn't actually a loop. Rather, the name refers to a particular bend in the road where the trail ends. This trek can still be completed as a sort of "loop" when hikers park at the "Loop" trailhead to start their journey and complete their hike at McDonald Lodge, where a shuttle can take them back to their vehicle.
It sounds confusing, but it's quite straightforward and absolutely worth the logistical planning for the beauty of the hike. The trail features cliff-hugging stretches along the continental divide, numerous passes around iconic peaks, and an on-trail chalet with a propane stove and pre-packaged goods to snack on.
This is one of the more popular trails in all of Glacier National Park, and for good reason. The experience is out of this world, yet somehow rich with amenities. If you can hike the miles, this should be on your must-do day hike list. Though we rated it as "challenging", it's on the less difficult end of that umbrella.
Additional Information: Hiking Glacier
13. The Garden Wall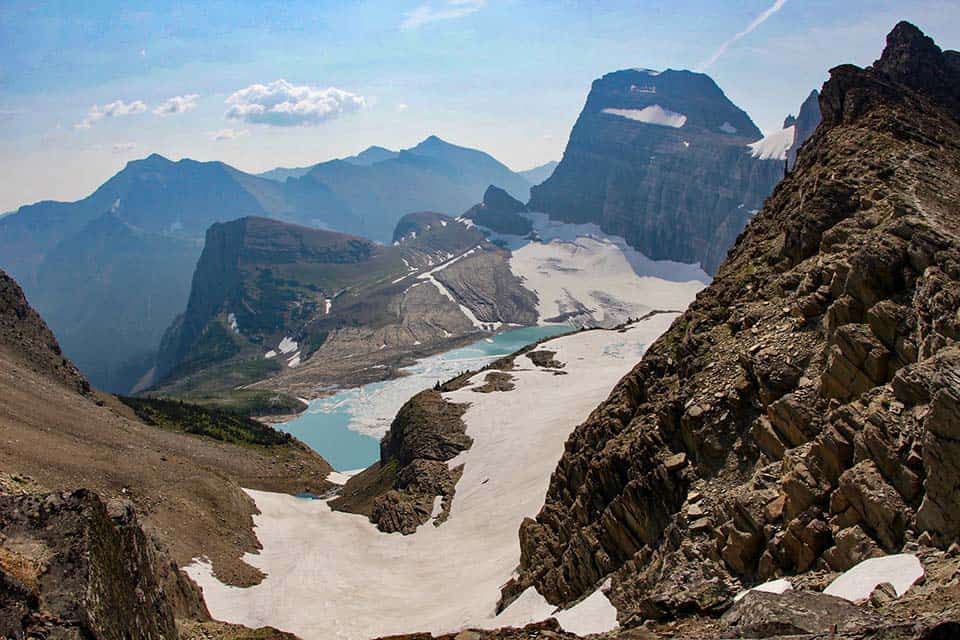 Why you should go: Climb to new heights on top of the Continental Divide where it's plain to see that the world is your oyster.
Distance: 14.7 miles
Elevation Gain: 3,507 feet
Difficulty: Challenging
Take a hike to The Garden Wall for a trip that is sure to impress even the most adventurously-accomplished explorers among us. This staggering wall of solid rock is a part of the Continental Divide.
There are no two ways about it — this hike is tough. The trail involves a good deal of uphill hiking, and even a little rock scrambling, but boasts spectacular vistas as a result, especially when you get to the top of the wall.
Standing on The Garden Wall's precipice, you're going to feel like you're on top of the world. Endless vistas will surround you in every direction, overwhelming your inner "awe" receptors. The Garden Wall is a spectacle itself, and the infamous Grinnell Glacier lays at its base.
Additional Information: AllTrails
14. Grinnell Glacier
Why you should go: Ferry across alpine lakes and hike toward a commanding viewpoint of Glacier National Park.
Distance: 7.6 miles
Elevation Gain: 1,840 feet
Difficulty: Challenging
Grinnell Glacier (and everything else dubbed "Grinnell" in this park) is named after George Bird Grinnell, the man who discovered the glacier, advocated for the creation of Glacier National Park, and founded the first Audubon Society.
The trail to Grinnell Glacier begins at Many Glacier Hotel. Hikers can opt to save a few miles by taking shuttle boats across Swiftcurrent Lake and Lake Josephine. The trail around the lakes is relatively flat and fitted with a boardwalk in places to keep your feet out of the cold marsh.
However you make your way to the south end of Lake Josephine, the trail's true challenges, and fantastic sights, now lay ahead. Multiple alpine lakes and several glaciers will be in full view during the remainder of this trek.
Grinnell Glacier Viewpoint is where the best views are at. Hikers who make it here will be delighted with sweeping views that encapsulate much of Glacier National Park, including the stunning Grinnell Glacier, The Garden Wall, and many of the other hiking destinations on our list.
Additional Information: Hiking Glacier
Get Ready for Glacier
And as we've mentioned, this is bear country — big bear country. If you're planning to spend a night under the stars, you're going to want a bear canister to keep your food safe.
Don't forget to pick up a copy of the Glacier trails map before you hike too.
Keep Exploring America's National Parks
Sign up for our free email to join thousands of readers getting epic travel, hiking, camping and gear ideas every week.
---