We research, evaluate and select travel destinations based on a number of factors, including our writers' experience, user reviews and more. We may earn a commission when you book or purchase through our links. See our editorial policy to learn more.
---
Home to far-reaching views and one of the most biodiverse landscapes in the world, the Smokies are a natural oasis and a prime glamping destination.
The Great Smoky Mountains are a subrange of the Appalachian mountains that divide the great states of Tennessee and North Carolina. Stretching for nearly 400 miles, the vast beauty of the Smokies attracts millions and millions of visitors every year, making it the most popular national park in the country.
Most people opt to stay within the exciting tourist towns of Pigeon Forge and Gatlinburg, which provide a fantastic, albeit crowded, home base for exploring the park. However, in a place as naturally beautiful as the Appalachians, why not experience it up close and personal instead?
Combining the comforts of sturdy shelter with the joy of classic camping, these unique Smoky Mountains glamping spots will make your trip one to remember — and one that's free of crowds.
Related Read: 8 Dreamlike Treehouse Rentals in Tennessee
1. Under Canvas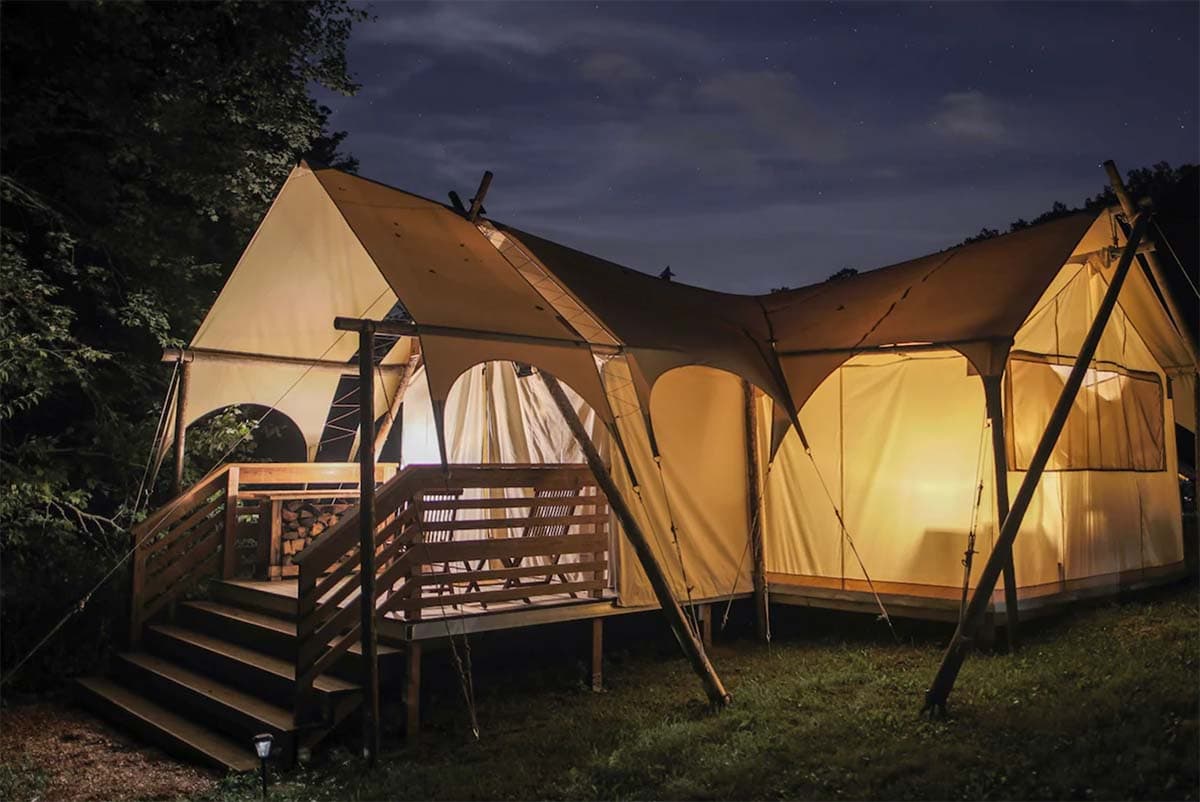 Why you should stay: A luxurious glamping resort with well-appointed safari tents.
Location: Pigeon Forge, TN
Sleeps: 2-6
Minimum stay: 1 night
Rates start from: $119/night
Under Canvas, Great Smoky Mountains is a glamping resort just outside the main city streets of Pigeon Forge. Its location between downtown and the park entrance makes it easy to enjoy both the natural sights of the region and the family-friendly attractions of the city. This resort offers spacious safari tents atop wooden platforms, which feature king beds and private ensuite bathrooms.
You can take your pick from various sizes, with options that can accommodate two up to a family of six. The tents do not have electricity, but portable charging batteries are available to guests. Be sure to take advantage of exciting amenities like the complimentary s'mores, lawn games, and locally sourced, onsite dining.
Check Availability
Follow 'em: @UnderCanvasOfficial
2. Domes at Wilderwood Smoky Mountains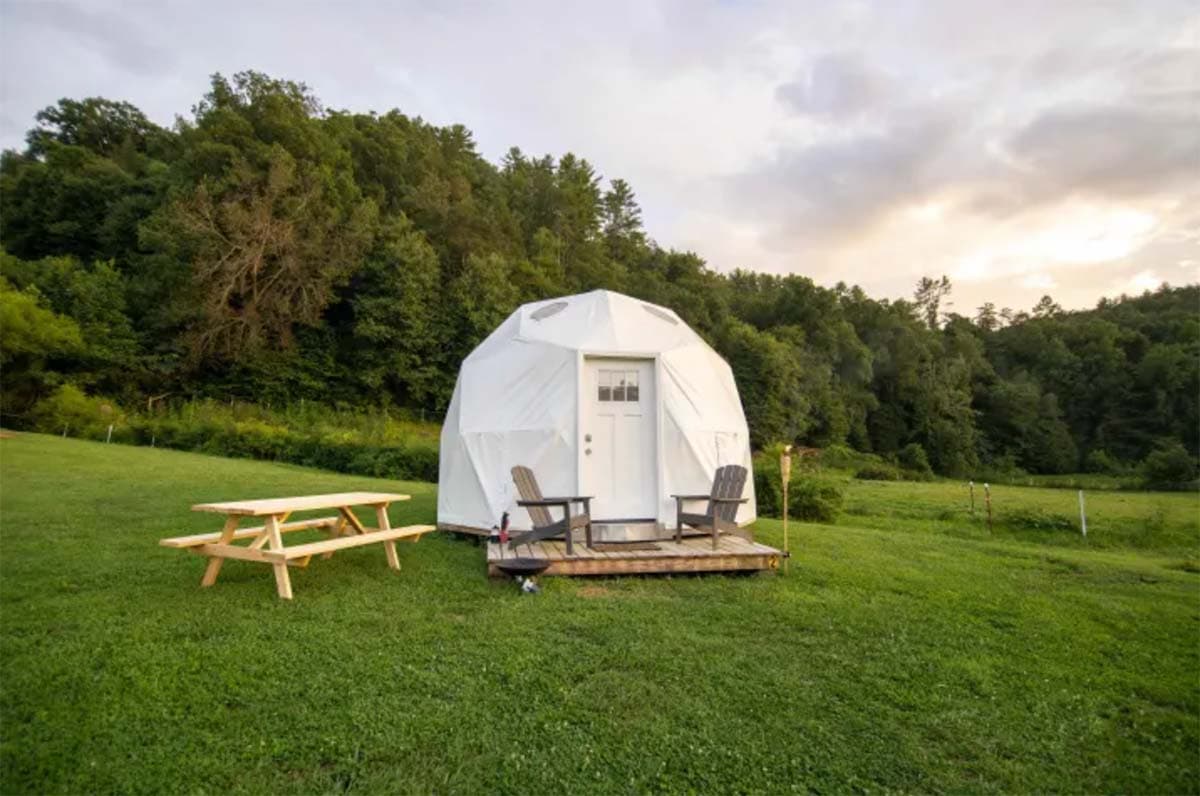 Why you should stay: A stylish geodesic dome on a sprawling 140-acre property 15 minutes from the Cosby entrance.
Location: Sevierville, TN
Sleeps: 2
Minimum stay: 1 night
Rates start from: $105/night
Enjoy a unique glamping dome situated on an old farm-turned glampsite and offers a fun way to camp near the Smokies. It has a cute little front porch with Adirondack chairs where you can sit and sip your morning coffee. Inside, tasteful decor and fun extras like a hanging macrame chair and string lights on the ceiling make your stay extra special.
The dome also features numerous skylights and a transparent wall for cozy stargazing from bed. A shared lounge area and kitchenette can be found in the barn, where you can make fresh coffee and store food in the fridge. This property also has an outdoor shower and a clean portable toilet.
Check Availability
Related Read: The 8 Best Camping Spots in the Nantahala National Forest
3. Cabins at Shoestring Creek Campground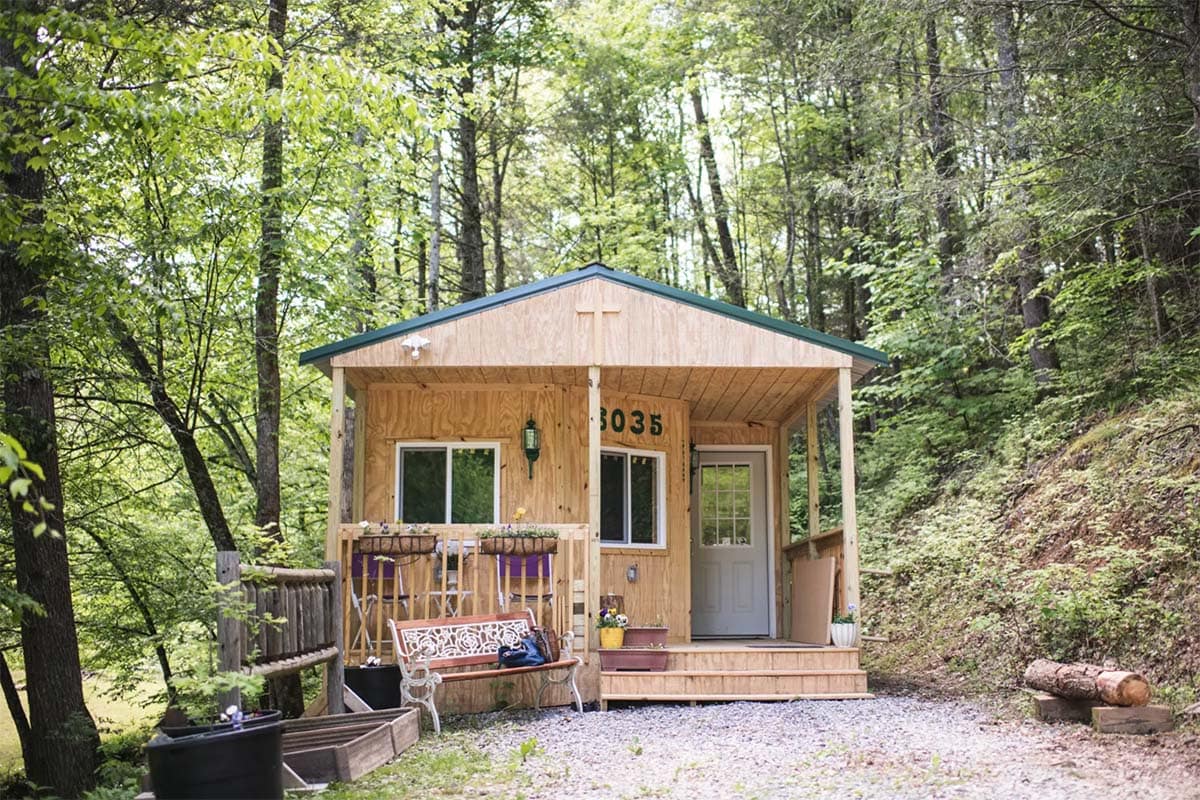 Why you should stay: A rustic dry cabin in a semi-secluded area 10 minutes from the park.
Location: Cosby, TN
Sleeps: 6
Minimum stay: 1 night
Rates start from: $45/night
Escape the daily grind with a stay in one of Shoestring Creek Campground's primitive cabins. You won't find plumbing, WiFi, or electricity here, allowing you to disconnect fully on your visit. However, these rustic cabins provide plush beds, tables, and chairs, elevating your camping trip with comfortable amenities.
You just need to bring your sleeping bags and your favorite camping gear. Your furry companions are welcome to stay as well. Glampers enjoy access to a sparkling clean bathhouse complete with a toilet and shower. Additionally, each cabin has a picnic table, a charcoal grill, and a fire pit for food prep and evening s'mores.
Check Availability
Related Read: 11 Stunning Glamping Spots Near Yosemite National Park, California
4. The Ridge Outdoor Resort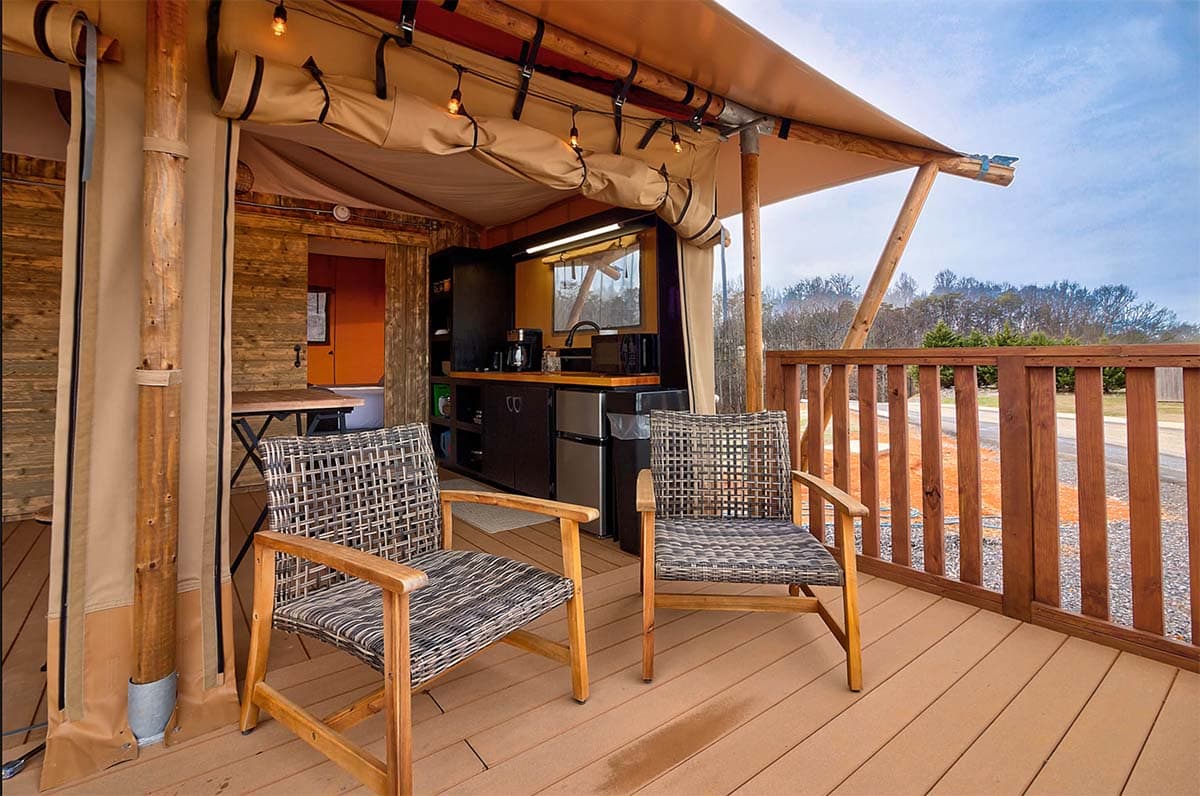 Why you should stay: An upscale campground with hotel-style amenities.
Location: Sevierville, TN
Sleeps: 2-8
Minimum stay: 1 night
Rates start from: $45.99/night
The Ridge Outdoor Resort  is a family-friendly Smokies getaway brimming with lots to do. On the resort grounds, take a dip in the swimming pool and catch some rays on the surrounding sun deck. There's also a fitness center and a pickle ball court where you can get your sweat on. Visitors with pets will appreciate the "bark park" area where your four-legged friends can let loose and play.
As for the campsites available, there are fully furnished glamping tents and tiny homes. Those who wish to camp with their own R.V. or tent are free to stay at the Ridge as well. Each glamping tent is outfitted with hard flooring, a kitchen, and a private bathroom. The modern tiny homes are also a treat, boasting upscale finishes and all the comforts of home for two.
Check Availability
Follow 'em: @Ridge_Outdoor_Resort
5. Mongolian Yurt at the Heart Center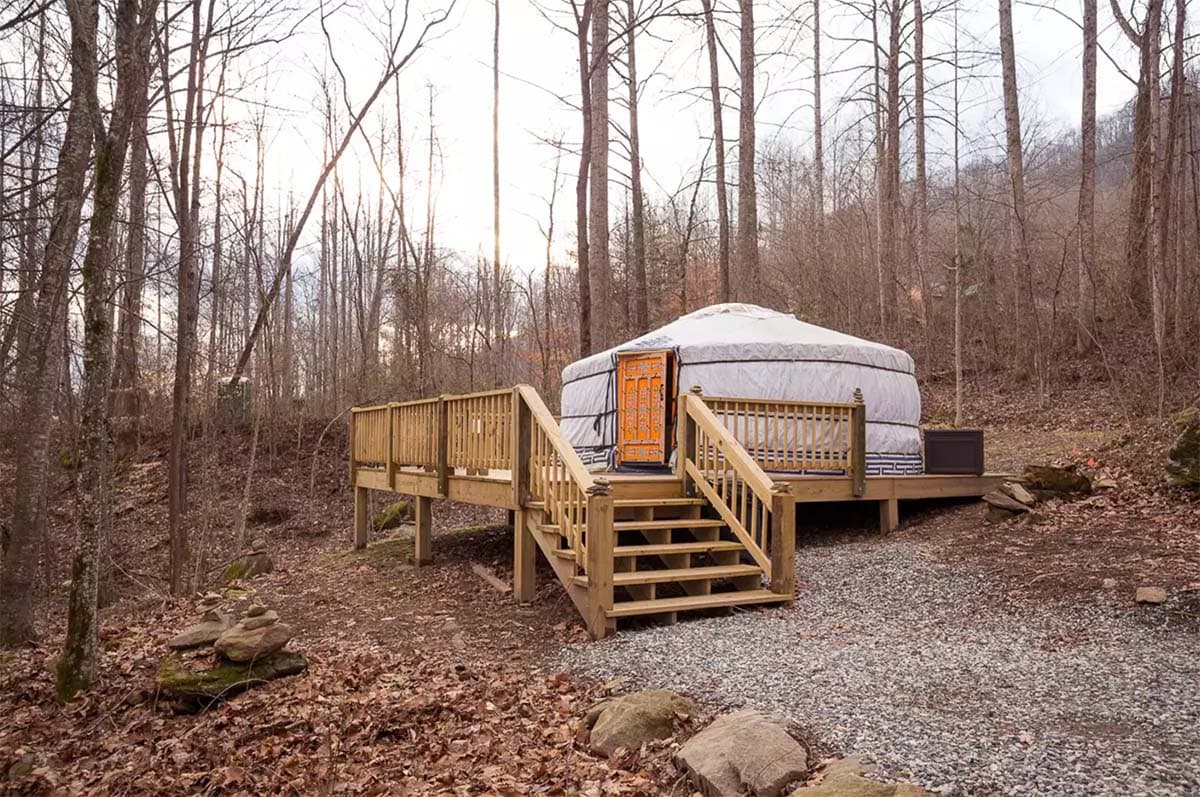 Why you should stay: A wellness yurt on the southern side of the Smokies.
Location: Robbinsville, NC
Sleeps: 5
Minimum stay: 2 nights
Rates start from: $71/night
This Mongolian-style yurt is part of the Heart Center, a holistic wellness retreat in western North Carolina. Your stay includes shelter in an authentic Mongolian yurt, furnished with two twins and a double.
The yurt also features a center skylight allowing natural light to fill the interior as well as a wooden deck with chairs and a picnic table. During your stay, be sure to take advantage of the center's many unique activities like meditation and Reiki energy work.
Guest Marios shares, "Liz was amazing and very hospitable. We enjoyed staying in a beautiful and spacious yurt and had lots of activities to participate in. The gym on the property offers pickleball, ping pong, basketball, and other fun games."
Check Availability
Related Read: 11 Peaceful Cabins with Hot Tubs in Gatlinburg, Tennessee
6. Falling Waters Nantahala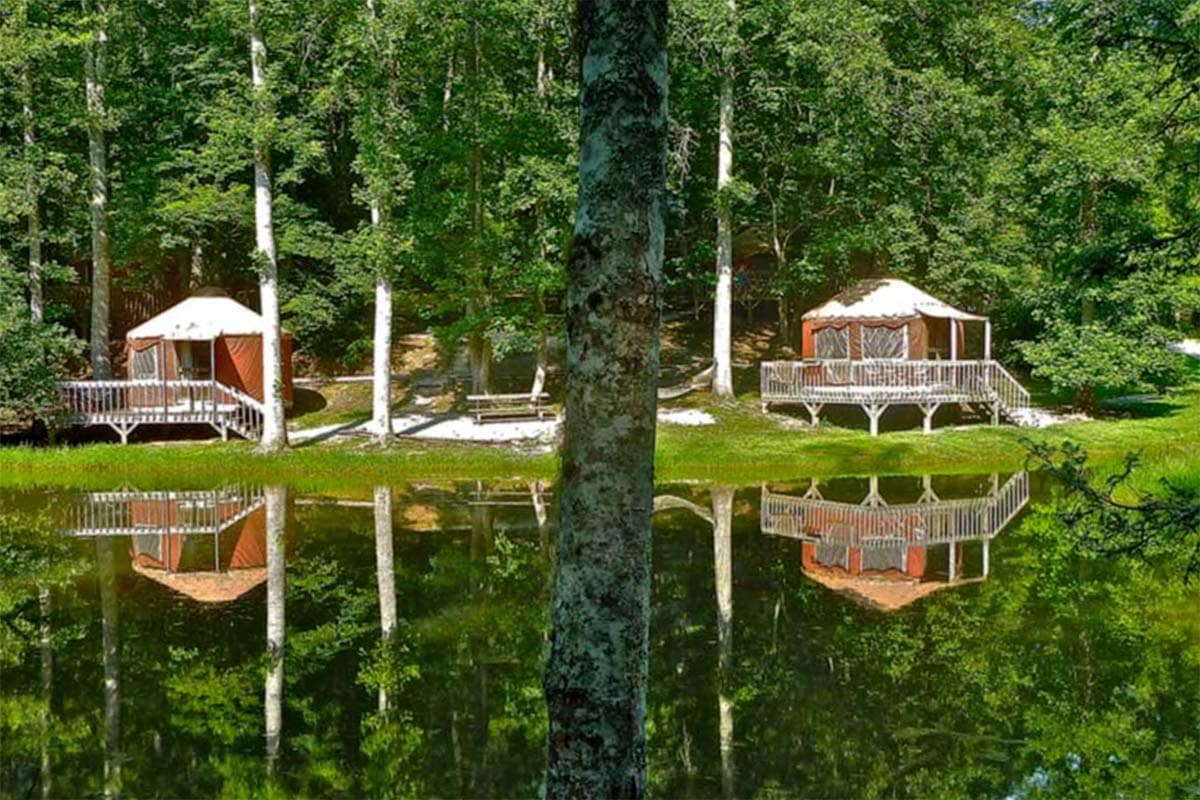 Why you should stay: Cozy yurt rentals within an adventure resort perfect for adrenaline junkies.
Location: Bryson City, NC
Sleeps: 2-4
Minimum stay: 1 night
Rates start from: $109/night
Ideally situated within the Nantahala River Gorge, Falling Waters Nantahala provides exciting yurt lodging in one of the best places for outdoor adventure in the Smokies. The gorge is known for its thrilling white water rafting excursions rated as safe for the whole family. Other nearby activities include kayaking on Fontana Lake, biking the Tsali Trail, and ziplining amongst the treetops.
At the yurt, comfy furnishings like a queen bed, futon seating, and a heater ensure you're cozy throughout your stay. Each yurt is also outfitted with a coffee maker and a mini-fridge. Bathroom and laundry facilities are available to all guests staying at the yurt village.
Check Availability
Follow 'em: @Wildwaterltd
7. Keira's Kabin
Why you should stay: A single-room wooden cabin on a quiet property with a peaceful creek.
Location: Friendsville, TN
Sleeps: 5
Minimum stay: 2 nights
Rates start from: $55/night
Keira's Kabin is a lovely dry cabin located about 30 minutes from the national park and Knoxville, Tennessee. It provides a comfortable place to camp in the wilderness, complete with beds, bedding, and a covered front porch. You'll also find thoughtful extras at the cabin, such as a rain collection barrel for washing up, cooking basics, and complimentary firewood.
There's no WiFi available on the property, freeing your mind to focus on the peaceful surroundings. When you're not off exploring the Foothills Parkway or sights of the national park, Friendsville is home to historical attractions like the Underground Railroad.
Check Availability
Related Read: 8 Incredible Glamping Spots Near Gatlinburg, Tennessee
8. Camp LeConte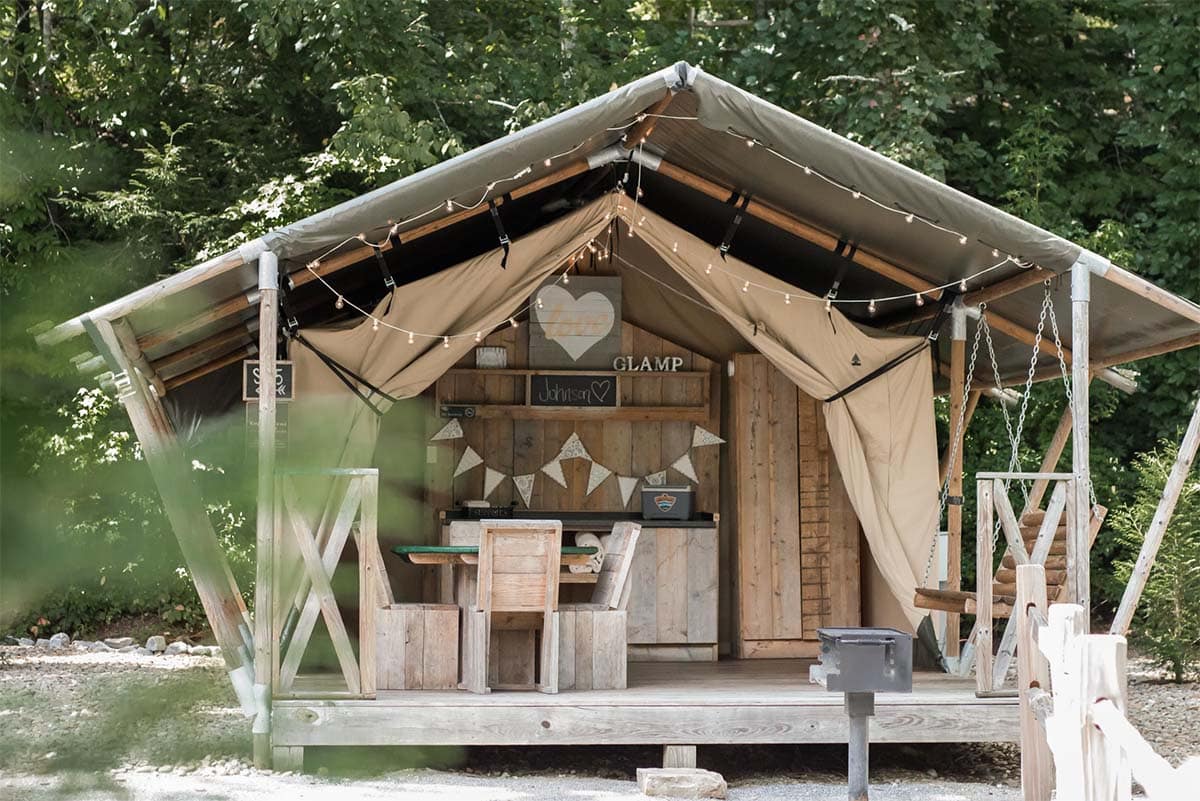 Why you should stay: A campground offering unique glamping sites in the heart of the Great Smoky Mountains.
Location: Gatlinburg, TN
Sleeps: 2-6
Minimum stay: 1 night
Rates start from: $130.90/night
Whether you're seeking a memorable stay in a glampsite or a more traditional camping experience near the Smokies, there's something for everyone at Camp LeConte. Among the many fun ways to stay, is the resort's luxury open-air treehouses ideal for a family of four. There are also colorful retro campers, cool safari tents, and modern R.V.s.
Camp LeConte's glamping accommodation features comfy beds and linens, complimentary water, a fire pit, and a grill. The resort itself also has a heated swimming pool and many recreational spaces. The hopping streets and top restaurants of Gatlinburg are a quick eight-minute drive from this luxury outdoor resort.
Check Availability
Follow 'em: @Camp_LeConte
9. Seaboard Coast Line Caboose #0887
Why you should stay: A renovated train car turned homey glamping experience away from the crowds.
Location: Clyde, NC
Sleeps: 5
Minimum stay: 1 night
Rates start from: $205/night
All aboard at the Seaboard Coast Line Caboose #0887, an eye-catching train car that'll leave a lasting impression for years to come. One step inside and you'll feel right at home, thanks to its full kitchen, private bathroom, and semi-private bedroom. Not to mention the luxurious touches like heated flooring in the bathroom and the expansive wooden deck that take your glamping to a whole new level.
As part of the Buffalo Creek Vacations property, guests can take part in various activities like bison and goat feeding, horse rides, and fishing. The resort even has paintball and a gift shop onsite. The national park's Cataloochee entrance is about 40 minutes away.
Check Availability
Follow 'em: BuffaloCreekVacations
10. Bonanza Jellybean
Why you should stay: A cherry red camper with retro style near the Sugarlands entrance.
Location: Cosby, TN
Sleeps: 2
Minimum stay: 1 night
Rates start from: $51/night
Wake up in a beautiful 1959 Shasta camper that's aptly named the Bonanza Jellybean. The camper is nestled on a densely wooded property shared with other glamping sites, known as Camp Grits. From its bright red exterior to the vintage bedding, this little camper is oozing with personality.
The classic outhouse and wooden bathhouse on the property only add to the retro feel of the place. There's also an old bathtub heated by a campfire where you can soak away your worries in what they've dubbed a "hillbilly hot tub." The hosts offer breakfast delivery to those who request it.
Check Availability
Related Read: 6 Cool Campervan Rentals in Nashville, Tennessee
More Incredible Stays
Get epic travel ideas delivered to your inbox with Weekend Wanderer, our newsletter inspiring more than 10,000 readers every week.
---