We research, evaluate and select travel destinations based on a number of factors, including our writers' experience, user reviews and more. We may earn a commission when you book or purchase through our links. See our editorial policy to learn more.
Was this article helpful?
---
With over 12,000 feet of elevation difference from the height of its legendary peak to its lowest point on the Ohanapecosh River, Mount Rainier National Park provides a wealth of outdoor experiences unmatched anywhere else in the Pacific Northwest.
Mt. Rainier National Park is a special place where old-growth forest is fed by mountain glaciers, and dense rainforest and mountain tundra can be visited in the same day.
The gargantuan mountain and its surrounding wildlands are home to dozens upon dozens of trails worth exploring. You can make your own adventure along interpretive nature walks, gentle riverside hikes, and extensive backpacking trails — the choice is yours.
We've put together a list of our favorite hikes below to help you get your Rainier adventure started. Read on, build a plan (a Mount Rainier trails map is always helpful), and then go enjoy those mountain views — and consider these amazing cabins near Mount Rainier if you're looking for a place to stay.
Naches Peak Loop
Why you should go: Hillside walking with meadows, views, and wildflowers aplenty.
Distance: 3.5 miles
Elevation Gain: 500 feet
Difficulty: Easy
A popular hike for those who enjoy a pleasant stroll through the wilderness, Naches Peak Loop provides a wealth of alpine experiences along its heavily trafficked route.
Enjoy the company of wildflowers blanketing the valley below as you walk the crest of a hill toward viewpoints highlighting Dewey Lake and Mt. Rainier. There are stone benches to help you relax at popular stopping points.
The trail loops around Naches Peak and cuts across alpine meadows along its southern slope, making for a scenic hike throughout the entire loop.
Additional Information: National Park Service
Nisqually Vista Loop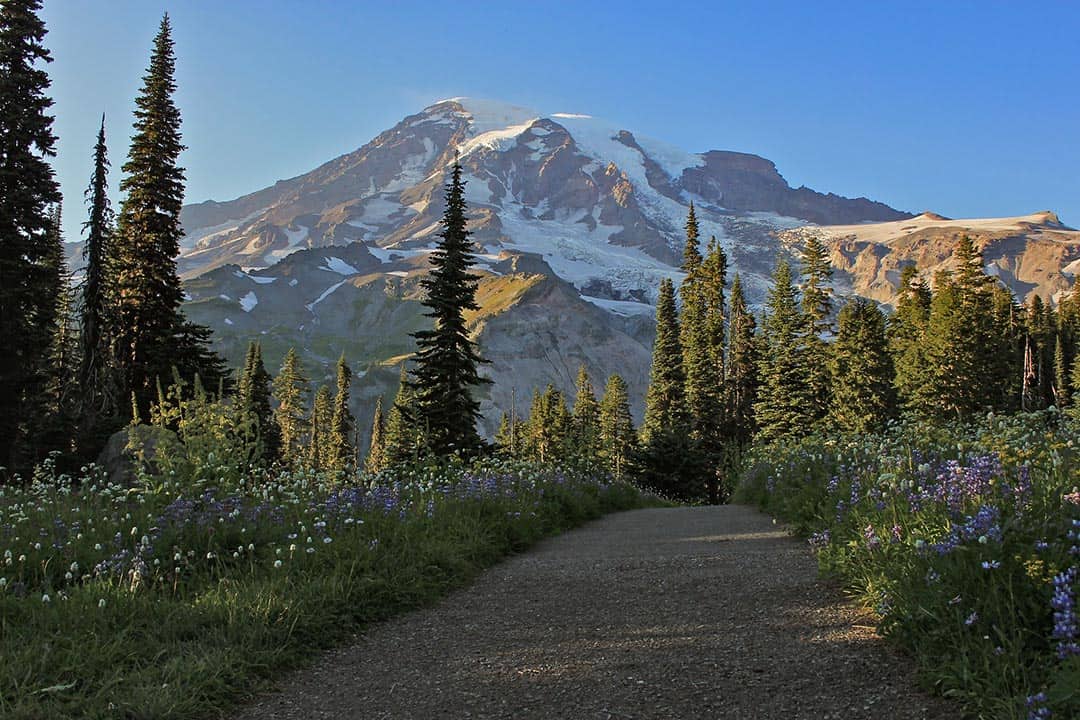 Why you should go: Take it easy on this paved path to glacial views.
Distance: 1.1 miles
Elevation Gain: 200 feet
Difficulty: Easy
Though not wheelchair accessible because of the initial stone steps, this is an otherwise gently-graded loop on pavement with interpretive signs that begins at the popular Paradise parking lots.
Breathe in the fresh mountain air and slowly absorb the overwhelming presence of Mt. Rainier towering ahead. Once the entirety of the mountain behemoth has settled into your mind, turn your focus downward toward the rock-strewn Nisqually River Valley and its Nisqually Glacier.
"I would recommend this hike to anyone entering the Paradise area on the first day," said visitor Kathy Horter.
This spot serves as a great first hike for visitors to Paradise as the trail and its signage guides eyes toward the awesome spectacle of Rainier's peak. It then draws the hiker's attention toward some of the mountain's other amazing aspects, featuring incredible views from start to finish.
Additional Information: Washington Trails Association
Silver Falls Loop
Why you should go: Riverside hiking among verdant forest and white water rapids.
Distance: 2.7 miles
Elevation Gain: 350 feet
Difficulty: Easy
Starting at the Ohanapecosh Visitors Center and following the turbulent Ohanapecosh River, this enjoyable stroll is interesting because of its wide, well-maintained trail which is contrasted by the fury of its neighboring rushing water.
The river will hold your interest throughout the hike as its boiling rapids swell, the tumultuous water and tight chasms causing it to wildly splash and froth.
Silver Falls itself is a powerful plunging waterfall early in the summer, putting on a forceful display. Flat trail aided by wooden bridges and boardwalks allow you to amble about as you may, but the violent river insists that you pick up the pace.
Additional Information: Visit Rainier
Bench and Snow Lakes
Why you should go: Tranquil alpine lakes tucked away from the big crowds.
Distance: 2.5 miles
Elevation Gain: 610 feet
Difficulty: Easy
One of the few trails on this list that doesn't feature Mt. Rainier as the be-all-end-all highlight, Bench and Snow Lakes instead present an alpine experience that's less about the spectacle and more about the atmosphere.
"This trail is so beautiful. I felt like I was walking in an enchanted forest most of the time," said visitor Liz Graham.
Reflecting on the waters of these lakes, evergreen trees rise above white snow and gray volcanic rock which creates an alpine setting that coaxes your imagination, transporting your heart and soul atop a mountain range that could be just about anywhere in the world.
This wondrous sensation, which people sometimes hike dozens of miles to find elsewhere, can be experienced just a short walk from the parking lot. Alpine lakes such as these are a real treasure, and it's a surprise that these easy-to-access Bench and Snow Lakes aren't more often frequented by park guests.
Additional Information: Washington Trails Association
Grove of the Patriarchs Loop
Why you should go: Gigantic old-growth trees set on an island in the Ohanapecosh River.
Distance: 1.5 miles
Elevation Gain: 50 feet
Difficulty: Easy
Folks of all ages will enjoy the walk over the suspension bridge that leads to this mesmerizing loop underneath a canopy of massive old-growth trees.
A wooden boardwalk weaves through these ancient giants of cedar, hemlock, and Douglas-fir which reach heights of over 300 feet.
There are several interpretative signs along the route, each teaching hikers about the ancient trees and the surrounding area.
Additional Information: Washington Trails Association
Trail of the Shadows Loop
Why you should go: Explore the ruins of Longmire's history on this wheelchair-accessible trail.
Distance: 0.7 miles
Elevation Gain: 20 feet
Difficulty: Easy
Head off from the Longmire Ranger Station onto this flat trail that people of all ages and capabilities can enjoy.
Surrounded by nature on all sides, you'll delve deep into the past back when the Longmire Medical Springs Resort was a bustling hot springs destination on these very grounds. Signs will point out sections of the former resort which was first established in 1890, including the location where the hotel once stood.
"What a neat little hike! Such interesting information about the history of the settlers of Mt. Rainier," said visitor Chris Bush.
Further along the path you'll encounter several hot spring pools which were once utilized and advertised by the resort for their healing properties. A marsh viewpoint and mineral deposits are other highlights of the loop, combining human history with contemporary nature for a well-rounded experience.
Additional Information: Washington Trails Association
Carbon River Rainforest Nature Trail
Why you should go: A delightful rainforest walks suitable for the entire family.
Distance: 0.5 miles
Elevation Gain: 80 feet
Difficulty: Easy
The only true inland rainforest around Mt. Rainier, the Carbon River Rainforest is a unique experience that feels like a more typical Pacific Coast ocean-hugging temperate rainforest.
Boardwalks and footbridges keep your feet free of the mud as you wander through these lush and wet woods. Moss clings to everything, and the underbrush is so thick with plant life that you'd be hard-pressed to see any dirt away from the trail.
Moisture-loving plants like skunk cabbage thrive here and are hardly seen anywhere else around the mountain. Beetles, slugs, and a variety of other bugs that live in humid environments can be found all along the trail.
Additional Information: Visit Rainier
Comet Falls
Why you should go: A series of beautiful waterfalls guides you toward the pinnacle 300-foot plunge of Comet Falls.
Distance: 3.8 miles
Elevation Gain: 900 feet
Difficulty: Moderate
Follow the shy waters of Van Trump Creek as it pops in and out of sight along your journey. The churning waters froth against rocky outcrops as they race their way downhill.
A little over a mile into your trip there is a crib ladder in place to aid hikers in scaling a sturdy rockface.
Just beyond this ladder is where the sights and sounds truly begin as you approach the penultimate three-tiered Bloucher Falls and the first sighting of Comet Falls comes into view.
Standing in awe at the base of the incredibly tall Comet Falls can leave you soaked if the wind is strong. Beware of slippery rocks while you enjoy the falls.
Additional Information: Washington Trails Association
Burroughs Mountain Trail
Why you should go: Delicate tundra and endless mountain views.
Distance: 3.9 miles
Elevation Gain: 1,170 feet
Difficulty: Moderate
Consisting of a series of "burrough" mounds, each posing as a peak of its own under the looming presence of Mt. Rainier, this trail involves some serious elevation that results in dramatic views and burning lungs.
Snow can hang around on this trail well into the summer. If you're aiming for a late-season hike you can expect dusty trails and expansive meadows of rarely seen High Cascade tundra. This is most evident upon reaching the First Burroughs Mountain.
Continuing onward and climbing to Second Burroughs Mountain you will likely spot marmots, pikas, and maybe even some mountain goats on the rocky slopes. From this burrough there are great views of Glacier Basin below and panoramic sights of the surrounding area.
Those bold enough to carry on to the Third Burrough Mountain are in for a tough climb to the rocky top, but this mound makes for an excellent place to take a long break. Large flat rocks provide excellent rest areas that you can lounge upon while taking in the revitalizing beauty which surrounds you.
Additional Information: Hiking Project
Mount Fremont Lookout
Why you should go: A trail connecting the Sunrise Visitor Center to the historic Fremont Lookout Cabin.
Distance: 5.6 miles
Elevation Gain: 900 feet
Difficulty: Moderate
Hiking up to Mount Fremont Lookout and the two-story Fremont Lookout Cabin is no walk in the park. Well, it's exactly that, but the hike involves flights of stone steps built by the Washington Trails Association that may have you breathing hard.
"My favorite trail," said visitor Christopher Grissom.
The historic cabin on Mount Fremont has stories to tell, all of which can be learned at the Sunrise Visitors Center that resides at the beginning of the trail where visitors can learn the history of the area before venturing out to see it first hand.
The Lookout, of course, is home to sweeping views of Rainier and the surrounding hills. Bears and goats can be spotted in distant meadows, so bring a camera with a zooming lens!
Additional Information: National Park Service
Spray Park Trail
Why you should go: Seclusion within beautiful high alpine meadows.
Distance: 6 miles
Elevation Gain: 1,300 feet
Difficulty: Moderate
Beginning at Mowich Lake and including a short hike to the popular Spray Falls, solitude is unlikely to be had along the first couple miles of this trail, but if you opt to go further up the path beyond the waterfall attraction you'll find beauty and serenity where few hikers roam.
From the falls there is an intimidating set of switchbacks that convince many to turn around and head back to the lake. Upon cresting the switchbacks, however, your trek will take you through a thinning forest and over layers of miraculous rolling meadows.
Here there are spur trails that lead to a number of spectacular viewpoints including Observation Rock, Echo Rock, and Mist Park.
Additional Information: National Park Service
Tolmie Peak Trail
Why you should go: A pair of wonderful lakes and magnificent views of Rainier.
Distance: 6.5 miles
Elevation Gain: 1,010 feet
Difficulty: Moderate
This hike begins at Mowich Campground and wraps around the west side of Mowich Lake, an excellent area to relax and cool off after your big day hike is done.
Climbing away from the lake, you'll be walking steadily uphill through evergreen forest toward Ispus Pass where the iconic Wonderland Trail crosses your path. Be sure to take in the grand views here before you drop down in elevation again.
Soon you'll reach Eunice Lake and its adjacent meadows. This serene oasis can be a destination all its own, but if you're feeling up for it there is one final uphill to climb to reach Tolmie Peak and its outstanding views.
The final push will give your legs a workout, but the in-your-face view of Rainier from Tolmie Peak will knock your socks off. You're going to like the sights from here.
Additional Information: National Park Service
Skyline Trail Loop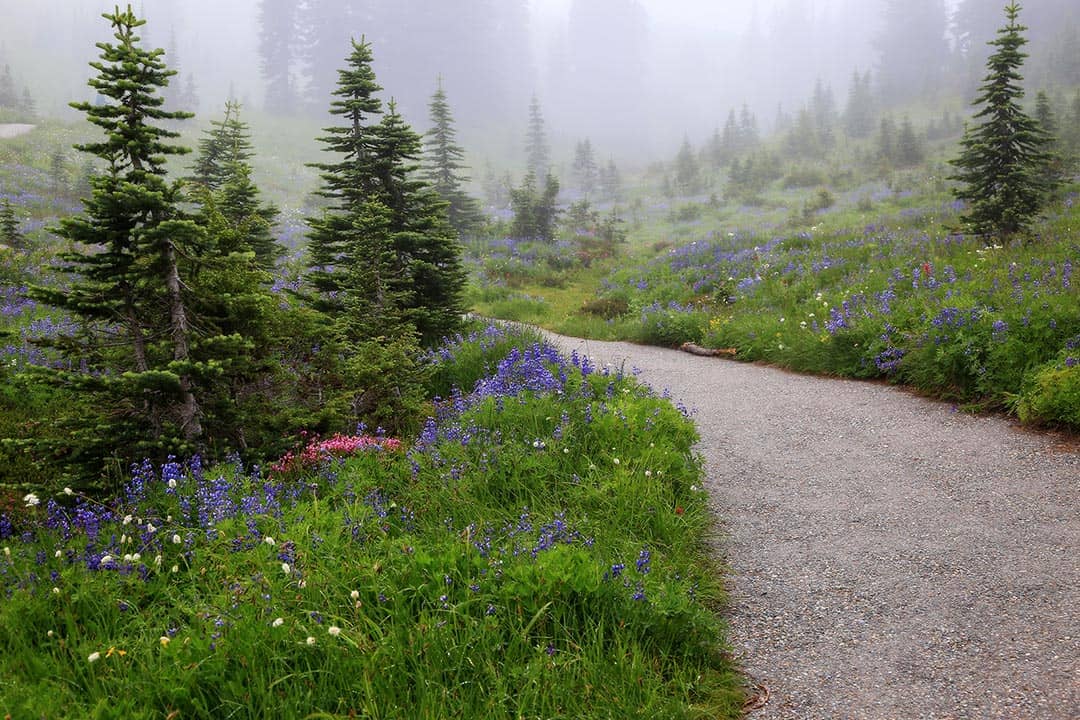 Why you should go: A vibrant palette of colors spanning melting glaciers to meadow wildflowers.
Distance: 5.5 miles
Elevation Gain: 1,700 feet
Difficulty: Challenging
Challenging though it is, the Skyline Trail is among the most popular hiking destinations within sight of Mt. Rainier.
Hiking out of the tourist hub of Paradise, you'll be climbing into high mountain meadows that are rich with wildlife, flush with flowers, and humming with the sound of cascading glacial melt.
You will not be alone in these meadows. Plenty of people hike into this area on any day of the week, many opting to make Glacial Vista their intended destination. You'll find this postcard-worthy photo opportunity along your route, and if you continue onward you'll eventually leave the majority of the crowds behind.
But you still won't be left alone as numerous whistling marmots and squeaking pikas will dot the hillsides as you continue on the less-traveled section of the loop. There will be more fantastic sights along the route, but we'll leave the mystery and discovery up to you.
Additional Information: National Park Service
The Wonderland Trail
Why you should go: Difficult is your middle name and thru-hiking is your game.
Distance: 93 miles
Elevation Gain: 22,000 feet
Difficulty: Challenging
No Rainier hiking guide is complete without at least a mention of the Wonderland Trail. The truth is that most people don't seek to complete this amazing trail which circumnavigates all of Mt. Rainier, but many of the popular trails in the area do touch the Wonderland Trail at some point.
This loop consists of near-constant uphill and downhill hiking over the many crests and troughs of Rainier's branching arms. Backpackers who want to hike along this trail must fill out a specific Mt. Rainier Wilderness Permit, though availability is limited and you may be denied until the following year.
For everyone else, know that when you cross or join the Wonderland Trail during a part of your backcountry hike that you are walking on a special trail that is known by many around the world for its incredible beauty and undeniable challenge.
Additional Information: National Park Service
Mt. Rainier National Park is a wonderland for outdoor explorers. You're going to love the trails you take, no matter which ones you choose.
Explore Washington!
Sign up for our free email to join 50,000+ readers getting epic travel, hiking, camping and gear ideas every month.
Was this article helpful?
---