Grand Staircase-Escalante National Monument is a marvel speckled with slot canyons, natural bridges, monoliths, and arches.
This Utah national monument spans across nearly 1,000,000 acres of the southwestern United States. It shares its borders with several other magnificent public lands including Capitol Reef National Park, Bryce Canyon National Park, and Dixie National Forest. The monument is divided into three distinct units within the Monument: Grand Staircase, Escalante River Canyons, and the Kaiparowits Plateau, each of which have their own distinct landscape.
And yet with all that Grand Staircase-Escalante National Monument has to offer, most visitors flock to the surrounding national parks instead — and Zion and Grand Canyon aren't too far away, either. So most travelers know very little about the Monument.
Not only is the Grand Staircase-Escalante mostly dog- and kid-friendly, but it's full of incredible geological wonders that will keep your jaw dropped and your eyes big. Check out the best hikes in Grand Staircase-Escalante National Monument to make sure you don't miss out on the best views in the area.
Related Read: 10 Awesome Things to Do in Escalante, Utah
1. Bull Valley Gorge Slot Canyon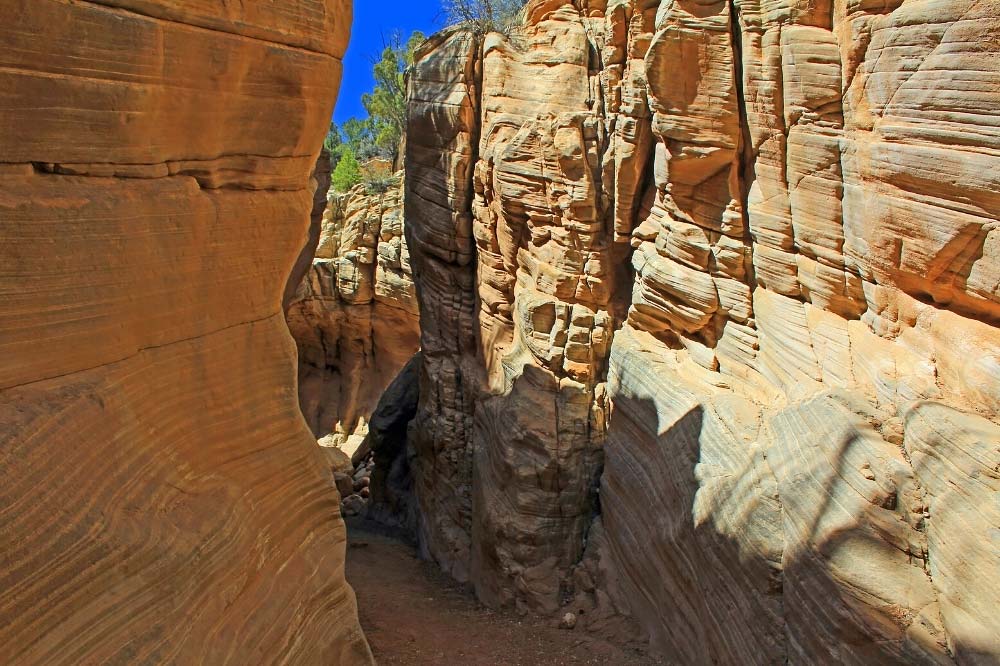 Why you should go: You won't see a soul on the trail.
Difficulty: Easy
Length: 1 mile
Elevation gain: 75 feet
The road to the Bull Valley Gorge trailhead can be quite tricky and isn't recommended on days where rain is in the forecast — ditto for the hike itself. But on clear days, it's one of the best hikes in Grand Staircase-Escalante National Monument. It's also easy to hike: just follow the trail alongside the canyon until it gets shallow enough to jump in.
There are several dryfalls (the highest is about 12 feet), but they're all doable with ropes and foot holds. You'll usually find small puddles and ponds throughout the canyon depending on recent weather, but the clay-like mud on your feet is worth the trip to travel through this narrow Navajo sandstone canyon with 100-foot-tall walls.
Sadly, one of the coolest features of this slot canyon was washed away in 2019: a 1950's pickup truck wedged high above a section of the narrowest part of the canyon. It formed the base of the one-road bridge across the canyon — which is half gone now, too.
2. Willis Creek Narrows
Why you should go: An easy hike for any skill levels with spectacular views.
Difficulty: Easy
Length: 5 miles
Elevation gain: 800 feet
This slot canyon might not be as dramatic as some of the others on this list, but what it lacks in drama, it makes up for with its ever-changing colors.
It's reminiscent of marble rock with wavy patches of brown and black mixed together. You can do the whole five miles or just do the slot canyon, which is only 2.8 miles roundtrip. You'll know the slot portion is over when you reach a gigantic rock in the creek.
3. Spooky & Peek-A-Boo Slot Canyons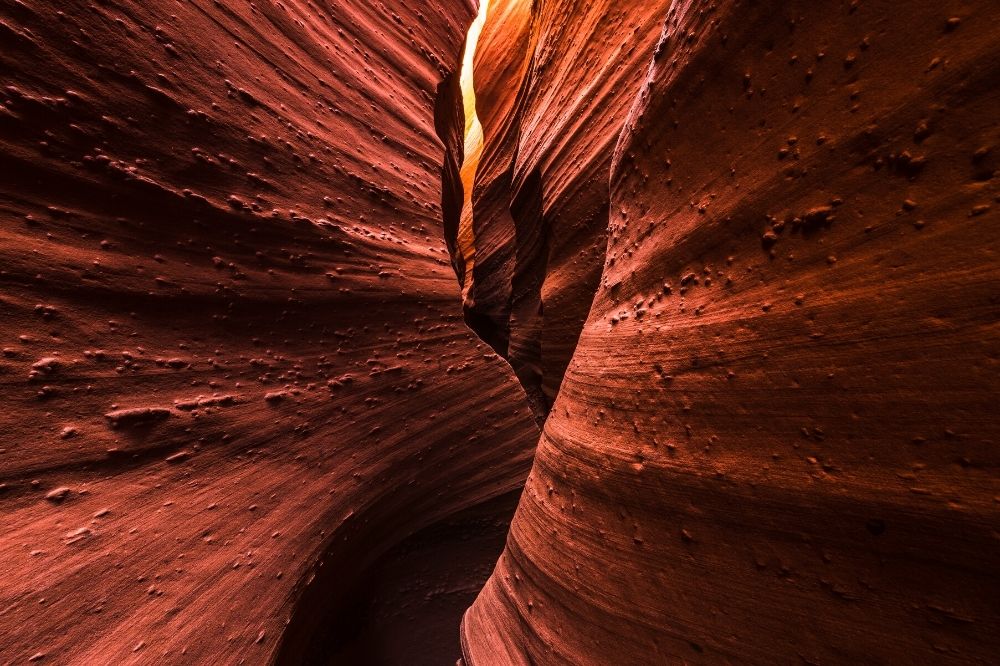 Why you should go: Challenge your claustrophobia with 10-inch-wide paths.
Difficulty: Moderate
Length: 3.5 miles
Elevation gain: 650 feet
These two slot canyons are some of the more popular ones in the monument, and for good reason: they're easy to access and family friendly. It's best to start the loop at the Peek-A-Boo Canyon, where you'll have to climb about 15 feet to drop into the canyon. There are some foot holds, but a more petite person might need a boost up. The fun of this canyon is figuring out how you get in and out of each of the washes. And like the name suggests, it's a killer spot to play some hide and seek.
You'll have a short reprieve at the end of Peek-A-Boo Canyon before the start of Spooky. Spooky is one of the narrowest slot canyons in the world; it's only 10 inches wide in some spots. That means if you've had a large lunch or are a bit thick around the middle, you'll have difficult traversing this canyon. It might also go without saying, but if you're in any way claustrophobic, this is not the trail for you. With that said, if you can make it through, it's absolutely breathtaking.
Related Read: 6 Spookiest Ghost Towns in Utah for Exploring the Old West
4. Coyote Gulch
Why you should go: Skinny dip in a secluded lagoon.
Difficulty: Difficult
Length: 11.5+ miles (up to 22)
Elevation gain: 1,500+ feet (up to 3,300)
There are four different ways to get into Coyote Gulch and they usually involve an overnight trip. It can be done as a day trip, but that's too taxing for most people. It's best to savor the beauty of this area by spending more time here. Many hikers start at the "water tank trailhead" and walk the two miles to reach the descent point into the wash. There's usually a rope to help with your descent, but you should bring your own just in case — and know how to use it. Utah Canyon Outdoors is a good place to pick one up.
From there, the hike meanders along Coyote Creek and through slot canyons and past natural bridges, waterfalls, and arches. The most popular part of the hike is between Jacob Hamlin Arch and the Natural Bridge. There are several ways to explore this area and which is the best hike in Grand Staircase-Escalante for you will depend on your adventure tolerance. Most people hike in the whole way and shuttle back. No matter what, go to the Black Lagoon to dip your toes in the cold water.
5. Zebra Slot Canyon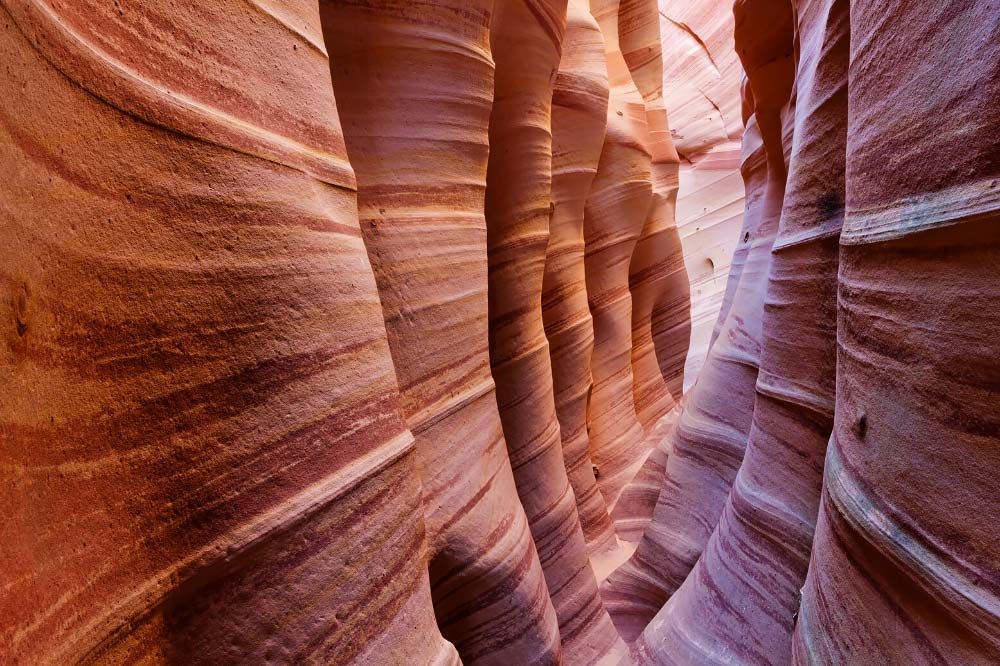 Why you should go: An alternative to the famed Antelope Slot Canyon.
Difficulty: Easy-to-moderate
Length: 5.2 miles
Elevation gain: 400 feet
Named for its striped canyon walls, Zebra Slot Canyon can be a dangerous hike, especially during or after a significant rainfall. Zebra is a lot like Spooky as it's narrow canyon walls are also sometimes less than a foot wide. So after a rainfall or snowmelt, Zebra is almost always full of standing, very cold water. On hot days, this might be a nice reprieve, but go through the canyon with caution all the same.
Many hikers carry their shoes when going through the water — but hang onto them because you'll need them later during the more difficult (and more beautiful) spots. Hiking sandals can also come in handy.
6. The Cosmic Ashtray
Why you should go: For when you want to feel like you're hiking on Mars.
Difficulty: Difficult
Length: 8.5+ miles (up to 11)
Elevation gain: 1,600 feet
This trail should have a warning for novice hikers. It's becoming increasingly popular on social media, but one thing most Instagrammers forget to mention is that there's no official trail — though this one gets you close though and also hits a slot canyon on the way. The area's main attraction is a geological feature that resembles an ashtray – it has a large red rock protruding from the middle surrounded by deep red sand.
The best way to find this remarkable feature is to have a GPS with coordinates already plugged in — which you can find on Google. The ashtray itself is surrounded by large rock walls and is hard to see from far away, but for better or worse, you'll probably see other people headed towards it if you wait for a few minutes at any given trail junction.
7. The Golden Cathedral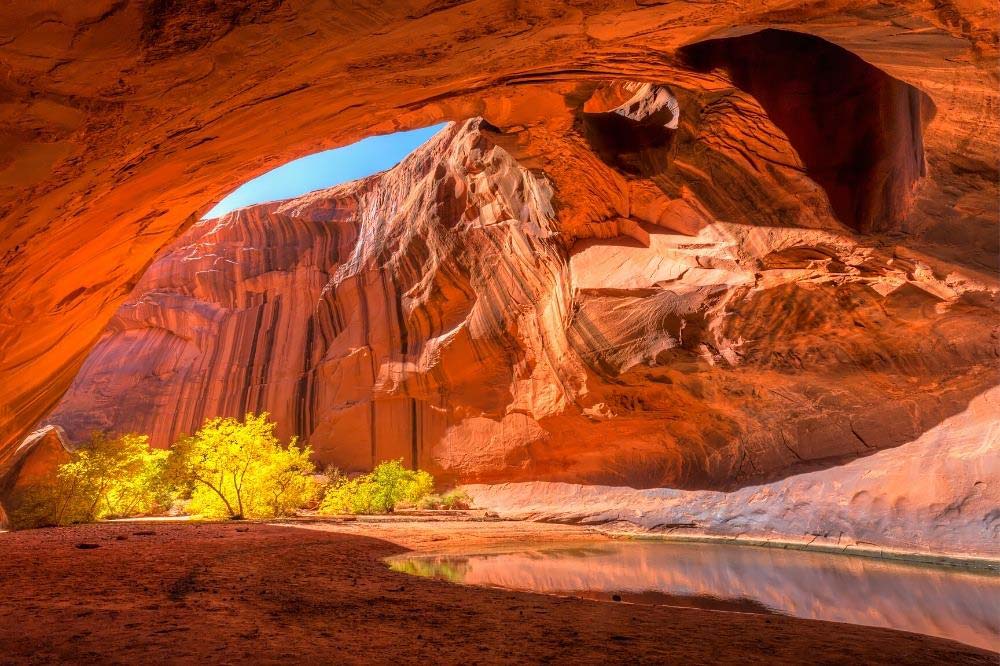 Why you should go: Sweeping views of towering, domed canyon walls.
Difficulty: Moderate
Length: 9 miles
Elevation gain: 1,500 feet
There's a reason this trail is called the Golden Cathedral: it leads to a towering alcove complete with three "skylights" in the dome. Its striking, curved red rock is perfect for belting out your favorite Michael Bublé or Plácido Domingo ballad — although your hiking partners might not be too happy about that. For some scary footage, check out some YouTube videos of water pouring into the dome during monsoon season. It's no joke. Avoid this trail when rain is in the forecast.
8. Devil's Garden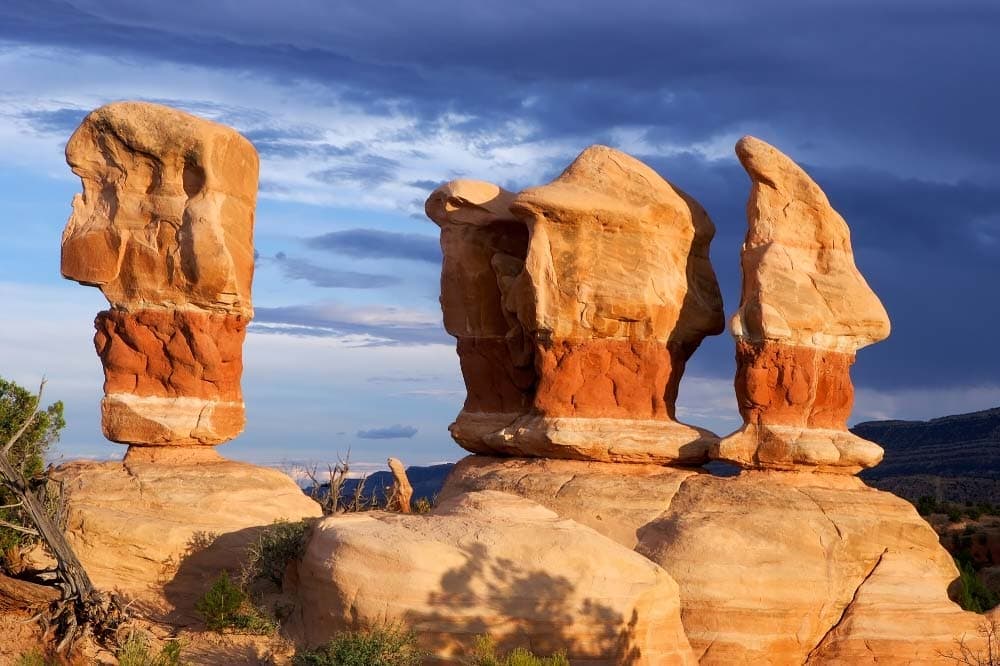 Why you should go: A family-friendly alternative to Bryce Canyon National Park's popular trails.
Difficulty: Easy
Length: 1 mile
Elevation gain: 80 feet
This family-friendly hike is the perfect excursion for those wanting a quick and easy outdoor walk where they can breathe some fresh air – and one of the best hikes in Grand Staircase-Escalante National Monument for families. Although it's a short hike, it's packed with plenty to see, including hoodoos, arches, and tunnels. Although the trail is only a mile long, you'll spend quite a bit of time exploring all the rock formations. And kids will have a blast running up and down between the features.
9. Buckskin Gulch
Why you should go: Boast to your friends you hiked the longest slot canyon in the world.
Difficulty: Difficult
Length: 5.5+ miles (up to 13)
Elevation gain: 600+ feet (up to 2,000)
Although this trail is technically in the Paria Canyon-Vermilion Cliffs Wilderness (which means you need a permit), the trailhead is in the Monument. There are three ways to get to this impressive slot canyon: Wire Pass Trailhead, Middle Trail Escape Route, or Buckskin Trailhead. Most people tend to use the Wire Pass trailhead as it bypasses the unremarkable sections of the Buckskin canyon and goes straight for the good stuff. Middle Trail Escape Route should only be used by experience hikers and climbers or as a last resort in an emergency.
Buckskin Gulch claims to be the longest slot canyon in the world, although there are differing views on this matter. Regardless of its claim to fame, it isn't to be missed. Day permits for the trail are easy to get (overnight ones are capped at 20 people per day, however) and are well-worth the modest $6 fee. The wavy canyon walls soar hundreds of feet above the narrow wash to create a dramatic hiking experience.
If you're doing a day hike, start at Wire Pass trailhead. Just about two miles into the trail, you'll reach Buckskin Gulch. Explore the gulch for as long as you'd like and just backtrack to the trailhead when you're ready to call it a day.
Explore More in Utah
Sign up for Weekend Wanderer, our free email newsletter offering thousands of readers epic travel and airbnb ideas every week.
Was this article helpful?
---