Clocking in at just over 13 million acres of public land, Colorado's 11 National Forests offer the chance to explore some of the best corners of the Centennial State.
Whether you're looking for peaks, meadows, lakes, rivers, or forests, you can likely find the terrain (and views) to suit your mood.
Plus, with the opportunity for nearly every type of recreation to be found in the Rocky Mountains, these 11 national forests in Colorado offer a choose-your-own style of adventure that can fill a weekend — or a lifetime — of exploration.
Related Read: Traveler's Guide to the Best Colorado National Parks
1. Arapaho National Forest
Why you should go: Check out both sides of the Continental Divide in one of the most accessible national forests along the Front Range.
Nearby towns: Denver, Boulder, Golden, Idaho Springs, Winter Park, Granby
Size: 723,744 acres
Part of the Arapaho and Roosevelt National Forests and Pawnee National Grassland (ARP) unit, Arapaho National Forest spans stunning terrain over northern Colorado's Continental Divide. Plus, this well-loved national forest has easy access from the Front Range and along the Interstate-70 corridor meaning it's well-traveled in many spots. Note that this can mean full campsites and busy trails during peak season, but it also means well-maintained trails, signage, and generally well-kept trailheads, too.
Some highlights to add to your to-do list include Mount Evans, Grays Peak, Mount Bierstadt, Rollins Pass, Guanella Pass, Monarch Lake, and Echo Lake. If hiking or mountain biking is on your summer agenda, Arapaho National Forest offers many miles of trails to explore.
In the winter, spots like Berthoud Pass offer up untracked backcountry stashes — if you set an early alarm to beat the crowds. Backpackers can enjoy some spectacular wilderness areas including Indian Peaks Wilderness and the Never Summer Wilderness for some wild corners of the Rocky Mountains that are beautiful all year-round.
Related Read: The 9 Best Hikes Near Boulder, Colorado
2. Grand Mesa National Forest
Why you should go: Top out on the largest flat-top mountain in the world.
Nearby towns: Grand Junction, Fruita, Montrose, Delta, Carbondale
Size: 345,555 acres
Head to Colorado's western slope for a visit to Grand Mesa National Forest. Though the smallest national forest in Colorado by acreage, it encompasses a pretty unique feature — Grand Mesa, which holds the distinction of being the largest flat-top mountain in the world, with a peak elevation of 11,332 feet.
And you won't be disappointed in the variety of terrain either. As you gain altitude, you'll transition from the arid landscape into lush forests of towering aspens and evergreens. The top of the mesa has over 300 lakes, making it a great spot for anglers. And if you want to find a spot for an overnight stay, the national forest offers both established campgrounds and dispersed camping to pitch a tent.
The area features many miles of trails, and Crag Crest Trail is a popular option to get up above treeline for some fabulous views of the mesa. The trail, at its high point, runs along a narrow spine of rocks with spectacular views in every direction. You'll stand a good chance of spotting wildflowers and wildlife on the trails in the summer.
In the fall, don't miss a chance to go leaf-peeping in and around the large aspen groves — the Grand Mesa Scenic Byway is a great route to see the best of the bunch. When the snow starts flying, snowmobiling, snowshoeing, and cross-country skiing are popular activities in the national forest in the winter months.
Related Read: 10 Adventurous Things To Do in Colorado in the Fall
3. Gunnison National Forest
Why you should go: Hit the iconic spots and the lesser-known corners for divine mountain views wherever your travel.
Nearby towns: Gunnison, Crested Butte, Montrose, Lake City, Paonia
Size: 1,672,136 acres
Wrapping around the Gunnison Valley and backing up to several other national forests, Gunnison National Forest features many spots that have become well-known destinations — and more than a few quiet corners where you can still escape the crowds. With prime access from the towns of Crested Butte and Gunnison, this national forest is popular for camping, hiking, mountain biking, off-roading, fishing, boating, and paddling.
Home to highlights like the West Elk Mountains, Raggeds Wilderness, Fossil Ridge, and the La Garita Wilderness, Gunnison National Forest has plenty of trails whether you want an easy stroll to a vista or a grueling backcountry excursion. For mountain bikers, iconic rides like the Monarch Crest, Doctor Park, and Trail 401 near Crested Butte feature stellar views, leg- and lung-burning climbs, and fun, flowy descents.
For off-road enthusiasts with either ATVs, OHVs, or lifted 4X4s, this national forest is home to some of the more challenging 4×4 passes in Colorado. Tincup Pass and Schofield Pass are two options that will challenge even the most experienced drivers. Or if a chill day on the water is more your speed, you can bask in the mountain scenery while enjoying a paddle at Taylor Park Reservoir, Spring Creek Reservoir, or Lake Irwin.
Related Read: 10 Unique Swimming Holes in Colorado
4. Pike National Forest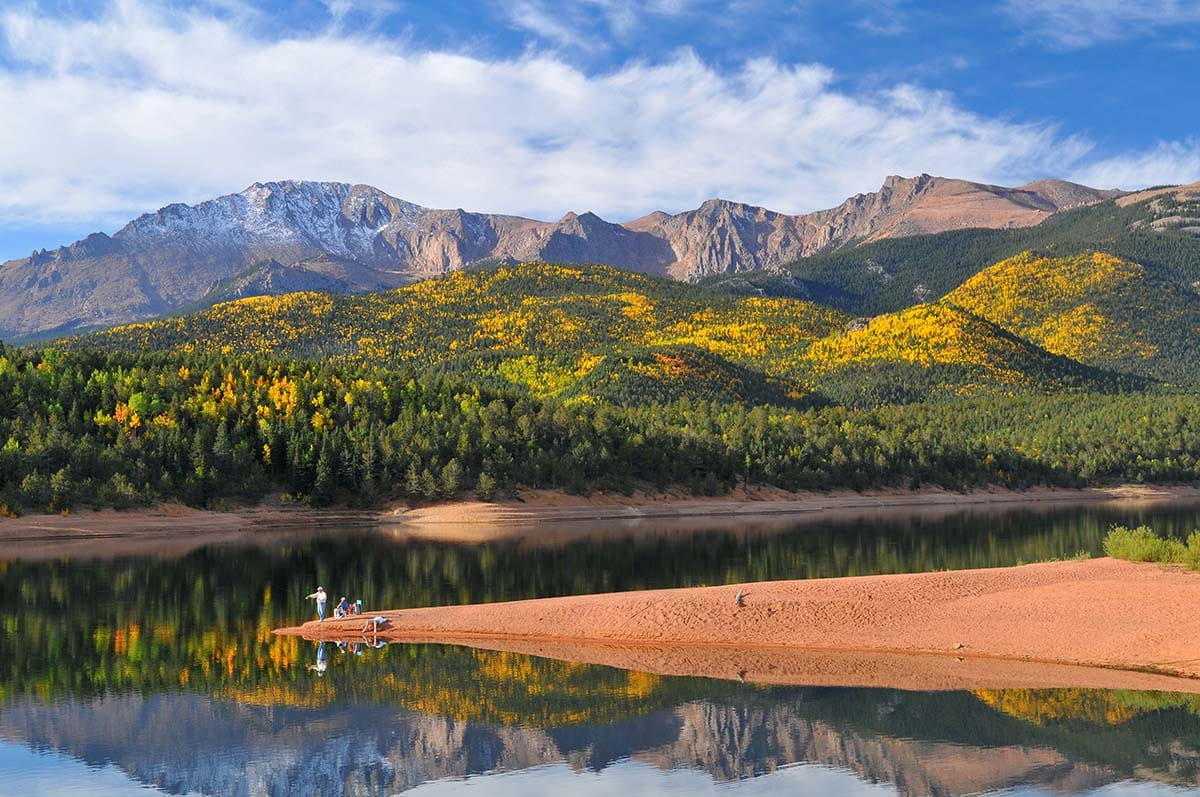 Why you should go: Over a million public acres of the Colorado Front Range easily accessible from the state's two largest cities.
Nearby towns: Denver, Colorado Springs, Manitou Springs, Woodland Park, Bailey, Fairplay
Size: 1,106,604 acres
Spanning Colorado's Front Range within an easy drive from both Denver and Colorado Springs, Pike National Forest includes everything from wildflower-filled meadows and forested foothills to towering 14,000-foot peaks and everything in between.
If you're planning a hiking or mountain biking outing, a popular spot to add to your bucket list is Buffalo Creek Recreation Area. For day hikes and backpacking trips, Lost Creek Wilderness has a network of trails for a customizable route. And if getting way up above treeline is on your agenda, plan a hike up one of the many 14ers. Mount Bierstadt in the Mount Evans Wilderness is a popular option. Or you can try your hand at the Democrat-Cameron-Lincoln-Bross, aka the Decalibron Loop, to add four 14ers to your list.
From Colorado Springs, you can also explore Pikes Peak either on foot, by tram, or by car. In addition to this iconic 14er, other popular spots in Pike National Forest outside the Springs include Gold Camp Road, Rampart Reservoir, and Manitou Lake.
For more scenic drives, Guanella Pass, Hoosier Pass, and Kenosha Pass all offer a paved option for seeing more of Pike National Forest from the road. Plus, with access to the many trailheads, campgrounds, and small mountain towns along the way, you can pick and choose where to stop to take in the scenery.
Related Read: 5 Awesome Hikes in the Lost Creek Wilderness, Colorado
5. Rio Grande National Forest
Why you should go: Escape the crowds and tuck into some more remote corners of Colorado.
Nearby towns: Lake City, South Fork, Creede, Del Norte, Alamosa, Pagosa Springs, Salida
Size: 1,860,000 acres
If you're seeking solitude and the chance to get off the grid, the Rio Grande National Forest offers the chance to get into some untracked corners of the Rocky Mountains. With the San Juan, La Garita, and Sangre De Cristo ranges to explore, you can easily spend a summer (or a lifetime) out in these mountains.
Highlights of the area include Penitente Canyon, which is well known for both its rock climbing and mountain biking trails, and Wheeler Geologic Area, a unique spot with hoodoos that are worth the hike to see. The national forest is also home to remote, ​14,022-foot San Luis Peak and the headwaters of the Rio Grande River.
If you're looking for a drive through the area, the Silver Thread Scenic Byway takes you on a tour with outstanding mountain scenery and a few historic towns dating back to Colorado's mining boom. The towns of Lake City and Creede are great jumping-off points for all your Rio Grande National Forest adventures.
Related Read: 11 Outstanding Cabin Rentals Near Pagosa Springs, Colorado
6. Roosevelt National Forest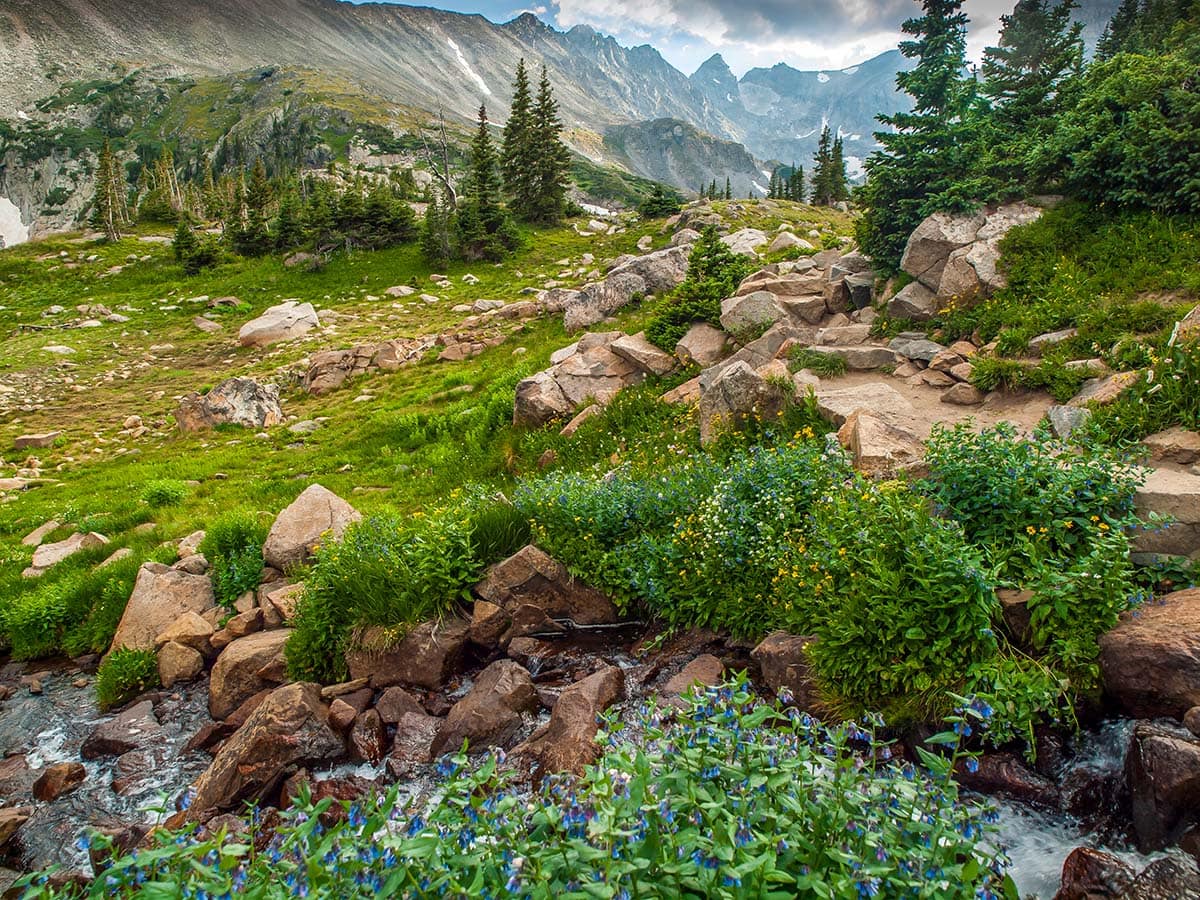 Why you should go: Rivers, lakes, mountains, and meadows — this national forest has a little bit of everything.
Nearby towns: Fort Collins, Loveland, Lyons, Estes Park, Boulder, Nederland
Size: 813,799 acres
Located in the northern foothills of Colorado, Roosevelt National Forest is a gem that can be accessed from many towns along the Front Range, including outdoorsy hubs like Boulder and Fort Collins. Offering a nice mix of remote terrain and well-used, popular trails, the national forest caters to both beginning and experienced outdoors folks alike.
Encompassing the watershed of major rivers like the Cache La Poudre, the Big Thompson, and the St. Vrain, the area is home to many popular lakes and reservoirs such as Brainard Lake, Gross Reservoir, and Chambers Lake, among others. The Cache La Poudre holds the distinction of being the only Wild and Scenic Rivers in the state.
Additionally, Roosevelt National Forest has many campsites and trails to explore. Popular options for pitching a tent include Camp Dick, Peaceful Valley, and Rainbow Lakes. If you're lacing up your hiking boots looking for mileage, Indian Peaks Wilderness and Comanche Peak Wilderness are two great options to get into the backcountry. Red Feather Lakes is a popular area as well.
If you're looking for backcountry touring options in the winter, Cameron Pass is a popular spot for experienced skiers. And Brainard Lake Recreation Area offers some easier trails for snowshoeing and nordic skiing in less avalanche-prone terrain.
Related Read: 14 Pros and Cons of Living in Colorado
7. Routt National Forest
Why you should go: Scenery plus solitude and lots of space to spread out and find your favorite kind of outdoorsy fun.
Nearby towns: Steamboat Springs, Grand Lake, Walden, Yampa, Meeker, Craig
Size: 1,125,438 acres
Tucked in the northwestern part of the state, Routt National Forest is managed jointly by the US Forest Service with neighboring Medicine Bow National Forest across the border in Wyoming. As part of a less-traveled stretch of Colorado, the national forest spans all or parts of lesser-known mountain ranges such as the Never Summer, Medicine Bow, Park, Elkheads, and Flattops mountains. Though perhaps not as well-known as their southerly neighbors, these ranges are no less spectacular and offer equally good opportunities for year-round recreation.
In the spring, summer, and fall, options to get out exploring include hiking, mountain biking, camping, fishing, and off-roading. Rabbit Ears Pass, Buffalo Pass, and Wolford Mountain are a few popular spots with multiple trailheads to choose from. If you're looking to put in some miles on foot, you have your choice of excellent trails in Flat Tops Wilderness, Mount Zirkel Wilderness, and Sarvis Creek Wilderness areas.
Not to be overlooked in the winter months, Routt National Forest is often graced by big winter storms that dump the "champagne" powder that Steamboat Ski Resort is renowned for. If backcountry touring on your own or aided by a snowcat is your idea of fun, you'll have your pick of terrain. Or check out those snowy views on a snowmobile or dog-sled tour.
Related Read: Camping in Medicine Bow-Routt National Forests & Thunder Basin National Grassland
8. San Isabel National Forest
Why you should go: Gain some elevation in the national forest that contains many iconic Colorado 14ers.
Nearby towns: Leadville, Buena Vista, Salida, Fairplay, Westcliffe, Pueblo, Cañon City
Size: 1,120,233 acres
Of the state's 54 peaks that top out over 14,000 feet, 19 of them are located in the San Isabel National Forest making it a peak-baggers dream. The national forest stretches down the central corridor of the Rocky Mountains and includes peaks like Mount Elbert, the highest peak in Colorado. The Collegiate Peaks also offer up some outstanding hiking.
If high-altitude hikes and mountain climbing aren't your favorites, you can hit the lower elevations of the upper Arkansas River Valley for some equally awesome adventuring. Additionally, Turquoise Lake and Twin Lakes Reservoir offer opportunities for boating and camping for a more chill outing.
Additional options include scenic drives — both on paved passes and unpaved 4×4 ones. And you might stumble across old ghost towns like Saint Elmo from Colorado's mining era. Further south, the San Isabel National Forest runs adjacent to the Great Sand Dunes and offers views of some lesser-seen spots in the Sangre De Cristo Mountains.
Related Read: 8 Best Mountain Towns in Colorado Offering Year-Round Adventure
9. San Juan National Forest
Why you should go: Expansive views and millions of mountain acres to explore in this spacious outdoor playground.
Nearby towns: Durango, Pagosa Springs, Cortez, Silverton, Telluride, Ouray
Size: 1,878,846 acres
The namesake mountains of the San Juan National Forest offer some unforgettable scenery. From clear rivers and blue lakes to staggering peaks and wildflower-filled forests, the San Juans are a truly breathtaking experience in southwestern Colorado no matter how you get out to experience them.
For backpacking or hiking, the Weminuche Wilderness and Lizard Head Wilderness offer rugged 14ers and a large network of trails. If motorized travel is more your speed, the national forest has plenty of OHV trails that take you to equally exquisite spots. For on-the-water options, check out Vallecito Lake, Lemon Reservoir, and Williams Creek Reservoir.
In the winter, trade your hiking boots and ATV for snowshoes or skis and a snowmobile. Once you know your way around the backcountry, you'll find there's a lot to see in the winter, too. If you want to stick to the front side once it snows, ski resorts like Wolf Creek, Purgatory, and Hesperus can treat you to some lift-assisted turns.
Related Read: 7 Rad Campgrounds in San Juan National Forest, Colorado
10. Uncompahgre National Forest
Why you should go: High alpine vistas you won't soon forget along with all the outdoor activities Colorado is known for.
Nearby towns: Telluride, Silverton, Ouray, Ridgway, Lake City, Montrose, Delta, Grand Junction.
Size: 955,229 acres
Take a visit to the western slope to explore part of the San Juan Mountains and the impressive Uncompahgre Plateau in the Uncompahgre National Forest. For high-alpine hikes or stunning fall vistas, you'll have your pick of locations, with notable spots including Red Mountain Pass, Dallas Divide, and Ophir Pass.
The national forest is crisscrossed by rivers and streams, and if you're looking for some of the state's top fly-fishing, you'll find it here. And for a scenic route to drive, look no further than the Unaweep Tabeguache Byway which dives into the heart of the area's impressive scenery. The 230-mile San Juan Skyway is another option to see a smattering of Rocky Mountain views.
Additionally, the national forest offers great opportunities for off-roading, snowmobiling, skiing, and snowshoeing. And if you're looking for a posh overnight stop off, a stay in Telluride or Ouray offers the chance to wine and dine with the locals — and get the intel on their favorite spots in the national forest.
11. White River National Forest
Why you should go: Check off some iconic Colorado hotspots and tourist destinations.
Nearby towns: Aspen, Glenwood Springs, Vail, Frisco, Silverthorne, Breckenridge, Kremmling, Yampa
Size: 2,285,970 acres
The largest national forest by acreage, White River National Forest is located in the heart of Colorado's Rocky Mountains and contains many of the iconic destinations and mountains that the state is best known for, including 11 major ski resorts.
Must-see spots include Maroon Bells, Green Mountain Reservoir, Independence Pass, and Hanging Lake. In addition to some of these more popular locations which are easily accessible off of the I-70 corridor, the national forest boasts plenty of more rugged and remote wilderness areas, with Eagles Nest Wilderness and Holy Cross Wilderness being two well-worth checking out.
And with lakes, reservoirs, and rivers — notably the Roaring Fork River — to explore, if fishing, paddling, or boating is on your summer agenda, the national forest has loads of places to explore. When the cold weather sets in and the snow starts flying, you can have your pick of world-renowned resorts like Vail, Aspen, Breckenridge, Copper, Keystone, and Arapahoe Basin for a season's worth of downhill skiing or snowboarding.
Explore Colorado!
Get epic travel ideas delivered to your inbox with Weekend Wanderer, our newsletter inspiring more than 10,000 readers every week.
---