Being in the wild is dope, and so is keeping it clean for future generations. If you're hiking, camping or backpacking, you can minimize your impact on the environment with Leave No Trace principles and ensure everyone has a good time with basic trail etiquette tips. Now let's get wild.
---
If the thought of sharing a tent a few miles from any civilization with your child scares the daylights out of you, you aren't alone!
Backpacking with your kids isn't as scary or as anxiety-inducing as you might think it would be, though. As someone who has done a fair bit of backpacking, I can tell you how wonderful it is to be in the backcountry where very few people venture. And to do it with your kid can a special moment for both of you.
Getting out into the wildlands with your children (especially when they're young) can be crucial in their development. Kids who spend time outside are more curious, are more likely to overcome fears, are less likely to throw tantrums (although that has definitely happened on the trail.) They'll usually sleep better, and being outside increases their confidence and social skills. And don't forget: you'll be doing your part to help raise the next generation of conservationists, too.
If you're ready to ramp up your adventure game, then backpacking with your kids is the next logical goal. Below are all the steps you'll need to have a successful overnight adventure with your children. Ultimately, a good attitude, some flexibility, and a thirst for adventure are the most important things (oh, and hiking boots for kids).
When Can Kids Start Backpacking?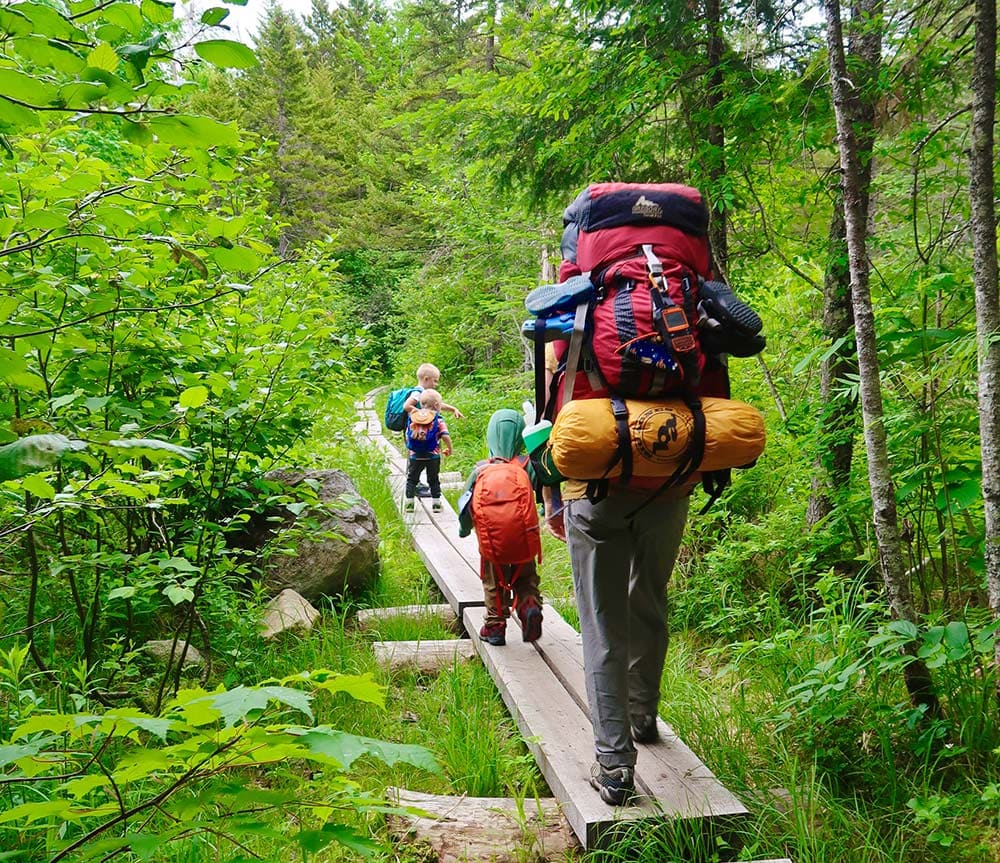 There is no set age for when kids can start backpacking. They can be as small as three months old all the way until they are headed off for college. It all just depends on how comfortable you are as a parent – after all, you're the one ultimately responsible for your children (as all parents know.)
What's nice about starting kids backpacking at a young age is that they get used to it early – it just becomes second nature to them (pun intended). Waiting too long can make the outdoors feel too far out of the comfort zone for some kids.
Your Smallest Adventurers
For kids 1.5 years and younger, it can be quite easy to go backpacking with them. You simply plop them in your child carrier while they sleep, pull your hair, or admire the birds, and your partner can carry all the backpacking stuff. The only real limiting factor is how far you want to be away from your car if anything was to go wrong.
Slightly Older Kids
For kids around ages 2–6, it takes a bit more planning since they've usually outgrown the child carrier but also can't walk very far or carry much. So, looking for trails where campsites are only a mile or two from the trailhead are best for this age group.
Older Kids
Of course, like with all hikers, the more your kids get out there, the better and better they'll get at hiking (and the farther they can go.) Kids age 7 and up can walk a lot longer and carry a lot more weight, easing the burden on you. It's a win-win.
How to Find a Kid-Friendly Backcountry Campsite
The first step in backpacking with kids is figuring out exactly where to go. You'll have to balance how far you want to go versus how far your kid can go. Littler legs mean smaller adventures while older kiddos (especially if they've been hiking for a long time) can easily walk (and sometimes run) ten or more miles. The actual distance and elevation change to your backcountry campsite depends on your and your kids' abilities.
It's important to note that many public lands (national forests, national parks, BLM land, etc.) allow for dispersed backcountry camping. This means that you can basically camp anywhere so long as you follow the guidelines. General guidelines usually include no camping within 200 feet of trails or water bodies, within ¼ mile of established facilities (like huts or shelters), in alpine zones, etc. Make sure to check your local land management agency's website for more accurate information.
Some, like national parks, require backcountry permits that must be purchased prior to your adventure. In some cases, there are limited quantities available so do your research for your best chance to snag those permits. Rules about campfires also vary from place to place and season to season, so be sure not to promise your kiddo s'mores when there's a campfire ban.
There are several different ways to find a backcountry campsite.
Check your state or land management agency's website or ask a local ranger. The United States Forest Service, for example, has information on all the established backcountry campsites on their land including GPS locations you can download. Rangers at the visitor centers are more than willing to help.
Get help on social media. Social media is so much more than just pretty pictures! Ask friends and followers if they have any recommendations on potential campsites.
Check Recreation.gov: It's the go-to site for campsite and backcountry reservations at all federally managed areas.
Pre-Adventure Backpacking Prep
It's always a good idea to get all your gear out several weeks prior to your adventure. Set up your tent, air out your sleeping bags, and use your camp stove or whatever else you might need to bring. This way you can see if any gear needs mending or if it needs to be replaced. The last thing you want is to be a few miles from your car setting up your tent and only just realizing that it's got a big rip in it. Here's what I recommend doing prior to your trip:
Set up your tent and rainfly. This way you can check for any tears, leaks, or broken poles; plus, you can make sure you remember how to set up your tent. If you need to re-waterproof your tent, check out Nikwax Tent and Gear Waterproof Treatment. Seams are one of the most vulnerable areas on your tent so inspect your tent to see if there has been any damage. If they need to be sealed again, I recommend using Gear Aid Seam Grip Sealer (although make sure it's compatible with the fabric of your tent). You can also practice with your kids so they can actually be helpful when you get to camp.
Air out your sleeping bags (if you have them stuffed away). The proper storage option for storing your sleeping bags is to hang them up outside of their stuff sacks. This prevents the sleeping bag from losing its fluff and warmth. But if you don't have the space then you likely have them stuffed away. Make sure to air them out prior to your trip.
Put air in your sleeping pads. This helps to see if there are any holes.
Restock your first aid kit. If you've never used your first aid kit, hooray for you! This means you likely won't need to restock anything. But if you're like me (and really, if you're like my kid), and super clumsy on the trail, then you'll need to restock your kit. The only thing to add to your first aid kit when hiking with kids is a children's Tylenol, kid-friendly bandages, and a Nose Frida (they're gross but so handy!) Anything else usually means it's a trip to the hospital, so putting it in a first aid kit is moot.
Turn on your stove. Just like everything else on this list, make sure you know how to use your stove prior to getting out on the trail.
Download offline maps or purchase topographic maps. Cell service is usually spotty when you head into the backcountry, so make sure you've downloaded everything you need.
Charge your devices. Okay, you can do this one a day before you leave. This might be your phone, portable charging sticks, or camera. Just make sure they're at 100% prior to your leaving.
Must-Have Backpacking Gear for Kids (and the Adults that Accompany Them!)
You don't need the fanciest of gear to get outside with your kids, but below, you'll find some tried and true items that have never steered me wrong on any of my adventures. It's a good recommendation to just get an adult version of things even for your kids since they'll usually grow into them. There are a few exceptions, of course.
Tents
I've tried almost every brand of tent on the market and I have found the roomiest and easiest setup is the Big Agnes Copper Spur HV UL2 tent. This tent weighs only three pounds and is the perfect size for you and a small companion plus your backpacks. The mtnGLO option means you have built in lights perfect for reading your kids a bedtime story (though it adds weight to your pack). Another good ultralight option is the Sierra Designs Flashlight tent (which has a fabric "lantern" for your headlamp to light the tent) though it'll only fit two people, max. If you have more than two people to a tent, you can always try the Copper Spur HV UL3 or the 3-person Nemo Dagger Ultralight.
Sleeping Pads
The key to getting a comfy sleep and staying warm all night long is your sleeping pad – not the bag! You want to make sure you get a good R-value, which is the measurement of how warm it is. Any pad with an R-value between R2 and R4 usually suffices for most adventures. The Therm-a-Rest Trail Pro or the Klymit Insulated Static V sleeping pads are great options. Both are comfortable, have a good R-value at 4.4, and lightweight (sub two pounds.) Remember that kids get cold easily, so they may need a higher quality (and higher R value) pad than you. You can always buy an adult's 3/4-length sleeping pad, which should fit a whole kid.
Sleeping Bags
For the smallest adventurers, look no further than Morrison Outdoors Little Mo or Big Mo sleeping bags. These are great for kids under the age of 4 and when a larger sleeping bag might still be unsafe. For older kiddos, Big Agnes Little Red 15 will suffice. My favorite sleeping bags for adults are the REI Trailbreak 20 Sleeping Bag and the Marmot Angel Fire 25 Sleeping Bag. Kids who like to be wrapped up may prefer a sleeping quilt like the ones from Rumpl or Eddie Bauer.
Stoves
I've had my MSR Pocket Rocket for 14 years passed down from my mother and it's still in great shape today. Sure, you can get the fancy JetBoil (it does boil really fast), but my MSR stove has never failed me. Plus, bonus to anyone who wants to adventure at high altitude; MSR stoves do a stellar job even at the tallest of mountains.
Cookware
You can't really go wrong with any backpacking cookware set as long as it stacks compactly and remains lightweight. Personally, I'm a big fan of GSI Outdoors Pinnacle Dualist II Cookset or the Hallulite Microdualist II. Both have everything you need for backcountry meals serving two. The Pinnacle Dualist cookset even allows room for your gas canister to fit in the pot. UCO Gear makes some useful backcountry items, too.
Food Storage
You can either hang a bear bag or place food in a bear canister when backpacking. A bear hang is harder to do (unless you're a pro) but lighter in your bag, while the canister is bulky but easy to store. I've always used a bear canister as it was a requirement for many sites I used to backpack to. The BearVault is a solid option and one that most people use.
If you use a bear hang, you'll simply need a dry bag, some rope, a carabiner, and some skills to hang it. Some backcountry sites in national parks have bear bins, so if you'll have access to one every night of your trip, you can usually rely on that rather than carrying a bin.
Backpacks
Of course, you'll need to put all of this stuff into something. For women, I highly suggest the Osprey Aura 65L. It's got great support and comes in a variety of sizes. For men, Gregory has some great options. For young kiddos, the best option is the Deuter Schmusebar Pack, while slightly older kiddos can use the REI Co-op Tarn 40 Pack with ease. Larger guys and gals may want to check out the plus-size packs from Gregory or the packs from Granite Gear that have removable and resizable hip belts.
Keeping Kids Entertained on the Trail
Nature, itself, can usually keep your kids entertained for the most part. Turning over rocks or checking out the toad hopping across the trail can be a lot of fun. But if you're looking for backup entertainment, just in case, here are some options:
Download some apps. The iNaturalist Seek app is a free app that identifies anything out in the wild. All you need is a camera. You don't even need cell service. Wondering what that green plant is? Or perhaps curious if that water snake was venomous? Download the app and snap a photo to find out. The Merlin Bird ID app from Cornell helps figure out what bird you might be seeing or hearing in the wild, and kids can become citizen scientists with Project Noah! For all your stargazing nerds, download Star Walk 2 before you head out.
Bring some small toys from home. This is especially important for younger kiddos who might be nervous about leaving the house. Having a little something from home can make them feel safer and more comfortable. Stuffed animals especially won't add much weight. But whatever you do, make sure it doesn't get left in the woods.
Use what nature gives you. Grab a long stick and that dragonfly nymph exoskeleton and go fishing or play hangman in the dirt.
Bring headlamps/flashlights. Play a game of night tag or have fun with shadows in your tent.
Bring friends. This is good for both the kids and the adults and can make things a little less daunting.
Prepare a scavenger hunt. There are a lot of scavenger hunts downloadable on the internet. A simple Google search will get you there.
Books: If you've got a kid who loves to read, bring him or her a new book to dive into in the tent at night.
Now that you're all prepped and ready to go, only the adventure awaits: go on and get out there!
More Backpacking Tips & Tricks
Sign up for Weekend Wanderer, our free email newsletter where thousands of readers get epic travel and gear ideas every week.
---