Home to Wyoming's tallest peaks and over 100 miles of the Continental Divide, the Wind River Range is beautifully wild and perfect for backpacking.
The Wind River Range is protected by 750,000 acres of public land in western Wyoming. With 130 glaciers, 1,300 alpine lakes, and 30 peaks over 13,000 feet, it's no wonder the Winds have made their place on thousands of backpacker's bucket lists.
Of course, with such a bounteous landscape that's overflowing with scenic trails it's tough to know where to start your backpacking adventure.
Best Backpacking Trails in the Wind River Range
To help you narrow down your favorites, we've put together a list of the best backpacking trails in the Wind River Range. Whether you're looking for a quick overnighter or a weeklong expedition, your sure to find a winner with any of these trails.
Enjoy your time in this otherworldly wilderness Wyoming has to offer! Remember to Leave No Trace, come prepared, and have fun!
Related Read: 6 Best Day Hikes in the Wind River Range
1. Elkhart Park to Seneca Lake
Why you should go: This two-day trek will take you deep into the Winds on an easy going, lake filled trail.
Distance: 18 miles
Elevation gain: 2,000 feet
Difficulty: Easy / Moderate
Elkhart Pass to Seneca Lake may be a short out and back trail, but it's certainly not short on views. Traversing into valleys, along hillsides, and within view of Fremont Peak and its surrounding peaks, this trail is a light introduction to backpacking in the Wind River Range.
If you are looking for the perfect weekend getaway, this one's for you! This trip is typically done in two days, as you hike in nine miles to Seneca Lake, camp here, then hike out.
For backpackers who wish to visit Cook Lake, you can create a loop that covers just over 29 miles in total. The elevation gain doubles with this addition, so this is only suggested if you are looking for a more ambitious trail.
You can reach Seneca Lake by parking at the Elkhart Park trailhead and taking the Pole Creek Trail from there. After the first 4.5 miles on Pole Creek Trail, you will pass a marker called Photographer's Point.
This is a spectacular opportunity to take one of those wonderful pictures the Wind River Range is known for. Truly beautiful, steep peaks create the backdrop of Photographer's Point.
About a mile from Photographer's Point, you will reach Eklund Lake. Eklund Lake sees very few visitors since most groups continue on to Seneca Lake, so camping here is ideal if you are looking for solitude.
Related Read: 11 Backpacking Trips in the U.S. That Should be on Your Bucket List
2. Cirque of the Towers Loop
Why you should go: Wildflowers and shimmery lakes meet steep granite walls on this classic trip through the Wind River Range.
Distance: 23.2 miles
Elevation gain: 3,654 feet
Difficulty: Difficult
The Cirque of the Towers is a popular destination for climbers, anglers, and backpackers alike. This trail can also be done in a shorter out-and-back fashion by just taking the Cirque of the Towers Trail to the Cirque before heading back, shaving the total mileage down to 18 miles.
It's a short drive from Pinedale to the Big Sandy Trailhead, so you can spend more time on the trail and less in the car. This also means it's a nice and easy ride back to town for that post-trail burger meal.
To create the usual loop, follow the Cirque of the Towers Trail until you reach the Cirque, then find the Fremont Trail by navigating through Texas Pass. Fremont Trail will take you back to the Big Sandy Trailhead.
A map and compass are necessary while on this trail since route-finding can be difficult over rocks and snow. To connect with the Fremont Trail, you will have to maneuver through Texas Pass which has been traveled for years but is not a designated trail.
Due to the rocky and snowy sections — especially while working through Texas Pass — trekking poles are suggested for this adventure. The season for this hike is extremely short, spanning late July to September due to late snow melt and early snow storms.
This trail can be done in as little as three to four nights, or longer if you come here to climb the steep granite walls of the Cirque.
There are several camping options on the Cirque trail. Big Sandy Lake, Dads Lake, Shadow Lake, Jackass Pass, and Lonesome Lake are all great spots to spend the night.
Related Read: The 11 Best Hikes in Grand Teton National Park, Wyoming
3. Dad's Lake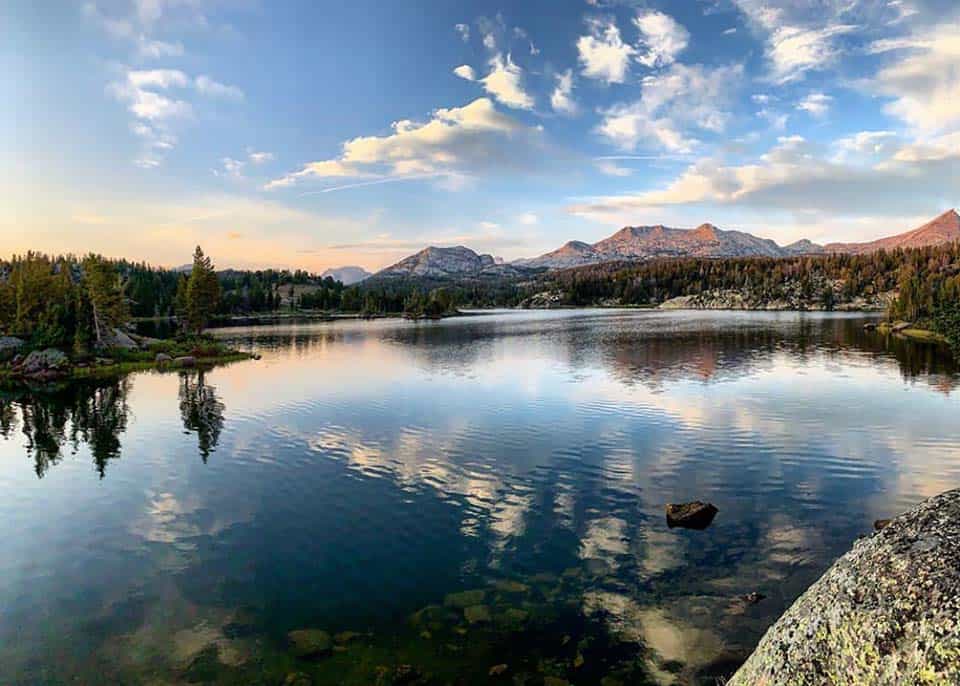 Why you should go: Hike on an easy trail as you enter the Cirque of the Towers area and fly fish one of Wyoming's favorite lakes.
Distance: 12 miles
Elevation gain: 2,200 feet
Difficulty: Moderate
Dad's Lake a great overnight trail for beginner backpackers. The trail is just a quick six miles in and out; so, you can focus on enjoying the outdoors.
A wide, well-maintained trail offers great views and the ease of simply being outside. Dad's Lake is at a lower elevation than some of the longer backpacking trails in the area, so temperatures here will be a bit more manageable overnight.
The lower elevation of Dad's Lake comes with a longer hiking season. The bugs can be pretty bad in the heat of summer, though, so hiking here in September is highly recommended since the mosquitoes won't be as bad.
Dad's Lake is accessible from the Big Sandy Trailhead (the same as Cirque of the Towers Trail), and close to the Big Sandy Campground. Travel here is high compared to other, harder to reach, trailheads of the Winds.
Fly fishing is a very popular activity for overnighters of Dad's Lake. The Lake is more accessible and has a reputation for spectacular fishing than its surrounding lakes.
4. Titcomb Basin
Why you should go: Get lost deep in the Wind River Range as you find yourself among jagged peaks, rushing streams, and crystal-clear lakes filled with trout.
Distance: 29.1 miles
Elevation gain: 3,121 feet
Difficulty: Moderate-Difficult
Another classic of the Wind River Range, Titcomb Basin offers everything you'd ever want to see on a multi-day trip. Between fields of wildflowers, rushing streams, dramatic mountain peaks, and world-class fly fishing, Titcomb Basin definitely deserves a spot on your Wyoming bucket list.
This trail starts from the Pole Creek Trail, then connects with the Seneca Lake and Indian Pass trails. The trailhead is easily accessible from Pinedale.
The views here are straight out of a National Geographic magazine. Even on this popular trail, finding solitude among the peaks is easy.
If you are hiking here in the warmth of July, you can come across some trouble finding a camp spot within Forest Service parameters. Rangers patrol this area frequently during this time and will ticket anyone camping too close to a water source or trail. I've read multiple reviews online about people receiving tickets and thinking that certain areas were illegal to camp in.
To clarify, this is National Forest land. So, dispersed camping is not illegal unless clearly marked (it is the only kind of camping) along trails of this part of the Wind River Range. It is illegal to camp within 200 feet of a water source or trail.
Planning your trip to the Titcomb Basin in September will get you away from the camp crowds and mosquitoes. This trail is typically tackled between three to four days. Two nights is the minimum recommendation. Anything less is possible, but it'll hurt! If you have the time to add in a day, do it! It's worth spending the extra day relaxing, fishing, and explore the area.
Related Read: 6 Epic Backpacking Routes in Glacier National Park, Montana
5. Glacier Trail
View this post on Instagram
Why you should go: Travel through wildflower meadows, over plateaus, through creeks, and summit Wyoming's tallest peak!
Distance: 50 miles
Elevation gain: 6,204 feet
Difficulty: Difficult
The Glacier Trail is the classic route to the Gannett Peak summit. It's the most traveled trail to the summit of Wyoming's highest peak, and one of the longest trails in the area (aside from the CDT).
Located near Dubois, this trail is no joke. Eight miles into the hike you will come to Arrow Pass — a long, arduous section that's all above 10,895 feet.
There are no trees or landmarks here, only large fields of wildflowers and sloping hills. While beautiful, this continues for quite a while and often makes hikers feel like they're moving backwards.
You'll pass through another treeless flatland called the Burro Flat. Good campsite opportunities won't come until you reach Double Lake or Star Lake, with are 11.1 miles and 12.4 miles into the trail (respectively).
Glacier Trail hides Gannett Peak until you are 18.5 miles into this amazing wilderness. Your next campsite will be just under Dinwoody Glacier, at Tarns Camp. This is high elevation camping at its finest, showcasing the area's iconic rock and snow.
From Tarns Camp to the peak of Gannett, you will be climbing for three miles. Take your time as you move up the glacier and be cautious of moving terrain.
Since Glacier Trail is far north in the Wind River Range, its snow melt differs from the southern trails near Pinedale and Lander, giving this trail a surprisingly earlier (and longer) season. Mid-June through September is the best time to attempt this summit.
There are 15 creek crossings along this trail! Some of them are minor, leaving the majority of you fairly dry, but a couple of them are not. In short, plan to get wet.
I know that while backpacking it's typically not advised to bring so many extra clothes, but since you will be camping at high altitude and in the cold, dry layers are necessary to prevent hypothermia.
6. CDT: Big Sandy to North Fork Lake
Why you should go: Cruise Wyoming's Section 13 of the historic Continental Divide Trail.
Distance: 26.2 miles
Elevation gain: 683 feet
Difficulty: Easy-Intermediate
Wyoming's Section 13 of the Continental Divide Trail (CDT) is a dream walk through the Wind River Range. This entire section of the CDT does not drop below 9,115 feet above sea level, so you'll enjoy epic views from start to finish.
There is one big climb that begins right at the 10-mile mark. After that, it's all downhill. Starting at the Big Sandy Trailhead, you can easily reach this point from Pinedale or Lander.
This trail is well traveled by CDT thru-hikers, and well maintained. You'll come across semi-established camp spots that are heavily used by thru-hikers.
The Big Sandy to North Fork Lake section hike is typically done point-to-point with help from others to shuttle or by thru-hikers of the CDT. If you didn't want to deal with the logistics of getting picked up and shuttled, you could hike this sucker as an out-and-back trail and double the mileage.
Related Read: Crown Jewels: 14 Majestic Hikes in Glacier National Park
7. Roaring Fork Trail to Faler Lake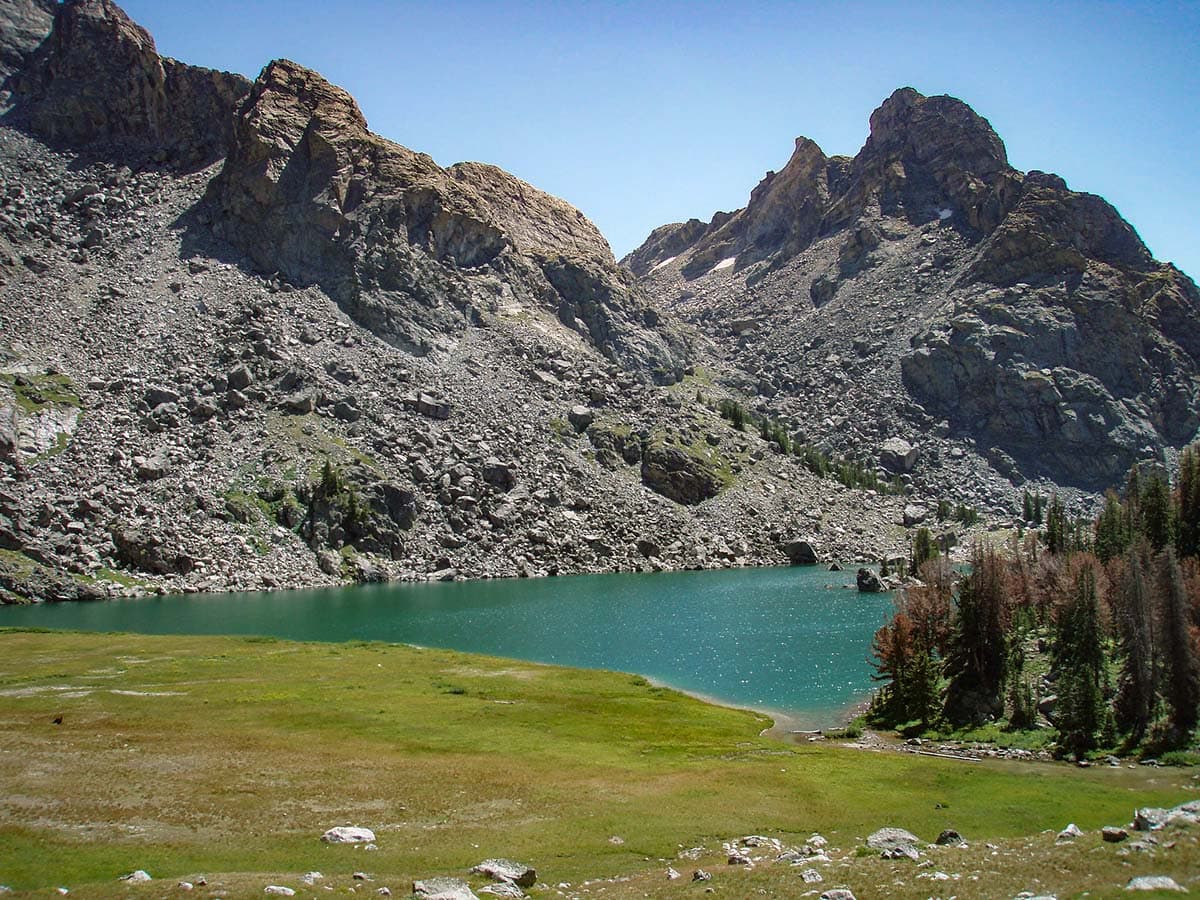 Why you should go: Take the trail less traveled through the Roaring Fork Basin to reach some of the most isolated alpine lakes in the Wind River Range.
Distance: 36 miles
Elevation gain: 4,878 feet
Difficulty: Difficult
Reachable by Pinedale, Roaring Fork Trail offers thick forest scenery and shelter to backpackers. Near the Green River Lakes area, Roaring Fork is just one of many trails near here.
If you come prepared with a map and compass, you can link several trails and lakes together for the ultimate Wind River Range adventure.
Faler Lake is 18 miles in, and the trail can be divided into however many days you prefer. Camping at Faler Lake is typically done in the warmer months.
Due to the heavy incline of this trail, making this a four-day endeavor will leave everyone happy.
Roaring Fork Trail is a true test of skill. A steady incline lies ahead of you until you reach Faler Lake. At about 15.5 miles into the trail, the incline drastically increases as you work your way between Three Waters Mountain and Osborn Mountain.
As you hike out from Faler Lake, there's a steep section to get back down to the Roaring Fork Basin, but then it's all downhill from there!
8. Summit Lake
Why you should go: Work your way up through thick forest to gain views of the entire Wind River Range.
Distance: 28.2 miles
Elevation gain: 2,896 feet
Difficulty: Moderate
Summit Lake is accessed from the Spring Creek Park Trailhead, which is best reached from Pinedale.
Right from the start, this trail passes through aspen groves and thick pine forest. You'll quickly gain altitude and find yourself on a ridge that overlooks the valley and lakes below, and the entire Wind River mountain range to the East.
Far north in the Wind Rivers, Gannett Peak is also viewable from this ridge line.
The trail is a bit rocky near the turnaround point, so trekking poles are suggested. The incline is gradual the whole way, and the way back to the trailhead is a smooth descent as well.
The end of Summit Lake Trail links up with a few other trails, and sections of the CDT. The possibilities of creating a loop from Summit Lake are endless. Heart Lake Trail will connect you to Palmer Lake and Doubletop Trails, and a shorter loop can be made with Trapper Lake Trail as well.
This trail by itself is typically done between two to four days. The ease of the trail makes this area a great way to simply spend time in the Wind River Range wilderness. Lakes such as Trapper Lake, Trail Lake, Gottfried Lakes, Borum Lake, and Summit Lake provide excellent campsite options and even better fishing!
Tips For Hiking And Camping In The Wind River Range
Permits & Leave No Trace Principles
Due to the low use of this area, a permit is not required to wilderness camp here. That said, please follow Leave No Trace principles and camp at least 200 feet away from any water sources and trails.
The majority of this land is maintained by the National Forest Service, so National Forest rules and regulations of backpacking and dispersed camping apply.
By following Leave No Trace ethics, you will do your part in continuing to keep the Wind River area pristine and as wild as possible. Groups should stay under 15 people and spread out to camp.
Dogs are allowed on National Forest land trails as long as they are on leash. Be sure to pick up all dog waste and keep them on leash so as to not disturb wildlife.
Related Read: Here's Why Leave No Trace Principles are So Damn Important
Wildlife
Wildlife is prominent in this mountain range. Moose, elk, grizzly bears, wolverines, bald eagles, and more call this range home. A lot of camping locations don't have tall trees for hanging bear bags, so bear canisters are your safest bet.
Grizzlies are active throughout the range. Bring bear protection, never hike alone, and make noise as you're navigating the backcountry.
Among the abundant wildlife of the Wind River Range are mosquitoes, and they're everywhere. Applying DEET and wearing layers will help protect you from these little buggers.
Don't forget your fishing rod and flies! The Wind River Range offers world renowned fly fishing, and the area's 1,300 alpine lakes means any trail should offer multiple opportunities to cast your line.
Elevation & Weather
The trails of the Winds are at higher elevation than other mountain ranges in the West, so weather is an important factor when camping and hiking here. Snow sticks around until about May most years, and typically returns in September or October.
Nights will be cold year-round, sometimes reaching freezing temperatures even in the summer months. Rain and thunderstorms also occur often (and usually without warning) in the summer, so come prepared with waterproof gear such as a rain jacket, rain pants, and waterproof hiking boots.
If you are not accustomed to being at higher elevation for extended periods of time, take it easy and learn to recognize signs of altitude sickness.
Navigation
The Wind River Range sees less traffic than areas like Teton or Rocky Mountain National Forests, so trails are not the easiest to follow in many areas. It's imperative to come prepared with a map and compass or GPS communicator/navigation device when backpacking in the Wind River Range.
Many trails, such as the Cirque of the Towers loop require you to move off-trail to link up with the return trail. At higher elevations, trails can get lost among talus fields or washed out completely. Snow will add another element to route-finding.
Hike the West
Sign up for our free email to join thousands of readers getting epic travel, hiking, camping and gear ideas every week.
---