The Wisconsin Dells may be the "Waterpark Capital of the World", but the region is also home to some of the best hiking in the state.
Named for the five-mile stretch of sandstone cliffs that line the Wisconsin River, the Wisconsin Dells were formed by advancing glaciers over millions of years. What was left behind were dramatic rock formations, numerous lakes, and a lush river valley that's perfect for hiking.
While the areas around the river are known for its exceptional natural beauty, you don't need to venture too far from the Dells for even more incredible sights. Spots like Mirror Lake and Devils Lake State Park are also home to fantastic hiking trails near Wisconsin Dells.
Although there aren't high mountains in America's Dairyland or exceptionally challenging routes, these glacial-formed landscapes are worth it. And there's no denying that these are some of the best hiking trails in Wisconsin Dells.
Related Read: 12 Epic Hiking Camps & Summer Backpacking Trips
1. Chapel Gorge Trail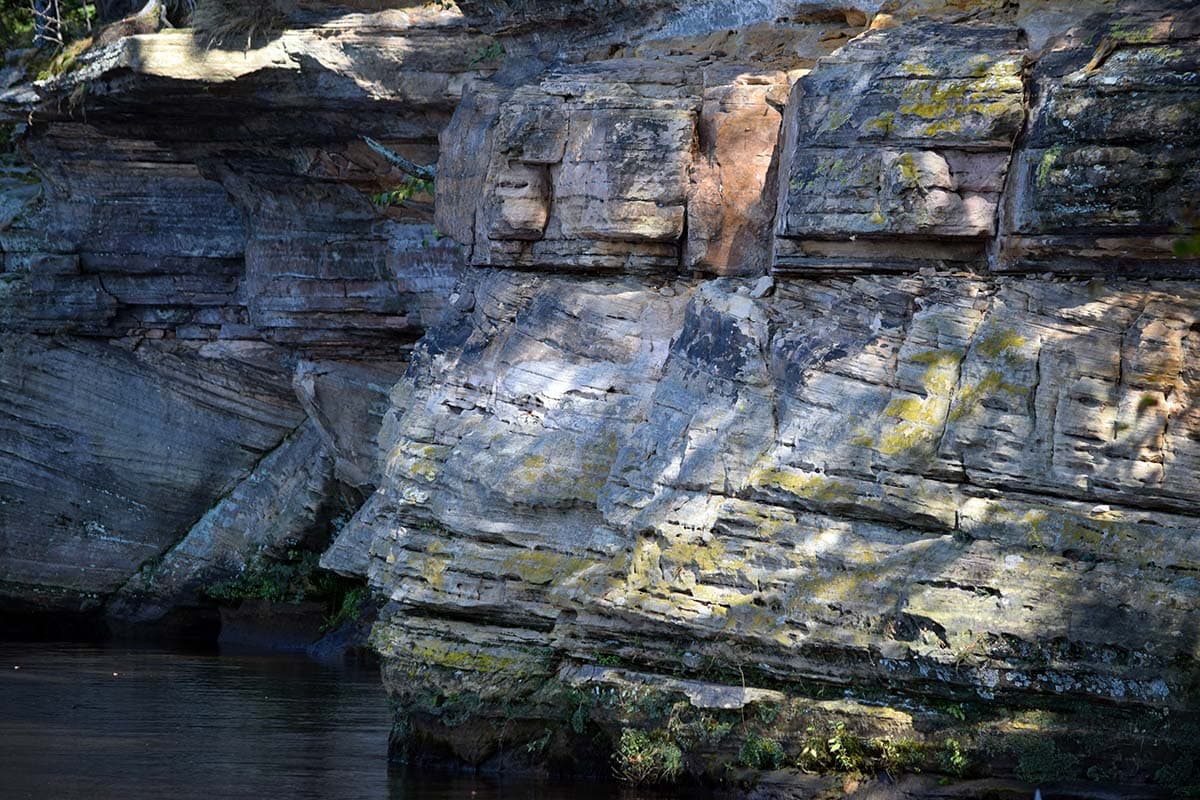 Why you should go: A shaded trail to a private, sunny beach on the Wisconsin River.
Nearest town: Wisconsin Dells
Difficulty: Easy
Distance: 2 miles
Elevation gain: 150 feet
The Chapel Gorge Trail is a wooded loop dotted with unique rock formations within the Dells of Wisconsin River State Natural Area. This relaxed trail leads to a lovely stretch of sand along the river, where boaters and beach goers enjoy spending a day filled with water and sun.
From the beach, it's possible to catch sight of rocky sandstone cliffs that provide an excellent bird's eye view of this beautiful region. Cliff divers often frequent the cliffs, but swimmers should take care as the river current can be strong and dangerous. There's limited parking at the trailhead, so be sure to come early, especially on sunny days.
Related Read: 12 Best Cabin Rentals Near The Wisconsin Dells
2. Witches Gulch Trail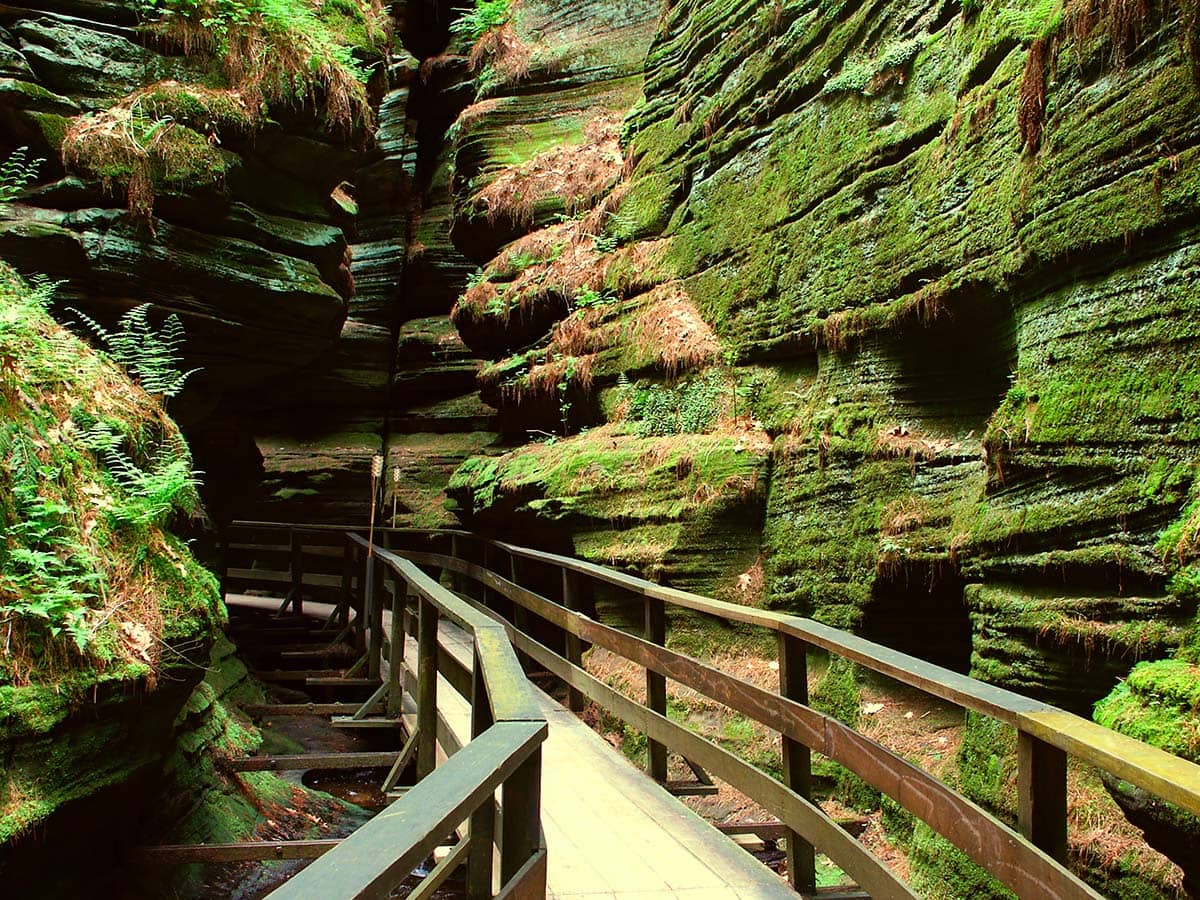 Why you should go: An exciting and private boardwalk trail through a steep canyon.
Nearest town: Wisconsin Dells
Difficulty: Easy
Distance: 2 miles
Elevation gain: 130 feet
The Witches Gulch Trail is a hidden gem tucked just north of the city. This exclusive spot features a slot canyon formed by the slow erosion of the area's bedrock by an ancient glacial lake that once was found here. At some parts of the trail, visitors must squeeze through narrow openings in the moss-covered sandstone. You can also spot whirlpools, majestic birds, and dense hardwoods along the trail.
This exclusive spot is owned by the Wisconsin DNR but is leased to a private tour company. That means the only way to access the Witches Gulch is by a private Upper Dells boat tour, or if you're brave enough, the Ghost Boat tour. This seasonal hike is only open Mid-March to Mid-November when the Dells Boat Tour operator is open.
Related Read: 10 Romantic Getaways in Wisconsin for the Ultimate Retreat
3. East Bluff Loop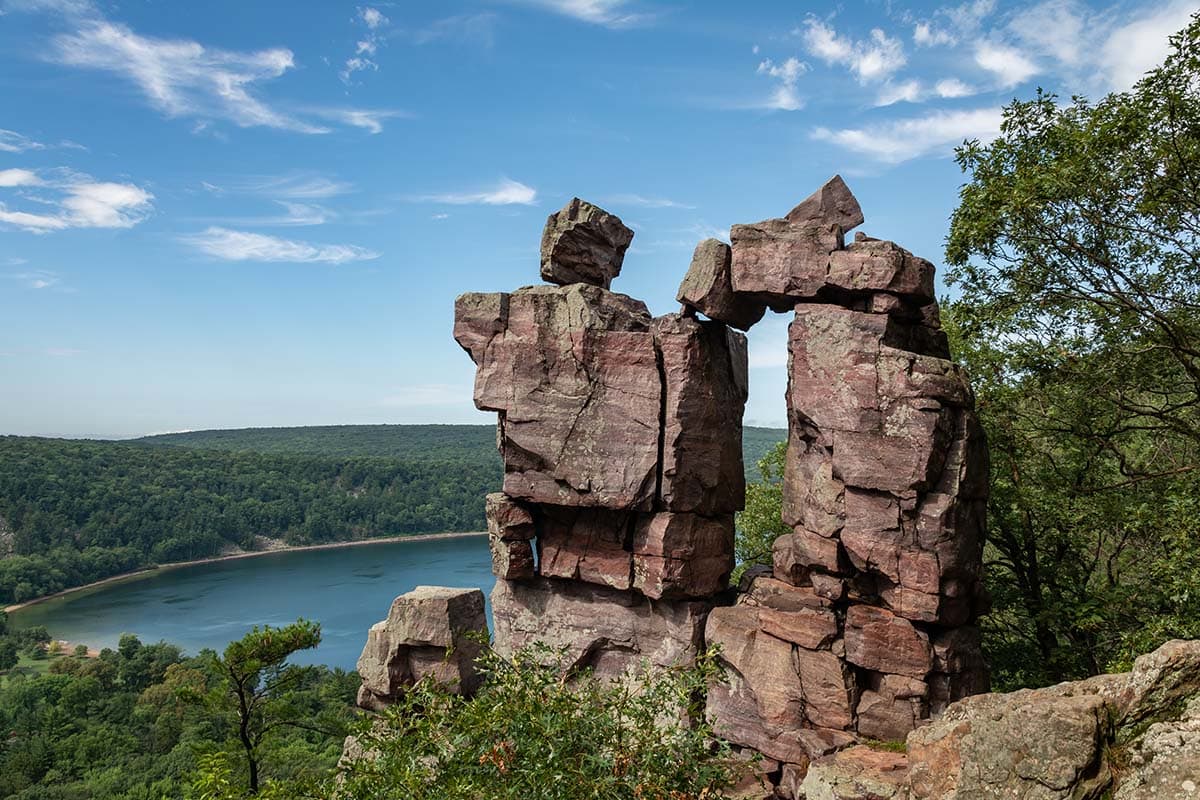 Why you should go: A popular hiking trail with panoramic lake views that are amazing in the fall.
Nearest town: Baraboo
Difficulty: Moderat
Distance: 2.6 miles
Elevation gain: 520 feet
Only 25 minutes south of the Dells is the East Bluff Loop, arguably the coolest hike in Devil's Lake State Park. This loop requires a steep climb up towering quartzite bluffs that surround the lake. Although a bit of a challenge, hikers are rewarded with stellar views of the water and rolling hills. Other noteworthy landmarks to keep your eyes peeled for are the Elephant Cave and Elephant Rock.
Devil's Lake is a beautiful place to hike any time of year, with each season offering a new and exciting landscape to experience. In the fall, the forest transforms into a show of bright colors before the lake freezes over to create a winter wonderland.
Related Read: The 9 Absolute Best State Parks in Wisconsin
4. West Bluff Trail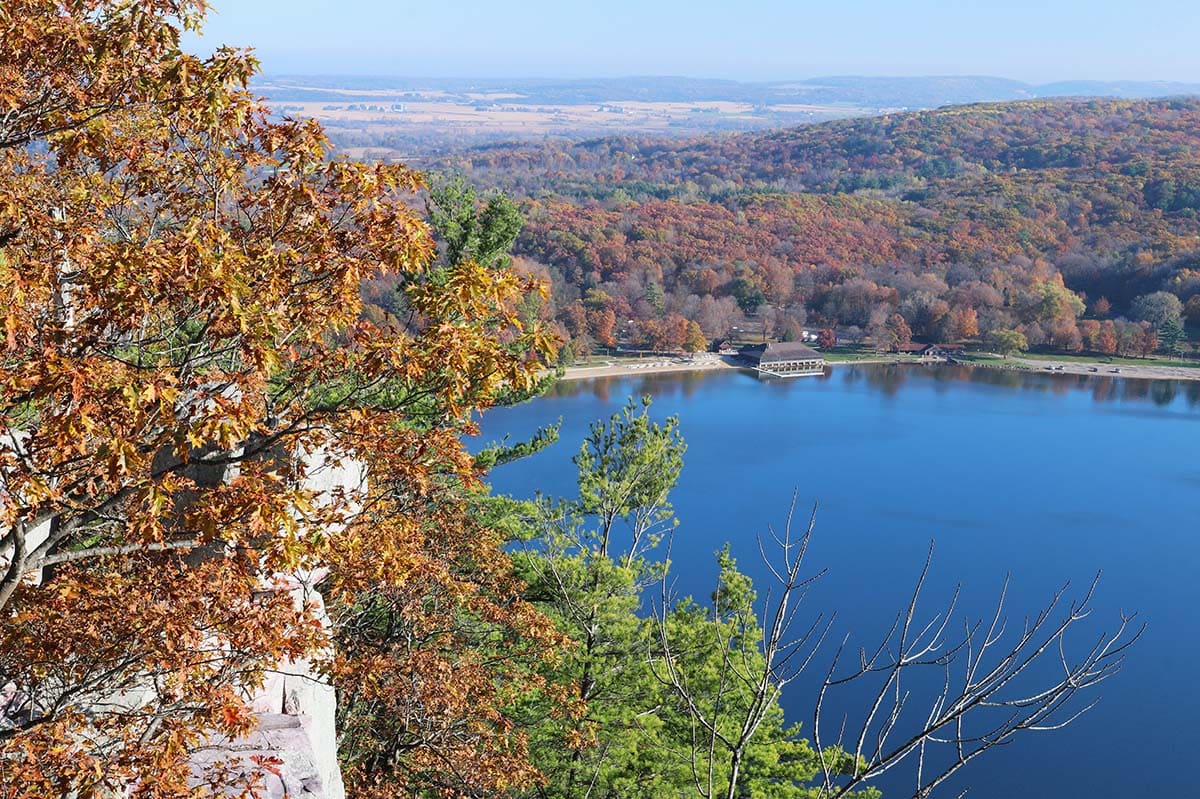 Why you should go: A longer hike that encircles the shores of Devil's Lake.
Nearest town: Baraboo
Difficulty: Moderate
Distance: 4.75 miles
Elevation gain: 1,000 feet
The West Bluff Trail takes hikers up and over the bluffs that line both sides of the lake. While on this trail, you'll pass sandy beaches, hike up tumbled rocks, and through wooded bluff tops. The famed Balanced Rock on the East Bluff side of the lake can be found along this trail. The story goes that a piece of the bluff cracked, tumbled, and landed perfectly on its head — it's truly a sight to see!
It typically takes two and a half hours to complete, but you'll want time to snap photos and marvel at the scenery. Devil's Lake State Park allows dogs on the trails, but they must be on a leash. Another worthy Devil's Lake hiking trail is the two-mile Devil's Doorway Trail that loops away from the lake and into the woods.
Related Read: 10 Best Hiking Trails at Devil's Lake State Park, Wisconsin
5. Lone Rock Trail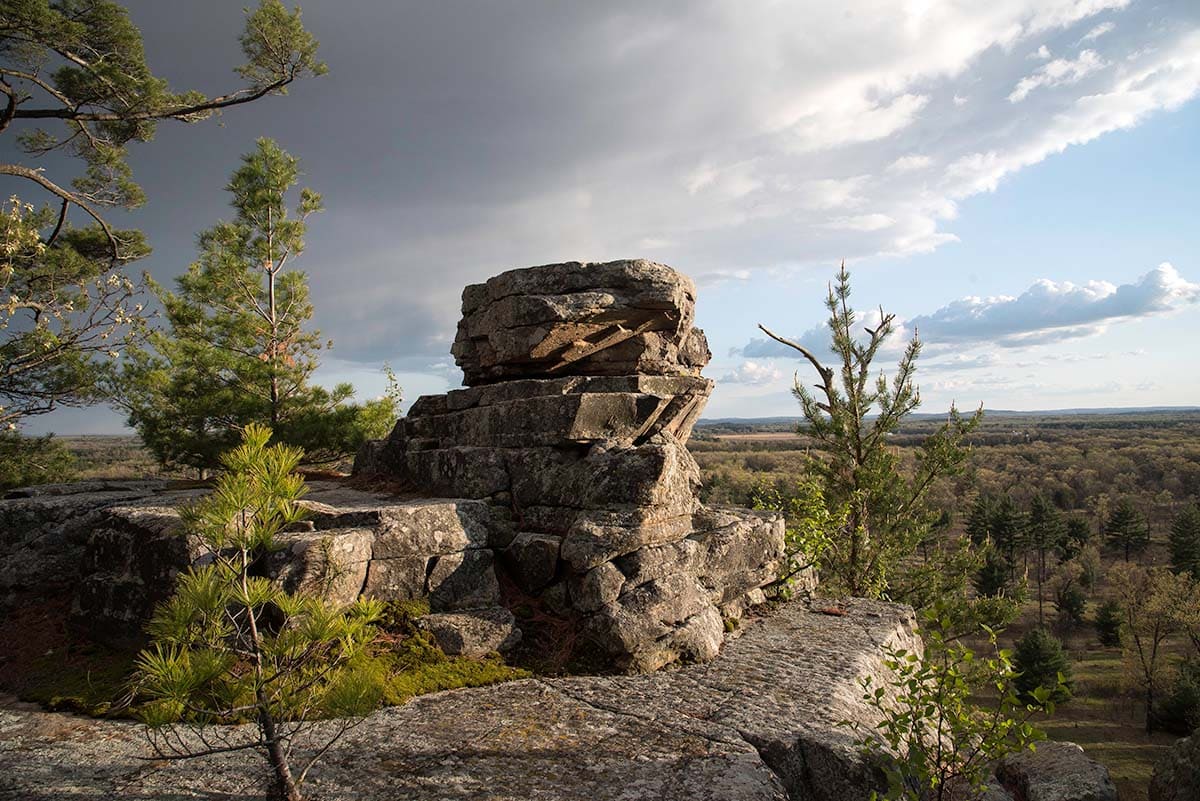 Why you should go: A long but leisurely trail, off-the-beaten-path 25 minutes north of the Dells.
Nearest town: Adams
Difficulty: Moderate
Distance: 6.6 miles
Elevation gain: 120 feet
Forests, meadows, wetlands, and prairies, you name it, and Lone Rock Trail has it. And that doesn't even account for the bluffs throughout the region that rise as high as 200 feet. Nestled in the Quincy Bluff and Wetlands State Natural Area, this quiet trail is often free of crowds.
So whether you're coming to walk your dog or indulge in a family picnic, you're sure to enjoy the scenery in peace. Its more remote locale also offers fantastic wildlife viewing and birdwatching. Be sure to climb Quincy Bluff for views from the highest point in the park.
Related Read: 9 Luxury Cabins in Wisconsin Where Nature Meets Splendor
6. Pewit's Nest Trail
Why you should go: A wooded trail to an impressive gorge with many small waterfalls.
Nearest town: Baraboo
Difficulty: Easy
Distance: .8 miles
Elevation gain: 70 feet
The Pewit's Nest Trail is a short but sweet hike through the woods to a deep gorge. Measuring between 30 and 40 feet deep, a stream flows through the rocky cavern creating numerous cascades and pools. The view is so spectacular that it often attracts outdoor photographers itching to capture the landscape.
Admittedly this hike is more of a walk and typically takes less than 20 minutes to complete. However, the effort is worth it to see this unique natural attraction. Plus, it's near other great hiking spots like Parfrey's Glen and Devil's Lake State Park, making it a convenient stop on a day of adventure.
Related Read: 11 Unique Places to Stay in Wisconsin for an Unforgettable Getaway
7. Parfrey's Glen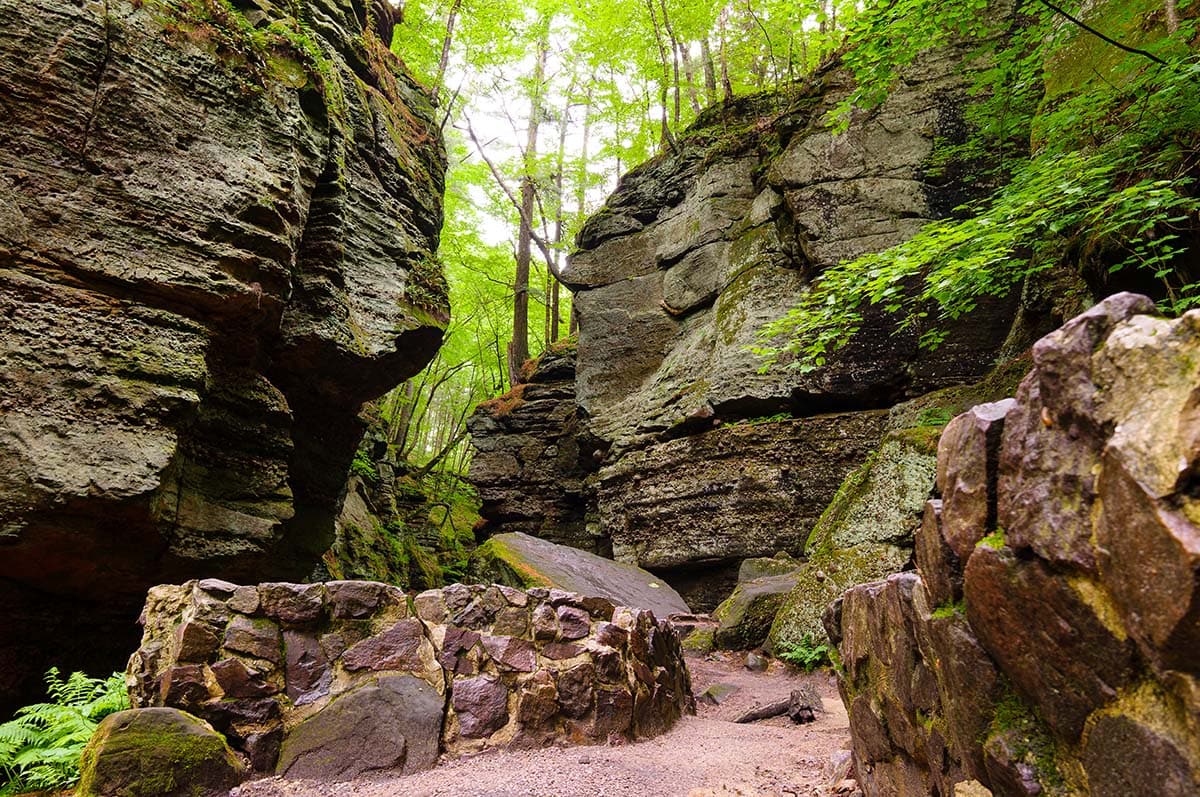 Why you should go: A historic preserve through a mossy canyon that reaches 100 feet tall.
Nearest town: Merrimac
Difficulty: Easy
Distance: 1.7 miles
Elevation gain: 200 feet
Established in 1952, Parfrey's Glen protects a spectacular gorge and is one of Wisconsin's first designated natural areas. This out and back trail travels through a wide ravine framed by tall sandstone cliff walls. The trail shifts from paved to rocky and even crosses a passing creek, so coming prepared with waterproof boots is recommended.
Because of the cool and moist climate, unique plants and insects flourish here. This particular trail is also a lot of fun, because of the large boulders along the path that you can climb. As if that weren't enough, at the end of the trail is a pretty waterfall. Parfrey's Glen is about 30 minutes from downtown Wisconsin Dells.
Related Read: 10 Beautiful Scenic Drives in Wisconsin to Take This Year
8. Rocky Arbor Loop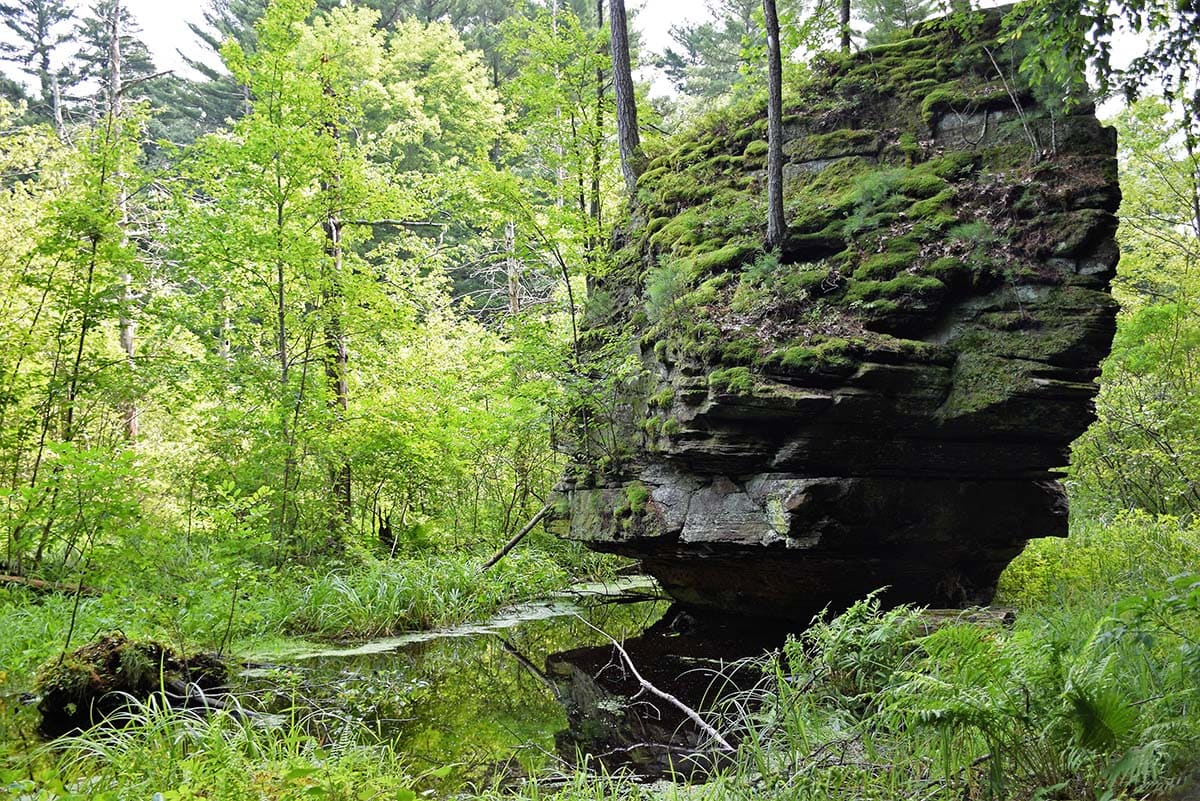 Why you should go: A loop that passes sandstone outcroppings in Rocky Arbor State Park.
Nearest town: Wisconsin Dells
Difficulty: Easy
Distance: 1.5 miles
Elevation gain: 95 feet
Situated five minutes from the city center, the Rocky Arbor Loop is an easy state park hiking trail. This pet-friendly route shouldn't take longer than 35 minutes to complete, making it a convenient addition to your Wisconsin Dells itinerary.
Rocky Arbor State Park protects nearly 250 acres of land scattered with pines and exposed rock. While there isn't much opportunity for hiking other than this main loop, the park offers a reprieve in nature from the main tourist trail. There are also camping and picnic areas available.
Related Read: 10 Best Hikes in Wisconsin for Hitting the Trail Any Time of Year
9. Echo Rock Trail Loop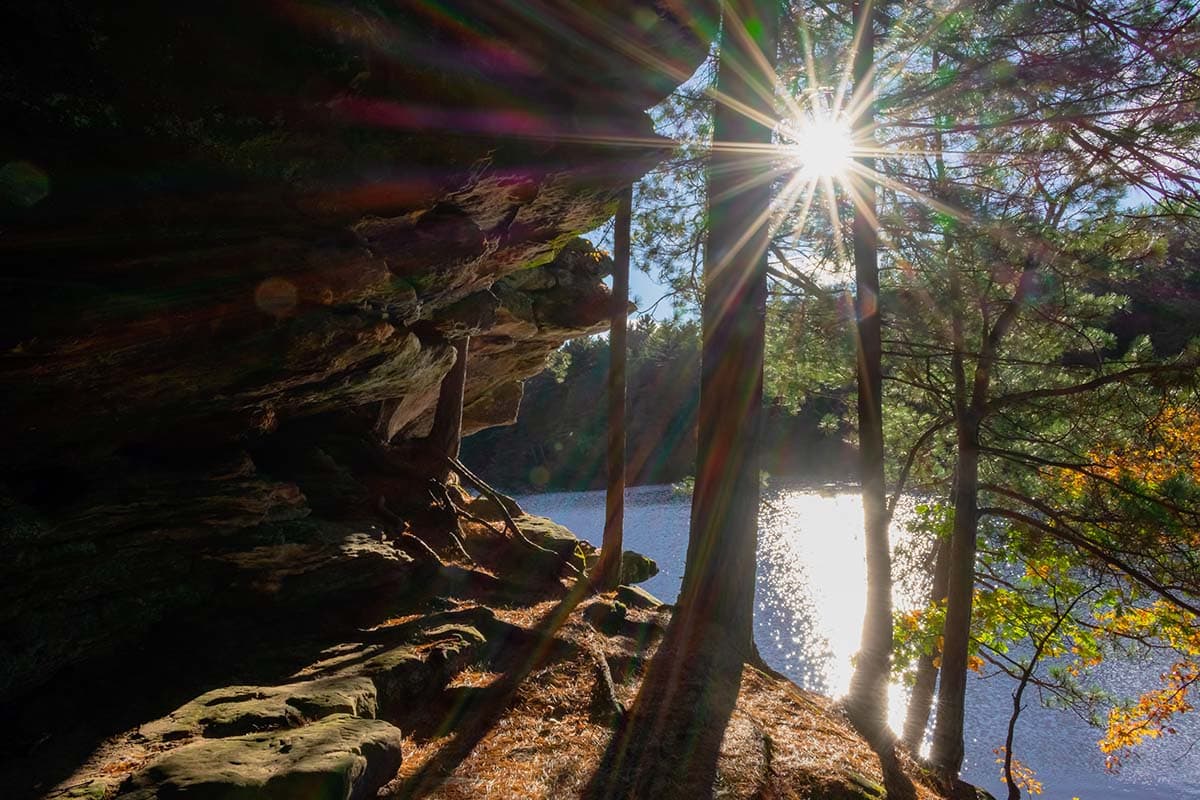 Why you should go: A partially accessible trail that turns to soft dirt surrounded by sandstone formations.
Nearest town: Lake Delton
Difficulty: Easy to moderate
Distance: 3.2 miles
Elevation gain: 280 feet
The Echo Rock Trail Loop is a family-friendly hike that loops up and over bluffs, across a bridge connecting two cliffs, and along the shores of Mirror Lake. This narrow lake gets its name because of its calm waters that are often highly reflective, showing off a double of the forested surroundings.
This trail is part of Mirror Lake State Park located ten minutes from the Dells. It offers other leisurely hiking trails, camping facilities and public beaches. Many come to take advantage of the water through fishing, kayaking, and more. Visitors can even rent out the park's Seth Peterson Cottage, a historic cabin designed by Wisconsin native, Frank Lloyd Wright.
Related Read: 10 Great Places to See Fall Colors in Wisconsin
10. Ice Age Trail: Gibraltar Rock Segment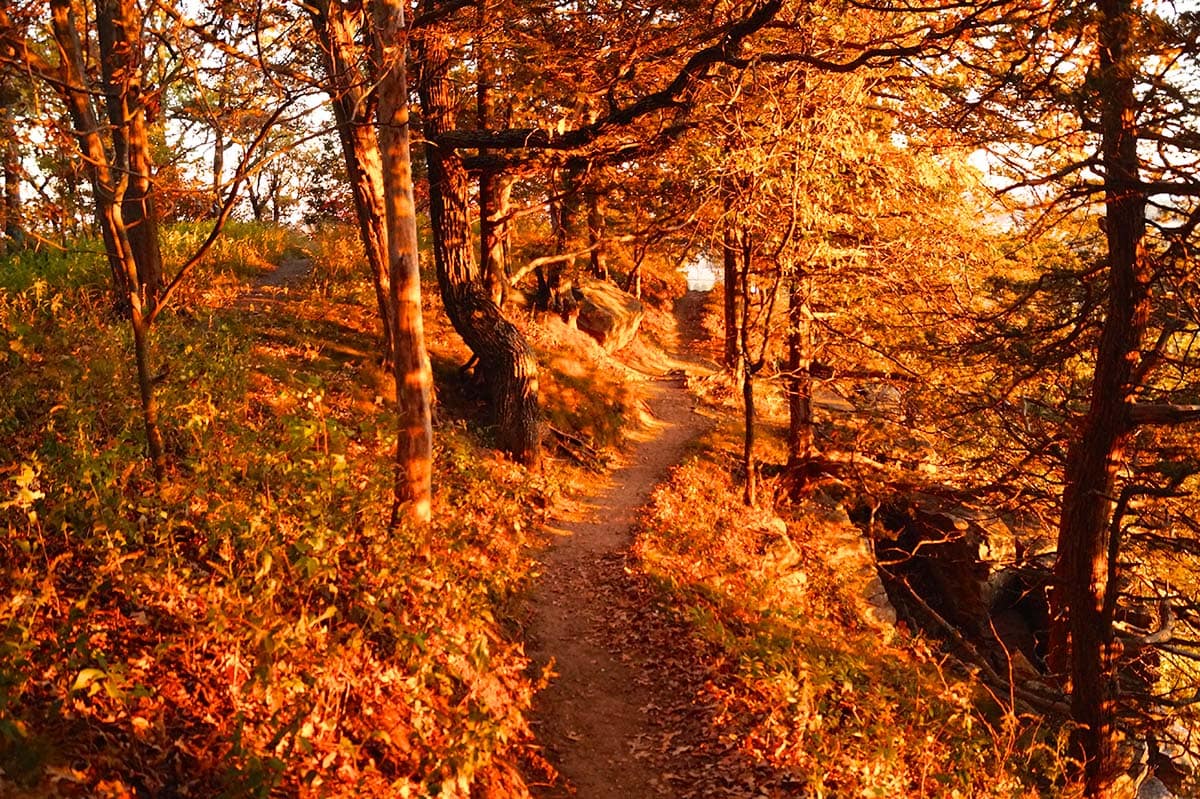 Why you should go: A trail 40 minutes from the Dells that ends with panoramic views of rolling hills.
Nearest town: Lodi
Difficulty: Moderate to challenging
Distance: 8.6 miles
Elevation gain: 1,400 feet
The Ice Age National Scenic Trail is a winding route that totals nearly 1,000 miles across the state of Wisconsin. Part of that route includes the Gibraltar Rock Segment, an out and back trail that starts in Merrimac and ends at the Gibraltar Rock State Natural Area. This designed natural area protects Gibraltar Rock, a 200-foot tall butte, or flat-topped hill.
Part of the trail follows the roadway before venturing into rocky terrain that proves to be a steep climb and a good workout. At the top of Gibraltar Rock, you can see far-reaching views of the Baraboo Hills and Lake Wisconsin. This trail is a bit of a drive from the Wisconsin Dells but it's a hike that shouldn't be missed.
Related Read: 8 Best Camping Spots in Chequamegon-Nicolet National Forest
Find Your Next Adventure
Get epic travel ideas delivered to your inbox with Weekend Wanderer, our newsletter inspiring more than 10,000 readers every week.
---