Much of Wisconsin is covered in rolling farm fields, where cows graze, and bright red barns stand tall.
But it may surprise you to discover that America's Dairyland isn't only known for its rich agricultural tradition.
America's Third Coast is also home to countless incredible attractions, both urban and out in the countryside. Boarded by Lake Michigan and Lake Superior and filled with more than 15,000 freshwater lakes, many of the best places to visit in Wisconsin revolve around the water.
But the fun doesn't stop at Wisconsin's thousands of miles of coastline! The state's largest cities also highlight Wisconsin's rich and distinct Midwestern culture as it melds with the modern art and culinary world.
Fall in love with the Badger State as you check off destinations one by one from this list of the best places to visit in Wisconsin.
Related Read: 14 Best Things to Do in Wisconsin in Every Season
1. Milwaukee's Historic Third Ward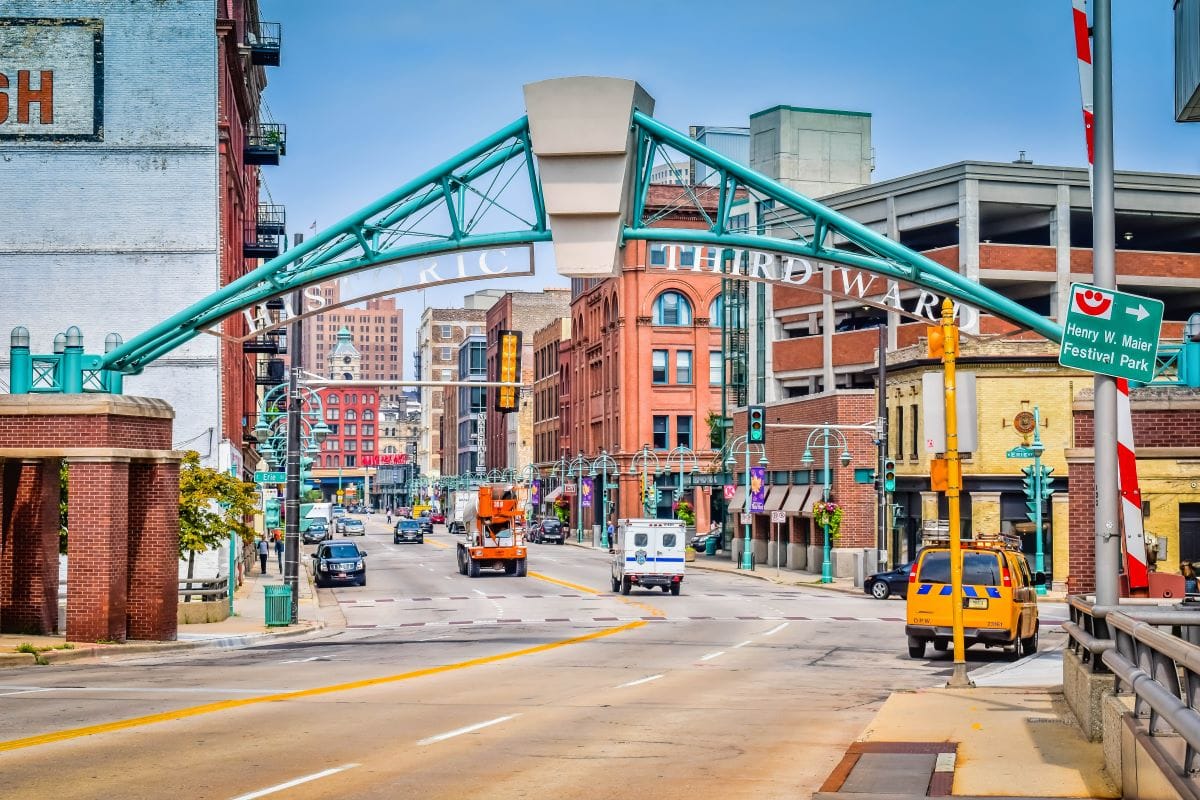 There's nothing quite like the charm that envelopes Milwaukee's Historic Third Ward. Once the city's industrial neighborhood, hip cafes, restaurants, and shops now fill the historic cream and red brick warehouse buildings. Not to mention, countless art galleries and theaters call the neighborhood home creating a lovely art and theater scene.
The pretty Milwaukee Riverwalk also passes through the neighborhood where pedestrians can spot passing boats and kayakers cruising the meandering Milwaukee River. When hunger strikes, consider visiting Cafe Benelux for their classic brunch or the Milwaukee Public Market.
Related Read: 10 Charming Day Trips from Milwaukee, Wisconsin
2. Kohler-Andrae State Park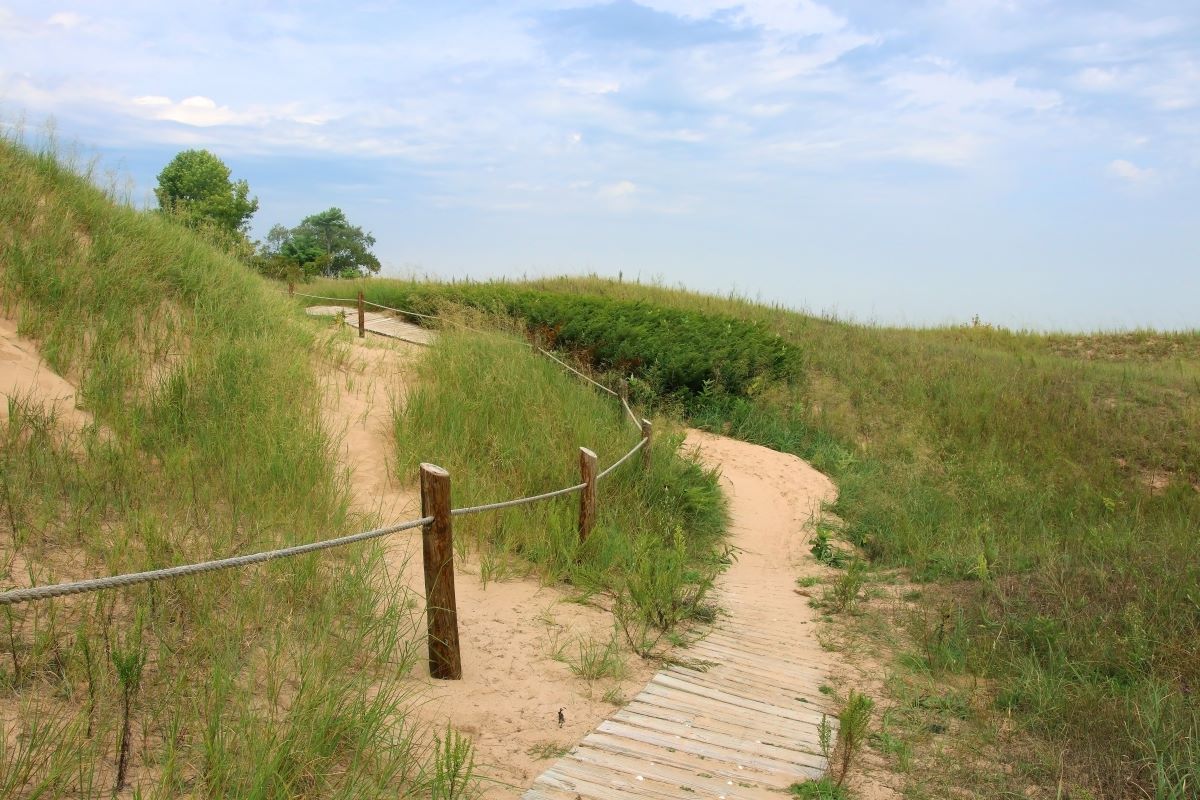 In the precious summer months, people flock to Kohler-Andrae State Park to enjoy the calm waters and sandy beaches of Lake Michigan. When you're not fishing, kayaking, or swimming, the park grounds feature picnic facilities and a place to rinse off.
This beloved state park is also famous for its unique boardwalk hiking trails that wind over the undulating sand dunes. For those who wish to stay longer than a day, there are over a hundred family-friendly and modern campsites available to reserve. Family pets are welcome in the park so long as they're leashed.
Related Read: The 9 Absolute Best State Parks in Wisconsin
3. The Wisconsin Great River Road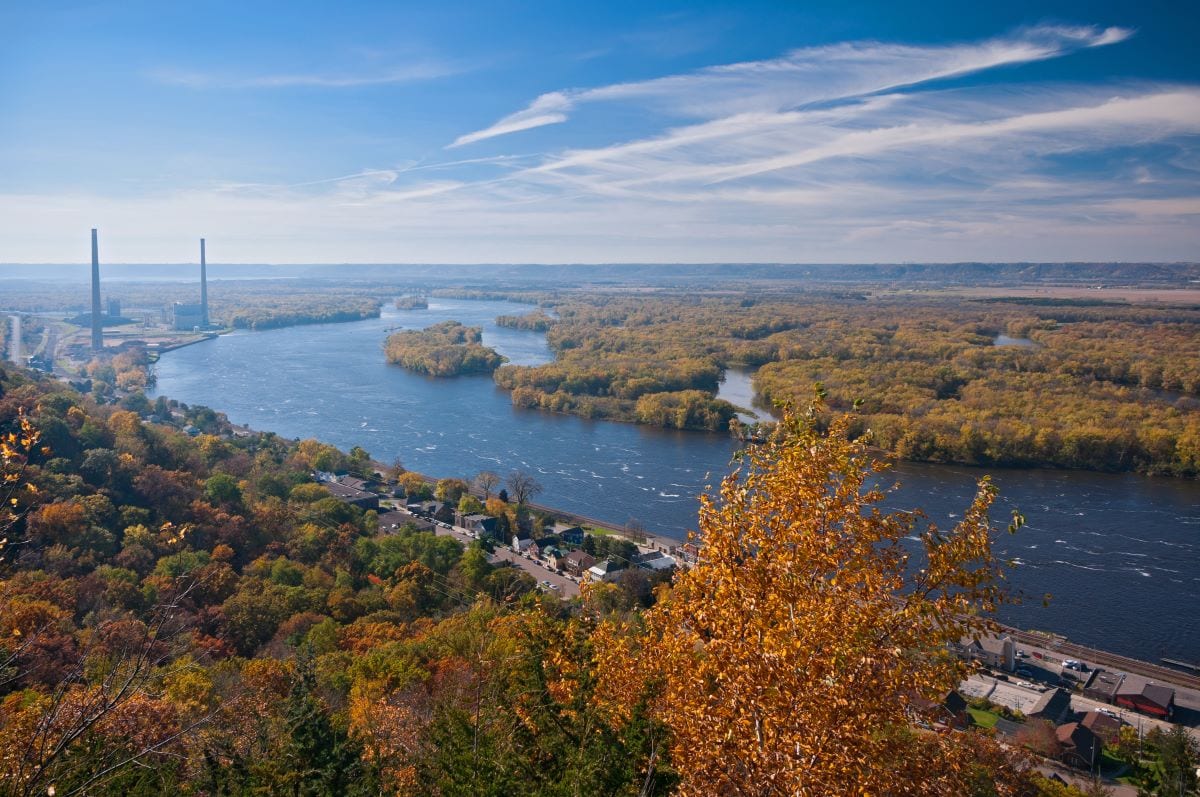 For a road trip, you won't soon forget, take a drive along the Great River Road. This Wisconsin scenic drive follows the great Mississippi River and highlights the beauty of the verdant river valley. Although this route is especially gorgeous in the fall, it's a great place to visit any time of year.
The drive totals 250 miles and is divided into two sections, north and south, starting in Prescott and finishing at the Illinois state line. Some worthwhile stops along the way include Wyalusing State Park and Perrot State Park, as well as charming river towns like Stockholm and Prairie du Chien.
Related Read: 10 Beautiful Scenic Drives in Wisconsin
4. Green Bay's Titletown Park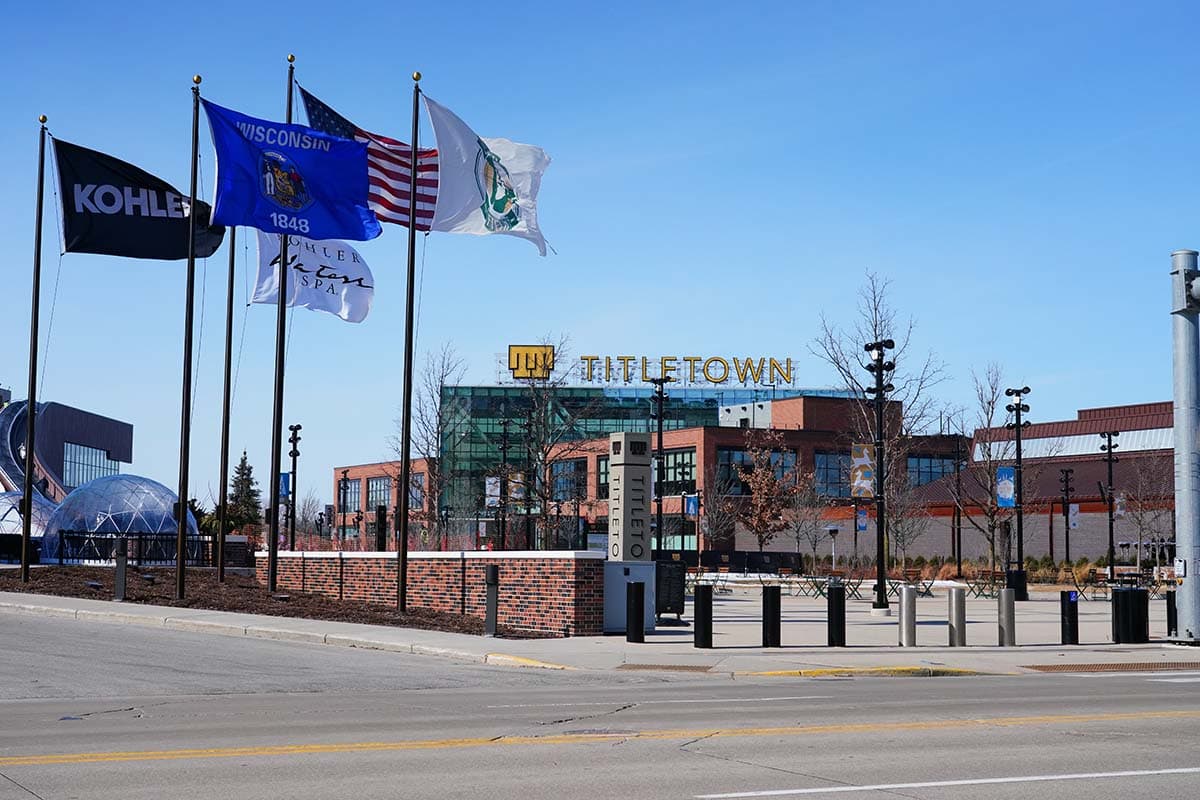 Green Bay's Titletown Park is a mecca for die-hard Packer's fans. This green-and-gold-themed park is a dedicated community space that sits just outside the walls of historic Lambeau Field. It celebrates Wisconsinites' favorite NFL team and makes for a family-friendly destination thanks to its playground, winter ice rink, and 46-Below Cafe.
It's also here in the park grounds where you can enjoy other seasonal events, local shops, and plenty of picnic space when the weather is warm. Titletown sits next to a park that features Ariens Hill, where kids come to sled and tube once it snows.
Related Read: 12 Best Cabin Rentals in Door County, Wisconsin
5. Wisconsin Dells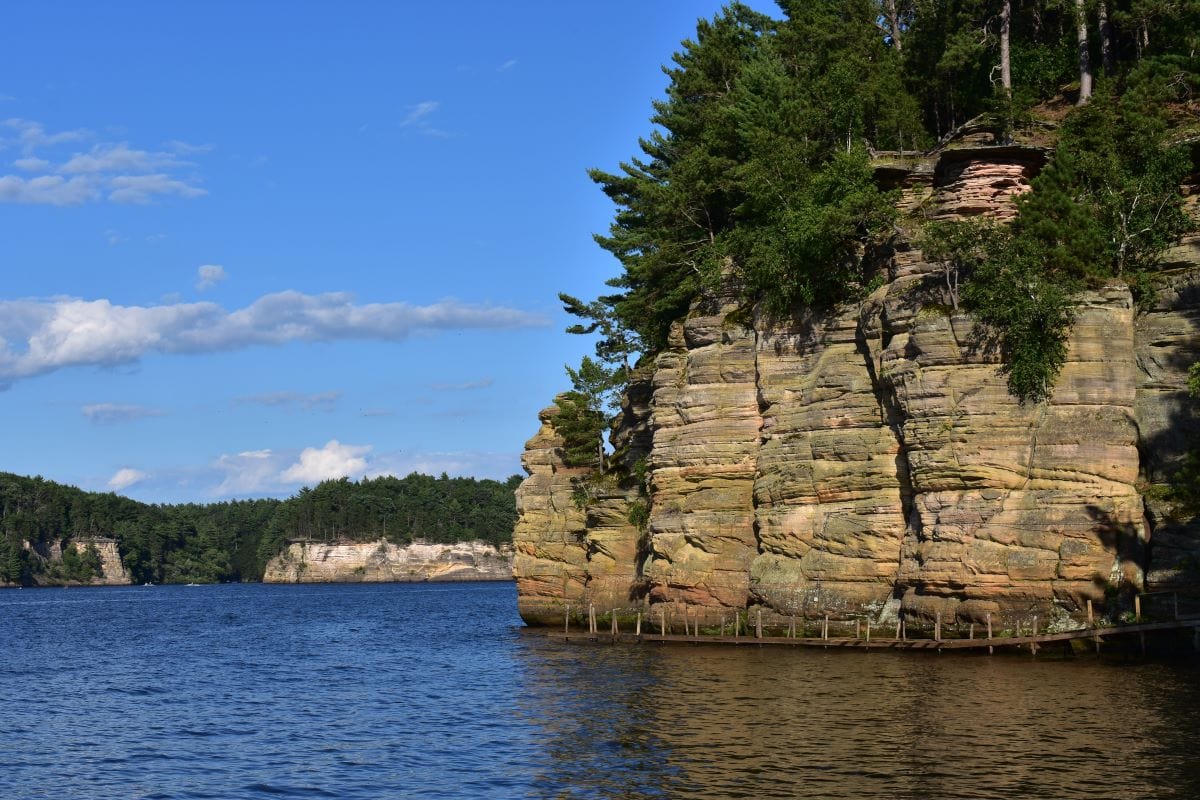 Unsurprisingly, the Wisconsin Dells is considered one of the best places to visit in Wisconsin. Famous for the high concentration of exciting indoor and outdoor water parks, there's water fun to be had year-round. Many opt to stay at resorts, like the Kalahari or Great Wilderness, while others book a cozy Wisconsin Dells vacation rental.
The Dells are also known for striking sandstone bluffs that tower over the passing Wisconsin River, creating a unique landscape you can't see anywhere else in the state. Visitors can take in the natural wonders of the Dells up close with a hike or a boat tour aboard a Wisconsin Duck.
Related Read: 12 Best Cabin Rentals Near Wisconsin Dells
6. Parfrey's Glen State Natural Area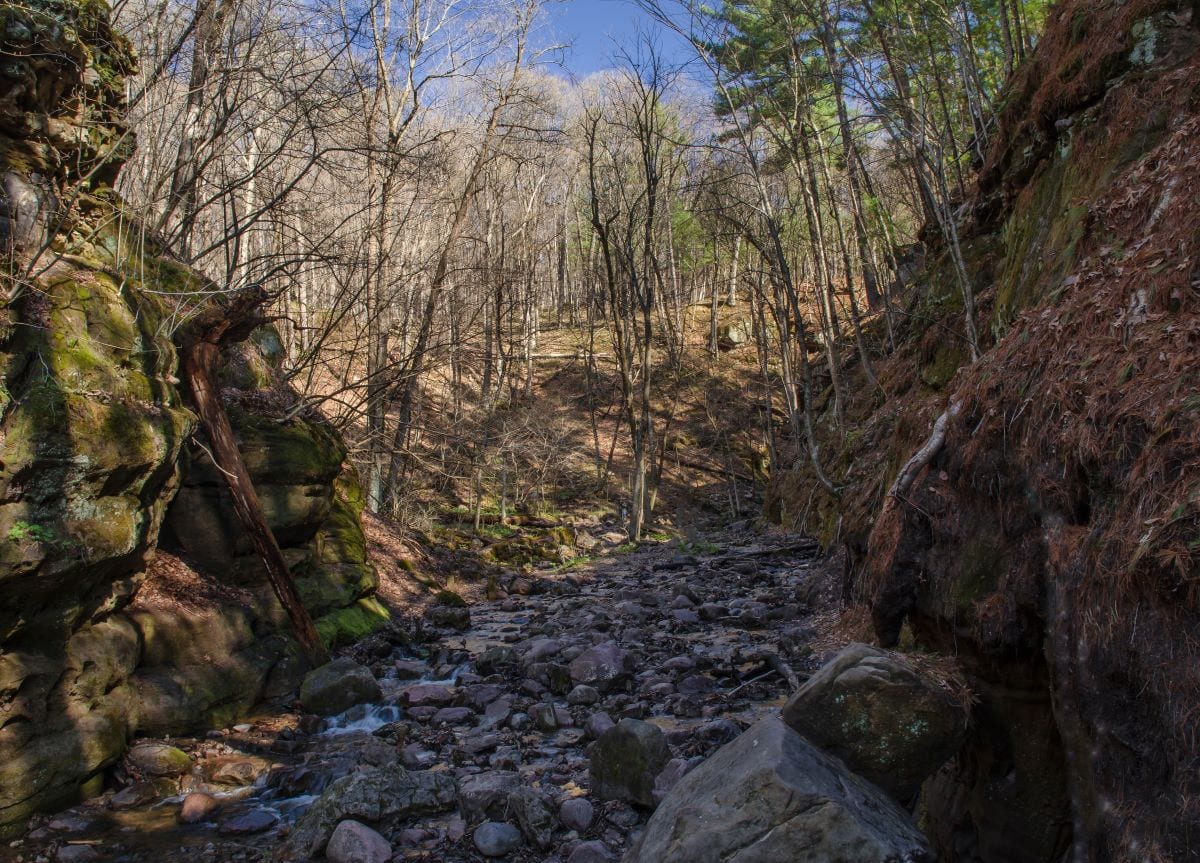 Parfrey's Glen State Natural Area is a beautiful and severely underrated place in south-central Wisconsin. Whether because it's not all that well-known or folks are turned away by its relatively small size, it's a shame because this incredible natural landmark has a lot to offer.
Parfrey's Glen is unique because of the striking sandstone gorge that cuts through the forest and the massive boulders that hikers can climb for a better view. The canyon hiking trail is short and only totals 1.7 miles, but it is worth the journey to see the canyon's towering cliffs that reach up to 100 feet tall.
Although located a 15-minute drive from the main part of the park, Parfrey's Glen is part of Devil's Lake State Park.
Related Read: The 10 Best Lake Camping Destinations in Wisconsin
7. Pattison State Park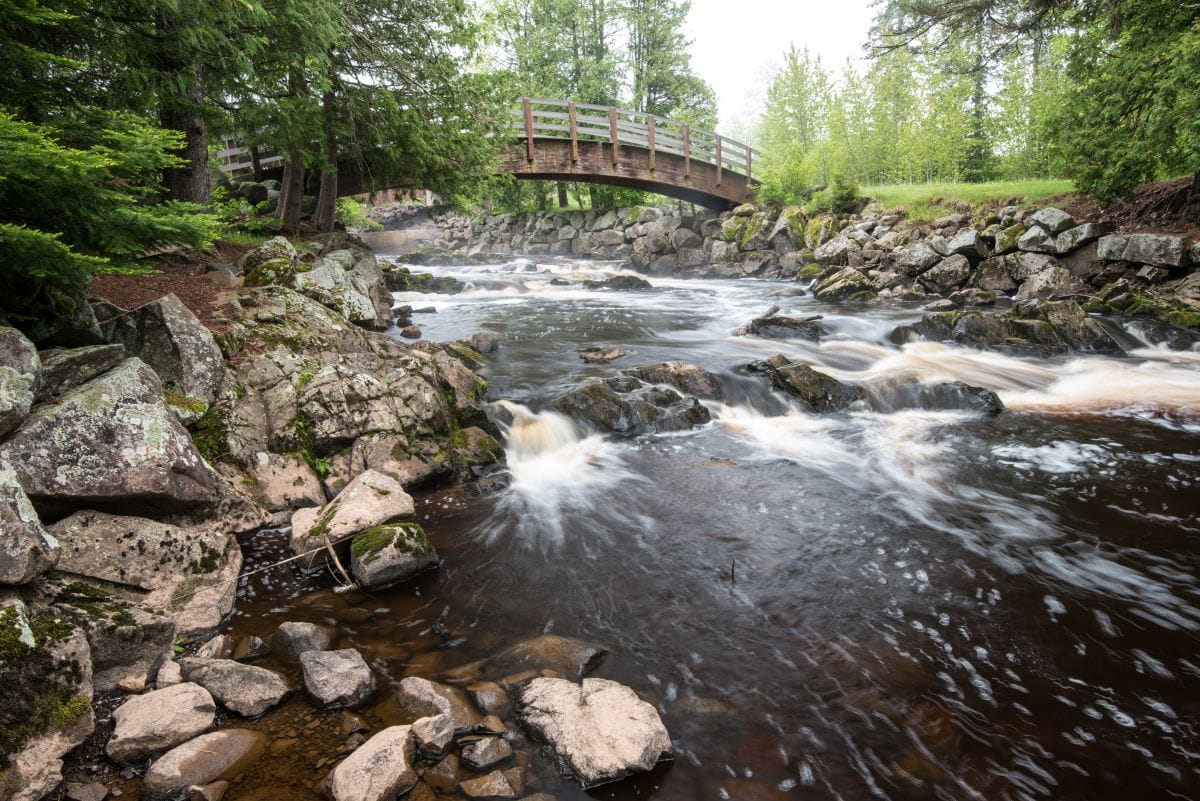 Pattison State Park is the perfect place to chase waterfalls in Wisconsin and is home to the largest waterfall in the state. Reaching an impressive height of 165 feet, Big Manitou Falls is worthy of any Wisconsin bucket list, beating out the second tallest by a good 65 feet.
Millions of years ago, the Black River carved a deep gorge from the region's ancient, black lava rock, creating the cascades we see today. After hiking to see the big falls, you can also walk to see the Little Manitou Falls, swim in the passing river, and camp out surrounded by the quiet of the north woods.
Related Read: 11 Waterfalls in Wisconsin Not to be Missed
8. Cave of the Mounds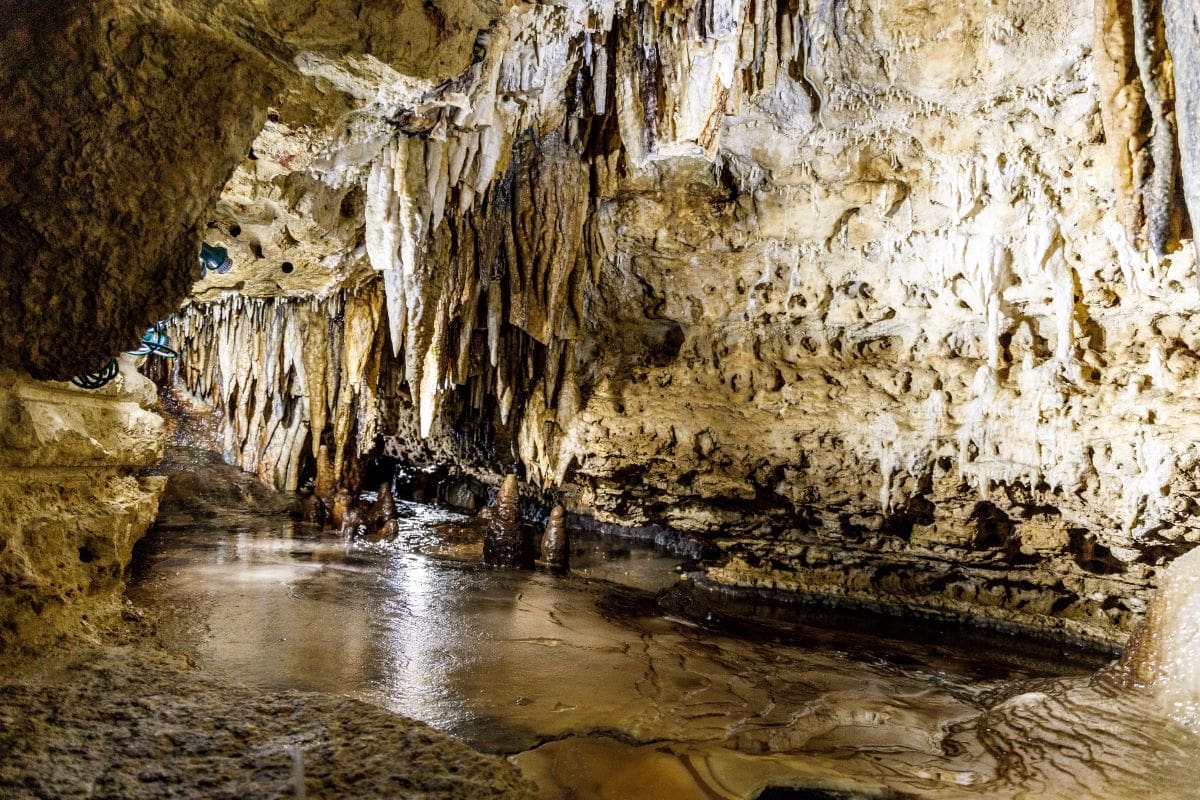 Dive deep beneath the earth to experience the spacious and expansive limestone caverns that make up the Cave of the Mounds. The caves were discovered back in 1939 and total 750 feet long and 57 feet its deepest point. Today visitors come from all over to try their hand at spelunking and to witness the glittering stalagmites and stalactites.
After you've completed your self-paced tour of the caves, you can pick up a souvenir at the gift shop, crack your own geode, or stroll the above-ground nature trails. You can find the Cave of the Mounds in central Wisconsin. But note – this attraction isn't for the claustrophobic as some spaces require crawling through tight spaces.
Related Read: 10 Great Places to See Fall Colors in Wisconsin
9. House on the Rock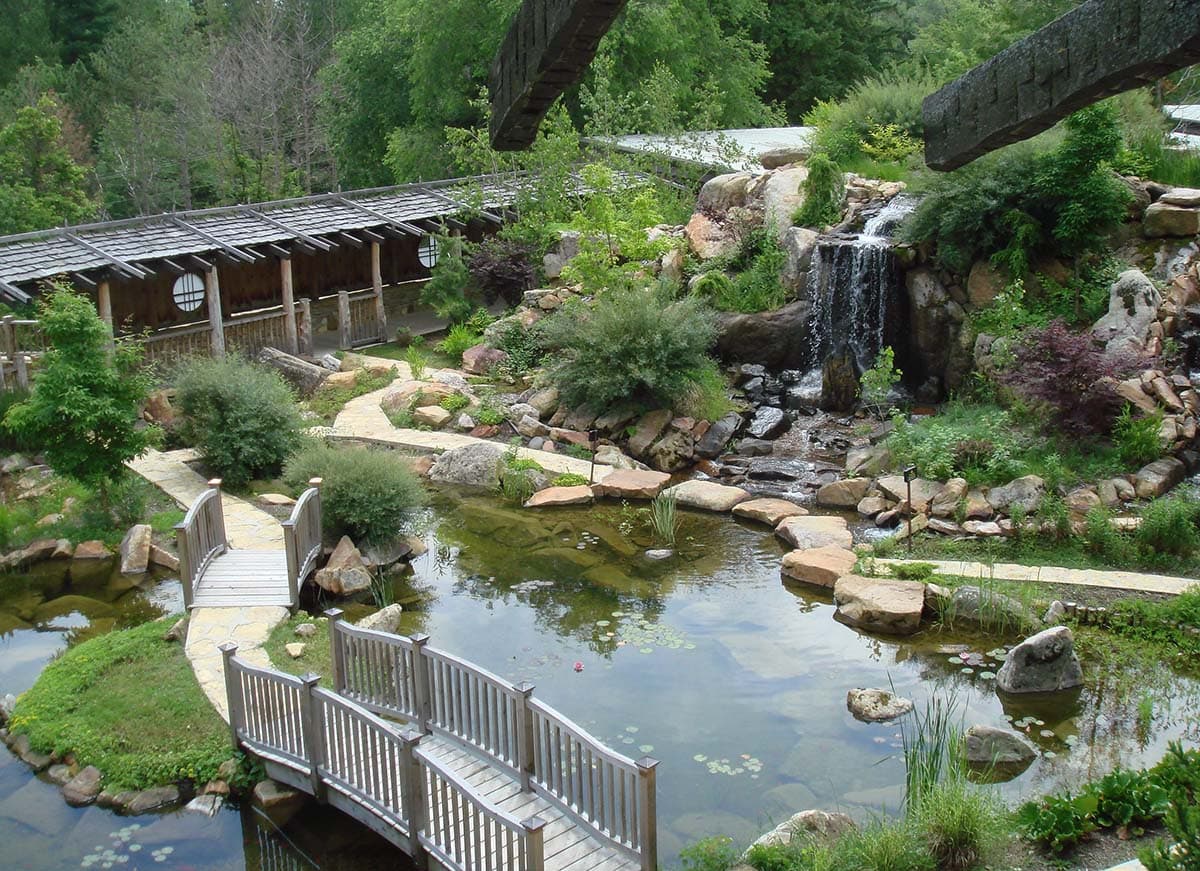 If you're attracted to the weird or unique, a visit to the House on the Rock is a must. This funky landmark is tucked away in Spring Green, about an hour from Madison and the Wisconsin Dells. Its claim to fame is its topsy turvy architecture, gardens, and eclectic collection of items.
The House on the Rock opened in 1959 thanks to Alex Jordan Jr., a friend of Wisconsin native and famous architect Frank Lloyd Wright. While initially just a casual attraction, it now features a resort where guests can spend the night and enjoy rounds of golf, American cuisine, and spa services.
Related Read: 10 Cozy & Comfortable Wisconsin Tiny Home Rentals
10. Holy Hill Basilica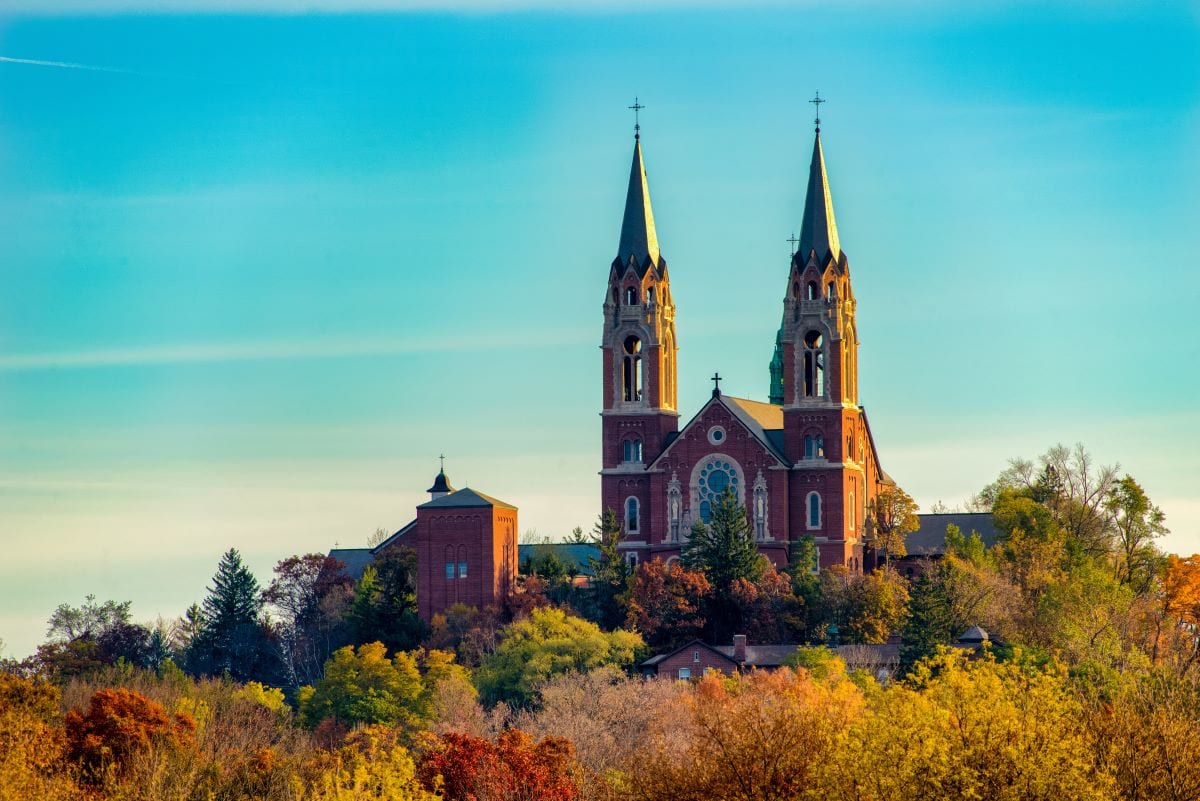 The Basilica and National Shrine of Mary, locally known as Holy Hill, is a historical landmark not far from Milwaukee. This eye-catching church is perched atop a hill, reaching 1,350 feet above sea level. One of the best things to do at Holy Hill is climb to the top of the observation tower that overlooks the surrounding farmland and forest.
Visitors can also stroll the church grounds to see old religious statues and shrines. The most popular time of year to visit Holy Hill is in the fall, when the trees that encircle the church shift to bright colors. Trails part of the Kettle Moraine Forest and a portion of the Ice Age Trail pass near the church grounds offering even more scenic hiking opportunities.
Related Read: 10 Amazing Small Towns in Wisconsin for a Charming Escape
11. Apostle Islands National Lakeshore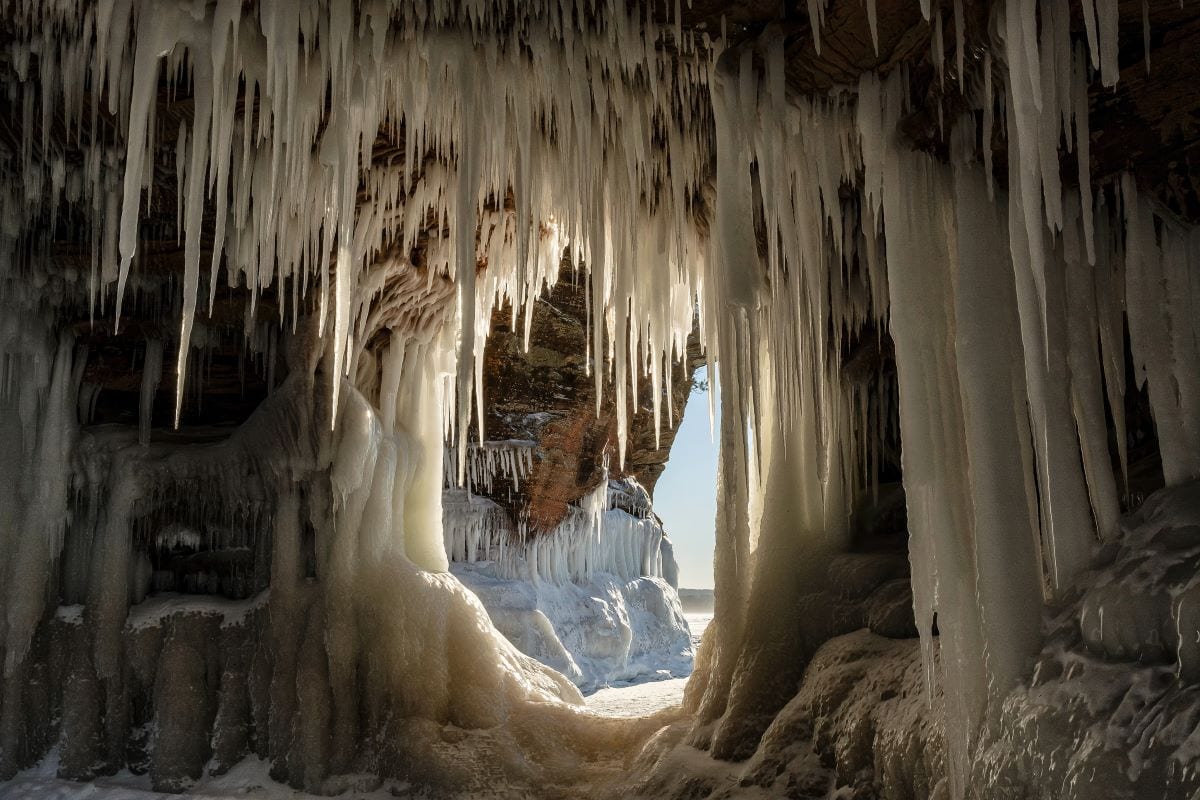 Nature lovers would be remiss not to include the Apostle Islands National Lakeshore on their list of best places to visit in Wisconsin. It's one of only a handful of nationally protected parks in the state. Made up of a chain of 21 islands in Lake Superior, the Apostle Islands are famous for sea kayaking, backcountry camping, excellent hiking, and frozen sea caves in the winter.
None of the islands in the national lakeshore are accessible by car, which means visitors must kayak, boat, take a water taxi, or an organized tour. If driving is your only option, the archipelago's largest and most developed island, Madeline Island, is another way to see the islands but is not part of the NPS.
Related Read: 11 Peacefully Secluded Cabin Rentals in Wisconsin
12. Madison's Capitol Square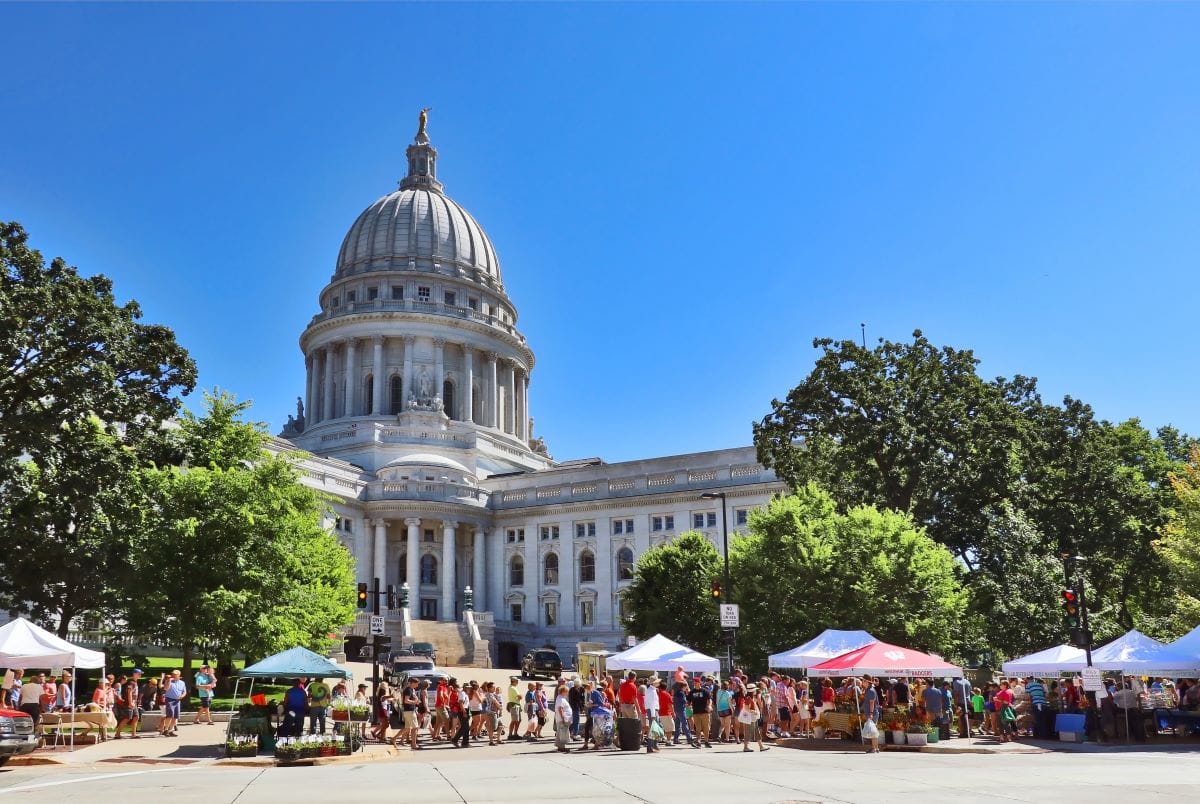 The Capitol Square in downtown Madison isn't only the heart and soul of the city but the state as well. It's here the majestic Capitol building stands tall over the surrounding cityscape. Even if politics aren't for you, a visit inside the impressive marble walls and a climb to the upper observation deck is a fantastic way to spend the day.
Not to mention, every Saturday, the Square comes alive with hundreds of vendors and shoppers bartering over fresh flowers, produce, cheese curds, and more at the famous Dane County Farmers Market. The Square is also the best place to treat yourself to the rich culinary scene and nightlife that people love about Madison.
Related Read: 11 Best Things to Do in Madison, Wisconsin
13. Door County
Lovingly referred to as Wisconsin's thumb, Door County is a beautiful peninsula encircled by the waters of Green Bay and Lake Michigan. It's famous for its hundreds of miles of scenic coastline and the charming small towns scattered across the county. Some of the best places to visit in Door County include Egg Harbor, Sister Bay, and Ephraim.
For a taste of the natural beauty native to this neck of the woods, head over to Whitefish Dunes and Peninsula State Park to marvel at undulating dunes and scraggly bluffs. Other Door County musts include a visit to Cana Lighthouse, touring a local vineyard, and eating all the local goodies like frozen custard and fresh cherry treats.
Related Read: 10 Relaxing Wisconsin Cabin Rentals with Hot Tubs
14. New Glarus Brewery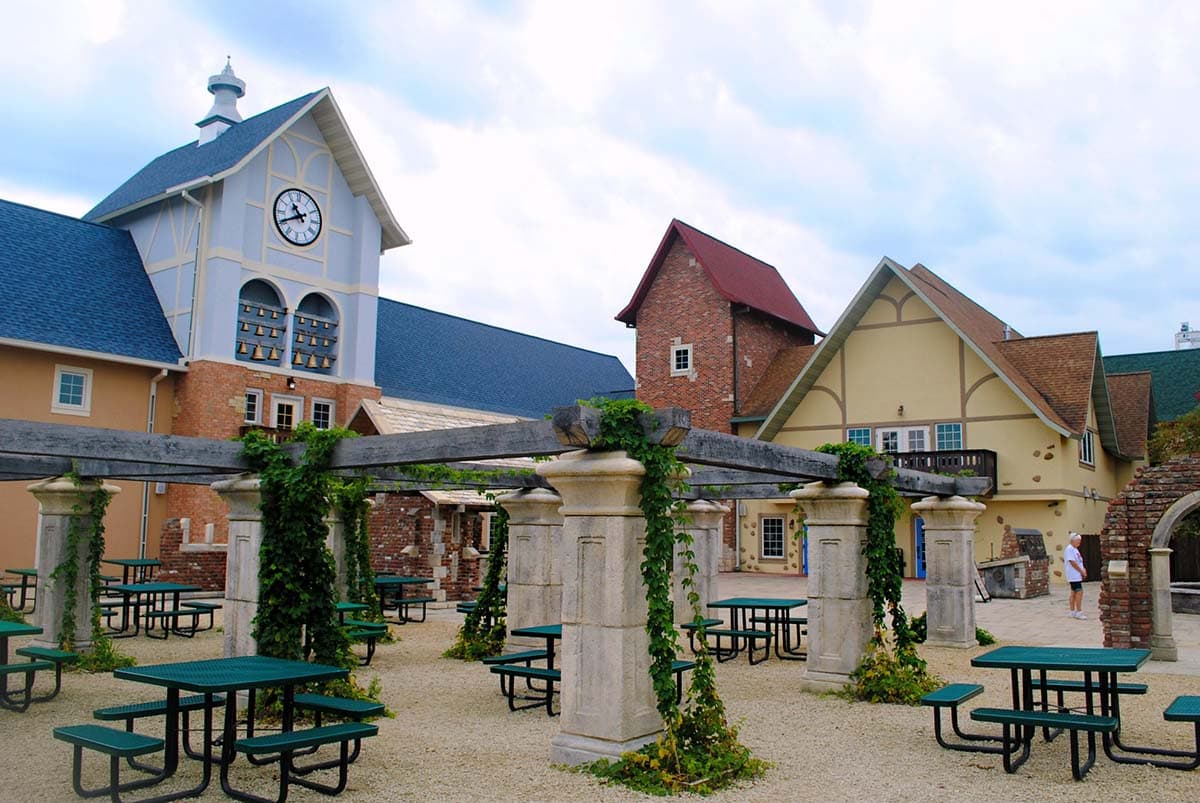 Producing brews that are only available within state lines, the new Glarus Brewery has become an iconic Wisconsin landmark with a reputation for creating refreshing brews. Situated in the small town by the same name, a visit, and tour of this charming craft microbrewery makes for a popular day trip from Madison.
Visitors can take a self-guided tour to learn more about the history of this microbrewery which opened up its doors in 1993. You'll also learn about New Glarus' beer production process, which notably only uses Wisconsin-grown malt varieties to flavor their distinct drafts. During your visit, you can partake in a tasting of three of New Glarus' beers. Be sure to try their Spotted Cow, a Wisconsin favorite!
Related Read: 10 Best Hikes in Wisconsin for Hitting the Trail Any Time of Year
Explore Wisconsin
Sign up for Weekend Wanderer to join 10,000+ readers getting epic travel ideas every week.
Was this article helpful?
---