We research and recommend travel destinations based on a number of factors, including our writers' own experience, user reviews and more. We may earn a commission when you book or purchase through our links. See our editorial policy to learn more.
---
People from the Midwest be like, "Why would I fly? It's only a 14-hour drive."
A road trip is all about embracing the journey no matter how long it is, and nobody gets that more than Wisconsinites. So much so that weekend road trips are a favorite mode of travel for many locals. And while there's no denying that Milwaukee — home to the 2021 NBA champs and world-class beer, BTW — already has a lot going for it, sometimes a weekend away is the best medicine.
This list weekend road trips from Milwaukee lead to exciting destinations across state lines, impressive local spots, and beautiful bodies of water — so here's where to head next weekend.
Related Read: 9 Amazing Weekend Getaways in Wisconsin
1. Chicago, Illinois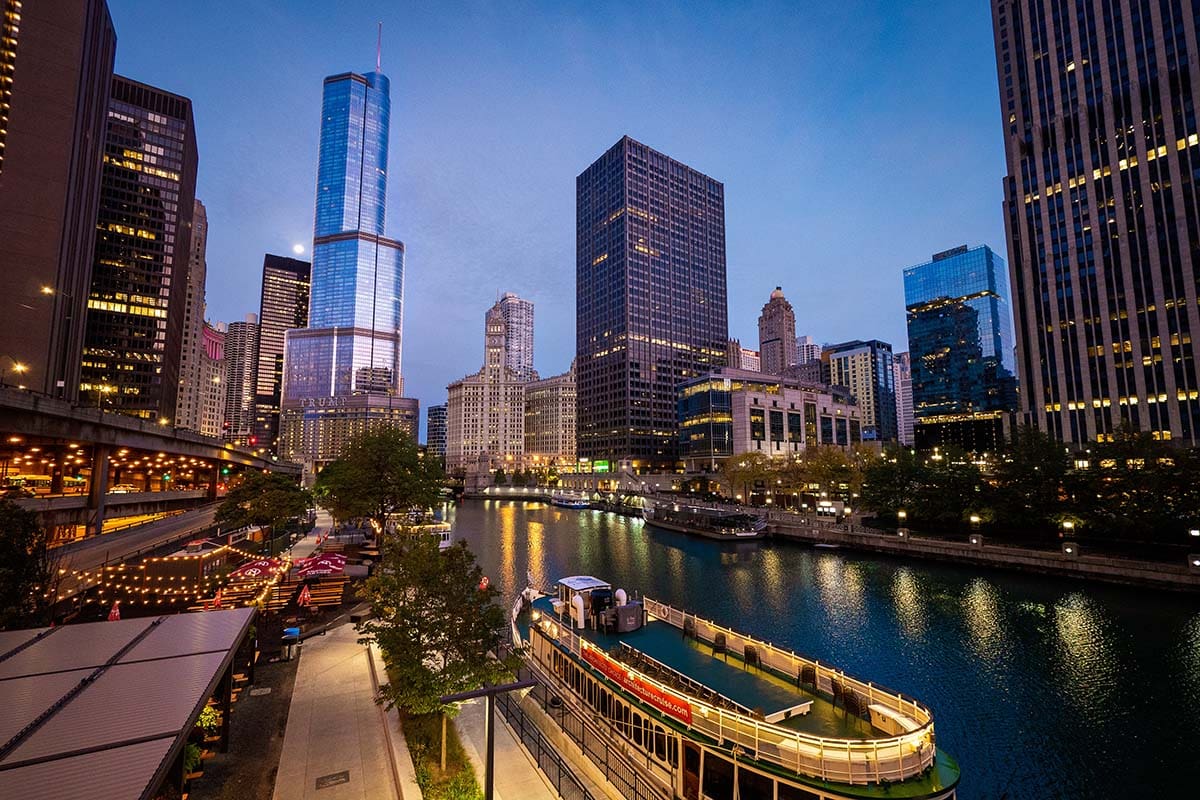 Chicago's sheer size and epic architecture never fails to wow visitors. Especially the picture perfect view of the river framed by towering skyscrapers along the Chicago Riverwalk. Not to mention iconic structures like the clear observation deck found at the Willis Tower and the reflective Could Gate in Millennium Park.
Chicago is also famous for its delectable local dishes. There's no doubt that Chicago Red Hots and deep dish pizza need no introduction! While the title of best deep dish is up for debate, Lou Malnati's is a Chicago deep dish staple, and Gene & Jude's is the place to try a Chicago-style hot dog.
The Garfield Park Conservatory, Chicago's Chinatown, and the city's many historic gangster spots offer a more unique take on The Windy City. In the evenings, grab a nightcap at The Violet Hour, a speakeasy that'll transport you back to the roaring 20s.
Distance: 92 miles
Drive time without stops: 1 hour, 31 minutes
Related Read: 12 Stunning Chicago Vacation Rentals for a Lively Windy City Stay
2. Green Bay, Wisconsin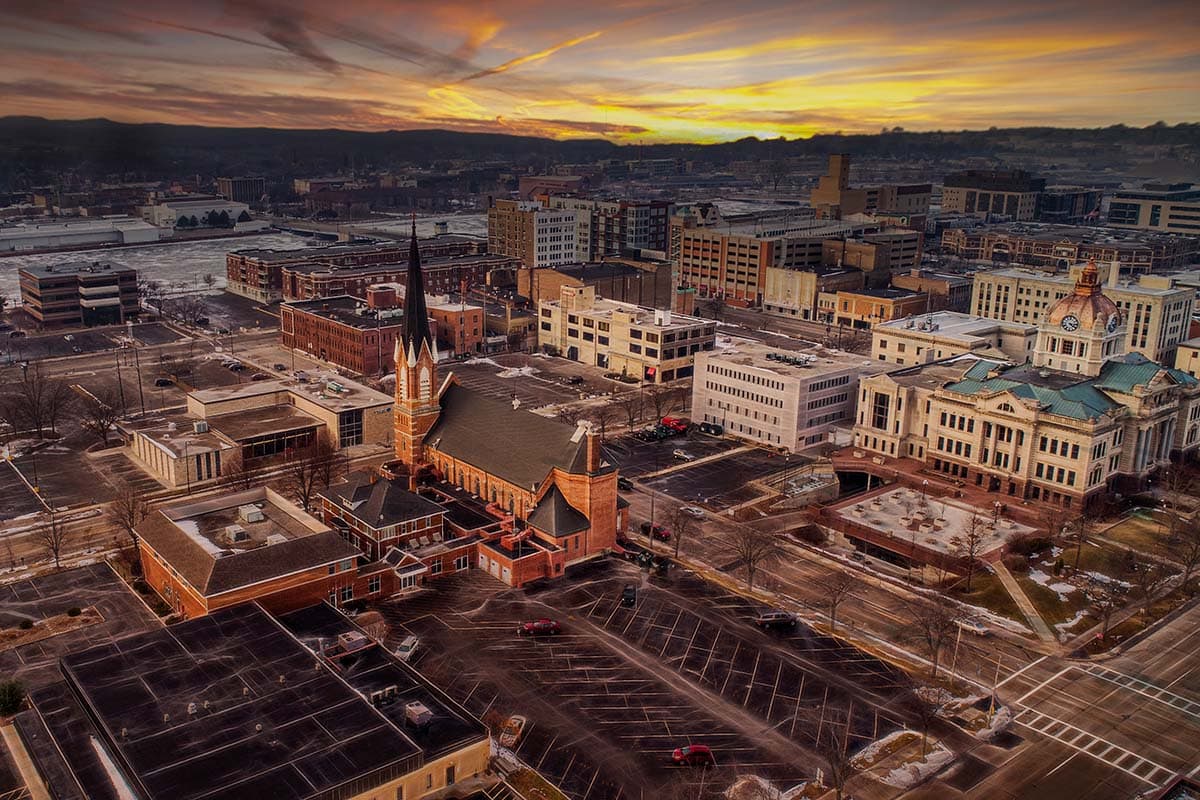 Green Bay is the mecca of cheesehead territory where Packers fans bleed green and gold, and Miller Lite flows freely. Catching a Packers game at Lambeau Field is a Wisconsin bucket list item that even Vikings or Bears fans can get behind (maybe). If you visit in the off-season, you can tour the historical field or experience a bit of Pack spirit at Titletown, an area with shops and cafes near Lambeau.
Football may be at the heart of Green Bay, but that's not all this big city has to offer. Train buffs should visit the National Railroad Museum, one of the country's largest and oldest museums dedicated to sharing train history. Other worthwhile things to do include the Green Bay Botanical Gardens and the Bay Beach Amusement Park & Wildlife Sanctuary along the shores of Lake Michigan.
Distance: 118 miles
Drive time without stops: 1 hour, 52 minutes
Related Read: 14 Best Things to Do in Wisconsin in Every Season
3. Indianapolis, Indiana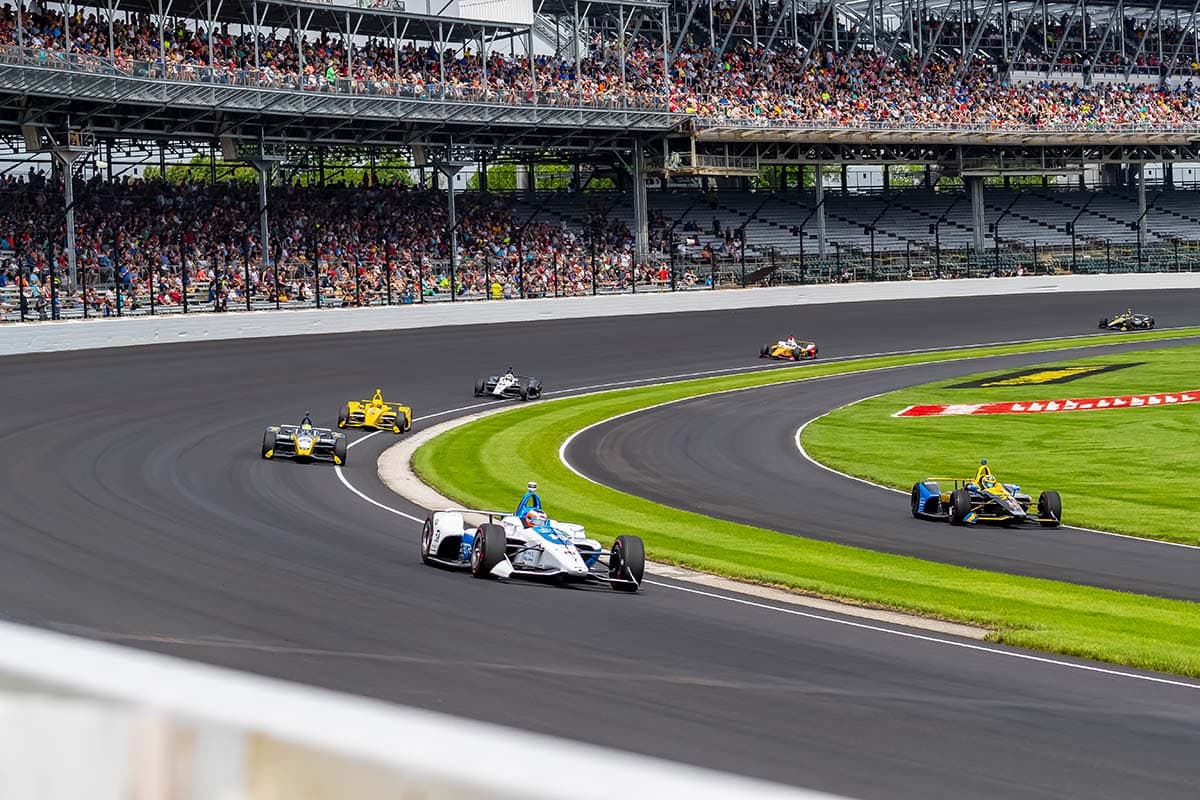 There's not much that Hoosiers love more than food, beer, and sports. So much so that these are an integral part of the Indianapolis experience. The city hosts the Indy 500, after all — an epic event dubbed the largest sporting event in the world!
Sports lovers might also enjoy catching a baseball game at Victory Field or watching the Colts do their thing at the Lucas Oil Stadium. Other less sporty attractions include the Central Canal, The Indianapolis Museum of Art, and the popular Indy Brew Bus that takes you on a tour of local craft breweries.
When visiting Indianapolis, you better come hungry as there are many dishes you've gotta try. First up is the classic tenderloin sandwich, a Hoosier special that takes a breaded pork patty and grills it up to perfection. Try one for yourself at The Aristocrat Pub, a cozy English-inspired bar with over 50 beers on tap. For dessert, grab a slice of sugar cream pie, a local delicacy that's considered the unofficial state pie.
Distance: 279 miles
Drive time without stops: 4 hours, 20 minutes
Related Read: 13 Best Airbnbs in Indiana for Unique Weekend Getaways
4. Door County, Wisconsin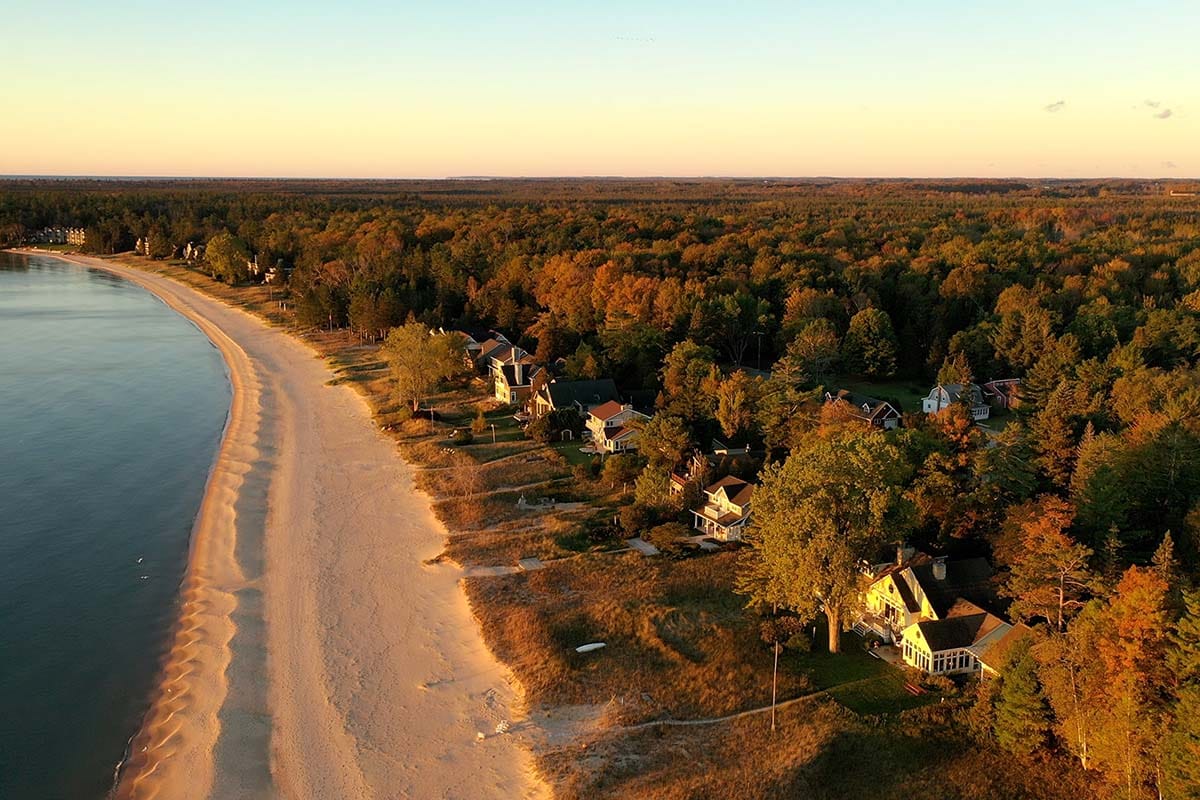 Who needs Massachusetts, with the Cape Code of the Midwest conveniently nestled on the Door County Peninsula? A beloved vacation spot in Wisconsin, Door County has miles of sandy coastline, quaint little villages, and spectacular natural sights. Many come to experience the charm of small-town living in popular destinations like Egg Harbor, Sister Bay, and Ephraim. For city slickers, the county's largest city, Sturgeon Bay, also makes for an excellent home base to explore the peninsula.
Some of the top Door County attractions include Whitefish Dunes and Peninsula State Park. Lighthouse hopping is another fantastic way to fill the weekend where you can learn about the Great Lakes' unique Maritime history. For something a bit more lively, Door County's wine scene will have you saying, sip, sip hooray! The Door Peninsula Winery is one of the most recognizable, but another top pick includes Harbor Ridge Winery.
Distance: 154 miles
Drive time without stops: 2 hours, 19 minutes
Related Read: 12 Best Cabin Rentals in Door County, Wisconsin
5. Wisconsin Dells, Wisconsin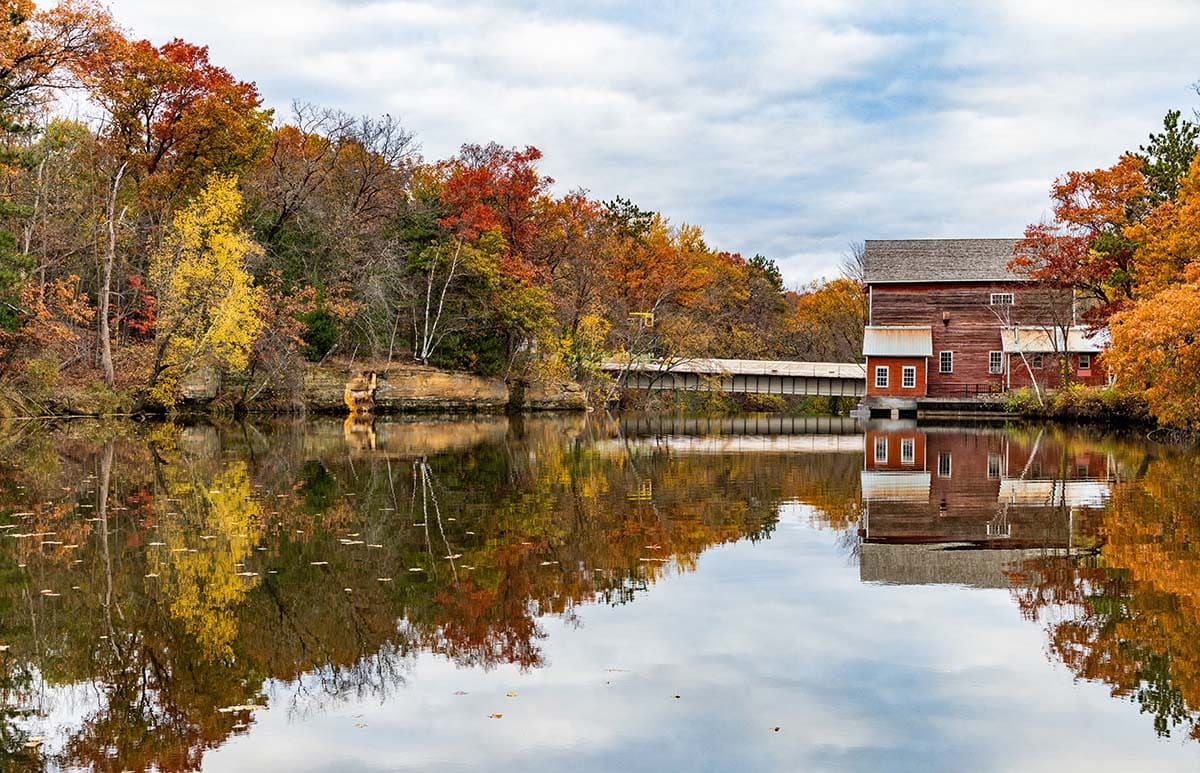 The Wisconsin Dells is the place to go for water fun under the sun. Ideal for families, friend trips, and even romantic getaways, Wisconsin's Waterpark Capital of the World lives up to the hype. Home to over 20 different waterpark resorts both indoor and out, you have many options. But top resorts like Noah's Ark, The Kalahari, and the Great Wolf Lodge take the cake in the Dells.
Outside of waterparks, this part of the state is also known for its uniquely beautiful landscape. Named after the nooks and crannies carved around the Wisconsin River, nature lovers can get out and hike, kayak, or bike. Taking a tour aboard a Wisconsin Duck, a vehicle that can travel both land and water, is another fabulous way to admire natural landmarks like Witches Gulch and Lake Delton. Top eats in the Dells include the mouthwatering burger from Monk's and the home-style dishes at Ishnala Supper Club on Mirror Lake.
Distance: 123 miles
Drive time without stops: 1 hour, 55 minutes
Related Read: 12 Best Cabin Rentals Near Wisconsin Dells, WI
6. Saugatuck, Michigan
Saugatuck is a charming beach town that offers one of the best places to relax on the shores of Lake Michigan not far from Milwaukee. This small town's best coastal spots are Oval Beach and the Saugatuck Dunes State Park. Hiking up the 303 steps to the top of Mount Baldhead is a rite of passage when visiting Saugatuck. However, your effort is rewarded with pretty views of the city and surrounding waters of the Great Lake.
While sand and sun are some of the main draws to Saugatuck, this Michigan getaway also has boutique shopping and highly-rated restaurants. Be sure to make time to visit the famous Pennyroyal Cafe & Provisions led by the Food Network's Chopped winner Chef Missy Corey. The Saugatuck Brewing Company also offers the unique opportunity to brew your own beer.
Distance: 239 miles
Drive time without stops: 3 hours, 42 minutes
Related Read: 9 Amazing Places to See Fall Colors in Michigan
7. Minneapolis, Minnesota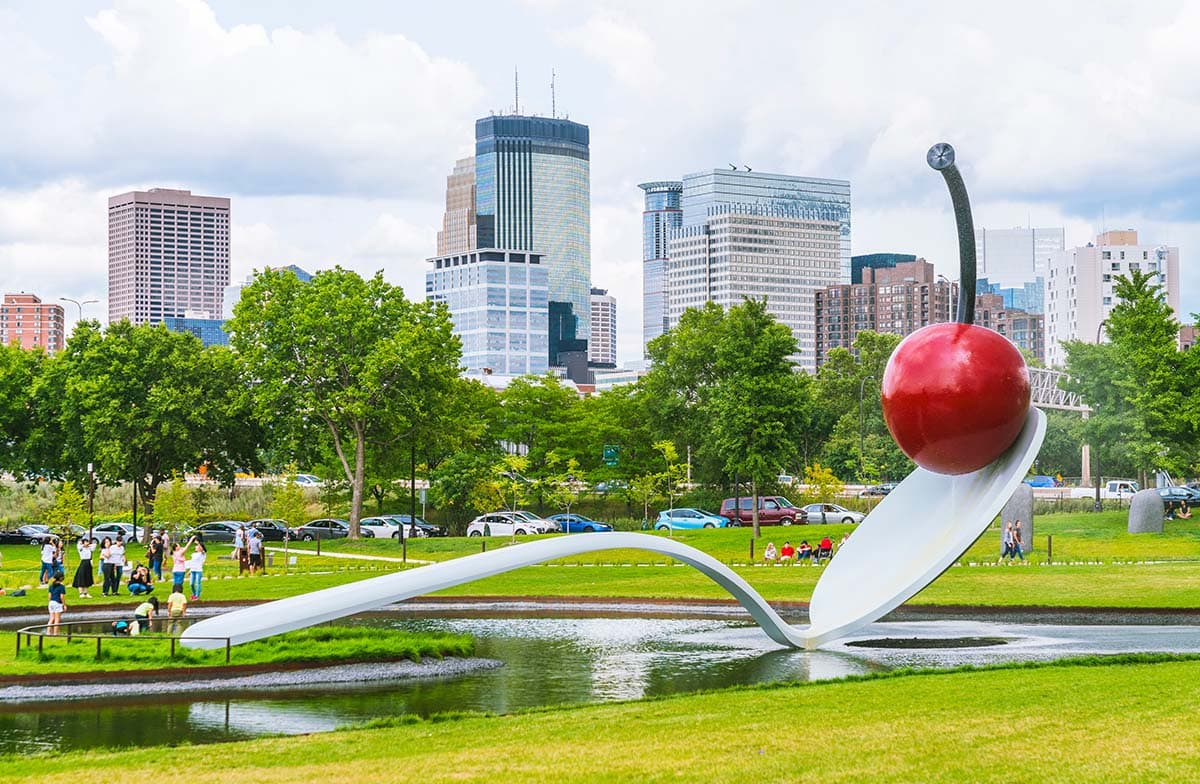 Minnesota may be Wisconsin's rival, but there's no denying that the bustling city streets of Minneapolis are jam-packed with tons of fun things to do. And although the journey from Milwaukee is a bit far, it's well worth the effort thanks to Minneapolis' top attractions. One of the most notable being the Mall of America, the largest shopping mall in the U.S. where you can shop 'til you drop and fill the day with rides, games, and more.
Other incredible things to do include visiting the Walker Art Center and exploring Minnehaha Park, famous for its 53-foot tall waterfall. Snapping a photo with the eye-catching "Spoonbridge and Cherry" sculpture is also a must, found in the Minneapolis Sculpture Garden. When your stomach begins to rumble, head over to Matt's Bar, home of the Jucy Lucy, a cheese-stuffed burger, and one of the best restaurants in Minneapolis.
Distance: 337 miles
Drive time without stops: 5 hours, 3 minutes
Related Read: 10 of the Most Unique Places to Stay in Minnesota
8. Madison, Wisconsin
As the state Capitol, Madison is an obvious pick as a classic weekend road trip from Milwaukee. Madison is known for its vibrant college atmosphere, fantastic food scene, and historical landmarks. No trip to Madtown would be complete without stopping inside the grand State Capitol building to marvel at the towering columns, marble surfaces, and the city view from atop the observation deck.
Summertime visitors should also stop by the Dane County Farmers Market, held around the Capitol Square every Saturday. With squeaky cheese and delicious baked goods on offer, you're sure to walk away stuffed and satisfied. Other iconic things to do in Madison include grabbing a pitcher on the Union Terrace, walking to the city's Picnic Point for skyline views, and stopping by the Old Fashioned for fried cheese curds, and well, an old fashioned.
Distance: 80 miles
Drive time without stops: 1 hour, 21 minutes
Related Read: 11 Best Things to Do in Madison, Wisconsin
9. Any Wisconsin State Park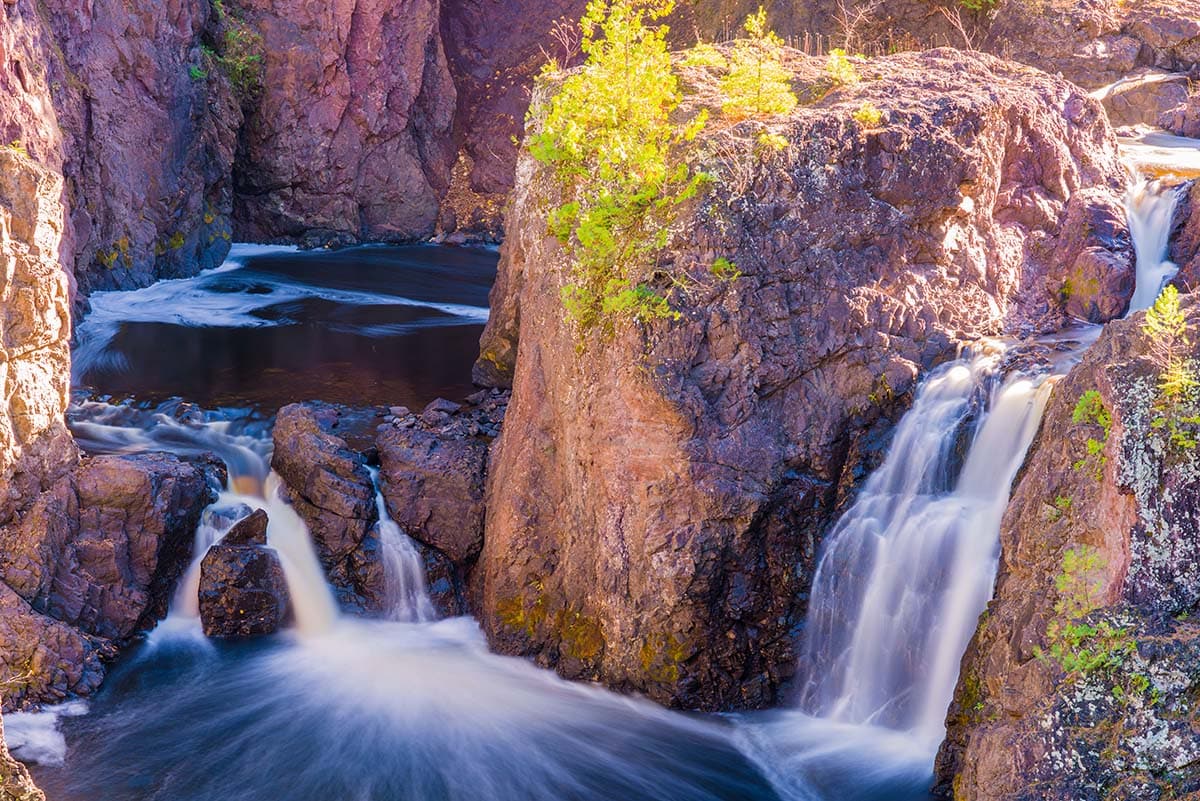 Not all weekend road trips from Milwaukee need to lead to big cities. For something a little more scenic, consider venturing out to any one of Wisconsin's best state parks for a bit of fresh air. About two hours to the west, pitch your tent in Devil's Lake State Park, a popular destination with three campgrounds, lake fun, and plenty of exciting hiking.
If you're up for a bit of a drive, Copper Falls State Park showcases some of Wisconsin's tallest waterfalls as well as striking gorges formed from ancient lava. Come for the hiking, camping, swimming, and a sense of being off the grid. This beautiful state park is about five and a half hours from Milwaukee, in Ashland County
For something closer to home, Kohler-Andrae State Park is paradise in the summertime. The park preserves Lake Michigan's beautiful sand dunes and stretches of coast. It also features family-friendly campsites and offers a beach escape without traveling too far from home.
Explore the Midwest
Sign up for Weekend Wanderer to join 10,000+ readers getting epic travel ideas every week.
---