Territory Supply is reader-supported and may earn a commission when you book or purchase using our links. Learn more about our editorial policies here.
---
Elevate your camping game with some of the coolest and most luxurious places for glamping in Wisconsin from across the state.
From the dense and remote forests of northern Wisconsin to the city streets of bustling Milwaukee, there's a glamping experience for all in America's Dairyland. And no matter the season, glamping is a fantastic way to experience the best attractions in Wisconsin.
If you're a newbie to the Badger State, a hiking trip to see the sights of Lake Superior, the Apostle Islands National Lakeshore, and lush forests of the Chequamegon-Nicolet National Forest is a great place to start. But if you're more of a city dweller or coming up from Chicago, the state's southern region also offers plenty to do around Madison and Milwaukee.
And while you're here, take your pick from unique yurts, trendy campers, and even a treehouse from this top list of the best Wisconsin glamping for your next getaway.
Related read: 14 Places to Visit in Wisconsin for the Ultimate Badger State Experience
1. Terra Cotta Yurt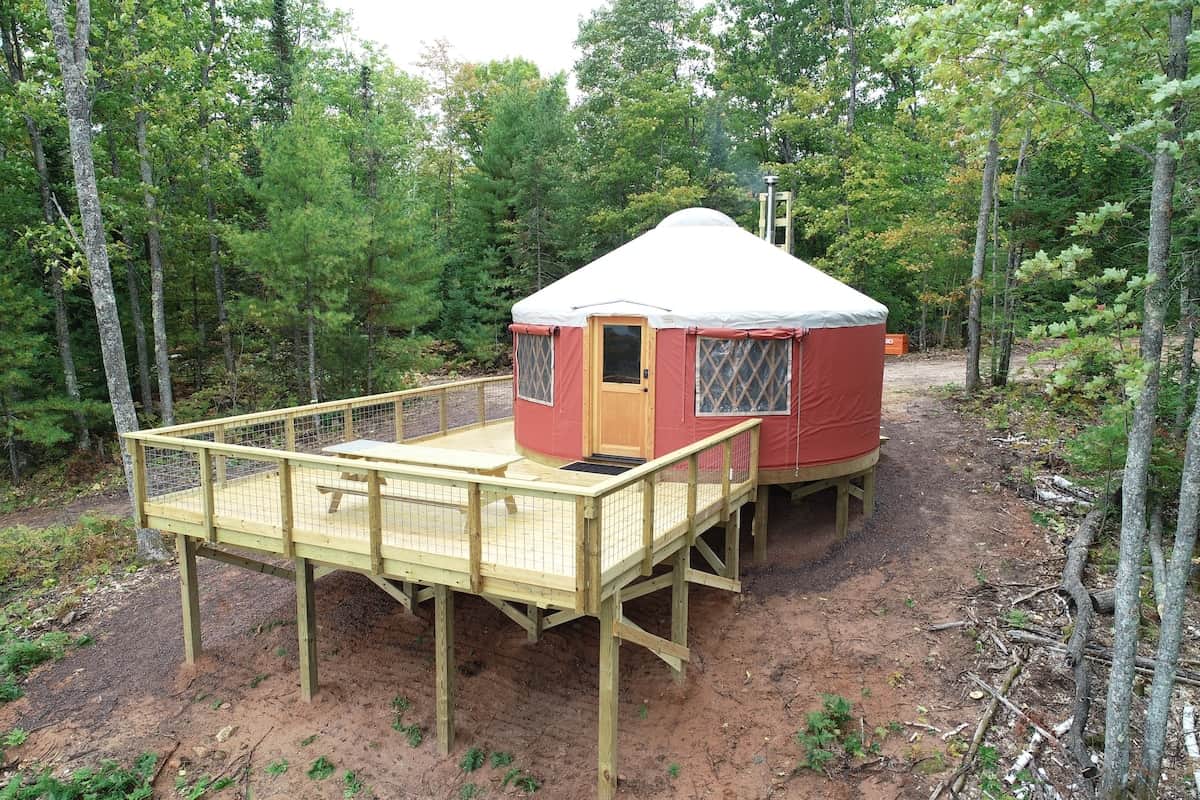 Why you should stay: A no-fuss yurt positioned high above Lake Superior.
Nearest town: Bayfield
Sleeps: 6
Minimum stay: 1 night
Rates start from: $75/night
At the end of a .8-mile trail lies the Terra Cotta Yurt, a charming glamping site where you can sleep above the trees and take in fantastic views of the nearby Lake Superior – and even a few of the Apostle Islands. The yurt also has a spacious deck and a picnic table for al fresco dining.
The tent is minimally furnished, so it's very much a camping experience. You'll find two single-over-double bunk beds, a dining table for six, and a wood stove for chilly evenings. There's a permanent outhouse and and bench seating around a fire circle a short walk from the yurt. Linens aren't provided, so be sure to pack your sleeping bag.
Check Availability
Related read: 10 Relaxing Wisconsin Cabin Rentals with Hot Tubs
2. The Monarch's Paradise
Why you should stay: An open-concept tiny home near Green Lake and the EAA Aviation Museum.
Nearest town: Green Lake
Sleeps: 4
Minimum stay: 5 nights
Rates from: $325/night
The Monarch's Paradise is a quaint tiny house decked out in wooden siding and surrounded by a lush and flowery garden. In the summer, swing idly on the hammock with a good book, or cool off in the small floating pool. There's even a fire pit for roasting marshmallows and telling campfire stories.
Although small, there is no shortage of homey conveniences inside, including a fully functioning toilet and shower and a well-equipped kitchen with a fridge, stove, and sink. The owners optimized the small space by building a lofted sleeping space with a queen bed on one side and two twins on the other.
Check Availability
Related read: 10 Amazing Small Towns in Wisconsin for a Charming Escape
3. Boulder Ridge Treehouse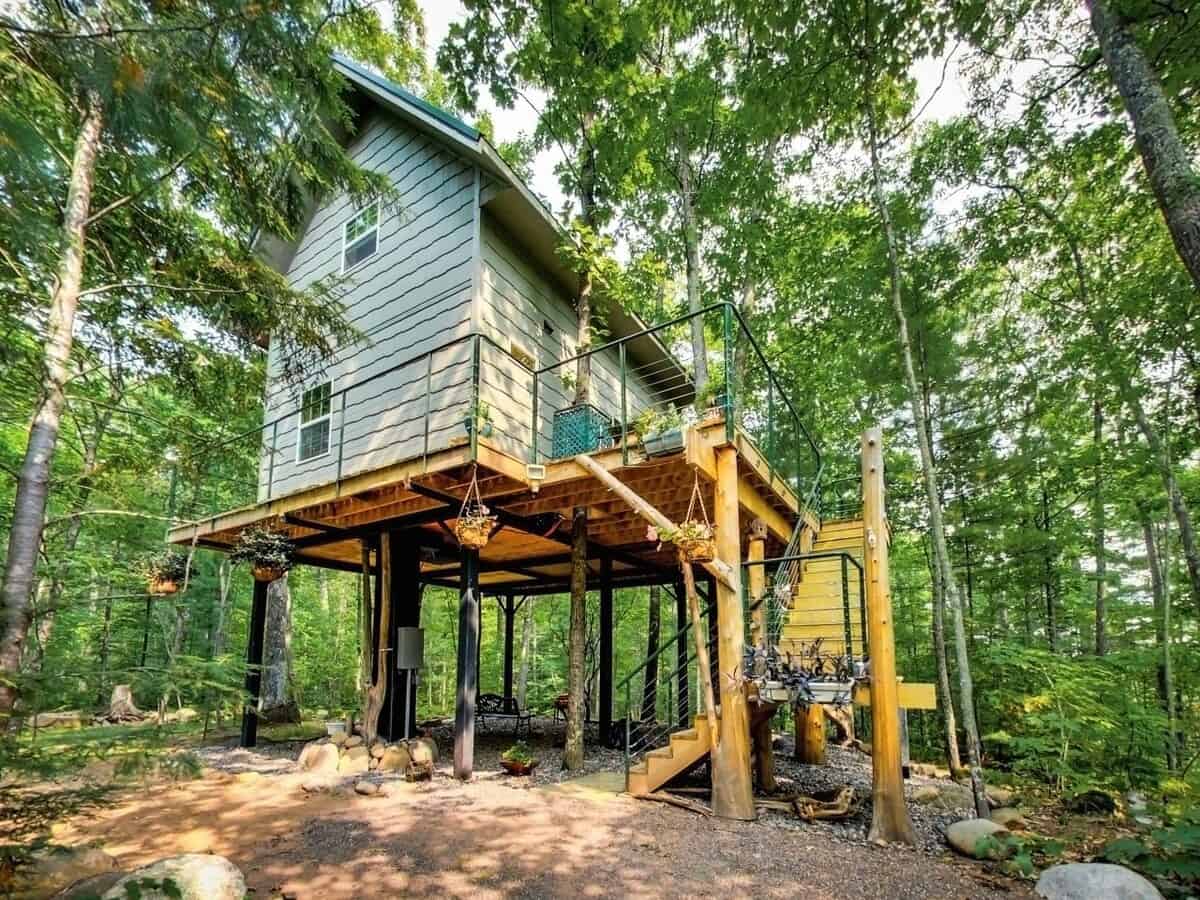 Why you should stay: Sleep a  treehouse just a short drive from the Apostle Islands National Lakeshore.
Nearest town: Bayfield
Sleeps: 4
Minimum stay: 2 nights
Rates from: $249/night
The Boulder Ridge Treehouse is a unique Wisconsin glamping experience perfectly placed next to one of the state's most beautiful natural attractions: Lake Superior. One step inside, and you'll be blown away by the craftsmanship of this two-bedroom cabin. Driftwood and stones from the Great Lake became beautiful decor and accents, including the staircase railings and the backsplash around the living room's fireplace.
"We had a wonderful weekend in the treehouse! Really fun little details throughout and such a unique space. Very close to town without having to stay near the crowds."
To get to the two lofted rooms, climb the stairs to an elevated walkway above the ground floor. There's also a sleeper sofa for extra guests. The home has Wi-Fi and a kitchenette with a mini-fridge, microwave, running water, and a coffee pot.
Check Availability
Related Read: 10 Great Places to See Fall Colors in Wisconsin
4. The Brew City Airstream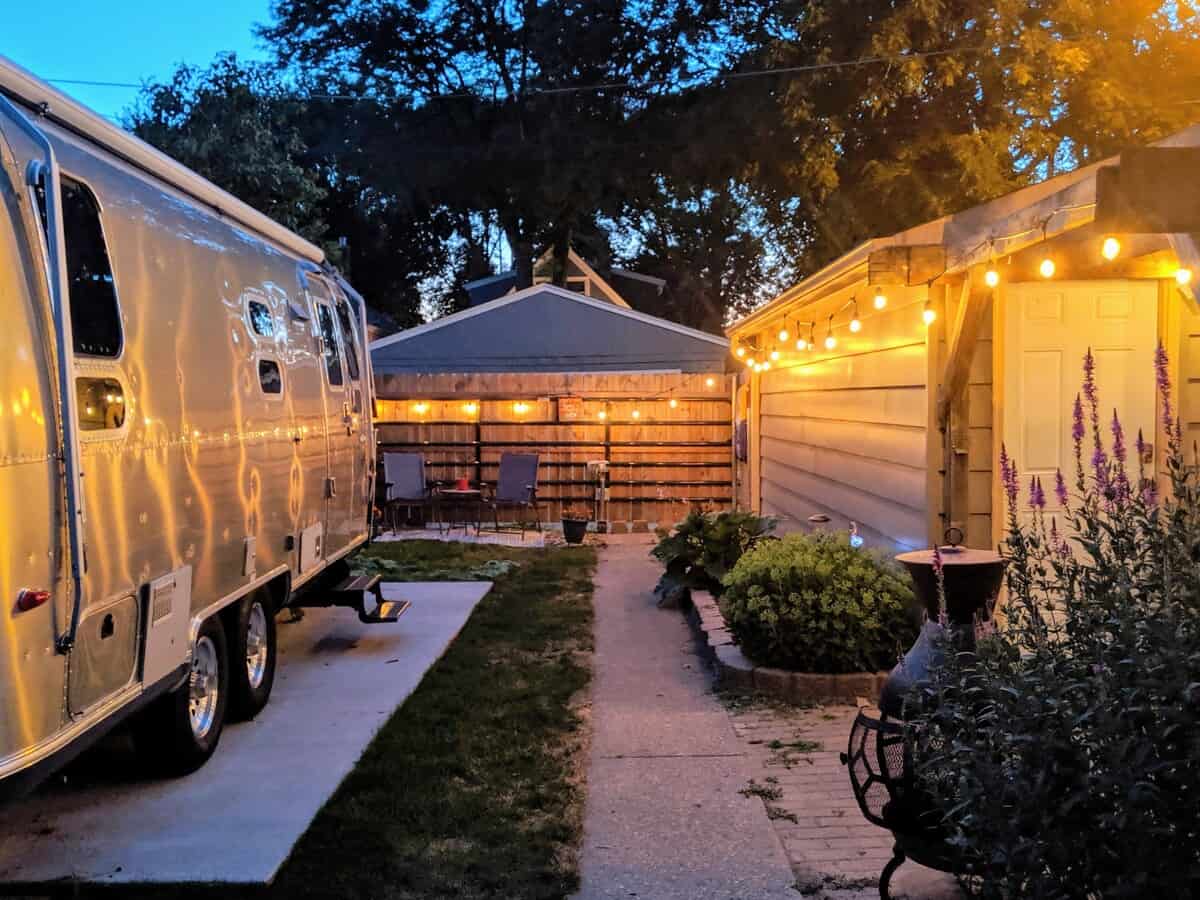 Why you should stay: Urban glamping in an Milwaukee at a steal of a price.
Nearest town: Milwaukee
Sleeps: 4
Minimum stay: 1 night
Rates from: $89/night
The Brew City Airstream is a well-decorated camper on the hosts' property with access to a fenced-in yard for pets and kids, a charcoal grill, and even a fire pit. The owners recently installed wood flooring to complement the black-and-white fixtures and vibrant pops of blue.
The interior of this quaint little Airbnb features a kitchenette, dining table and booth seating, plus a mounted T.V. There's a queen mattress and the seating area can pull out to accomodate another adult or two kids. The inside is much more like a modern RV than a hipster campervan, and there's even an additional dining table in the yard that guests are welcome to use while their pups frolic through the yard.
Check Availability
Related read: 10 Beautiful Scenic Drives in Wisconsin
5. Riverside Retreat Glamping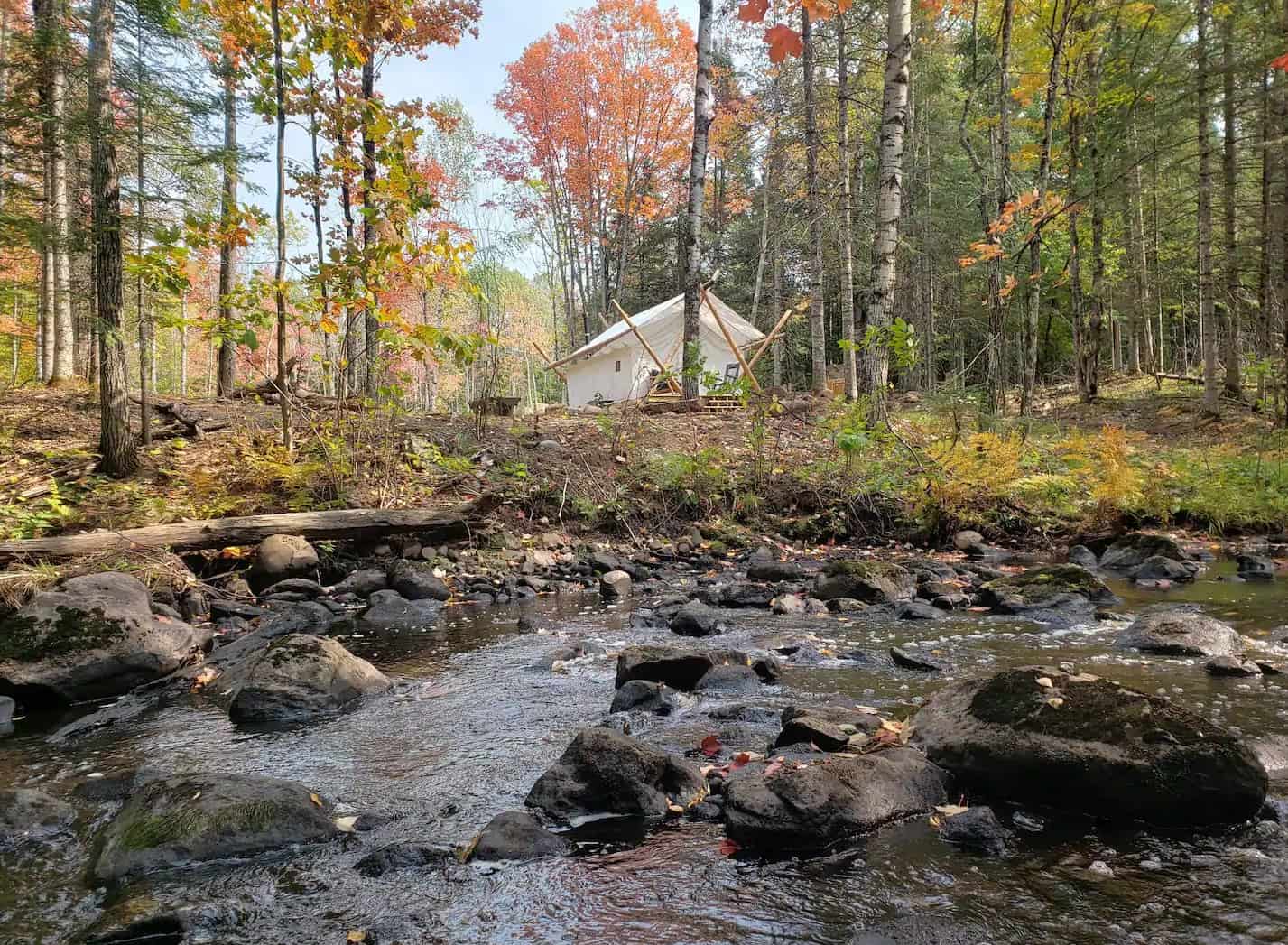 Why you should stay: A canvas safari tent on the Poplar River.
Nearest town: Poplar
Sleeps: 4
Minimum stay: 2 nights
Rates from: $119/night
The Riverside Retreat Glamping offers outdoor enthusiasts a perfect home base for exploring northern Wisconsin's beautiful natural sites without giving up modern conveniences. The tent has everything guests could need, and then some, including a soft double bed, a futon, and a mini kitchen.
"The movie projector was a nice touch, and it was nice to have the Keurig and mini-fridge. Everything was very clean with no issues with bugs or anything during my stay."
Outside, guests can enjoy the sights and sounds of the passing river while stoking the embers of a bonfire or munching on camp snacks at the picnic table. There's also a cozy hammock tied up for sunny days and a good chance of seeing woodland critters as you relax outdoors.
Check Availability
Related Read: 10 Cozy & Comfortable Wisconsin Tiny Home Vacation Rentals
6. YurtCation
Why you should stay: A lakeside glamping yurt for both two- and four-legged friends.
Location: Cambridge
Sleeps: 2
Minimum stay: 2 nights
Rates from: $125/night
YurtCation is a cozy circular tent complete with the basics, including a full-sized bed, table and chairs, and a skylight. There's a well-maintained portable restroom for short stays, and access to a shower for guests spending more than a few nights.
Around the yurt is a wooden deck with a grill and lounge chairs, offering perfect views of the lake and lily pads that dot the surface. Both drinking water and firewood are provided, and there's even a kayak available, since the calm lake is the perfect place for an easy paddle.
The yurt is on a tranquil plot of land 20 miles from the excitement of Madison. The charming small town of Cambridge is just down the road, and believe it or not, there's even a winery – why not go and gauge whether Wisconsin's wine scene will become the next Napa?
Follow 'em: Instagram
Check Availability
Related Read: The 9 Absolute Best State Parks in Wisconsin
7. The Driftless Yurt
Why you should stay: Escape to the quiet of Wisconsin's Amish country in a yurt on 14 acres of forest.
Nearest town: Vernon County
Sleeps: 4
Minimum stay: 2 nights
Rates from: $74/night
If you're seeking a remote escape, The Driftless Yurt is a fabulous option. Above the Bad Axe River Valley, there's nothing but an extensive thicket of trees, stellar views, and roaming wildlife to keep you company. In the summer, relax on one of the yurt's two decks.
"You must book a stay in this fabulous yurt. Not only will you have a beautiful place to escape on the yurt property, but Vernon County is a treasure."
Everything you need for a comfortable stay is provided, including sleeping accommodations for up to four (though two would be more comfortable,) a well-stocked kitchen, a composting toilet, and a generator. The owners even placed the futon bed smack in the middle of the room so your toes can stay warm and toasty by the fire all night.
Check Availability
8. Luxury Tent #14
Why you should stay: Luxurious tent camping in the Chequamegon-Nicolet National Forest – zero set up or supplies needed.
Nearest town: Phelps
Sleeps: 4
Minimum stay: 2 nights
Rates from: $108/night
Luxury Tent #14 in Coady's POV Resort Campground simplifies your camping trip with their semi-permanent tents ready for you as soon as you arrive. This luxury tent is on an elevated wooden deck with a cover over the deck area, so you can still grill and relax outdoors in the rain. Inside, the tent has a queen bed plus an additional sleeper sofa.
You can sleep in the tent as-is, or upgrade your booking to include electricity or a heater for an additional fee. During your stay, enjoy access to fun amenities in the campground like a rec room, sand volleyball courts, and lake access with free kayaks, canoes, and paddleboats.
Check Availability
9. PerryPines Yurt
Why you should stay: Lakeside yurt with surprisingly luxurious touches and a private dock.
Nearest town: Cable
Sleeps: 4
Minimum stay: 2 nights
Rates from: $175/night
The PerryPines Yurt is less yurt and more cozy tiny home. Inside, the full kitchen has an oven, fridge, sink with running water, and essential utensils. There's even a little seating area with a T.V., Wi-Fi, and an indoor toilet and shower, too. When it's time for bed, adults can get some shut-eye in the comfortable queen bed, and if you have kids with you, tell 'em to climb on up to the lofted sleeping space.
There's a large deck around the yurt that faces Perry Lake and it's just a short walk to the yurt's very own private dock and canoe. If you decided to take a dip in the lake (or flip your canoe!) there's an outdoor shower where you can rinse off before heading in. This neat little property also features a small shed to store your ski equipment or bikes, a hammock, a fire pit, and even two pairs of snowshoes for winter use.
Check Availability
10. Painted Desert
Why you should stay: A groovy '70s motorhome-turned-trendy-Airbnb in Milwaukee's Bay View neighborhood.
Nearest town: Milwaukee
Sleeps: 2
Minimum stay: 1 night
Rates from: $80/night
Go back in time with a stay in the Painted Desert, a renovated GMC R.V. converted into a tiny home in the city. Everything about the interior of this vacation rental screams groovy, from the mustard-yellow countertops in the kitchenette to the far-out textiles and vintage decor.
This beauty has a double bed, dining table, and a cushioned area perfect for chillin' out. The R.V.'s location puts you smack dab in one of the most vibrant areas of Milwaukee with cool local shops, restaurants, and cafes within walking distance. Lake Michigan is nearby, too, so there are plenty of lovely green spaces for picnicking, strolling, and otherwise living your life, man. 
Check Availability
11. The Silo
Why you should stay: A rustic Airbnb housed inside five stories of an old farm silo.
Nearest town: Helenville
Sleeps: 4
Minimum stay: 2 nights
Rates from: $89/night
The Silo is one of the most unique places for Wisconsin glamping – not only because it's five stories tall, but because it's housed in a refurbished silo. It's still rustic, but it's outfitted with enough comforts to make sure you don't feel like you're sleeping in a barn.
The tower has a lofted bedroom at the very top with a queen-sized mattress and a wall-mounted T.V. The fourth floor serves as a comfortable lounging area with hammock chairs, a wall-mounted T.V., and great views. If you have more than two guests, this is where they'll want to set up the available air mattress.
Outside, a detached bathroom with hot running water is available in the summer (there's an outhouse for winter.) The property is well-positioned between Milwaukee and Madison, making for a great weekend getaway from the cities. Bargain hunters will appreciate being near the Johnson Creek Premium Outlets, while more outdoorsy types will want to check out  Kettle Moraine State Forest and the Glacial Drumlin Trail.
Check Availability
Explore the Midwest
Sign up for Weekend Wanderer to join 10,000+ readers getting epic travel ideas every week.
---