We research and recommend travel destinations based on a number of factors, including our writers' own experience, user reviews and more. We may earn a commission when you book or purchase through our links. See our editorial policy to learn more.
Was this article helpful?
---
Elevate your camping game with some of the coolest and most luxurious places for glamping in Wisconsin from across the state.
From the dense and remote forests of northern Wisconsin to the city streets of bustling Milwaukee, there's a glamping experience for all in America's Dairyland. And no matter the season, glamping is a fantastic way to experience the best attractions in Wisconsin.
If you're a newbie to the Badger State, seeing the sights of Lake Superior, the Apostle Islands National Lakeshore, and lush forests of the Chequamegon-Nicolet National Forest is a great place to start. But if you're more of a city dweller or coming up from Chicago, the state's southern region also offers plenty to do around Madison and Milwaukee.
And while you're here, take your pick from unique yurts, trendy campers, and even treehouses from this top list of the best Wisconsin glamping spots for your next getaway.
Related Read: 14 Places to Visit in Wisconsin for the Ultimate Badger State Experience
1. Sanctuary at Little Sand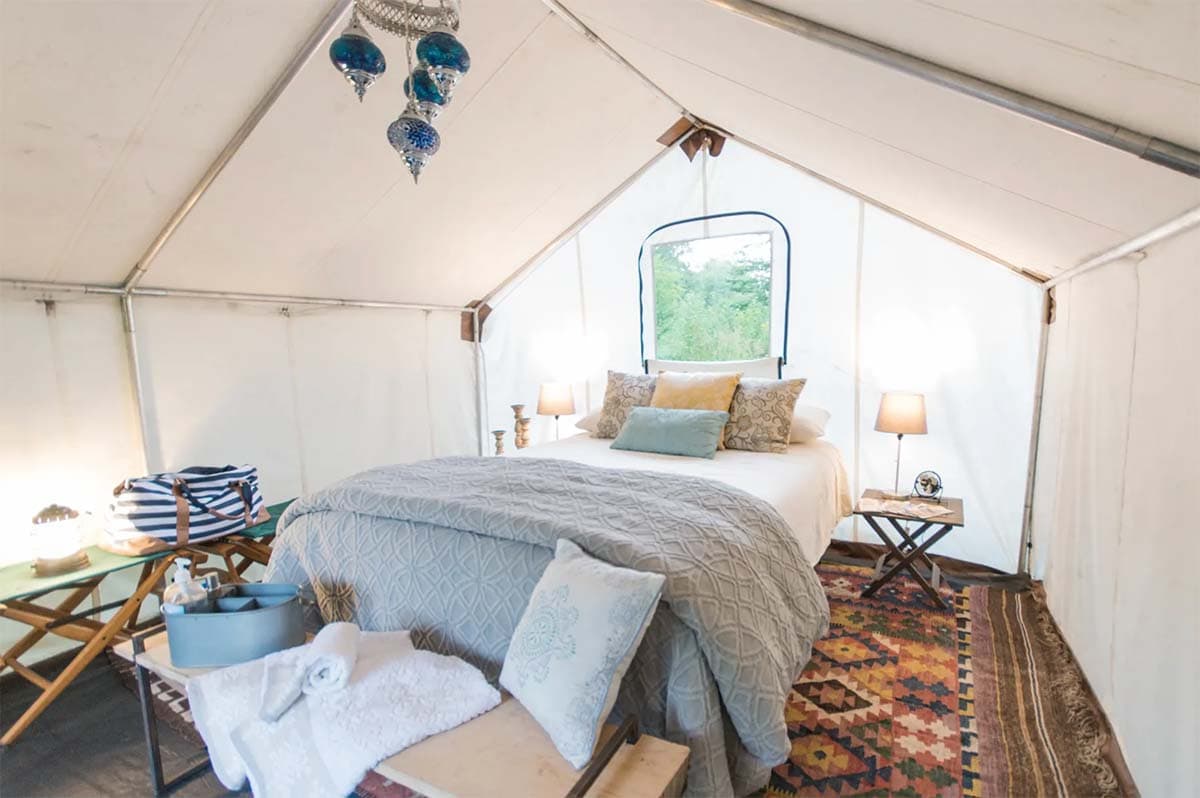 Why you should stay: A charming glamping tent in the heart of the woods near the Apostille Islands National Lakeshore.
Nearest town: Bayfield
Sleeps: 4
Minimum stay:  2 nights
Rates from: $95/night
At the Sanctuary at Little Sand, wake up in a tent-turned-cozy bedroom nestled within the seclusion of the Northwoods. This glamping campsite is a spacious canvas tent set up on a wooden platform complete with a front porch and string lights. The tasteful decor and plush mattress topped with cotton linens guarantee you'll wake up refreshed and ready for the day.
While you won't find running water or electricity here, the hosts do provide complimentary drinking water and access to an outhouse and outdoor solar-heated shower. Guests are also treated to one free bundle of firewood to help get your first campfire burning. During your stay, be sure to take advantage of the nearby beach at Little Sand Bay and the quaint cafes, restaurants, and Farmers Market in nearby Bayfield.
Check Availability
Related Read: 10 Best Hiking Trails at Devil's Lake State Park, Wisconsin
2. Camping with Cows at The G Farm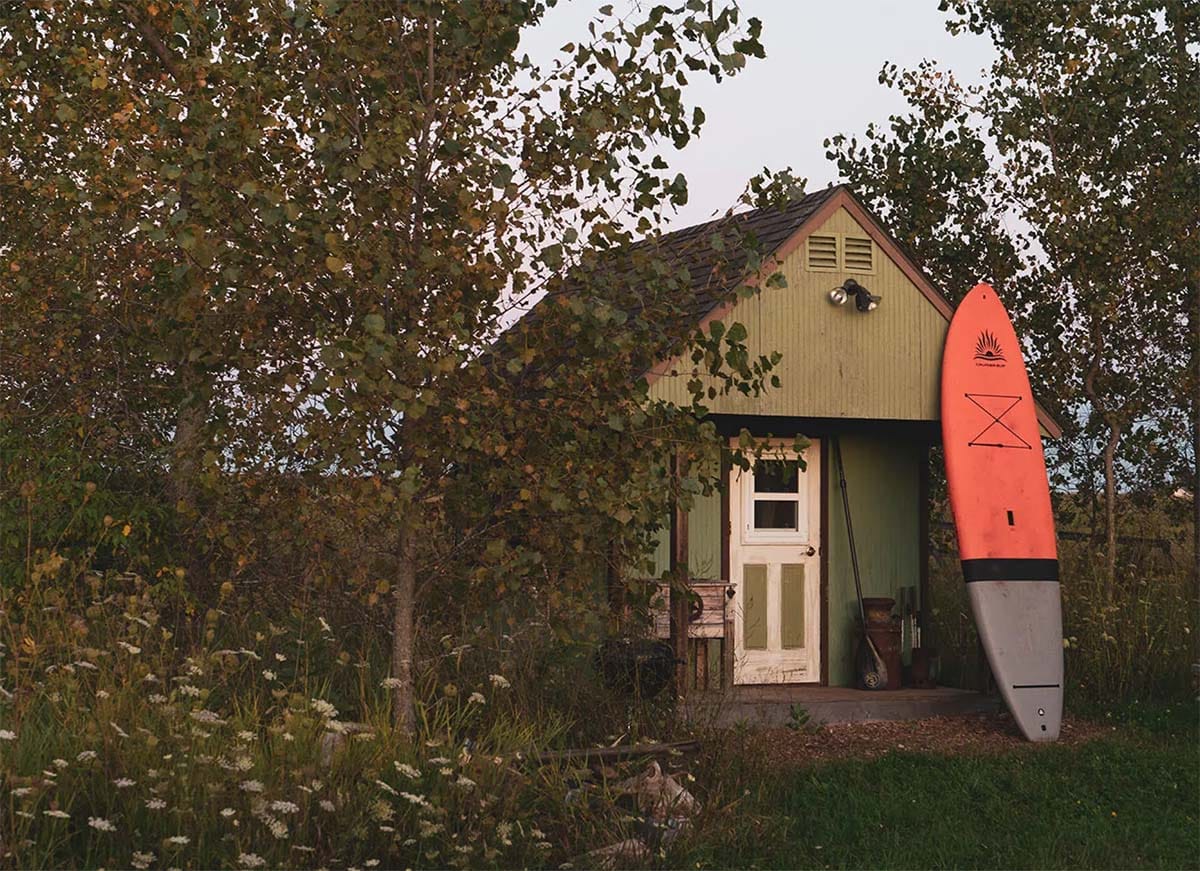 Why you should stay: A quaint tiny cabin with electricity on a working farm in central Wisconsin.
Location: Larsen
Sleeps: 6
Minimum stay: 1 night
Rates from: $60/night
Wake up to the sights and sounds of America's Dairyland at the G Farm's Camping with Cows tiny cabin. This green beauty can sleep up to three guests inside, but larger groups are welcome to bring a tent or small camper. The tiny house is simply yet comfortably furnished and is equipped with twin bunks, memory foam foldaway bed and a heater for cold nights.
A picnic table with a grill provides an open-air cooking space outside the cabin, or for a true camping experience you can cook over the open fire. Admiring the roaming farm animals is one of the best things to do at The G Farm, as is visiting the property's fishing pond and hiking at High Cliff State Park, which is just a 30-minute drive away.
Check Availability
Related Read: 10 Amazing Small Towns in Wisconsin for a Charming Escape
3. Coadys' Point of View Lake Resort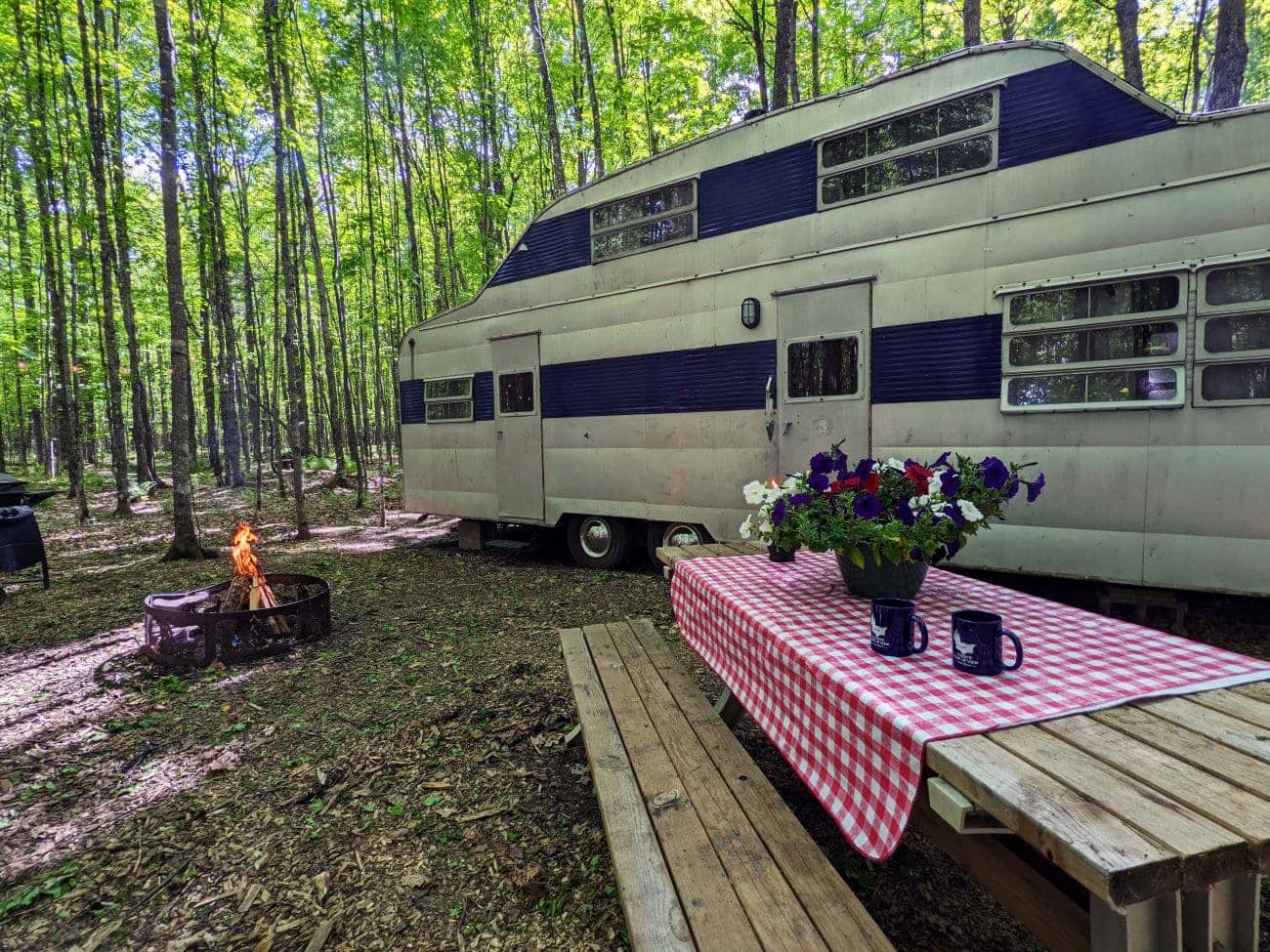 Why you should stay: spectacular lake glamping setting in far north Wisconsin.
Location: Phelps
Sleeps: 4-8
Minimum stay: 2 nights
Rates from: $95/night
Coadys' Point of View Lake Resort, located on North Twin Lake a few miles north of Eagle River, is a family-friendly way to experience the landscapes of the Northwoods in comfort. Their vintage campers and luxury tents offer campers a true glamping experience, where rustic camping vibes meet comfortable features to make for an unforgettable stay.
Each glamping site includes amenities like comfortable memory foam mattresses, a space heater and gas grill, so you won't need to pack all the camping gear when you head up north. Clean bathrooms and cozy community spaces — along with plenty of outdoor activities — give the campground a summer camp feel that kids love and adults appreciate.
Coadys' is ideal for a casual family weekend away, but it's also a spectacular setting for larger group events.
"Our entire family stayed on grounds for weekend to celebrate my daughters wedding," said one guest. "The cabins were clean and comfortable. The view of lake was spectacular and made a beautiful wedding backdrop."
Check Availability
Related Read: 11 Unique Places to Stay in Wisconsin for an Unforgettable Getaway
4. Lotus Belle Tent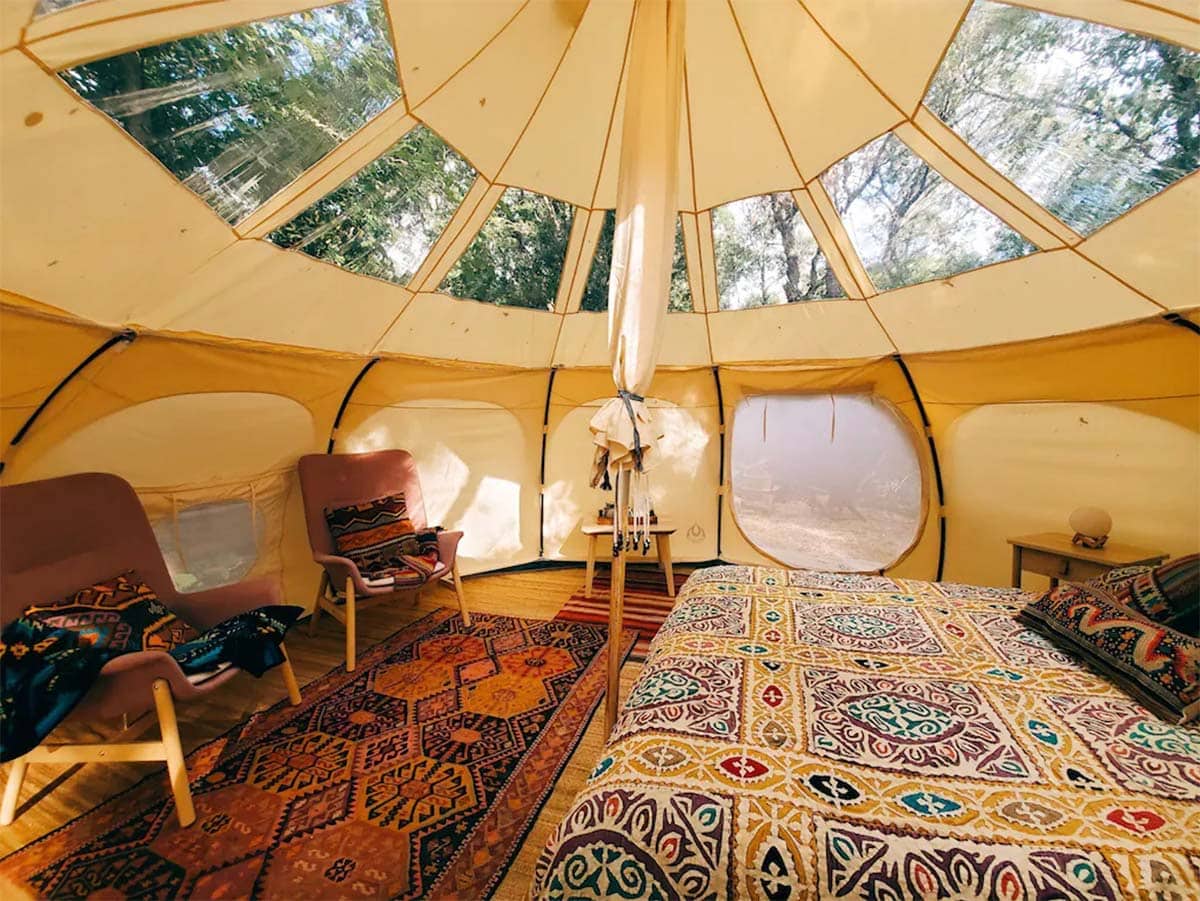 Why you should stay: A stylish yurt-tent across the state border from Red Wing, Minnesota.
Location: Bay City
Sleeps: 2
Minimum stay: 1 night
Rates from: $150/night
The Lotus Belle Tent is a fun campsite nestled along the Mississippi River Valley less than an hour from the Twin Cities. The tent is perched on an elevated platform to keep you nice and dry as you sleep. Skylights encircle the tent's roof that can be opened to allow natural light and tree-top views inside. The yurt also has pleasant touches such as mid-century modern chairs and an electric kettle with complimentary instant coffee and tea.
Keeping with campsite custom, the outdoor area has a picnic table, a classic outhouse (crescent moon on the door and all), and a fire pit with Adirondack chairs. There's even a wooden outdoor sink and countertop perfect for food prep and washing up. Yurt guests are free to take advantage of the hosts' hot tub and heated swimming pool, open until October every year.
Check Availability
5. The Northern Glamping Camp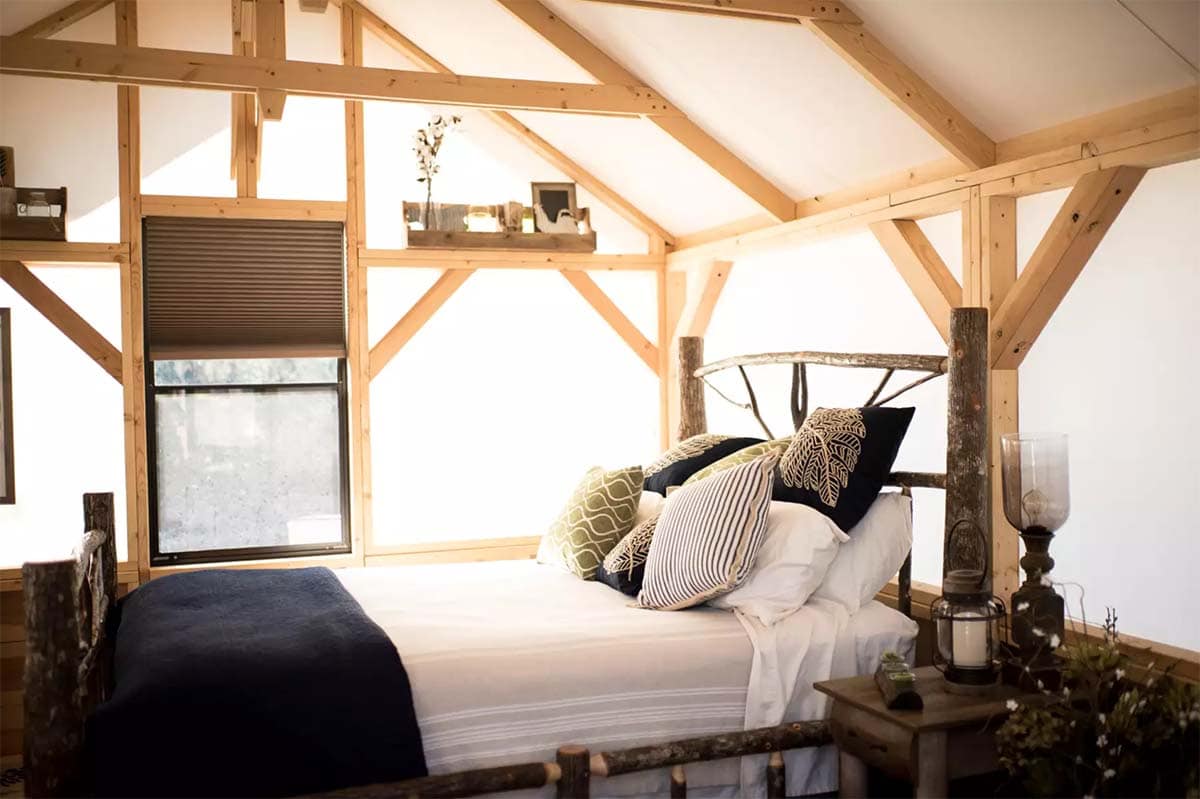 Why you should stay: A seasonal glampsite owned by a popular ATV bar serving up a delicious fish fry.
Location: Crivitz
Sleeps: 8
Minimum stay: 2 nights
Rates from: $67/night
Situated an hour north of Green Bay, The Northern Glamping Camp hosted by the Wheel Inn offers two tent cabins out in the countryside. Each tent cabin is outfitted with a bed, a refrigerator, a sink, and a powerful heater to ensure you stay toasty warm in the cool evenings. The first cabin also has a cozy seating area, while the second offers multiple bunks to accommodate more guests.
These cabins are pet-friendly and your four-legged friends have plenty of space to romp and play. Crivitz is known for its access to Wisconsin's vast four-wheeling trails as well as the beautiful hiking found in the Nicolet National Forest and Governor Thompson State Park. No stay at the Wheel Inn is complete without popping in for local bars' Friday fish fry or Saturday meat raffle.
Check Availability
Related Read: The 9 Absolute Best State Parks in Wisconsin
6. Terra Cotta Yurt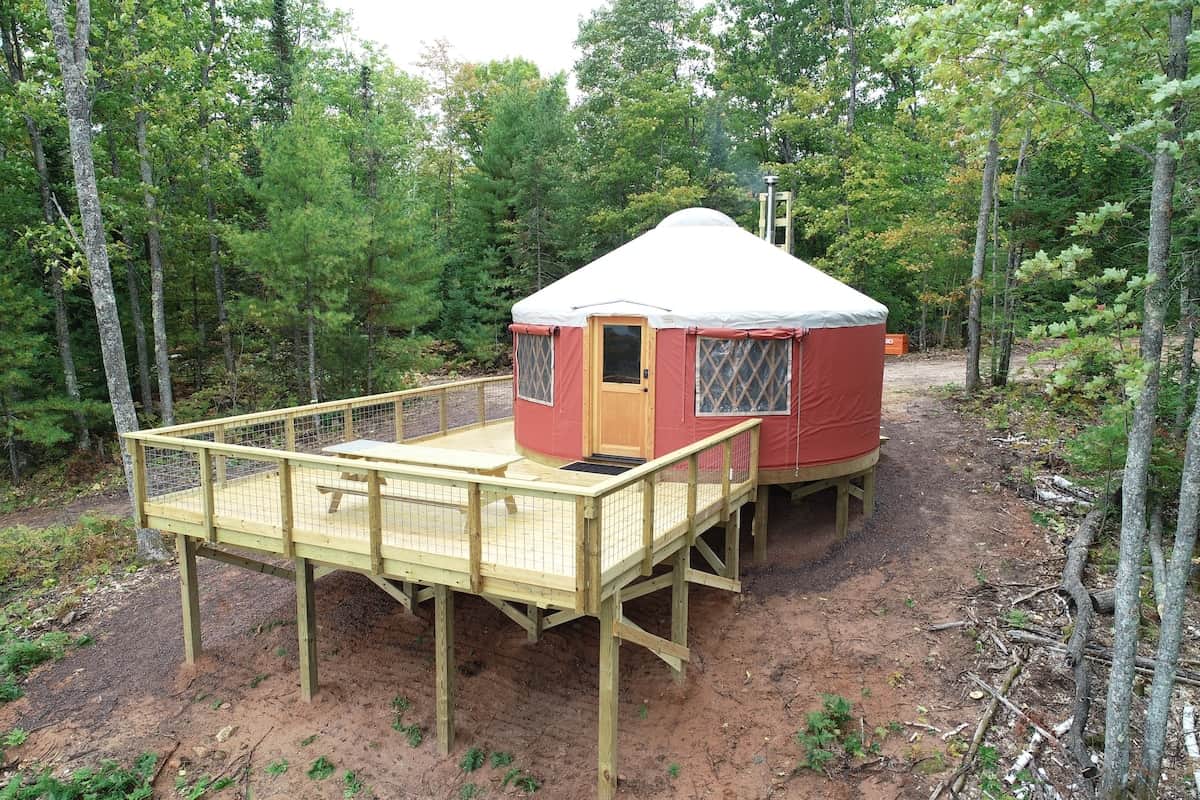 Why you should stay: A no-fuss yurt positioned high above Lake Superior.
Nearest town: Bayfield
Sleeps: 6
Minimum stay: 1 night
Rates start from: $75/night
At the end of a .8-mile trail lies the Terra Cotta Yurt, a charming glamping site where you can sleep above the trees and take in fantastic views of the nearby Lake Superior — and even a few of the Apostle Islands. The yurt also has a spacious deck and a picnic table for al fresco dining.
The tent is minimally furnished, so it's very much a camping experience. You'll find two single-over-double bunk beds, a dining table for six, and a wood stove for chilly evenings. There's a permanent outhouse and and bench seating around a fire circle a short walk from the yurt. Linens aren't provided, so be sure to pack your sleeping bag.
Check Availability
Related Read: 10 Relaxing Wisconsin Cabin Rentals with Hot Tubs
7. WILD3R Camp for a Cause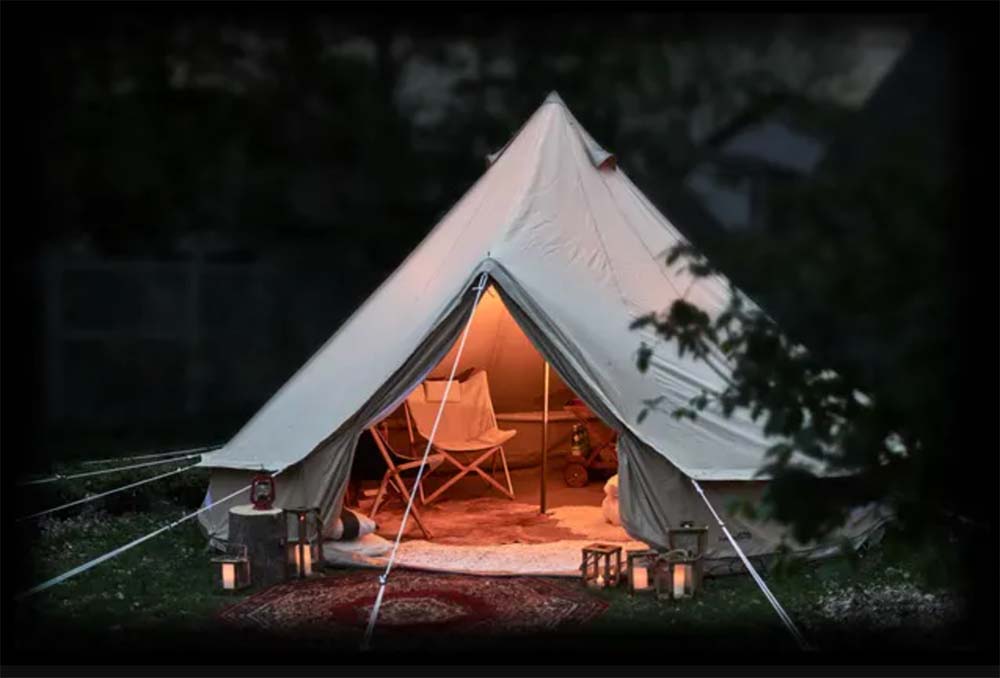 Why you should stay: A bell tent campsite in the Driftless Region about 35-minutes from the downtown streets of Madison.
Location: Mt. Horeb
Sleeps: 4
Minimum stay: 2 nights
Rates from: $85/night
WILD3R Camp for a Cause is a wonderful opportunity to glamp out in southern Wisconsin while helping a non-profit raise funds and get established. Wild3r aims to one day assist marginalized groups through nature-based activities. Your stay at the Wild3r camp includes a cozy canvas bell tent, mattress, and a firepit. This campsite is classic camping at its finest, but with added luxuries and without the need to haul a lot of gear.
The hosts even go above and beyond to make your visit comfy by offering add-on camp gear rentals, romantic packages, and even hosted experiences. Wild3r's bell tents are near the rolling hills of Blue Mound State Park and the ski slopes of Tyrol Basin offering year-round fun to all who visit.
Check Availability
Related Read: The 10 Best Hiking Trails in the Wisconsin Dells
8. Boulderridge Treehouse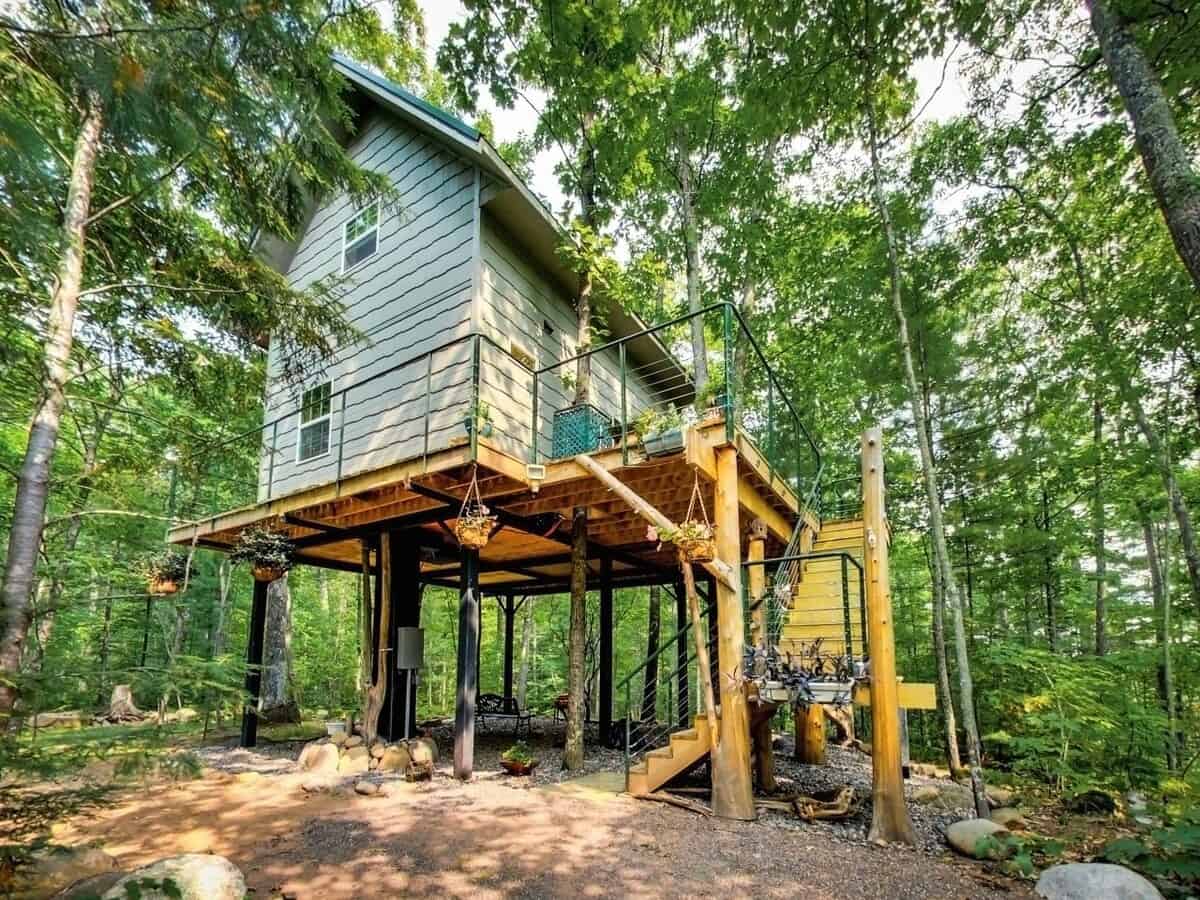 Why you should stay: Sleep a  treehouse just a short drive from the Apostle Islands National Lakeshore.
Nearest town: Bayfield
Sleeps: 4
Minimum stay: 2 nights
Rates from: $249/night
The Boulderridge Treehouse is a unique Wisconsin glamping experience perfectly placed next to one of the state's most beautiful natural attractions: Lake Superior. One step inside, and you'll be blown away by the craftsmanship of this two-bedroom cabin. Driftwood and stones from the Great Lake became beautiful decor and accents, including the staircase railings and the backsplash around the living room's fireplace.
To get to the two lofted rooms, climb the stairs to an elevated walkway above the ground floor. There's also a sleeper sofa for extra guests. The home has Wi-Fi and a kitchenette with a mini-fridge, microwave, running water, and a coffee pot.
"We had a wonderful weekend in the treehouse! Really fun little details throughout and such a unique space. Very close to town without having to stay near the crowds."
Check Availability
Related Read: 10 Great Places to See Fall Colors in Wisconsin
9. Fisher Cat Creek Forest Retreat
Why you should stay: A 20-acre wooded property far from civilization with a storybook cabin and numerous campsites.
Location: Osseo
Sleeps: 12
Minimum stay: 1 night
Rates from: $115/night
The Fisher Cat Creek Forest Retreat offers an exceptional getaway to nature courtesy of a husband and wife duo. They built their two-bedroom cabin by hand and filled it with unbeatable glamping amenities like a wood-burning stove and a deck with beautiful forest views. The cabin's sleeping loft provides a relaxing place to lay your head at night while also opening up the ground floor for more lounge space.
When nature calls, head out to the — dare we say it — cool outhouse decorated and made homey. The yard also features a rainwater sink, a little screened-in porch, and meandering trails that lead to areas suitable for tent camping.
Guest Gary shares, "Veronica and David were friendly & attentive hosts and had the fire started before I got there. It's very cozy and private, and it has this super comfortable couch that I dozed off on more than once."
Check Availability
Follow 'em: @FisherCatCreek
10. The Brew City Airstream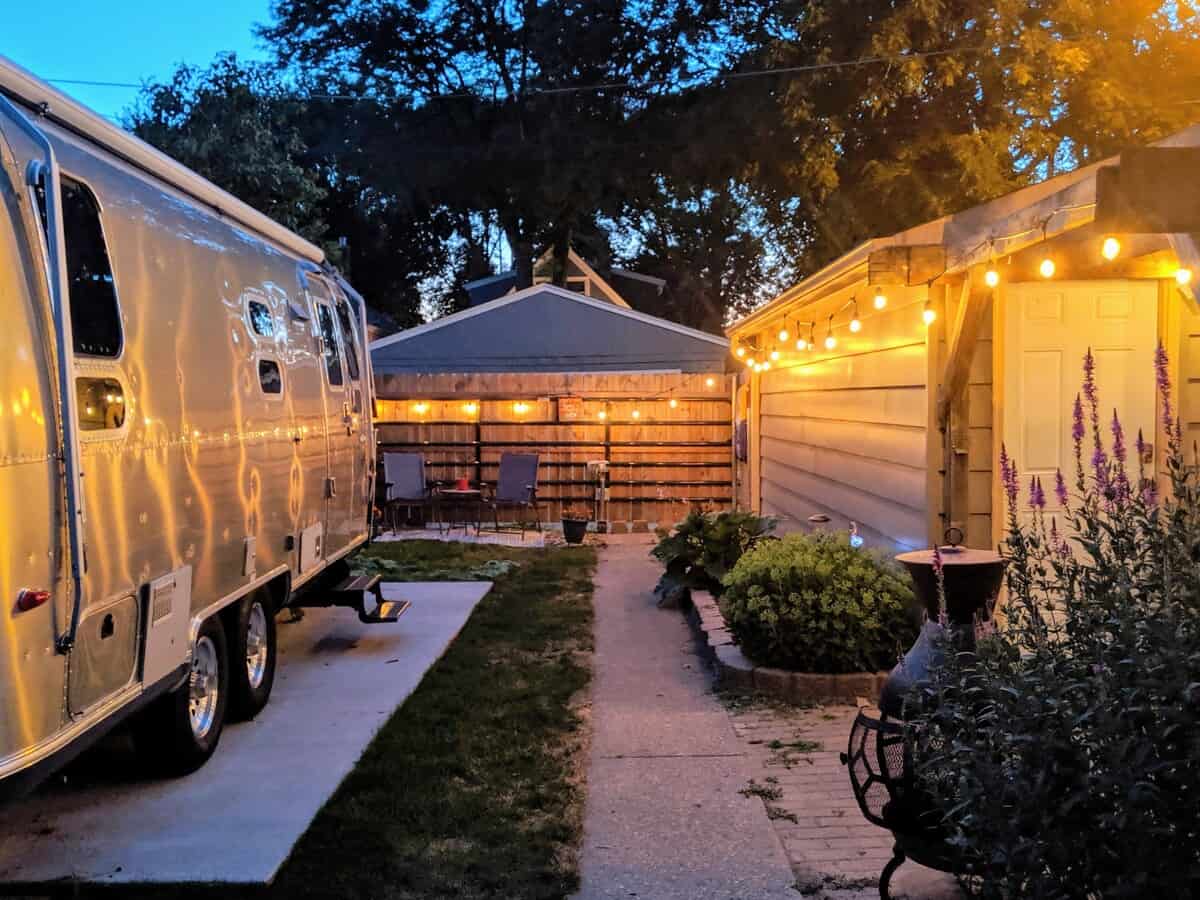 Why you should stay: Urban glamping in a Milwaukee at a steal of a price.
Nearest town: Milwaukee
Sleeps: 4
Minimum stay: 1 night
Rates from: $89/night
The Brew City Airstream is a well-decorated camper on the hosts' property with access to a fenced-in yard for pets and kids, a charcoal grill, and even a fire pit. The owners recently installed wood flooring to complement the black-and-white fixtures and vibrant pops of blue.
The interior of this quaint little Airbnb features a kitchenette, dining table and booth seating, plus a mounted T.V. There's a queen mattress and the seating area can pull out to accommodate another adult or two kids. The inside is much more like a modern RV than a hipster campervan, and there's even an additional dining table in the yard that guests are welcome to use while their pups frolic through the yard.
Check Availability
Related Read: 10 Beautiful Scenic Drives in Wisconsin
11. Cozy Canned Ham Trailer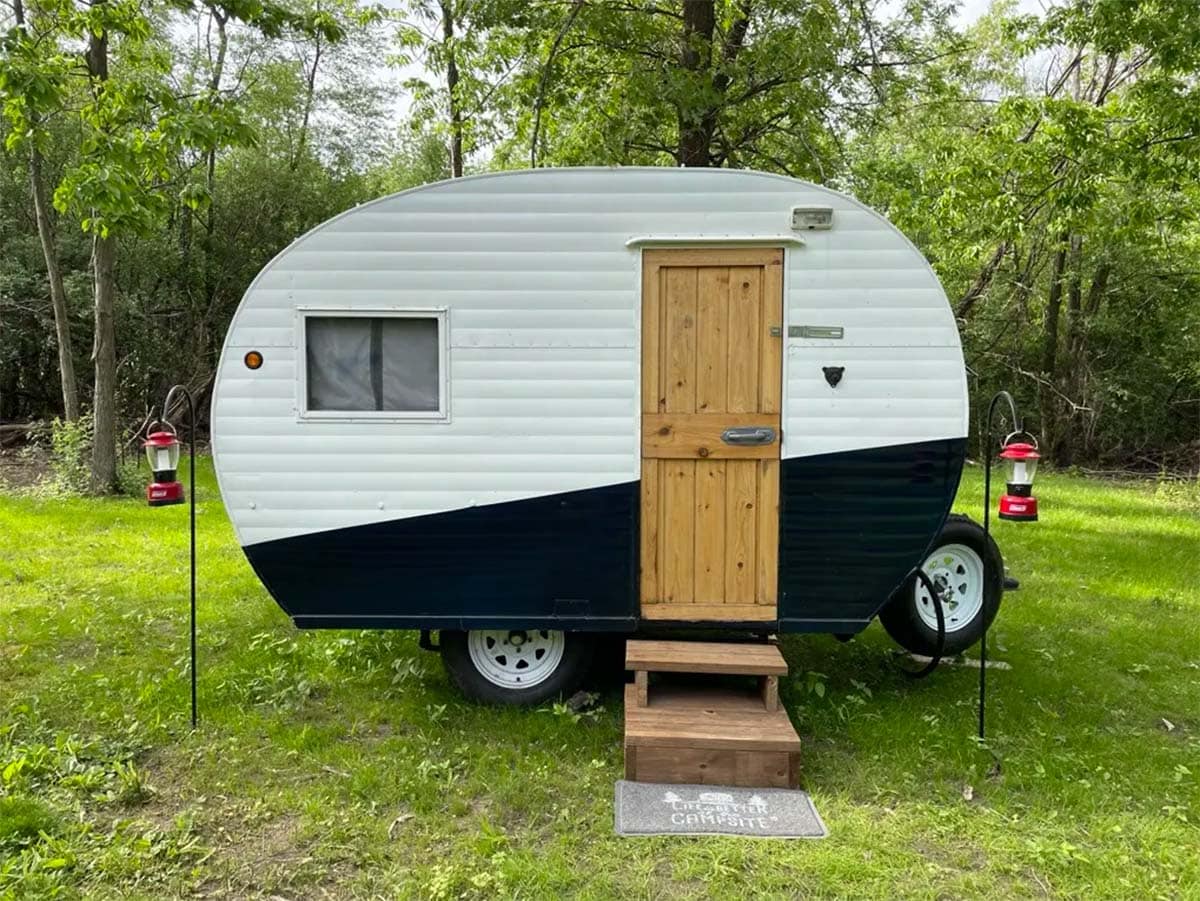 Why you should stay: A retro 1957 camper that's part of a boutique campground between Milwaukee and Madison.
Location: East Troy
Sleeps: 6
Minimum stay: 2 nights
Rates start from: $100/night
This Cozy Canned Ham Trailer sits on a grassy campsite surrounded by local prairie plants. The site is equipped with a shaded picnic table, a grill, and a stone firepit. Surrounding the camper is an 80-acre private campground with well-maintained bathroom facilities and walking trails that pass wetlands, duck ponds, and grassy meadows.
Each site enjoys an acre or more to itself, ensuring guests have utmost privacy during their stay. As you step inside this cool camper, the interior's retro flair is the first to catch your eye. And although the interior is a bit small, it does feature a comfortable bed for two, a sink, and a bench. Lake Geneva, Wisconsin's popular resort town, is just 25 minutes south of the campground.
Check Availability
Follow 'em: @CampKettlewood
12. Riverside Retreat Glamping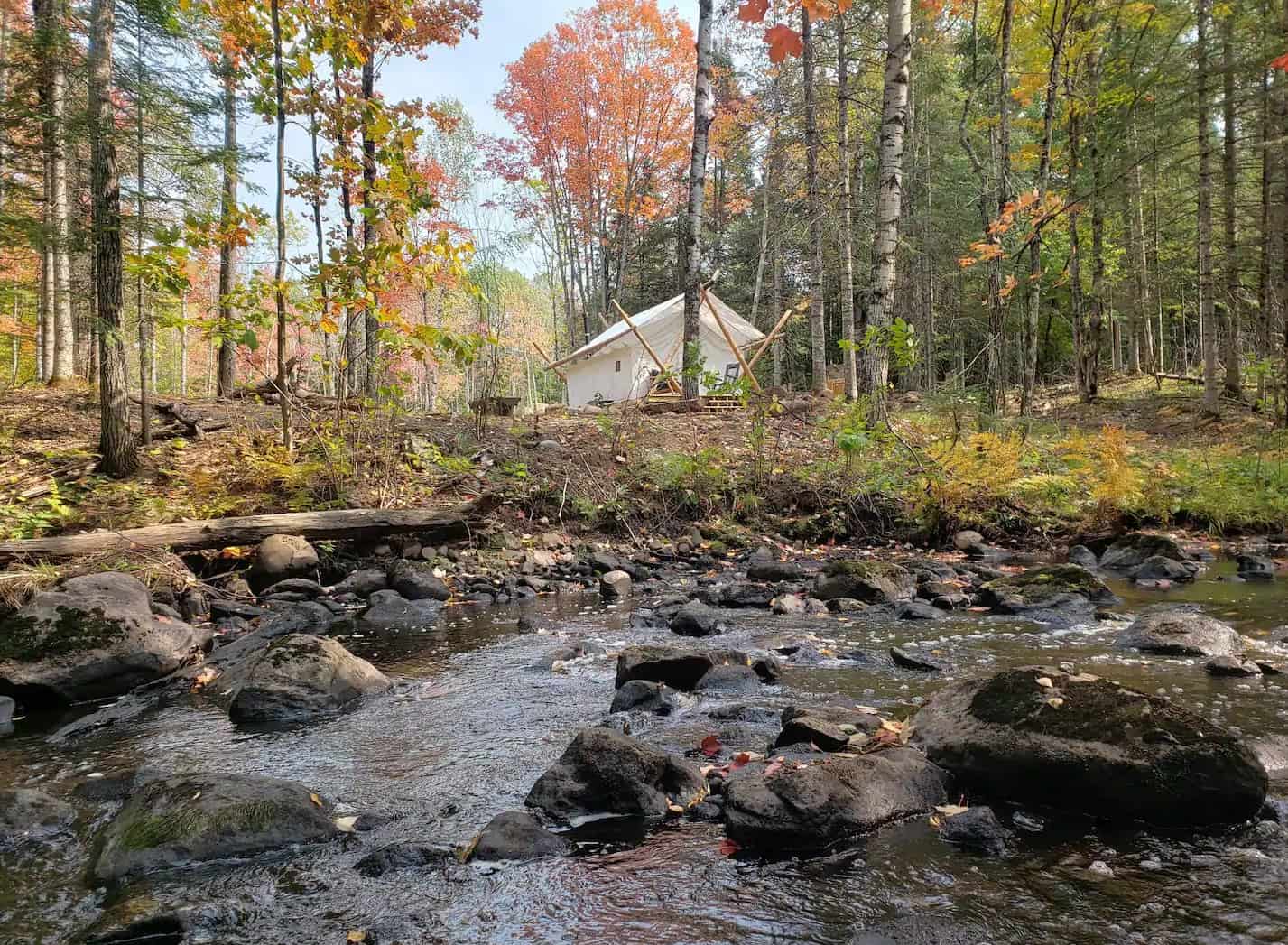 Why you should stay: A canvas safari tent on the Poplar River.
Nearest town: Poplar
Sleeps: 4
Minimum stay: 2 nights
Rates from: $119/night
The Riverside Retreat Glamping offers outdoor enthusiasts a perfect home base for exploring northern Wisconsin's beautiful natural sites without giving up modern conveniences. The tent has everything guests could need, and then some, including a soft double bed, a futon, and a mini kitchen.
Outside, guests can enjoy the sights and sounds of the passing river while stoking the embers of a bonfire or munching on camp snacks at the picnic table. There's also a cozy hammock tied up for sunny days and a good chance of seeing woodland critters as you relax outdoors.
"The movie projector was a nice touch, and it was nice to have the Keurig and mini-fridge. Everything was very clean with no issues with bugs or anything during my stay."
Check Availability
Related Read: 10 Cozy & Comfortable Wisconsin Tiny Home Vacation Rentals
Explore the Midwest
Sign up for Weekend Wanderer to join 10,000+ readers getting epic travel ideas every week.
Was this article helpful?
---