We research, evaluate and select travel destinations based on a number of factors, including our writers' experience, user reviews and more. We may earn a commission when you book or purchase through our links. See our editorial policy to learn more.
---
With miles of national forest and 10,000 lakes to explore, there's no better way to get a taste of Minnesota's wilderness than by booking the perfect glampsite.
Actually, that's a lie: Minnesota has more than 14,000 lakes at last count.
There's a lot to love in the land of "Minnesota Nice." Not only are the people supremely friendly — as you may have guessed from the nickname — but the state boasts beautiful state parks and miles of Lake Superior shoreline, much of which is covered in dense forest.
Booking one of these sites for Minnesota glamping can cut out the hassle of setting up camp and instead ensure you can spend your time making the most of the Midwest's limited pleasant weather and vast expanses of untouched nature.
If you've never tried glamping before, this summer is the perfect time. Here are 16 of the best spots for Minnesota glamping, from downright lux to cute and cozy.
Related Read: 8 Best Tiny House Rentals in Minnesota
1. Vintage Remodeled Camper Trailer
Why you should stay: A rustic farm stay in a cute retro camper down the road from Banning State Park.
Location: Finlayson
Sleeps: 6
Minimum stay: 1 night
Rates start from: $80/night
This vintage remodeled camper trailer is a peaceful retreat within the bounds of an ethical farmstead. Two can sleep comfortably within the camper, and larger groups are free to set up camp in the ample space around it. Guests don't have access to a shower during their stay, but a classic wooden outhouse, picnic table, and fire pit are available.
The property spans 160 acres and can be found about an hour and a half north of Minneapolis. Aside from watching the cows and sheep graze, campers can pick produce and mushrooms on the property, visit the Kettle River, and spend the day on the lake at Moose Lake State Park.
Check Availability
Follow 'em: @MedicineCreekFarm
2. Gökotta
Why you should stay: A dreamy glamping tent with a spacious outdoor area not far from downtown Duluth.
Location: Duluth
Sleeps: 4
Minimum stay: 2 nights
Rates start from: $89/night
One step inside Gökotta, and you'll feel as if you're deep in the woods. However, this magical canvas tent is only a short drive from the top attractions that make Duluth an incredible destination. Its name, Gökotta, doesn't have a direct English translation but describes the feeling of waking early to witness the beauty of nature at dawn, fitting for this lovely glamping retreat.
You must walk a few minutes into the woods when you arrive, where a fully furnished tent stands, ready to host. Outfitted with electricity, bunk beds, and a wood stove to keep you warm at night, this tent has all the basics and then some. You just need to bring your sleeping bags and cooking essentials to prepare meals over the campfire.
Check Availability
Related read: 11 Best Cabin Rentals Near Duluth, Minnesota
3. Bundo's Cabin in the Woods
Why you should stay: A modern tiny cabin that makes charitable donations to the Makoce Ikikcupi Land Recovery Project with every stay.
Location: Finlayson
Sleeps: 4
Minimum stay: 2 nights
Rates start from: $119/night
Bundo's Cabin in the Woods is a pet-friendly glamping escape within driving distance to three state parks. Inside, this small yet homey cabin has been outfitted with a living room, a tiny kitchen, and a dining area that seats four. The bedroom is located up a ladder in the loft, complete with a little seating area.
An outdoor bathroom can be found feet from the cabin, featuring a composting toilet and sink. There is a rainwater shower available, but only in the summer months. The cabin itself sleeps only four, but the hosts allow up to 16 to set up camp when it's warm. This glamping cabin sits on 10 acres where you can stroll, spot local wildlife, and stargaze as a fire blazes.
Check Availability
Related read: 7 Cozy Cabins for Rent Near Minneapolis, Minnesota
4. Luxury Treehouse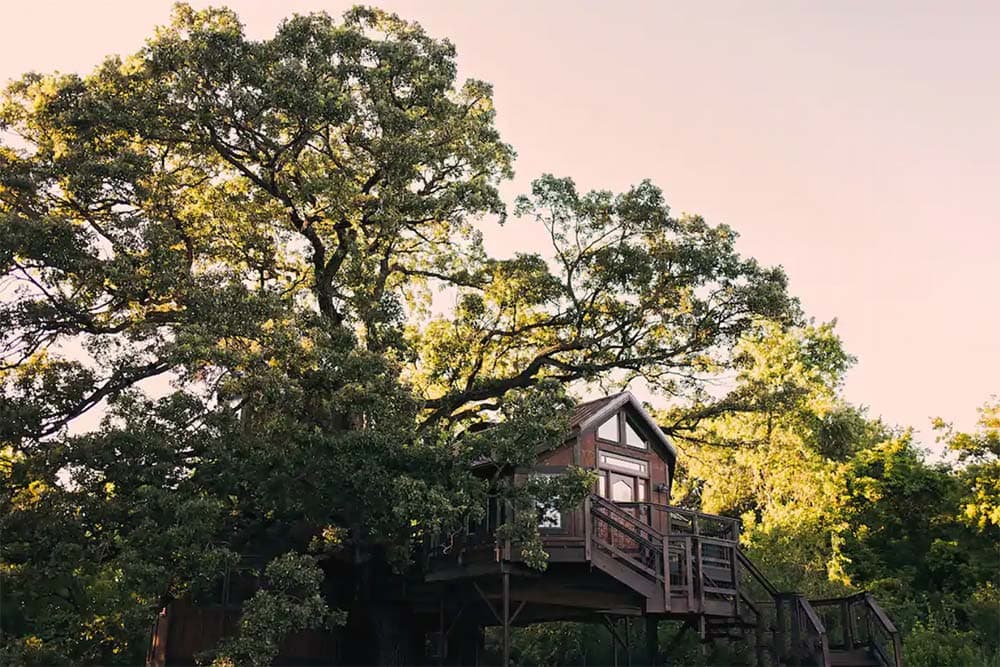 Why you should stay: A spacious wooden treehouse with lux amenities just outside Cottage Grove.
Location: Cottage Grove
Sleeps: 4
Minimum stay: 1 night
Rates start from: $203/night
When it comes to glamping, it doesn't get much more glam than at this luxury treehouse just south of St. Paul. It boasts seven rooms, including a full bathroom with a jacuzzi tub and even a fully equipped kitchen — an impressive feat for a treehouse perched high above the ground. This fantastic Minnesota glamping treehouse also has four exterior decks, a secret den, and two cozy fireplaces — not to mention glimmering chandeliers.
The treehouse sits along the Cottage Grove Ravine Park border, a 500-acre reserve where hiking, cross-country skiing, and fishing are the main draws. The Twin Cities are less than 30 minutes away, making this an excellent staycation for folks looking to get out of the city.
Check Availability
Related Read: 11 Charming Cabin Rentals in Alexandria, Minnesota
5. Lakeside Treehouse
Why you should stay: An eclectic circular treehouse with an attached sauna and lake views.
Location: Squaw Lake
Sleeps: 2
Minimum stay: 2 nights
Rates start from: $299/night
This lakeside treehouse is surrounded by the beauty of the Chippewa National Forest and just feet from Dixon Lake's shores. Your inner child will be delighted at the spiral staircase and fun little rope bridge you'll climb to get inside. It's one of the pricier Minnesota glamping sites for just two people, but it feels like a suite at a luxury lakefront resort.
The interior features knotty pine surfaces, exposed beams, and screened windows for an open-air stay. There's electricity throughout the home, but there's no kitchen, shower, or running water. However, guests have access to a full bathroom in the hosts' primary residence. While visiting Dixon Lake, have fun on the water with the provided paddle boat, kayaks, and floating dock. There are also bikes available, as well as a gas grill, fire pit, and a dining patio.
Check Availability
Related Read: The 10 Best Airbnbs in Minneapolis, Minnesota
6. Mangan Glamping Cabin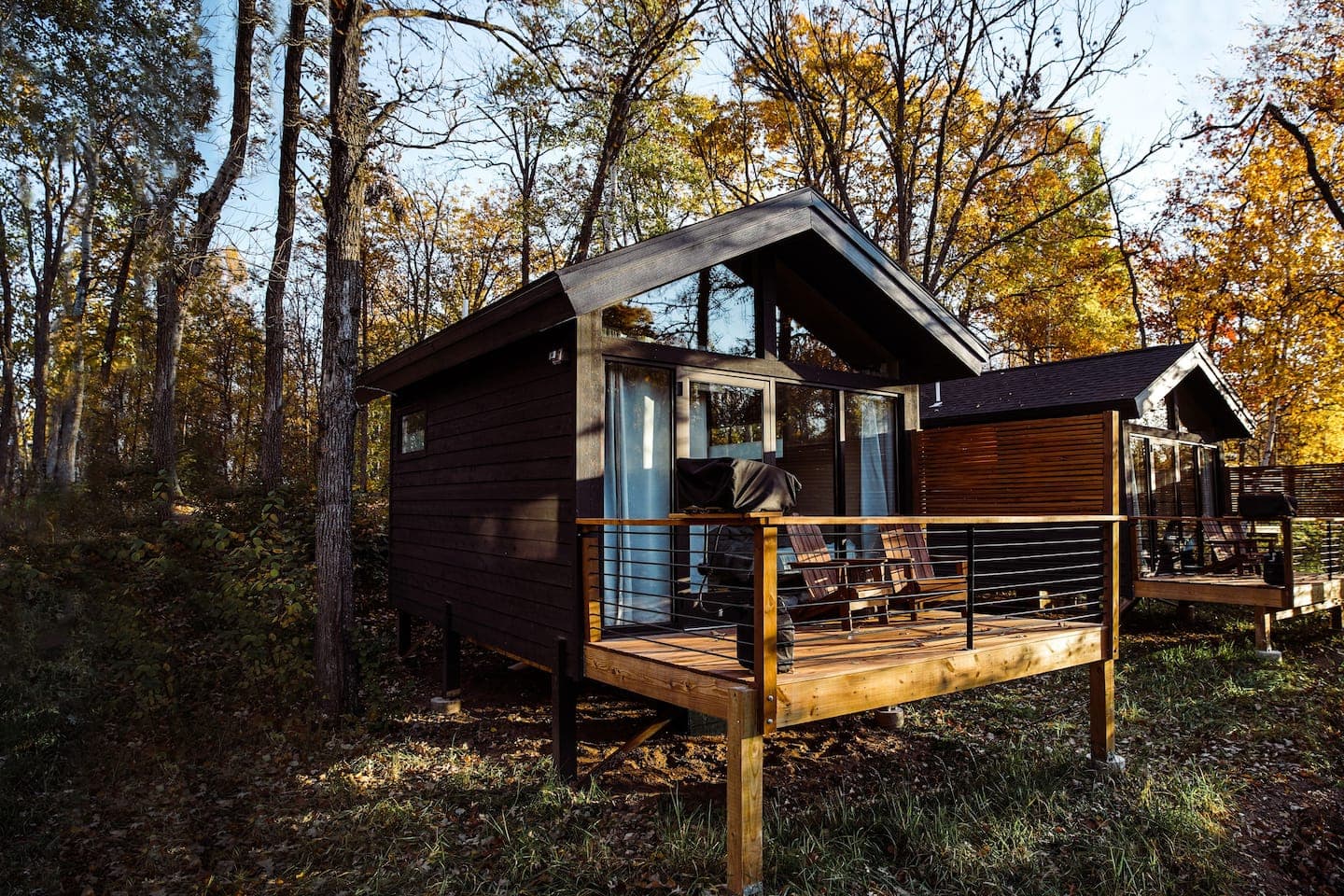 Why you should stay: Modern glamping cabins bordering the beautiful Cuyuna State Recreation Area.
Location: Crosby
Sleeps: 2
Minimum stay: 3 nights
Rates start from: $195/night
For a modern and outdoorsy experience, look to the Mangan Glamping Cabin, just a short drive from downtown Crosby. Each cabin has a private and high-end bathroom with a rain shower, complimentary toiletries, and forest views. There are five cabins available to rent, so it could be a good option for couples traveling together.
This property is an excellent home base for mountain bikers planning to explore the Cuyuna State Recreation Area, a public plot of land with over 30 miles of red dirt trails. The glampsite has secure bike lockers next to each cabin in case you bring your bike, though there are several mountain bike rental companies in Crosby. Other amenities in the cabin include a kitchenette, private patio with pond views, grill, and a fire pit.
Check Availability
Follow 'em: @cuyunacove
7. Yurt-Style Tent at Stone Creek
Why you should stay: A yurt-like tent on a working farm not far from the scenic beauty of Interstate State Park.
Location: Taylor's Falls
Sleeps: 6
Minimum stay: 2 nights
Rates start from: $36/night
Along the Wisconsin state border is a yurt-style tent waiting to host happy campers. This Minnesota glamping site is more of a classic camping set-up but features the modern conveniences that make glamping oh so attractive. From the already pitched tent to the self-composting toilet, guests can relish the joys of camping without fully roughing it.
The campsite also has a fire pit, a grill, Adirondack chairs, and a picnic table. The St. Croix River passes through this part of the state, offering exciting water fun that includes scenic boat tours, fishing, and kayaking. Taylors Falls is a charming small town known for its local wineries and historical landmarks.
Check Availability
Related read: 10 Best & Most Unique Airbnb Rentals in Minnesota
8. Pony Hill Glamp
Why you should stay: A homey bell tent surrounded by tall grasses and woods in central Minnesota.
Location: Clearwater
Sleeps: 5
Minimum stay: 1 night
Rates start from: $85/night
At Pony Hill Glamp, the sights and sounds of an organic farm surround you. The glampsite's canvas bell tent is strung with solar-powered lights and furnished with a floor mattress, colorful textiles, and comfy seating for two. The hosts have also equipped the site with a screened-in kitchen tent where it's possible to whip up farm-fresh meals thanks to the stovetop, cooking supplies, and washing area.
There are even fresh, organic ingredients available for purchase, locally grown by your host, Dancing the Land Farm. St. Cloud and Warner Lake are nearby, offering plenty to do, from swimming in nature to indulging in city fun.
Check Availability
Follow 'em: @DancingTheLand
9. Cozy Lakeside Cottage & Tenting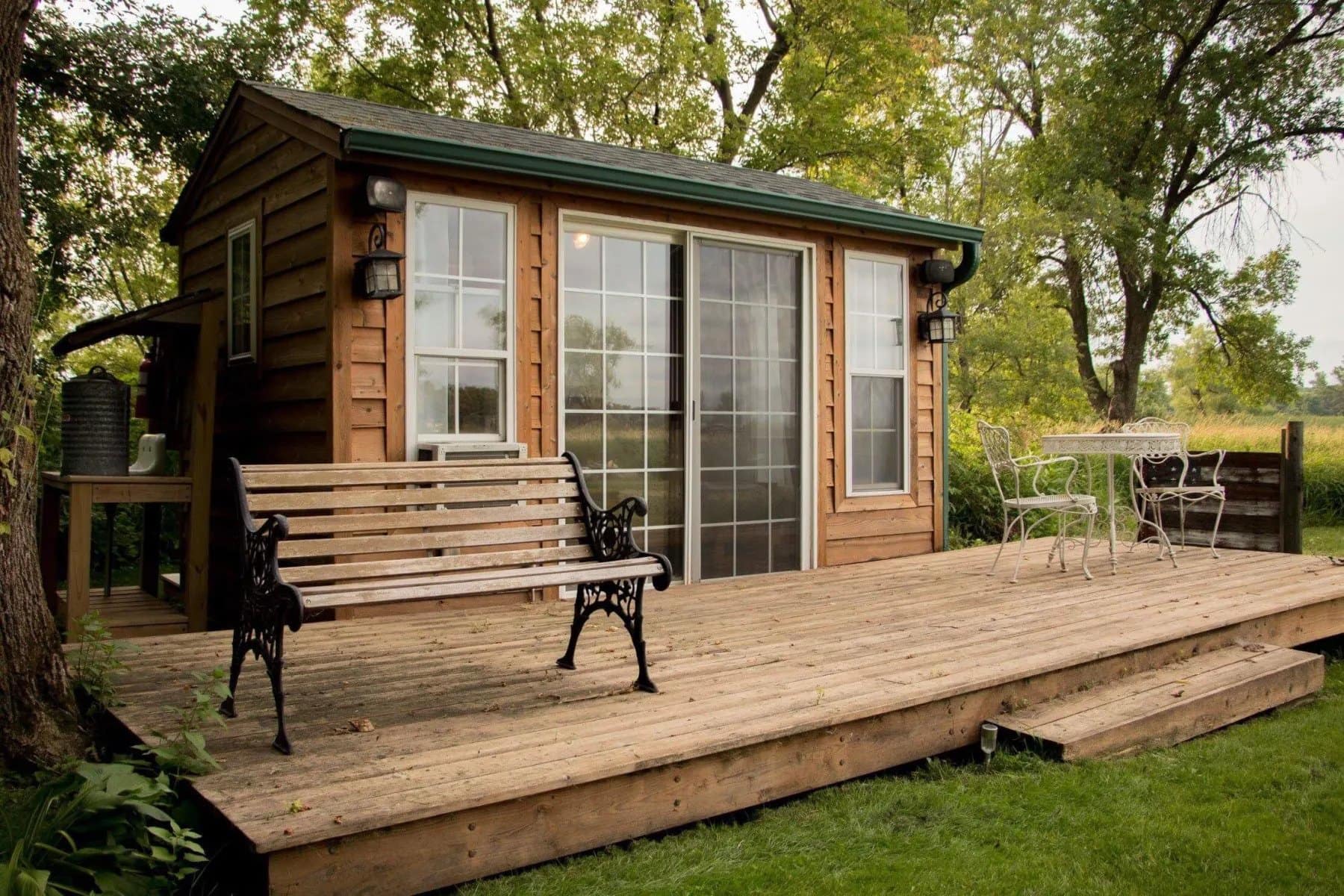 Why you should stay: A lakeside tiny cabin with a backyard and private bathroom access just outside the Twin Cities.
Location: Jordan
Sleeps: 4
Minimum stay: 2 nights
Rates start from: $80/night
This cozy lakeside cottage & tenting is a charming tiny home nestled in the hosts' backyard. Although the cabin is only big enough to host two, groups of four are welcome to set up a tent next to the cottage. During your stay, you'll have access to a private bathroom in the host's house, the outdoor kitchen, and the entire backyard. The cabin has a microwave and a coffee maker to help you jump-start your mornings.
Visitors have many places to sit and relax outside, including an idyllic front porch with a bench and a cafe table. A brick patio space surrounded by flowers features a fire pit and table where it's possible to roast marshmallows under the night sky. Not to mention, a boardwalk leads from the yard over tall grasses to a peaceful dock overlooking the water.
Check Availability
Related read: 11 Best Weekend Road Trips From Minneapolis, Minnesota
10. Old Blue Cottage
Why you should stay: A storybook tiny home with beautiful amenities 25 minutes from the waterfalls of Banning State Park.
Location: Pine City
Sleeps: 6
Minimum stay: 2 nights
Rates start from: $138/night
The Old Blue Cottage is a glamping cabin that's beautifully decorated and offers a cozy stay in the woods. Exposed wooden beams, shiplap siding, and antiqued furniture ooze farmhouse-chic charm. And although the cottage only measures 162 square feet, the space has been expertly optimized to feature two bedrooms and a well-equipped kitchenette complete with a mini-fridge, stovetop, and sink.
Behind the cottage is an equally charming bathhouse with a composting toilet and a seasonal shower. You'll also find on the property a shared outdoor kitchen and dining table that looks straight out of Wonderland. Glampers are free to take the B&B's kayaks out on the property's pond or to request rental bikes.
Check Availability
Related Read: 7 of the Most Romantic Getaways in Minnesota
11. Mökki Birdhouse
Why you should stay: A soaking tub and a cozy A-frame walking distance to bars and the lake.
Location: Grand Marais
Sleeps: 2
Minimum stay: 1 night
Rates start from: $145/night
The Mökki Birdhouse is a cheerful A-frame cabin with colorful red accents and a warm wooden interior. This rustic one-bedroom cabin puts you across the street from Lake Superior and within walking distance to the town's best trails and restaurants.
After you've had your fun walking the nearby Gunflint Trail, fill up the living room's soaking tub and relax with a book against the great nature views. If you're looking for an affordable cabin where you can walk to bars, restaurants, and the beach, look no further – the birdhouse is a great pick.
Check Availability
Related Read: 10 of the Most Unique Places to Stay in Minnesota
12. Wooden Tent in the Woods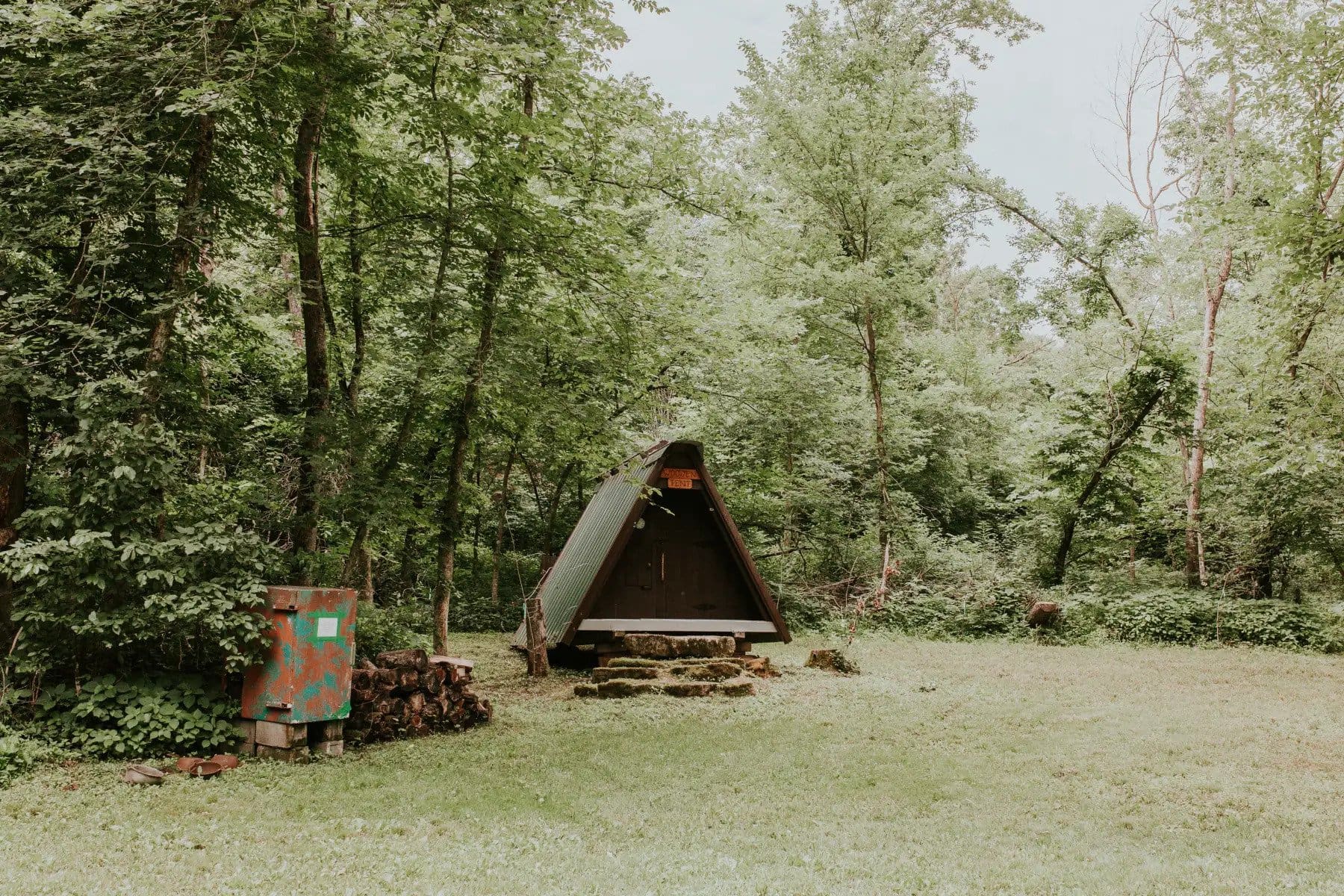 Why you should stay: A tiny A-frame cabin in southern Minnesota's Driftless region.
Location: Houston
Sleeps: 6
Minimum stay: 1 night
Rates start from: $45/night
Experience the best of the Midwest in this wooden tent in the woods on the Giles Family Dairy Farm. This tiny A-frame cabin is one of a few different sites hosted by the farm, and provides comfortable accommodation under sturdy shelter. It's not heated, however, it features a fire pit with complimentary firewood.
Your stay includes the use of a private picnic table and an accessible outhouse without a shower. The cabin is large enough to host two, and the campsite allows up to four more guests for an additional fee. Be sure to make time to relish the beauty of the Mississippi River Valley, where popular state parks like Perrot and Great River Bluffs offer some of Minnesota's most spectacular views.
Check Availability
13. 16 Squared Cabin
Why you should stay: A no-frills glamping shelter in Minnesota's Northwoods that welcomes furry friends.
Location: Cook
Sleeps: 4
Minimum stay: 1 night
Rates start from: $40/night
For those seeking absolute seclusion, the 16 Squared Cabin fits the bill. The cabin is on a grassy field surrounded by trees where miles of trails are accessible. Whether you enjoy horseback riding, hiking, or snowmobiling, there's something for everyone.
The cabin's interior is furnished with two bunk beds, a wood stove, and a dining table—all you need for time well spent in nature. And out in the yard, it wouldn't be a camping trip without the large fire pit, picnic table, and wooden outhouse.
Guest Mike shares, "Complete privacy with lots of room to roam the trails. If you want to "get away from it all," I highly recommend 16 Squared!"
Check Availability
14. The Writers Cabin
Why you should stay: A solar-powered tiny cabin along the Saint Croix River Valley not far from Taylors Falls.
Location: Shafer
Sleeps: 4
Minimum stay: 2 nights
Rates start from: $140/night
Treat yourself to an elevated glamping stay at The Writers Cabin, a tiny home on Wilder Acres Farm. This wooden cabin features attractive knotty pine walls and built-in bench seating. A well-appointed kitchen nook with a pump sink, burners, and complimentary coffee makes it easy to prepare basic meals.
When it comes time to hit the hay, climb up to the loft and curl up on the luxurious memory foam mattress. One of the most exciting things to do nearby is marveling at the deep basalt gorges of the passing St Croix River.
Check Availability
Related read:
15. The Back 20
Why you should stay: A tiny dry cabin on a hike-in property 15 minutes from Whitewater State Park.
Location: Utica
Sleeps: 6
Minimum stay: 2 nights
Rates start from: $45/night
Disconnect at The Back 20, a rustic cabin where it's BYOB water, cooking supplies, and bedding. You won't find WiFi at this glampsite, and cell service is limited, allowing 100% focus on the great outdoors. However, the cabin does feature a queen bed in the loft, two cots, and room to pitch tents outside. When staying over in the winter, a wood stove ensures you stay toasty warm.
The property is far enough from civilization, where you're sure to have crystal clear skies for exceptional star gazing. Guest Shannon shares,"We enjoyed hearing cows from a distance, coyotes at night, and finding deer and raccoon tracks in the morning on the trail."
Check Availability
16. Lucky Buck Tiny House
Why you should stay: A rustic cabin equidistant between Duluth and Two Harbors (and only a mile from Lake Superior)
Nearest town: Duluth
Sleeps: 2
Minimum stay: 2 nights
Rates start from: $90/night
The Lucky Buck Tiny House is a semi-secluded cabin rental surrounded by ten acres of wooded land. This unique airbnb features a bunkhouse with two single beds and a separate kitchen and living area, as well as an outdoor shower and an outhouse. It's an adorable little cabin and rather surprising that it's one of the more affordable Minnesota glamping locations on this list.
The hosts provide complimentary coffee and tea, fresh linens, and a hammock. Lake Superior is within walking distance and it's just a short drive to other lovely outdoor attractions like Gooseberry Falls State Park, Split Rock Lighthouse, and Stoney Point.
Check Availability
Related read: 7 Best Camping Spots Near Duluth, Minnesota
Explore Minnesota
Get epic travel ideas delivered to your inbox with Weekend Wanderer, our newsletter inspiring more than 10,000 readers every week.
---