Territory Supply is reader-supported and may earn a commission when you book or purchase using our links. Learn more about our editorial policies here.
---
With miles of national forest and 10,000 lakes to explore, there's no better way to get a taste of Minnesota's wilderness than by booking the perfect glampsite.
Actually, that's a lie: Minnesota has more than 14,000 lakes at last count.
There's a lot to love in the land of "Minnesota Nice." Not only are the people supremely friendly — as you may have guessed from the nickname — but the state boasts beautiful state parks and miles of Lake Superior shoreline, much of which is covered in dense forest. Booking one of these sites for Minnesota glamping can cut out the hassle of setting up camp and instead ensure you can spend your time making the most of the Midwest's limited pleasant weather and vast expanses of untouched nature.
If you've never tried glamping before, this summer is the perfect time. These are the top pics for Minnesota glamping, from downright lux to cute and cozy.
Related Read: 10 Secluded Cabin Rentals in Minnesota for Your Next Getaway
1. Luxury Treehouse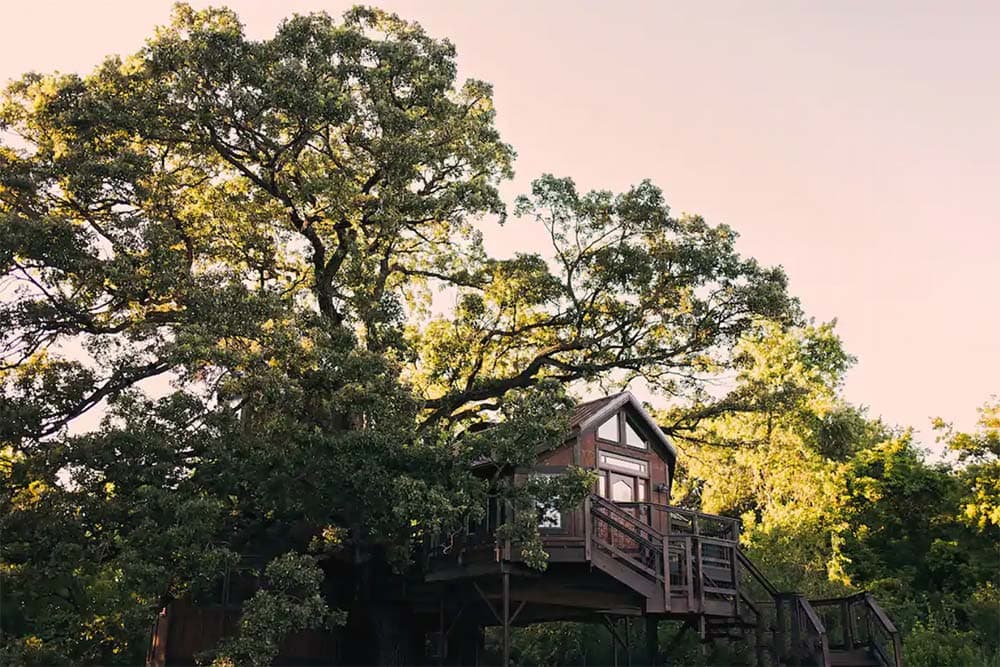 Why you should stay: A spacious wooden treehouse with lux amenities just outside Cottage Grove.
Location: Cottage Grove
Sleeps: 4
Minimum stay: 1 night
Rates start from: $203/night
When it comes to glamping, it doesn't get much more glam than at this luxury treehouse just south of St. Paul. It boasts seven rooms, including a full bathroom with a jacuzzi tub and even a fully equipped kitchen – an impressive feat for a treehouse perched high above the ground. This fantastic Minnesota glamping treehouse also has four exterior decks, a secret den, and two cozy fireplaces (not to mention glimmering chandeliers.)
The treehouse sits along the Cottage Grove Ravine Park border, a 500-acre reserve where hiking, cross-country skiing, and fishing are the main draws. The Twin Cities are less than 30 minutes away, making this an excellent staycation for folks looking to get out of the city.
Check Availability
Related read: 11 Charming Cabin Rentals in Alexandria, Minnesota
2. Lakeside Treehouse
Why you should stay: An eclectic circular treehouse with an attached sauna and lake views.
Location: Squaw Lake
Sleeps: 2
Minimum stay: 2 nights
Rates start from: $299/night
This lakeside treehouse is surrounded by the beauty of the Chippewa National Forest and just feet from Dixon Lake's shores. Your inner child will be delighted at the spiral staircase and fun little rope bridge you'll climb to get inside. It's one of the pricier Minnesota glamping sites for just two people, but it feels like a suite at a luxury lakefront resort.
The interior features knotty pine surfaces, exposed beams, and screened windows for an open-air stay. There's electricity throughout the home, but there's no kitchen, shower, or running water. However, guests have access to a full bathroom in the hosts' primary residence. While visiting Dixon Lake, have fun on the water with the provided paddle boat, kayaks, and floating dock. There are also bikes available, as well as a gas grill, fire pit, and a dining patio.
Check Availability
Related read: The 10 Best Airbnbs in Minneapolis, Minnesota
3. Rose Lake Glamping Wagon #1
Why you should stay: Quirky glamping site in a historic Conestoga covered wagon.
Location: Vergas
Sleeps: 4
Minimum stay: 2 nights
Rates start from: $150/night
Go back in time at the Rose Lake Glamping Wagon, a unique Minnesota glamping spot about an hour from Fargo, North Dakota. Each wagon is furnished with a king-sized bed, a bunk bed, and a table with two chairs. The campsite also comes equipped with a fire pit, grill, and a picnic table, so you can cook like a pioneer (though Vergas has a very small selection of dining options, too.) During your stay, you can make use of the community kitchen, laundry facilities, and bathhouse, and you can rent a pontoon boat and swim to your heart's content just across the lawn at Rose Lake.
Each wagon sleeps four, with two people in bunk beds. But since there are two next to each other, you could rent both if your group wants to spread out a bit more.
Check Availability
Related read: 11 Best Weekend Road Trips From Minneapolis, Minnesota
4. Mökki Birdhouse
Why you should stay: A soaking tub and a cozy A-frame walking distance to bars and the lake.
Location: Grand Marais
Sleeps: 2
Minimum stay: 1 night
Rates start from: $145/night
The Mökki Birdhouse is a cheerful A-frame cabin with colorful red accents and a warm wooden interior. This rustic one-bedroom cabin puts you across the street from Lake Superior and within walking distance to the town's best trails and restaurants.
After you've had your fun walking the nearby Gunflint Trail, fill up the living room's soaking tub and relax with a book against the great nature views. If you're looking for an affordable cabin where you can walk to bars, restaurants, and the beach, look no further – the birdhouse is a great pick.
Check Availability
5. Bless This Tiny House
Why you should stay: A charming tiny home overlooking beautiful Roberds Lake.
Location: Faribault
Sleeps: 2
Minimum stay: 3 nights
Rates start from: $158/night
Bless This Tiny House is a Minnesota glamping airbnb that caught the attention of the popular streaming series "Tiny House Nation" in 2015. The exterior is furnished with all the camping essentials such as a grill, lounge chairs, fire pit, and dining table.
There's also a swimming dock where you can take out the kayak, paddleboat, or jump in for a swim (Polar Bear Plunge, anyone?) After a full day on the lake, relax inside on the padded bench or up in the sleeping loft where a comfortable double bed awaits. This tiny home is about an hour south of Minneapolis.
Check Availability
6. Lucky Buck Tiny House
Why you should stay: A rustic cabin equidistant between Duluth and Two Harbors (and only a mile from Lake Superior)
Nearest town: Duluth
Sleeps: 2
Minimum stay: 2 nights
Rates start from: $90/night
The Lucky Buck Tiny House is a semi-secluded cabin rental surrounded by ten acres of wooded land. This unique airbnb features a bunkhouse with two single beds and a separate kitchen and living area, as well as an outdoor shower and an outhouse. It's an adorable little cabin and rather surprising that it's one of the more affordable Minnesota glamping locations on this list.
The hosts provide complimentary coffee and tea, fresh linens, and a hammock. Lake Superior is within walking distance and it's just a short drive to other lovely outdoor attractions like Gooseberry Falls State Park, Split Rock Lighthouse, and Stoney Point.
Check Availability
7. Mangan Glamping Cabin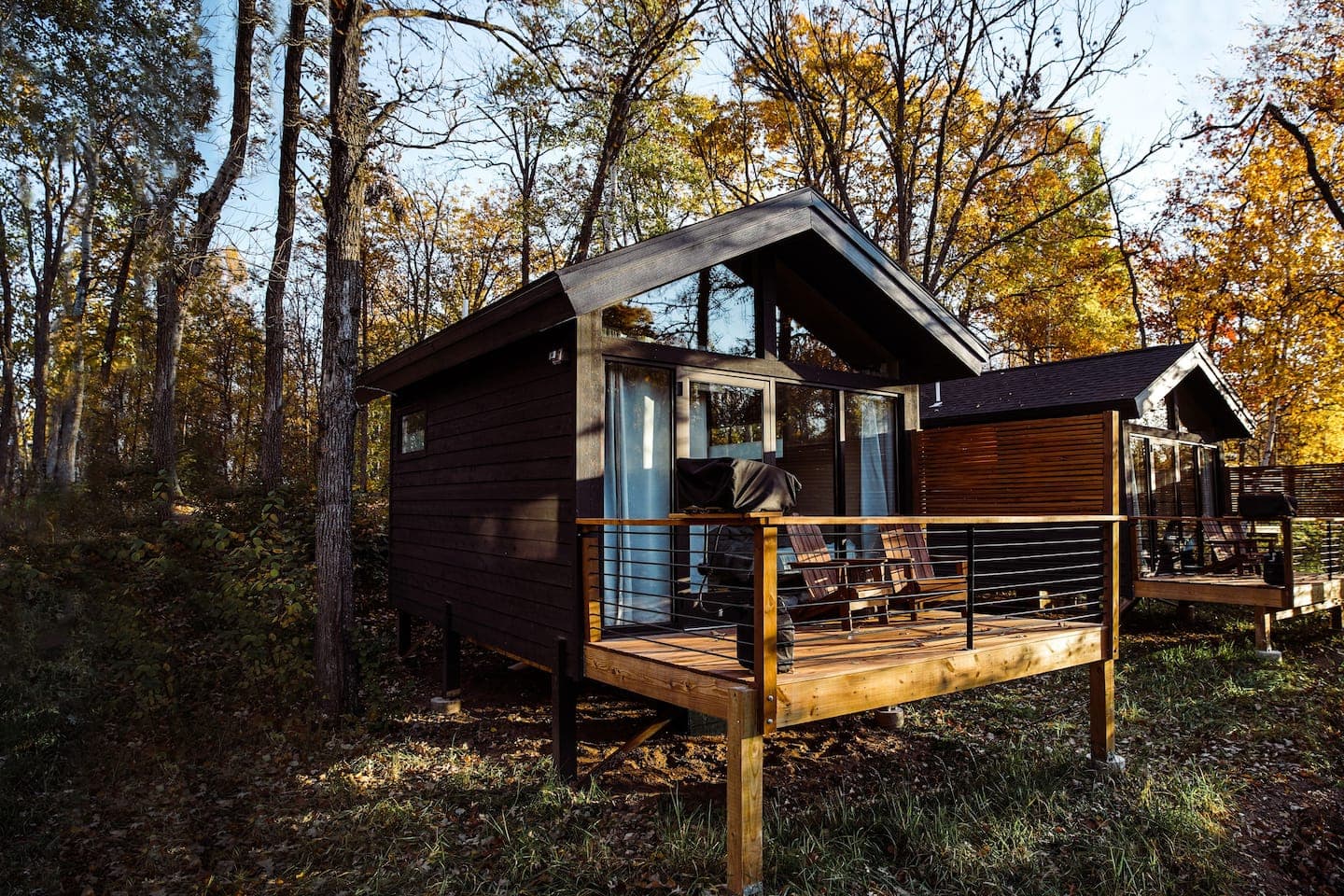 Why you should stay: Modern glamping cabins bordering the beautiful Cuyuna State Recreation Area.
Location: Crosby
Sleeps: 2
Minimum stay: 3 nights
Rates start from: $195/night
For a modern and outdoorsy experience, look to the Mangan Glamping Cabin, just a short drive from downtown Crosby. Each cabin has a private and high-end bathroom with a rain shower, complimentary toiletries, and forest views. There are five cabins available to rent, so it could be a good option for couples traveling together.
This property is an excellent home base for mountain bikers planning to explore the Cuyuna State Recreation Area, a public plot of land with over 30 miles of red dirt trails. The glampsite has secure bike lockers next to each cabin in case you bring your bike, though there are several mountain bike rental companies in Crosby. Other amenities in the cabin include a kitchenette, private patio with pond views, grill, and a fire pit.
Follow 'em: @cuyunacove
Check Availability
8. Two Harbors Tent
Why you should stay: Like regular camping, but without the effort and with a solar shower.
Nearest town: Two Harbors
Sleeps: 2
Minimum stay: 1 night
Rates start from: $85/night
If you're seeking a more classic camping experience, this Two Harbors tent offers that and then some. The camping tent is set up on a permanent wooden platform for your comfort and features a front deck, queen-sized mattress with bedding, and a pair of chairs.
The campsite itself features a wooden stall with an outdoor kitchen on one side and a bathroom with a porta-potty and solar shower on the other. The hosts provide coffee supplies, a grill, and a cooler with ice for a low-key stay. It's perfect for people who want to give camping a try but may not have a tent and mattress pads (or who just don't want to have to haul their gear to Two Harbors.)
Check Availability
9. Hungry Hippie Hostel Glamping Tent #1
Why you should stay: Safari-style tent with hostel amenities next to Lake Superior.
Nearest town: Grand Marais
Sleeps: 2
Minimum stay: 1 night
Rates start from: $49/night
The Hungry Hippie Hostel Glamping Tent #1 offers a convenient camping set-up perched high above Lake Superior, not far from Grand Marais. This particular listing includes an 8-foot-by-16-foot tent on a wooden platform that provides a bit of separation from the elements — so need to stress if it rains or gets muddy. The tent comes furnished with a mattress, access to a shower house with running water, a fire pit, and a picnic table. However, linens are not provided, so pack your sleeping bag —and your campfire cooking essentials.
Check Availability
10. Loon Site at Evergreen Bay Resort
Why you should stay: An off-the-grid campsite surrounded by the tranquility of Minnesota's northwoods.
Location: Park Rapids
Sleeps: 4
Minimum stay: 2 nights
Rates start from: $133/night
The Loon Site is a quiet glamping vacation rental that provides guests with the comfort of an already-assembled tent and a queen-sized bed. The campsite is also furnished with a picnic table, Adirondack chairs, and an outdoor camping toilet and shower. You won't find Wi-fi or electricity in the tent, allowing for a genuine opportunity to disconnect from the world.
The campsite is located close to natural attractions that include Boot Lake, Itasca State Park, and the hiking trails of nearby state forests. It's not fancy, but it's lots of fun – it's like living out your childhood summer camp days (except this time you can stay up late and drink a beer or two.)
Check Availability
Explore More Near Minnesota
Sign up for the Weekend Wanderer, our free email newsletter where thousands of readers get epic travel and airbnb ideas every week.
---