Prepare to hear the roar of rushing water and feel the spray of refreshing mist as you explore some of the most beautiful waterfalls in Wisconsin.
With over 40 waterfalls in the state, there are plenty of ways to go with the flow in Wisconsin. Most people chasing waterfalls make the journey to the far north where Iron and Marinette counties battle it out for having the state's highest number of waterfalls.
That's where you'll find some of the tallest waterfalls in Wisconsin like Big Manitou Falls and Copper Falls. And while most of Wisconsin's most exciting waterfalls are found "Up North," there are some to see around central Wisconsin, too.
Many of these falls are in state parks, so you'll want to buy a state parks pass in advance online to save you some time at the gate. Take the plunge and check out these incredible Wisconsin waterfalls on your next outdoor adventure.
Related Read: 14 Best Things to Do in Wisconsin in Every Season
1. Copper Falls
Why you should go: Scenic park with epic gorges (and amazing fall foliage).
Copper Falls is a rugged waterfall that tumbles through a gorge carved from ancient lava rock millions of years ago. Today, visitors can witness the beauty of the Bad River as it travels through those epic rock formations from within Copper Falls State Park, just north of the small town of Mellen. For the best viewpoint, take the Doughboy Nature Trail, a 1.7-mile loop with footbridges, forested trails, and of course, waterfall lookouts.
While you're visiting the state park, be sure to make time to stop by Brownstone Falls and Red Granite Falls for even more spectacular waterfall viewing. The Brownstone Falls reach a height of 30feet and are surrounded by vibrant red rocks, whereas Red Granite Falls has tiered rapids.
2. Big Manitou Falls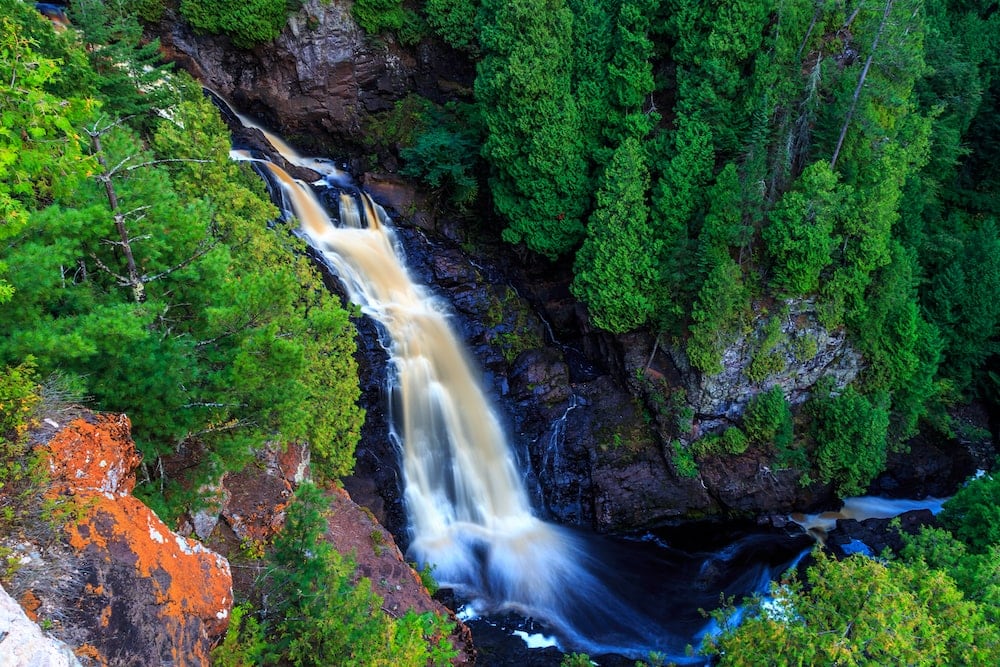 Why you should go: Wisconsin's tallest waterfall and it's equally beautiful little sister.
Nestled within the boundaries of Pattison State Park, you'll find Wisconsin's tallest waterfall by nearly 75 feet. The falls are part of Black River and the rocky gorge is made of sandstone and basalt. And just downriver from this Wisconsin waterfall is another smaller version: Little Manitou Falls. The smaller waterfall is also impressive, dropping more than 30 feet. That makes this park one of the top spots for waterfall hikes.
Hikers should take the Manitou Falls Trail, an easy 4-mile hike that loops down and around Interfalls Lake and the Bad River (there are easy-to-find lookout points for both). These two waterfalls are in northwestern Wisconsin, about a 30-minute drive from Duluth, Minnesota. For those arriving after a long journey, the state park has a family-friendly campground offering a lovely weekend spent in nature.
Related Read: 14 Places to Visit in Wisconsin for the Ultimate Badger State Experience
3. Morgan Falls
Why you should go: Wisconsin's second-tallest waterfall is still pretty darn tall.
Morgan Falls is regarded as Wisconsin's second tallest waterfall and measures between 70 and 100 feet. It's in the thick hardwoods of the Chequamegon-Nicolet National Forest, which creates a beautiful backdrop to the granite falls. The Morgan Falls trailhead is clearly marked and in the park's main parking area, and the loop totals only 1.2 miles. It's very accessible.
After your visit, consider hiking the neighboring 4-mile loop to the St. Peter's Dome overlook. This trail offers more of a challenge and rewards hikers with spectacular views of the surrounding national forest. Visitors need to pay a $5 entrance fee to access the recreation area.
Related Read: 10 Best Hiking Trails at Devil's Lake State Park, Wisconsin
4. Potato River Falls
Why you should go: Summer swimmin' and fall leaf peepin'.
Just outside Gurney is a lovely cascade that rushes over a rocky portion of the Potato River. The falls have a wide base that creates a beautifully tiered display of falling water. The trail leading to the Upper and Lower Potato Falls is a quick .8 mile walk that starts at the Potato River Campground.
Visitors are free to swim in the river and there are plenty of good picnic spots for an afternoon happy hour. This is usually considered one of the most beautiful waterfalls in Wisconsin, which is particularly true in the fall when the leaves shift to bright reds, yellows, and oranges.
Related Read: 9 Luxury Cabins in Wisconsin Where Nature Meets Splendor
5. LaSalle Falls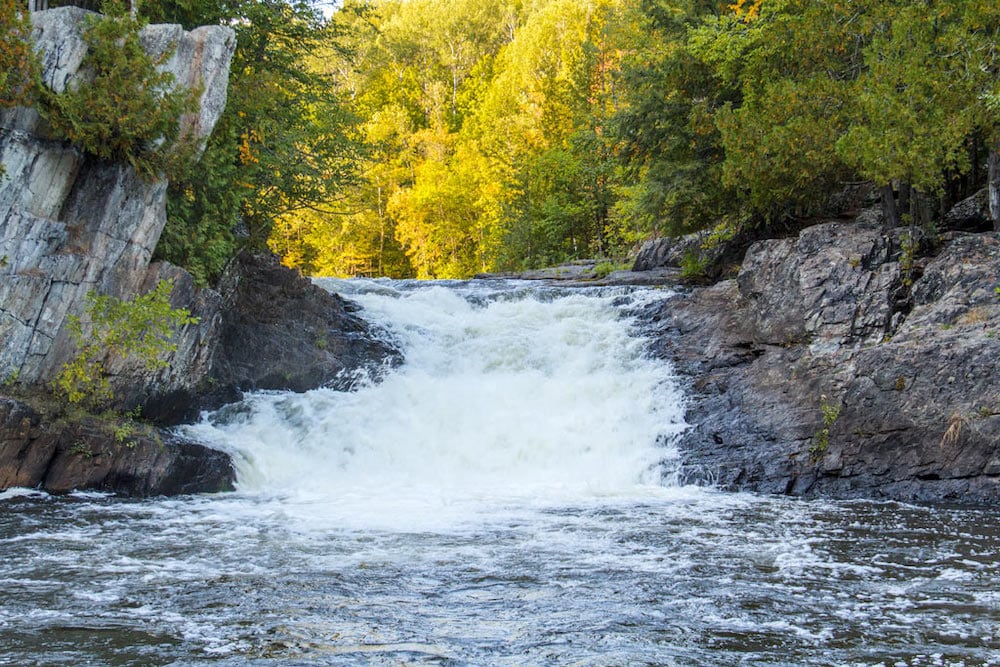 Why you should go: Gushing falls through a rocky gorge.
Near Michigan's Upper Peninsula in Florence County is the gushing LaSalle Falls. While it's not particularly tall, it's wife and rushing, and you can hear it well before you see it. Once you get past the actual waterfall, the rocky rapids continue for another half mile through the gorge.
The LaSalle Falls Trail is considered easy and falls just under two miles long. If you're sure of your footing, you can stand at the edge of the waterfall or even climb down to see the falls from the base.
Related Read: 10 Best Hikes in Wisconsin for Hitting the Trail Any Time of Year
6. Amnicon Falls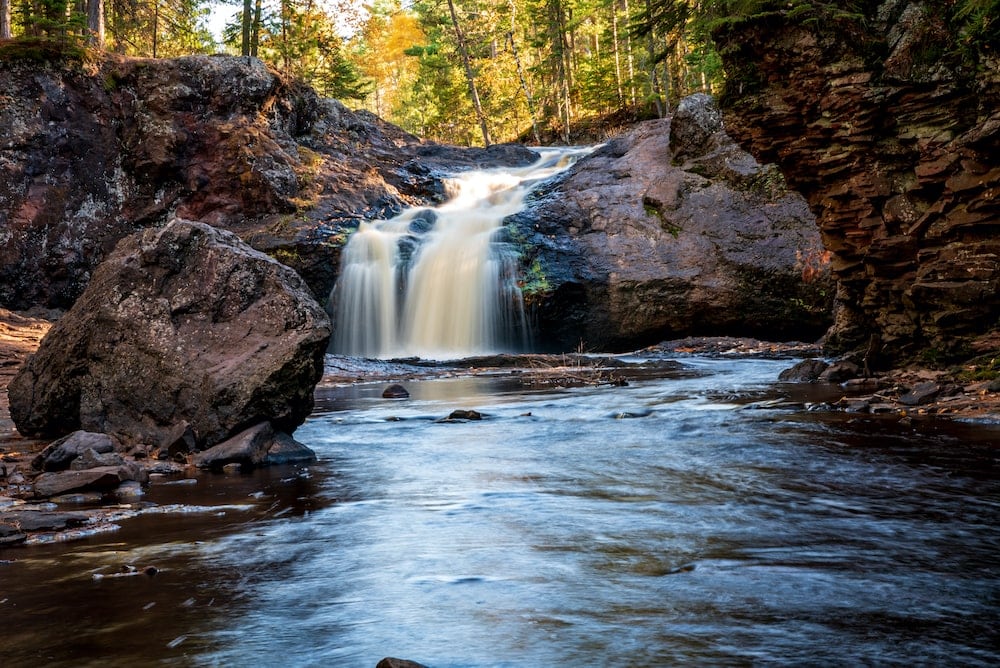 Why you should go: Don't settle for one Wisconsin waterfall when you could have four.
With a visit to Amnicon Falls, you'll enjoy not only views of one scenic waterfall, but four. The park protects the Upper and Lower Amnicon Falls as well as the Now and Then and Snake Pit falls (fun names, eh?) During your visit, be sure to check out the covered bridge just over the Lower Falls. It's a historic bridge and a very popular area for group photos.
To see the falls, take the easy 2-mile Amnicon Falls Loop.  After your hike, consider camping out, having a picnic, or even taking a swim in the water.
Related Read: The 10 Best Hiking Trails in the Wisconsin Dells
7. Long Slide Falls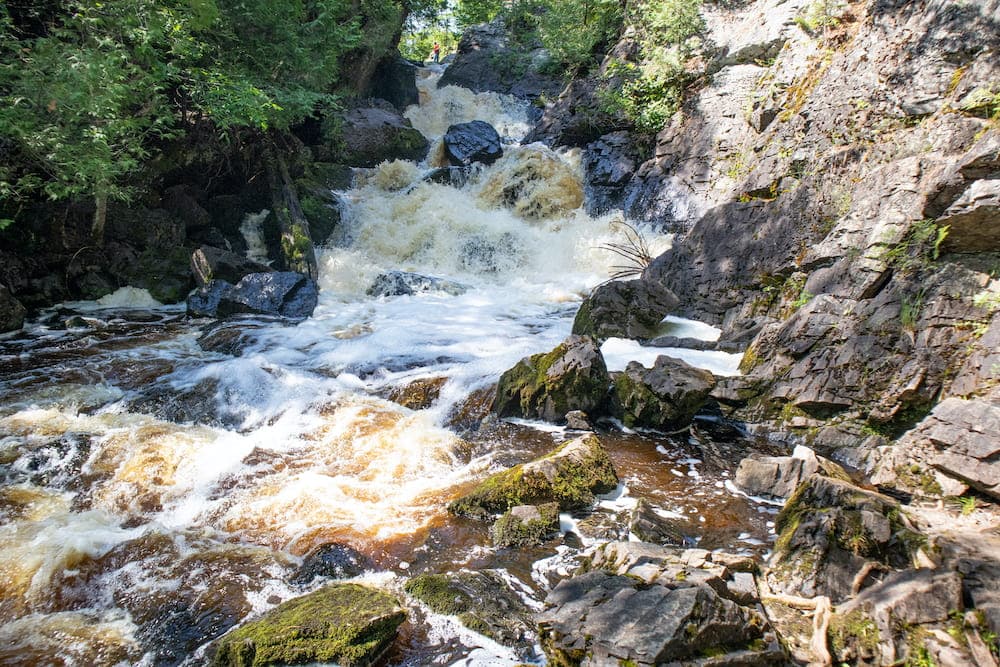 Why you should go: To see a roaring fall without making much effort.
The Long Slide Falls is one of the most impressive in Marinette County and reached via an easy quarter-mile hike in Long Slide Falls County Park. The falls rush down and over large rocky outcroppings before continuing down the peaceful Pemebonwon River.
You can walk to the top of bottom of the falls, though the trail is a bit steeper and rockier, so you'll probably want shoes with a good tread. You can also walk .5 miles downstream to the nearby Smalley Falls, a much smaller cascade also worth seeing. The entrance into the county park is $5 per car.
8. Lost Creek Falls
Why you should go: Pretty Wisconsin waterfall near the Apostle National Lakeshore in Door County.
Lost Creek Falls is the shortest on this list but offers a fantastic hike over footbridges and along a forested boardwalk trail not far from Bayfield.
Rather than cascading aggressively over rocks like most waterfalls in Wisconsin, the water here pours straight off a rock cliff and has become a popular photo spot in northern Wisconsin. Visitors can even walk behind the falls for a unique perspective.
There's another smaller waterfall downstream and the Apostle National Lakeshore is just a 30-minute drive away.
Related Read: 9 Cozy Cabins in Northern Wisconsin For Your Next Trip Up North
9. Willow Falls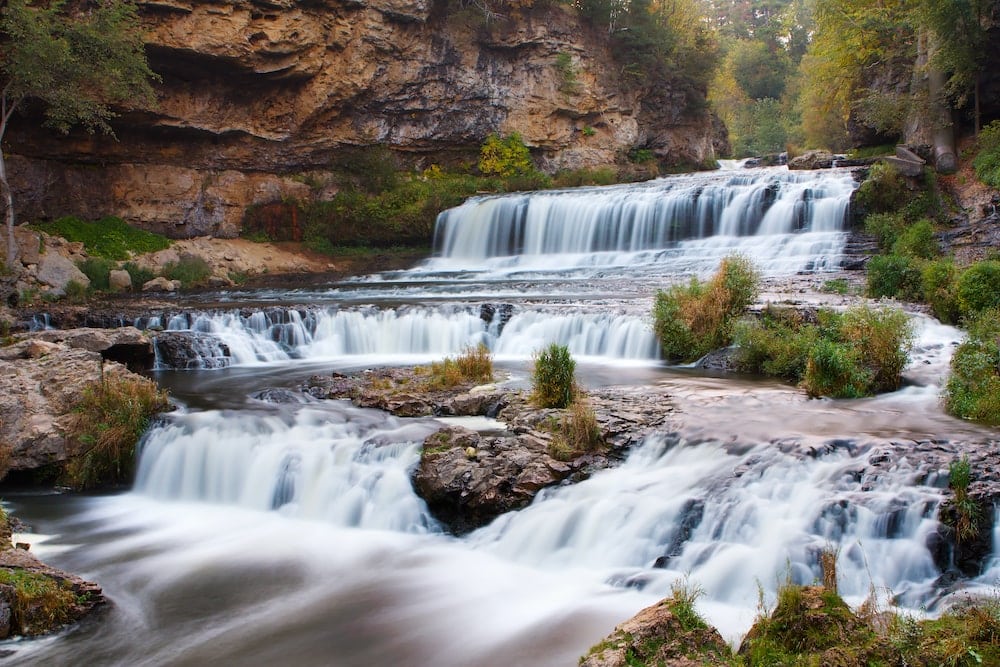 Why you should go: Short and squat, this wide waterfall impresses.
Along the Minnesota border, the 100-foot-wide Willow Falls puts on a spectacular show any time of year. In the summer, hikers can take in the view of the tiered waterfall while swimming at the waterfall's base.
In the winter, portions of the Willow Falls turn to ice, with icicles and a surrounding landscape coated in shimmering frost. It's a popular place for photography year-round, especially if you slow your shutter speed or layer a few shots to get a picture of the water flowing (like the one above).
In the park are a campground and the Little Falls Lake that's great for swimming, kayaking, and canoeing.
10. Cascade Falls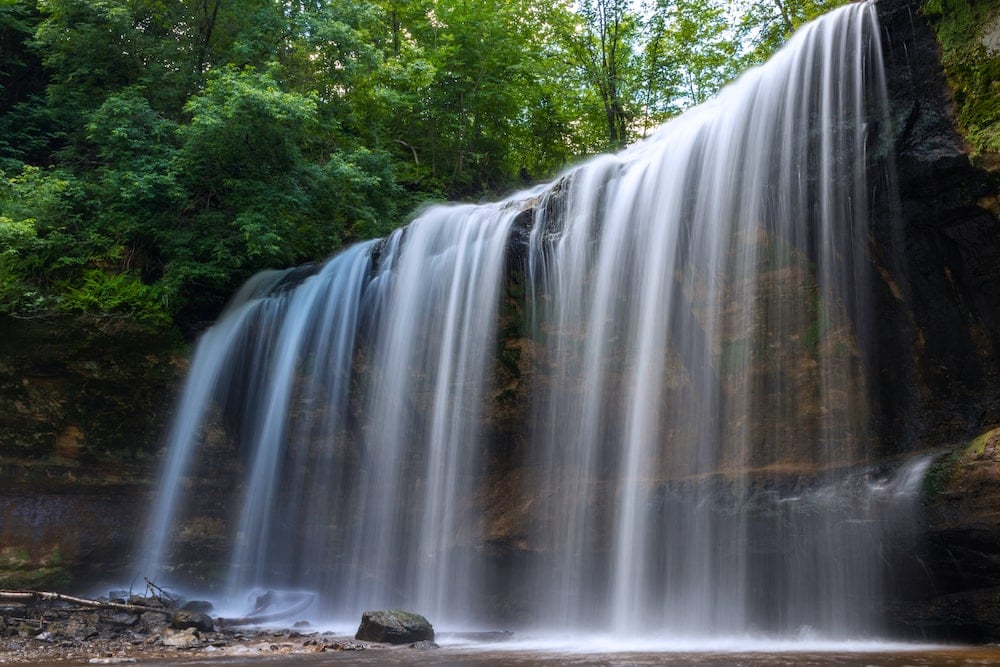 Why you should go: Stunning waterfall just steps from a charming small town.
The Cascade Falls are a natural wonder conveniently located near downtown Osceola, about an hour from Minneapolis. It's easy to reach the falls if you're already strolling through the cute town – it's just off the aptly-named off Cascade Street. It's not much of a walk to see the falls, but there are about 130 steps if you want to walk down to the base. In the evening, the water is lit up with glittering LED lights putting on a stellar show.
After checking out Cascade Falls, you can turn it into an actual hike by continuing on the nearby Eagle Bluff Trail that offers fantastic views of the Mississippi River and neighboring Minnesota.
11. Wequiock Falls
Why you should go: Rarely crowded falls with a picturesque stone bridge.
Wequiock Falls is relatively unknown among waterfalls in Wisconsin. This hidden gem is in the small Brown County Park, formed to preserved the rock formations of the Niagara Escarpment. This long and ancient geological ridge stretches for more than 450 miles from Wisconsin all the way to Niagara Falls in Canada.
Photographers particularly love these falls because of the placement of a rustic bridge in the background. This waterfall is magnificent when frozen icicles form in the winter.
Explore More in Wisconsin
Sign up for the Weekend Wanderer to join thousands of readers getting epic travel ideas every week.
---