Experience the untouched natural beauty of the Chequamegon-Nicolet National Forest while staying at some of Wisconsin's most scenic campgrounds.
The Chequamegon-Nicolet National Forest comprises two units managed as one that totals over 1.5 million acres. This massive sprawl of forest was established in 1933 and spans most of northern Wisconsin. Better known as the Northwoods, the region has long been a favorite camping destination for locals seeking an escape "Up North." More of a feeling than an exact destination, Up North for Wisconsinites, simply means time well spent in the great outdoors.
And there's no better place to disconnect Up North than with a camping trip in the Chequamegon-Nicolet National Forest. From thrilling water sports in the summer, vibrant foliage in the autumn, and snowmobiling in winter, the Northwoods has something for everyone, including all styles of camping.
Although tent camping spots are most common, RVs are permitted in some campgrounds in the National Forest, but hookups are limited. Given the frigid Wisconsin winters, many campgrounds are seasonal, typically opening in May and closing in October. Reservations with USDA Forest Service-managed sites can be made on Recreation.gov.
Without further ado, here are some of the best places to camp in the Chequamegon-Nicolet National Forest.
1. Lost Lake Recreation Area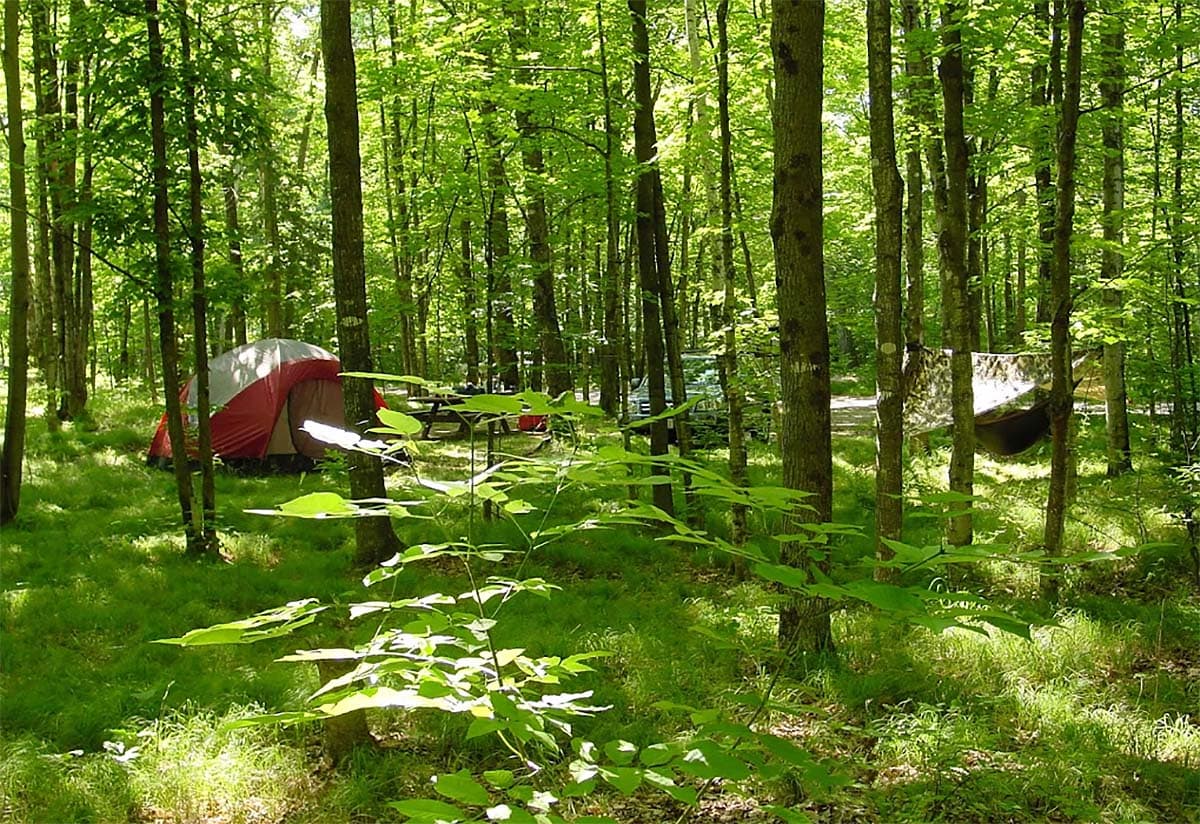 Why you should camp here: A rustic campground in a quiet corner of northeastern Wisconsin's national forest along the shores of a small lake.
Location: Long Lake
Reservations: Yes
Campsite type: Cabin, tent, RV
RV hookups: No
Escape the hustle and bustle at Lost Lake Recreation Area, situated in Wisconsin's far north, where only the tranquility of the national forest surrounds you. This rural campground sits along the shores of Lost Lake, a small body of water suitable for trout and bass fishing. There are 27 rustic campsites to choose from, a few of which sit right on the lakeshore. Each site is outfitted with camping basics such as a picnic table, fire pit, and grill grate. Campers also have access to drinking water and vault toilets.
Reservations are recommended to guarantee a spot, but first come, first serve sites are available. Only non-motorized watercraft are allowed on Lost Lake, guaranteeing peace and quiet while you camp. Some of the best things to do on Lost Lake include hiking Assessor's Nature Trail, kayaking, and ATVing. The tiny town of Florence is about 30 minutes away.
Related Read: The 10 Best Lake Camping Destinations in Wisconsin
2. Franklin Lake Recreation Area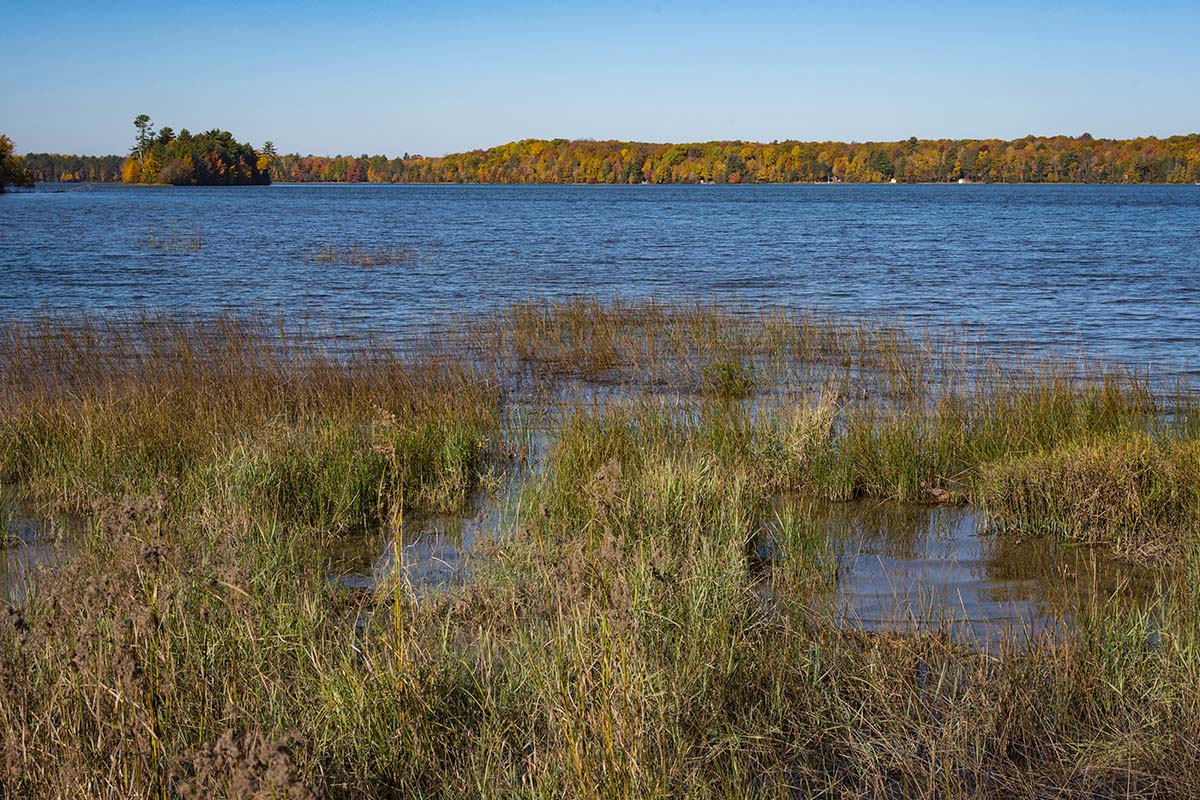 Why you should camp here: A popular place to camp in the Chequamegon-Nicolet National Forest with sites that fill up quickly in the summer.
Location: Eagle River
Reservations: Yes
Campsite type: Tent, RV
RV hookups: No
The Franklin Lake Recreation Area is an exciting place to relax, surrounded by the beauty of forest and lake views. There are 77 campsites available, some of which can accommodate RVs between 25-40 feet. Unlike many other national forest recreation areas, Franklin Lake has both flush and vault bathroom facilities. The grounds are listed on the National Register of Historic Places thanks to the historic park structures built from locally sourced stones and hand-hewn logs that date back to the 1930s.
When you're not enjoying the lake, take a stroll along the Franklin Nature Trail to witness towering trees over 400 years old. The campground is 25 minutes from Eagle River, not far from Michigan's Upper Peninsula. Nicknamed the City of Lakes, Eagle River is a classic Up North destination.
Related Read: 6 Homey Campervan Rentals in Milwaukee Perfect for Any Escape
3. Headwaters Wilderness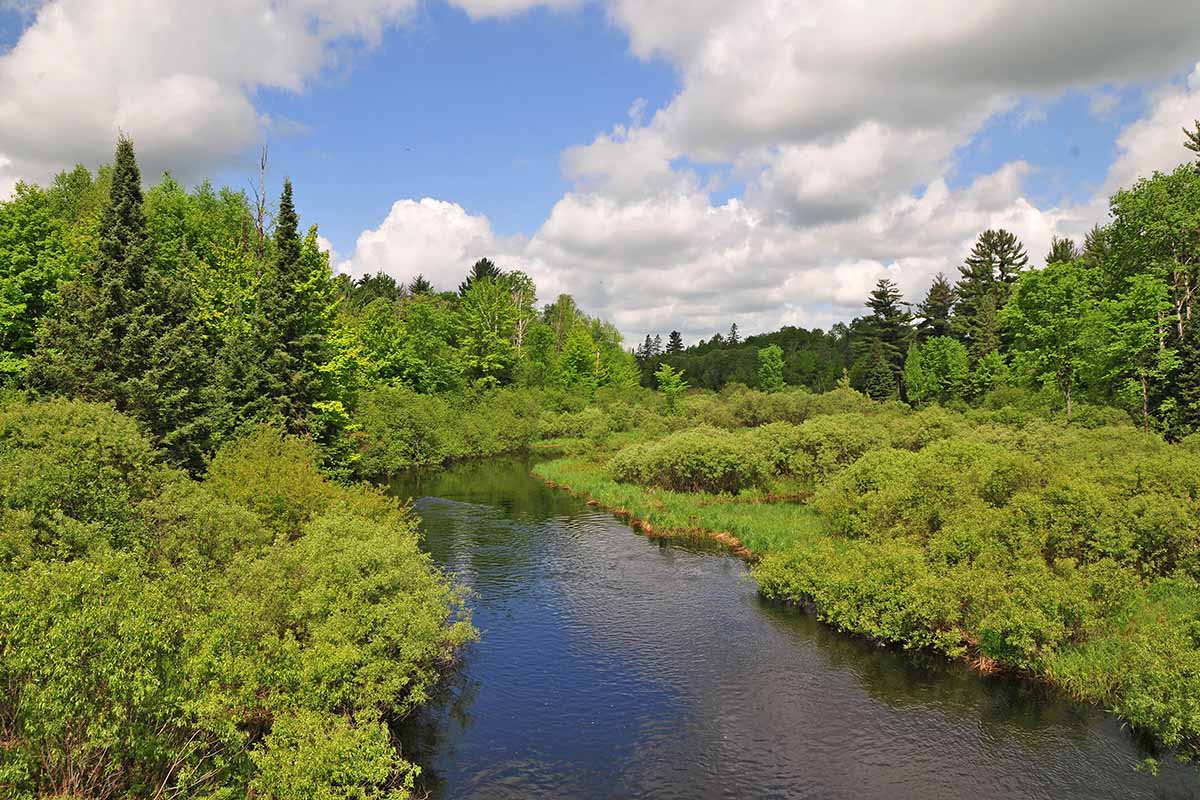 Why you should camp here: A place for off-grid backcountry camping in an area of national forest that totals more than 20,000 acres.
Location: Eagle River
Reservations: No
Campsite type: Tent
RV hookups: No
Home to the tallest and oldest trees in the Chequamegon-Nicolet National Forest, the Headwaters Wilderness is the place to experience pure solitude in nature. Motorized vehicles of any kind are prohibited in the area, protecting the surrounding beauty and preserving the peace. Backcountry camping is allowed, but campers must leave-no-trace, closely monitor campfires, and carry in drinking water. Additionally, campers must set up at least 100 feet from any trails and bodies of water.
Some of the most popular points of interest within this sprawling wilderness include Kimball Creek Falls and a small portion of the North Country National Scenic Trail that begins in Vermont and ends in North Dakota. Many come to the Headwaters to fish, hunt, hike, and birdwatch. If you're lucky, you may spot a Great Gray Owl or Black-backed Woodpecker.
Related Read: 14 Best Things to Do in Wisconsin in Every Season
4. Birch Grove Recreation Area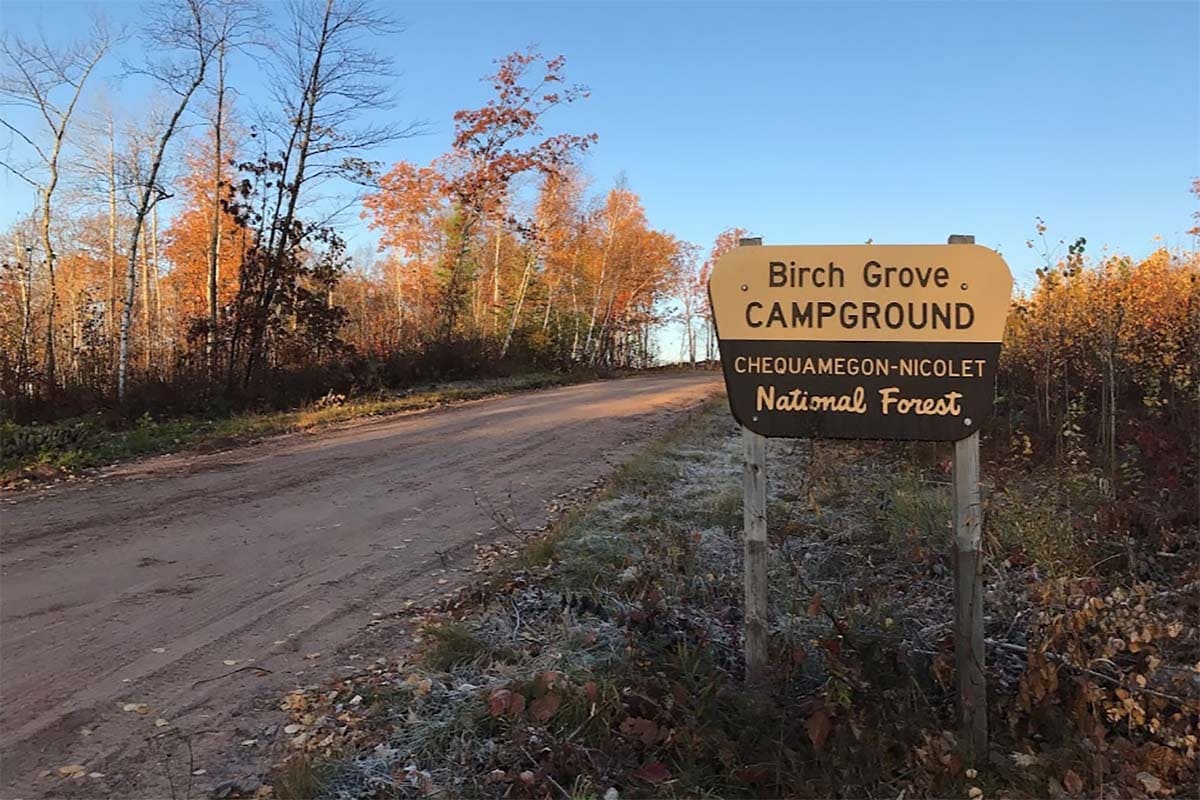 Why you should camp here: A small campground wedged between two lakes near the Apostle Islands National Lakeshore.
Location: Washburn
Reservations: No
Campsite type: Tent, RV
RV hookups: No
Although the smallest campground on this list with a total of 16 campsites, the Birch Grove Recreation Area boasts a prime location near some of the Northwoods' most unique landscapes. In the summer, it's possible to pick plump blueberries in the Moquah Barrens. Valhalla and Long Lake Recreation Areas are also nearby, offering more hiking and swimming opportunities. Additionally, the Apostle Islands National Lakeshore is just 25 minutes away, where a stretch of islands wow visitors with red sandstone caves and Lake Superior views.
Not only does Birch Grove offer a central locale to some of Wisconsin's best natural landmarks, but its small size promises a quiet weekend of camping away from the crowds. The area has a small fishing pier and boat access for those interested in casting their line for bass and northern pike.
Related Read: The Best Great Lakes Islands for a Scenic Midwest Vacation
5. Bagley Rapids Recreation Area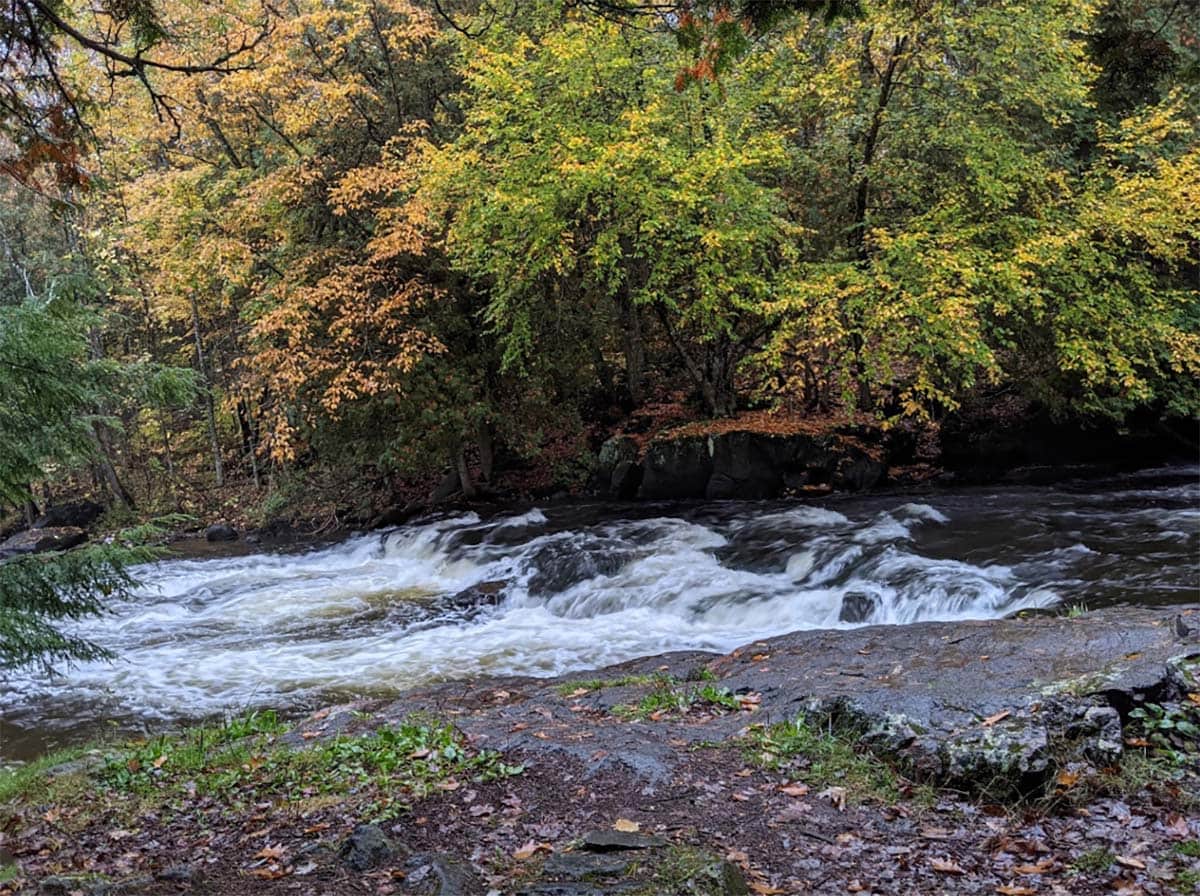 Why you should camp here: A private campground on the Oconto River an hour north of Green Bay.
Location: Mountain
Reservations: No
Campsite type: Tent
RV hookups: No
Take in the peaceful sights and sounds of the Oconto River with a camping trip to the Bagley Rapids Recreation Area. The grounds have 36 sites noted for their privacy, about half of which are situated on the river. The facilities on the Bagley Rapids campground are rustic and include a drinking water well and vault toilets.
Many visit the Oconto River to raft or tube. The river also offers excellent walleye, yellow perch, and smallmouth bass fishing. When you're not relishing the water, take a hike and climb the nearby Mountain Fire Lookout Tower. Built in 1935, it's one of the last remaining fire towers in the national forest and boasts unobstructed views 100 feet in the air. Another point of interest is Cathedral Pines, a small plot of land where old-growth hemlock and pine trees were left untouched during Wisconsin's prolific logging era.
Related Read: 11 Waterfalls in Wisconsin Not to be Missed
6. Porcupine Lake Wilderness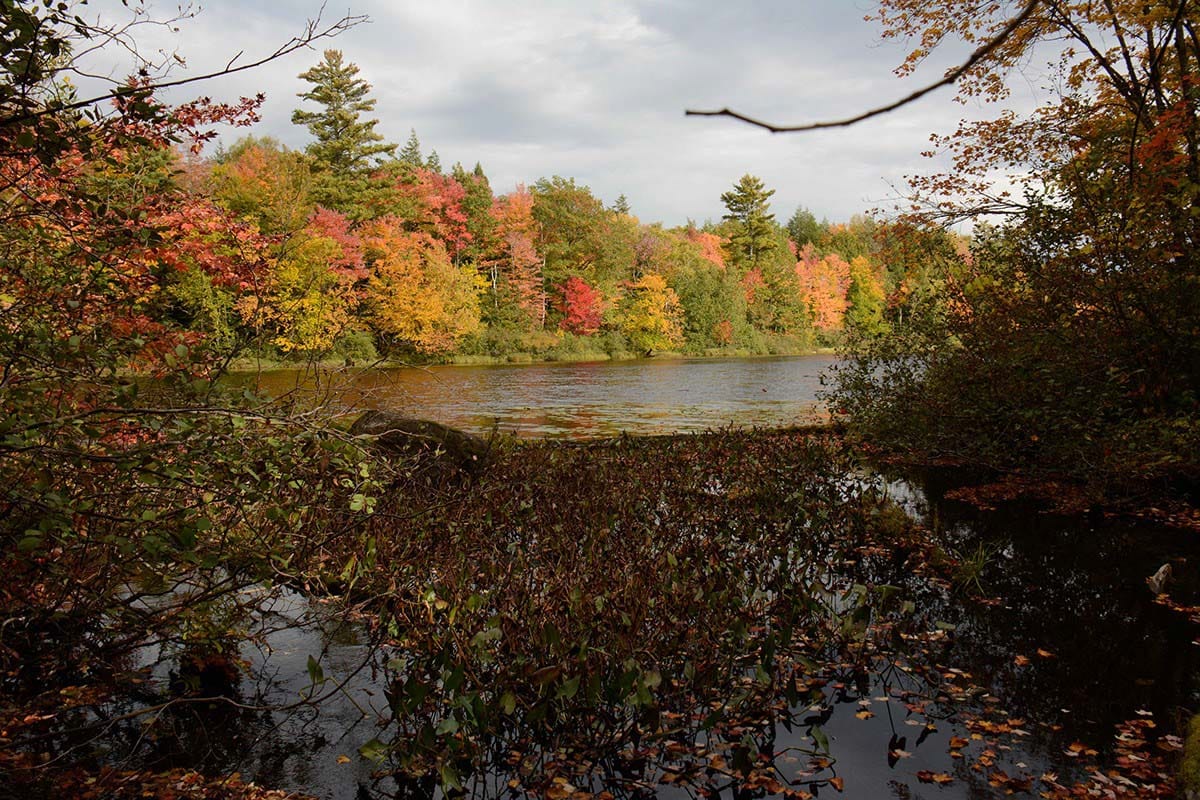 Why you should camp here: A protected wilderness near Bayfield where fee-free dispersed camping is possible.
Location: Drummond
Reservations: No
Campsite type: Tent
RV hookups: No
Characterized by hills and lakes carved by glaciers that covered the area millions of years ago, today, Porcupine Lake Wilderness is one of the best places for dispersed camping in Wisconsin. It's one of seven federally protected wilderness areas in the state and totals approximately 4,500 acres. Many opt to camp near the shores of Porcupine Lake, but campers must do so at least 100 feet away from the water.
The area is particularly popular with anglers, North Country Trail hikers, and cross-country skiers. Dispersed camping is allowed in the national forest, but campers must practice pack-it-in and pack-it-out and be respectful of the wilderness. Black bears frequent the region, so proper food storage is also a must.
7. Chippewa Campground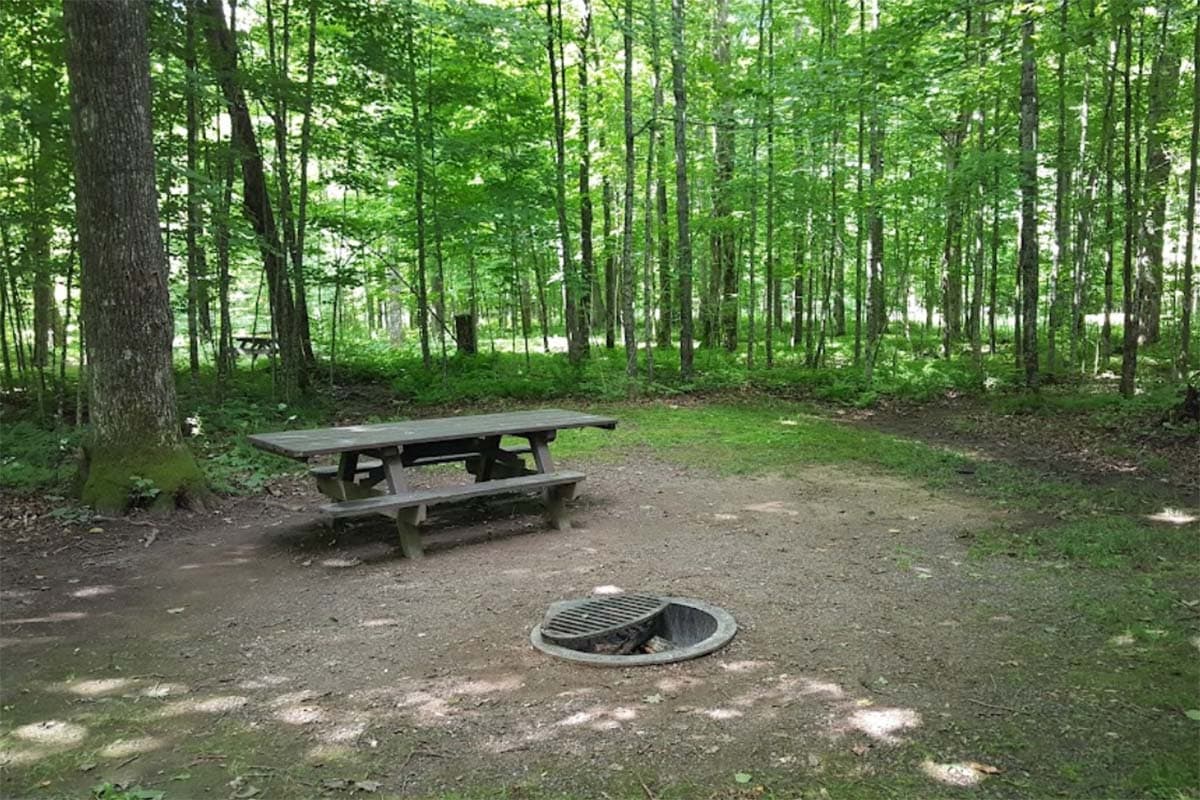 Why you should camp here: A modern family-friendly campground on the Chequamegon Waters Flowage.
Location: Medford
Reservations: Yes
Campsite type: Tent, RV
RV hookups: Yes (50 AMP)
For those seeking a more modern camping getaway to the Chequamegon-Nicolet National Forest, the Chippewa Recreation Area fits the bill. The campground facilities include flush toilets and hot showers, a rarity in many of the campgrounds managed by the National Forest Service. Electrified sites are also available, as is a dump station for registered campers visiting with an RV.
Other amenities include a playground for the kiddos, a boat ramp, and a sandy beach on the Chequamegon Waters Flowage. This massive 2,700-acre lake is a popular destination where people come to swim, boat, and fish. Campers can camp with their pups, so long as they're on a leash.
Related Read: 12 Amazing Wisconsin Glamping Rentals You'll Love
8. Wildwood Haven Resort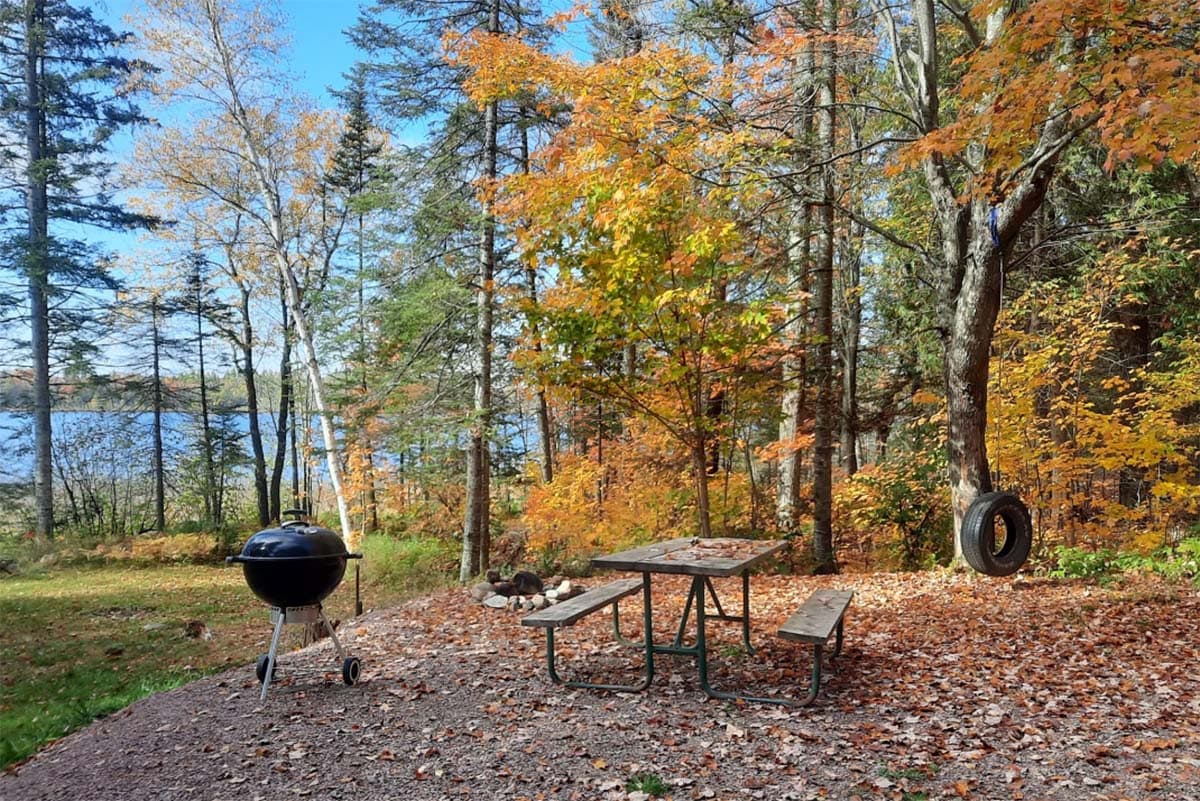 Why you should camp here: A private camping resort with RV hookups 20 minutes from Copper Falls State Park.
Location: Mellen
Reservations: Yes
Campsite type: Cabin, tent, RV
RV hookups: Yes (30 AMP)
While not technically in Chequamegon-Nicolet National Forest, Wildwood Haven Resort is located within a few miles of the National Forest boundary and offers facilities to accommodate a wide range of camping styles. Nestled on the shores of Long Lake, take your pick from RV sites with partial hookups to rustic spots suitable for tent camping. The private camping resort also has cabin rentals for those who don't want to "rough it" as much. As a privately owned campground, there are plenty of amenities available to make your stay more enjoyable, like boat rentals, volleyball pits, and a modern bathhouse.
Wildwood Haven is conveniently off ATV and snowmobile trail 13, making it easy to hop on the trails during your stay. This neck of the woods is also home to Wisconsin's breathtaking waterfall country, where it's possible to see spectacular cascades like Copper Falls, Brownstone Falls, and Potato River Falls.
Explore More in Wisconsin
Get epic travel ideas delivered to your inbox with Weekend Wanderer, our newsletter inspiring thousands of readers every week.
---