What Wisconsin lacks in towering mountains it makes up in sprawling forests, thousands of lakes, and striking rock formations.
Sandwiched between two Great Lakes, Wisconsin is home to some of the most unique natural landmarks east of the Mississippi. From the 165-foot-tall Big Manitou Falls and the coastal sandstone cliffs of Lake Superior to the towering bluffs of the Mississippi River Valley, there's a lifetime of adventures awaiting in the Badger State. And it sure doesn't hurt that Wisconsin is affordable and convenient for weekend trips no matter where you live in the Midwest.
And in celebration of Wisconsin's natural beauty, there are an impressive 66 state parks protecting and conserving the land for future generations. Whether you prefer hiking, biking, water sports, or camping, there's something for everyone scattered throughout Wisconsin's state parks, especially if you're willing to explore some of the less-visited ones. Note that you'll need to make reservations online for most of the Wisconsin state parks that have camping.
Here are the nine best state parks in Wisconsin that perfectly showcase the underrated beauty of America's Midwest.
Related Read: 14 Best Things to Do in Wisconsin in Every Season
1. Devil's Lake State Park
Why you should go: Pretty lake views, incredible bluffs, and unique rock formations an hour north of Madison.
Nearest town: Baraboo
Camping: Yes, 423 sites
There's a reason Devil's Lake State Park is considered one of Wisconsin's most beautiful natural landmarks. The 360 acres are surrounded by towering quartzite bluffs and hardwood forests that put on a fiery show in the fall. In the summer, kayakers, beachgoers, and campers come to enjoy the two large, sandy beaches with picnic areas and the hundreds of campsites spread between three campgrounds.
The hiking trails at Devil's Lake are also among the most exciting in the state. The Balanced Rock Trail offers a steep and rocky climb that rewards hikers with panoramic views of the lake and the fantastic Balanced Rock formation. From there, the East Bluff Trail continues along the ridge to the other side of the lake to views of Elephant Rock. For even more hiking, the state's beautiful Ice Age National Trail connects with trails at Devil's Lake.
Related Read: 11 Waterfalls in Wisconsin Not to be Missed
2. Copper Falls State Park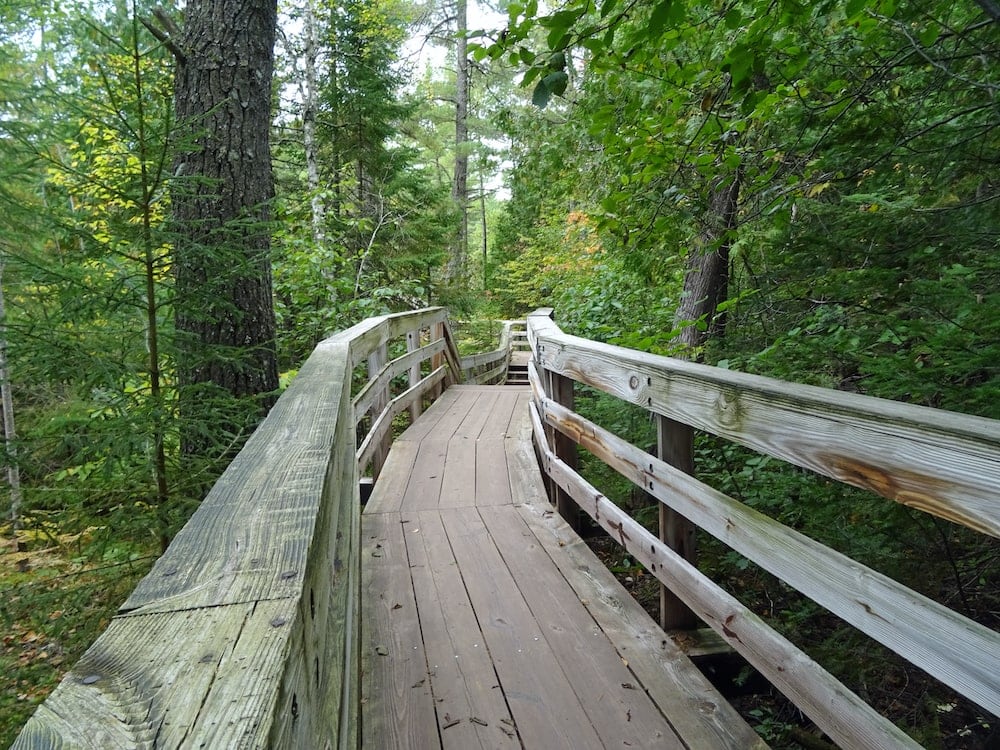 Why you should go: Chase waterfalls and hike scenic trails along ancient gorges in Wisconsin's Northwoods.
Nearest town: Mellen
Camping: Yes, 51 sites
Near Lake Superior, Copper Falls State Park offers a unique retreat into one of Wisconsin's most impressive landscapes. This particular Wisconsin state park is famous for spectacular waterfalls and rainbows display of rock sediment comprised of black lava, red granite, and shades of sandstone. Three large waterfalls named Copper Falls, Brownstone Falls, and Red Granite Falls cascade over ancient gorges formed by lava millions of years ago.
During your visit, be sure to walk the 1.7-mile Doughboy's Nature Trail. This easy loop takes visitors through the Bad River Gorge, over scenic footbridges and past observation decks for the best views of the waterfalls. You can swim, boat, and fish at Loon Lake, and there's limited camping if you want to spend some time at night in the park.
Related Read: 9 Fantastic Weekend Road Trips from Milwaukee, Wisconsin
3. Wyalusing State Park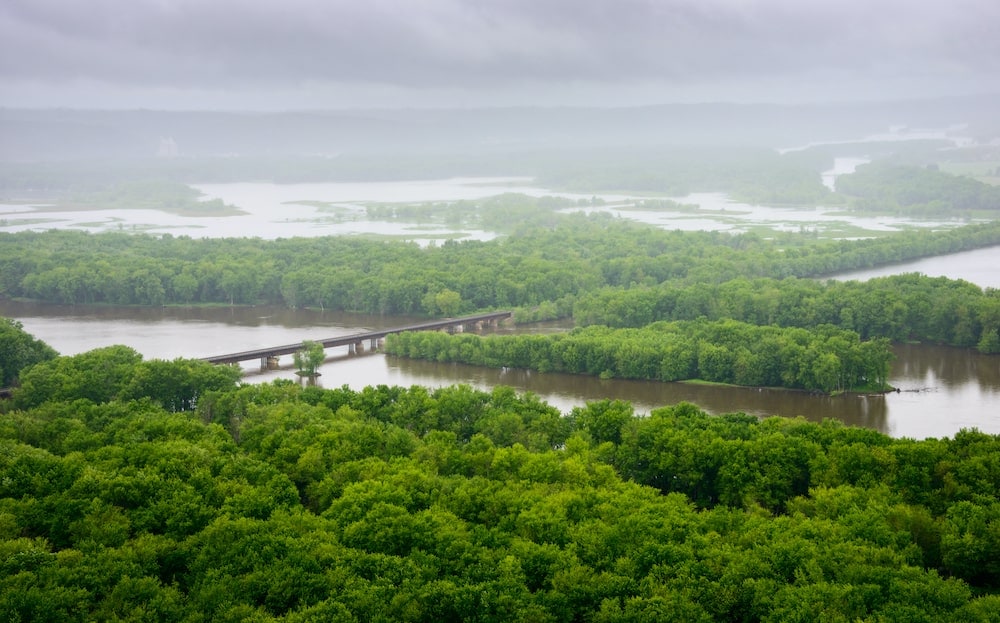 Why you should go: Underrated state park with fantastic views, wildlife, and historical hiking trails along the Mississippi River Valley.
Nearest town: Bangley
Camping: Yes, 109 sites (plus an indoor group camp)
Wyalusing State Park lays claim to being one of the state's oldest parks and boasts excellent hiking and wildlife-watching opportunities. If you're lucky, you may spot species like bald eagles, hawks, beavers, and sometimes even otters. The Sentinel Ridge Loop or Mississippi Ridge Trail offers epic vistas of the Mississippi and Wisconsin Rivers, converging from 500-foot-tall bluffs. The Sentinel Loop is also famous for the historic effigy burial mounds along the trail with some informational signage along the way.
The Bluff Trail Loop is another worthwhile trail through the famous Keyhole and Treasure Cave. For more outdoor fun, experience the backwaters of the Mississippi River with a canoe trip along the park's 6-mile canoe trail. There are also two campgrounds: the Wisconsin Ridge sites on a bluff or the Homestead Campground sites along the riverbank.
Related Read: 9 Amazing Weekend Getaways in Wisconsin
4. Peninsula State Park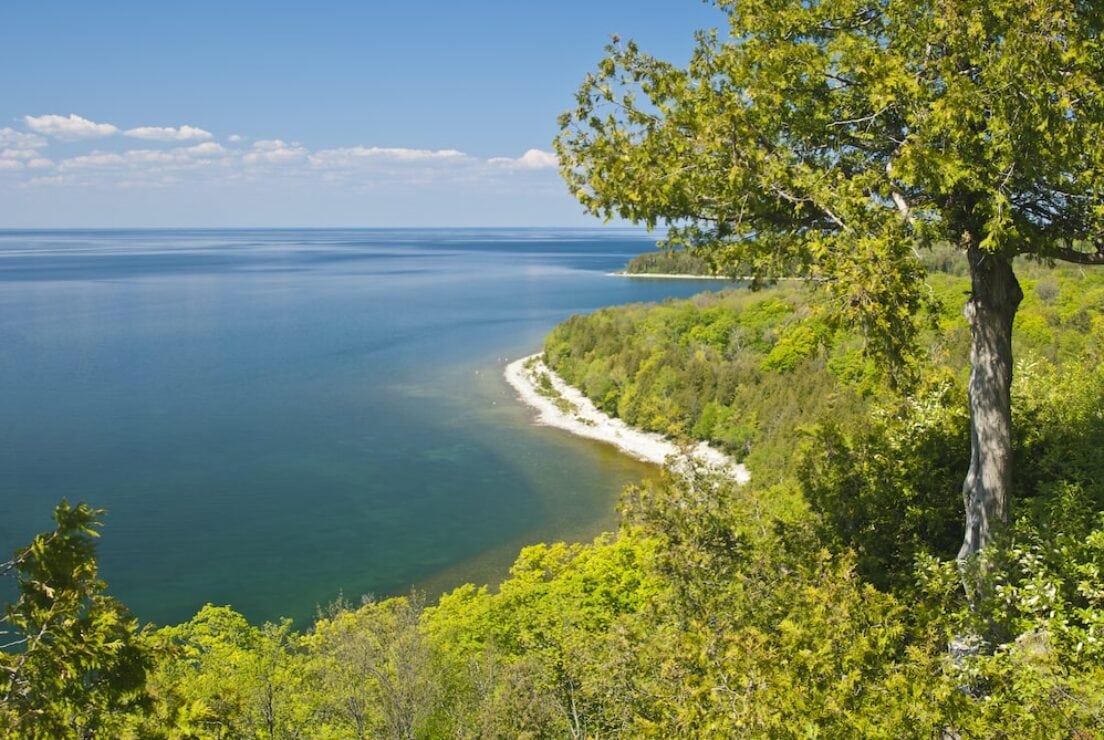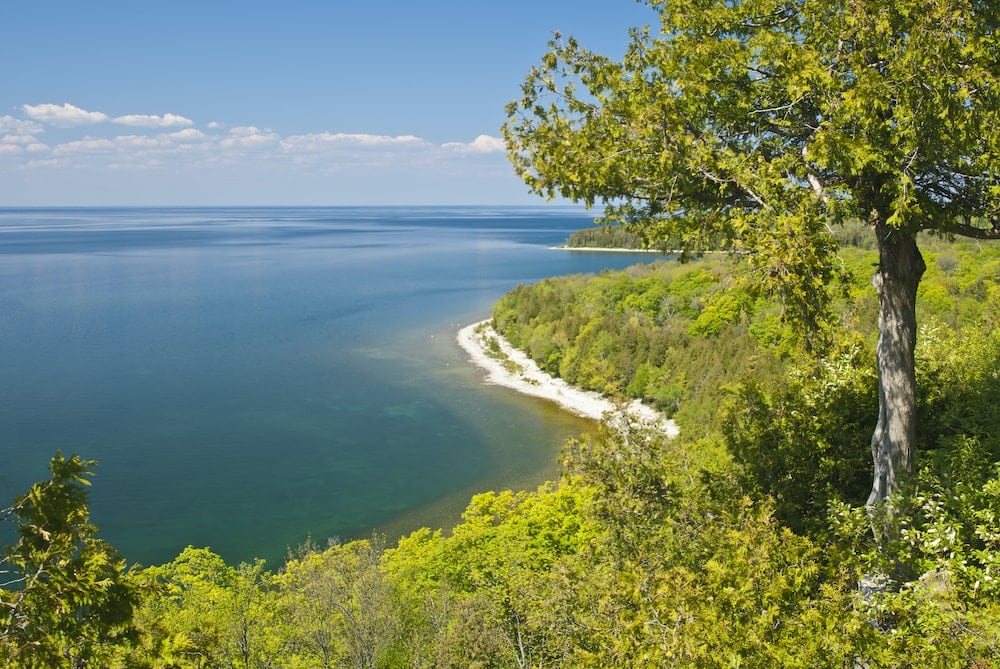 Why you should go: Camping, hiking, and water activities in world-renowned Door County.
Nearest town: Fish Creek
Camping: Yes, 450 sites
Peninsula State Park is tucked away in the charming town of Fish Creek and offers countless ways to enjoy the rocky cliffs and sandy beaches of Lake Michigan's coastline. One of the best things to do in the park is hike the Eagle Trail. While it's only two miles long, the trail passes exciting rock formations and the 60-foot-tall Eagle Observation Tower, which provides panoramic views of the lake.
If biking is more your speed, the Sunset Bike Path is a 9.6-mile loop through forest and along the shores of Green Bay. Other noteworthy things to do include picnicking on Nicolet Beach, playing 18 holes at the Peninsula State Park Golf Course, and touring the historic Eagle Bluff Lighthouse. The park also has a massive campground system with five different campgrounds.
It's no wonder Peninsula State Park is often touted as "Wisconsin's most complete park." And it certainly doesn't hurt that it's in Door County, one of the most popular areas for summer outdoor recreation in the entire Midwest. Expect some crowds on summer weekends.
Related Read: 12 Best Cabin Rentals in Door County, Wisconsin
5. Big Bay State Park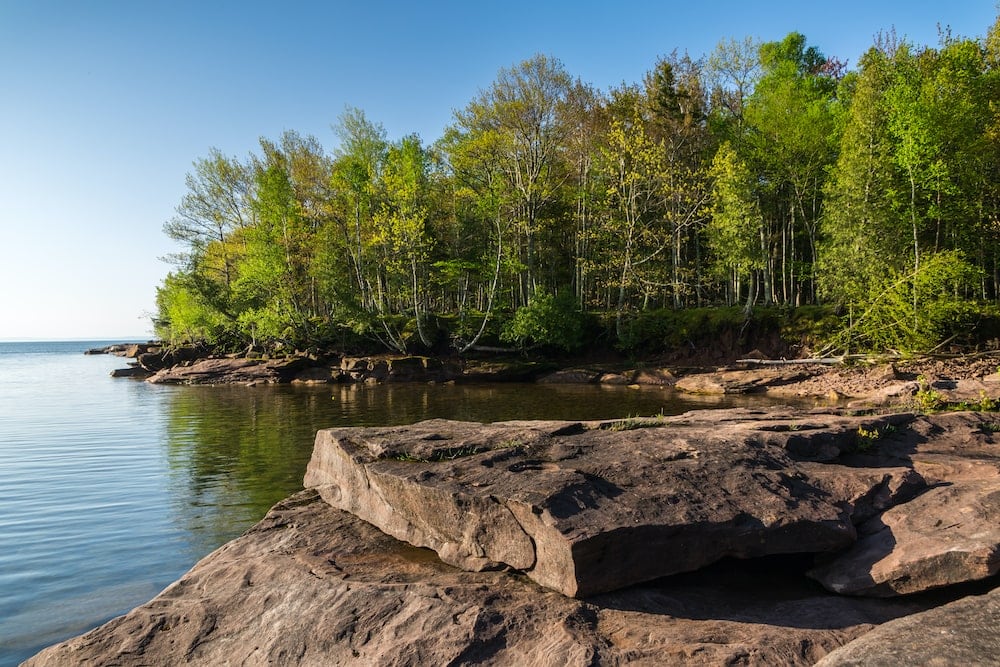 Why you should go: Striking sandstone cliffs, sea kayaking, boreal forests, and miles of hiking on one of the Apostle Islands.
Nearest town: Bayfield
Camping: Yes, 60 sites
Big Bay State Park is on the Apostle Islands' largest body of land surrounded by Lake Superior. It protects four miles of coastline and thousands of acres of forest. Some of the most popular activities in the park include kayaking, canoeing, and fishing, not only in Lake Superior, but the Big Bay Lagoon as well. Visitors can also camp out in one of the 21 modern campsites within the park boundaries, but spots fill up quickly.
While the most popular time to visit is undoubtedly the summer, the winter offers a unique experience that shouldn't be missed. When conditions are right, cross-country skiers and snowshoers can travel over the frozen surface of the water and enjoy pretty views of the island's frosted pine forest. To reach the park, you'll need to take a short ferry to Madeline Island from Bayfield, Wisconsin's gateway to the Apostle Islands National Lakeshore (which you should also visit if you have time).
Related Read: 13 Exciting Things to Do in Lake Geneva, Wisconsin
6. Kohler-Andrae State Park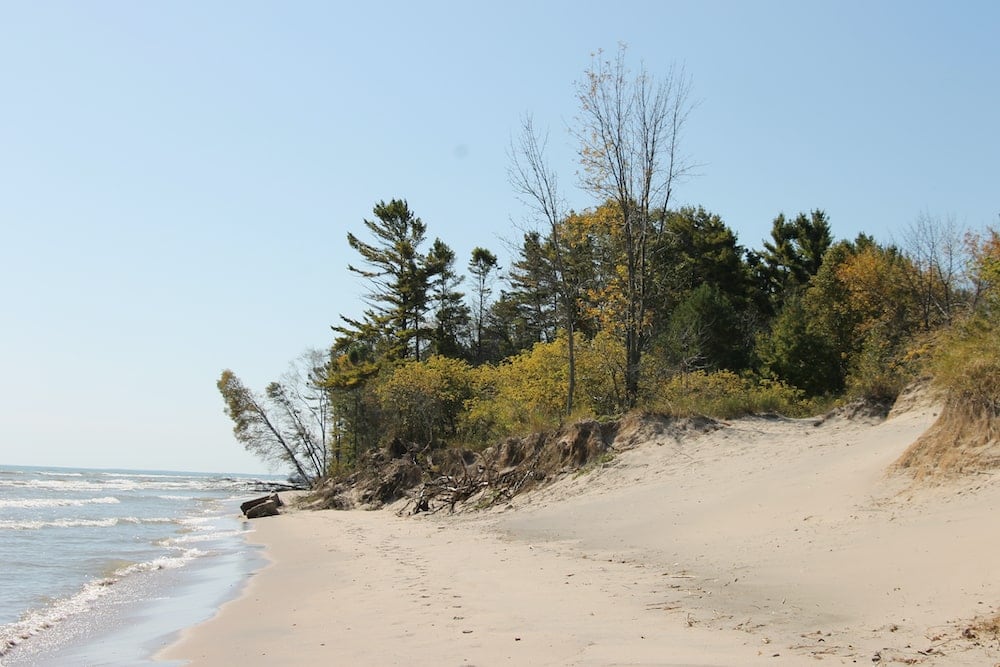 Why you should go: Two state parks converge on dunes along the swimmable shores of Lake Michigan.
Nearest town: Sheboygan
Camping: Yes, 137 sites (plus a cabin)
At Kohler-Andrae State Park, sweeping mounds of sand dunes, acres of protected wetlands, and pretty pine forests await. The best way to enjoy the area's spectacular landscape is to stroll one of the two boardwalk trails. The Creeping Juniper Nature Trail and the Dunes Cordwalk wind up and over undulating dunes while following the idyllic shore of Lake Michigan. These two trails are consistently ranked as some of the best hiking in the state simply for their unique views. It almost feels like you're on the norther California coast.
The park has traditional camping, but you can also opt for a site with an electrical hook up, family campgrounds, or even an ADA-accessible cabin. It gets busy in the summer with swimmers and sunbathers taking advantage of the warm weather, but it's also great for winter visits, with cross-country skiing permitted on most trails.
Related Read: 10 Best Hiking Trails at Devil's Lake State Park, Wisconsin
7. Rib Mountain State Park
Why you should go:  Check out the ski resort, observation tower, and panoramic views at one of Wisconsin's highest points.
Nearest town: Wausau
Camping: No
Rib Mountain State Park is a popular destination not far from the city of Wausau. Although Rib Mountain isn't technically a mountain, the quartzite hill formed more than a billion years ago reaches an impressive height of 741 feet. Locals like the moderately rated Rib Mountain Yellow Trail that doubles as a snowshoeing trail in the winter.
At the top, you can climb a 60-foot-tall observation tower and take in sweeping views of Wausau, the Wisconsin River, and the surrounding forest. Within the park is Granite Peak Ski Resort, often touted as one of the best ski hills in Wisconsin. Every fall, the resort offers scenic chairlift rides that glide through the forest's autumn colors.
Related Read: 11 Best Things to Do in Madison, Wisconsin
8. Lakeshore State Park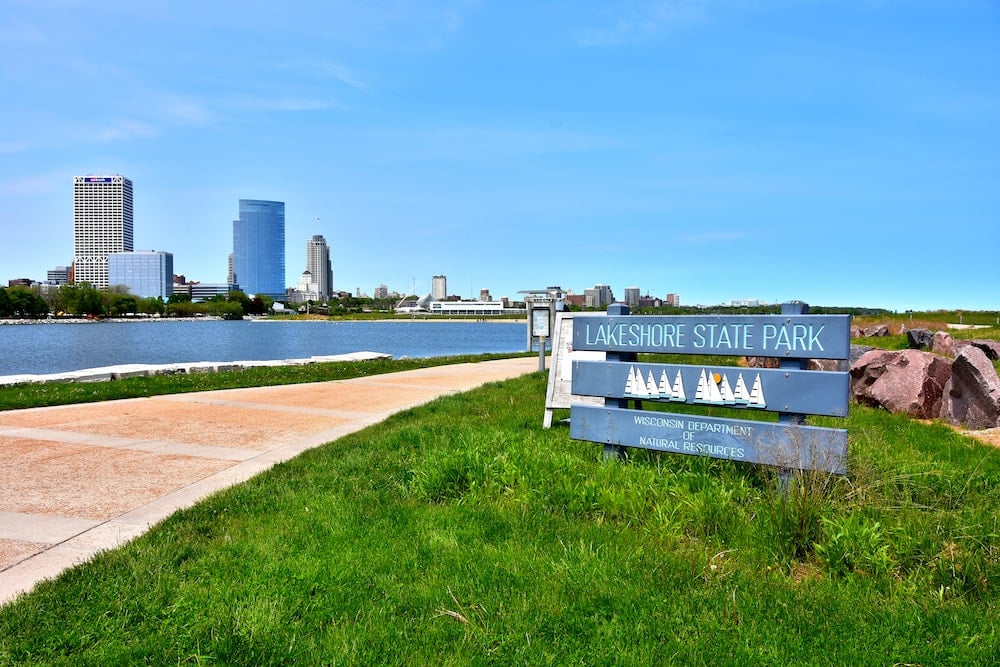 Why you should go: Urban state park on Lake Michigan with incredible city skyline views.
Nearest town: Milwaukee
Camping: No
The Lakeshore State Park is an impressive green space in downtown Milwaukee filled with prairie grasses and wildflowers. Visitors can take advantage of the park's 13 miles of paved and accessible trails, which link with the popular Hank Aaron State Trail for even more hiking and biking. The best things to do include soaking up sunshine on the beach, as well as kayaking, canoeing, and boating in Lake Michigan. They don't rent kayaks at the park, but both Lakeshore Paddle Sports Rentals and Milwaukee Kayak Company are but a short paddle away.
Some of Milwaukee's best attractions are nearby, too, like the Henry W. Maier Festival Grounds (which hosts Summerfest each year). The park is also within walking distance to Discovery World, the famous Milwaukee Art Museum, and the family-friendly Milwaukee Zoo. Lakeshore is the only Wisconsin state park within a city and one of a few that doesn't require a state park sticker or admission fee.
Related Read: The 10 Best Hiking Trails in the Wisconsin Dells
9. Pattison State Park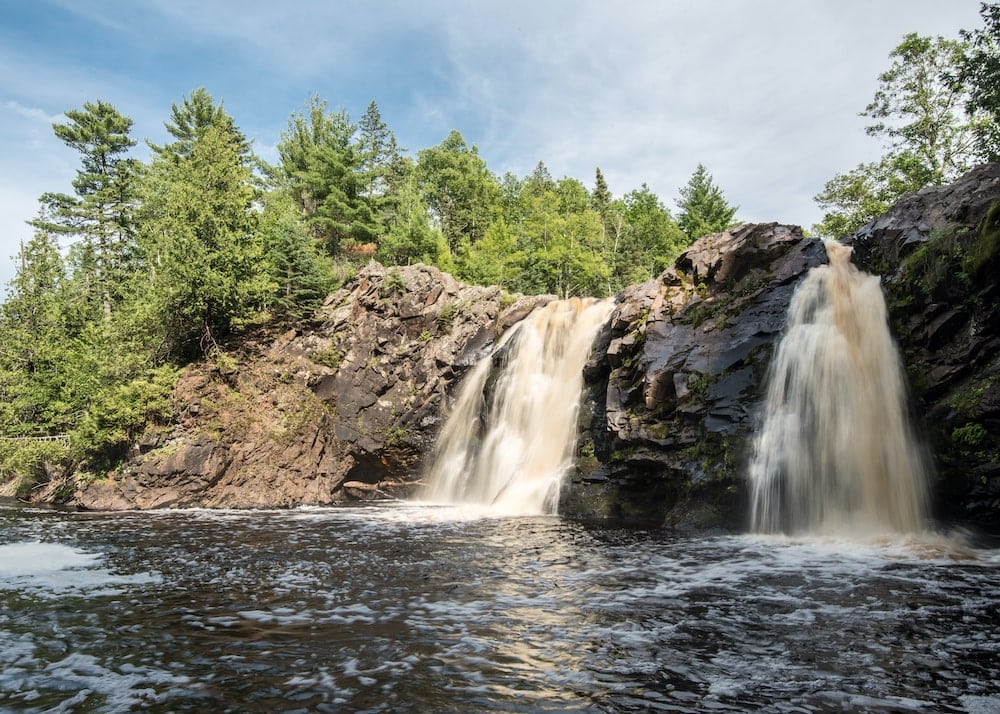 Why you should go: Camping, birdwatching, and Wisconsin's tallest waterfall.
Nearest town: Superior
Camping: Yes, 59 sites (plus 3 backpack campsites)
Pattison State Park is "Up North," an easy drive from Duluth, Minnesota and the southern shores of Lake Superior. Visitors come to indulge in camping, hiking, mountain biking, and swimming on the sandy beaches of Interfalls Lake. It's also possible to fish and hunt within designated areas with the proper license.
Pattison is best known for its epic waterfalls and is home to two of Wisconsin's tallest: Big Manitou Falls and Little Manitou Falls.You'll access both of these incredible cascades via forested hiking trails along the Black River as it makes its journey over rocky gorges.
To see even more natural beauty, head to Amnicon Falls State Park. It's just 25 minutes away and is famous for its four named waterfalls and idyllic covered bridge.
Explore More in Wisconsin
Sign up for the Weekend Wanderer to join thousands of readers getting epic travel ideas every week.
---