We research and recommend travel destinations based on a number of factors, including our writers' own experience, user reviews and more. We may earn a commission when you book or purchase through our links. See our editorial policy to learn more.
---
Who says sleeping surrounded by nature has to be rough and rugged?
From the sandy shores of the Great Lakes to the thick and luscious Northwoods, Wisconsin's unique landscape has a lot going on. Largely shaped by advancing glaciers that covered the state long ago, what's been carved and left untouched remains as a playground for outdoor lovers.
And there's no better way to experience it all than by heading off on a cabin getaway. This list shares some of the best in the state — but these ain't your run-of-the-mill cabins!
Here are 9 of the best luxury cabin rentals in Wisconsin that feature awe-inspiring interiors and deluxe amenities for the next time you're craving fresh air and open lands.
Related Read: 9 Cozy Cabins in Northern Wisconsin For Your Next Trip Up North
1. The Lake Superior Barn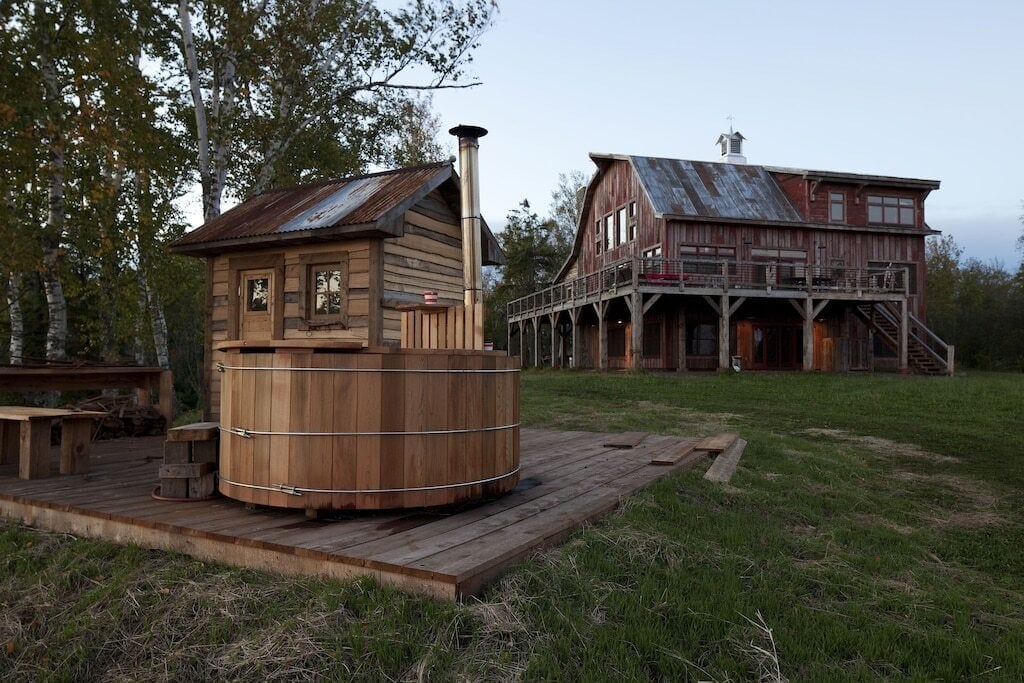 Why you should stay: A rustic barn turned into luxurious accommodation overlooking the peaceful waters of Lake Superior that's perfect for large groups.
Location: Maple
Sleeps: 20
Minimum stay: 3 nights
Rates start from: $800/night
Nothing screams Wisconsin more than a traditional red barn-turned cabin, which is what you'll find at the scenic Lake Superior Barn. Private seclusion is one of the major draws to this upscale cabin, which is situated on a 320-acre forested property feet from the sandy shores of Lake Superior. But, as if that wasn't enough nature-filled goodness, the cascading falls at Amnicon Falls State Park are just a short drive away.
The magic continues inside, where six bedrooms and the hosts' pet-friendly attitude mean the whole family can whoop it up at the barn. The most impressive features at the Lake Superior Barn are the wraparound balcony, game room, and wood-fired sauna and hot tub.
Check Availability
Follow 'em: @LakeSuperiorBarn
2. Whispering Pines Lodge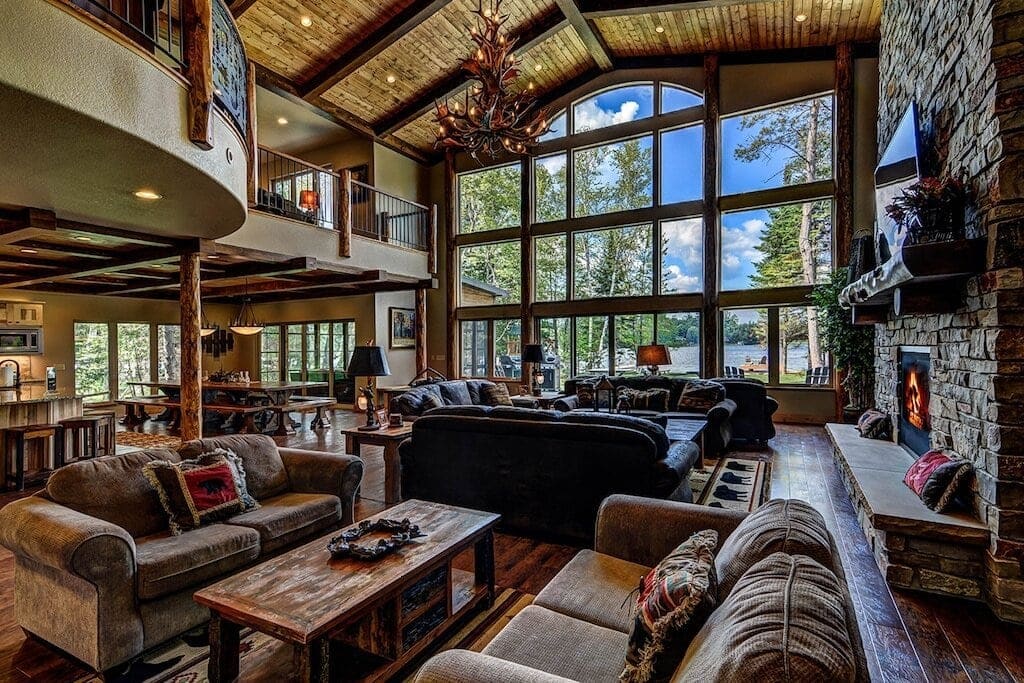 Why you should stay: A massive lakeside lodge that rivals a resort not far from Eagle River.
Location: Vilas County
Sleeps: 36
Minimum stay: 2 nights
Rates start from: $633/night
At the Whispering Pines Lodge, there are a total of nine bedrooms and 16 beds to accommodate a gaggle of guests comfortably! The home's wall of windows, towering ceilings, and open floor plan aso come together to make this already spacious home feel enormous. Aside from the bedrooms you'd expect, this grand cabin boasts a large lofted living space, a game room, and even a little theater room.
The impressive amenities continue outside. Jump into the lake from the stretch of private beach or launch your watercraft from the boat slip. The kids will appreciate the playground and sprawling yard for playtime. In the evening, a fire pit stands ready to host s'more making and family time under starlight.
Check Availability
Related Read: 11 Peacefully Secluded Cabin Rentals in Wisconsin
3. Hiawatha On Star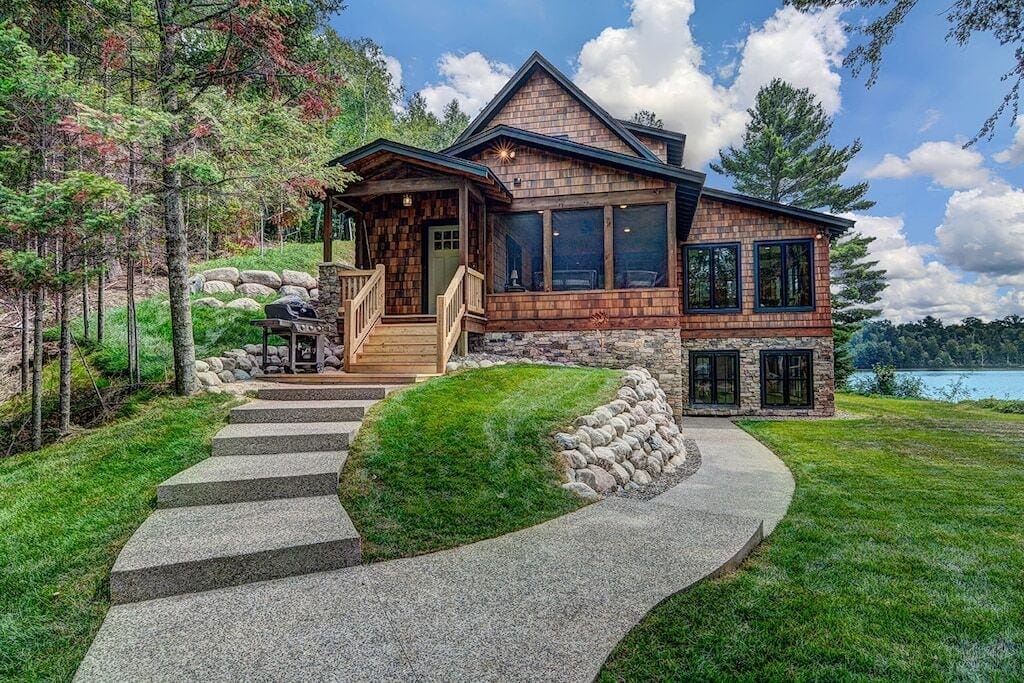 Why you should stay: A spacious storybook cabin perched on Star Lake and enveloped by the untouched wilderness of the Northern Highland State Forest.
Location: St. Germain
Sleeps: 20
Minimum stay: 2-3 nights
Rates start from: $644/night
Nestled in the far north near the Upper Peninsula's border, the Hiawatha On Star is a luxury Wisconsin cabin that's far from ordinary. The wooden shingles that make up the exterior will make you feel like you're in a fairytale. Inside, endless natural light and panoramic views of the lake stream through the home's many windows to captivate you. And thanks to the open concept floor plan, families can relish the impeccably designed kitchen and living spaces together.
Outside, the spacious wooden deck and fire circle provides another prime spot to enjoy the lake. There's even a playground that the kiddies will love. Luxurious extras include the home's electric car charger, parking for up to ten cars, and a screened-in porch.
Check Availability
Related Read: 10 Best Hiking Trails at Devil's Lake State Park, Wisconsin
4. Walnut Creek Cabin
Why you should stay: A pet-friendly cabin in a remote locale that has all you need for a relaxing escape.
Location: Ferryville
Sleeps: 6
Minimum stay: 2 nights
Rates start from: $209/night
The Walnut Creek Cabin is a well-appointed vacation rental a short drive from the beautiful Mississippi River Valley. Hiking at the nearby Sugar Creek Bluffs and Kickapoo Valley provide ample ways to pass the time. Inside the home, dreamy modern decor is lit by the glow of the iron fireplace. A covered porch is connected to the cabin, where you can lounge without fear of mosquitoes as the creek drifts peacefully by.
The A shares, "We had so much fun playing in the creek, relaxing in the hot tub, taking in the gorgeous views from the bedroom balcony, and the hummingbirds all over the property were a true delight!"
Check Availability
Related Read: 10 Relaxing Wisconsin Cabin Rentals with Hot Tubs
5. Tallkabin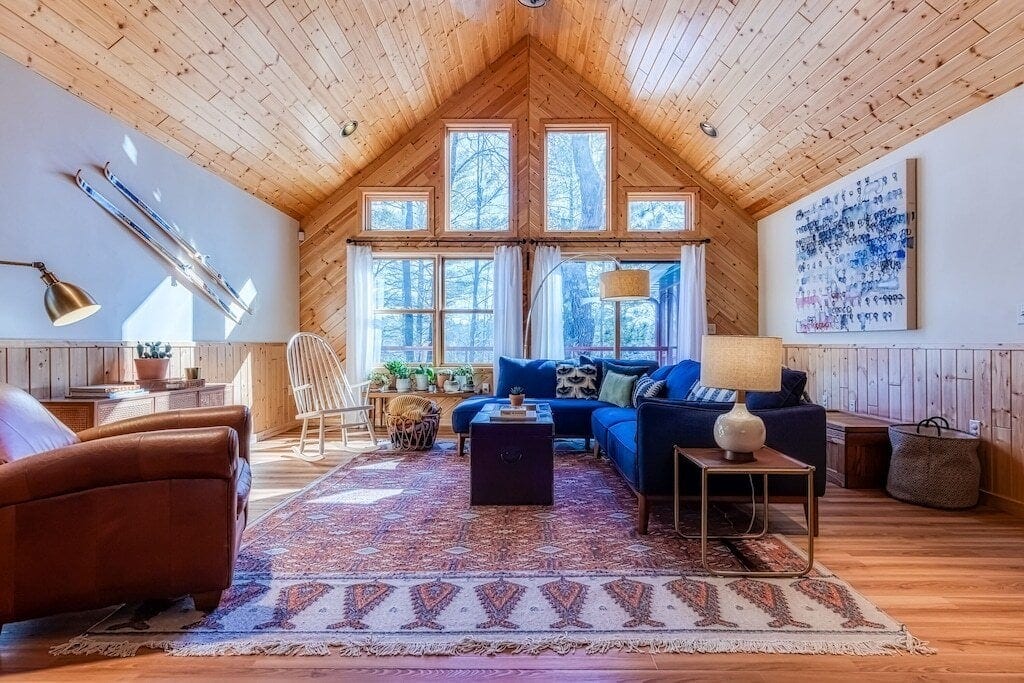 Why you should stay: A warm and inviting cabin with Scandinavian sensibility where lake living and small-town charm collide.
Location: La Follette
Sleeps: 12
Minimum stay: 3 nights
Rates start from: $175/night
Tucked along the shores of Warner Lake, Tallkabin is a spacious three-bedroom home that oozes retro style without sacrificing modern amenities. The cabin boasts floor-to-ceiling windows and an open floor plan with vaulted ceilings covered in knotty pine. Thoughtful touches fill the interior like a record player and a comprehensive vinyl, book, and board game collection.
However, the real fun begins outside, where a fire pit and private lakeshore are all yours. Those up for an adventure can rent kayaks, paddleboards, or a canoe from the hosts. After a long day at the lake, rinse off at the outdoor shower, head inside, and warm up next to the red-brick fireplace.
Check Availability
Follow 'em: @Tallkabin
6. The Hayward Haus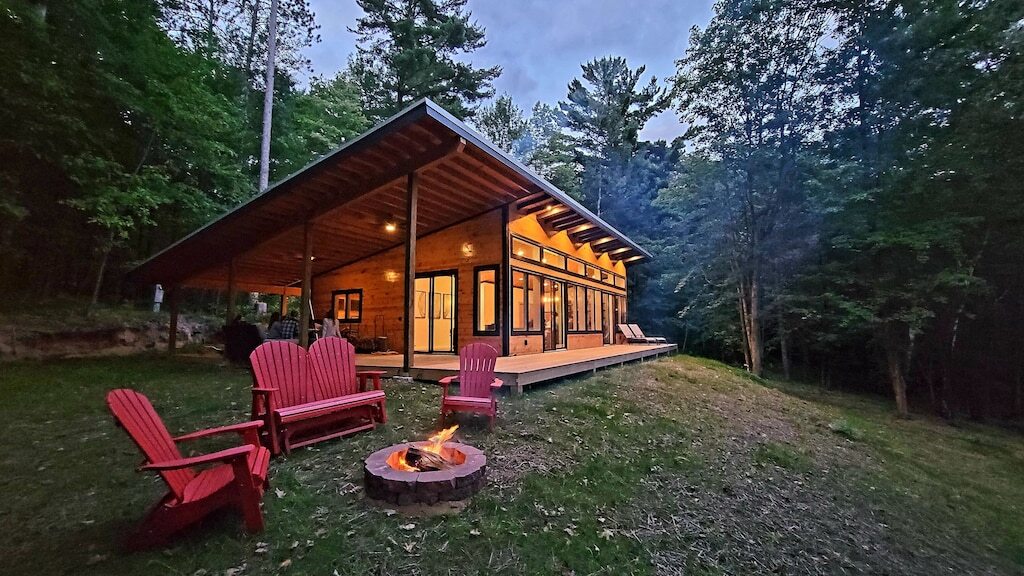 Why you should stay: A lakeside cabin in the heart of the Hayward Lakes region where hundreds of freshwater lakes mean plenty of outdoor fun.
Location: Hayward
Sleeps: 4
Minimum stay: 3 nights
Rates start from: $222/night
Escape to the popular Hayward Lakes region at The Hayward Haus, a brand new Northwoods cabin. A contemporary skillion roof and the home's many windows marry together to create an architectural wonder that's easy on the eyes. The effect of natural light pouring inside fosters a bright atmosphere that lights up the cool mid-century modern touches.
Outside, a wraparound deck with plush seating and a hammock provides a fabulous place to soak up the Upper Twin Lake views. The yard also has a fire pit with complimentary firewood and Adirondack seating. This two-bedroom is also equipped with a canoe that you can take out on the bordering lake.
Check Availability
Related Read: 10 Cozy & Comfortable Wisconsin Tiny Home Vacation Rentals
7. Private Retreat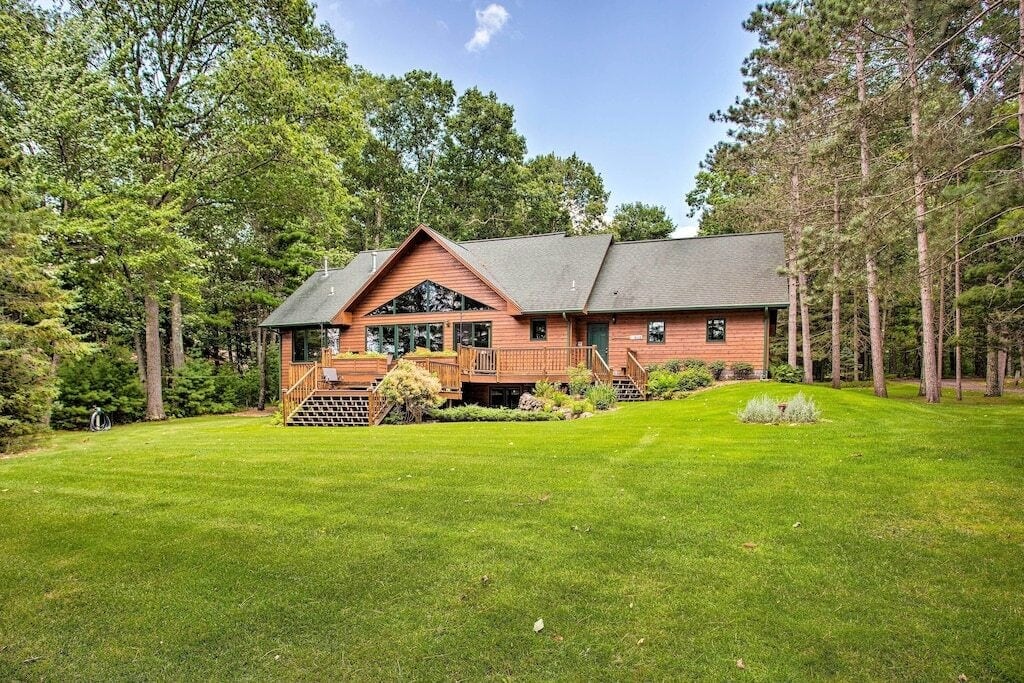 Why you should stay: An upscale cabin on Middle Eau Claire Lake in the vast Chequamegon-Nicolet National Forest.
Location: Barnes
Sleeps: 12
Minimum stay: 3 nights
Rates start from: $211/night
This private retreat just north of Hayward is a family-friendly vacation rental brimming with plenty of space and plenty to do. With two homey living rooms, a fireplace, and a hearty supply of games and books, you and the fam will stay occupied all trip! There's even a work space for those who have work to finish.
But the best part lies outside the home, where a spacious wooden deck furnished with a dining table allows for meals al fresco. Not to mention, the grassy property has a private stretch of shore with a dock, kayaks, and a water trampoline. Nearby attractions like the Forest Point Resort & Golf Course and the World's Largest Ball of Twine provide even more entertainment.
Check Availability
Related Read: The 10 Best Hiking Trails in the Wisconsin Dells
8. Porte Haven
Why you should stay: A luxurious cabin on Lake Michigan with dramatic views of islands and a lighthouse.
Location: Ellison Bay
Sleeps: 6
Minimum stay: 2-3 days
Rates start from: $670/night
You've never seen a cabin quite like Porte Haven! This Wisconsin gem is a modern three-bedroom artfully built atop a historic boathouse right on the water's edge. The remnants of the boathouse can still be witnessed in the basement, which now hosts an impressive game room complete with a pool table and darts.
Upstairs, the nautical theme continues with incredible porthole windows, both big and small. The home also features two fireplaces, a cozy screened-in porch, and an indoor steam sauna in the master bath. Colorful sunsets and glittering stars frequently put on a show for guests best taken in from the deck and fire pit. Ellison Bay is a charming coastal village where Newport State Park and the Ellison Bluff State Natural Area wow with its natural beauty.
Check Availability
Related Read: 10 Best Resorts in Wisconsin for Some Rest & Relaxation
9. The Water Villa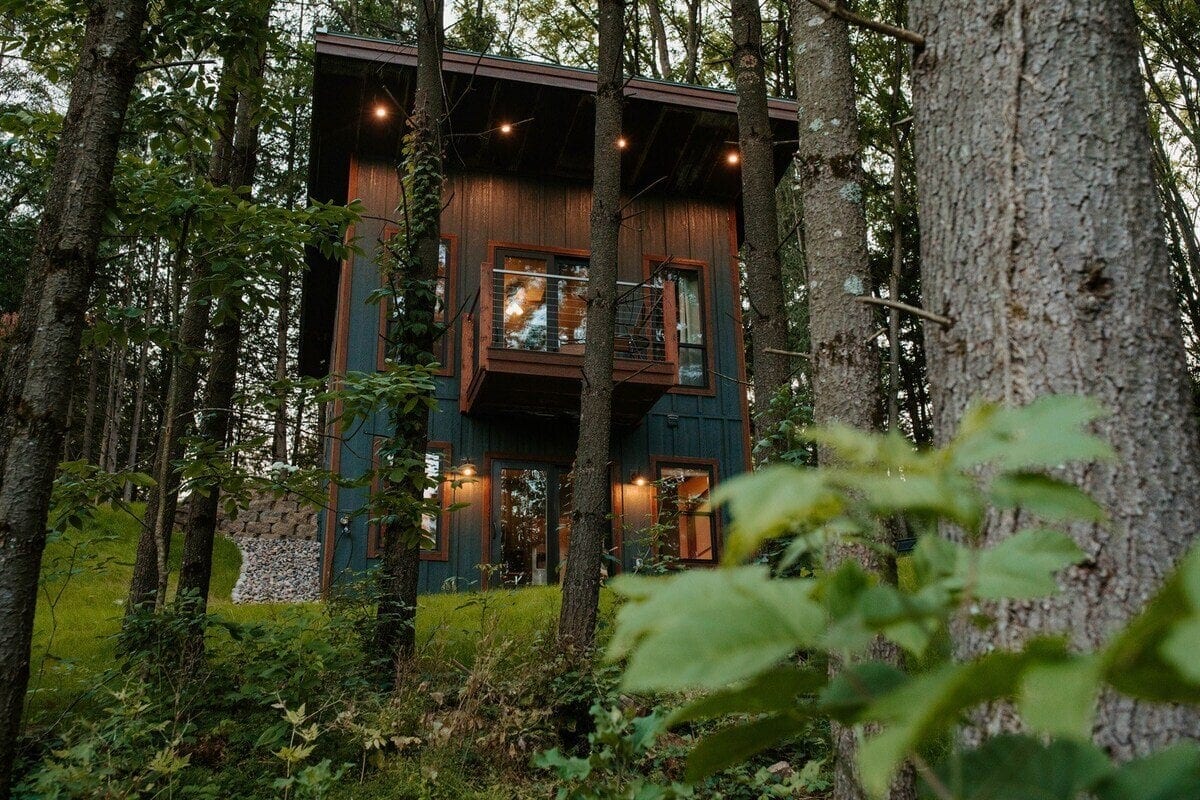 Why you should stay: A modern two-story cabin for two with views of a passing creek in southwest Wisconsin's Driftless Area.
Location: Richland Center
Sleeps: 2
Minimum stay: 2 nights
Rates start from: $183/night
The Water Villa provides a romantic staycation away immersed in the beauty of nature. This contemporary cabin has upscale elements and an eye-catching interior with expansive windows and reclaimed barn wood. From the master suite, the balcony or interior seating area with fireplace makes for two cozy spots to wind down before bed.
Anglers can walk to the Mill Creek trout stream or the nearby catch and release pond from the property. Favorite attractions like Governor Dodge State Park, The House on the Rock, and the Kickapoo Valley Reserve are also under an hour's drive away.
Check Availability
Follow 'em: @MillCreekCabinsWI
Find Your Next Wisconsin Getaway
Get epic travel ideas delivered to your inbox with Weekend Wanderer, our newsletter inspiring more than 10,000 readers every week.
---