We research, evaluate and select travel destinations based on a number of factors, including our writers' experience, user reviews and more. We may earn a commission when you book or purchase through our links. See our editorial policy to learn more.
---
As the highest peak in Oregon, Mount Hood stands tall as the state's geographic symbol of outdoor adventure.
The mountain is a picturesque monolith rising above Portland's skyline. The drive from downtown to the heart of the mountain is a mere 60 miles, making it the perfect weekend escape for residents and visitors to the largest city in the state.
It's no secret that Mount Hood is held dearly in the hearts of Oregon's outdoor enthusiasts. All throughout Oregon, you'll find the iconic pointed peak stamped on everything from number stickers to beer coasters.
Mt. Hood is home to a web of trails that's hidden under a blanket of snow during the coldest parts of the year. When the winter ice melts and the ski slopes close for the season, the myriad of hiking trails is finally unveiled, as are numerous waterfalls, creeks, and swaths of wildflowers.
There are countless ways to explore Mt. Hood and its surrounding areas, and there is so much to see. We've put together a list that highlights some of Mt. Hood's top hikes to make your adventure planning a little easier.
These trails are sure to lead you to memorable moments and postcard-worthy photos, just bee sure to pick up a Mount Hood Wilderness Map to keep yourself orientated out in the wild. Oregon is a rainy place too, so picking up a nice lightweight rain jacket isn't a bad idea if you don't already have one.
Timberline Lodge to Zigzag Overlook
View this post on Instagram
Why you should go: An impressive Mt. Hood viewpoint featuring a glacial backdrop.
Distance: 4.4 miles
Elevation Gain: 400 feet
Difficulty: Easy
Walk uphill from the iconic Timberline Lodge, underneath the silent ski lifts and past the Pacific Crest Trail in the first steps of your hike toward Zigzag Overlook. The trail takes a gentle route along the timberline that families can enjoy together for an honest-to-goodness alpine experience.
A simple canyon descent and a minor water crossing are the only obstacles during this otherwise flat and forested hike.
Your prize at the end is an astonishing view from Zigzag Outlook. From here you'll be able to take in the distant, sprawling meadows of Paradise Park as well as Zigzag Canyon, Zigzag Glacier, Illumination Rock, and all of Mt. Hood's glory.
Take a picture that's worth a thousand words at the lookout. It's a wonderful spot to spend some time high above the rest of the world.
Additional Information: Oregon Hikers
Mirror Lake Loop
View this post on Instagram
Why you should go: An easily accessible hike to a scenic lake that reflects Mt. Hood on sunny days.
Distance: 4.4 miles
Elevation Gain: 640 feet
Difficulty: Easy
This wide, well-graded trail heads off from the highway and crosses over ten different footbridges along its path toward pristine alpine waters which stunningly reflect Mt. Hood's snow-capped peak in fair weather.
The hike itself is a pleasant stroll along wide sweeping switchbacks under a canopy of pine trees. Plentiful creeks along the route make for awesome respites during the hot summer months, encouraging you to take your time.
Mirror Lake rests beneath Mt. Hood and Tom Dick and Harry Mountain. There are numerous spurs which lead directly to the lake waters, and a shoreline trail that wraps around the lake.
This is a popular hike for its postcard-worthy photo opportunities, and the area serves as a launching point to longer trails that wind toward the nearby peaks.
Additional Information: National Park Service
Tamanawas Falls
Why you should go: Fifteen stories of ice-cold water tumbling over a lava rock cliff.
Distance: 3.6 miles
Elevation Gain: 700 feet
Difficulty: Easy
Tamanawas Falls is a great family trek on the eastern side of Mt. Hood. Hikers will quickly become entrenched in a verdant, mossy forest along a well-kept trail that ambles along a creek up toward the falls.
The creek provides a series of mini waterfalls on your approach to the thunderous climax that awaits ahead. Mist-strewn and vibrating with the sound of cascading waters, the forest here feels alive with water-born spirits.
Tamanawas Falls drops a thick curtain of plummeting water over a dark lava cliff face that's edged with bright green moss wherever it dares to cling. The surrounding foliage betrays its Pacific Northwest evergreen state in the autumn when inlaid cottonwood and maple trees become vibrant with October hues.
Additional Information: Hiking Project
Trillium Lake Loop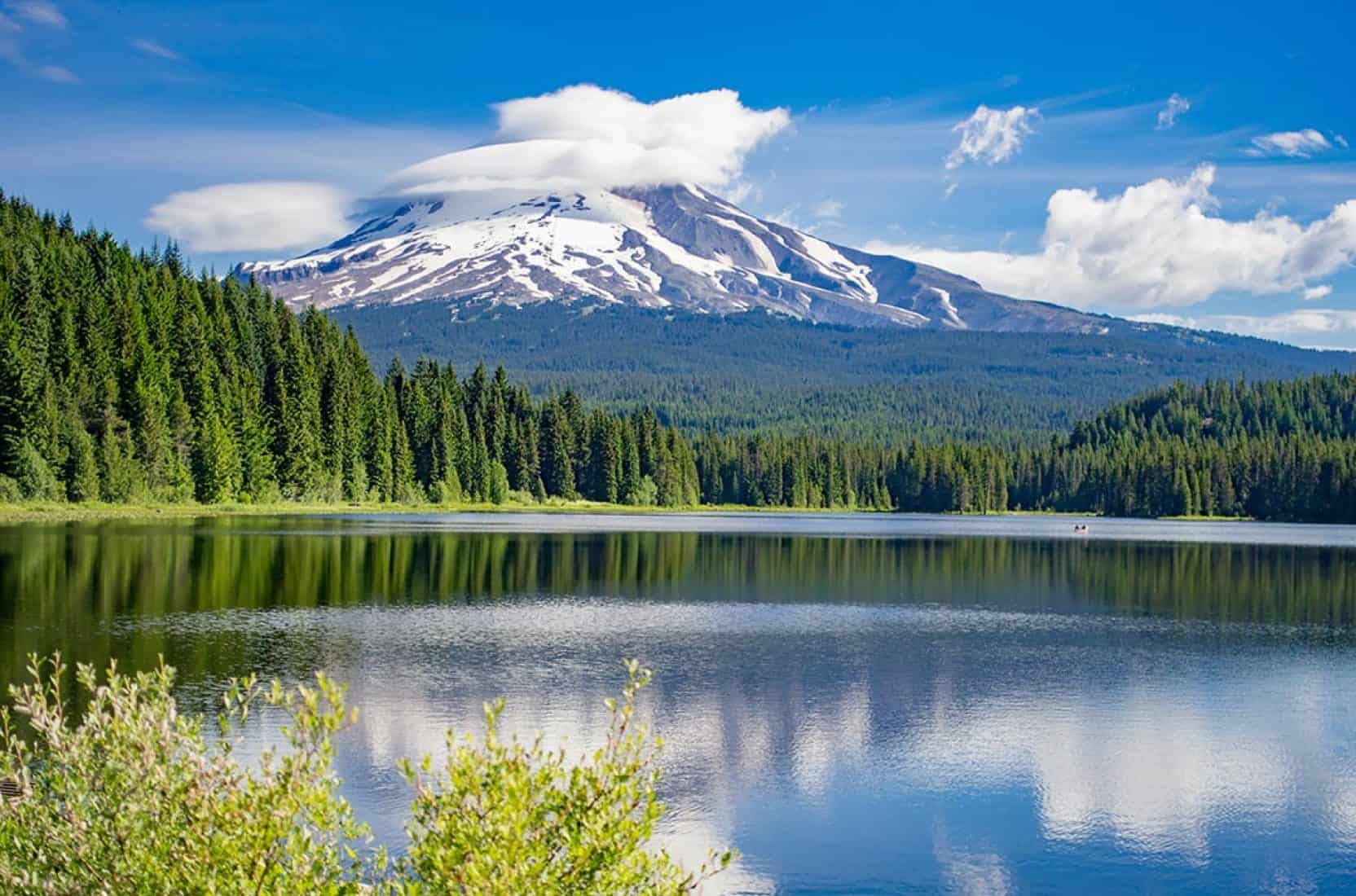 Why you should go: Wetland wildflowers and a high-mountain backdrop.
Distance: 1.9 miles
Elevation Gain: 10 feet
Difficulty: Easy
It'd be easy to spend an entire day at Trillium Lake. The astounding Mt. Hood stands high over the beautiful lake waters where swimming, fishing, and canoeing are just a few of the fun activities that can be had.
From the day use picnic area where picnic tables and restrooms reside, simply choose the direction you'd like to travel around the lake to start your hike. Trillium Lake is a popular destination all year round, even in the winter when cross country ski trails dissect the area.
Along your hiking route, you'll come across marshy wetland areas where boardwalks help to keep your feet out of the mud. Frogs, lilies, and all sorts of wonderful water-bound life are waiting to be found.
Your eyes will be continuously pulled upward toward the awesome peak of Mt. Hood, but make an effort to examine the lake every so often to catch a glimpse of alpine wildlife up close. Be sure to check out Mud Creek Dam which keeps the lake at a stable water level throughout the year.
Other amenities include a lakeside amphitheater, a boat launch, and a campground. You and your family can make for a weekend of enjoyment at Trillium Lake.
Additional Information: Hike Oregon
Umbrella Falls Loop
View this post on Instagram
Why you should go: Bring the whole family to see a couple of wonderful waterfalls.
Distance: 4.1 miles
Elevation Gain: 840 feet
Difficulty: Easy
A major confluence of outdoor enthusiasts pass through the jumble of trails here depending on the time of year as hikers, mountain bikers, and nordic skiers all share the terrain. The well-marked trails will help keep you on your intended route.
Fir, spruce, pine, and hemlock conceal you from mountain views, bringing your attention downward toward the underbrush where a vast array of ferns and wild berries make their home.
Pass under ski lifts and over footbridges on your way to the falls. Keep an eye out for mountain beaver, many of which make their burrows along the trail. You'll soon cross the junctions for Sahale Falls and Umbrella Falls where adults can relax while children play in the clear pools below the tumbling waters.
Additional Information: Oregon Hikers
Little Zigzag Falls
View this post on Instagram
Why you should go: Lush forest and stellar falls are companions to pioneer history here on the Oregon Trail.
Distance: 0.6 miles
Elevation Gain: 140 feet
Difficulty: Easy
The historic Barlow Road and Oregon Trail pass through this site right at the parking area for the Little Zigzag Falls Trail. Interpretive signage and infrastructure artifacts bring the old pioneer route to life right before your eyes.
Informed and amazed, you'll step away from the historic path as your route heads into the lush, moss-covered forest that's intersected by the babbling Little Zigzag Creek. The water is perfectly clear, originating not far upstream from Mt. Hood's glaciers.
You'll walk along the creek and under dripping tree roots that dangle from overhanging rock faces, all the while smelling and sensing what it's like to be in a damp, unadulterated Pacific Northwest forest.
The scenic waterfall is simultaneously wispy and powerful. There are viewpoints at both the bottom and top of the falls, so be sure to take a gander from both.
Additional Information: Hiking Project
Little Crater Lake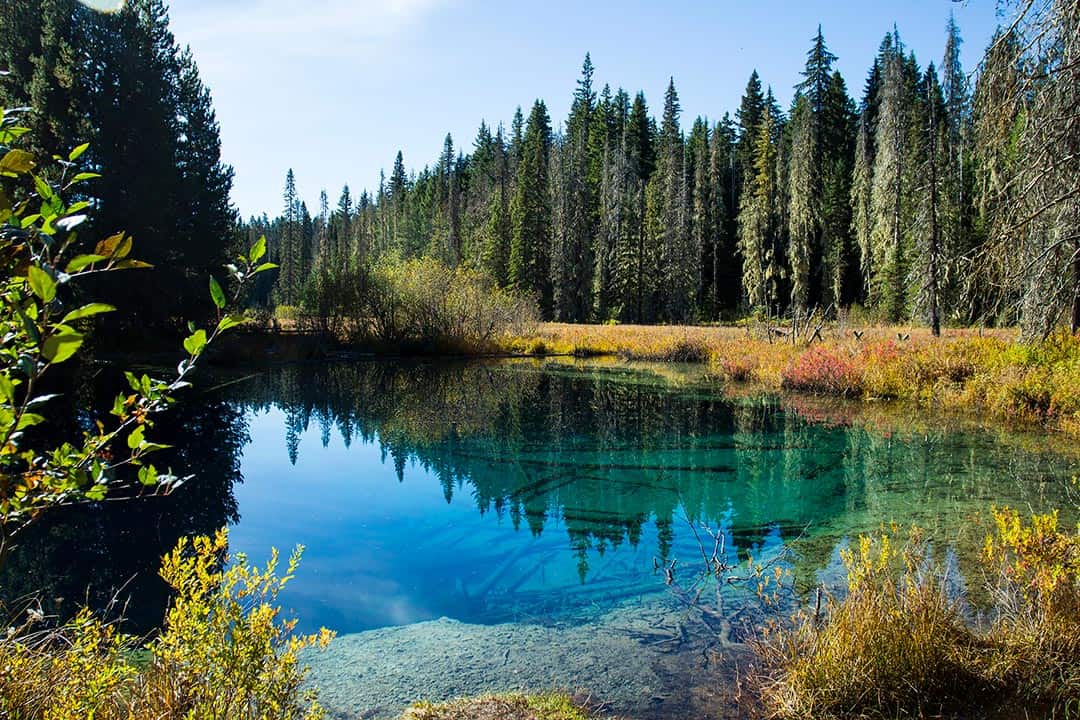 Why you should go: The gorgeous, unbelievably clear spring-fed lake is a sight you won't soon forget.
Distance: 0.4 miles
Elevation Gain: negligible
Difficulty: Easy
This hike is all about the destination. Thankfully, the trail is nothing more than a couple-hundred yards of easy walking from the parking area.
Words can't do justice to Little Crater Lake. It is an absolutely beautiful, crystal clear azure pool that's 45 feet deep and filled by an underground spring. Several trees have fallen into the pool and remain suspended in the water's depths, appearing stuck in time as you gaze down at them through the blue glass of water.
You may continue walking on the trail beyond Little Crater Lake to where the Pacific Crest Trail lies if you wish to hike further. Otherwise, a standard campground and horse campground reside nearby for anyone wishing to spend the night.
Additional Information: Oregon Hikers
Elk Meadow Trail
View this post on Instagram
Why you should go: Vast meadows on Mt. Hood's less-populated eastern slope.
Distance: 5 miles
Elevation Gain: 780 feet
Difficulty: Easy
Depending on the season, this trail makes for an excellent day hike or snowshoeing experience.
Other than one uphill section with a number of switchbacks, this is an easy and relatively flat trail toward Elk Meadows and an awe-inspiring mountain backdrop. Beware that the uphill section may be too difficult for some, however.
From season to season these meadows bring about a variety of different experiences for hikers. Bird watching and wildlife viewing are popular attractions in the meadows as fewer people are around to disturb nature's shy creatures.
Snow will blanket the area in the winter, and heavy amounts can hang around on the meadows well into the summer. Fortunately, the trail to the meadows will be clear long before all else.
The meadows are host to a number of picnic spots, campsites, and even a warming shelter. The area serves as a launchpad for further exploration for those who wish to extend their hike.
Additional Information: Outdoor Project
Ramona Falls Loop
Why you should go: A wondrous hike to an enchanting waterfall that'll put a sparkle in your eye.
Distance: 7.1 miles
Elevation Gain: 1,040 feet
Difficulty: Moderate
Prepare for sandy trails and stream crossings on your hike up toward the majestic Ramona Falls. Late summer and early autumn are the ideal seasons for hiking this world-famous trail, as you'll have to ford the rushing waters of the Sandy River, a task that can be dangerous when rain and excessive snowmelt engorge the mountain stream.
The towering peak of Mt. Hood stands above as you venture through the alpine forest past andesite cliffs on your way to the falls. Ramona Creek is a babbling beauty that'll guide your final ascent to the spectacular bridal veil of Ramona Falls amid a virescent forest cathedral.
The area surrounding the falls is well shaded from tall hemlock and lodgepole pine trees and, though this is a popular hiking destination approachable from several different trailheads, there are ample camping locations to the west of the falls.
Additional Information: Hiking Project
Eliot Moraine Hike
View this post on Instagram
Why you should go: Get up close and personal with one of Mt. Hood's glaciers.
Distance: 2.5 miles
Elevation Gain: 1,050 feet
Difficulty: Moderate
Beginning at the Cloud Cap Trailhead next to the historic Cloud Cap Inn, your journey starts at 6,000 feet and goes up from there.
The inn is now closed to visitors, though you're free to roam around the scenic grounds. This shelter once serviced mountain explorers as early as 1889 and now is only viewable from the inside during scheduled tours.
Climbing over a thousand feet over a mix of loose sand, volcanic rock, and forest duff will put the soles of your shoes to the test, but the striking scenery of Mt. Hood's largest glacier acts as an encouraging motivator.
En route to the glacier you'll pass the Cooper Spur shelter, a safe place built of stone to protect climbers and skiers from the harsh elements.
At your destination resides a river of frozen water known as the Eliot Glacier. The immense pile of ice is simply mesmerizing to behold. This is as pure a mountain hike as you'll find in all of Oregon.
Additional Information: Oregon Hikers
McNeil Point Lollipop Loop
View this post on Instagram
Why you should go: Get a glimpse of every aspect of the High Cascade experience.
Distance: 8.7 miles
Elevation Gain: 2,820 feet
Difficulty: Moderate
Virtually everything mentioned in this article thus far can be seen or experienced along the McNeal Point Lollipop Loop. From mountain views to high mountain headwaters and rich greenery, this trail has a taste of all that makes the High Cascades a hiker's paradise.
This full mountain hiking experience includes lush landscape well below the timberline where the trail becomes crowded with huckleberry and flowering rhododendrons during the height of summer. It also crosses high elevation stretches that remain snow-covered well into the summer months.
On the way to McNeil Point, there are unforgettable vistas of Mt. Hood and the Washington volcanoes of Mt. Adams, Mt. Saint Helens, and Mt. Rainier.
At McNeil Point itself, you can even see the ocean to the west and the desert to the east on a crystal clear day. Here, a three-sided shelter with a fireplace and chimney resides in memory of Fred McNeil, a former writer for the Oregon Journal.
Additional Information: Oregon Hikers
Lolo Pass to Bald Mountain
View this post on Instagram
Why you should go: Escape the crowds and grab awesome views from an abandoned fire lookout.
Distance: 6.6 miles
Elevation Gain: 1,400 feet
Difficulty: Moderate
The summit of Bald Mountain is but a hop, skip, and a jump away from the Lolo Pass Trailhead as you make your way along the popular Pacific Crest Trail and Timberline Trail before jumping off onto the rarely-visited Bald Mountain Trail.
You won't have to travel far from popular stretches of trail to find some secluded mountaintop serenity. Few travel toward Bald Mountain, but those who do are rewarded with a panoramic view of the Cascades and a peaceful spot to appreciate Mt. Hood's magnificence.
Hikers passing below your rocky outcrop will likely be unaware of your location. Mt. Hood and Mt. Adams are the stars of the scenery, but Bald Mountain's own meadows steal the show in mid summer when its wildflowers are on full display.
Additional Information: Oregon Hikers
Timberline Lodge to Paradise Park
View this post on Instagram
Why you should go: Visit what is arguably the most beautiful alpine scenery on all of Mt. Hood.
Distance: 12.1 miles
Elevation Gain: 2,300 feet
Difficulty: Challenging
Though the trek from Timberline Lodge to Paradise Park can feel arduous at times, it's the easiest way to access the area that's renowned for its amazing high country views and summertime wildflowers.
Timberline Lodge is famous as a winter ski haven and a summer hiking basecamp. Lodging and delicious food can serve as both a celebratory send-off and a welcome respite once you're done with the trail.
From the lodge, the hike will take you past numerous waterfalls and creeks as you descend into Little Zigzag Canyon, waltz through alpine forest, and ascend to the breathtaking Paradise Park.
Sloped meadows fill with a rainbow of flowers during summer in Paradise Park, but unique skyline views and the imposing presence of Mt. Hood remain year-round and never dissapoint.
A primary attraction of Paradise Park is the numerous trails that wrap around the park and give access to higher elevation climbing. Camping spots are available in the area, and more of the mountain is ready to be explored from the park for those who dare.
Additional Information: Oregon Hikers
Whether you're spending the weekend at Timberline Lodge or backpacking through the backcountry, Oregon's Mt. Hood is rife with trails to explore and sights to see. Check out our in-depth guide to the Mount Hood's Timberline Trail for yet another epic adventure.
Explore More of Oregon
Sign up for our free email to join 50,000+ readers getting epic travel, hiking, and camping ideas every month.
---