You know what they say — it's not the destination that matters, but the journey. And these incredible scenic drives in Wisconsin make that point loud and clear.
Wisconsin may be most famous for delicious cheese and refreshing craft beer, but that's not all there is to love about America's Dairyland. The state also boasts a natural landscape characterized by sprawling forests, two Great Lakes, and unique geological formations like towering bluffs and craggly caves at Apostle Lakeshore National Monument.
In recognition of the pristine wilderness within its borders, Wisconsin has designated Rustic Roads and Scenic Byways that make it easy for curious travelers to explore its picturesque countryside. Not sure which is for you? Check out these 10 scenic drives in Wisconsin that showcase the very best natural attractions in Wisconsin.
Related read: 10 Amazing Small Towns in Wisconsin for a Charming Escape
1. Lake Michigan Circle Tour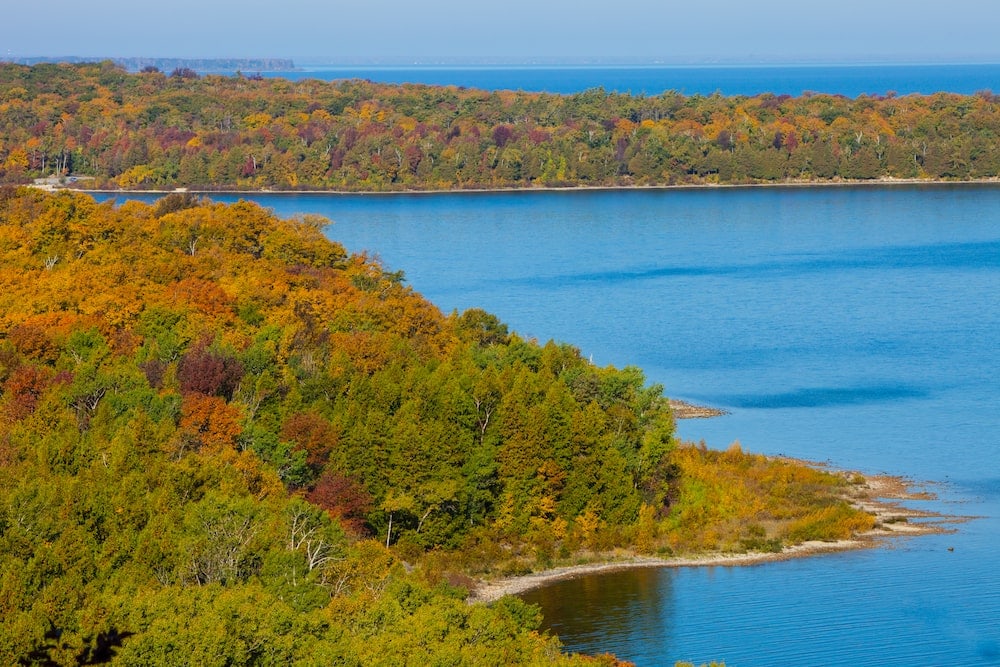 Why you should go: The ultimate great lakes drive when you have a few days to spare.
Distance: +/- 1,100 miles
Drive time without stops: 18 hours, 30 mins
The Lake Michigan Circle Tour follows the shoreline of Lake Michigan, totaling about 1,100 miles. The tour is usually divided into northern and southern portions and takes travelers through charming coastal destinations in Wisconsin, Michigan, and Illinois. Beautiful sights include sand dunes, historic lighthouses, and coastal bluffs. Door County is especially beautiful.
Besides Milwaukee, some of the best Wisconsin stops along this drive include the charming small town of Port Washington, Door County's Sturgeon Bay, and the home of the Packers in Green Bay. More beachy and nature-focused attractions on this route include Harrington Beach State Park and White Dunes State Park.
This scenic drive is part of the Great Lakes Circle Tours, a set of designated routes around the shores of four of the five Great Lakes, excluding Lake Ontario. The roads are signposted with green "Circle Tour" signs with an image of the Great Lakes to help you navigate this epic journey.
Related Read: 9 Luxury Cabins in Wisconsin Where Nature Meets Splendor
2. Wisconsin Lake Superior Scenic Byway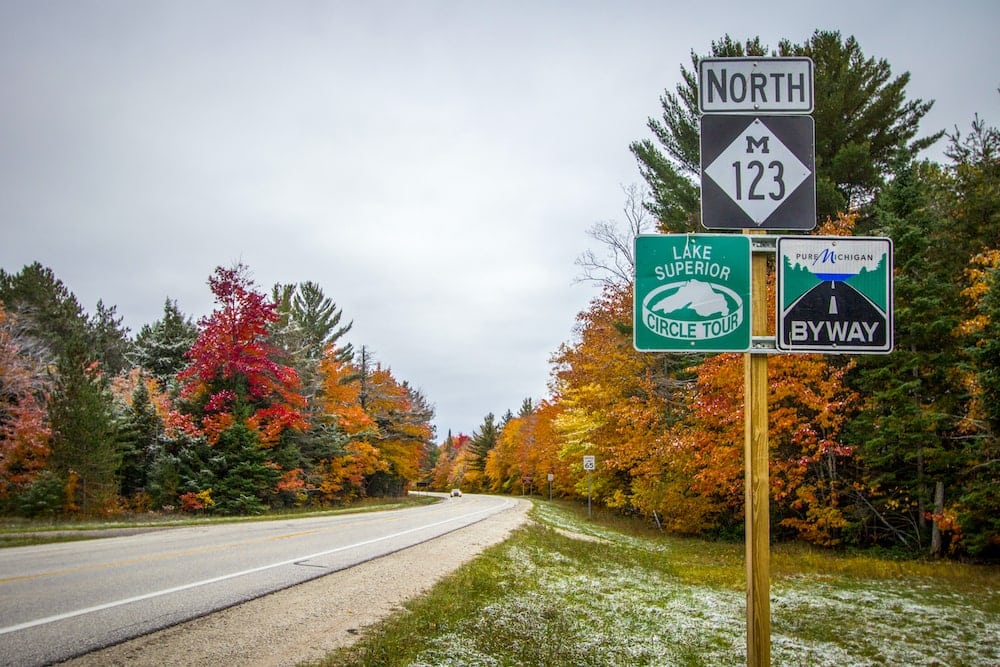 Why you should go: Coastal drive with plenty of beach stops and opportunities for paddling.
Distance: 70 miles
Drive time without stops: 1 hour, 15 mins
Adventure seekers can appreciate Wisconsin's Northwoods and coastal sandstone cliffs with a drive along the 70-mile stretch of the Wisconsin Lake Superior Scenic Byway. This route traces Lake Superior's southern shore and predominantly follows State Highway 13 from Barksdale to Cloverland.
One of the best things to do on the byway is visiting the Apostle Islands National Lakeshore where epic hiking, sea kayaking, and backcountry camping await on the pristine chain of islands. Other highlights include a day at Meyers Beach, spotting caves along the Bayfield Peninsula Sea Caves Trail, hiking to the Orienta or Lost Creek Falls, and stopping in charming coastal villages like Bayfield.
Thanks to its ideal climate for growing fruit, this region is also known for apple orchards, berry farms, and vineyards. Seeing idyllic lighthouses and learning more about Native American history on the Red Cliff Band Reservation is also a must. You can rent kayaks or paddleboards at many places along the drive.
Related Read: 8 Best Scenic Drives in Michigan for Dashboard Eye Candy
3. Kettle Moraine Scenic Drive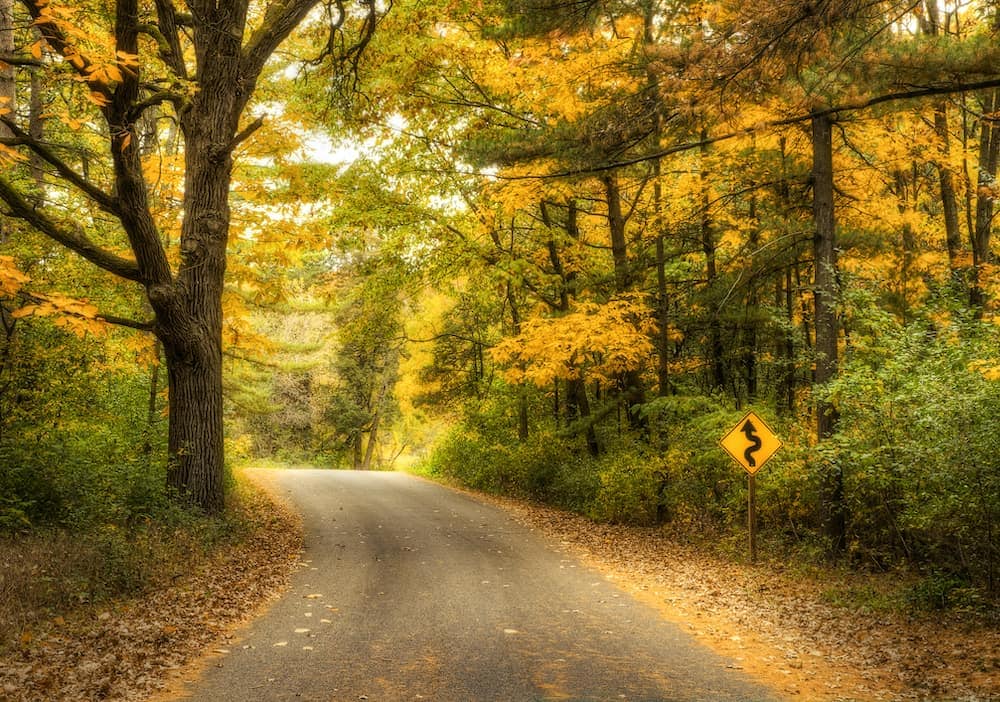 Why you should go: Beautiful forest hiking, especially during foliage season.
Distance: 115 miles
Drive time without stops: 2 hours, 50 mins
The Kettle Moraine Scenic Drive stretches for 115 miles between Elkhart Lake and Whitewater Lake, connecting the northern and southern units of the Kettle Moraine Forest. It's dotted with natural landmarks formed thousands of years ago by colliding glaciers such as mineral-rich wetlands, wildflower prairies, kettle lakes, and rolling hills that offer plenty of outdoor activities.
The Long Lake Recreation Area is a notable stop with easy, family-friendly camping, sandy beaches, and pretty views from Dundee Mountain. Other top things to do along this Wisconsin scenic drive include hiking the Ice Age National Scenic Trail, climbing to the top of Lapham Peak, and photographing the historic church atop Holy Hill, especially in the fall.
Where's the map? This route has very specific stops and is best followed by using the map on "more information." Google Maps will try to direct you through Milwaukee, so download the website map here instead. 
Related Read: The 9 Absolute Best State Parks in Wisconsin
4. The Wisconsin Great River Road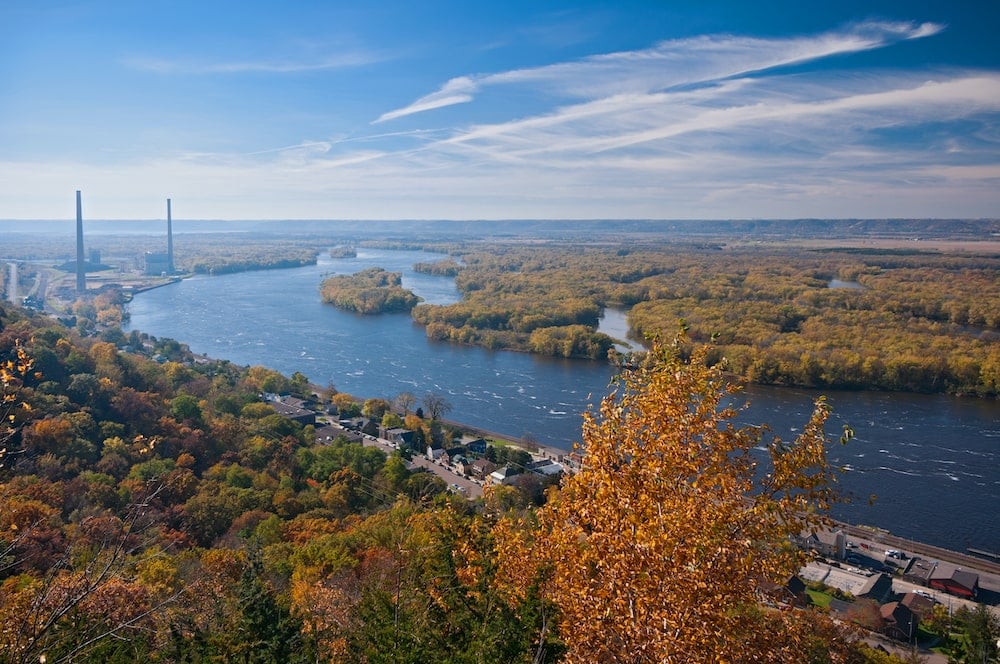 Why you should go: Small towns, Mississippi views, and opportunities to jump on an ol' fashioned paddlewheeler.
Distance: 224 miles
Drive time without stops: 4 hours, 20 mins
The Great River Road is a 3,000-mile route that follows the Mississippi River from northern Minnesota to New Orleans. It's often touted as one of the best road trips in America because it highlights the scenic beauty of the Mississippi River Valley and passes through 10 states.
The Wisconsin Great River Road portion stretches 250 miles along State Highway 35, following the river and state border. It passes numerous scenic overlooks, state parks, and over 30 charming river towns. Perrot and Wyalusing State Parks are two good stops for hiking across bluffs and getting great views of the Mississippi River and its confluence with other rivers.
Every fall, the foliage around the river transforms into a fiery display and is best enjoyed via the Great River State Trail or a paddlewheel river cruise from La Crosse. For a classic small-town experience, make a stop on this Wisconsin scenic drive at Potosi, Prairie du Chien, and Stockholm.
Related Read: 10 Charming Day Trips from Milwaukee, Wisconsin
5. Door County Coastal Byway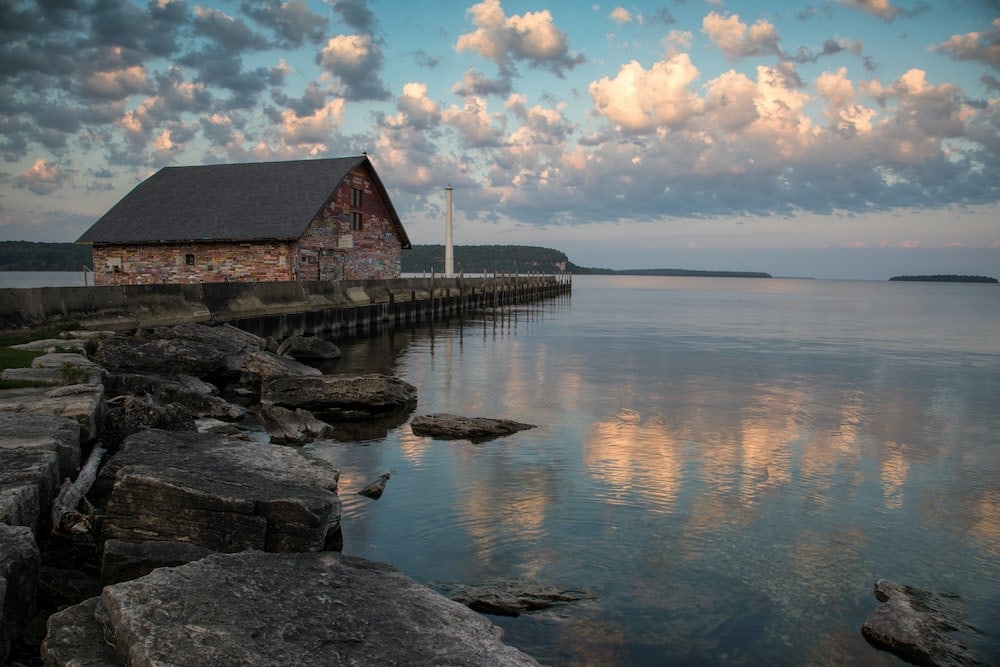 Why you should go: Get a feel for Door County in an afternoon.
Distance: +/- 66 miles
Drive time without stops: 2 hours, 15 mins
It's no secret that Door County is one of the most beautiful spots in the state, and what better way to experience it than via the Door County Coastal Byway? This 66-mile scenic drive starts in Sturgeon Bay and follows State Highways 42 and 57 through Sister Bay, up to Gills Point before looping back to the start.
At the northernmost point, you can take a ferry to Washington Island and enjoy the island's beaches, historic Stavkirke Church, and Mountain Park Tower, with panoramic views of Lake Michigan. Continuing south, you'll pass the beautiful Peninsula State Park, famous for its Eagle Bluff Lighthouse and coastal hikes.
What makes Door County so unique are its quaint towns like Egg Harbor and Fish Creek. And no trip is complete without picking up homemade gifts like gooey fudge, sweet cherry juice, and cheese. When hunger strikes, try a fresh fish boil and stop at Not Licked Yet for a cup of frozen custard.
Related Read: 12 Best Cabin Rentals in Door County, Wisconsin
6. Great Divide National Scenic Byway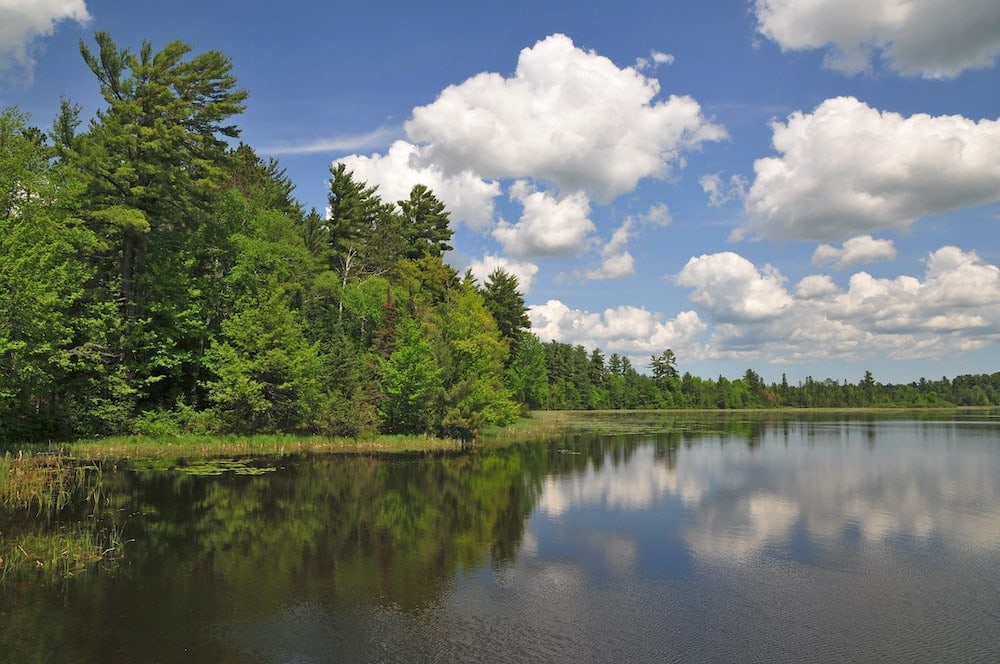 Why you should go: The place to go for camping, cabins, and fantastic fishing.
Distance: 50 miles
Drive time without stops: 55 mins
Running from Glidden to Hayward and through the hardwoods of the Chequamegon National Forest is the Great Divide National Scenic Byway. This Wisconsin scenic drive is named after the gap in the Penokee Range it passes through while following State Highway 77. It's a popular place for folks seeking time away in nature at wilderness resorts or campgrounds like Day Lake Campground and the secluded Moose Lake Campground.
The area has notable wildlife, including timber wolves, black bears, and bald eagles. Water sports enthusiasts can boat, swim, and fish for trout, walleye, northern pike, and more in the region's various lakes and rivers. In autumn, Wisconsin's Northwoods shift from green to oranges and yellows, making this route particularly great to drive come September and October.
Related Read: 10 Charming Day Trips from Milwaukee, Wisconsin
7. Nicolet-Wolf River Scenic Byway
Why you should go: Tons of museums and trails for hiking, mountain biking, and paddling — plus a free water ski show.
Distance: 145 miles
Drive time without stops: Variable
The Nicolet-Wolf River Scenic Byway in northern Wisconsin is the state's newest byway. However, it doesn't move in a straight line. Instead, it covers 145 miles of various segments of Wisconsin Highways 55, 32, 70, and 52.
It passes through the Chequamegon-Nicolet National Forest and along the National Scenic Wolf River, where outdoor enthusiasts come to indulge in ATVing, mountain biking, and water sports like whitewater rafting. For more natural beauty, consider stopping to see the Cathedral Pines State Natural Area, where towering old-growth pines somehow spared the height of Wisconsin's logging industry.
Natural wonders aren't all there is to do off of this beautiful scenic drive. Even non-outdoorsy types can have a good time at stops along the way like the Mole Lake Casino and Lodge, the Civil War-era Old Military Road, and the various rustic, outdoorsy pubs.
Related Read: The 10 Best Hiking Trails in the Wisconsin Dells
8. Lower Wisconsin River Road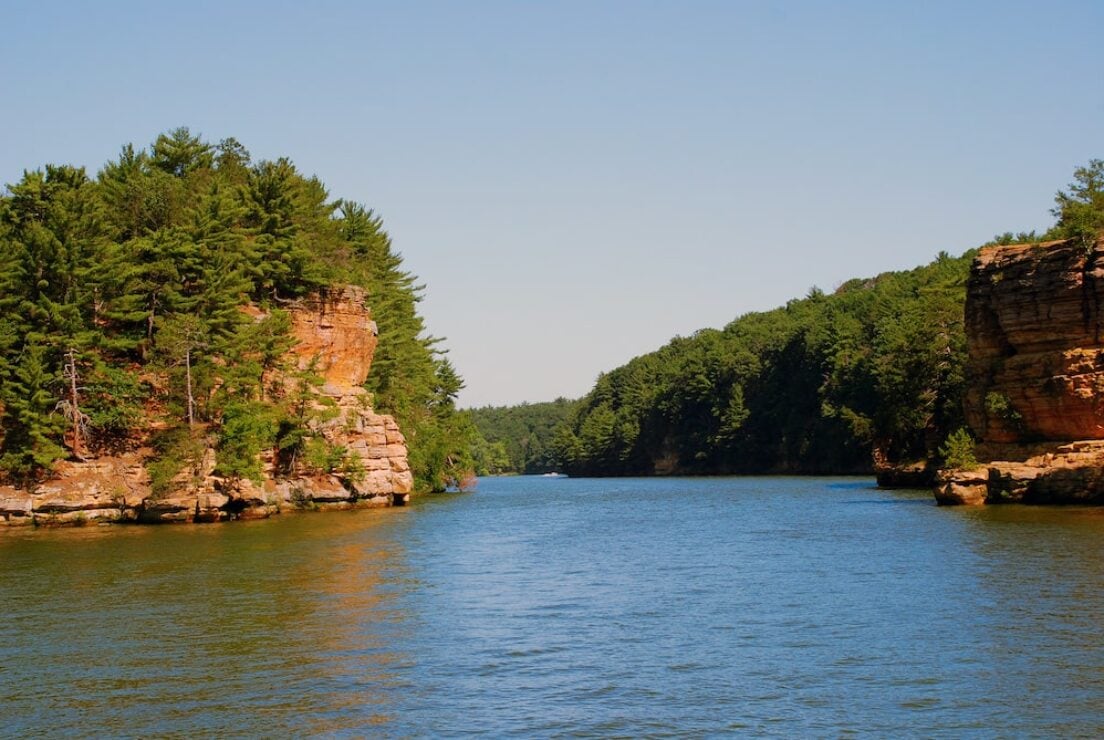 Why you should go: Beautiful drive near Madison through Wisconsin wine country.
Distance: 98 miles
Drive time without stops: 2 hours
Starting in Lodi just 30 minutes north of Madison, the Lower Wisconsin River Road traverses State Highway 60. It follows the verdant landscape of the Wisconsin River on its journey to meet the Mississippi River in Prairie du Chien.
Along the way, you'll pass striking bluffs, family-friendly campgrounds, and numerous state preserves protecting the natural beauty of the Wisconsin River. Wollersheim Winery & Distillery is on the way and is recognized as one of the best wineries in Wisconsin (and is also a National Historic Site).
The 100-mile journey ends at the intersection with Wisconsin's Great River Road and Wyalusing State Park. The park has great bird watching, historic burial mounds, and even free public astronomy classes aided by massive high-tech telescopes.
9. Rustic Road 83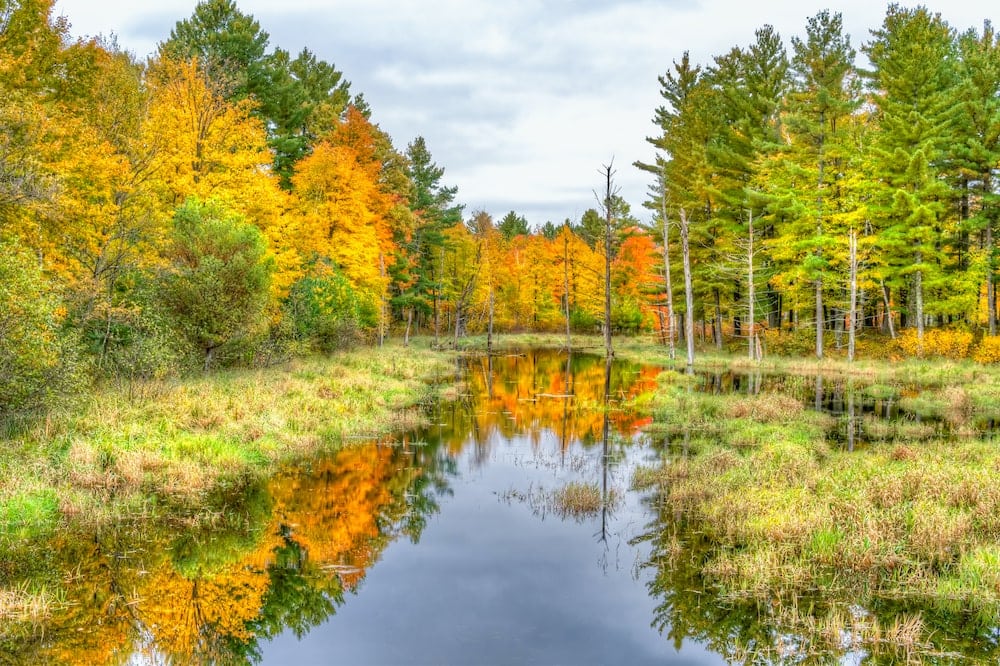 Why you should go: Gentle off-roading along five miles of quintessential Wisconsin beauty.
Distance: 4.8 miles
Drive time without stops: 10 mins
Though it's the shortest scenic drive in Wisconsin, the nearly five-mile Rustic Road 83 earns top marks as one of Wisconsin's most beautiful. Tucked away in the remote town of Bear Lake, this winding dirt road passes through forests and eventually crosses the statewide Ice Age Trail.
It's also known as the Narrow Gauge Road and was once a heavily used train route for Wisconsin's logging industry. Try to time your visit with the turning of the leaves in autumn for a spectacular show. Other things to do include visiting the Wisconsin Great Northern Railroad and the ski and hiking trails around Timberland.
10. Iron County Waterfall Loop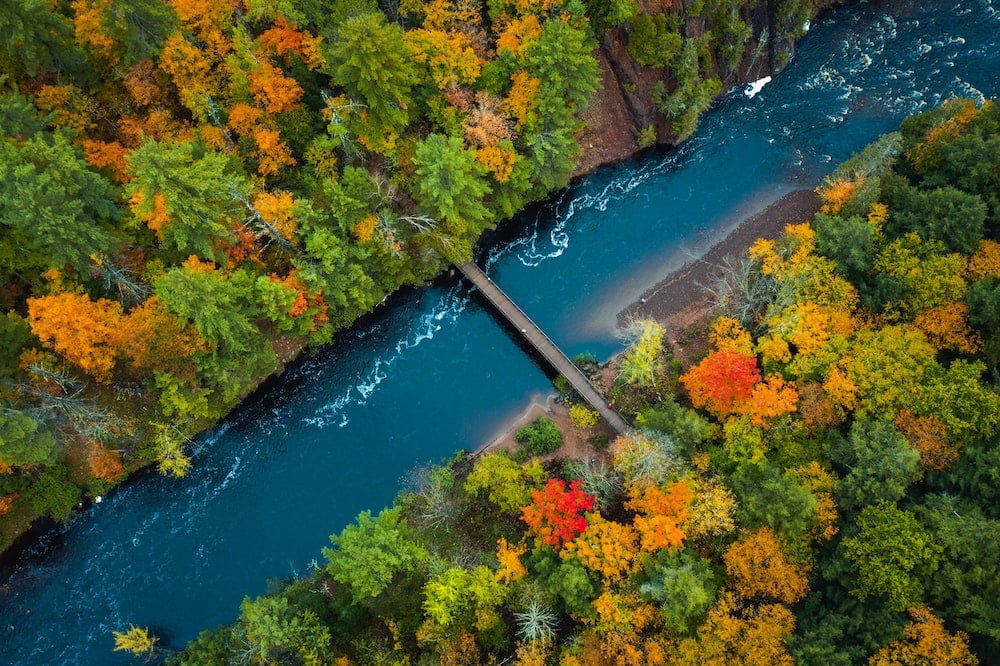 Why you should go: In this case, you should definitely go chasing waterfalls.
Distance: 4.8 miles
Drive time without stops: 10 mins
This waterfall loop in Iron County is possibly one of the best-kept secrets in the state. Boasting more than 10 named waterfalls, including some of Wisconsin's tallest at Copper Falls State Park, this route is a waterfall chaser's dream.
While the black lava gorges and forested trails offer plenty to keep you occupied in Copper Falls, there's plenty more to see along the route. You'll certainly want to stop at Interstate Falls and Potato River Falls.
The best way to see Iron County's waterfalls is by taking a circle loop. You can also take State Highway 122, which cuts through the loop and passes Foster Falls and Wren Falls.
Related Read: 11 Waterfalls in Wisconsin Not to be Missed
Find Your Next Wisconsin Adventure
Sign up for the Weekend Wanderer to join thousands of readers getting epic travel ideas every week.
Was this article helpful?
---