Dying to get out of the city and hit the road? These best weekend road trips from Detroit offer plenty to do around the Midwest and beyond.
While Detroit holds its own as a vibrant city with plenty of exciting things to do, venturing off to somewhere new can help break up the monotony of daily life. And with busy work and life schedules to balance, a weekend getaway offers the perfect compromise. The best destinations near Detroit include beach towns, other major cities, and even an international adventure.
These ten exciting weekend trips from Detroit will get you out of the city in about 4.5 hours or less.
Related Read: 9 Fun Weekend Road Trips from Kansas City, Missouri
1. Cleveland, Ohio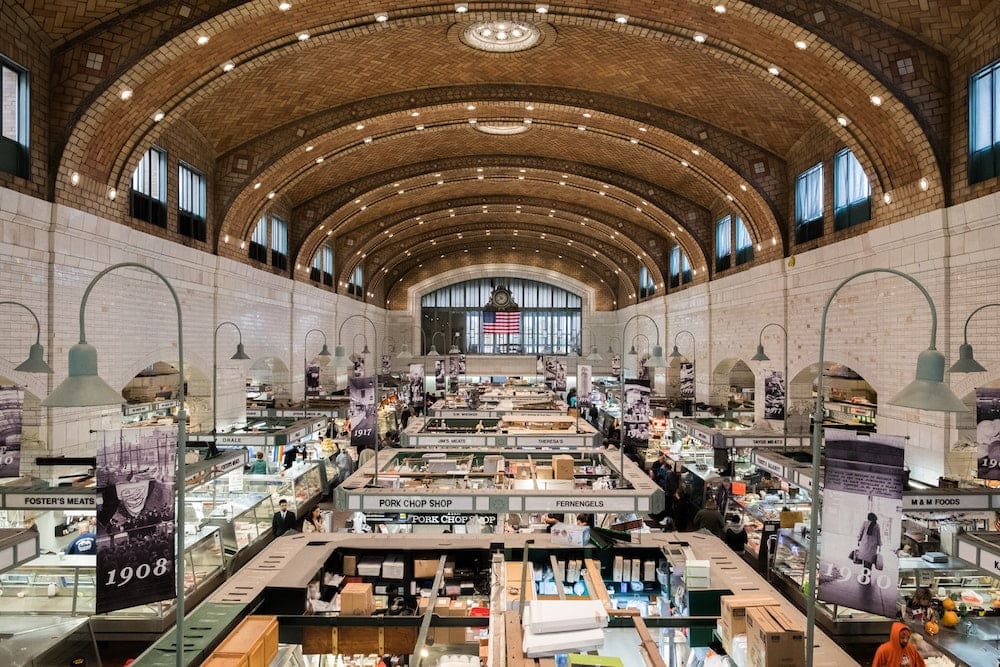 No doubt best known for its famous Rock & Roll Hall of Fame and lively sports scene, Cleveland, Ohio, is a bustling city getaway. If cheering for the Cleveland Browns, Cavaliers, or Indians is a no-go, other top attractions include visiting the Cleveland Museum of Natural History, strolling through the Botanical Gardens, and shopping at the West Side Market.
Sampling famous Cleveland delicacies is also one of the best things to do in this Ohio city. Famous dishes include the towering corned beef sandwich from Slyman's, the tasty Pierogi from Sokolowski's University Inn, and a sweet treat from Jack Frost Donuts.
Distance from Detroit: 169 miles
Drive time without stops: 2 hours and 35 minutes
Related Read: 8 Best Scenic Drives in Michigan for Dashboard Eye Candy
2. Toledo, Ohio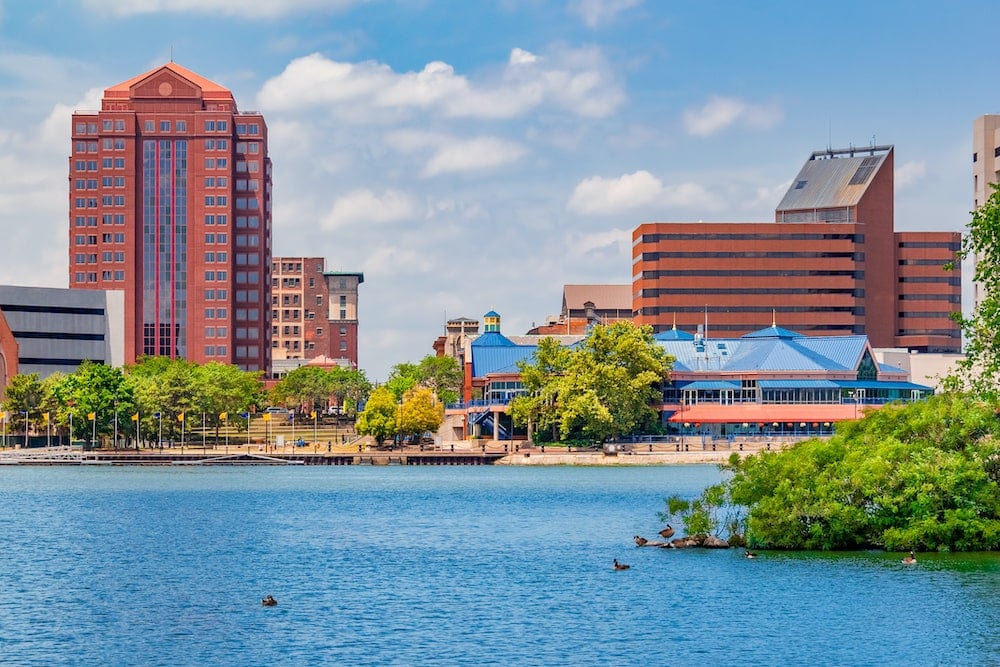 Toledo, Ohio is an up-and-coming city that's often overlooked, but its close location makes it an easy weekend trip from Detroit – and don't let this unsuspecting Midwestern city fool you! There's plenty of exciting attractions and excellent restaurants to keep you happily entertained.
Favorite things to do include visiting the historic Erie Canal Experience, the Glass City Metropark, and the Toledo Zoo. The Toledo Museum of Art is also often at the top of visitor's to-do lists, as is the Libbey Glass Factory Outlet, where you can learn more about how Toledo got the nickname "Glass City."
Distance from Detroit: 58 miles
Drive time without stops: 55 minutes
Related Read: 9 Amazing Places to See Fall Colors in Michigan
3. Chicago, Illinois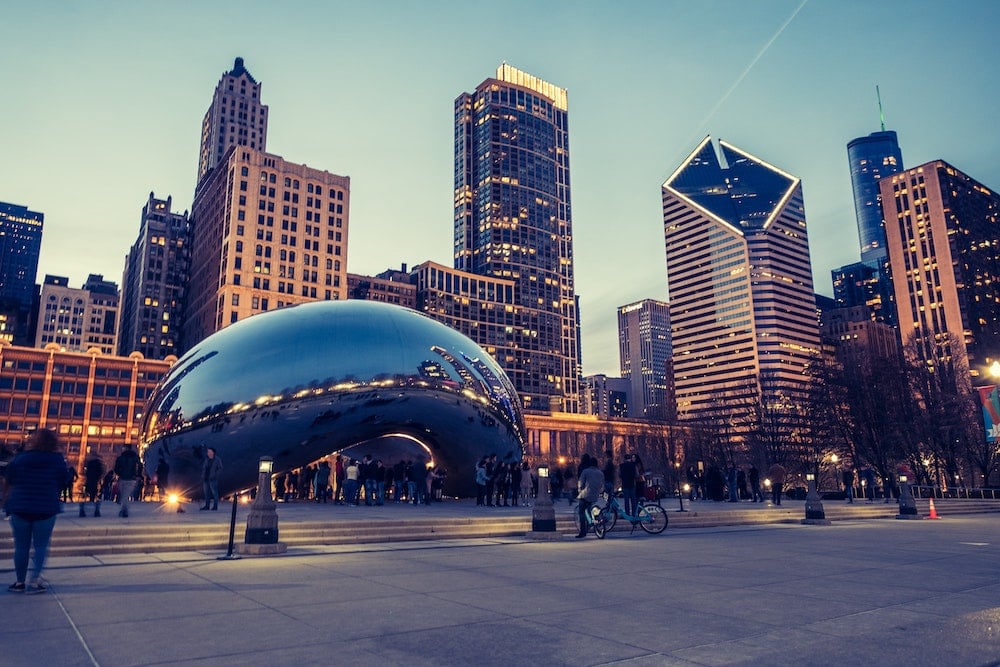 If you're looking for a guaranteed good time, a weekend spent in the Windy City is a no-brainer. While Chicago's notable tourist sites include the thrilling Willis Tower observation deck, Navy Pier, and the shop-lined Magnificent Mile, the city also boasts an infinite number of unique things to do.
Consider going back in time at The Violet Hour, a speakeasy bar in the hip Wicker Park district. Popping by The Wiener Circle in Lincoln Park for a plump Chicago dog is also a must, as is hunting for the best deep dish pizza in the city.
Distance from Detroit: 283 miles
Drive time without stops: 4 hours and 20 minutes
4. Mackinac Island, Michigan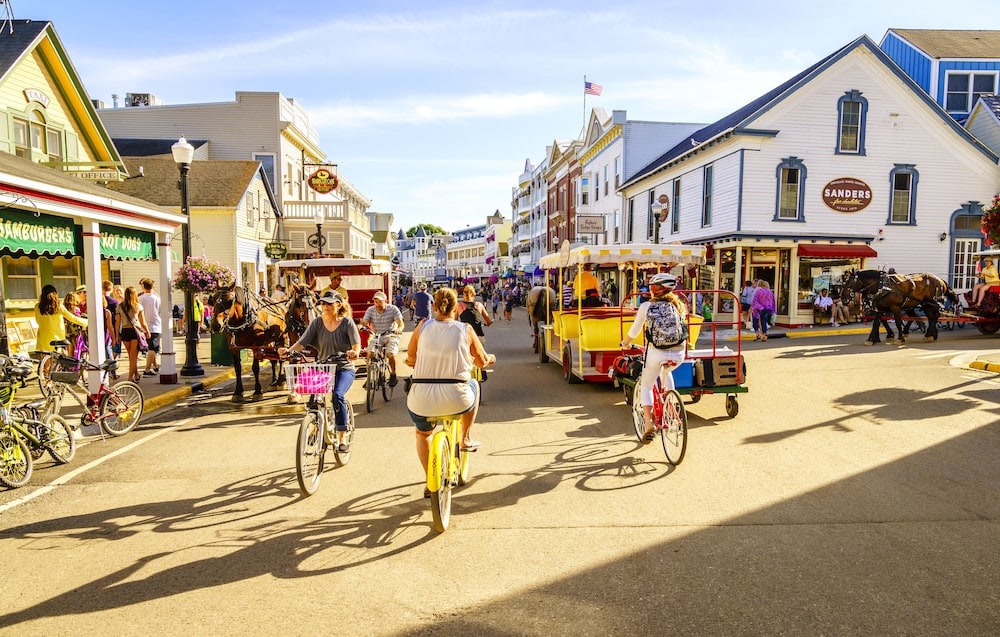 Although it's a bit of a trek to Mackinac Island, this idyllic small-town getaway is a favorite Michigan destination. Situated in the waters of Lake Huron, right between the Upper Peninsula and lower portion of the state, the island offers relaxing, slow living.
When you're not off playing a round or golf or wandering the quaint downtown streets, the island's historic forts and state park hiking trails are some of the more upbeat activities to enjoy. The island is also famous for its local fudge shops, making an astounding 10,000 pounds of fudge each day in peak season.
Distance from Detroit: 289 miles
Drive time without stops: 4 hours of driving plus a ferry
Related Read: 9 Unique Places to Stay in Michigan for an Extraordinary Escape
5. Saugatuck, Michigan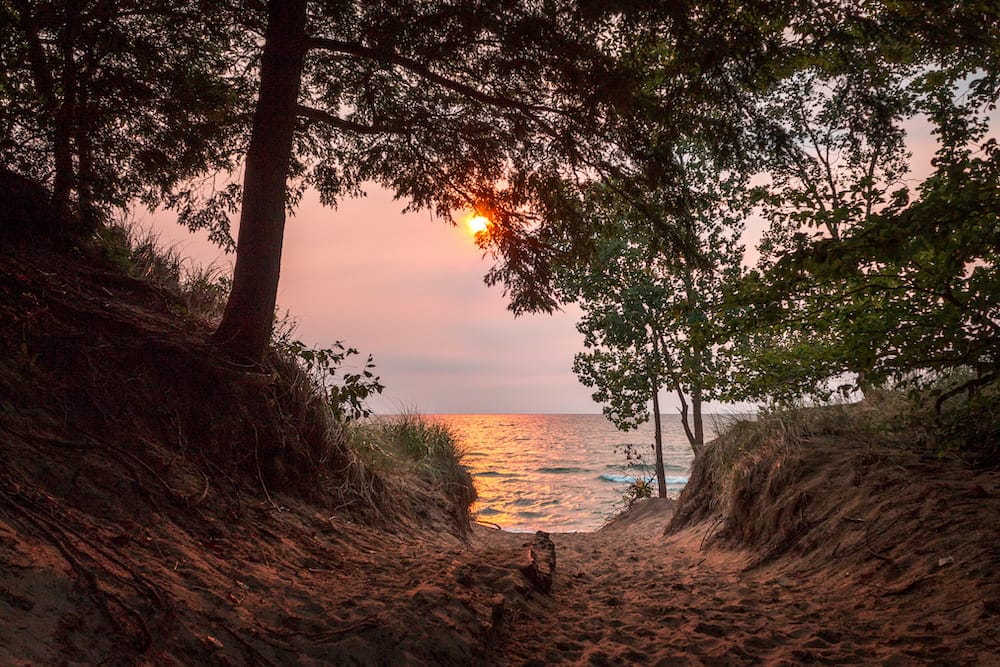 Trade the chaotic streets of Detroit for the peaceful shores of Lake Michigan at Saugatuck. This famous beach town is best known for Oval Beach, a strip of soft sand surrounded by tall grasses and striking dunes.
For the adventurous, consider a Saugatuck dune ride where you learn more about the area while speedily drifting along the dunes. The hiking trails at Mount Baldhead Park and restaurants along Butler Street are also must-do attractions while visiting Saugatuck. The best way to experience this small-town is with a stay in a charming bed and breakfast.
Distance from Detroit: 190 miles
Drive time without stops: 2 hours and 50 minutes
Related Read: 11 Cozy Pet-Friendly Cabin Rentals in Michigan
6. Indiana Dunes National Park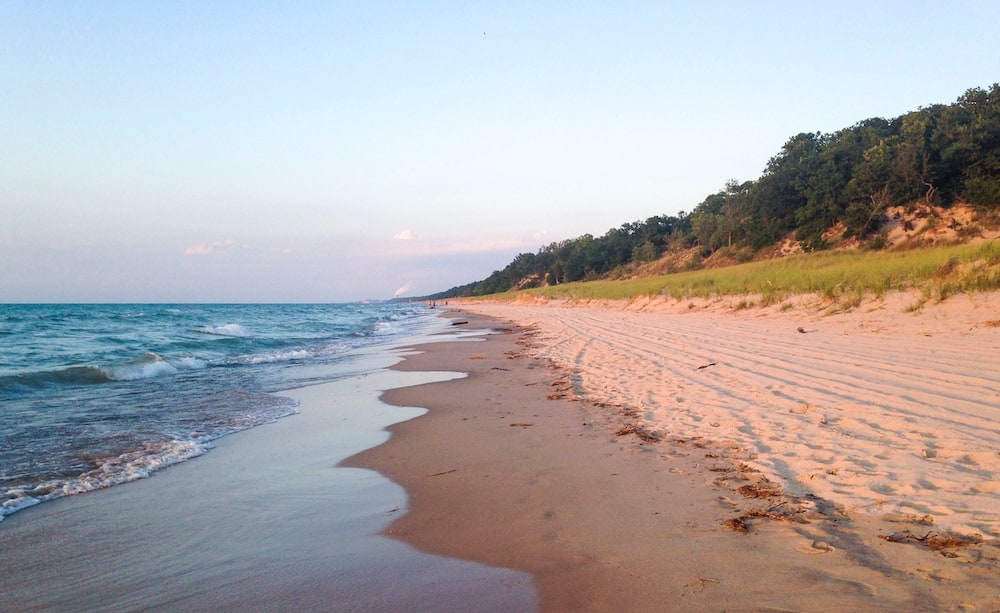 Along the shores of Lake Michigan's southernmost point, the Indiana Dunes National Park is a protected strip of wind-swept dunes offering an idyllic weekend away at the beach. Aside from splashing in the cool waters of the Great Lake, outdoorsy activities such as hiking, bird watching, and camping are among the best things to do at the park.
For even more family-friendly fun, be sure to stop by the Old Lighthouse Museum or the quaint shops at the nearby European Market held every Saturday.
Distance from Detroit: 226 miles
Drive time without stops: 3 hours and 30 minutes
Related Read: 9 of the Best Cabin Rentals in Michigan
7. Pittsburgh, Pennsylvania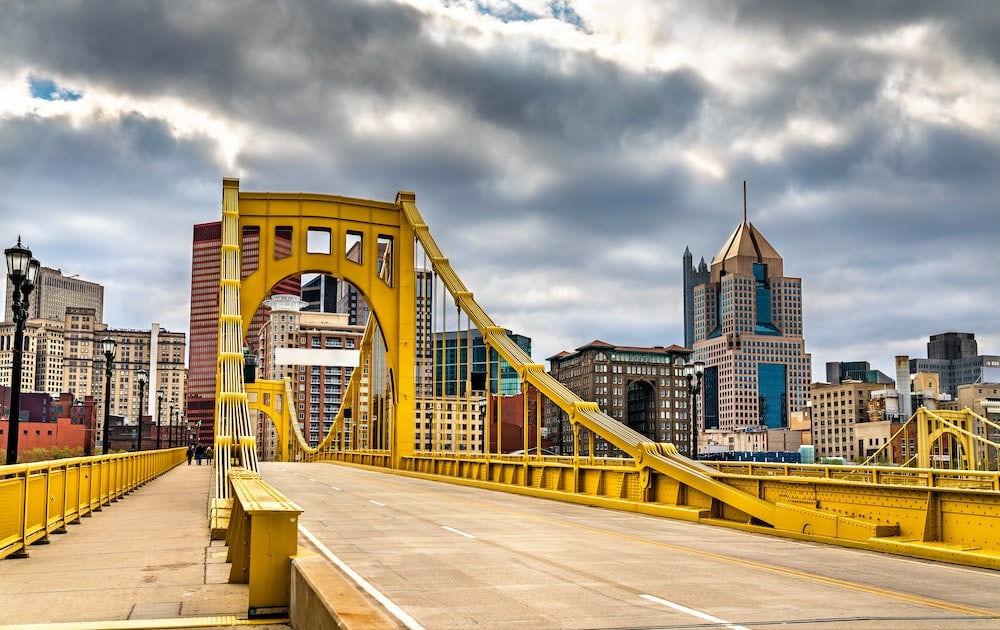 Pittsburgh, Pennsylvania is a busy city stationed at the confluence of three major rivers, gracing the area with numerous green spaces and pretty river walks. It's aptly nicknamed "the City of Bridges", beating out any other place in the world for highest number of bridges.
While Pittsburgh's reputation often revolves around its historical steel industry and high-spirited sports fans, the city is also home to a fantastic art, museum, and food scene. Some of the best things to do in Pittsburgh include visiting the Andy Warhol Museum, devouring a classic sandwich from the Primanti Bros, and taking the Duquesne Incline to admire the skyline from above.
Distance from Detroit: 286 miles
Drive time without stops: 4 hours and 15 minutes
8. Grand Rapids, Michigan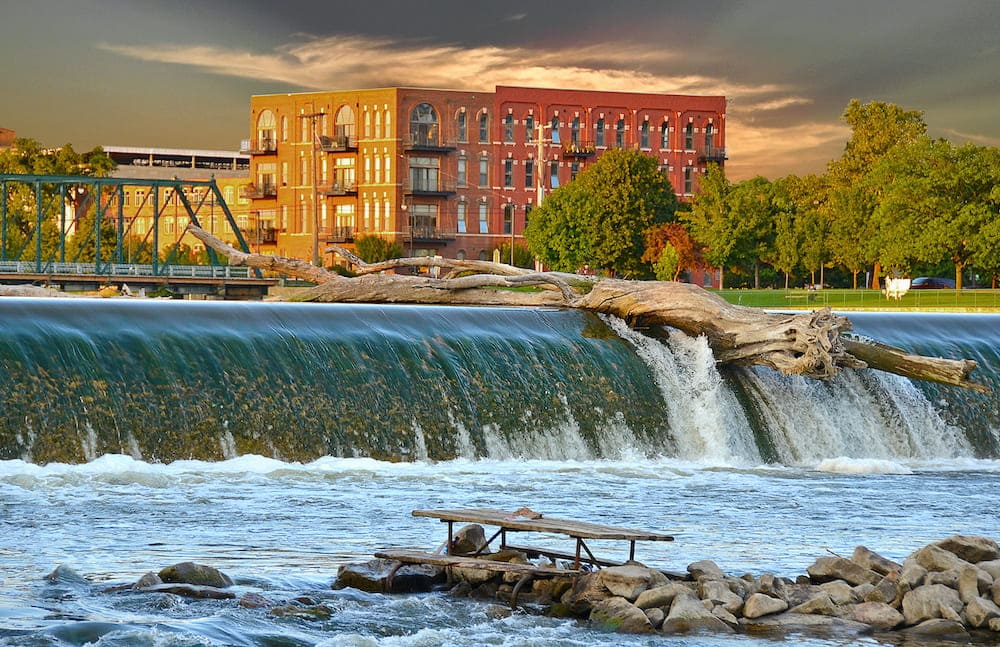 Detroit may have Grand Rapids beat in size, but the state's second-largest city has a more walkable downtown area brimming with hip eateries and lovely river walks. Top attractions in Grand Rapids include the Frederik Meijer Gardens & Sculpture Park, the Grand Rapids Public Museum, and hunting for eye-catching street murals.
The city is also a haven for craft beer lovers, with notable breweries such a Greyline Brewing Co. and The Mitten Brewing Co. Save room for good eats at highly rated restaurants like Stella's Lounge and Divani, and a nightcap at the New Hotel Marten's rooftop.
Distance from Detroit: 157 miles
Drive time without stops: 3 hours and 15 minutes
Related Read: 9 Best & Most Unique Airbnbs in Michigan
9. Traverse City, Michigan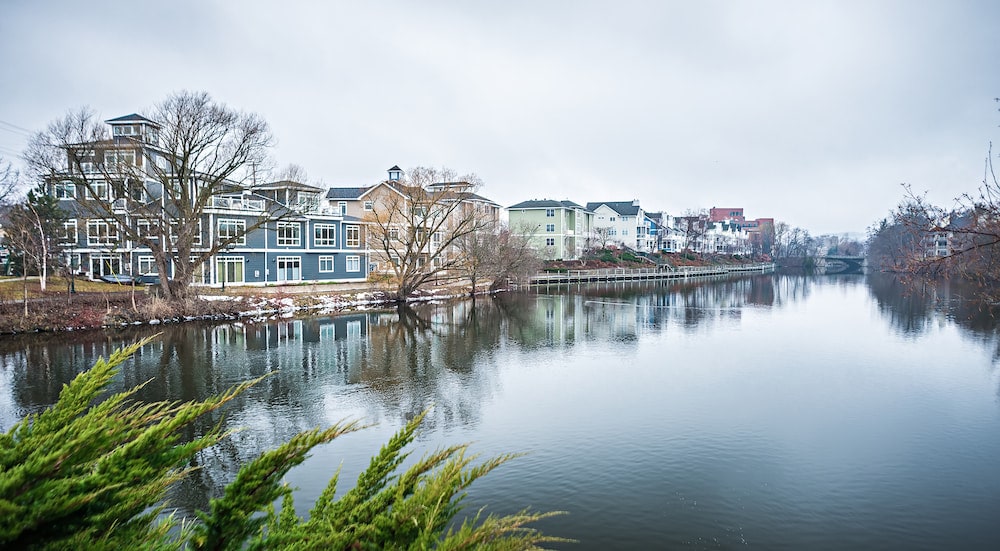 Head up north for the weekend to Traverse City, a lovely small town regularly ranked as one of the best in the country. This part of Lake Michigan's coast is dotted with an astounding 40 vineyards that offer wine tasting tours. The most popular places include Chateau Chantal and Bowers Harbor Vineyards for anyone looking to sip the local wine.
Be sure also to make time for hiking, indulging in classic lake activities, and nibbling on the locally grown cherries. A visit to the beautiful Sleeping Dunes National Lakeshore is another incredible attraction for nature lovers.
Distance from Detroit: 255 miles
Drive time without stops: 4 hours
Related Read: 11 of the Best Airbnbs in Traverse City, Michigan
10. Toronto, Canada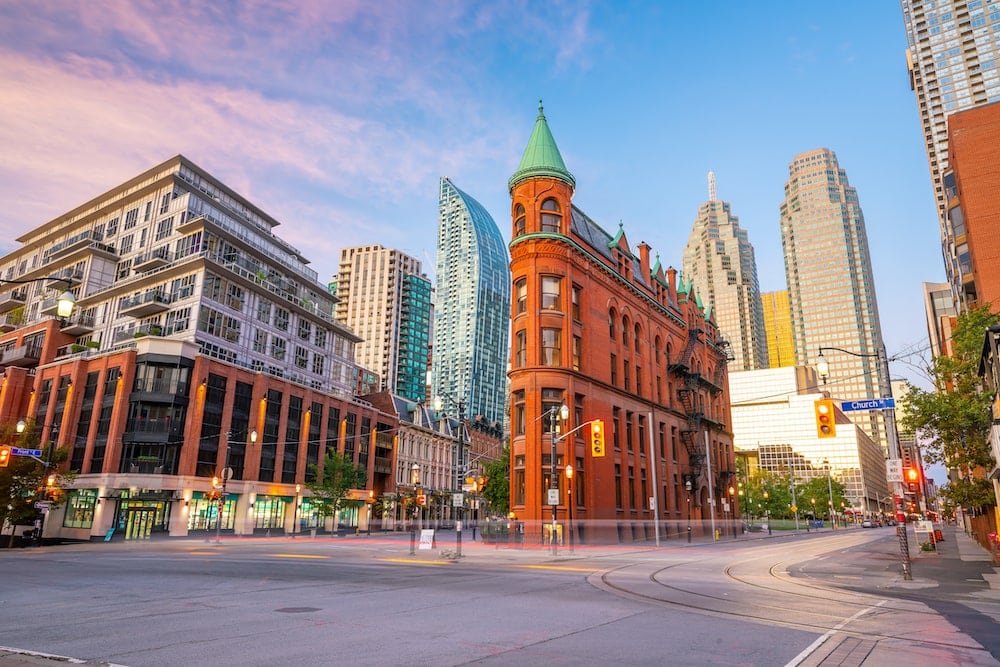 Take an international trip over the Canadian border to the Great White North's biggest city, Toronto, Ontario. Towering skyscrapers and the iconic CN Tower dominate this sprawling metropolis's skyline, creating a beautiful view over Lake Ontario. Uniquely Canadian things to do include the Royal Ontario Museum and Casa Loma, a stunning gothic revival castle.
If tourist spots aren't your cup of tea, opt instead to shop, eat, and drink. The city's signature dishes include the veal sandwich from California Sandwiches and a bacon, mustard roll from Carousel Bakery. Don't forget to grab some poutine too!
Distance from Detroit: 231 miles
Drive time without stops: 3 hours 45 minutes
Plan Your Next Road Trip
Sign up for Weekend Wanderer to join thousands of readers getting epic travel and gear ideas every week.
---