There's plenty more to love in America's Dairyland than the mouth-watering Wisconsin cheese — although it's definitely a major perk.
Not only does Wisconsin produce the largest supply of cheese in the nation, but it's also home to an extensive beer scene and delicious local grub. Not only that, but exciting landmarks like two of the Great Lakes and the city streets of Madison and Milwaukee mean that there's plenty of incredible things to do both in nature and amongst the state's largest cities. From the countless local breweries in Milwaukee to the stunning caves of Lake Superior and everything in between, there's no denying that Wisconsin is unique.
Come see for yourself what this great state has to offer via this ultimate list of the best things to do in Wisconsin, no matter the time of year.
Related Read: 10 Best Resorts in Wisconsin for Some Rest & Relaxation
Things to Do in Wisconsin in the Summer
1. Experience the Impressive Dane County Farmers Market in Downtown Madison
The Dane County Farmers Market is a Madison institution held twice a week on Wednesdays and Saturdays. It's not only the largest farmer's market in the state, but it's also considered the largest one prioritizing locally grown items in the entire country. More than 275 vendors participate in the market festivities, offering a wide range of Wisconsin-made fares. Prepare to shop for items such as produce, baked goods, cheese curds, flowers, and more.
In the summer, vendors set up their stalls around the Capitol Square on Saturdays and along Martin Luther King Jr. BLVD. on Wednesdays. When the weather gets chilly, you can find the market inside the toasty walls of the Monona Terrace only on Saturdays.
Related Read: 11 Best Things to Do in Madison, Wisconsin
2. Jam to Your Favorite Bands at Summerfest in Downtown Milwaukee
Summerfest is a massive annual event that's been dubbed "The World's Largest Music Festival." It's famous for hosting world-renowned musical acts of all genres, attracting over half a million people every year. Some of the most notable acts that have headlined include the Rolling Stones, Tina Turner, and Lady Gaga, to name a few.
The Summerfest grounds are located along the shores of Lake Michigan, creating a pretty backdrop for the event. Festival-goers can enjoy eleven stages that dot the grounds, all dedicated to a specific genre of music. There are also food stands, bar tops, and various other activities at the festival. Summerfest is typically held for three consecutive long weekends in June and July.
Related Read: 11 Incredible Airbnbs in Milwaukee, Wisconsin
3. Go Deep Underground at The Cave of the Mounds
The Cave of the Mounds is a unique cave system in Blue Mound, Wisconsin, about 30 minutes from Madison. It's recognized as a National Natural Landmark for its beauty and scientific significance. The caves go as deep as 57 feet underground and feature a total length of 1,692 feet when every twist and turn is accounted for.
Tickets can be purchased day-of in-person or in advance online, but admission is set to scheduled times to ensure the caves do not become too crowded. The caves are consistently cool and damp, so be sure to dress accordingly.
Related Read: 9 Amazing Weekend Getaways in Wisconsin
4. Take a Weekend Trip to the Wisconsin Dells for Waterpark Fun
The Wisconsin Dells is famous for the over 20 waterparks nestled inside the city lines. Summer is the best time to visit to take advantage of outdoor parks like Noah's Ark. Other noteworthy waterparks to add to your bucket list include The Kalahari and the Great Wolf Lodge.
The Dells aren't just the Waterpark Capital of the World. It's also home to breathtaking natural attractions made up of winding bluffs and waterways. A tour through the Wisconsin River and Lake Delton on a Wisconsin Duck, a water-compatible vehicle, is also a must. The Witches Gulch is another incredible thing to do in The Dells. It's a scenic canyon lined with boardwalks and incredible views that's only accessible on an Upper Dells Tour.
Related Read: 12 Best Cabin Rentals Near Wisconsin Dells
5. Camp, Hike, Picnic, and More at Devil's Lake State Park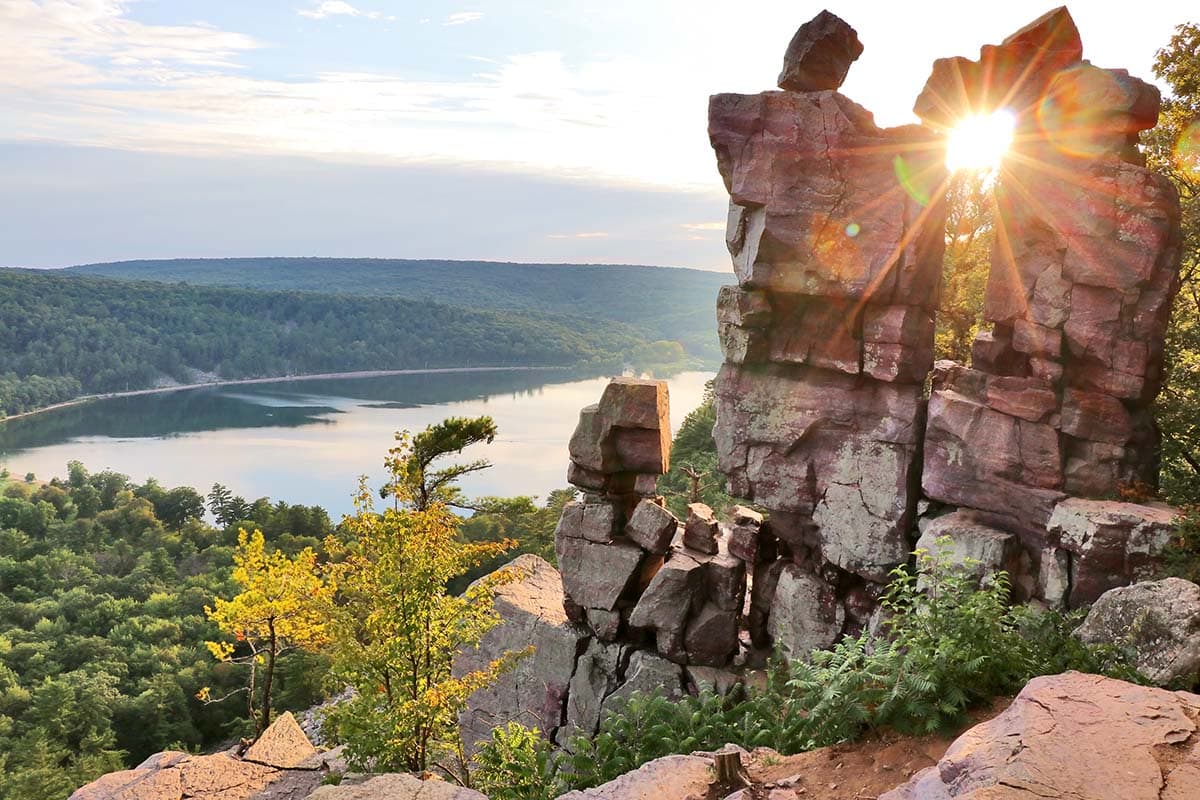 Devil's Lake State Park is one of Wisconsin's most popular state parks for good reason. The park grounds feature 360 acres of untouched natural beauty, including towering quartzite bluffs, lake views, and hardwood forests that put on a fiery show in the fall.
The hiking trails at Devil's Lake are also amongst the most exciting in the state, thanks to unique rock formations and bird's eye views of the surrounding landscape. Other fantastic things to do at the park include camping, swimming, kayaking, and more.
Related Read: 9 Fantastic Weekend Road Trips from Milwaukee, Wisconsin
Things to Do in Wisconsin in Fall
6. Take the Fall Colors from the Top of Holy Hill
The Holy Hill Basilica is one of Wisconsin's most notable landmarks and one of the most popular places to see fall colors in the state. The Basilica is located in Hubertus, Wisconsin, about 40 minutes northwest of Milwaukee.
It features two striking towers, one of which visitors can climb to witness the fall foliage and surrounding landscape. After your visit inside, take a hike around the church grounds beneath the colorful canopies of leaves.
Related Read: 10 Great Places to See Fall Colors in Wisconsin
7. Tour One of Milwaukee's Historic Breweries
Milwaukee has a long-brewing tradition that's earned it the nickname "Brew City." Two of the most notable breweries to come from Milwaukee include Pabst and Miller. The Pabst Brewery Tour takes place in the former Blue Ribbon Hall, where visitors can learn more about the history of Pabst within a beautiful and traditional German setting.
Although Miller is now a corporate brand, the Miller Brewery Tour takes beer enthusiasts through the original 1855 location. It showcases Miller's origins and details how the beer is made today. Both tours provide a complimentary beer sampling, and the Miller Tour includes a souvenir glass. These two are just the tip of the iceberg for the best brewery tours in Milwaukee.
Related Read: 9 Luxury Cabins in Wisconsin Where Nature Meets Splendor
8. Experience the Small Town Charm of Door County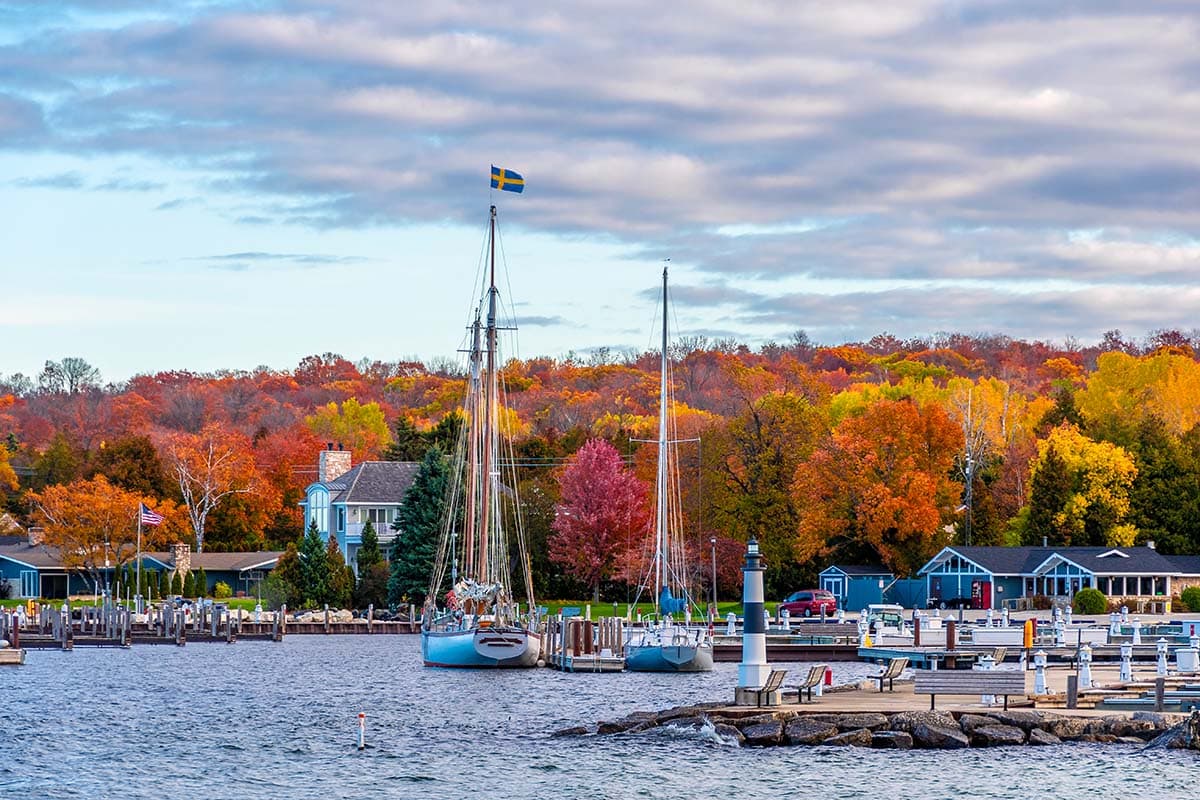 Door County is a peninsula famous for gorgeous landscapes and idyllic coastal towns. It features over 300 miles of coastline encircled by the waters of Lake Michigan and Green Bay. Some of the most famous attractions in Door County include the Whitefish Dunes, Peninsula State Park, Washington Island, and the historic Cana Island Lighthouse.
While a visit to Door County is incredible any time of year, in the fall, the peninsula puts on a stunning display of colors. The best way to see them is with a road trip on the Door County Coastal Byway. Picking apples at any of the county's beautiful orchards is also a must, as is pumpkin picking, enjoying cherry treats, and taking a winery tour.
Related Read: 12 Best Cabin Rentals in Door County, Wisconsin
9. Drink and Eat Your Fill at State-Wide Oktoberfest Events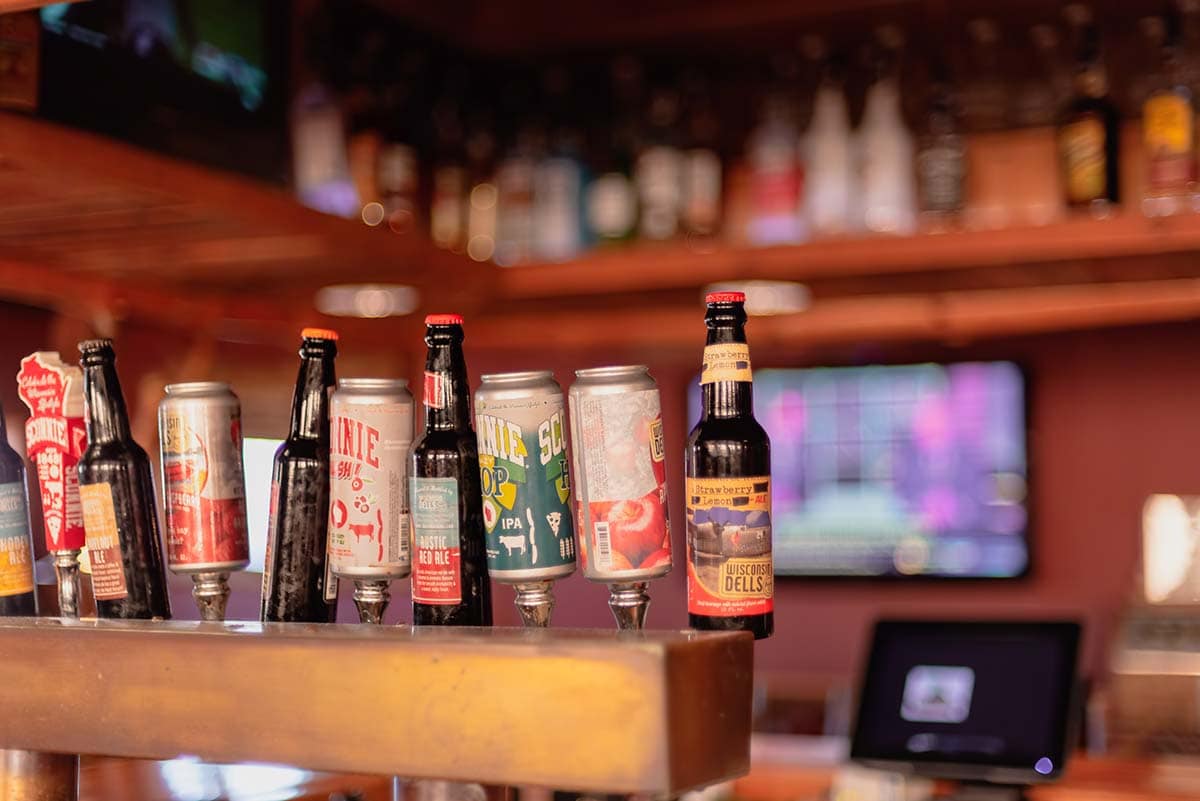 Traditionally held at the end of September or the beginning of October, Oktoberfest is a lively opportunity for Wisconsinites to celebrate their German heritage. This exciting event serves up large steins of beer, juicy bratwursts, and soft pretzels as live music plays in the background.
Oktoberfest La Crosse claims to be the biggest and best in the state, whereas The Bavarian Bier Haus in Milwaukee holds the title for the oldest in the whole Midwest. Wherever you choose, a visit to any one of Wisconsin's Oktoberfests allows all to experience a taste of the traditional German heritage of the region.
Related Read: 10 Best Hiking Trails at Devil's Lake State Park, Wisconsin
10. Take Part in the Fall Harvest and Pick Your Own Apples, Pumpkins, and Cranberries
America's Dairyland is not only a major producer of milk and cheese but fresh fruit and vegetables too! People flock to popular apple orchards, pumpkin patches, and cranberry marshes to participate in the seasonal fun once fall rolls around.
To learn more about how cranberries are harvested, visit the Warrens Cranberry Festival to tour the marshes and enjoy local treats made with this native berry. For apple picking, consider Sturtevant's Apple Holler, one of Wisconsin's most popular orchards that also offers farm-to-table dining. The Little Farmer in Milton is a charming family-owned farm that sells pumpkins of all sizes every season.
Related Read: 14 Places to Visit in Wisconsin for the Ultimate Badger State Experience
Things to Do in Wisconsin in Winter
11. Witness the Beauty Both Inside and Out at the Milwaukee Art Museum
While visiting the Milwaukee Art Museum is an excellent attraction any time of year, winter offers a perfect way to enjoy a reprieve from the cold weather. Before even stepping inside, take a moment to marvel at the exterior. The building itself is an iconic architectural landmark famous for its graceful wings that open and close throughout the day.
Inside, the museum's impressive collection and noteworthy works of art attract hundreds of thousands of visitors every year. The collection outnumbers any other museum in the state and features various exhibits that showcase art and historical items spanning centuries. The museum also features a cozy restaurant, cafe, and gift shop.
12. Marvel at the Ice Caves at Apostle Islands National Lakeshore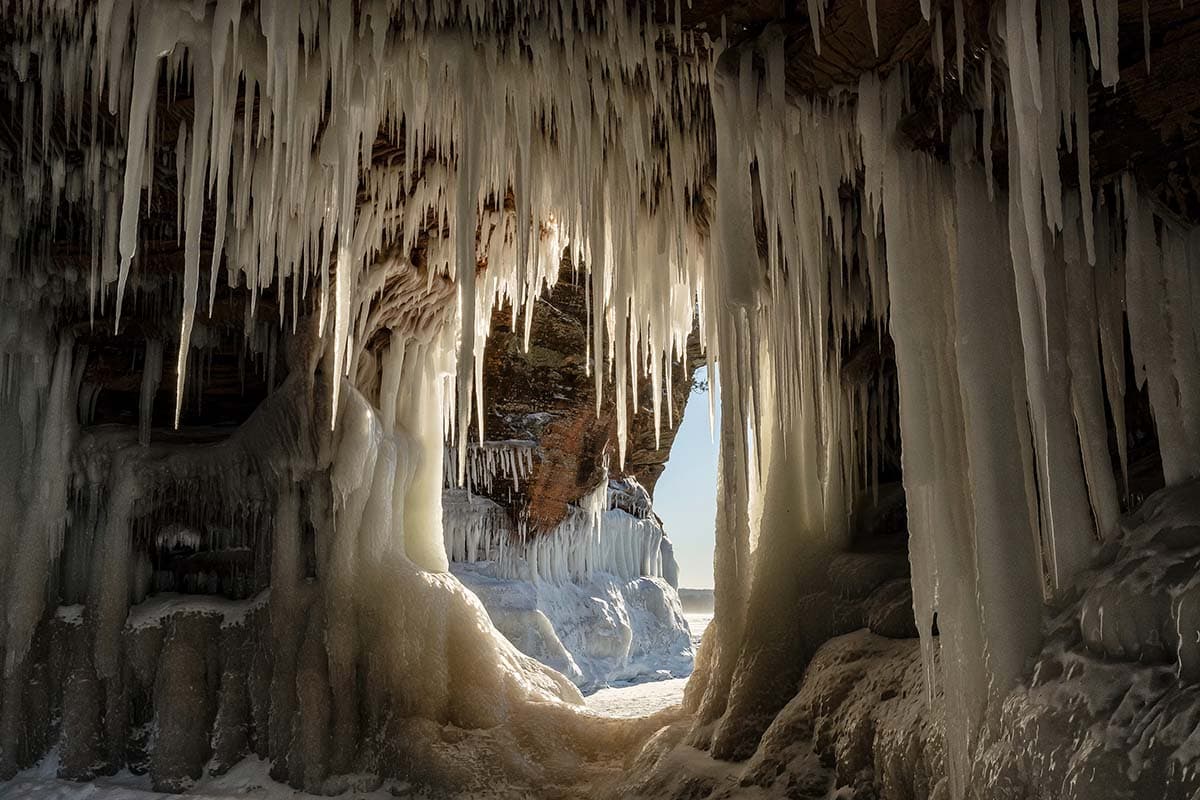 When the weather conditions are right, there's no better sight than the ice caves at Apostle Islands National Lakeshore. Giant icicles form to hang from the impressive sandstone caves before connecting to the frozen waters of Lake Superior. The hike to see the ice caves leaves from Meyers Beach and is a two-mile round trip journey.
Be sure to check the National Lakeshore website for weather conditions before venturing out to the caves. The trek can be dangerous when the wind is too strong, or the surface of Lake Superior is not frozen thick enough.
13. Experience a Winter Wonderland at the Lake Geneva Winterfest
The annual Lake Geneva Winterfest is one of the best festivals held in Wisconsin in the winter. People from all over come to see impressive ice castles lit by colorful lights. Visitors can also see the exciting U.S. National Snow Sculpting Championship, where competitors have 72 hours to create stunning works of art from ice.
Other things to do at the event include sipping hot cocoa, warming up next to a bonfire, and roasting s'mores. The event is great for people of all ages and a perfect festival for the kiddos. Winterfest is typically held in early February for five days.
Related Read: 13 Exciting Things to Do in Lake Geneva, Wisconsin
14. Ski the Slopes of Rib Mountain at Granite Peak
Granite Peak is Wisconsin's highest ski slope and features an impressive 700-foot vertical drop. You'll find this resort tucked away in central Wisconsin just outside of Wausau. Skiers and snowboarders enjoy 225 acres of slopes and trails. It also boasts the Midwest's fastest ski lift system so that you can pack more runs into your visit.
The resort is part of Rib Mountain State Park, and also offers hiking, snowshoeing, and cross country skiing trails. If you don't ski or snowboard, consider a trip to nearby Sylvan Tubing Hill for more winter fun, where visitors can tube and sled.
Explore More of Wisconsin
Sign up for Weekend Wanderer to join 10,000+ readers getting epic travel ideas every week.
---