Wisconsin shows its true colors every fall when its leaves shift to fiery reds, oranges, and yellows.
Fall in Wisconsin is a magical time. The state becomes covered in a blanket of maples, oaks, birch, and more tree species that put on a beautiful show come mid-September. And with the arrival of sweater weather, Wisconsinites flock to state parks and national forests in search of fall colors.
However, leaf peeping isn't the only incredible thing to do in Wisconsin in the fall. At the end of September, many cities put on fall festivals celebrating Oktoberfest, the fall harvest, and apple picking. And nearly every town will have a few nearby pumpkin patches, Halloween corn mazes, and micro-breweries making seasonal, limited-run beers.
This list below covers some of the best places to see fall foliage in Wisconsin. And to make it even easier to time your visit correctly, check out the official Wisconsin Fall Color Report. It's a helpful resource.
Related Read: 10 Best Places to Visit in the Fall Across the U.S.
1. Holy Hill Basilica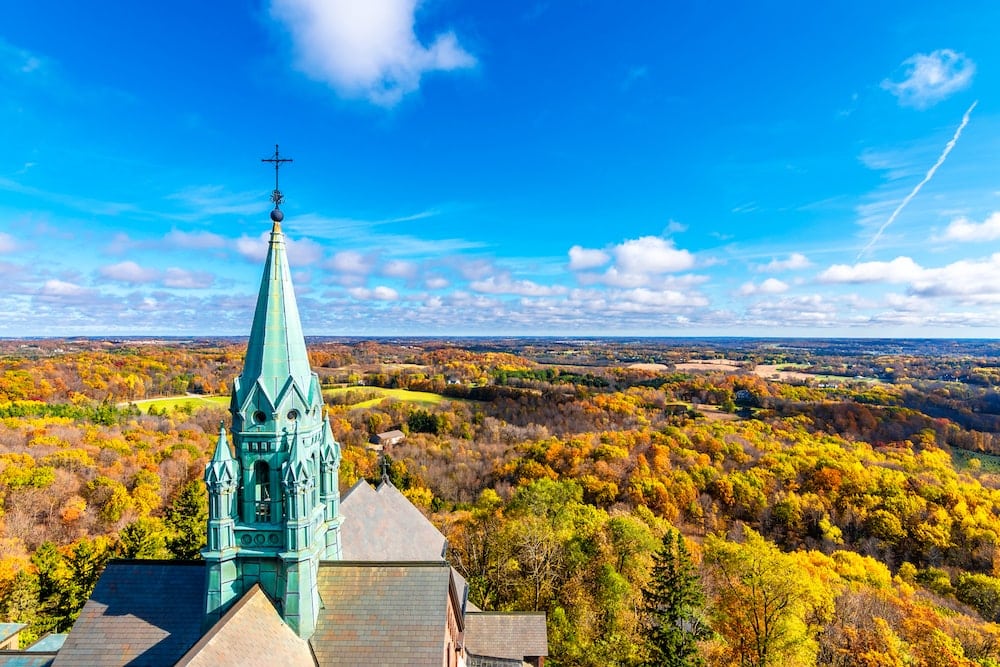 Why you should go: A photographer's dream at this landmark that looks like it belongs in Europe.
Nearest town: Hubertus
Peak foliage: October
The Holy Hill Basilica is one of the most popular places to see fall foliage in Wisconsin. This historic church sits atop a tall glacial hill, surrounded by colorful leaves. As you arrive, you can see the beautiful church towers poking through the vibrant forest. The iconic vista is popular with photographers and artists.
During your visit, be sure to climb the 178 steps to the top of the basilica tower for a bird's-eye view of the fall foliage. After your climb, feel free to take a take a hike around the church grounds to see the colors up close. This famous Wisconsin landmark attracts hundreds of thousands of visitors each year, so be sure to arrive early to avoid the crowds and ensure you can find a parking spot.
Related Read: 11 Best Things to Do in Madison, Wisconsin
2. Door County Coastal Byway
Why you should go: Drive one of the prettiest routes in one of the prettiest counties.
Nearest town: Sturgeon Bay
Peak foliage: Mid-September through mid-October
One of the best ways to see the best fall foliage in Wisconsin is by driving the roughly 90-mile Door County Coastal Byway that loops around the peninsula and passes sections of Lake Michigan's striking coastline. Along the way, you'll pass many charming small villages with apple picking, wine tasting, and fall festivals on most weekends.
However, the state parks are where you'll find the incredible show of colors. At Potawatomi State Park, the reds and oranges of sugar maples pair beautifully with green hemlock trees and the blue waters of Lake Michigan. For a great view, climb to the top of Old Baldy (a tall sand dune in Whitefish Dunes State Park) or to the observation tower at Peninsula State Park. There are also great views from the Cana Island Lighthouse.
Related Read: 10 Charming Day Trips from Milwaukee, Wisconsin
3. Devil's Lake State Park
Why you should go: Beautiful surroundings for hiking, paddling, or a good ol' fashioned BBQ.
Nearest town: Baraboo
Peak foliage: October
About an hour north of Madison, Devil's Lake State Park offers fantastic fall views from 500-foot-tall bluffs that follow the lake's shoreline. For a hike that'll get your heart beating, opt to climb the rocky Balanced Rock Trail that takes you past the famous rock by the same name. At the top, the trail connects with the East Bluff Trail, which offers some of the best vantage points for admiring fall colors.
Another fantastic way to relish the magical fall foliage in Wisconsin without the sore leg muscles is with a cookout near the beach; the park's grills and picnic tables stand ready to host. If you'd like to get on the water but don't have your own kayak, you can rent boats by the hour at the park.
Related Read: The 10 Best Hiking Trails in the Wisconsin Dells
4. Perrot State Park
Why you should go: Drive or cycle your way through shockingly colorful Wisconsin fall foliage.
Nearest town: Trempealeau
Peak foliage: Mid-September to mid-October
Perrot State Park is about 30 minutes north of La Crosse along the Wisconsin/Minnesota border. It's just off Wisconsin's famous Great River Road, an exciting scenic drive that follows the lush Mississippi River Valley. The park is known for Native American effigy mounds, diverse wildlife, and forested bluffs that change from green to reds and yellows in the fall.
For the best vantage point, follow the Brady Bluff Trail, which takes you high above the surrounding forest and the confluence of the Trempealeau and Mississippi rivers. For a cozy getaway in nature, spend the night at the park's spacious campground. Bikers can also catch fantastic autumn views along the Great River State Trail.
Related Read: 9 Amazing Weekend Getaways in Wisconsin
5. Apostle Islands National Lakeshore
Why you should go: Beautiful fall foliage from one of the Midwest's most famous shorelines.
Nearest town: Bayfield
Peak foliage: Mid-September to mid-October
The Apostle Islands National Lakeshore protects 21 islands and 12 miles of Lake Superior's southern shore. It's by far one of the most impressive natural landmarks in Wisconsin and is most famous for striking sandstone cliffs, sea caves, and paddle-in camping. The islands' unique ecosystem allows for both hardwood and boreal trees to flourish, creating a mix of bright greens and bright oranges, reds, and yellows during fall.
The best way to see the magical beauty of the islands' fall foliage for yourself is on an exciting sea kayaking trip (which you'll have to book in advance with a third-party operator). You can also explore the small hiking trails around the islands. Other fantastic ways to take in the Wisconsin fall foliage here include a lighthouse tour, a boat cruise, or a stop at the annual Bayfield Apple Festival. If you have more time, consider driving along the Lake Superior Scenic Byway, which continues along the lakeshore.
Related Read: The 14 Best Places to Visit in October in the U.S.
6. Lake Geneva
Why you should go: Admire the fall foliage from a luxurious dinner cruise (or while wine tasting.)
Nearest town: Lake Geneva
Peak foliage: October
Lake Geneva is a charming resort city with plenty of family-friendly things to do in the fall. One of the most famous is the Shore Path, a 20-mile trail around the lake. While walking or biking the trail, you'll pass beautiful historic homes and vibrant sugar maples that add a pop of color to the blue waters of Geneva Lake. For a more luxurious option, take a dinner cruise to enjoy the fall colors from the water while also learning about the unique history of the small town.
More fall attractions include Lake Geneva's Oktoberfest, local apple picking, and scenic drives through wooded roads like Rustic Road 11. A solid handful of wineries are near Lake Geneva, offering wine tastings in picturesque autumn surrounds.
Related Read: 13 Exciting Things to Do in Lake Geneva, Wisconsin
7. Grant Park's Seven Bridges Trail
Why you should go: No need to leave downtown for a picture-perfect fall hike.
Nearest town: Milwaukee
Peak foliage: October
The Seven Bridges Trail in Milwaukee's Grant Park is a lovely place to witness the spectacular show of fall colors thanks to its abundance of color-shifting trees. The trail is only two miles long but passes up and over ravines and several wooden bridges before ending on the shore of Lake Michigan. This park is a photographer's dream, to say the least.
If you have time to spare after your walk, consider climbing the North Point Lighthouse on the other side of the city. It's a historic 74-foot-tall lighthouse that looks out over Lake Michigan, Lake Park, and the city skyline. Milwaukee also hosts an abundance of harvest events at nearby farms and fall-themed events at the Milwaukee Public Market.
Related Read: 9 Luxury Cabins in Wisconsin Where Nature Meets Splendor
8. Timm's Hill County Park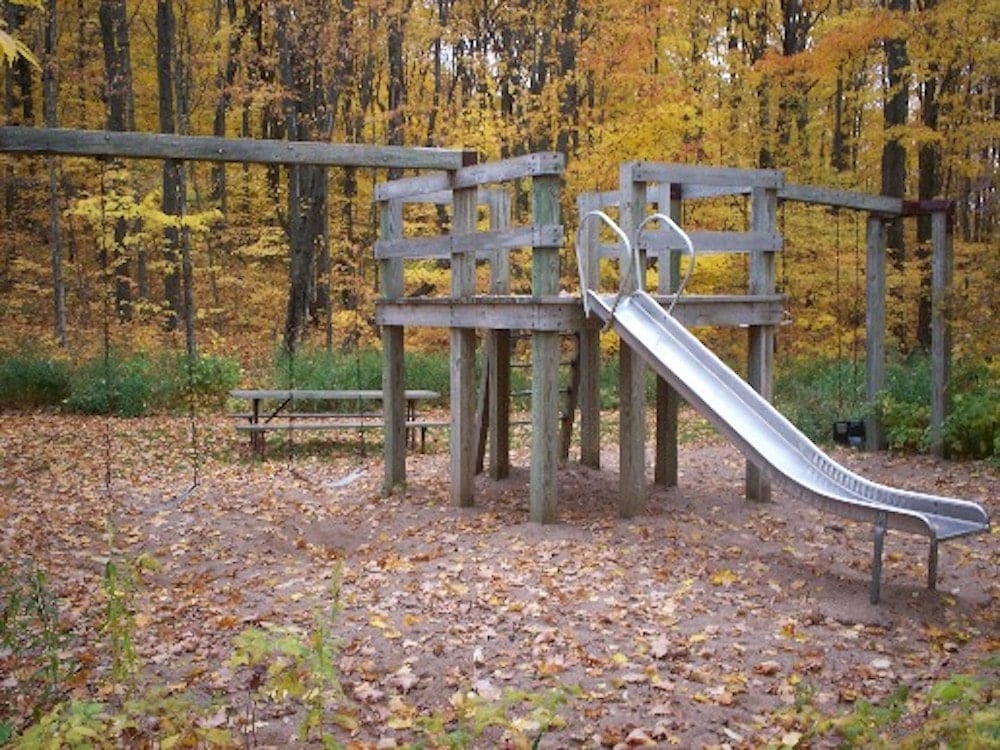 Why you should go: Hike to Wisconsin's highest peak for a picnic with the state's best views.
Nearest town: Ogema
Peak foliage: Mid-September to mid-October
Timm's Hill is Wisconsin's tallest point, reaching an elevation just over 1,950 feet above sea level. It's in the north part of the state, about an hour from Wausau and Rhinelander. An observation tower stands on top of the hill, providing miles of unobstructed views of the park's Bass Lake and surrounding forest.
The hiking trails in Timm's Hill County Park connect with the Ice Age Trail for even more fall hiking through the Northwoods. The park has various facilities for outdoor fun, including a public beach, boat launch and pier, and a picnic area with grills. If you have an inflatable paddleboard or kayak, bring it to with you to paddle on Bass Lake and get an on-the-water view of the forest colors.
Related Read: 8 Spectacular Places to See Fall Colors in Minnesota
9. Rib Mountain State Park
Why you should go: See some of the best fall foliage in Wisconsin from a soaring sunset chairlift ride.
Nearest town: Wausau
Peak foliage: Mid-September to mid-October
In central Wisconsin, Rib Mountain State Park amazes with its 1.7 billion-year-old hill that stretches 741 feet above the landscape. From the top, you can take in views of the Wisconsin River and the surrounding Wausau region. There's also an observation tower for even higher panoramic views.
If you're not up for a hike, you can hitch a ride on the park's famous Granite Peak Scenic Chairlift to see the fall leaves. The resort also offers sunset rides where you can witness the fall colors bathed in golden light. Rides are only available Friday through Sunday and cost $15 for adults. Tickets sell quickly, so be sure to book early.
Related Read: 11 Waterfalls in Wisconsin Not to be Missed
10. Hayward Lakes Area
Why you should go: Explore the beauty of Wisconsin's "Up North."
Nearest town: Hayward
Peak foliage: Mid-September to late October
Hayward Lakes is a region in northern Wisconsin within the Chequamegon-Nicolet National Forest. Scattered through this part of Wisconsin's Northwoods are more than 300 freshwater lakes, creating hundreds of perfect fall foliage viewing opportunities. With road cycling, hiking, mountain biking, camping, and water sports in the vicinity, it's hard to beat the recreation — and the beauty — of Wisconsin's scenic "Up North."
In town, the Hayward Fall Festival offers local eats, events, and live music every year near the end of September. There are also six self-guided Hayward color tours that cover hundreds of miles of scenic paths and drives past sugar maples, aspens, oaks, and bright red sumac shrubs.
Find Your Next Wisconsin Adventure
Sign up for the Weekend Wanderer to join thousands of readers getting epic travel and gear ideas every week.
---