We research and recommend travel destinations based on a number of factors, including our writers' own experience, user reviews and more. We may earn a commission when you book or purchase through our links. See our editorial policy to learn more.
Was this article helpful?
---
Named for the striking glacial sandstone rock formations along the Wisconsin River, Wisconsin Dells is a popular Midwestern tourist destination touted as the waterpark capital of the world.
It's no secret that Wisconsin Dells is most famous for Noah's Ark and the countless other water parks in the area. But what you might not realize is just how scenic and beautiful this part of the state is too.
Carved by advancing glaciers thousands of years ago, sandstone cliffs, river gorges, and unique rock formations stand as a stunning testament to Wisconsin's natural history.
Locals and visitors alike flock to gems like Devils Lake State Park, Mirror Lake, and Pewits Nest to experience some of the best hiking in Wisconsin. There's also no shortage of water fun to be had along the Wisconsin River and Lake Delton.
So grab your swimsuit and your fishing pole, (and maybe some bug repellent too), and let's get into our list of the best cabin rentals in and near Wisconsin Dells, Wisconsin.
Related Read: 9 Cozy Cabins in Northern Wisconsin For Your Next Trip Up North
Private Cabins Near Wisconsin Dells
1. The Eagle's Nest
Why you should stay: A quaint cabin built into a rocky outcropping conveniently located near Timme Mill.
Sleeps: 12
Minimum stay: 3-4 nights
Pets allowed: no
The Eagle's Nest is in an excellent location for those interested in making the most of nearby Mirror Lake. From the property, you can easily walk to the dam and fish, kayak and canoe into the lake. The most popular water parks of the Dells are just a couple of miles away for even more water fun.
Inside the Nest, you'll find enough sleeping space for up to twelve guests, not to mention a relaxing spa room with a Jacuzzi bathtub to soothe your tired body after an active day of water sports. Spend your afternoons out on the home's large decks that offer great views of local nature.
Related Read: 10 Beautiful Scenic Drives in Wisconsin
2. The Lazy Bear
Why you should stay: A secluded log cabin away from the crowds, only 10 minutes from the excitement of The Dells.
Sleeps: 10
Minimum stay: 1-4 nights
Pets allowed: no
The Lazy Bear offers guests an authentic log cabin experience out in the private seclusion of nature. This beautiful wooden home is surrounded by over seven acres of wooded land, promising an ultimate retreat away from the busy streets.
Although the property is secluded, it's still only a quick ten-minute drive from the local shops and restaurants of the city.
The rustic charm continues inside, where local Amish handicrafts and furniture fill the space. This three-level cabin has three bedrooms and two bathrooms to comfortably host a total of ten guests. There's also a cozy loft and two living rooms so you can easily stretch out during those moments of downtime.
Related Read: 10 Great Places to See Fall Colors in Wisconsin
3. Hide Out Cabin
Why you should stay: A pet-friendly tiny house experience nestled in the tall pines of Wisconsin.
Sleeps: 4
Minimum stay: 2-3 nights
Pets allowed: yes
Stay off the beaten path in the Hide Out Cabin, a tiny home with a ton of character. Perfect for a traveling duo or small family of four, this Wisconsin vacation rental offers guests an elevated glamping experience with the convenience of homey amenities.
Inside is a full bathroom and shower, as well as heating and AC for your comfort. Although the property is quite secluded, you'll be located just ten minutes from the Dells and a short drive to the region's other popular attractions like Devil's Lake State Park and Lyndon Station village.
Related Read: 10 Cozy & Comfortable Wisconsin Tiny Home Vacation Rentals
4. Whitetail Ridge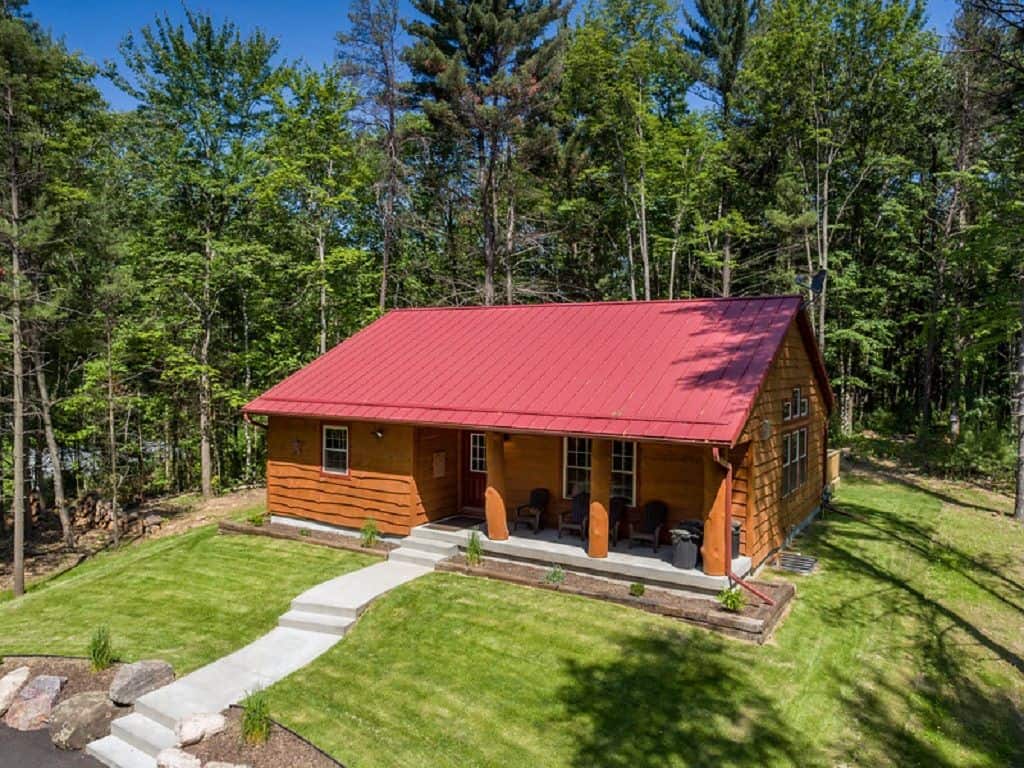 Why you should stay: Spacious luxury cabin with a well-appointed kitchen that's close to downtown.
Sleeps: 12
Minimum stay: 1-4 nights
Pets allowed: no
Whitetail Ridge is a picture-perfect cabin that's sure to ignite your sense of adventure. The home is encompassed by acres of lush green trees, with hiking trails in short walking distance. Behind the house, kick back and relax under the stars as a fire roars in the campfire circle, or sip your morning coffee on the back porch.
Up to 12 guests may stay at the Whitetail Ridge via the cabin's five bedrooms and plentiful sleeping spaces. The open-concept floor plan unites the kitchen, living room, and dining room for ultimate family bonding.
Related Read: 11 Incredible Airbnbs in Milwaukee, Wisconsin
5. Wisconsin River Cabin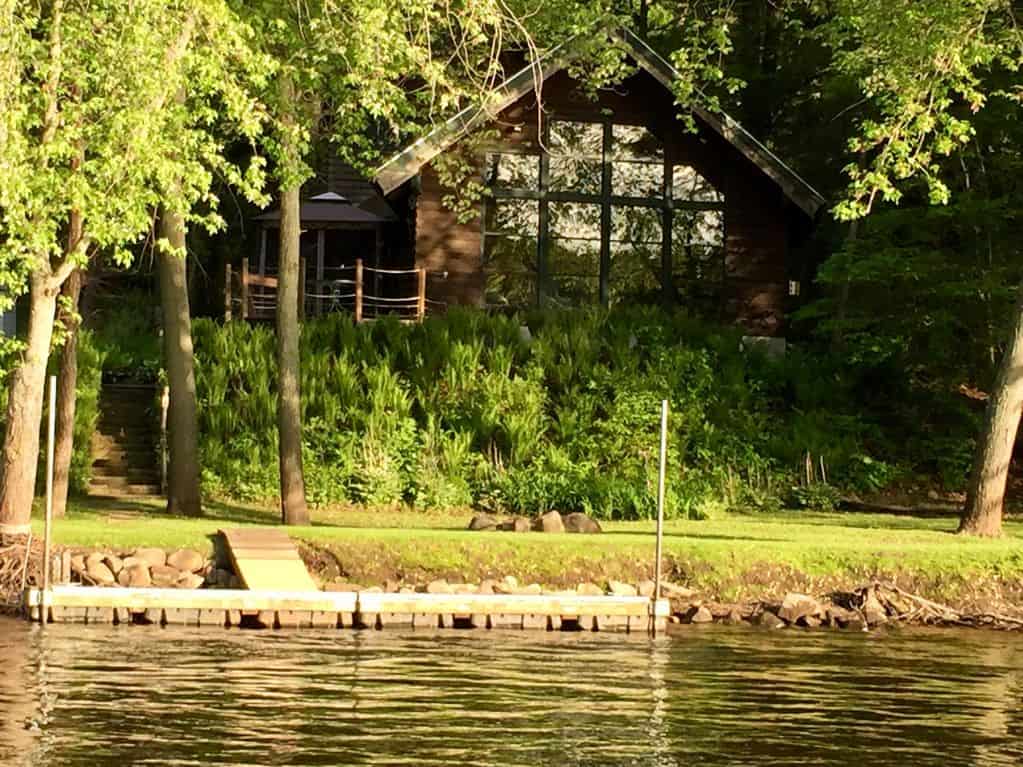 Why you should stay: Situated along the shores of the sparkling Wisconsin River and only minutes from Lake Wisconsin, this cabin is perfect for lazy days on the lake.
Sleeps: 8
Minimum stay: 2-4 nights
Pets allowed: yes
For families keen to spend most of their Wisconsin Dells trip on the lake, this Wisconsin River cabin is for you.
Vaulted ceilings make the space feel airy, and quaint furnishings dial up the cozy factor in this three-bedroom, two-bathroom cabin. The hosts have also provided a fully equipped kitchen with a large island and dining room for delicious meals together.
You can spend your days soaking up some sun at the local sand bar, and your evenings lakeside in the screened patio safe from pesky pests. There is a 20′ dock in the backyard for fishing, as well as a fire pit and BBQ grill. This cabin is just 30 minutes away from the Dells.
Related Read: 13 Exciting Things to Do in Lake Geneva, Wisconsin
6. Hana Log Cabin
Why you should stay: Unique log home conveniently located across the street from Devil's Lake State Park.
Sleeps: 12
Minimum stay: 1-3 nights
Pets allowed: no
Hana Log Cabin is an exceptionally high-rated Wisconsin vacation rental with four beautifully cared for bedrooms and two bathrooms for up to twelve guests.
This stunning home is located in the city of Baraboo, a great place for delicious local eats and shopping. When you're not exploring nearby Devil's Lake State Park, a day trip to the waterparks is an easy 20-minute drive.
Related Read: 9 Amazing Weekend Getaways in Wisconsin
7. Modern Cabin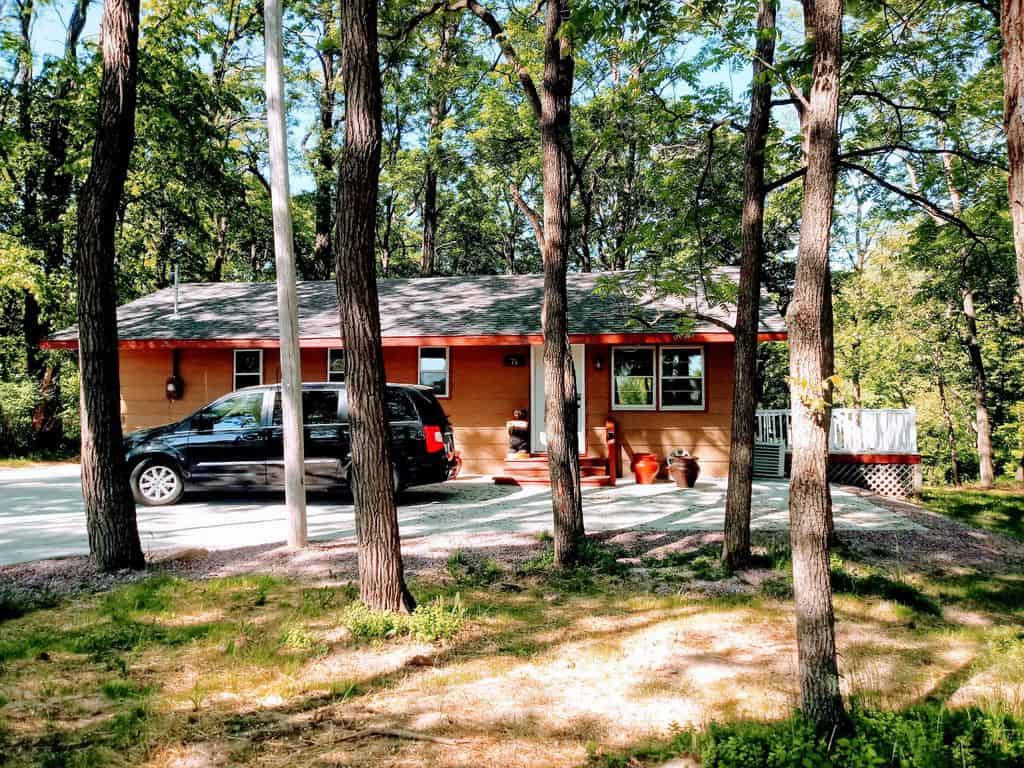 Why you should stay: A comfy cabin with modern amenities only feet away from Dell Creek.
Sleeps: 5
Minimum stay: 1 night
Pets allowed: no
Sitting atop a hill 100 feet from Dell Creek, this Modern Cabin has all the amenities needed for a memorable stay in Wisconsin Dells. With modern living spaces, an electric fireplace, breakfast nook, and a newer washer and dryer set, no detail has been overlooked in this cute little home for five.
When you're not enjoying the main attractions of the nearby Wisconsin Dells, you can canoe, beach and boat right across the street from the property at Newport Park. There's even a water sports rental shop nearby for your convenience.
Related Read: 9 Luxury Cabins in Wisconsin Where Nature Meets Splendor
Resort Cabins
8. Cedar Lodge
Why you should stay: Rustic resort on private grounds with access to a sandy beach on the Wisconsin River.
Sleeps: 6-8
Minimum stay: 2 nights
Pets allowed: no
Take in peaceful views of the Wisconsin River at the Cedar Lodge where family fun awaits. They have private lodge rooms, suites, villas, and rustic yet modern log cabin rentals for your stay.
At the Cedar Lodge, you can make the most of the river and nearby lake via the sunning deck, sandy beach, and water sport equipment rentals provided by the resort.
Related Read: 11 Best Things to Do in Madison, Wisconsin
9. Birchcliff Resort
Why you should stay: Choose from a variety of cabin sizes and enjoy the onsite outdoor heated swimming pool, nightly campfires, and access to nearby hiking.
Sleeps: 2-20
Minimum stay: 2-5 nights
Pets allowed: yes
Operating for nearly a century, Birchcliff Resort has been consistently ranked as one of the top cabin rental providers in the Dells.
The resort offers over thirteen different Wisconsin Dells cabin options that range to accommodate two guests to as many as twenty, for those planning a large group getaway. On the resort grounds, you'll have full use of the swimming pool, playground, resort hiking trails, and more.
Related Read: The 10 Best Hiking Trails in the Wisconsin Dells
10. Delton Oaks Resort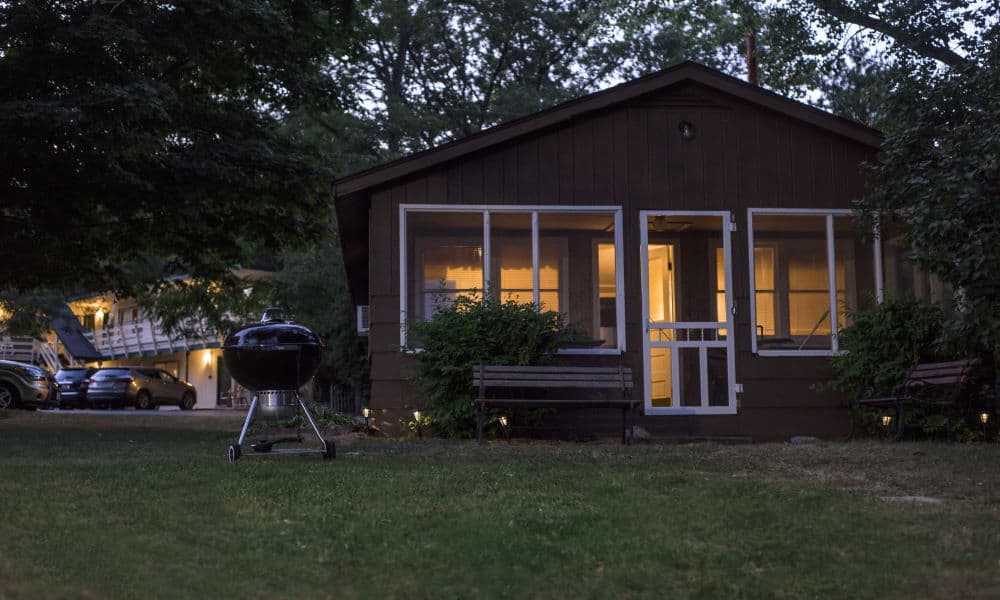 Why you should stay: Enjoy high-end amenities such as pontoon, boat and kayak rentals, fire pits, BBQ grills, and private sandy beach with dock.
Sleeps: 6-12
Minimum stay: 1-2 nights
Pets allowed: no
Located on the sandy shores of Lake Delton, Delton Oaks Resort is a family-friendly lake destination in the heart of the Dells.
They offer varying accommodation options such as private suites, villas, and cabin rentals that can host six, ten, or twelve-person groups. Pets are not allowed in the cabins, unfortunately, but they are in the private suites if you're traveling with your pup.
11. Kalahari Resort Villas
Why you should stay: Well-maintained private villas including waterpark admission to one of the best waterparks in the Dells.
Sleeps: 10-36
Minimum stay: 1 night
Pets allowed: no
The Kalahari is consistently ranked as one of the best water parks in Wisconsin and rocks a 3-star rating for their hotels.
They even offer private bookings in their Kalahari Resort Villas, perfect for large events, family reunions, team bonding weekends, and more. Admission to the waterpark is included in your stay, and they have countless luxury options that can sleep up to 36 guests.
12. Natura Treescape Resort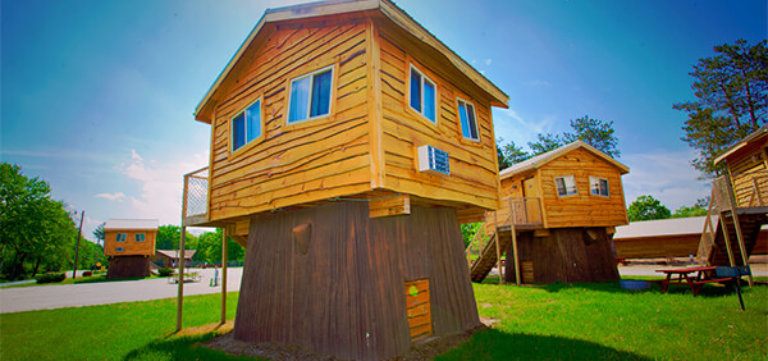 Why you should stay: Choose from a variety of unique Wisconsin Dells vacation rentals such as treehouses, campers, tiny homes and more.
Sleeps: 4-6
Minimum stay: 1 night
Pets allowed: no
Natura Treescape Resort is a land of options when it comes to your family's Wisconsin Dells getaway.
Whether you're looking for a camping experience in a high-end RV, a memorable stay in a treehouse, or even a chance to stay in a tiny home, Natura has it all.
Make the most of your stay and the on-site amenities such as the kid-friendly arcade, indoor swimming pools and whirlpools, and outdoor swimming pool too!
Plan Your Trip to Wisconsin Dells
With our wonderful Wisconsin Dells accommodation options covered, let's dive into the best things to do in the Dells. It's not just a place for water park nuts, but outdoor enthusiasts too!
Explore More Vacation Destinations
Sign up for our free email to join thousands of readers getting epic travel, hiking, camping and gear ideas every week.
Was this article helpful?
---