We research and recommend travel destinations based on a number of factors, including our writers' own experience, user reviews and more. We may earn a commission when you book or purchase through our links. See our editorial policy to learn more.
Was this article helpful?
---
Spice up your next adventure with one of Wisconsin's most memorable and unique places to stay.
You may think there are only cows and farms to be found in Wisconsin, and you wouldn't be entirely wrong. But once you sift through the typical, there's so much more to America's Dairyland than initially meets the eye. Whether it be the beauty of the state's thousands of lakes, miles of dense Northwoods, or spectacular bluffs, there are many things that make Wisconsin unique.
On top of its natural beauty, the state also rocks exciting cities like Milwaukee and the Wisconsin Dells plus a fantastic beer and cheese scene that no other state can beat. And one of the best ways to appreciate the things that make Wisconsin so special, is by staying in equally special accommodation.
This round-up shares some of the most unique places to stay in Wisconsin, so you can enjoy the very best of this midwestern wonderland.
Related Read: 10 Romantic Getaways in Wisconsin for the Ultimate Retreat
1. The Bent Beam Barn
Why you should stay: A lakeside dairy barn with a game room nestled a 15-minute drive from the Wisconsin Dells.
Location: Briggsville
Sleeps: 16
Minimum stay: 2-3 nights
Rates start from: $799/night
Nothing screams "America's Dairyland" more than a cozy getaway to The Bent Beam Bar. This unique VRBO features the classic bright red exterior and towering silo you'd expect on a farm, but one step inside, and you're greeted with a cozy, modern interior. But in staying true to its roots, rustic decor elements hang on the walls.
All around the barn, guests enjoy access to a sprawling yard where a fire pit and lawn games offer plenty to do. Not far from the property is Mason Lake, where it's possible to swim, kayak, and fish.
Check Availability
Related Read: 10 Awesome Pet-Friendly Cabins in Wisconsin
2. Saint Kate: The Arts Hotel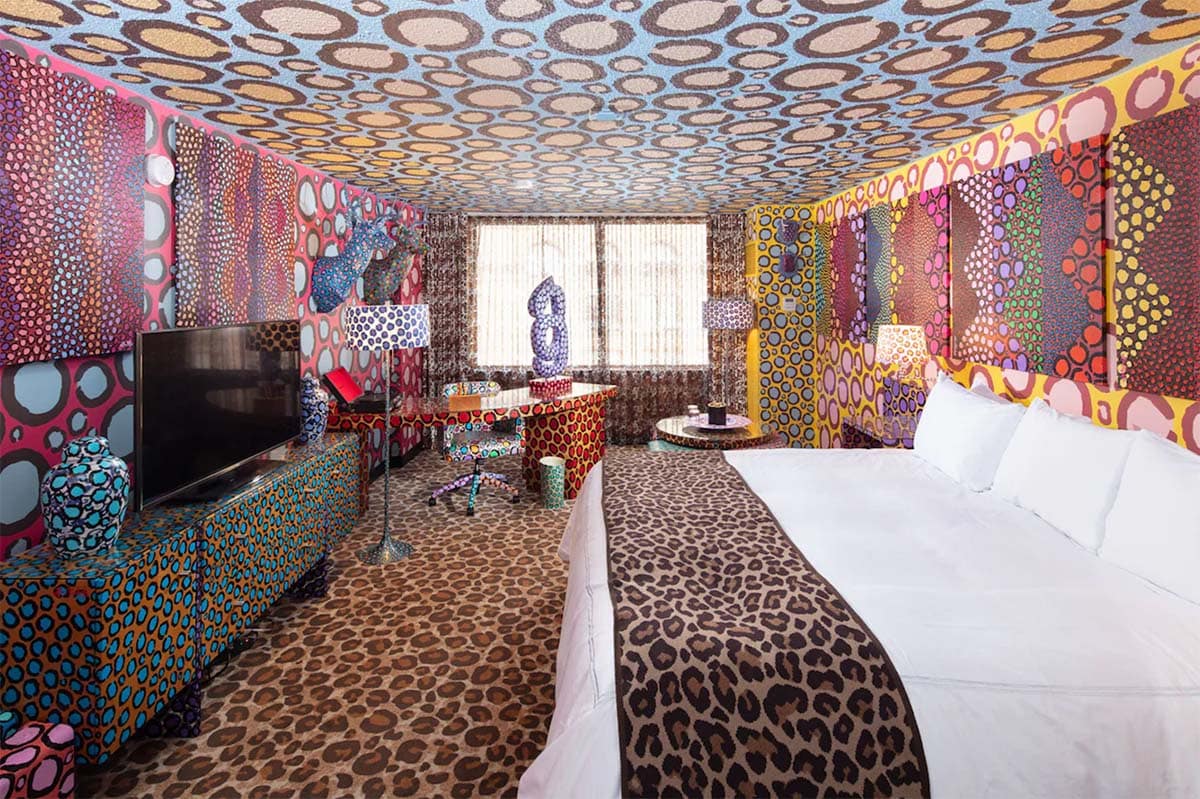 Why you should stay: An upscale hotel brimming with artistic flair in the heart of downtown Milwaukee.
Location: Milwaukee
Sleeps: 2-4
Minimum stay: 1 night
Rates start from: $226/night
As a AAA Four-Diamond hotel full of surprises, Saint Kate: The Arts Hotel has made quite the name for itself as one of Milwaukee's best and most unique hotels. Not only is each room decked out with works of art by Wisconsin artists, but with exciting amenities like a ukulele, too.
And when inspiration strikes, there are also colored pencils and a paper scroll in every room, allowing you to let loose your creative side. As for hotel-wide amenities, the hotel features an onsite fitness center, numerous eateries and bars, and an artsy shop where you can pick up fun and funky gifts.
Check Availability
Follow 'em: @SaintKateArts
3. The Lighthouse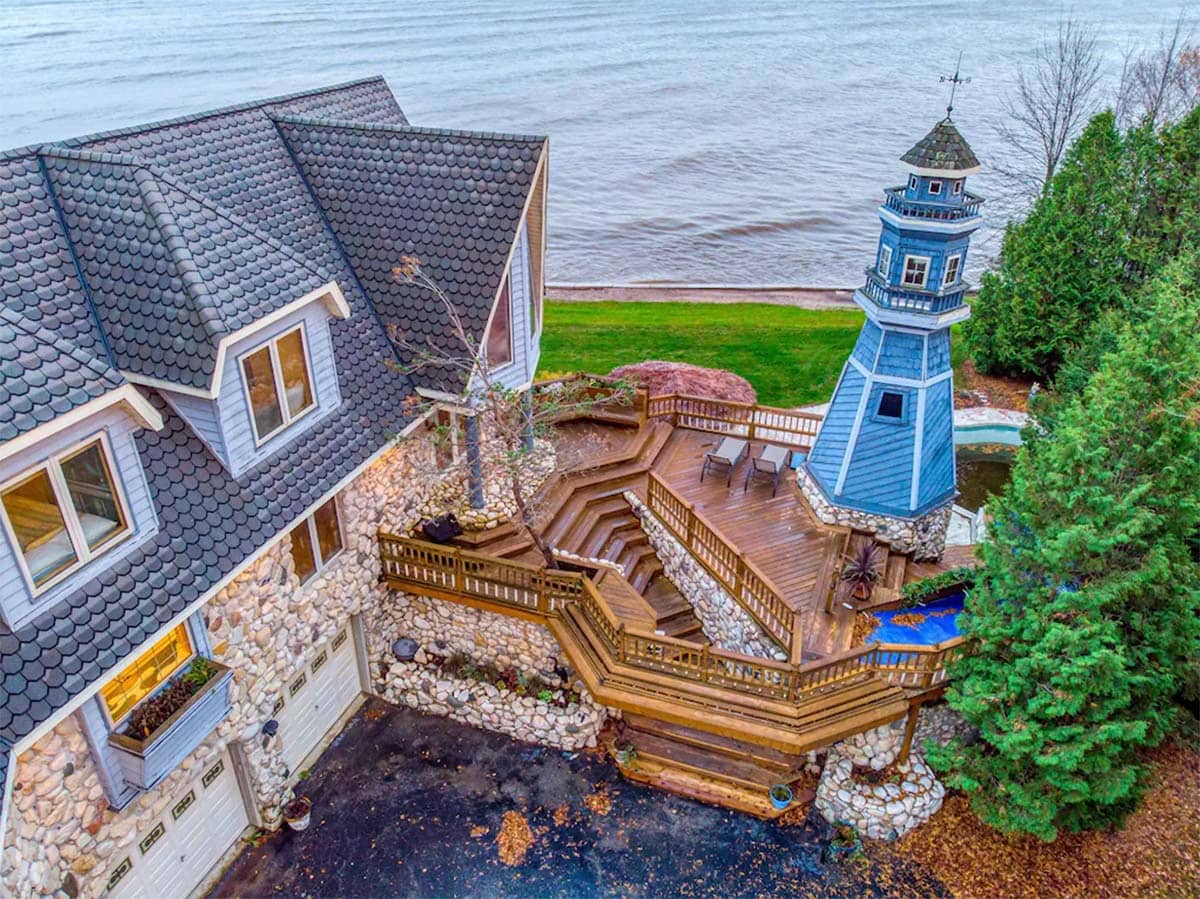 Why you should stay: A spacious vacation rental near Door County with resort-level outdoor amenities like a basketball court.
Location: Algoma
Sleeps: 28
Minimum stay: 3 nights
Rates start from: $322/night
At The Lighthouse, the whole extended family can relish the beauty of Lake Michigan, even pets! This incredible six-bedroom is furnished to the nines, boasting 19 beds, a large projection screen for movie night, and a game room with a pool table. However, the fun really gets started outside, where a stretch of private beach provides a lovely place to soak up Lake Michigan's beauty.
During your stay, be sure to take a peek inside the "Adventure Shed," where outdoor gear like kayaks, lawn games, and loaner bikes stand ready for your large group to use. You'll find this lovingly outfitted estate equidistant between Green Bay and Sturgeon Bay.
Check Availability
Related Read: 10 Best Hikes in Wisconsin for Hitting the Trail Any Time of Year
4. Wheel Inn Glamping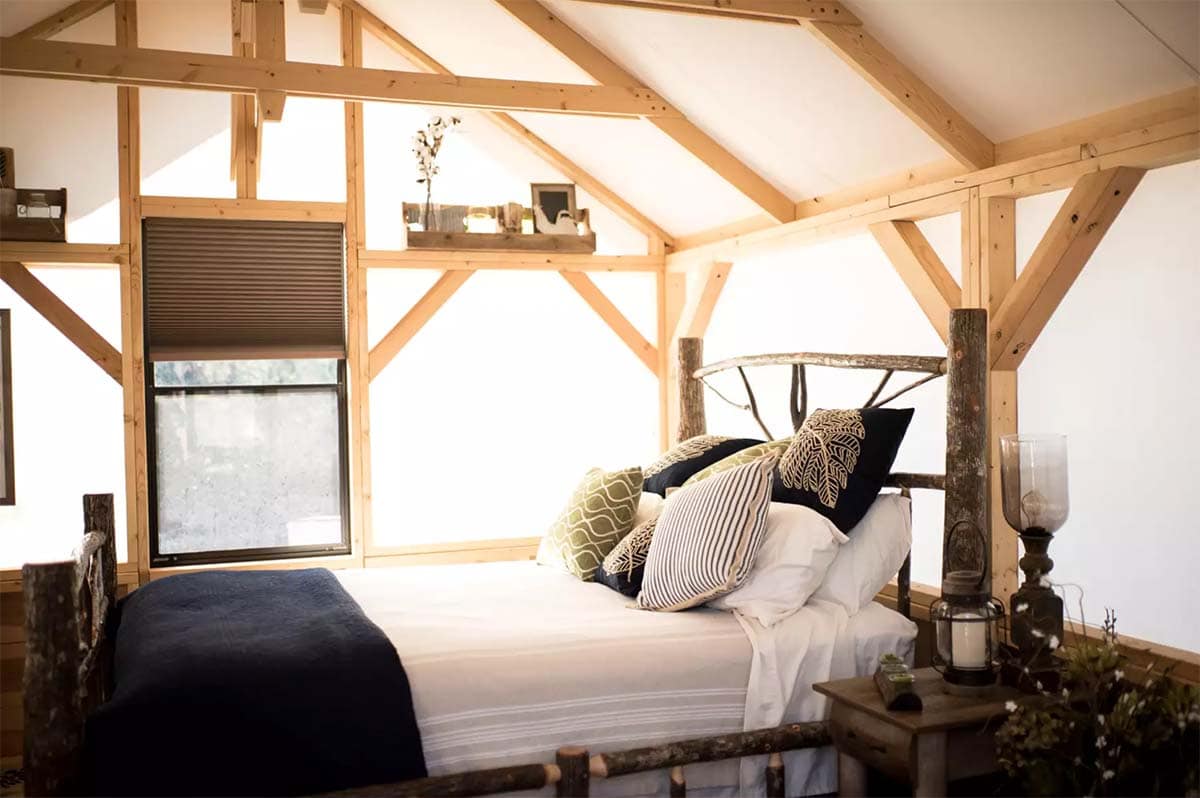 Why you should stay: A pair of glamping tent-cabins near where the Peshtigo River meets the Nicolet National Forest.
Location: Crivitz
Sleeps: 8
Minimum stay: 2 nights
Rates start from: $67/night
Owned and operated by a popular ATV bar, Wheel Inn Glamping offers a fantastic escape "Up North." Each cabin is furnished with homey touches like real beds, running water, and a fridge. There's also a bathhouse with showers available to guests.
What you won't find is reliable WiFi on the premises, offering the rare opportunity to disconnect. This glampsite is within easy access to various lakes, ATV trails, and the hiking trails of Governor Thompson State Park, which means there's a lot to keep outdoor enthusiasts happily entertained.
Check Availability
Related Read: 12 Amazing Wisconsin Glamping Rentals You'll Love
5. Still Bend: The Bernard Schwartz House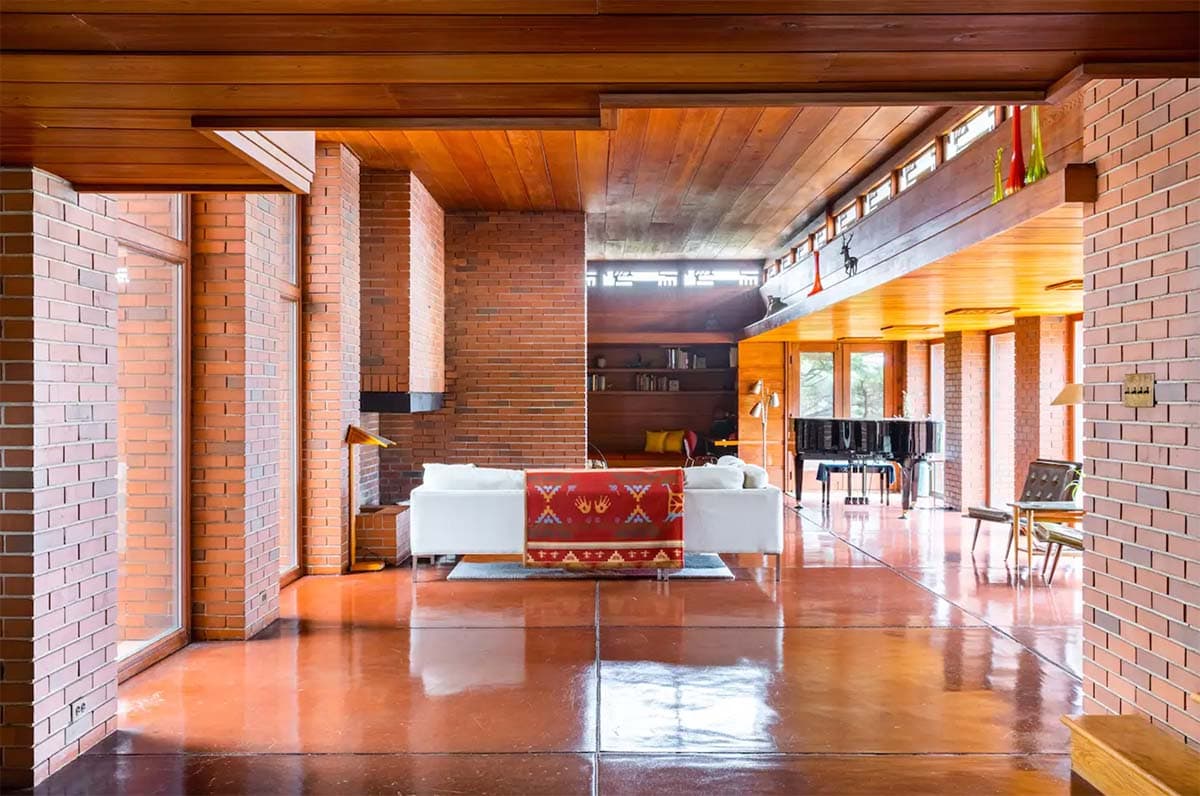 Why you should stay: An eye-catching home designed by famed Wisconsin-native Frank Lloyd Wright.
Location: Two Rivers
Sleeps: 8
Minimum stay: 2 nights
Rates start from: $595/night
You know a place is exceptional when it's not only been listed on the National Register of Historic Places but has also been featured by the likes of Netflix, the Travel Channel, the New York Times, and more. Experience the wonder of Still Bend: The Bernard Schwartz House for yourself, a historic establishment that shows off Wright's renowned style.
Crisp lines and natural elements are at the heart of the home, which is warmly illuminated by floor-to-ceiling windows. Retro furnishings and mod decor tie the place together nicely and offer a comfy stay for guests seeking a peaceful reprieve.
Check Availability
Follow 'em: @StillBend
6. The Charmant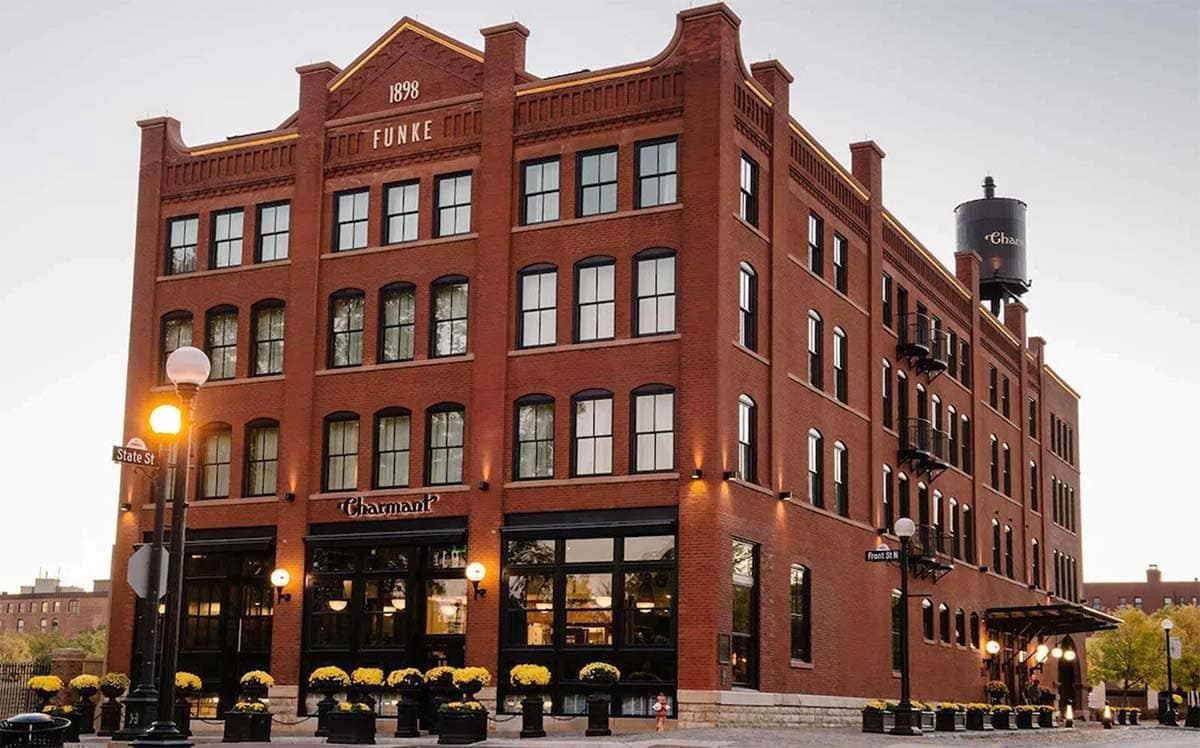 Why you should stay: An old candy factory turned four-diamond hotel feet from the scenic Mississippi River.
Location: La Crosse
Sleeps: 2-4
Minimum stay: 1 night
Rates start from: $179/night
The Charmant is a boutique hotel in downtown La Crosse that pays tribute to its origins as a candy factory. From the exposed red brick to the reclaimed hardwood beams and floors, you can see the history of the place in every corner. But the best part is the welcome chocolate at check-in and the hotel's Sweets Bar, where you can satisfy your sweet tooth.
Other modern amenities like a fitness center, spa, and rooftop cocktail bar, are also available at the Charmant. And in the comfort of your room, tasteful decor and unique touches welcome you to one of Wisconsin's vibrant university towns.
Check Availability
Follow 'em: @TheCharmantlc
7. Sanctuary at Little Sand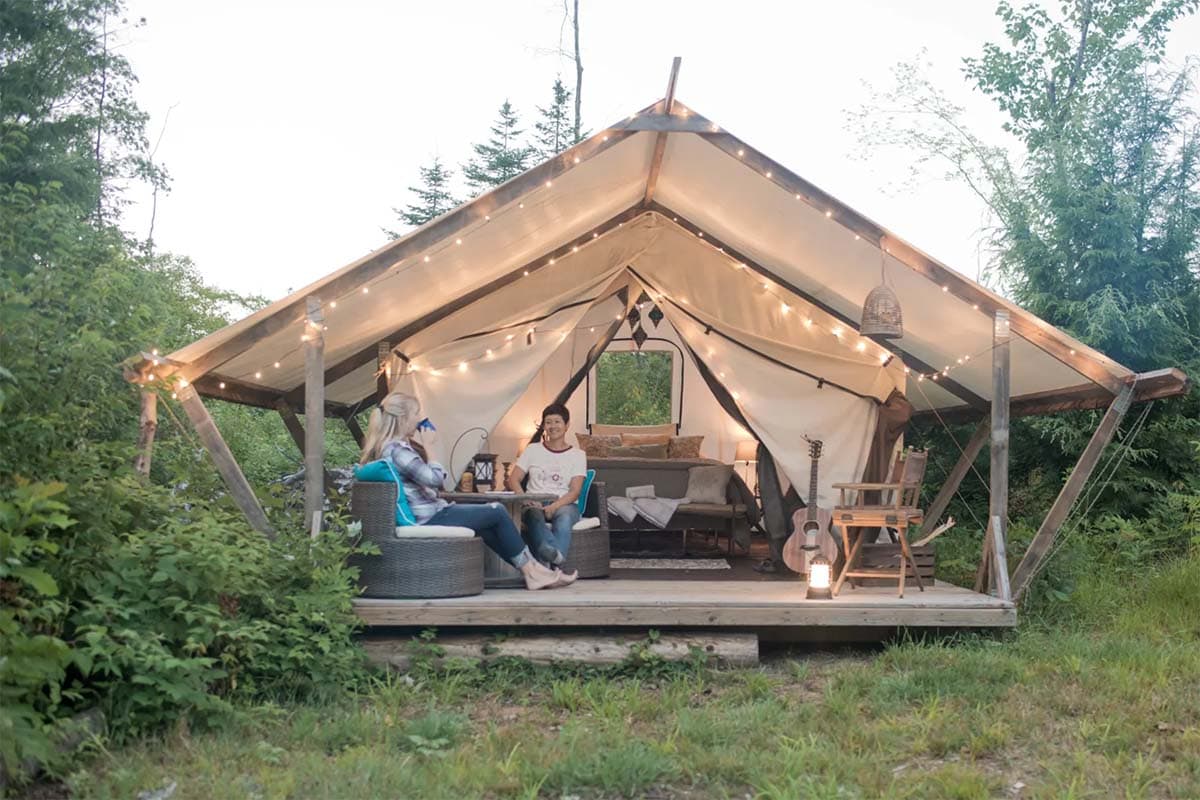 Why you should stay: A homey glamping tent ideally situated near the majestic Apostle Islands.
Nearest town: Bayfield
Sleeps: 4
Minimum stay: 2 nights
Rates start from: $95/night
The Sanctuary at Little Sand provides a cozy home base for exploring the beauty of Bayfield, a port city best known as the gateway to the Apostle Islands National Lakeshore. As a glamping tent, you won't find electricity or running water, but rather an elevated camping experience that includes shelter, a soft bed, and rustic bathroom facilities.
The hosts also provide complimentary drinking water and enough wood for your first fire. The tent is tucked on a semi-remote wooded property, away from the hubbub but still convenient to top spots like Meyers Beach and downtown Bayfield.
Check Availability
Related Read: 9 Fabulously Unique Places to Stay in Illinois
8. Beechwood Cottage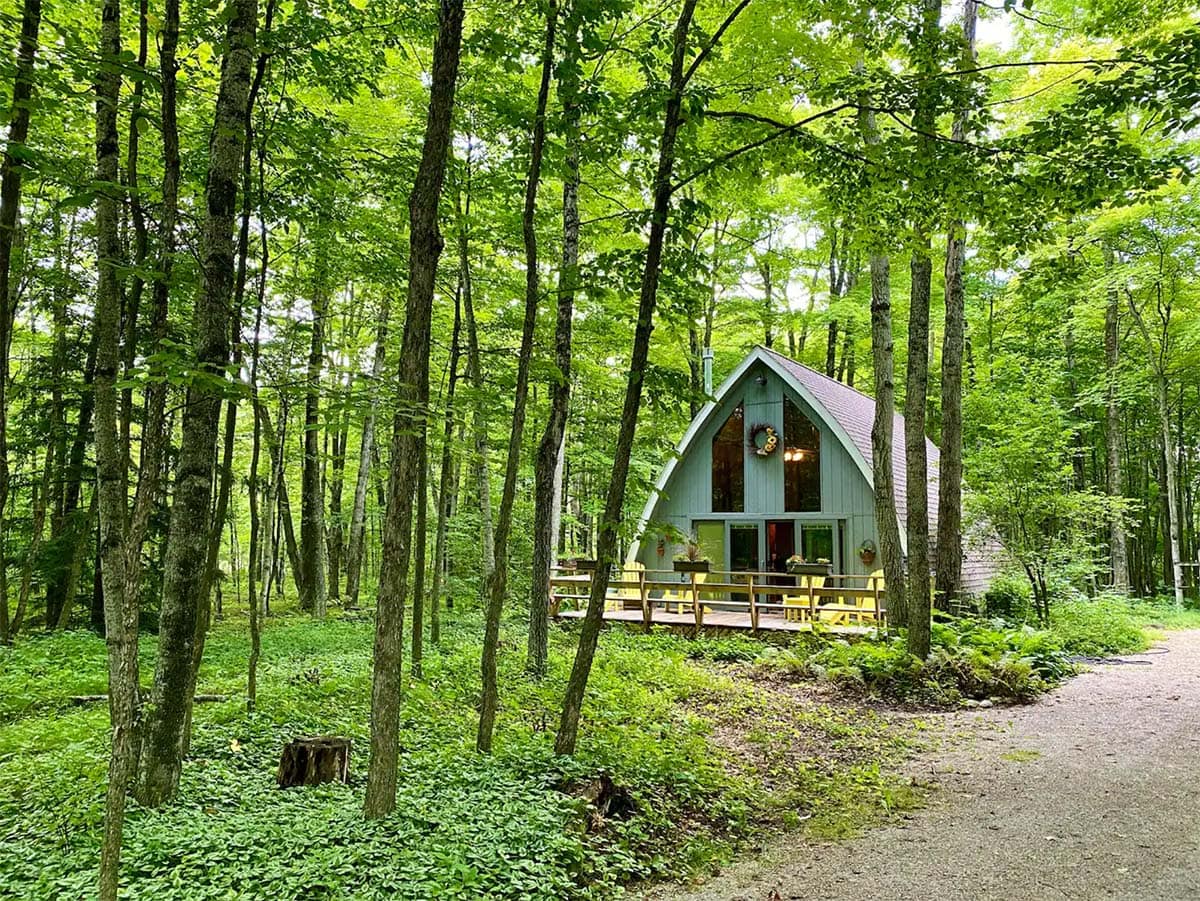 Why you should stay: A quaint little Door County A-frame in the woods.
Location: Sister Bay
Sleeps: 4
Minimum stay: 3 nights
Rates start from: $200/night
With its vaulted ceilings and eye-catching spiral staircase, the Beechwood Cottage is the epitome of a cute and charming vacation rental. This two-bedroom cabin also rocks unique amenities like a reading nook in the loft and an all-glass shower that looks out onto the property's idyllic beechwood trees.
Guest Aeron shares, "Very clean little A-frame that has been updated with everything you will need to enjoy your time in Door County. Secluded and quiet with a wonderful screened-in porch that was perfect for reading. Only minutes away from downtown Sister Bay."
Check Availability
Related Read: 12 Best Cabin Rentals in Door County, Wisconsin
9. Canoe Bay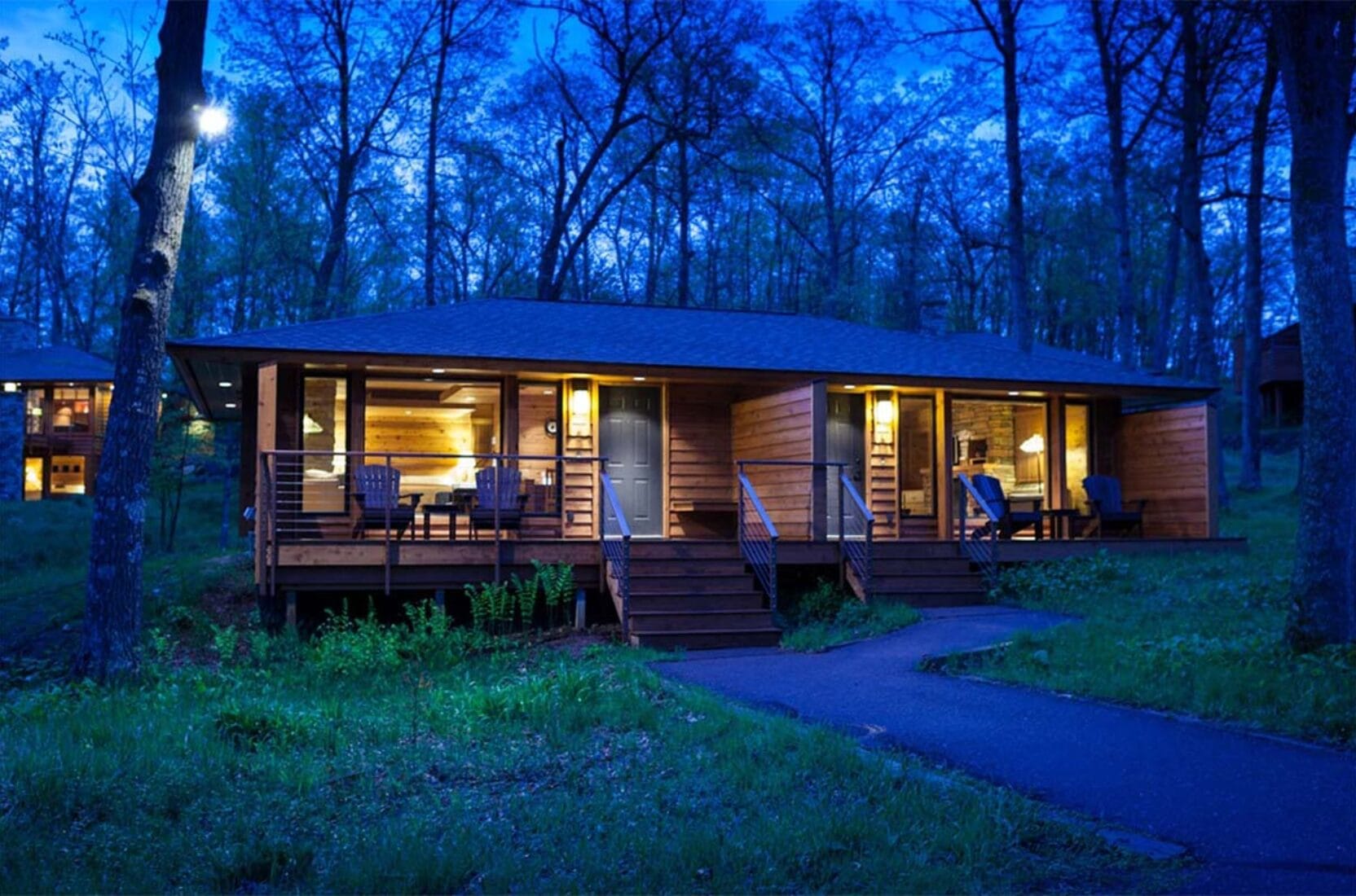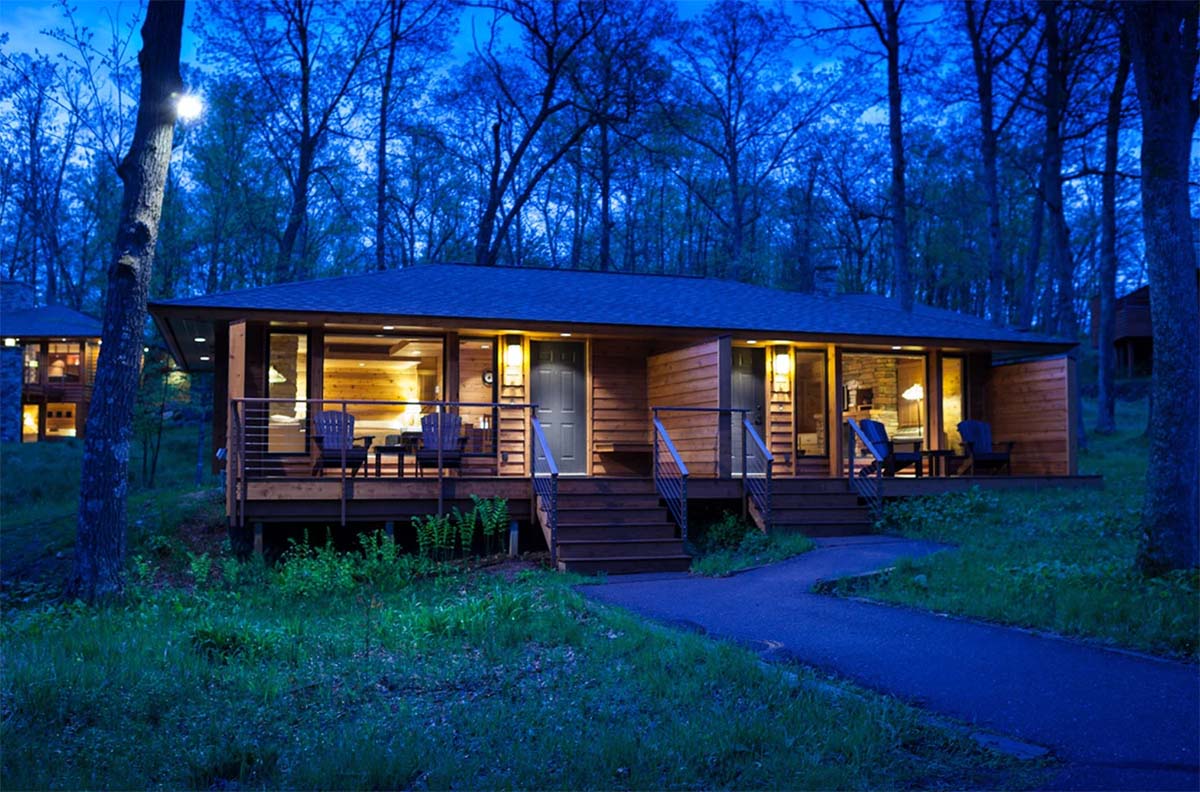 Why you should stay: A four-star lakeside lodge with an onsite spa and fitness center.
Location: Chetek
Sleeps: 2-4
Minimum stay: 1 night
Rates start from: $325/night
Canoe Bay is an adults-only resort immersed in the natural beauty of 300 sprawling acres just north of Eau Claire. This outdoor resort offers private, standalone accommodations that promise utmost romance and relaxation. Every unit boasts a private deck or enclosed patio and all the comforts of an upscale hotel stay.
As an added bonus, it's possible to order freshly prepared dinners with locally sourced ingredients to be conveniently delivered to your doorstep six nights a week. The property sits along the shores of Dead Goose Lake, where guests can indulge in paddleboarding and kayaking.
Check Availability
Follow 'em: @CanoeBayRelaisChateaux
10. Unique Architect-Designed Home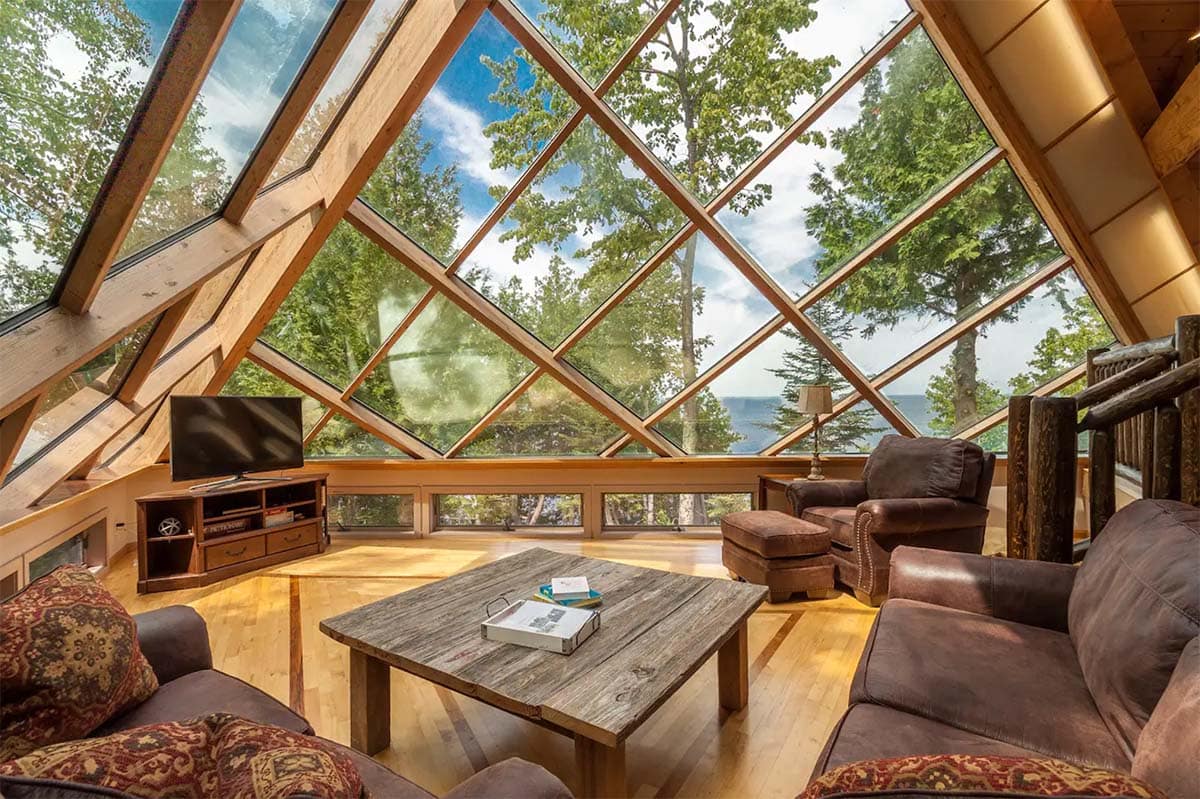 Why you should stay: An architecturally stunning home perched on the edge of a cliff offering fantastic views of Lake Michigan.
Location: Ellison Bay
Sleeps: 6
Minimum stay: 7 nights
Rates start from: $433/night
From the living room's glass ceiling to the attractive knotty pine surfaces, outstanding design elements wow in this unique architect-designed home. This unique place to stay is also an excellent pick for multi-family groups, thanks to what the hosts call the "Garage-Mahal," a separate living space complete with a kitchenette and private bathroom.
As if that's not enough, the house rocks a stellar location along the shores of Lake Michigan, views of which are best taken in from the massive, wraparound deck. When the weather is warm, you can venture to the waters of the Great Lake via the yard's wooden staircase.
Check Availability
Related Read: 9 Cozy Cabins in Northern Wisconsin For Your Next Trip Up North
11. Maxwell Mansion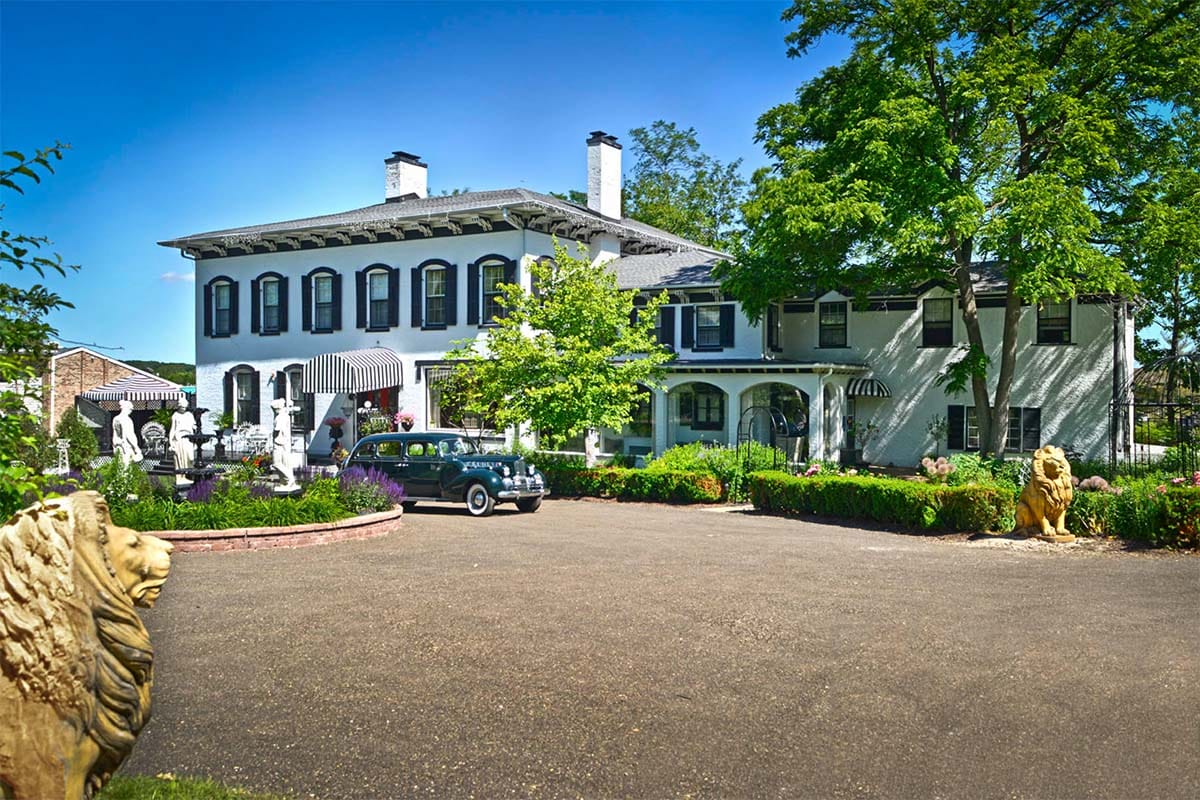 Why you should stay: A historic 3-star boutique hotel in the heart of downtown Lake Geneva not far from Big Foot Beach State Park.
Location: Lake Geneva
Sleeps: 1-4
Minimum stay: 1 night
Rates start from: $299.99/night
Dating back to 1856, the Maxwell Mansion has long been an iconic landmark in Lake Geneva. Today, this adults-only hotel continues to captivate guests seeking a reprieve in one of Wisconsin's best lake getaways. This historic estate offers upscale lodging in the original mansion or the Carriage House & Stable Suites.
In the mansion, the period-theme design pays homage to the mansion's year of establishment, whereas the Carriage House is dedicated to a modern farmhouse chic aesthetic. Other excellent amenities include the onsite heated pool, speakeasy bar, and courtyard with a fire circle.
Check Availability
Follow 'em: @MaxwellMansion
Where to Go Next in Wisconsin
Get epic travel ideas delivered to your inbox with Weekend Wanderer, our newsletter inspiring thousands of readers every week.
Was this article helpful?
---