We research and recommend travel destinations based on a number of factors, including our writers' own experience, user reviews and more. We may earn a commission when you book or purchase through our links. See our editorial policy to learn more.
---
Lake Geneva is a four-season destination famous for its historic charm and summer lake fun.
Situated about an hour and a half from Chicago and one from Milwaukee, Lake Geneva has long acted as a place for city folk to escape, and it's not difficult to understand why.
The fresh waters of Geneva Lake invite you to swim, fish, beach, and explore. The city's highly rated golf courses and upscale resorts make unwinding a breeze.
Not to mention, the miles of hiking and walking trails that appeal to those wishing to find a reprieve in nature and stay active. Thanks to its status as one of the best weekend getaways in Wisconsin, there are also plenty of delicious eateries to satisfy your cravings during your visit.
Whether you're coming to relax or experience the nature of the region, there are countless incredible things to do in Lake Geneva.
Related read: 11 Peacefully Secluded Cabin Rentals in Wisconsin
1. Spend the Day on Geneva Lake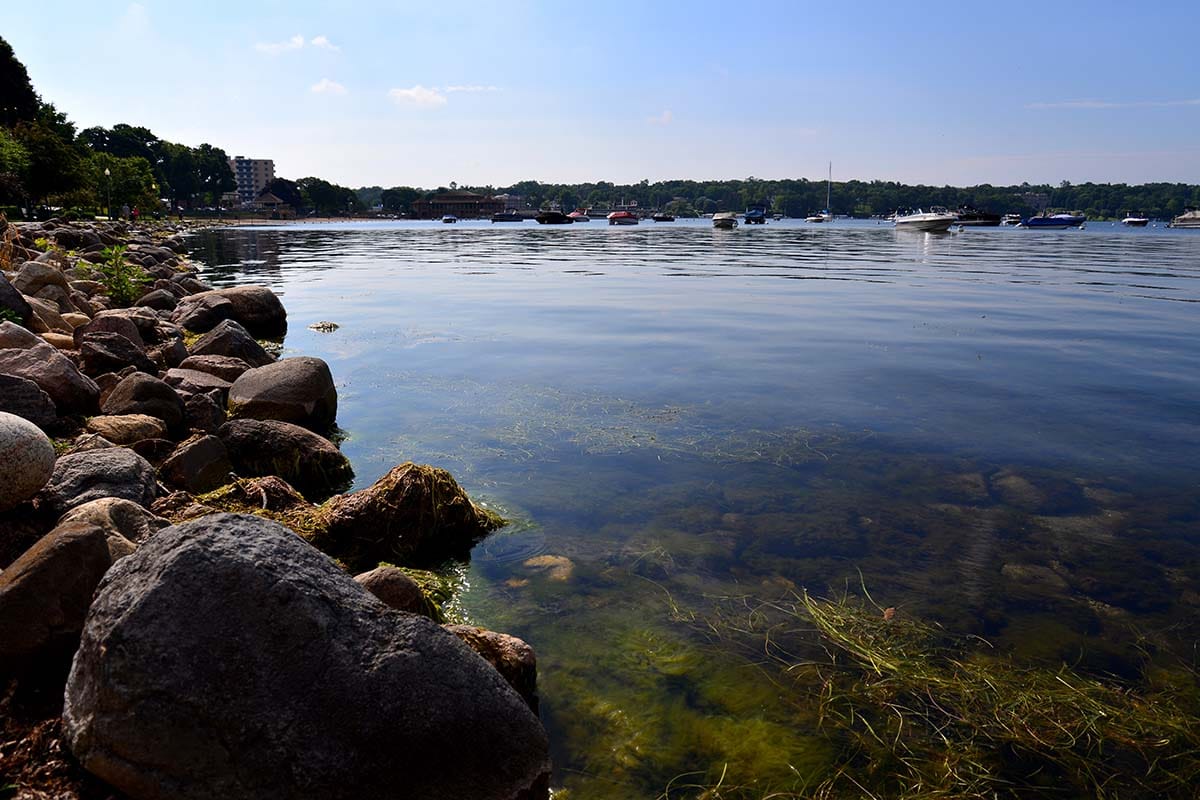 It should come as no surprise that one of the most popular attractions in Lake Geneva is the 7.5-mile lake that it sits along. Many who visit rent a boat for a day of cruising and relaxing under the sun. Fishing is also quite popular on the lake, where it's possible to catch walleye, northern pike, bass, and lake trout.
Organized cruises are another great way to see the lake in the summer and typically run for two to three hours. TheLake Geneva Cruise Line is a highly rated tour operator that offers Sunday brunch, lunch, and dinner cruises while sharing the city's unique history. Other water-based activities include kayaking, canoeing, and paddleboarding.
Related read: 10 Beautiful Scenic Drives in Wisconsin
2. Relax at Riviera Beach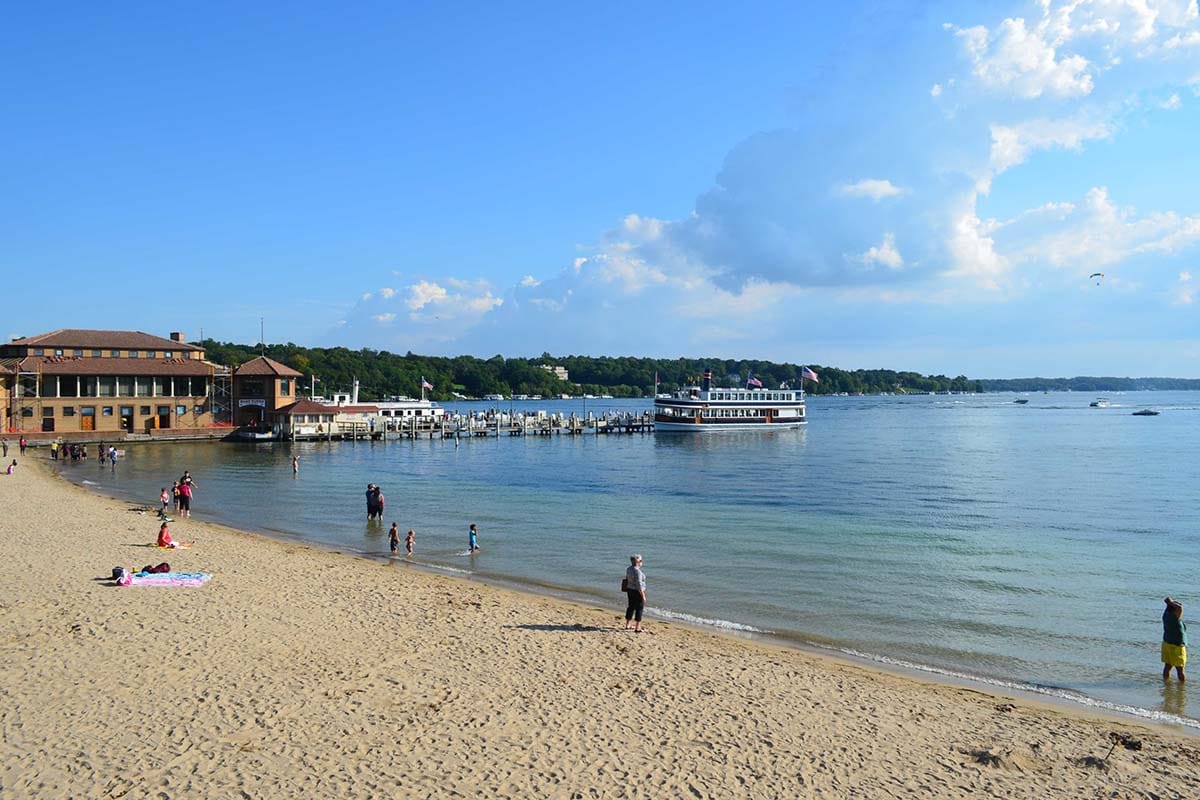 Those who prefer sandy shores should plan to spend a day relaxing on one of Lake Geneva's excellent beaches. Riviera Beach is considered the best in the city and is conveniently located near the Lake Shore Path and popular restaurants and bars.
When lifeguards are on duty during the main hours of 9 am to 6 pm, visitors must purchase a day pass. Admission for the day costs $8 for non-residents and $3 for locals.
Related read: 11 Waterfalls in Wisconsin Not to be Missed
3. Take a Walk on Lake Shore Path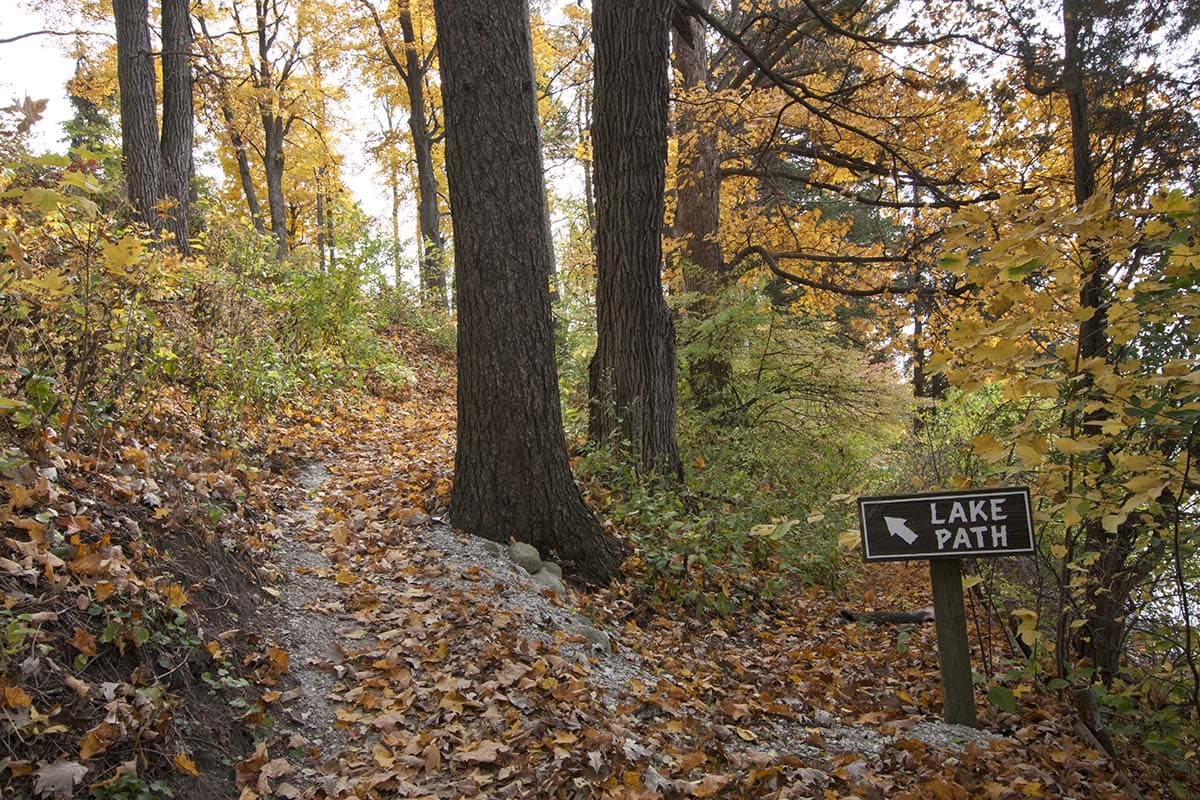 The Lake Shore Path is a 26-mile long trail that encircles Geneva Lake and takes you past some of the city's most impressive historic mansions. While walking the entire 26 miles isn't feasible for everyone, there are various segments that offer different walking experiences.
The best portions of the trail leave from the Lake Geneva Public Library or Big Foot State Park. Another fantastic way to enjoy the path is to time your visit for the sunset, which usually puts on a colorful show over the lake. Bicycles are not allowed on the trail, however, leashed dogs are.
Related read: 14 Best Things to Do in Wisconsin in Every Season
4. See the City's Historic Victorian Mansions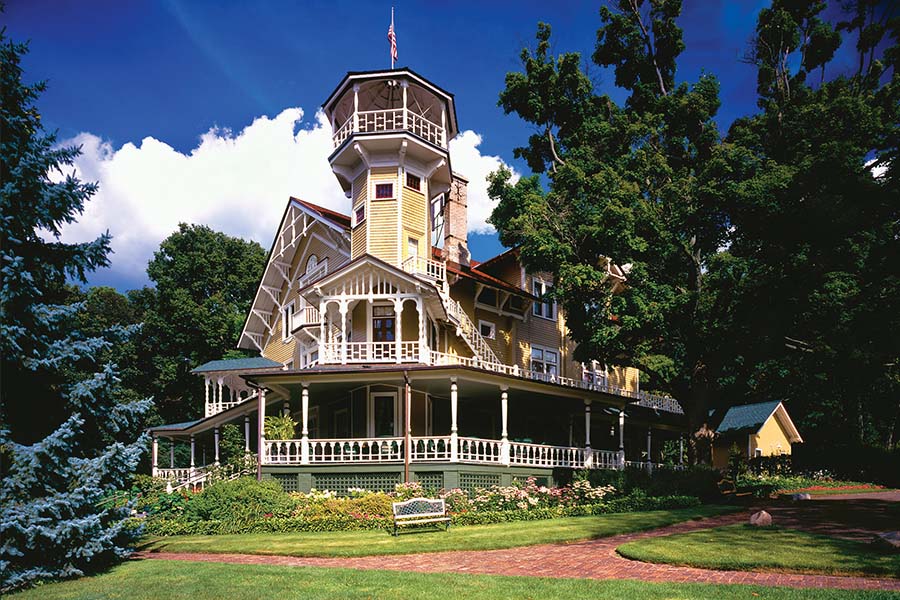 Lake Geneva has been a prosperous resort getaway since the 1800s, and the beautiful historic mansions that still stand today reflect this history. While you only need to take a walk around downtown to glimpse beautiful buildings, there are a few specific landmarks you should have on your radar.
Black Point Estate & Gardens is one such example of the city's stunning Victorian architecture. Previously owned by Conrad Seipp, founder of Chicago's Seipp Brewing Co, it now welcomes visitors itching to see the beautiful manicured lawn and lakefront views.
For a more personal experience, some of the city's most impressive mansions have been turned into bed and breakfasts. For example, the Maxwell Mansion is a three-star hotel that dates back to 1856 and boasts romantic lodging that oozes old-world charm.
Related read: 9 Fantastic Weekend Road Trips from Milwaukee, Wisconsin
5. Sample Locally Made Wines & Spirits at Studio Winery & Distillery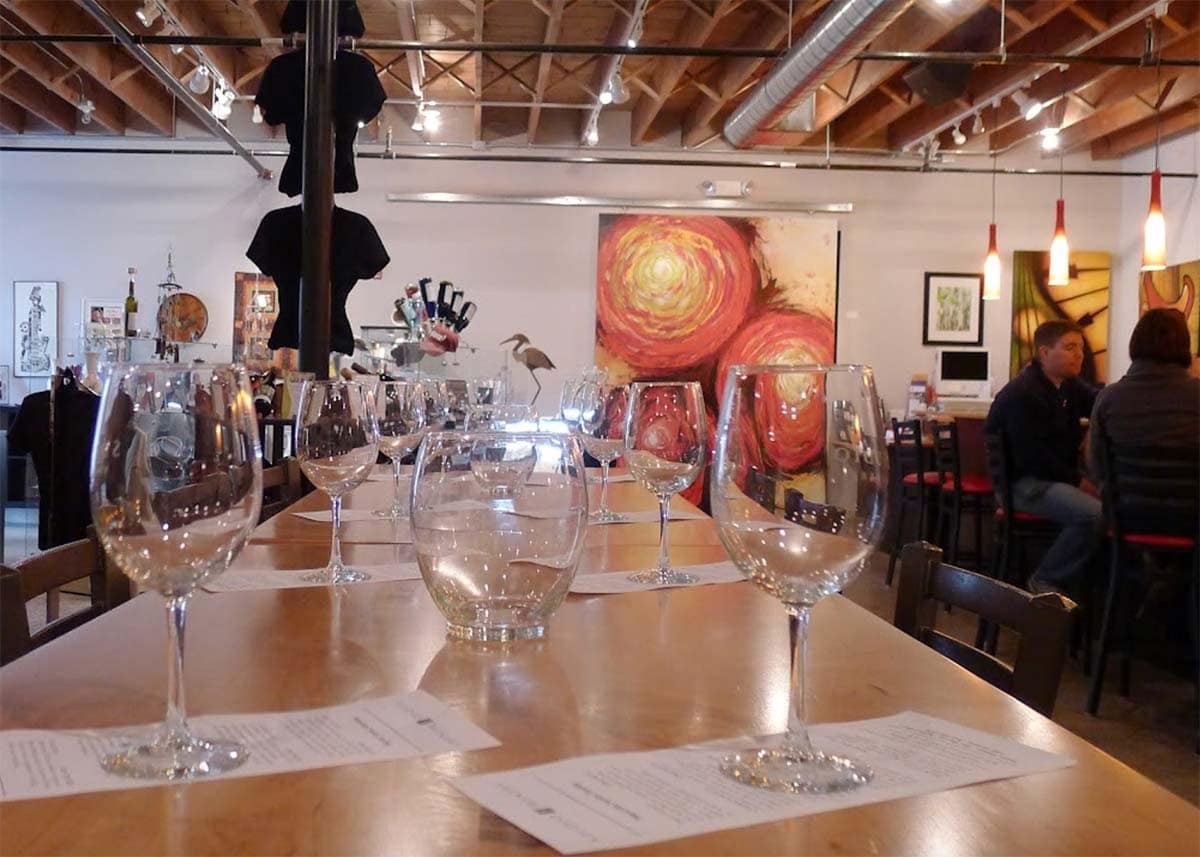 Wisconsin has a long tradition of supporting local breweries and wineries, a tradition that's alive and well in Lake Geneva. At the Studio Winery & Distillery on Lake Geneva's east side, visitors can sample local wines and spirits in an artsy environment.
Their Tasting Room serves a wide range of dry and sweet wines that are made using locally grown grape varieties as well as spirits like rum, vodka, and moonshine.
Tastings are open for reservations on weekends, Mondays, and Thursdays. Although tasting tours aren't available on Friday and Saturday evenings, the winery hosts live music events and open seating. You can jam and order glasses or bottles from the bar.
Related read: 14 Places to Visit in Wisconsin for the Ultimate Badger State Experience
6. Play a Round at a Renowned Golf Course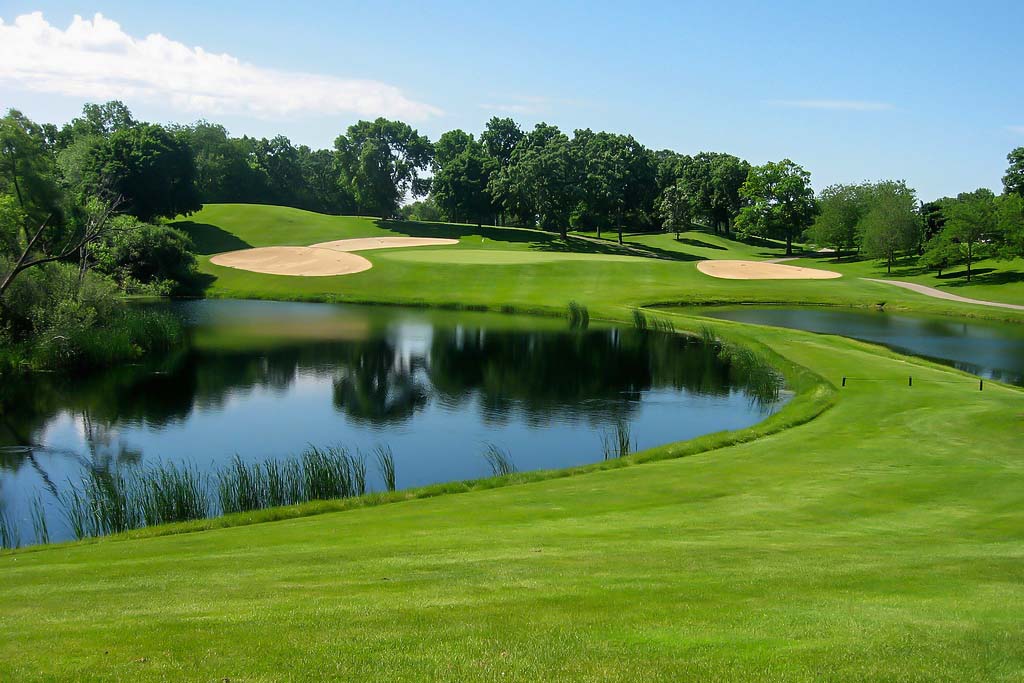 Lake Geneva is considered a premier golf destination in the Midwest, thanks to the eight courses within city limits and the nearly 40 found within 20 miles of the lake. Two of the most famous golf courses in Lake Geneva are The Brute and The Highlands courses, both maintained by the Grand Geneva Resort and Spa.
This golf resort sits on an astounding 1,300-acres of property and features a driving range, golf pro-shop, chipping and putting green, plus lessons for beginners.
Other notable golf courses in Lake Geneva include Hawk's View Golf Club and the Majestic Oaks Golf Course at Lake Lawn Resort.
Related read: 10 Romantic Getaways in Wisconsin for the Ultimate Retreat
7. Escape the City at Big Foot Beach State Park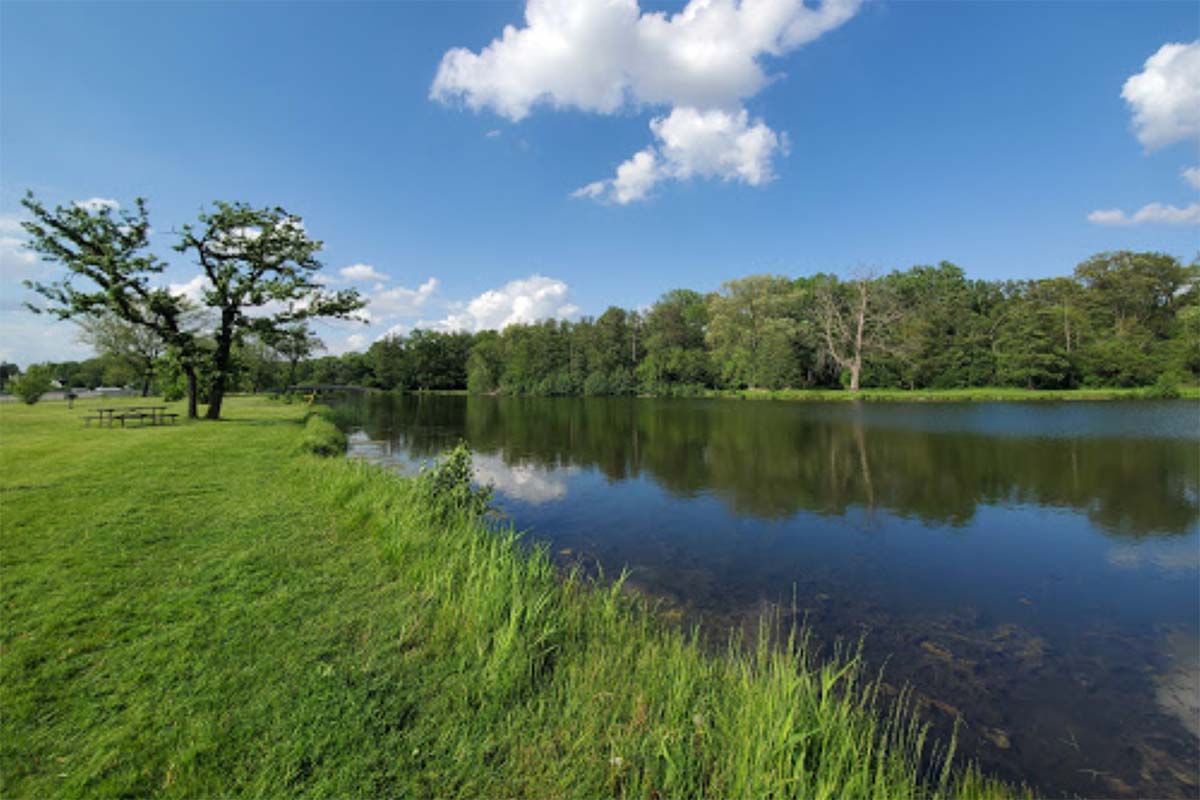 Big Foot Beach State Park is a year-round nature oasis that sits on the shores of Geneva Lake about ten minutes from the city center. The state park is an excellent place to bike, hike, picnic, and soak up sunshine on its five-mile strip of beach.
It's also possible to camp out in the park. There are electric and tent campsites, all of which are equipped with a picnic table and a fire pit. When summer comes to an end, the park's miles of hiking trails transform into groomed cross-country ski trails.
Related read: The 9 Absolute Best State Parks in Wisconsin
8. Get an In-Depth History Lesson at the Geneva Lake Museum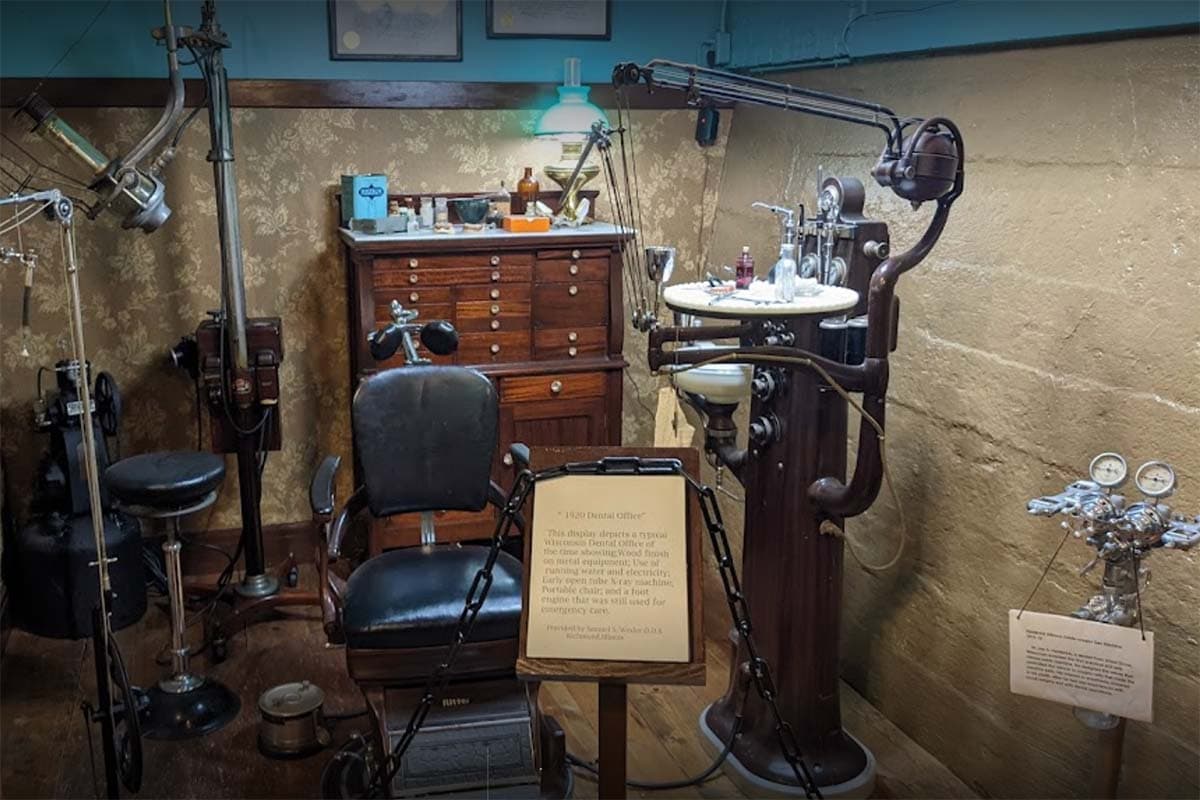 The Geneva Lake Museum is a place dedicated to sharing the diverse local history of the region. The museum first opened its doors in 1983 and helped establish the city's historic Main Street District.
At the museum, visitors can see various exhibits that showcase antiques, Potawatomi tools and arrowheads, an old 19th-century schoolroom, and a fire engine. Visitors must pay for entrance into the museum, which is open Mondays, and Friday to Sunday between 11 am to 3 pm.
Related read: 11 Unique Places to Stay in Wisconsin for an Unforgettable Getaway
9. Treat Yourself to a Day at the Spa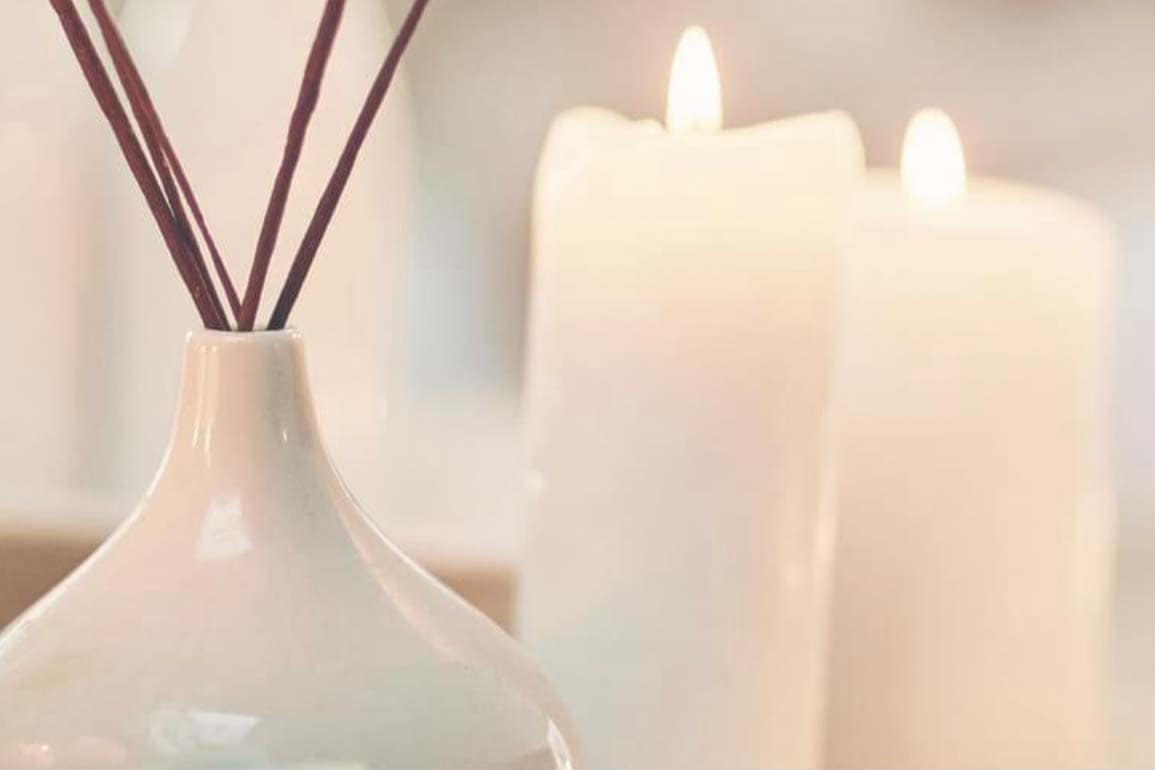 As a resort town, Lake Geneva is known as a place to get pampered and has no shortage of luxurious spas to choose from. The WELL Spa + Salon at Grand Geneva is one of the best and features comprehensive spa and massage packages. The WELL Spa also offers salon and nail services.
Another fabulous option is the Avani Spa found at the Abbey Resort. The spa offers massage, nail, body, and facial treatments with specials that take inspiration from the seasons and surroundings. Visitors leave Avani feeling refreshed and rejuvenated.
Related read: 10 Best Resorts in Wisconsin for Some Rest & Relaxation
10. Get Your Heart Pumping with an Adventure Sport Tour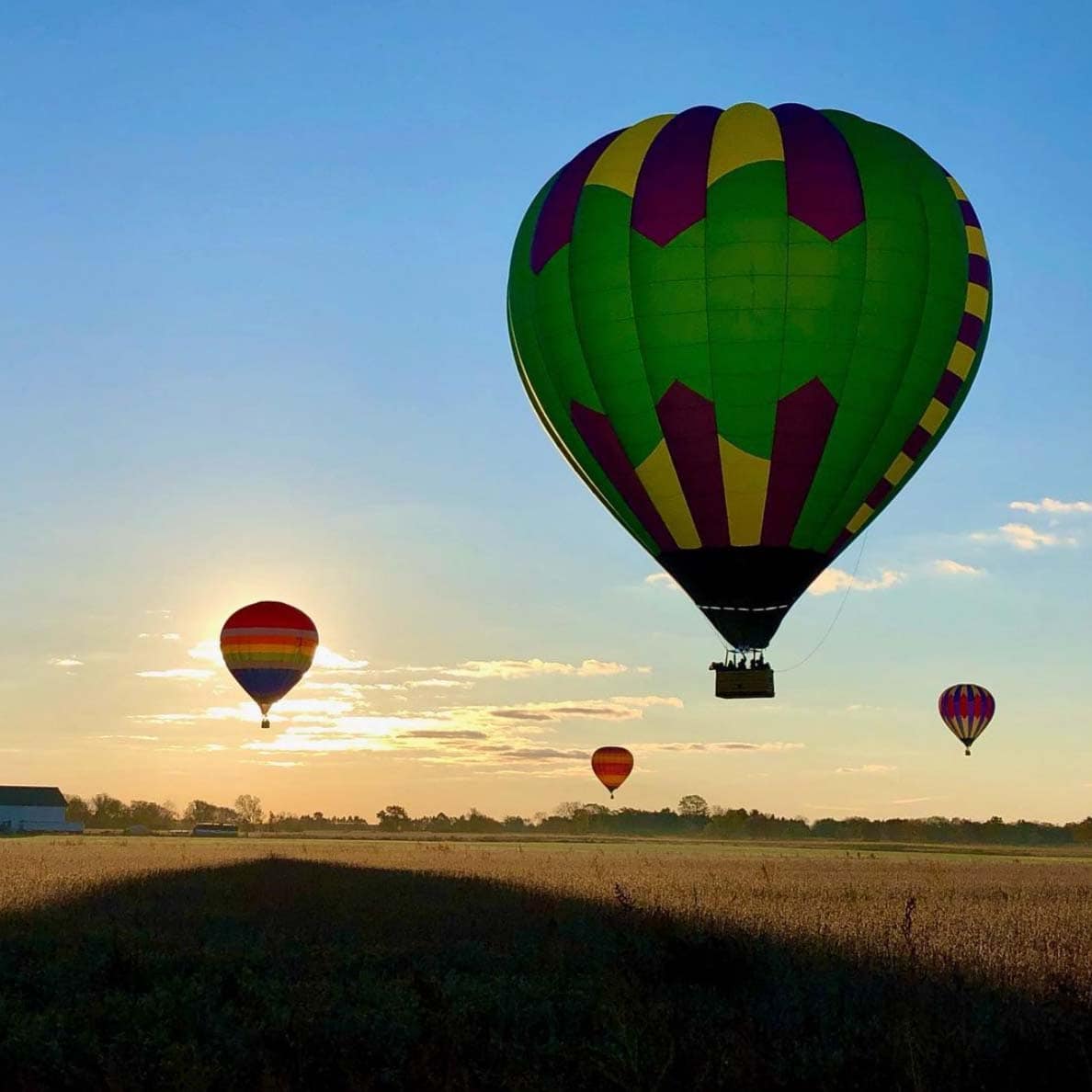 There are many activities in Lake Geneva that appeal to adrenaline junkies. One of the most exciting can be found at the Lake Geneva Balloon Company.
They offer exhilarating hot air balloon rides that allow you to soar high above for a bird's eye view of the city.Lake Geneva Ziplines & Adventures is another exciting attraction which boasts nine different zip lines, a rock-climbing wall, and a high ropes course.
For adventure a little closer to earth, renting a bike is another fantastic thing to do in Lake Geneva. You can pick up a bike rental from the cozy Avant Cycle Café as well as a tasty cup of coffee to fuel up before your ride.
Related Read: 10 Best Hikes in Wisconsin for Hitting the Trail Any Time of Year
11. Hit the Ski Slopes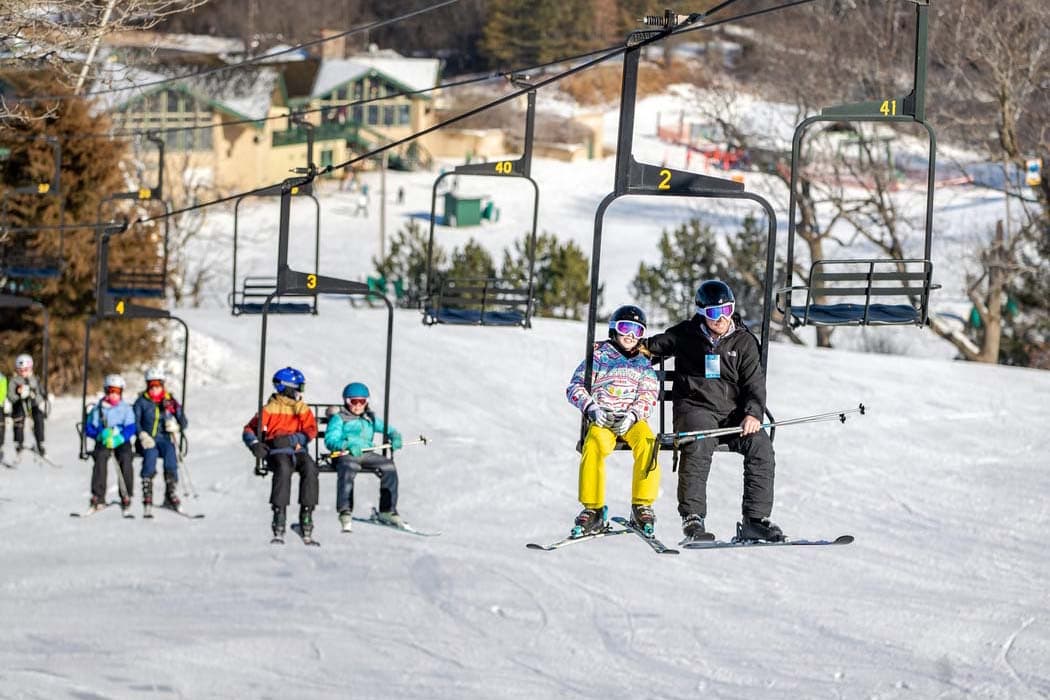 When winter arrives, the lake freezes over, and the local ski slopes open. The Mountain Top at Grand Geneva hosts 20 different runs which attract skiers and snowboarders from all over the state. It's also the closest ski hill to downtown making it a convenient winter activity in Lake Geneva.
Located 20-minutes from downtown is the Alpine Valley Resort, another incredible ski hill that's often considered one of the best in Wisconsin. At Alpine Valley you'll find 90 acres of slopes that can accommodate all different skill levels. They also offer equipment rentals and have a small café at the resort.
Related read: 10 Relaxing Wisconsin Cabin Rentals with Hot Tubs
12. Witness the wonder of a snow sculpture competition at the annual Winterfest.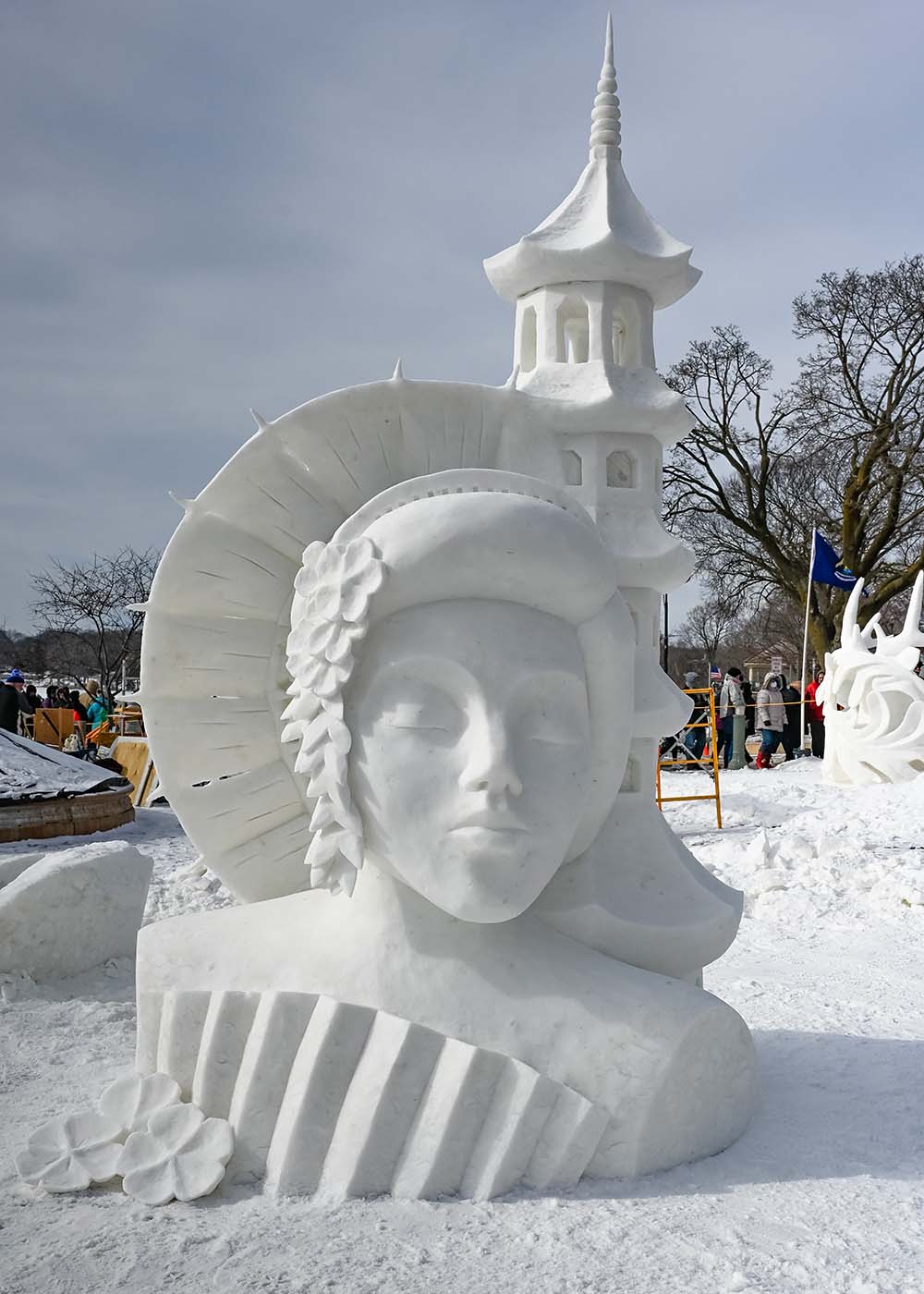 Every year in February, Winterfest attracts thousands of visitors seeking winter fun. The main event at the festival is the U.S. National Snow Sculpting Championship, where competitors have 72 hours to create spectacular creations out of snow.
Admission to the competition is free, and if you're unable to make it during Winterfest, the sculptures stay on display until they melt. Other things to do at the festival include sipping hot cocoa, roasting marshmallows over beachside bonfires, and ice skating.
Related Read:
13. Experience a Winter Wonderland at Ice Castles
Another can't-miss winter attraction in Lake Geneva is the famous Ice Castles event held at the Geneva National Resort & Club. Artists from around the nation come to build impressive ice castles, sculptures, tunnels, and more out of icicles of all sizes.
In the evening, the castles are lit with colorful lights to create a magical atmosphere that is truly a sight to see. This event typically opens in January and closes in February or March but is dependent on the weather.
Related read: 9 Amazing Weekend Getaways in Wisconsin
Explore Wisconsin
Sign up for Weekend Wanderer to join 10,000+ readers getting epic travel ideas every week.
---