Skip the crowded streets of big city tourist destinations for these charming small towns in Wisconsin instead.
There's no doubt that Wisconsin's largest cities have a lot to offer. From the craft beer scene in Milwaukee to the artistic culture in Madison and love of all-things-football in Green Bay, Wisconsin's cities are the epitome of a true midwestern experience.
But as great as these larger places are, there's something comforting and welcoming about some of the small towns in Wisconsin.  Small towns have a quieter environment, beautiful and untouched landscapes, and friendly hospitality you can't quite experience in the big city. And they also tend to be more affordable, more outdoorsy, and easier to find parking. What's not to like?
Small Towns in Wisconsin – Our Top Picks
Take the road less traveled and opt to visit some of the best small towns in Wisconsin for a taste of life in the Badger State.
Related Read: 14 Places to Visit in Wisconsin for the Ultimate Badger State Experience
1. Hayward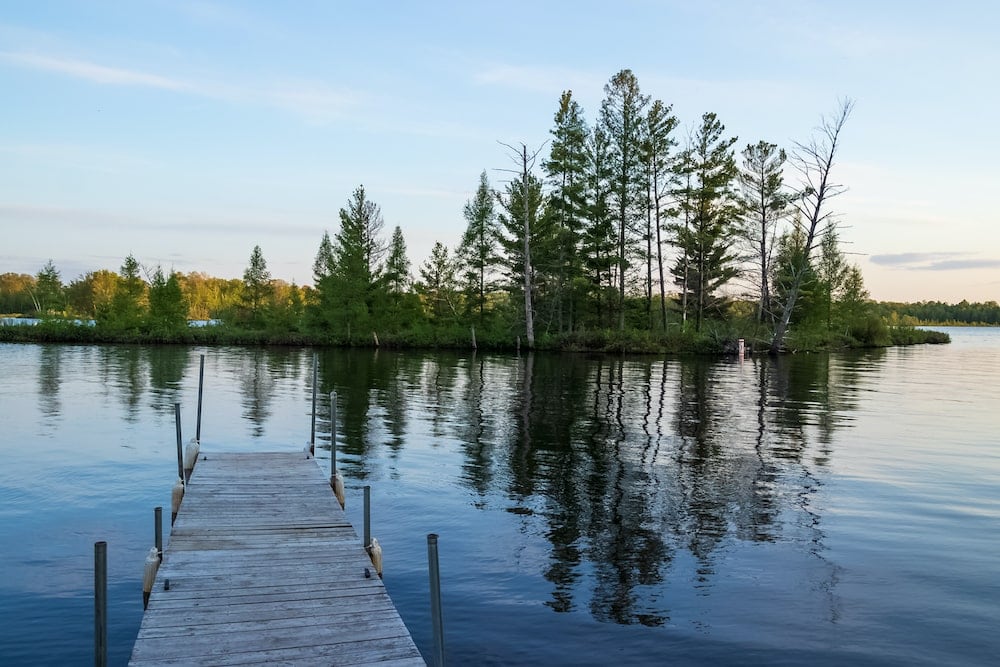 Hayward is a charming little village in northwestern Wisconsin on the Namekagon River, near where it expands into Hayward Lake. Chequamegon-Nicolet National Forest surrounds the town and the area's lakes attract those interesting in paddling, watersports, and freshwater fishing.
Hayward holds the title of the "Golf Capital of Wisconsin," with nine golf courses within driving distance from the village. When not busy with nature-based activities, enjoy local eats in the small downtown area, visit the Freshwater Fish Museum, and or grab tickets to the Scheers Lumberjack Show.
People from all over the state also come to take advantage of the region's expansive network of hiking, ATV, and snowmobile trails. The best way to experience Hayward is by opting to stay at one of the area's numerous wilderness resorts or a roomy vacation rental.
Related Read: 10 Beautiful Scenic Drives in Wisconsin
2. Lake Geneva
Lake Geneva is a popular tourist destination. Historically a travel destination for wealthy city dwellers from Chicago, today, it's a welcoming resort town with lodging and dining options for all ends of the economic spectrum.
The town is named for the 7.5-mile-long lake of the same name, which also happens to be one of the best places in the Midwest for a beach day. Check out Riviera Beach or head to Big Foot Beach State Park, which has campsites and miles and miles of hiking and cross-country skiing trails (the latter is not so great during the summer, obviously.)
Outside of popular lake activities, visitors adore Lake Geneva's scenic beauty and impressive historic mansions. It's also an excellent place for relaxation-focused activities. You could stroll along the idyllic Geneva Lake Shore Path, visit one of several spas, or make reservations for tasty restaurants like the Next Door Pub & Pizzeria and the Flat Iron Tap for their famous Friday fish fry.
Related Read: 13 Exciting Things to Do in Lake Geneva, Wisconsin
3. Sturgeon Bay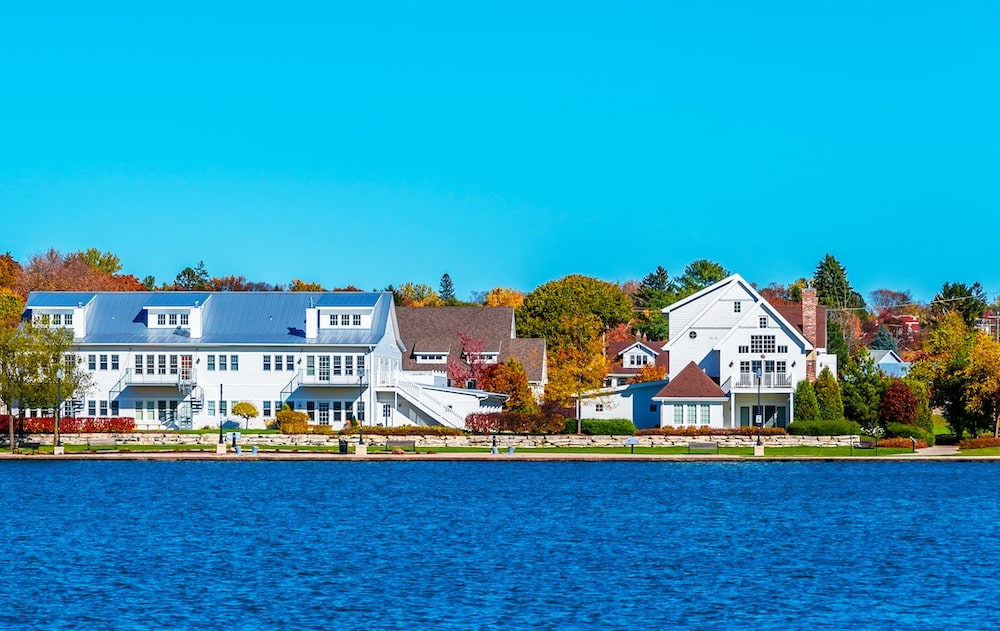 In the center of Wisconsin's scenic Door County Peninsula is the vibrant small town of Sturgeon Bay. It's become a notable tourist destination thanks to its prime location between the waters of Lake Michigan and Green Bay.
The town's old lighthouses and landmarks shed light on the area's fascinating shipbuilding history, which is preserved and on display at the Maritime Museum. A visit check out the striking coastal views at Whitefish Dunes and Potawatomi State Park is also a must, especially during sunset.
After a day of few days of exploring, recharge with a glass of wine from the Door Peninsula Winery, grab a bag of fresh cheese curds at the Saturday Farmers Market, or have a hearty post-hike hearty at the family-owned Scaturo's Baking Company and Cafe. Sturgeon Bay is also a great home base for visiting the other lovely small towns in Door County like Fish Creek and Egg Harbor.
Related Read: 9 Amazing Weekend Getaways in Wisconsin
4. Elkhart Lake
Elkhart Lake is between Milwaukee and Green Bay, just over an hour from each. This Wisconsin small town used to host street drag races in the 1950s before the Road America racetrack opened. Today, racing enthusiasts can partake in numerous events and even catch NASCAR competitions. You can usually find lakefront rental homes at fairly reasonable prices, especially midweek.
Named after one of the largest lakes in Wisconsin, Elkhart Lake is a spring-fed body of water that glows a deep blue on sunny days. Popular activities like swimming, pontooning, kayaking, and more are a major draw in the summer. For a tasty treat, Gessert's Ice Cream and Confectionery is an old-school candy shop selling ice cream, fudge, and other old-fashioned goodies that'll tickle your taste buds.
Related Read: 11 Incredible Airbnbs in Milwaukee, Wisconsin
5. Minocqua
Minocqua is a small community on a peninsula in Minocqua Lake. It's not far from Michigan's Upper Peninsula and is part of the Minocqua Chain of Lakes, comprising six bodies of water covering 5,929 acres.
With such fantastic public beaches, it can get crowded in the summer with travelers keen to boat, swim, and fish. Seeking even more outdoor adventure away from the water? Check out the Bearskin State Trail, a bike trail following an old railway route to the north.
Before experiencing the best things to do in Minocqua, a hearty stack of flapjacks at Paul Bunyan's Cook Shanty offers a great way to start the day. And stop by Hoggie Doggies, too. This may be one of the best small towns in Wisconsin, but Hoggie Doggies is pure big city-style, serving up Chicago-style hot dogs and ice cream sundaes.
Related Read: 11 Waterfalls in Wisconsin Not to be Missed
6. Bayfield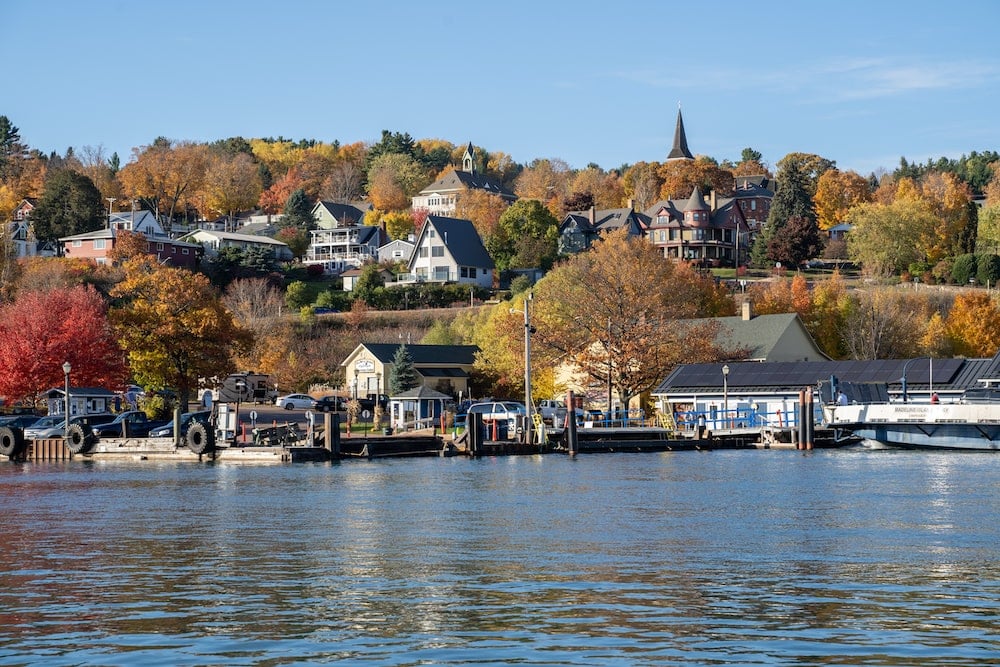 Bayfield may be one of the smallest towns in Wisconsin on this list but acts as a home base for one of Wisconsin's grandest adventure spots. Neart the northernmost point of the state, Bayfield is considered the gateway to Madeline Island and the Apostille Islands National Lakeshore, where a chain of lakes stretches into Lake Superior. The lakeshore is famous for its fantastic sea kayaking, backcountry camping, and striking sandstone cliffs and caves.
Off the water, exploring the forested hiking trails surrounding the peaceful harbor town is another popular pastime. In the winter, the landscape transforms into a winter wonderland ideal for cross-country skiing, downhill skiing and riding at Mt. Ashwabay, and marveling at Lake Superior's ice caves.
In town, Rittenhouse Avenue overlooks the lake and is lined with lovely boutiques and delicious restaurants. If you like trout, make plans to visit The Copper Trout, beloved in town for its fresh-caught fish and midwestern dishes.
Related Read: 9 Luxury Cabins in Wisconsin Where Nature Meets Splendor
7. New Glarus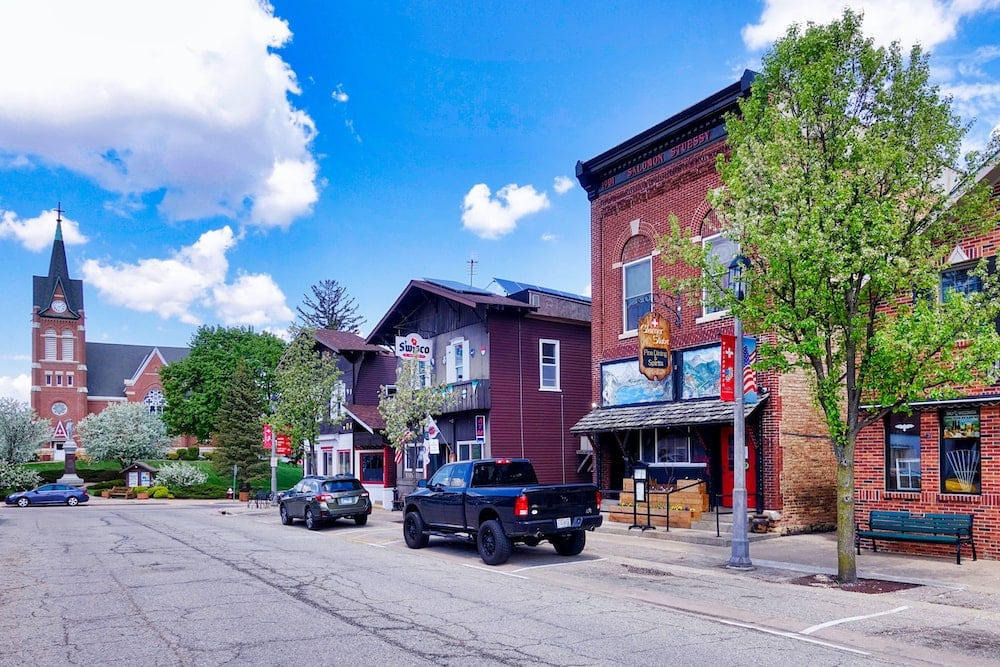 About 35 minutes south of the state capitol (Madison) is the charming village of New Glarus. Settled by Swiss immigrants in the late 1800s, the locals today continue to proudly celebrate their Swiss heritage, earning the town the nickname of "Little Switzerland."
One of the best things to do in New Glarus is to tour the beloved New Glarus Brewery and try a Spotted Cow, a popular craft brew sold only in Wisconsin. The Swiss Historical Village Museum is also a must-see, and grabbing a bite at the Glarner Stube to fully embrace the town's European culinary roots is a must-do.
If you appreciate wine, good news: this is one of the best small towns in Wisconsin for wine tasting. Try Bailey's Run Vineyard or Hawk's Mill WineHaus, both of which are very low-key. Not into wine? Go to the Maple Leaf Cheese and Chocolate Haus instead to shop for souvenirs like fine Wisconsin cheese, fudge, ice cream, and more.
Related Read: 11 Best Things to Do in Madison, Wisconsin
8. Cedarburg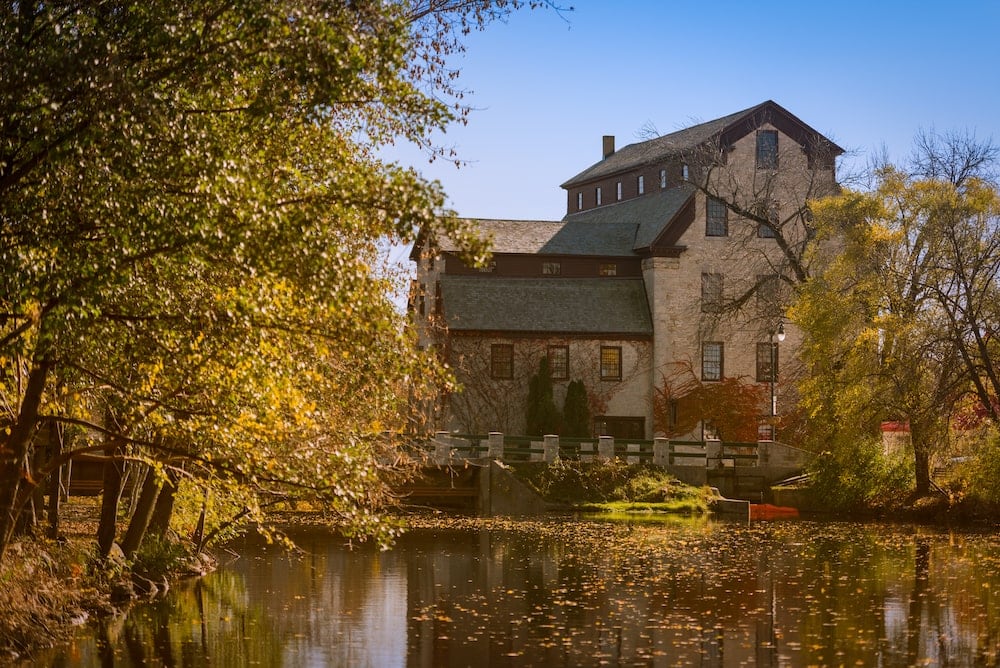 Cedarburg is a Wisconsin small town that looks lifted from the pages of a storybook. Home to Wisconsin's last covered bridge, streets lined with trees, and a well-preserved downtown district, it's a wonderful place to spend the day or weekend.
One of the best things to do in Cedarburg is to indulge in the local food and drink scene. A unique stop is the Cream & Crepe Cafe, ideal for breakfast or lunch.
Every year, the town hosts numerous exciting festivals, the most popular of which are the Strawberry, Wine & Harvest Festival, and Oktoberfest. Cedarburg is just 25 minutes north of Milwaukee, and most visitors opt to book a stay at a cozy bed and breakfast like the Washington House Inn. But you can easily do it as a day trip, too.
9. Baraboo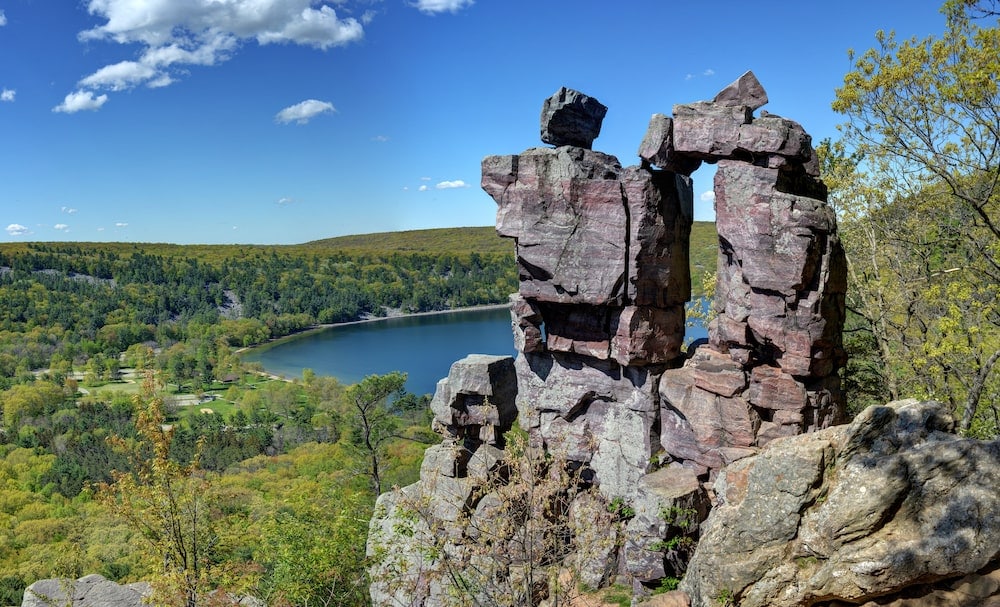 About 20 minutes south from the waterparks of the Wisconsin Dells lies the small town of Baraboo, most famous for being the hometown of the Ringling Brothers. But that's not all this fun place has to offer.
Nature lovers flock to Baraboo to camp, hike, and swim at Devil's Lake, Wisconsin's most popular state park thanks to towering quartzite bluffs with panoramic views. Just outside of Devil's Lake are two other noteworthy natural spots: the picturesque gorge of Pewits Nest and the towering rock cliffs of Parfrey's Glen.
In downtown Baraboo, sip local spirits at the Driftless Glen Distillery or the try some wines at the Balanced Rock Winery. Family-friendly activities include visiting the Circus World Museum and admission-free Ochsner Park Zoo. And since you're close to the Wisconsin Dells, you'll have everything from live stage shows to roller coasters just a short drive away.
Related Read: The 10 Best Hiking Trails in the Wisconsin Dells
10. Chippewa Falls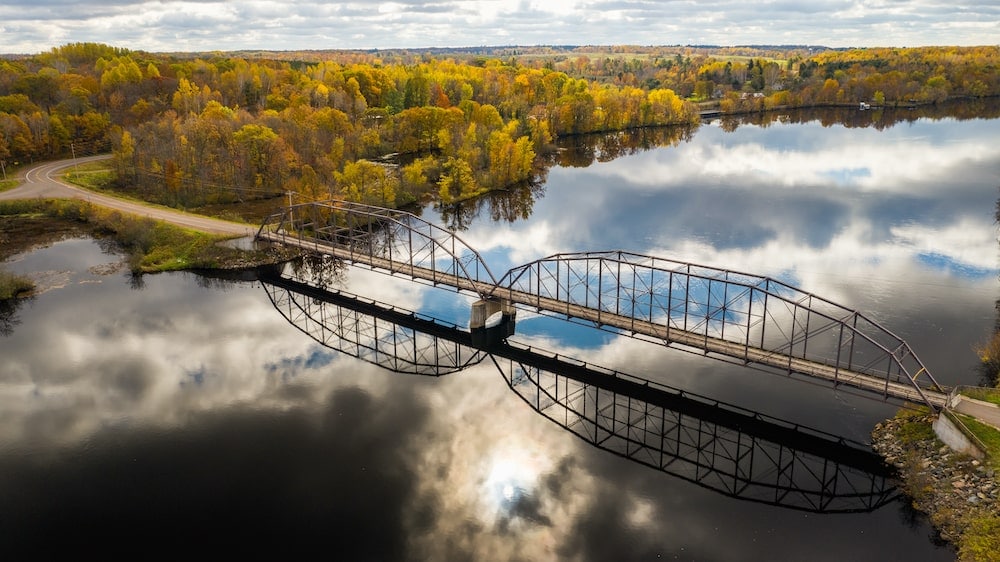 Chippewa Falls is a scenic small town along the Chippewa River not far from the university city of Eau Claire. It features a vibrant riverfront downtown area and also happens to be close to beautiful hiking trails at Lake Wissota State Park, though kids may prefer the Irvine Park Zoo.
Leinenkugel Brewing was founded in Chippewa Falls, and though it's owned today by Molson Coors, the founding family still play an integral role in the brewery's operations. You can take a tour of the antique brewing equipment and sample up to four Leines, as they say, at the brewery's Leinie Lodge.
For local eats, consider Loopy's Grill & Saloon, which has delicious grub on the menu and offers tube and kayak rentals to take down the Chippewa River. Another restaurant to add to your list is the SandBar and Grill, perhaps most famous for their classic Wisconsin Bloody Mary.
Explore More in Wisconsin
Sign up for Weekend Wanderer to join thousands of readers getting epic travel and gear ideas every week.
Was this article helpful?
---