We research and recommend travel destinations based on a number of factors, including our writers' own experience, user reviews and more. We may earn a commission when you book or purchase through our links. See our editorial policy to learn more.
---
Disconnect and recharge amongst The Dairy State's rolling hills, Northwoods, and striking bluffs in some of the best secluded Wisconsin cabins.
Millions of years ago, Wisconsin's landscape was completely transformed by advancing glaciers from the north. The Ice Age's lasting effects can still be observed in the state's large expanses of forest, striking bluffs overlooking the Mississippi River, and its border with two Great Lakes.
Today, Wisconsinites and visitors find joy through popular outdoor activities such as hiking, fishing, ATVing, snowmobiling, and spending time on one of the thousands of freshwater lakes. Or better yet, do as the locals do and spend your time in a classic cabin in the quiet of Wisconsin's Up North.
This unassuming state in America's Midwest boasts much more than a hearty appetite for cheese, dairy, and meat. Find peace and quiet in one of the best peacefully secluded cabins in Wisconsin.
Related read: 9 Cozy Cabins in Northern Wisconsin For Your Next Trip Up North
1. Spacious Log Cabin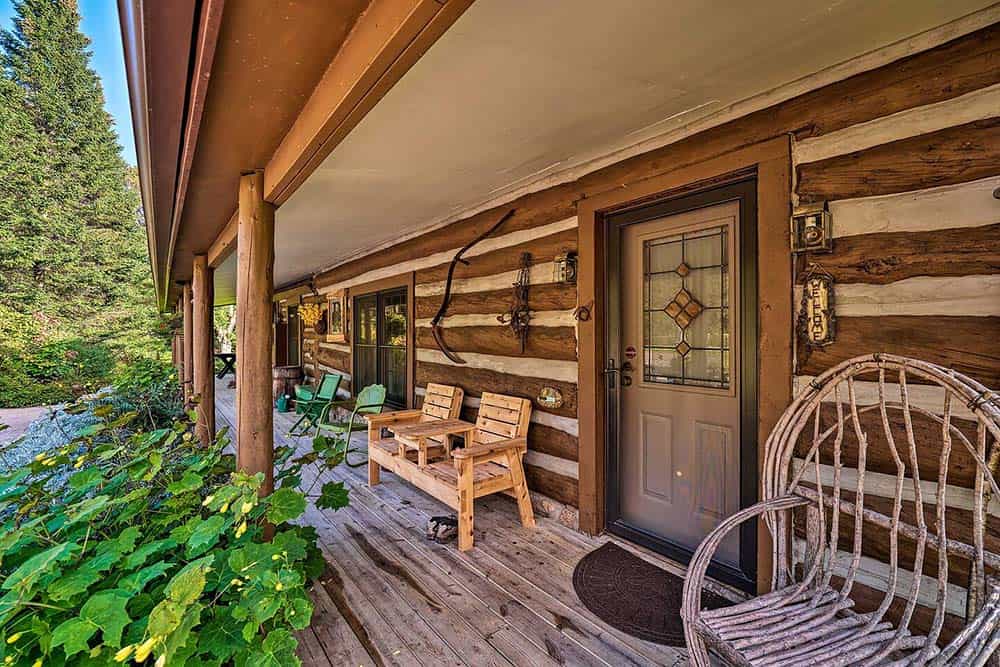 Why you should stay: A historic cabin updated with modern conveniences and enough sleeping space to accommodate large traveling groups on the Wolf River.
Location: White Lake
Sleeps: 12
Minimum stay: 2 nights
Rates start from: $514/night
This spacious log cabin is a glamorous Wisconsin cabin rental that has an attractive wood and stone facade. A massive large deck can be found in the back yard, furnished with a hot tub, sun loungers, two dining tables, and ample seating.
The home's interior features knotty pine floors, exposed log beams and columns, and a stone fireplace, piano, and a bar station. This three-bedroom cabin has an open ground floor where the well-appointed kitchen, cozy living room, and dining room come together. There's also an additional lofted sleeping space that looks onto the ground floor.
Check Availability
Related read: 10 Relaxing Wisconsin Cabin Rentals with Hot Tubs
2. Off-Grid Inn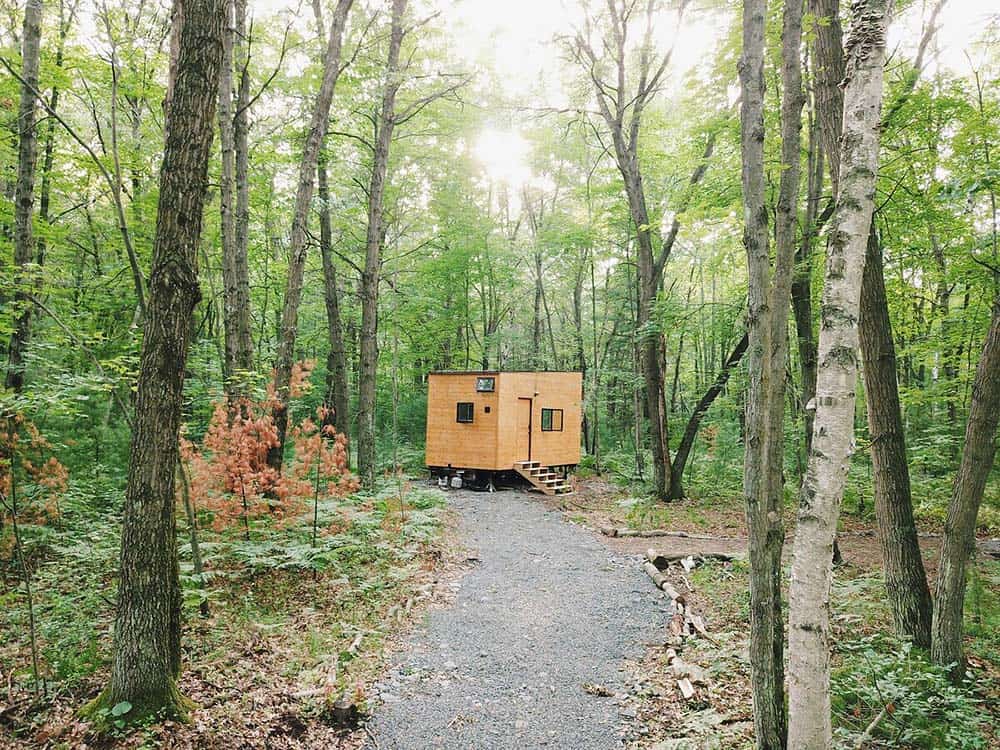 Why you should stay: An architecturally stunning tiny home with large glass windows encircled by woods just 20 minutes from Eau Claire.
Location: Fall Creek
Sleeps: 3
Minimum stay: 1 night
Rates start from: $217/night
The Off-Grid Inn is a unique tiny home plopped on a secluded piece of land in the woods. You'll find a well-appointed kitchen with the basics plus a small electric stovetop, a sink, and a mini-fridge.
There's also a queen mattress laid with heated blankets for chilly evenings and a bench that can be converted into a single for a third guest. The bathroom is equipped with an electric toilet and an eco-conscious shower that saves water. Spend your days out amongst the pines next to the fire pit.
Check Availability
Related read: 7 Enchanting Treehouse Rentals in Wisconsin
3. Wood River Retreat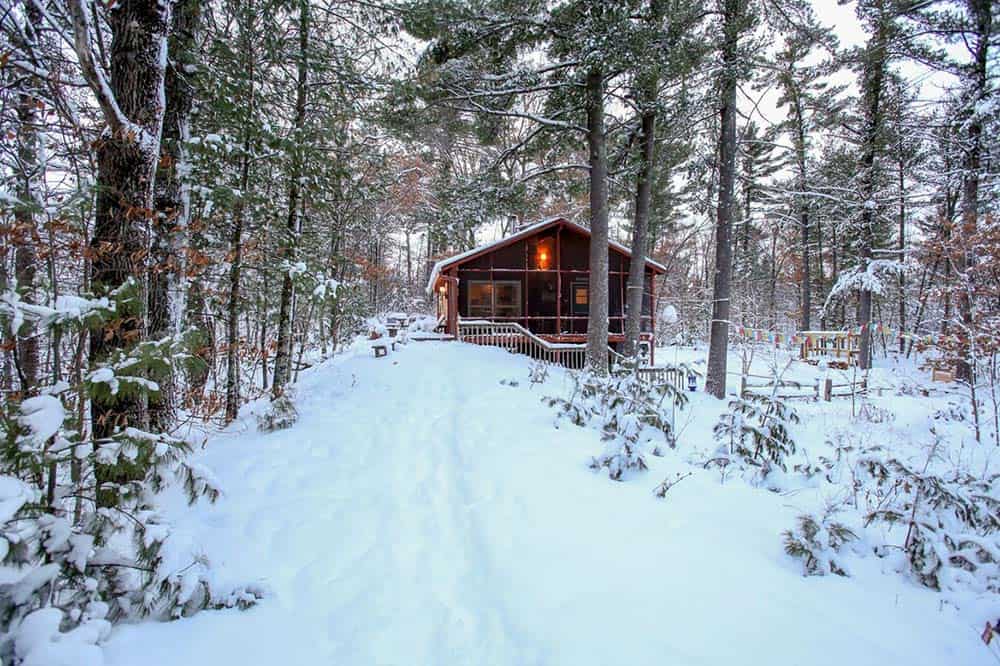 Why you should stay: A homey cabin in the Northwoods of Wisconsin near the Minnesota border.
Location: Grantsburg
Sleeps: 4
Minimum stay: 2 nights
Rates start from: $150/night
The wood river retreat is a wonderfully secluded four-season cabin perched on a ravine encircled by a thicket of trees. The whole family will fall in love with homey touches that include an impressive stash of coffee supplies, a comprehensive selection of teas and hot cocoas, as well as breakfast basics, games, and movies.
Furry friends are also welcome and will have fun frolicking in the woods as you lounge on the large wood deck out back. This cabin also features a screened-in porch to protect against bugs, a grill, and an indoor fireplace.
Check Availability
Related read: 10 Cozy & Comfortable Wisconsin Tiny Home Vacation Rentals
4. Breathe!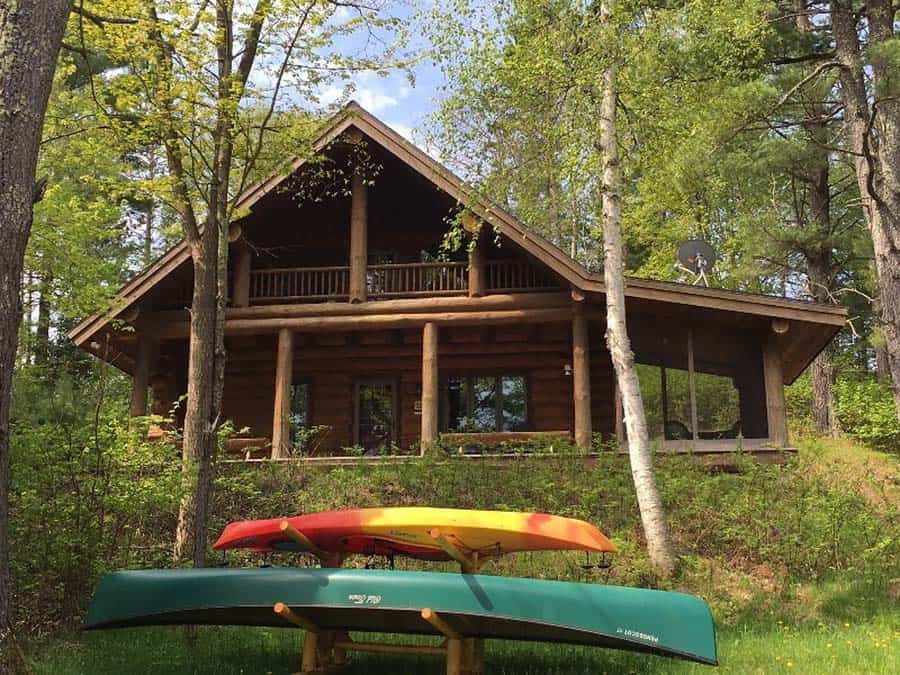 Why you should stay: A cozy log cabin on the river with a private dock, kayaks, canoes, and a quiet location not far from Park Falls.
Location: Park Falls
Sleeps: 6
Minimum stay: 2 nights
Rates from: $183/night
Breathe! is a classic Wisconsin cabin in the north of the state. It features attractive log walls, an open-concept ground floor, one private bedroom, and a large loft with additional beds. Enjoy sleeping feet from a private lake surrounded by pretty pines while having access to two kayaks, two canoes, and a swimming dock.
The cabin also features an indoor fireplace, a screened-in porch that protects against skeeters, a fire pit, and an upper-level patio.
Check Availability
Related read: 10 Beautiful Scenic Drives in Wisconsin
5. Baraboo Bluffs Cabin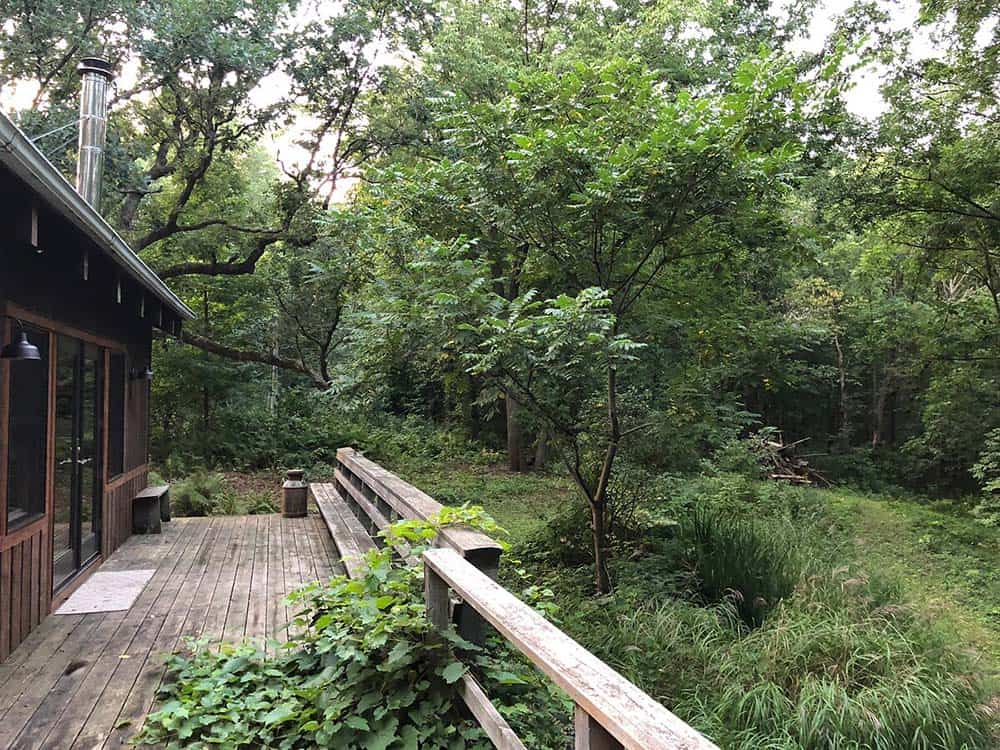 Why you should stay: Enjoy relaxing in a quaint Wisconsin cabin situated next to one of the state's most beautiful natural attractions.
Location: Baraboo
Sleeps: 4
Minimum stay: 2 nights
Rates from: $200/night
Experience the beauty of Devils Lake State Park at this Baraboo Bluffs cabin located on a private and secluded lot. This cabin boasts three bedrooms, an expansive deck, and a fire pit. Guests take delight in being so close to the famous Ice Age Trail and watching the free-range peacocks stroll around the house.
Guest Jayita explains, "We had fun hiking around the woods behind the property. Devil's Lake and the town are not far away, but it's set back from the road, so you really feel secluded." Furry friends are welcome.
Check Availability
Related read: The 9 Best Airbnbs in Madison, Wisconsin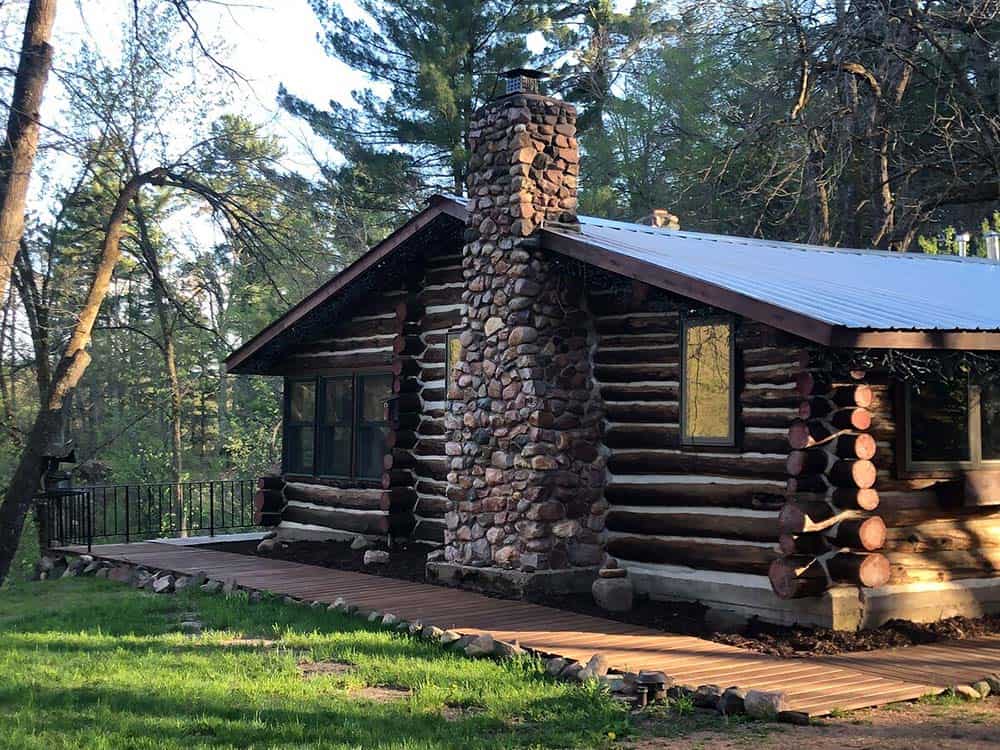 Why you should stay: A charming 1920s log cabin updated with modern conveniences along Elk Creek just one and a half hours from the Twin Cities.
Location: Elk Mound
Sleeps: 4
Minimum stay: 2 nights
Rates start from: $197/night
Lil' Kickback on Elk Creek is a rustic one-bedroom cabin that features a loft, a heated porch, and an indoor wood-burning fireplace. The hosts go above and beyond to provide thoughtful extras such as an assortment of board games, yard games, and two kayaks for family fun.
There's also a fire pit with four benches for s'mores under the stars. The Chippewa River and Elk Lake are a short drive away, where guests can swim, fish, and kayak to their heart's content.
Check Availability
Related read: 9 Luxury Cabins in Wisconsin Where Nature Meets Splendor
7. Lost Creek Retreat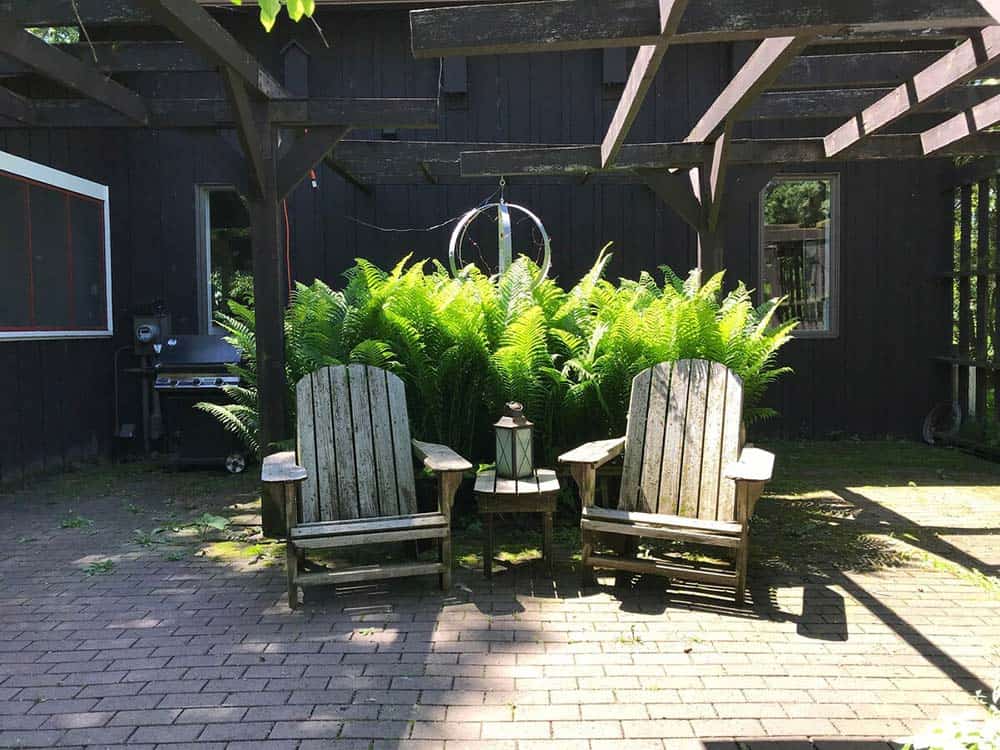 Why you should stay: A modern and beautifully decorated cabin surrounded by an apple orchard and local Wisconsin barns two miles from Lake Pepin.
Location: Pepin
Sleeps: 4
Minimum stay: 2 nights
Rates start from: $171/night
At the Lost Creek Retreat, unique architectural lines, minimalistic touches, and floor to ceiling windows create a simple yet classic atmosphere. Natural light and peaceful views of the surrounding landscape brighten up the living room, where an indoor fireplace and stylish furniture stand.
You won't find WiFi at this two-bedroom cabin, allowing for all to fully disconnect and recharge. Have fun exploring the local area's bluffs and attractions like Frontenac State Park and Lake Pepin.
Check Availability
Related read: 10 Incredible Dog-Friendly Cabins in Wisconsin
8. The Copper Squirrel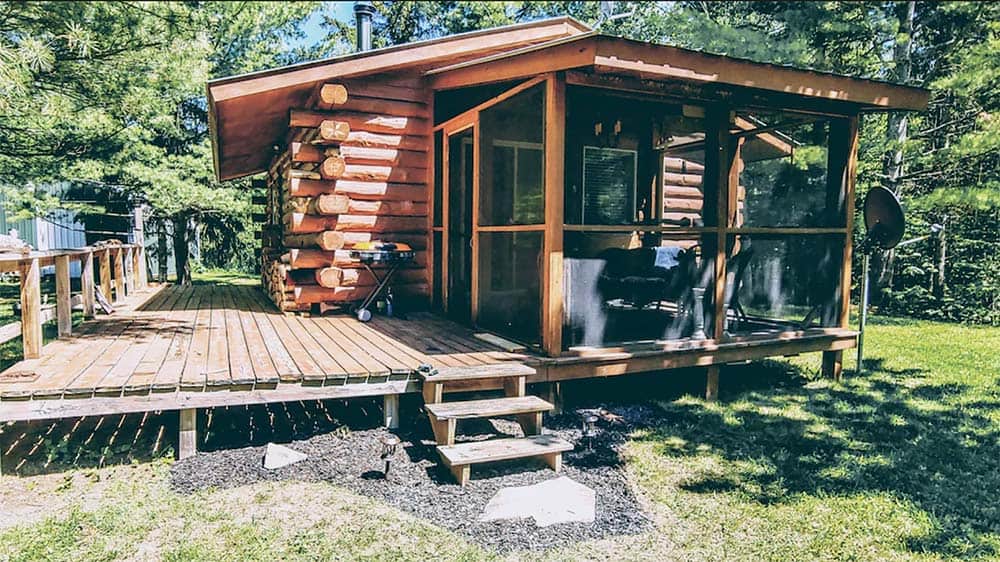 Why you should stay: A simple one-bedroom log cabin offering a fantastic home base to explore the Apostille Islands National Lakeshore.
Location: Stoughton
Sleeps: 2
Minimum stay: 2 nights
Rates start from: $164/night
The Copper Squirrel offers a fantastic getaway to the very northern tip of Wisconsin, where limestone cliffs, islands, and rock formations dot the shores of Lake Superior. This little one-bedroom cabin is furnished with a deck, a screened-in porch, and a fire pit where you can take in the sights and sounds of the private wooded yard and pond.
Inside, curl up next to the wood-burning stove on leather furniture. Guest Tristan states, "It was a fantastic little spot in the woods that was secluded and provided plenty of peace and quiet for a weekend away."
Check Availability
Related read: 10 of the Best Airbnbs in Door County, Wisconsin
9. Hidden Forest Retreat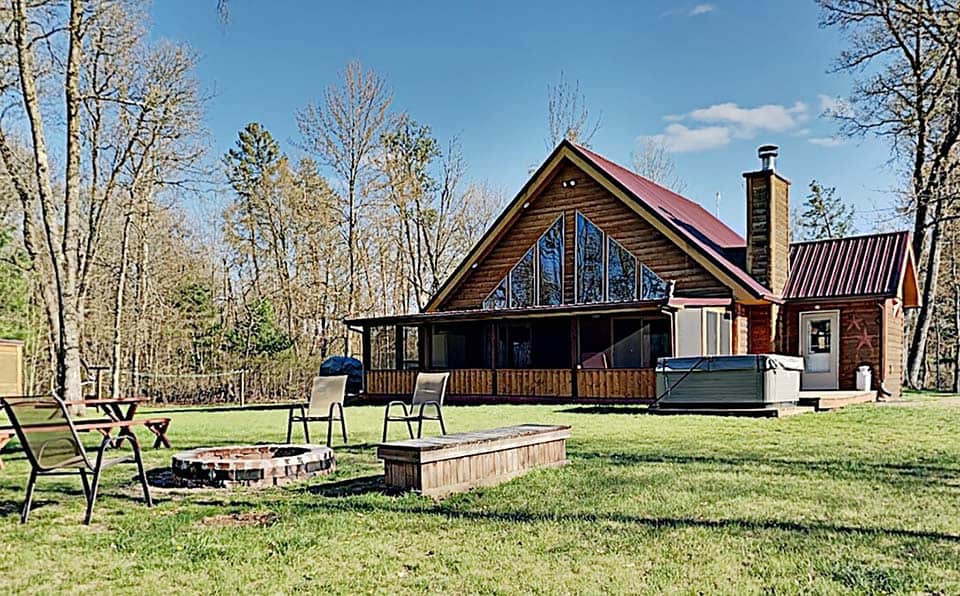 Why you should stay: A rustic, three-bedroom Wisconsin Airbnb with modern amenities on a secluded 70-acre property within driving distance to the Wisconsin Dells.
Location: New Lisbon
Sleeps: 10
Minimum stay: 2 nights
Rates from: $158/night
If you're looking to escape to a hidden forest retreat without sacrificing convenience, this chalet-style cabin offers just that. It's perfectly tucked away on a sprawling property of 70 acres but close enough to the Wisconsin Dells for a day of waterpark fun if so desired.
Castle Rock Lake is also nearby, as well as numerous walking trails. This Wisconsin cabin rental is decked out with cozy outdoor amenities, including a hot tub, fire pit, ample seating, and a screened-in porch overlooking the swimming pond.
Check Availability
10. Peaceful Wooded Sanctuary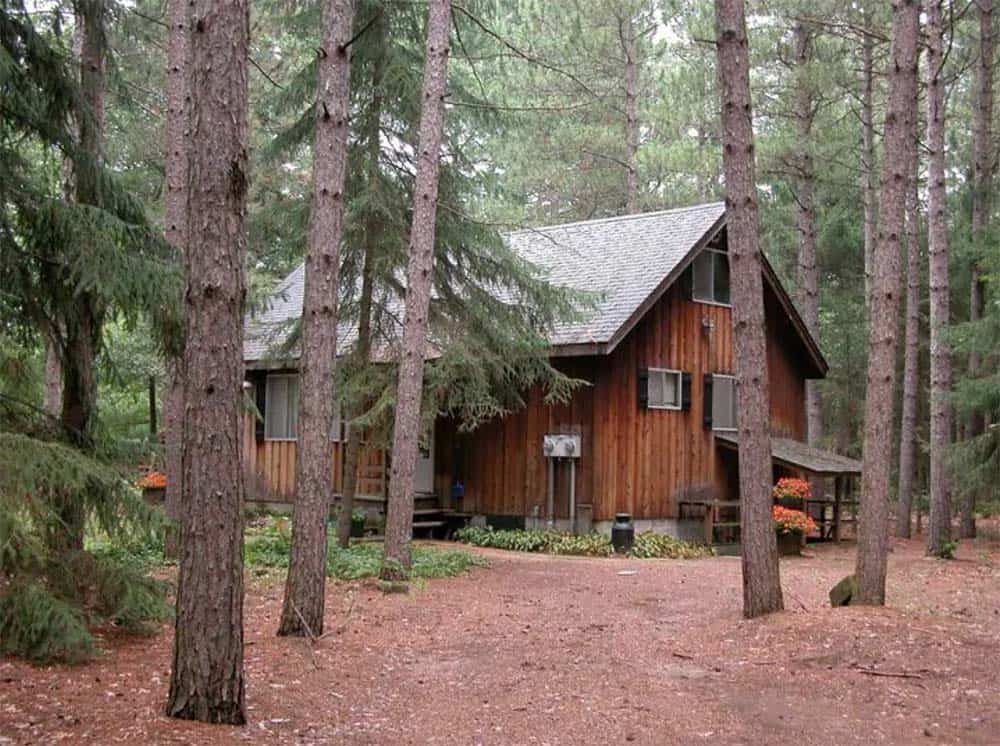 Why you should stay: A wooded two-bedroom cabin that welcomes pets and features fantastic outdoor amenities.
Location: Hancock
Sleeps: 6
Minimum stay: 3 nights
Rates start from: $105/night
This peaceful wooded sanctuary is a hidden gem that offers nature lovers, hunters, anglers, and adventurous folk easy access to the Wisconsin River, countless public access lakes, and miles of hiking trails. The Necedah National Wildlife Refuge is also nearby, where visitors can see where the endangered whooping crane was reintroduced to nature.
There is one private bedroom and a sleeping loft that overlooks the tall cathedral-style windows and ceilings of the ground floor. The property is equipped with a hammock, a deck, a baby swing, a fire pit, and a separate screened gazebo steps from the house.
Check Availability
11. Secluded Northwoods Cabin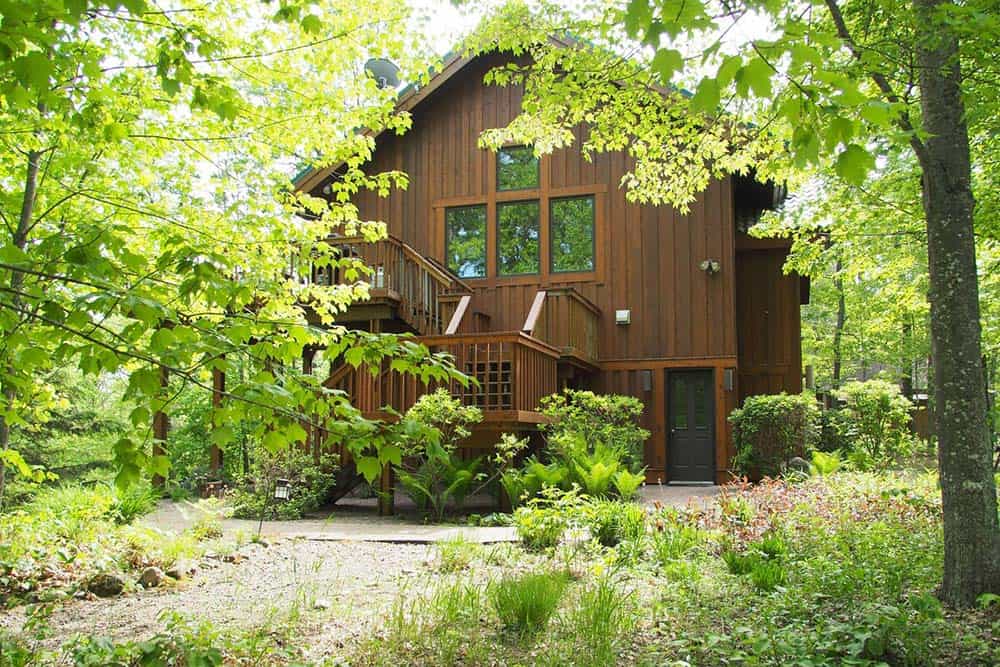 Why you should stay: A spacious, lakeside cabin on Perch Lake featuring a sauna, jacuzzi tub, and other high-end amenities.
Location: Spooner
Sleeps: 6
Minimum stay: 2 nights
Rates start from: $139/night
Indulge in a classic Wisconsin cabin that doesn't sleep on luxury amenities at this secluded Northwoods cabin. Not only does this home boast lake access, but also 170 acres of sprawling woods where walking trails abound.
Guests have access to a private dock, canoe, paddleboat, and rowboat during their stay. After you've had your fill of watersports, soothe your tired body in the cedar sauna, the home's jetted jacuzzi, or cuddled up next to the bonfire.
Check Availability
More Incredible Getaways
Get epic travel ideas delivered to your inbox with Weekend Wanderer, our newsletter inspiring more than 10,000 readers every week.
---