We research and recommend travel destinations based on a number of factors, including our writers' own experience, user reviews and more. We may earn a commission when you book or purchase through our links. See our editorial policy to learn more.
Was this article helpful?
---
Door County's shores are fringed with striking limestone cliffs and surrounding islands that attract millions of visitors each year to Wisconsin's famous peninsula.
As a favorite travel destination for Wisconsinites, there's a lot to love about Door County — the beaches along Lake Michigan, impressive state parks, and some of the best grub found in the state. No visit is complete without trying the local wine or cheeses!
Made up of a cluster of different small midwestern towns, the peninsula offers plenty of options when it comes to finding and renting the best cabin rentals.
You can take your pick from popular Door County destinations like Egg Harbor, Sister Bay, Washington Island, and more, all of which offer a great place to call home during your visit. Our only tip is to consider staying more central on the peninsula to make visiting the nearby attractions convenient.
Once that's settled, choosing your lodging in Door County is up next. Will you go for a classic cottage or rustic cabin? Check out these 12 beautiful cabin rentals in Door County to help you plan your magical Wisconsin adventure.
Related Read: 10 Relaxing Wisconsin Cabin Rentals with Hot Tubs
1. Hazy Hideaway
Why you should stay: Find your serenity at an immaculate hand-hewn log cabin in Egg Harbor.
Sleeps: 8
Minimum stay: 2-3 nights
Pets allowed: no
The Hazy Hideaway combines the allure of a rustic cabin stay in the woods with a high-end experience that ensures your time in Door County is memorable. As you pull into the driveway, the A-frame, chalet-style windows of the great room immediately capture your attention.
As you continue inside, the natural wooden walls shine throughout the open-concept layout of the ground floor.
Your family will feel always connected, whether lounging in the kitchen, whipping up some delicious grub in the well-appointed kitchen, or playing games at the dining room table. Upstairs, a cool loft allows you to overlook the entire home on your way to the three bedrooms with enough sleeping space for eight guests.
Related Read: 10 Great Places to See Fall Colors in Wisconsin
2. Five Birches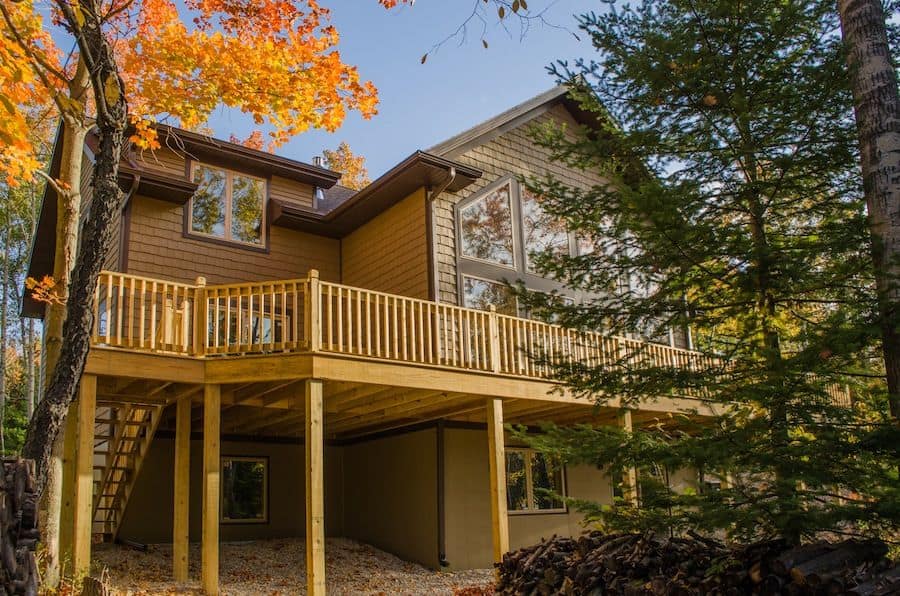 Why you should stay: Spacious family getaway for eight near Peninsula State Park.
Sleeps: 8
Minimum stay: 3-7
Pets allowed: no
Experience a warm welcome to Door County at the Five Birches, a home-away-from-home Wisconsin cabin that's perfect for any family vacation. Located just two miles from downtown Fish Creek and Peninsula State Park, you'll have some of the top attractions at your fingertips.
Create lasting memories in the gourmet kitchen while cooking or lounging at the 8-foot island. Or cuddle up over a glass of wine in the expansive great room while gazing out of the home's tall windows. There are even two lovely decks that offer prime space for lounging in the sunshine or under the glittering stars.
Related Read: 10 Great Places to See Fall Colors in Wisconsin
3. Modern Eclectic Cabin
Why you should stay: A unique and contemporary H-frame cabin located on the shores of Clark Lake.
Sleeps: 12
Minimum stay: 2-7 nights
Pets allowed: yes
A departure from a typical woodsy Wisconsin cabin rental style, this modern eclectic cabin is an H-frame home that embraces a minimalistic design aesthetic. The walls are coated in a pristine and sparkling white that radiates with sunshine during the day and makes the place feel bigger than it is.
Once you've fully digested the pleasant interior, step outside to take in views of Clark Lake, one of Door County's two inland lakes, located steps from the front door. Cave Point and Whitefish Dunes State Park are also just a short walk away.
With three bedrooms, two bathrooms, and enough sleeping space for 12, this waterfront cabin rental should be at the top of anyone's list.
Related Read: 9 Amazing Weekend Getaways in Wisconsin
4. Hidden Bear Cabin
Why you should stay: Classic Wisconsin experience nestled "up north" in the woods of beautiful Door County.
Sleeps: 8
Minimum stay: 1-3 nights
Pets allowed: no
Tucked into the hardwoods of Wisconsin, Hidden Bear Cabin stands peacefully on the outskirts of Egg Harbor. Often dubbed one of Wisconsin's "Best Smallest Towns," Egg Harbor boasts a fantastic location along the peninsula where visitors can enjoy the local orchard, delectable eateries, sparkling new marina and the fun that comes with Lake Michigan.
Outdoorsy decor and furniture fill the space of this unique log cabin. The kitchen has been decked out with the basics plus a fun old-timey coffee grinder.
There are two bedrooms, each with a queen bed and convertible bed options that include a pull-out sleeper sofa and a futon so eight guests can sleep peacefully at the Hidden Bear Cabin.
Related Read: 9 Luxury Cabins in Wisconsin Where Nature Meets Splendor
5. The Sand Beach Cottage
Why you should stay: Take in breathtaking views of Lake Michigan while sleeping lakeside.
Sleeps: 4
Minimum stay: 6-7 nights
Pets allowed: no
If you appreciate a killer view, you're going to love The Sand Beach Cottage. Resting on the shores of Lake Michigan, guests have private access to a 180-degree view of Whitefish Bay and the spectacular sunsets Door County is famous for.
The property has a waterfront deck and staircase that takes you down to the waters so you can dip your toes in and swim to your heart's content.
The hosts have decorated the home with calming tones of blues and white that perfectly complement the waves that lap the shores nearby. The house comfortably accommodates a family of four, with three bedrooms guaranteeing utmost privacy for everyone. The Sand Beach Cottage is in the heart of Sturgeon Bay, only miles from natural beauty.
Related Read: 10 Incredible Dog-Friendly Cabins in Wisconsin
6. Rustic Charm
Why you should stay: Enjoy 1.5 acres of private land along the coast of Lake Michigan.
Sleeps: 6
Minimum stay: 1-3 nights
Pets allowed: no
Aptly named the Rustic Charm, it doesn't get much more scenic than this property. Perched on 1.5 acres of wooded land that faces the lake, you'll have the pleasure of ultimate privacy on the attached deck or sitting by the firepit.
The nearest town is Jacksonport, just over 2.5 miles away, offering fantastic coffee, dining, and a beloved local bakery. This small but mighty 950-square-foot cabin accommodates up to six guests and has two bedrooms and one bathroom. One look at this Door County cabin rental and you'll be ready to book!
Related Read: 9 Cozy Cabins in Northern Wisconsin For Your Next Trip Up North
7. Shady Grove
Why you should stay: A private and secluded property set in the heart of the woods, yet only five minutes from town.
Sleeps: 7
Minimum stay: 2-22 nights
Pets allowed: no
Escape to the woods at Shady Grove in Egg Harbor. Around the home, you'll find five acres of private wooded land to play and explore.
There are even slacklines set up for the kids – and kids at heart – to practice their ninja skills. Once you've had your fill of fun, lounge in the outdoor hammock, in one of two screened porches, or by the fire.
Inside, two bedrooms and 2.5 bathrooms welcome seven guests, and the master bedroom has recently been updated with a brand-spanking new marble and limestone bathroom with a large shower.
8. Nordic Hearth Cottage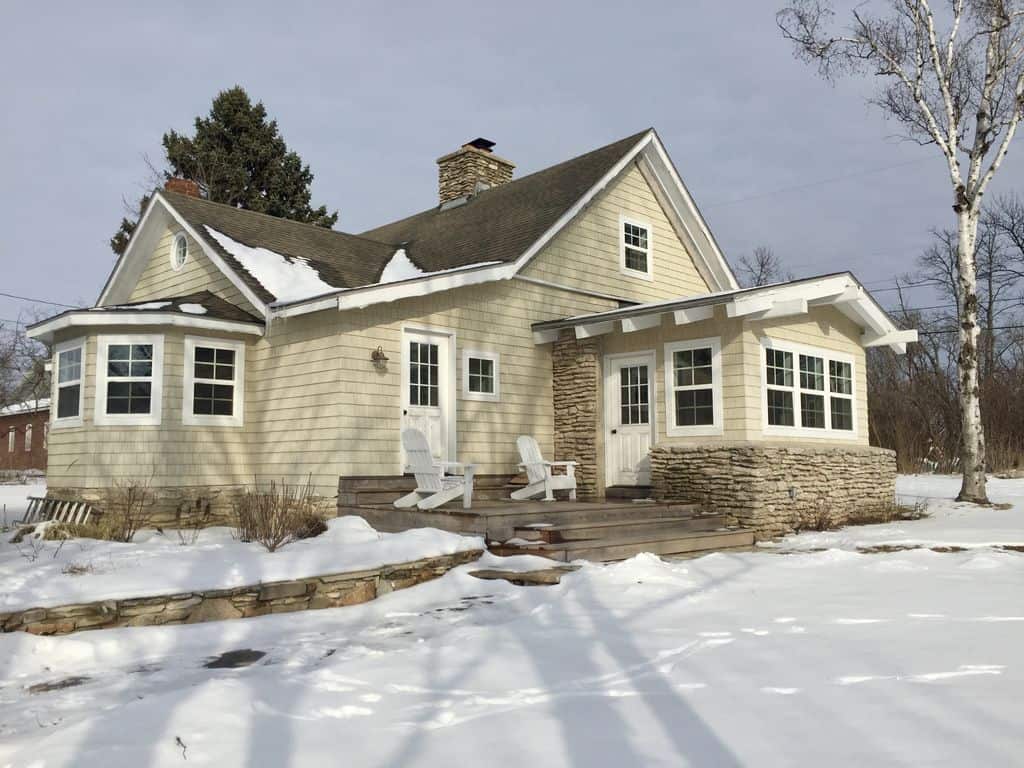 Why you should stay: Scandinavian-inspired decor creates a whimsical and cozy atmosphere between the villages of Ephraim and Sister Bay.
Sleeps: 7
Minimum stay: 2 nights
Pets allowed: yes
The Nordic Hearth Cottage is a historic three-bedroom home that puts you right in the heart of the peninsula. Natural light accents the beautiful white walls and exposed wooden beams to create a cozy atmosphere inspired by Scandinavian design.
The recently renovated stone fireplace in the living is a stunning accent point that will warm your soul on chilly evenings relaxing at home. With a central location between Ephraim and Sister Bay, everything is super accessible and easy to drive. You won't want to miss the impressive designated state natural areas and fabulous shopping nearby.
9. Bella Villa II
Why you should stay: Marvel at a charming hand-crafted log home that's one-of-a-kind.
Sleeps: 7
Minimum stay: 2-3 nights
Pets allowed: no
You can feel the love that went into crafting and building the Bella Villa II cabin rental in Baileys Harbor. Boasting a luxurious interior, this three-story home features rich wooden cabinets, log paneling, and elegant stone accents.
Outside, multiple balconies and decks beckon you to take in the fresh forest air and relax. This Wisconsin vacation rental is perfect for groups of up to 7 travelers.
10. Ephraim Log Cabin #1
Why you should stay: A newly renovated cabin with a lovely garden and yard in the small town of Ephraim.
Sleeps: 4
Minimum stay: 3 nights
Pets allowed: no
Divided into two units, Ephraim Log Cabin #1 is a budget-friendly rental for a family or group of four. This unit is set up as a studio-style apartment with a kitchenette with a sink and refrigerator, a sleeping loft for two, and a full bathroom.
The cabin is situated on a spacious yard with pretty gardens and is a perfect place for little ones to play outside.
11. Peace of Beach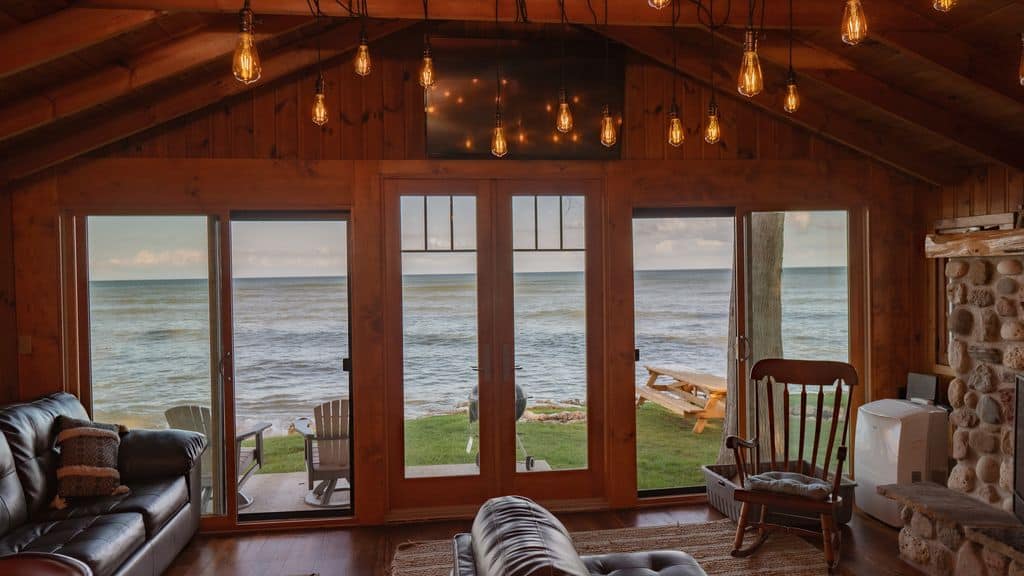 Why you should stay: Charming knotty pine cabin in Sturgeon Bay overlooking Lake Michigan.
Sleeps: 6
Minimum stay: 4-7 nights
Pets allowed: yes
Peace of Beach is a magnificent knotty pine cabin on the shores of Lake Michigan in Sturgeon Bay. A standout feature of the home, aside from the attractive wood throughout, is the massive windows and glass doors that welcome in lake and sky views that are just 10 yards away.
A ramp sits on the shores for those with a boat or for groups excited to kayak, canoe, paddleboard, or indulge in a bit of swimming. The outdoor picnic table and double fire pits welcome a rousing evening under the stairs.
12. Trillium Gap Cottage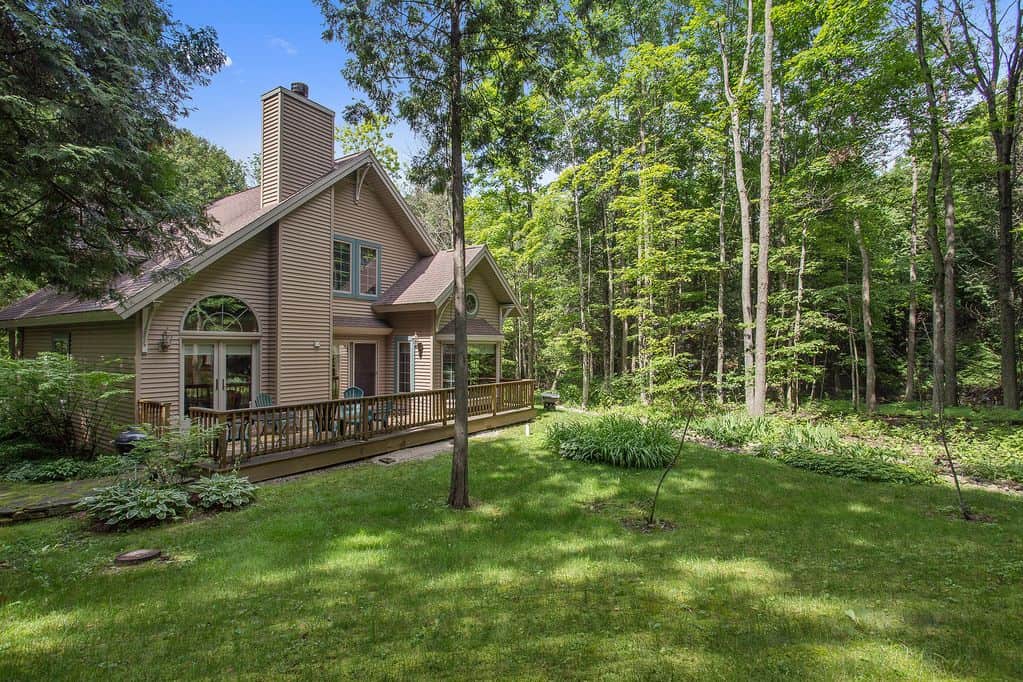 Why you should stay: Easily walk to the beach of Egg Harbor while sleeping surrounded by picturesque woodlands.
Sleeps: 7
Minimum stay: 2-5 nights
Pets allowed: no
The Trillium Gap Cottage will make you feel right at home. Featuring 2000 square feet of space and three bedrooms, you'll never feel cramped inside. The fully-equipped kitchen and master bath with a Jacuzzi tub are high-end amenities everyone wants out of a vacation rental.
Along the back of the home is a lovely deck and BBQ grill that offers plenty of seating space to enjoy the sunshine or your morning coffee in the fresh air. Once the sun sets, stargaze next to a blazing bonfire as you roast marshmallows. A nearby beach and Egg Harbor are just walking distance away from this cute cabin rental.
Related Read: 10 of the Best Airbnbs in Door County, Wisconsin
Plan Your Trip to Door County, Wisconsin
If you're new to Wisconsin, you may not realize just how amazing some of the best things to do in Door County are. Here are some of our favorite things to do in the area:
Explore the Midwest!
Sign up for our free email to join 100,000+ readers getting epic travel, hiking, camping and gear ideas every month.
Was this article helpful?
---