Itching for a new experience outside of Cleveland? These exciting weekend road trips from the CLE will drive you wild.
When you think of Cleveland, you probably imagine the famous Rock and Roll Hall of Fame or the city's die-hard sports fans. But as Ohio's largest metro area, Cleveland is also a destination where culture and industry collide. It's where you can sample cuisine from anywhere in the world and immerse yourself in art old and new. But no matter how much a place has to offer, sometimes you need to hit the road and explore its surroundings.
Cleveland is a great jumping-off point to experience fantastic destinations in both the Midwest and the Northeast. Within a few hours, you can reach some of America's other impressive big cities like Pittsburgh and Indianapolis. Or, for those seeking something quieter, natural beauty can be found in places like Hocking Hills State Park and Cuyahoga Valley National Park.
Here are some of the best weekend road trips from Cleveland the next time you need a change of scenery.
1. Hocking Hills State Park, Ohio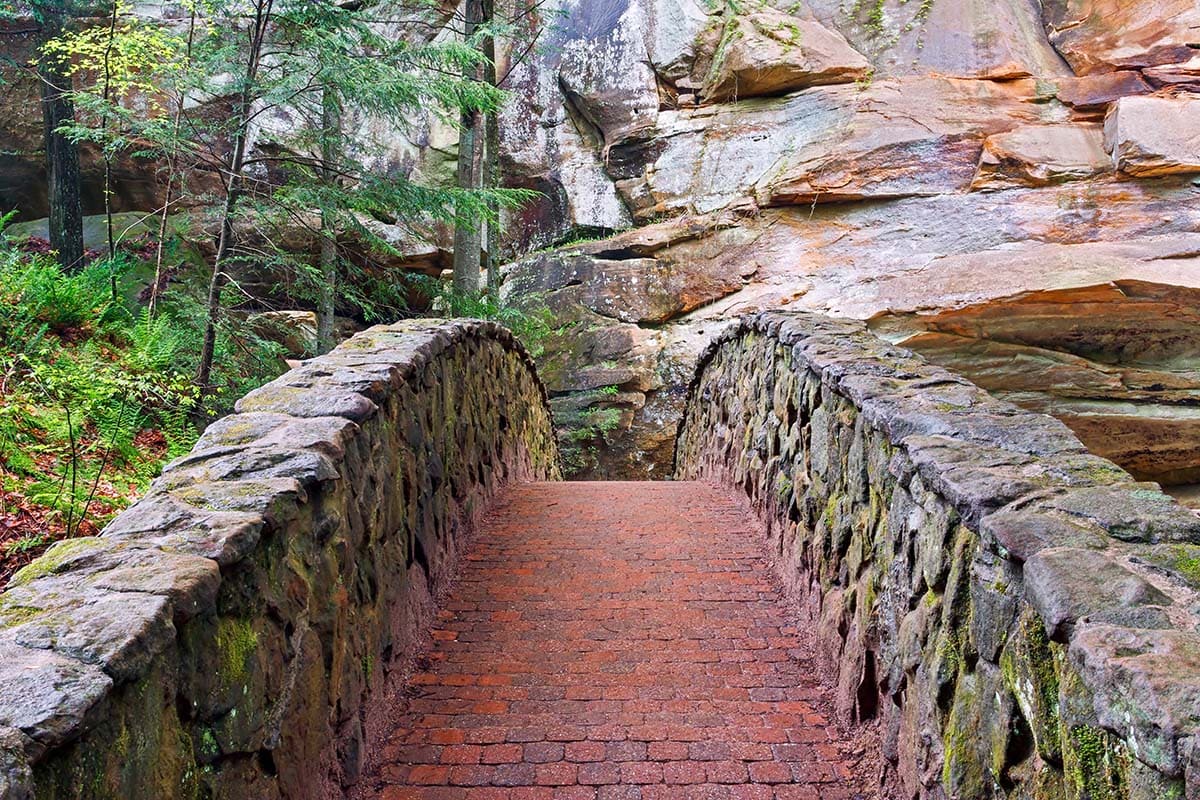 Often regarded as Ohio's most beautiful natural landscape, you can easily fill an entire weekend soaking up the wonder of Hocking Hills State Park. The park is best known for 59 miles of hiking trails that lead through dense forests to scenic waterfalls and impressive caves. Additionally, those who enjoy kayaking can paddle the Hocking River, and there's even a zip-lining tour where you can soar through the trees.
And while the summer is one of the best times to visit, autumn brings a display of fall colors that you shouldn't miss. You'll find this state park in southeastern Ohio along the foothills of the Appalachian Mountains, a quick three-hour drive from Cleveland. If camping isn't your thing, many opt to book a cozy hotel or Airbnb in the town of Logan, just a 20-minute drive from the park.
Distance from Cleveland: 203 miles
Drive time without stops: 3 hours 10 minutes
Related Read: 7 Hocking Hills Cabins with Hot Tubs for a Revitalizing Getaway
2. Cincinnati, Ohio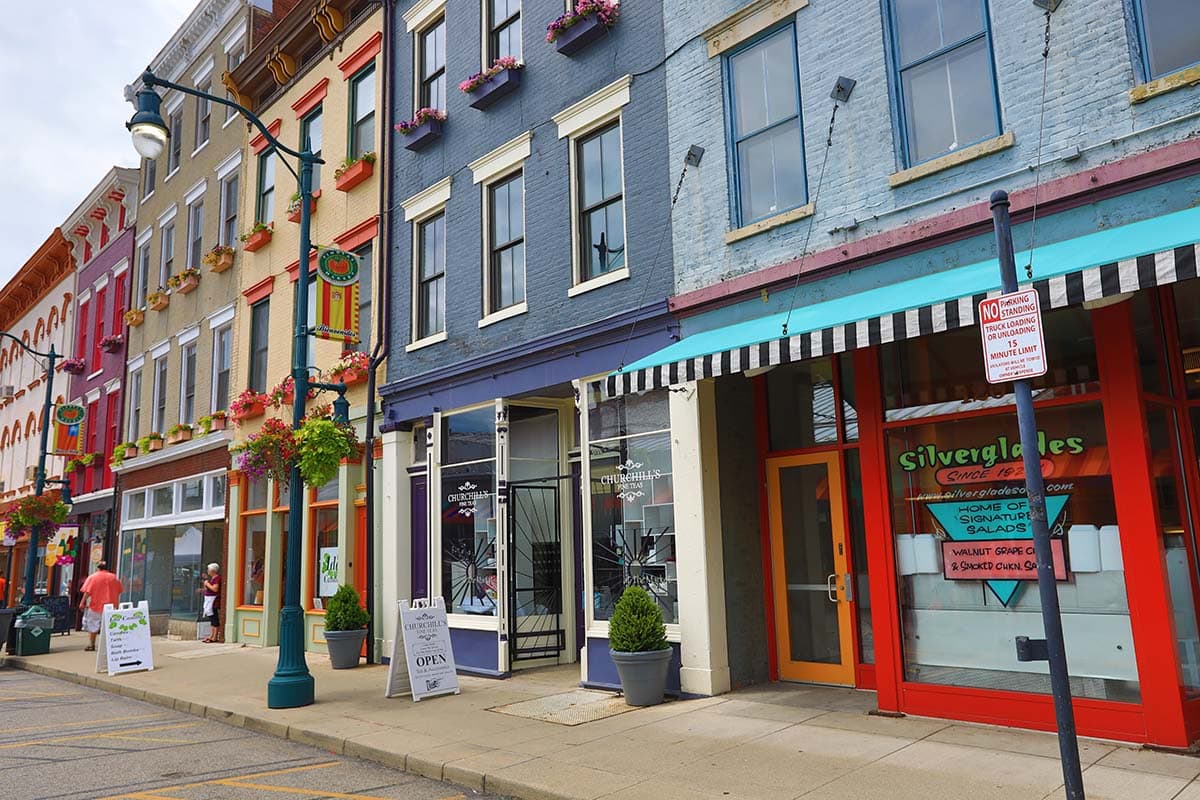 Trade the streets of one major Ohio city for another and consider taking a weekend road trip to Cincinnati. Lovingly called Cincy by locals, the city is often regarded as one of the best places to live in Ohio, thanks to its numerous green spaces and various things to do. For a taste of local history, head over to the John A. Roebling Bridge, an iconic landmark that acted as a model for the Brooklyn Bridge.
Another must-do in Cincinnati is Findlay Market, where you can shop for local goodies and enjoy a freshly made meal. While here, you should also consider catching a baseball game at the Great American Ball Park, grabbing a bowl of the famous Skyline Chili, or experiencing one of the many free things to do in the city.
Distance from Cleveland: 248 miles
Drive time without stops: 3 hours 40 minutes
Related Read: 9 Beautiful Cabin Rentals Near Cincinnati, Ohio
3. Indianapolis, Indiana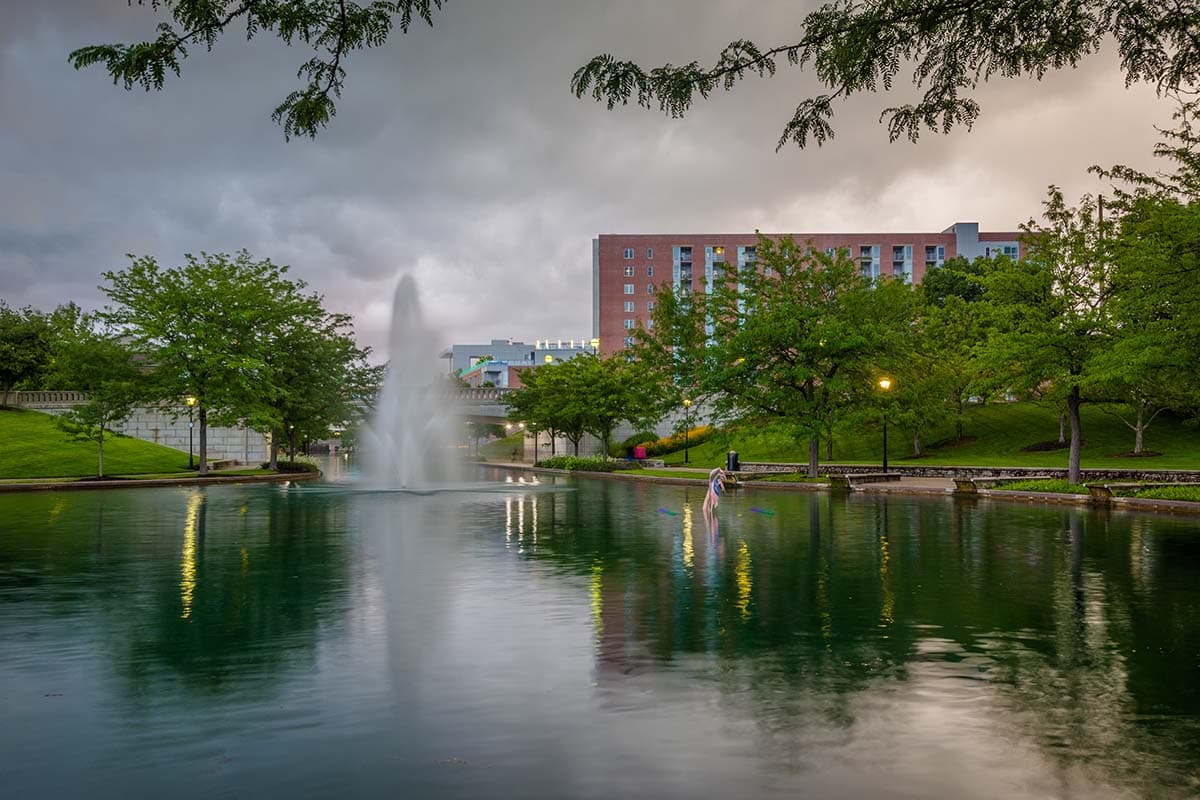 Another excellent weekend getaway from Cleveland is just across state lines to Indianapolis, Indiana's vibrant capital city. When you're not treating yourself to a hearty Cajun meal at Yats or a Reuben from Shapiro's Delicatessen, check off iconic landmarks like Monument Circle from your bucket list. Renting paddle boats on Indy's Central Canal and visiting the Indianapolis Zoo make worthwhile stops as well.
For fresh air, the Lily House and Gardens and White River State Park offer excellent spots to enjoy a picnic. And, of course, no trip to "America's Crossroads" is complete without popping by the Indy 500 Racetrack or the famed Indianapolis Motor Speedway Museum. One of the further stops on this list, the drive is well worth it with exciting attractions and a culinary scene that'll please the pickiest of eaters.
Distance from Cleveland: 315 miles
Drive time without stops: 4 hours 40 minutes
Related Read: The 13 Best Cabin Rentals in Indiana
4. Niagara Falls, New York
One of the largest waterfalls in the world, Niagara Falls is one of those places everyone should see at least once in their lives. Situated between New York and Canada, visitors can come year-round to witness this impressive cascade fed by Lake Erie. One of the absolute best things to do at Niagara Falls is to ride on the Maid of the Mist, a seasonal cruise ship that offers rides to the base of the falls. Cave of the Winds is another must, taking visitors through a walkway behind Bridal Veil Falls and into a cave.
Remember your passport so you can cross over to Canada, where most of the hotels and restaurants are. On the Canadian side, you can also climb the Skylon Tower or ride the Niagara Skywheel for a bird's eye view of the falls. Two nights is an ideal amount of time to see the best Niagara Falls has to offer.
Distance from Cleveland: 213 miles
Drive time without stops: 3 hours 18 minutes
Related Read: The Best Great Lakes Islands for a Scenic Midwest Vacation
5. Pittsburgh, Pennsylvania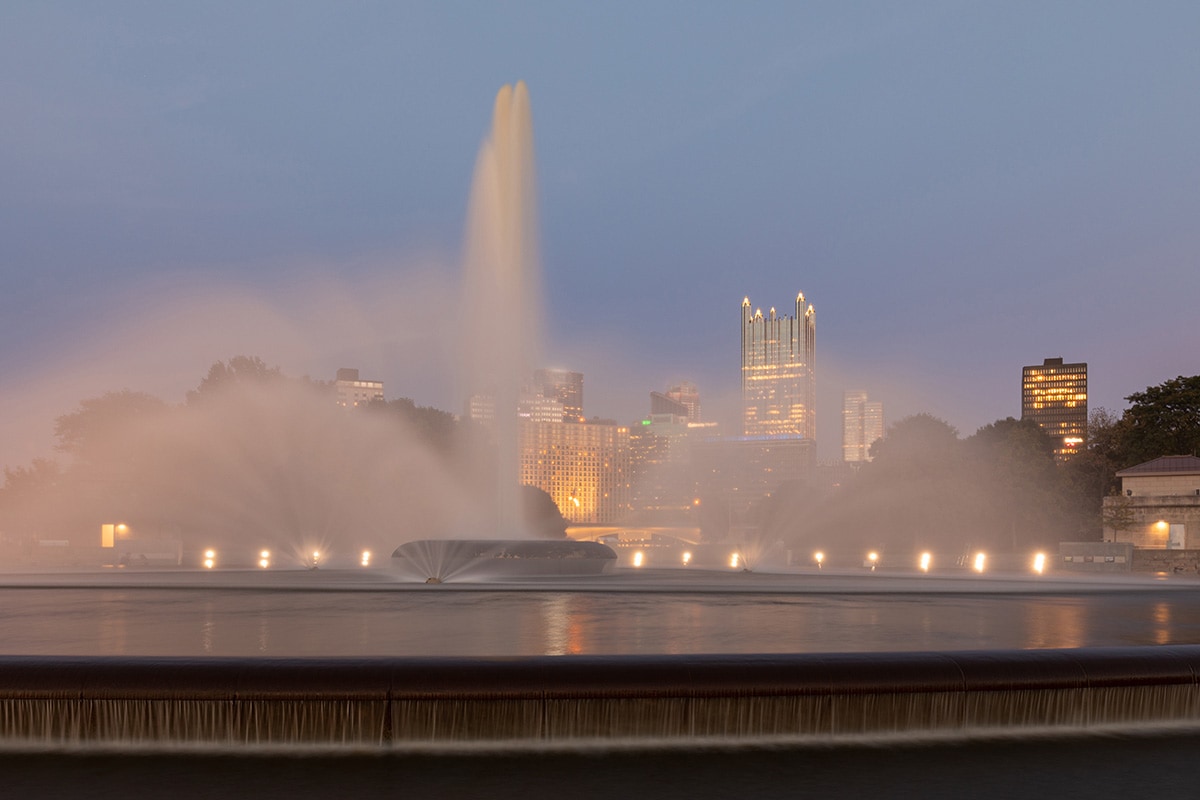 A few hours southeast of Cleveland lies Pittsburgh, a city nestled at the confluence of three major rivers. In fact, many of the best things to do in Pittsburgh revolve around the Ohio, Allegheny, and Monongahela Rivers, and you can see all three at once at the famous Point State Park. The city is also home to countless green spaces and an iconic skyline with hundreds of bridges.
Once called home by historical figures like Andrew Carnegie and Andy Warhol, Pittsburgh is also an excellent destination to learn more about American history. During your visit, you can see renowned exhibits at places like the Carnegie Museum of Natural History and the Andy Warhol Museum. Other worthwhile things to do include taking the funicular up to the top of Mount Washington, strolling downtown's Market Square, and grabbing a bite to eat at the iconic Church Brew Works.
Distance from Cleveland: 133 miles
Drive time without stops: 2 hours 7 minutes
Related Read: 7 Incredible Treehouse Rentals in Pennsylvania
6. Columbus, Ohio
To the southwest of Cleveland is Ohio's capital, Columbus. While many agree that the streets of Cleveland and Cincinnati have more character, there's no denying that Columbus boasts a young and artsy atmosphere thanks to Ohio State University. Not to mention, Columbus is home to Ohio's state capital – one of the oldest capitol buildings in the country.
Some of the best things to do in Columbus include visiting the Center of Science and Industry (COSI) and unleashing your inner child at the Legoland Discovery Center. But for something a little less touristy, head over to the Short North and University districts for a fantastic food and bar scene. Or, head to the charming and historic German Village neighborhood to check out local bookstores, cafes, and ice cream shops.
Distance from Cleveland: 142 miles
Drive time without stops: 2 hours 6 minutes
Related Read: 7 Best Great Lakes Destinations for an Unforgettable Vacation
7. Cuyahoga Valley National Park, Ohio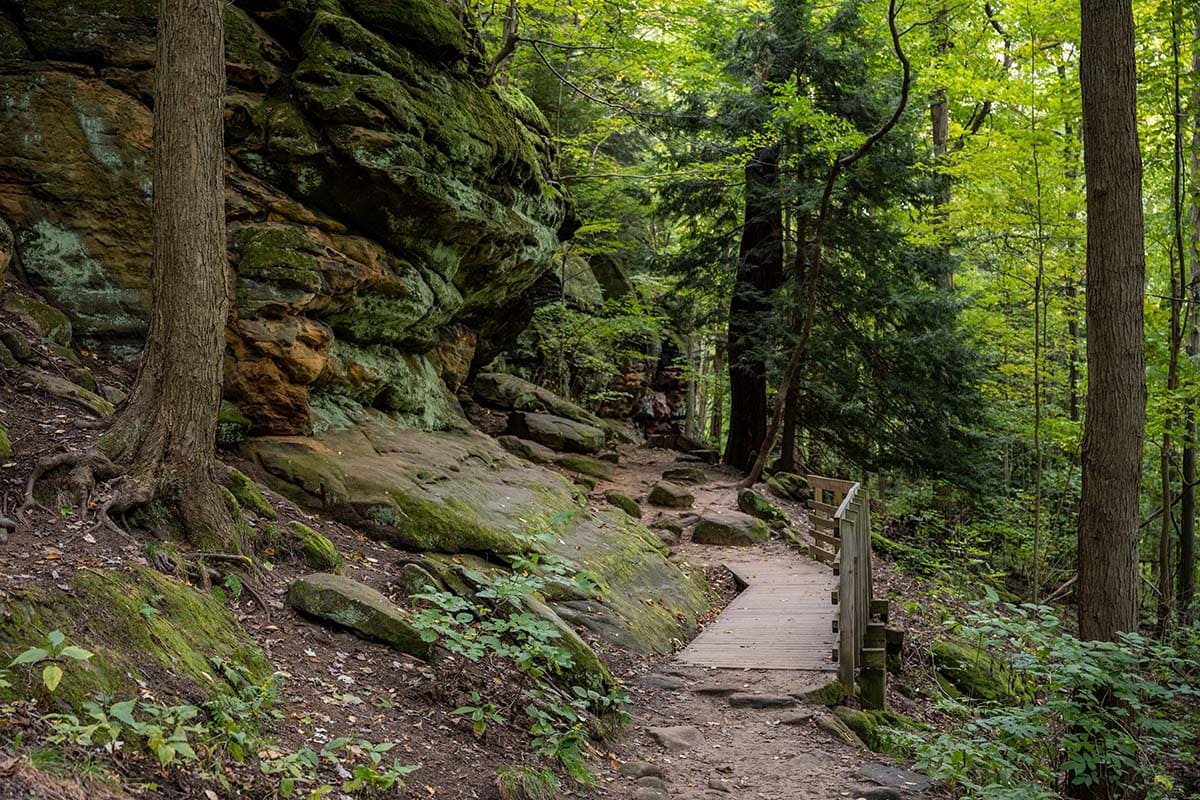 Get a change of scenery at the Cuyahoga Valley National Park, a stunning expanse of federally protected lands less than 30 minutes from Cleveland. Cuyahoga Valley is an outdoor lover's paradise, boasting everything from towering cliffs to picturesque waterfalls. The park's best trails include the Twin Sisters Waterfalls, Brandywine Gorge, and Cuyahoga Valley Ledges Trail. There's also the Brandywine Ski and Boston Mills Ski Area that open in the winter, offering a perfect weekend getaway during the snowy months.
While it's no longer possible to camp within the national park, the Stanford House and the Inn at Brandywine Falls are two quaint hotels in the park boundaries that offer a relaxing experience. Another option is to stay in nearby Akron, about 15 minutes from the southern entrance of the national park.
Distance from Cleveland: 20 miles
Drive time without stops: 27 minutes
Related Read: 9 Secluded Cabins in Ohio for Private Getaways
8. Lake Erie Islands, Ohio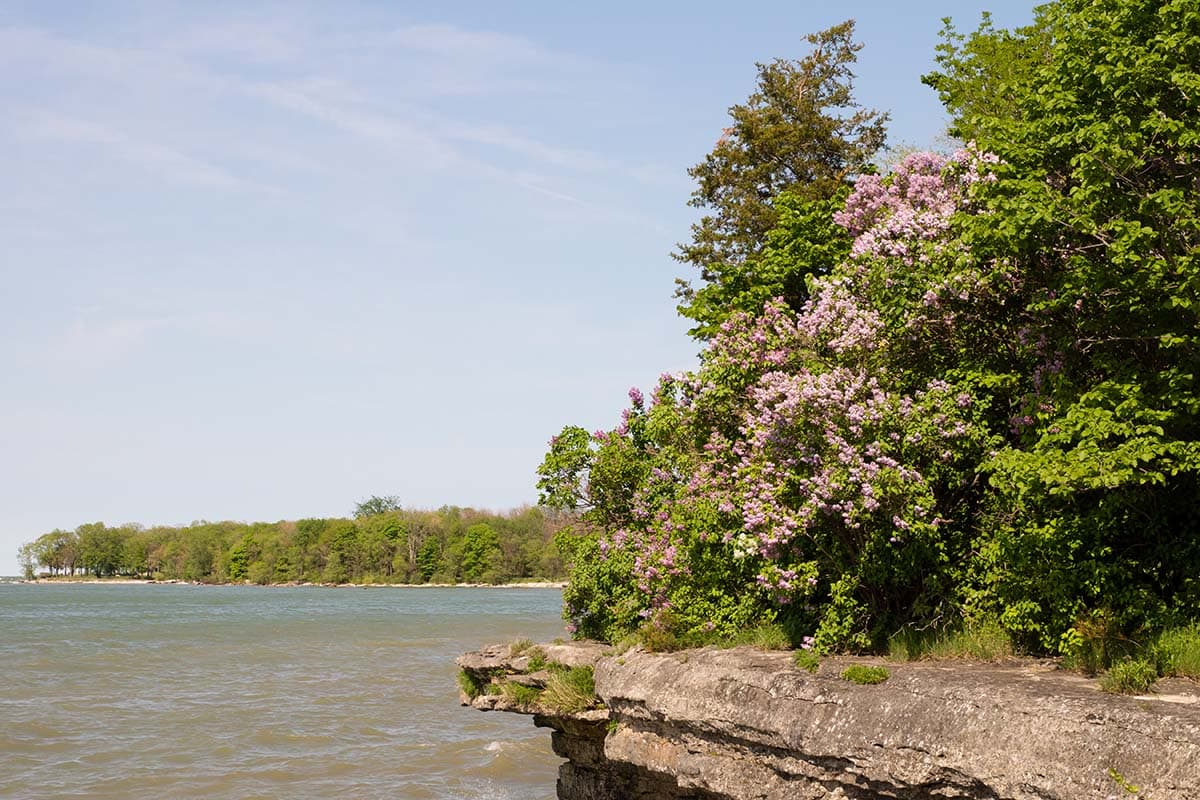 Best as a road trip in the summer, the Lake Erie Islands offer Clevelanders an opportunity to relax on the beach, explore historic lighthouses, and experience island life. With about 36 islands on the U.S. side, the most popular to visit are South Bass Island, Kelleys Island, and Middle Bass Island. South Bass Island is home to the lively Put-In-Bay village, where a popping nightlife and rowdy crowds are plentiful. While on the island, venture to South Bass Island State Park for hiking and scenic coastal views.
Or consider Kelleys Island, the largest of Ohio's Lake Erie Islands, where you can see grooves carved into stone by advancing glaciers and an impressive dining scene. For some peace and quiet, Middle Bass Island is the best choice to avoid crowds. Some popular attractions on Middle Bass include playing a round of golf, kayaking, and seeing what remains of a historic winery in Ohio's newest state park. The Lake Erie Islands are accessible via a 20-minute ferry from Port Clinton and Sandusky.
Distance from Cleveland: 62 miles
Drive time without stops: 1 hour 20 minutes (plus a 20-minute ferry ride)
9. Geneva-on-the-Lake, Ohio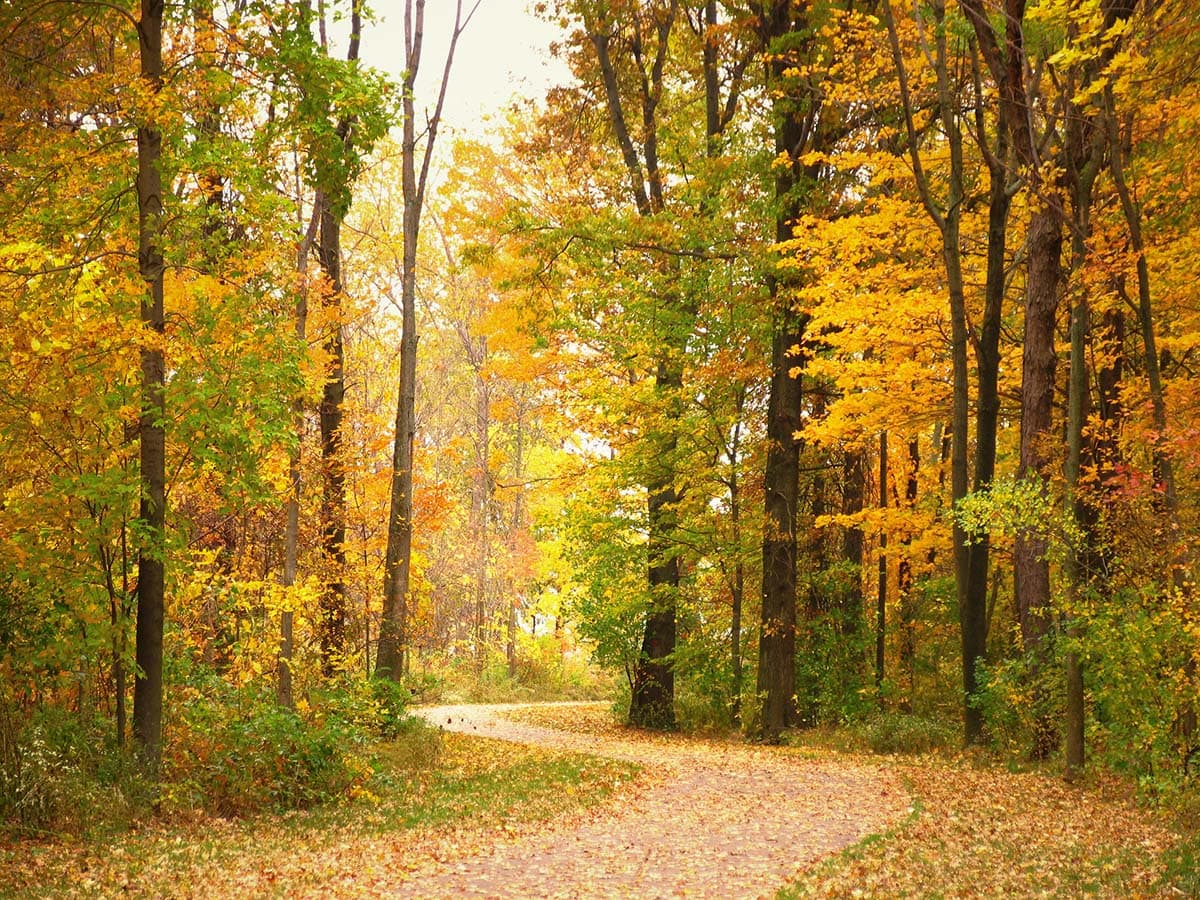 Experience the small-town charm of Geneva-on-the-Lake, a small but mighty destination nestled along the shores of Lake Erie. As a resort town, you can enjoy the usual suspects, like a round of golf, wine tastings, and spa treatments. And when you're not pampering yourself, get your heart pumping with some outdoor excitement with a sky-high Lake Erie Canopy Tour or a jet-ski rental from the Geneva Marina.
Less than ten minutes from the town lies Geneva State Park, arguably one of the top attractions in the area. It's the place to go for a day at the beach, a pleasant stroll, or a bit of fishing. Classic campsites or cabin rentals are available at the park so you can wake up to the calming sounds of waves lapping against the shore. Or, opt to stay at The Lodge, a four-star accommodation regarded as one of the best places to stay in Geneva-On-The-Lake.
Distance from Cleveland: 53 miles
Drive time without stops: 1 hour
Where to Explore Next
Get epic travel ideas delivered to your inbox with Weekend Wanderer, our newsletter inspiring thousands of readers every week.
---