We research and recommend travel destinations based on a number of factors, including our writers' own experience, user reviews and more. We may earn a commission when you book or purchase through our links. See our editorial policy to learn more.
---
These exciting tiny homes scattered across the Badger State may be small, but there's no denying they've got big personality.
Defined as a dwelling of about 400 square feet or less, small homes are part of a minimalistic movement that prioritizes living with less and making the most of what you have. These tiny homes in Wisconsin boast cozy and stylish interiors, often tucked away in beautiful destinations.
What's extra-great about a tiny home in a pastoral state like Wisconsin is that they offer travelers an opportunity to be immersed in the beauty of the state's rolling farmlands, coastal regions, and national forests. On top of that, they're often more affordable, more architecturally interesting, and cute as can be.
If you've been desperate for a new travel experience, check out these extraordinary tiny homes in Wisconsin for a unique way to enjoy the idyllic scenery of America's Dairyland.
Related Read: The 9 Best Airbnbs in Madison, Wisconsin
1. The RicePod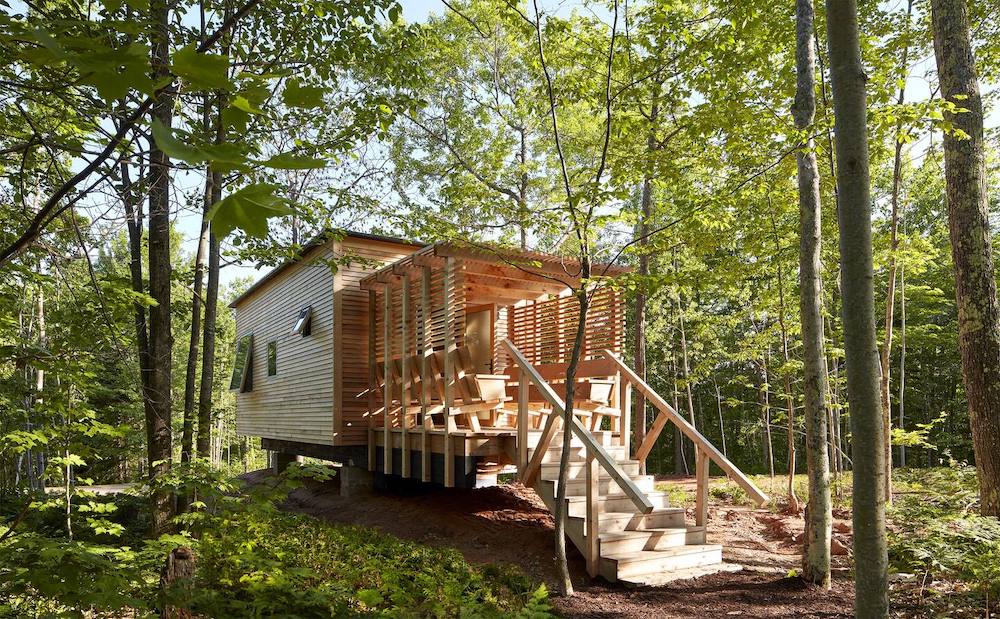 Why you should stay: Modern tiny home with upscale fixtures in a wooded resort on Lake Superior.
Location: Bayfield
Sleeps: 2
Minimum stay: 2 nights
Rates from: $203/night
The RicePod is part of the nationally recognized Wild Rice Retreat. With wellness a top priority, resort visitors have access to upscale amenities such as a cedar sauna, retreat center, and stylish dining room. Guests can sign up for experiences ranging from movement-focused classes like yoga and tai chi to more art-focused programs and outdoor experiences. With your booking of this Wisconsin tiny house, you also get two meals a day included.
The RicePod itself is a tiny home with natural wooden elements and bright windows that foster an atmosphere conducive to relaxation. This home is equipped with two twin beds, a kitchenette with a mini-fridge, and a private patio with a beautiful wooded trellis backed into the woods.
Check Availability
Follow 'em: @WildRiceRetreat
2. The Croquet Cabin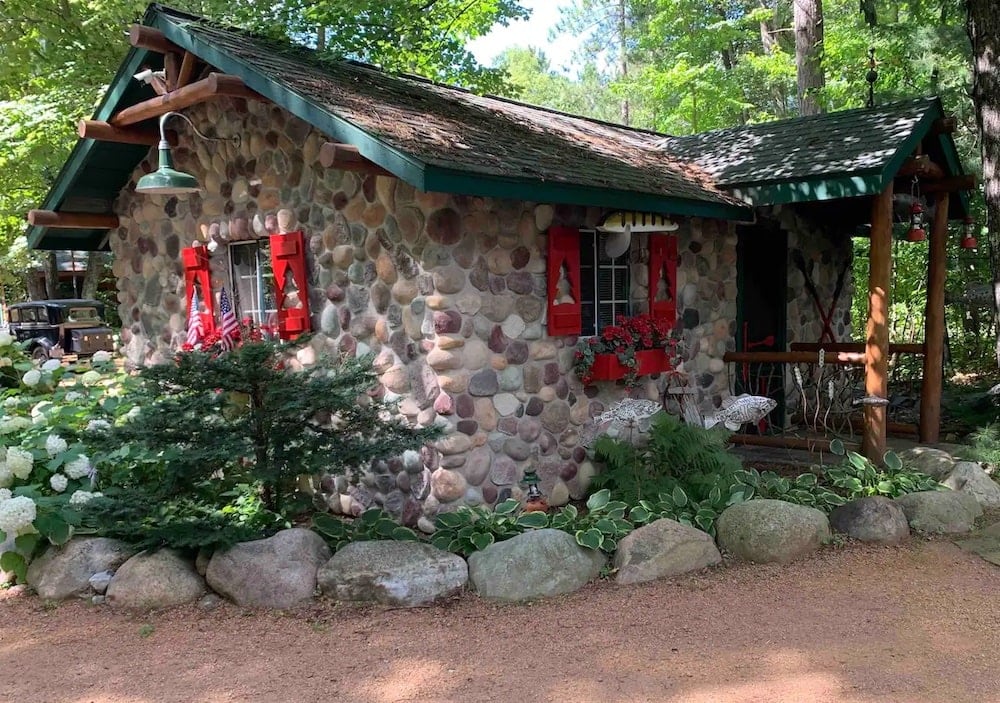 Why you should stay: Classic cabin for fishing enthusiasts and lake-lovers seeking a reprieve in nature.
Location: Arbor Vitae
Sleeps: 2
Minimum stay: 2 nights
Rates from: $152/night
Embodying the spirit of a fairytale cottage, The Croquet Cabin is a charming tiny home with a quaint stony facade. You can find this romantic getaway along the shores of Lower Gresham Lake in Wisconsin's scenic Northwoods. This tiny house is for those seeking the chance to swim, fish, and take advantage of the nearby boat, kayak, and canoe rentals.
Although small, the interior is equipped with a well-appointed kitchen, a gas fireplace, and a bathroom with a tub. Pleasant red gingham and outdoor decor bring the spirit of the surrounding wilderness inside for a mountain-esque experience. This airbnb also has an excellent yard with a fire circle, a stone patio with a dining table, and access to a professional croquet court.
Check Availability
Related Read: 15 Magical Hobbit Houses That'll Transport You to the Shire
3. Boho Escape Tiny House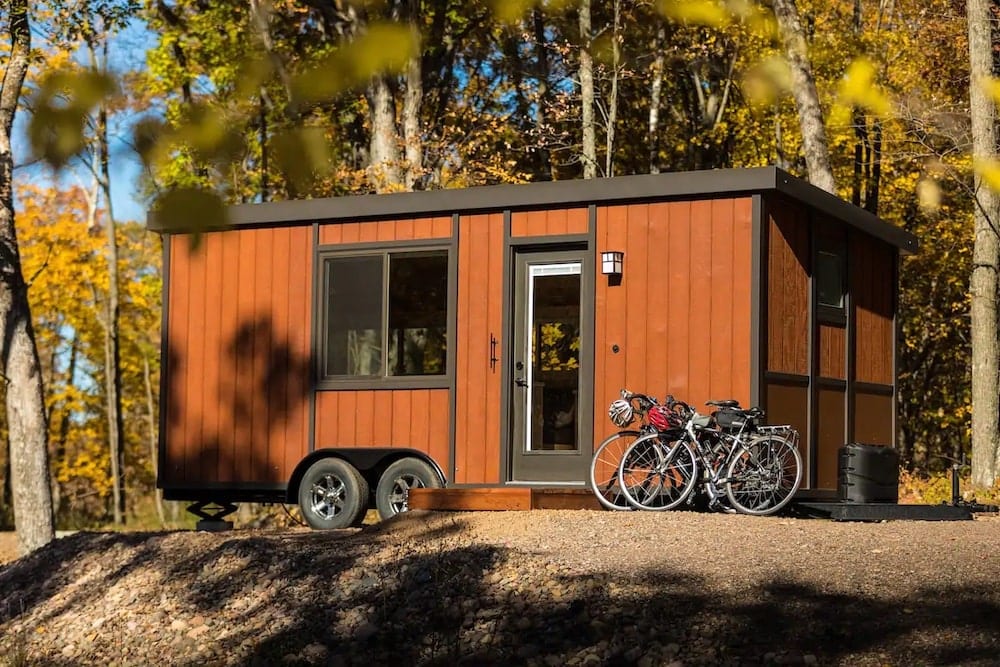 Why you should stay: Tiny lake home located on a remote property less than an hour north of Eau Claire.
Location: Chetek
Sleeps: 2
Minimum stay: 1 night
Rates from: $139/night
Situated on the same property as the Canoe Bay Resort, the Boho Escape Tiny House is a relaxing getaway along the shores of Mallard Lake. If you're thinking the price looks great for such a unique home, you're right – but it's partially because guests who want to use the resort's amenities, such as kayaks, canoes, and community spaces, have to pay an extra fee.
This beautiful Wisconsin tiny home oozes warmth thanks to the expansive windows that bathe the natural wooden surfaces in sunlight. Guests not all about climbing that ladder loft can breathe a sigh of relief because the plush queen bed is on the main level. Other features at this Wisconsin tiny home include a private bathroom with a shower and a small counter space with a mini-fridge and Keurig machine.
Check Availability
Related Read: 12 Amazing Airstream Airbnbs Across the U.S.
4. Hide Out Cabin
Why you should stay: Pet-friendly tiny cabin 10 acres wooded near the Wisconsin Dells.
Location: Lyndon Station
Sleeps: 4
Minimum stay: 2+ nights
Rates from: $110/night
Disconnect in the quiet of nature at the Hide Out Cabin, a minimal tiny home tucked under towering pines. This cute getaway has warm knotty pine and log fixtures with most of the comforts of home, including two lofted mattresses, electricity, a kitchenette, and an interior bathroom.
However, you won't find Wi-Fi on the property nor running water in the winter (which means no indoor shower), creating a lovely glamping experience. In the outdoor space, you can start up a bonfire and enjoy meals at the picnic table. But since you're so close to the Wisconsin Dells, you should spend time enjoy the fantastically cheesy and entertaining amenities (though the area has nice outdoor recreation, too).
Check Availability
Related Read: 10 Incredible Dog-Friendly Cabins in Wisconsin
5. Rustica Retreat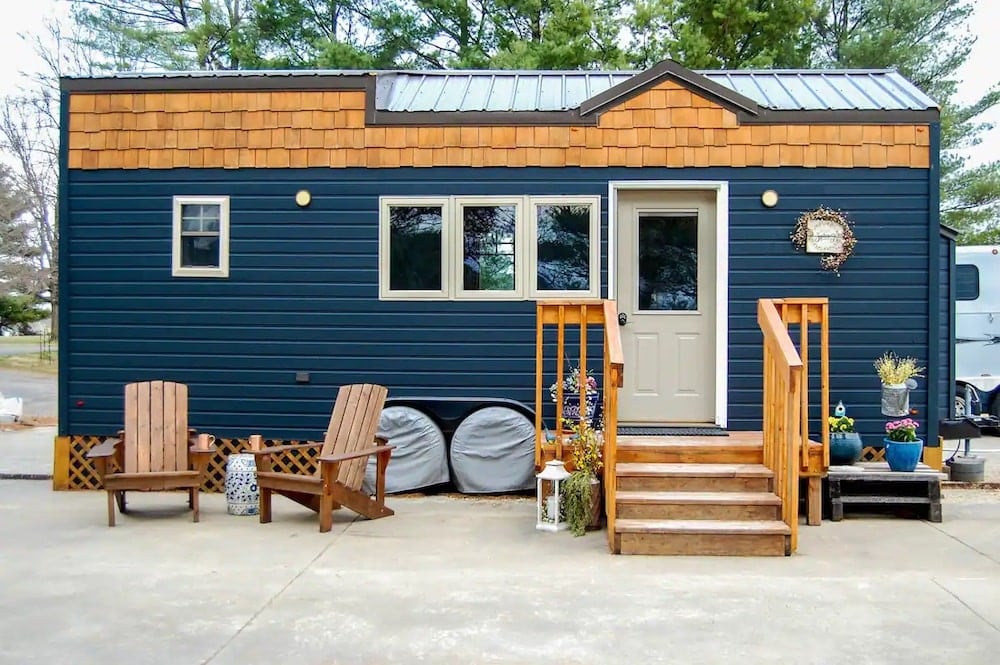 Why you should stay: Stylish tiny home on a small farm in southern Wisconsin.
Location: Platteville
Sleeps: 3
Minimum stay: 2 nights
Rates from: $68/night
The Rustica Retreat offers a lovely place to stay in southwestern Wisconsin. It's conveniently near the charming town of Galena, Illinois, and just over an hour from Madison. The interior features inventive ways of maximizing space (including pull-out stairs that double as storage shelves), a foldaway dining table, and a lofted king-size memory foam bed. There are some high-end features too, which is surprising considering it's one of the more affordable tiny homes in Wisconsin. That includes a self-check-in with keypad, attractive shiplap walls, marble counters, and vaulted wooden ceilings.
"We loved our stay at the Rustica Retreat! We highly recommend this little oasis for anyone looking for a stunning and serene place to stay."
Check Availability
Follow 'em: @Rustica_Retreat
6. Off-Grid Inn #1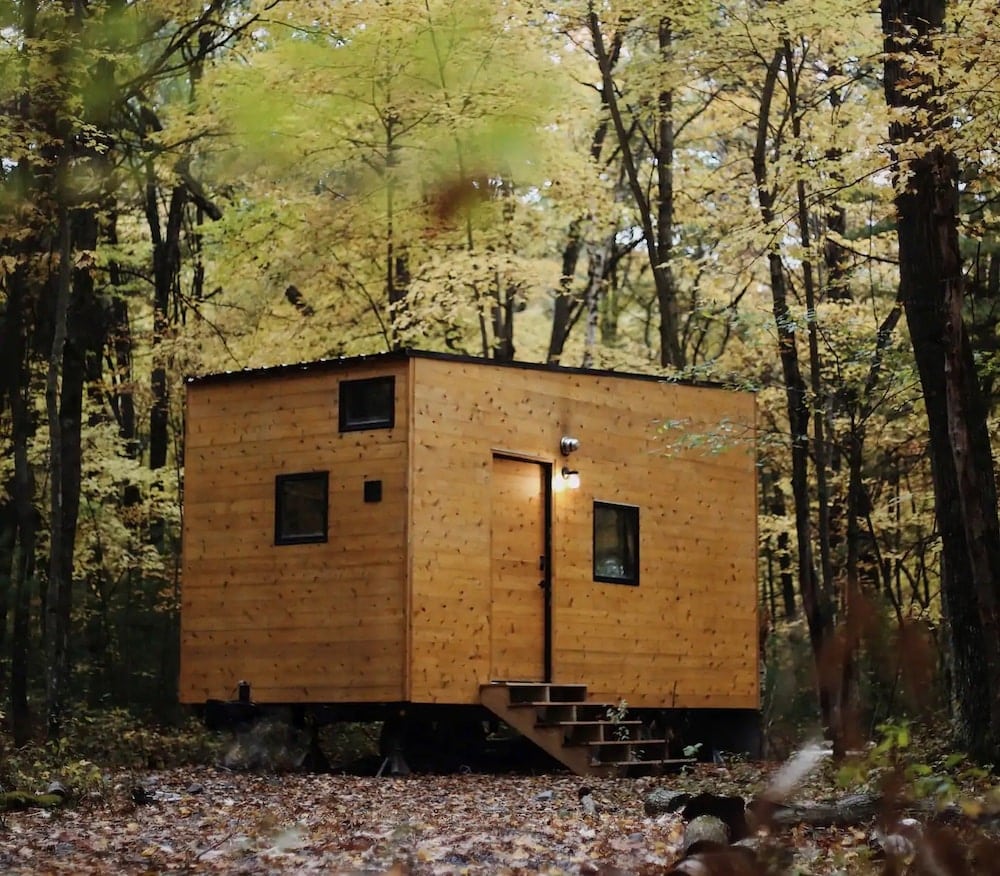 Why you should stay: Contemporary tiny home dubbed the "most wish-listed stay" in Wisconsin by Airbnb.
Location: Fall Creek
Sleeps: 3
Minimum stay: 1 night
Rates from: $215/night
The first offering at Off-Grid Inn is a stunning tiny home that features a queen bed tucked away at the end of the home, where a massive glass wall mean you'll feel immersed in the natural beauty, even when indoors. If traveling with a third person, it's possible to sleep on one of the home's benches with proper padding and bedding, but it's really best for a couple.
The hosts provide a fully-equipped kitchenette so you don't have to leave home every time you get hungry. But you'll only be about 15 minutes from Eau Claire, so you'll have tons of affordable dining options nearby if you do feel like going out. Outside your tiny home oasis, you'll have a fire pit with complimentary firewood, though this is one house where you may want to stay inside — the vibe is very much that of a lux Nordic hotel (minus the lux Nordic hotel fee).
Check Availability
Follow 'em: @OffGridInn
7. Off-Grid Inn # 2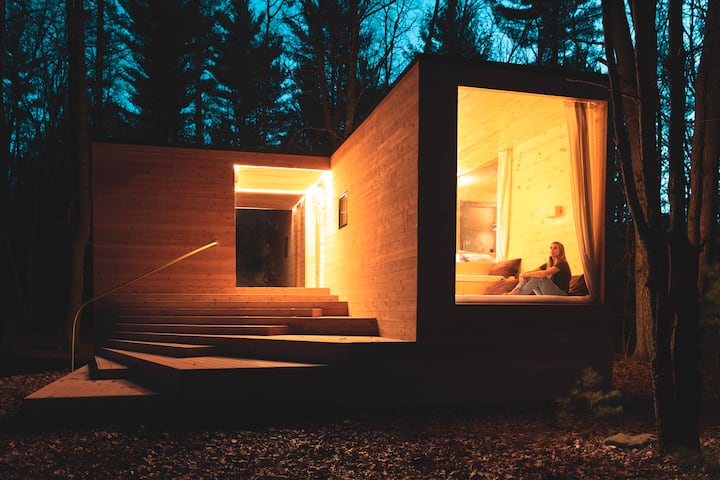 Why you should stay: If unit #1 is booked.
Location: Fall Creek
Sleeps: 4
Minimum stay: 1 night
Rates from: $279/night
Nestled on the same property as the previous listing, the second offering at Off-Grid Inn is another incredible Wisconsin tiny home available for your booking pleasure. A grand wooden staircase leads to the home's entrance, then splits the home into two spaces: a bedroom and a living area. This home is slightly larger than Unit 1 and has upscale features such as a projector system, Hue smart lights, and a modern bathroom. It's also a bit more expensive, which could make Unit 1 a better fit for budget travelers.
Unit 2 also boasts attractive knotty pine surfaces and incredible tall windows for utmost coziness. Beaver Creek Reserve is nearby, where hiking trails, kayaking, and a butterfly house offer a nice day of nature-focused activities. For a spectacular retreat, two couples could book both homes for an epic long weekend.
Check Availability
Follow 'em: @OffGridInn
8. Life UnContained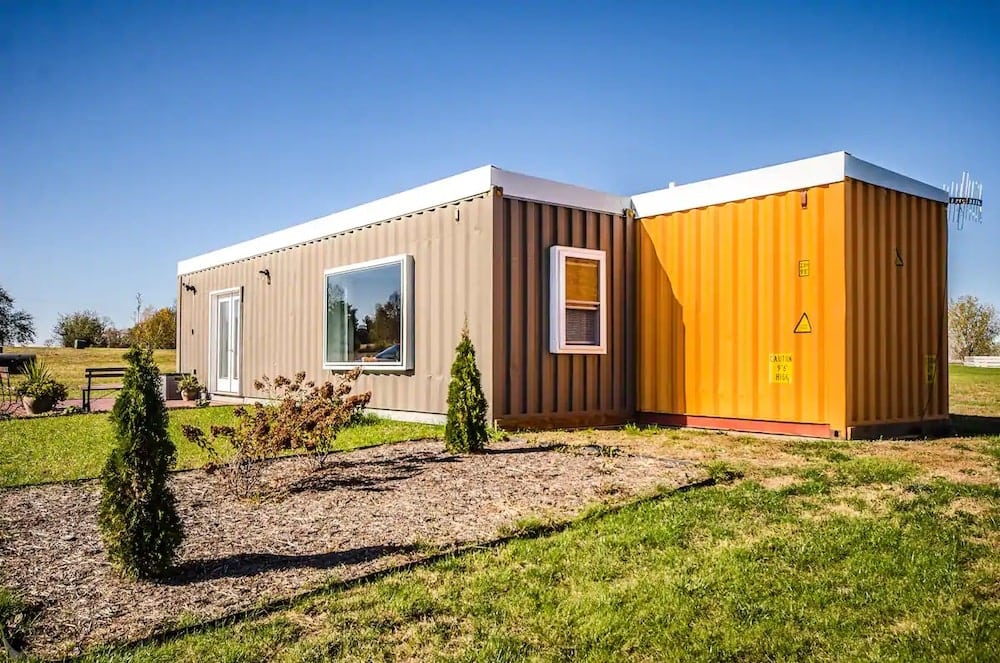 Why you should stay: Affordable, "big" tiny home in Wisconsin's driftless region.
Location: Viroqua
Sleeps: 4
Minimum stay: 1 night
Rates from: $77/night
Life UnContained is a family-friendly tiny home that doesn't feel so tiny. Set up like a studio apartment, this Wisconsin tiny home has a queen bed, a little seating area with a pull-out twin sofa bed, and even a full-size kitchen and bathroom.
Outside, a spacious grassy yard offers lots of room for kids to play and has a pretty pergola, a brick patio, and a grill. There's also a Chiminea fire pit for nightly s'mores. The home is in Viroqua, a charming small town known for its weekend Farmer's Market, local vineyards, and hiking trails at Kickapoo Valley Reserve State Natural Area. This is part of the driftless region, which is one of the least visited parts of the state, despite having a huge variety of outdoor recreation. Take advantage of it while you can.
Check Availability
Related Read: 11 Incredible Airbnbs in Milwaukee, Wisconsin
9. Deer Haven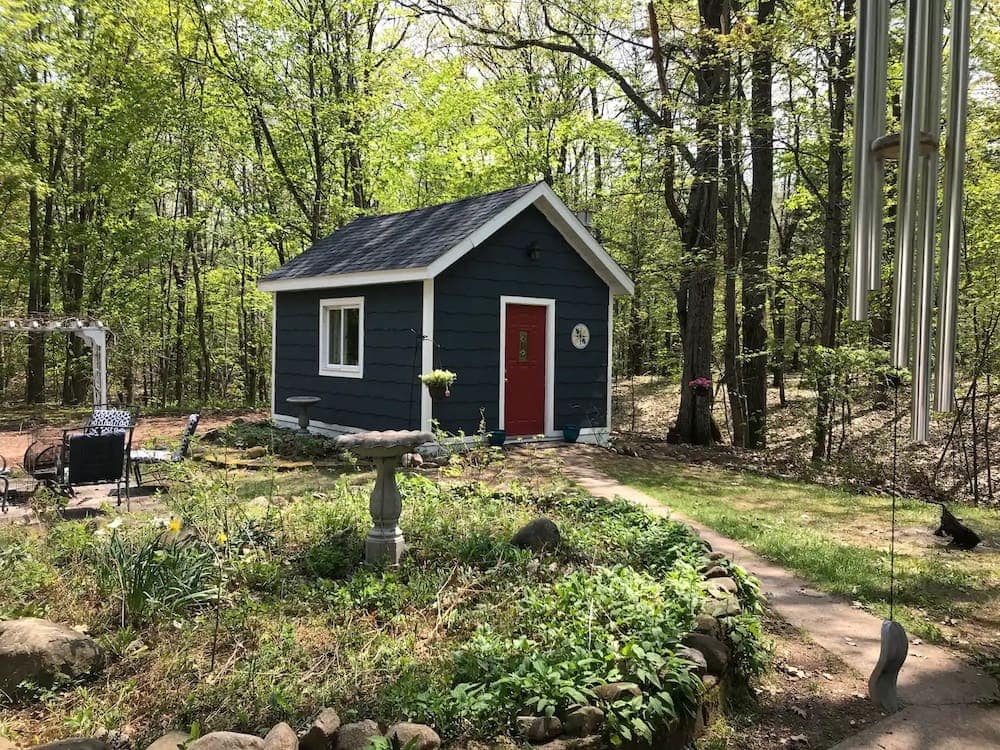 Why you should stay: Rustic and eclectic tiny home about 20 minutes from Lake Superior's Bear Beach.
Location: Lake Nebagamon
Sleeps: 2
Minimum stay: 2 nights
Rates from: $99/night
From the outside, the Deer Haven appears to be an ordinary shack, but one step through the charming red door, and you'll be immediately taken with the homey interior. The gas fireplace, twinkling string lights, and sleeping loft with beautiful wood paneling are just some of the attractive features in this Wisconsin tiny home.
But the unique touches don't stop there. The home's stock-tank shower, the loft's tug boat porthole, and outdoor patio space are also crowd-pleasers. Lake Nebagamon is in Wisconsin's Northwoods and only a short drive from Pattison State Park's Big Manitou Falls.
"Rena provides such a cozy, adorable tiny house! The woods surrounding the house is magical, too. We had a great time!"
Check Availability
Related Read: The 9 Absolute Best State Parks in Wisconsin
10. Tiny on the River
Why you should stay: Roomy, cozy tiny home overlooking the Black River near two cool cities.
Location: Black River Falls
Sleeps: 2
Minimum stay: 1 night
Rates from: $135/night
Tiny on the River is an upscale tiny home in a prime location for outdoor enthusiasts itching to explore the Black River and nearby Black River State Forest. This small escape enjoys the luxury of a full kitchen and a separate bedroom with a luxurious ensuite bathroom.
Floor-to-ceiling windows in both the bedroom and the living room offer spectacular views of the passing Black River, and french doors separate the screened-in porch from the rest of the house. Black River Falls is a pretty sleepy area, which makes this a great spot for a little R & R for travelers in La Crosse or Eau Claire, both of which are about an hour away.
Check Availability
Explore More in Wisconsin
Sign up for the Weekend Wanderer to join thousands of readers getting epic travel ideas every week.
---