We research and recommend travel destinations based on a number of factors, including our writers' own experience, user reviews and more. We may earn a commission when you book or purchase through our links. See our editorial policy to learn more.
---
Beer, brats, and cheese are fantastic enough reasons to head over to America's Dairyland. But if you're not yet convinced, these exciting weekend getaways should seal the deal.
Wisconsin offers a diverse mix of travel experiences that range from exciting city breaks, scenic outdoor getaways and lake escapes. If you're drawn to the bright lights of the big city, a trip to Milwaukee, Madison, or Green Bay can help satisfy that itch. Beer enthusiasts and history buffs will love the busy metropolis that Milwaukee offers. If delicious food and green spaces is your cup of tea, Madison fits the bill. And for the football-crazy and those who prefer smaller cities, Green Bay is the place for you.
However, Wisconsin's three largest cities aren't the only incredible travel destinations in the state. Resort towns like Wisconsin Dells and the sprawling untouched wilderness of the Chequamegon-Nicolet National Forest also provide incredible ways to fill a weekend.
Without further adieu, here are the best weekend getaways in Wisconsin for a complete Badger State experience.
Related Read: 10 Best Resorts in Wisconsin for Some Rest & Relaxation
1. Wisconsin Dells
A weekend getaway to the Wisconsin Dells means two days filled with water and fun. The city is famous for its more than 20 waterparks, with some of the best including Noah's Ark, Mt. Olympus, and The Kalahari. The city's Lake Delton also has a public beach area for those who prefer natural water fun instead. While the Dells may be known for its family-friendly and exciting resorts, that's not all this city has to offer.
Other classic things to do in the Dells include visiting the Tommy Bartlett Exploratory, playing a round of mini-golf at Pirate's Cove, and touring the Wisconsin River aboard a Wisconsin Duck. Nature lovers will also appreciate the numerous hiking opportunities found at nearby Mirror Lake State Park and the Dells of the Wisconsin River State Natural Area. Before starting your day, grab a hearty breakfast at the popular Paul Bunyan Restaurant that serves up delicious homemade donuts and plates that are lumberjack approved.
Related Read: 12 Best Cabin Rentals in the Wisconsin Dells
2. Lake Geneva
Lake Geneva is a resort city filled with various exciting attractions and boasts plenty of activities centered around the city's large freshwater lake. Many who visit Lake Geneva rent kayaks, paddleboards, and even motorized boats for a weekend on the water. Renting a bike from the trendy Avant Cycle Café is another fantastic way to be active. This cafe provides bike rentals and serves up a killer cup of coffee before you hit local trails like the Lake Shore Path.
If spending the weekend relaxing sounds more your speed, treat yourself to a spa treatment or a round of golf at the Grand Geneva Resort and Spa. In the summer, spending a day enjoying Big Foot State Park's beach and picnic areas is another excellent way to get in some R&R.
Related Read: 13 Exciting Things to Do in Lake Geneva, Wisconsin
3. Hayward Lakes
There's nothing more Wisconsin than spending a weekend up north on the lake, and the Hayward Lakes region allows for just that. With six lakes conveniently clustered around the charming small town of Hayward, fishing and boating are popular attractions in this remote destination. Lake Hayward is a quiet and peaceful place to kayak, swim, and sail because gas-powered boats are not allowed.
Fishing enthusiasts also enjoy the healthy fish population found in Lake Hayward's waters, including bass, walleye, and musky. Just remember to grab your fishing license before you go. Hayward and Sawyer County is also well known as one of the best places for ATVing and snowmobiling. Other exciting Hayward attractions include Scheer's Lumberjack Show and the Fresh Water Fishing Museum. When hunger strikes, consider visiting the Out of the Woods Winery and Angry Minnow Brew Pub and Restaurant for drinks and food.
Related Read: The 10 Best Lake Camping Destinations in Wisconsin
4. Madison
Fantastic dining, beer, and cultural attractions await you in Madison. If it's your first time visiting the state's pedestrian-friendly capital city, a weekend is a perfect introduction. No trip to Madison is complete without a visit to the Dane County Farmers Market held every Saturday around the Capital Square. Don't miss out on the chance to sample squeaky fresh cheese curds or pick up locally grown veggies.
After you've walked around the market, head over to the historic Capitol building to tour the grand marble halls. Before you leave, be sure to climb to the sixth-floor observation deck for 360-degree views of the city and surrounding lakes.
Madison's more unique attractions include the National Mustard Museum, Chazen Art Museum, and walking to the idyllic Picnic Point. The city also hosts numerous fun festivals throughout the year. The most notable festivals are Rhythm and Booms for the fourth, Freakfest on Halloween, and the summer's Taste of Madison.
Related Read: 11 Best Things to Do in Madison, Wisconsin
5. Milwaukee
Milwaukee is a classic weekend getaway in Wisconsin that offers a multitude of things to do for everyone. The city is situated along the shores of Lake Michigan and features the beautiful Riverwalk that follows the Milwaukee River's journey into the Great Lake. The Lakeshore State Park is another excellent way to experience the city and boasts one of the best views of Milwaukee's skyline. From the park, the famous Milwaukee Art Museum and Discovery World are within walking distance away and are beloved attractions the whole family will enjoy.
Other top must-dos in Milwaukee include exploring the Historic Third Ward, wandering the gardens of the Mitchell Park Domes, and admiring The North Point Lighthouse Museum. Be sure to make time to sample local brews at the Lakefront Brewery, grabbing a super-sized Bloody Mary from Soblemans, and a delicious brunch at Cafe Hollander.
Related Read: 11 Incredible Airbnbs in Milwaukee, Wisconsin
6. Bayfield & Apostle Islands National Lakeshore
Apostle Islands National Lakeshore is one of the few federally designated parks in Wisconsin. Established in 1970, the park protects the Lake Superior archipelago made up of 21 islands. Nature enthusiasts come to camp, kayak, and marvel at the striking sea caves that freeze over in the winter. Some of the best hiking and camping can be found on Sand and Oak Islands, both of which feature sandy shores and are accessible from the mainland via watercraft.
If camping isn't for you, many visitors opt to stay in Bayfield, the small town that acts as the gateway to the Apostle Islands. The best things to do in Bayfield include the annual fall apple festival, a visit to Meyers Beach, and taking a ferry to Madeline Island.
Madeline Island is the biggest and only island of the archipelago that's not part of the National Lakeshore. It's also the only island accessible by car, making it a convenient place to visit. Big Bay State Park is on Madeline Island and offers fantastic coastal views and miles of hiking. The island's primary industry is tourism, which means attractions like golf, shopping, dining, and museums are readily available.
Related Read: 10 Romantic Getaways in Wisconsin for the Ultimate Retreat
7. Door County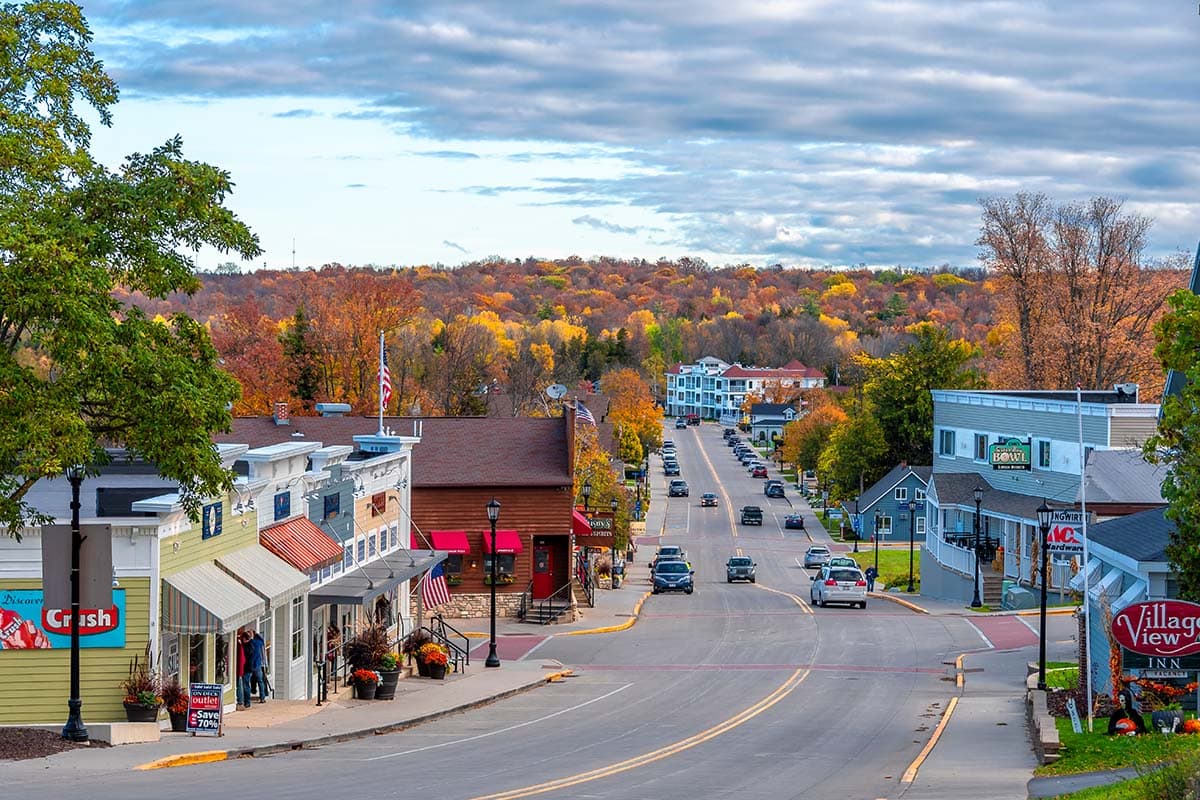 Known as Wisconsin's thumb, Door County is one of the most idyllic vacation spots in the state. With hundreds of miles of coastline and five state parks, the natural beauty is unparalleled. Be sure to make time for admiring the landmarks of Whitefish Dunes and Peninsula State Parks. Here you can enjoy sandy beaches, hiking trails, and stunning rugged cliffs.
Door County is also famous for its numerous historic lighthouses, and visitors can even climb to the top of Cana Island Lighthouse to take in surrounding views. The peninsula is also renowned for homemade goodies like fresh cherries and the catch of the day. For a boozy experience, head to Door County Brewing or Door Peninsula Winery.
If traveling with kiddos, check out Not Licked Yet for delicious frozen custard treats. Choosing where to stay on the peninsula is an essential task for any weekend trip to Door County. Sturgeon Bay is the largest city, however small towns like Ephraim, Fish Creek, and Sister Bay ooze the small-town charm Door County is famous for.
Related Read: 12 Best Cabin Rentals in Door County, Wisconsin
8. Chequamegon-Nicolet National Forest
Escape to the Northwoods of the Chequamegon-Nicolet National Forest that covers an impressive 1.5 million acres of protected land. This massive area in northern Wisconsin is one of the best places to visit for hiking and camping. Hardcore campers who appreciate primitive camping can set up almost anywhere in the national forest with the proper permit and gear.
This neck of the woods also features more than 600 lakes where you can can fish, swim, boat, and more. Some of the most popular natural attractions within the forest include the towering Cathedral Pines, the 100-foot Mountain Fire Lookout Tower, and St. Peter's Dome State Natural Area. ATVs and snowmobiles also enjoy a vast network of trails.
The best places to stay within the national forest include small towns like Namekagon, Clam Lake, and Iron River. Copper Falls State Park is not far from the forest boundary, where visitors can see some of Wisconsin's most impressive waterfalls.
Related Read: 11 Unique Places to Stay in Wisconsin for an Unforgettable Getaway
9. Literally Any Wisconsin State Park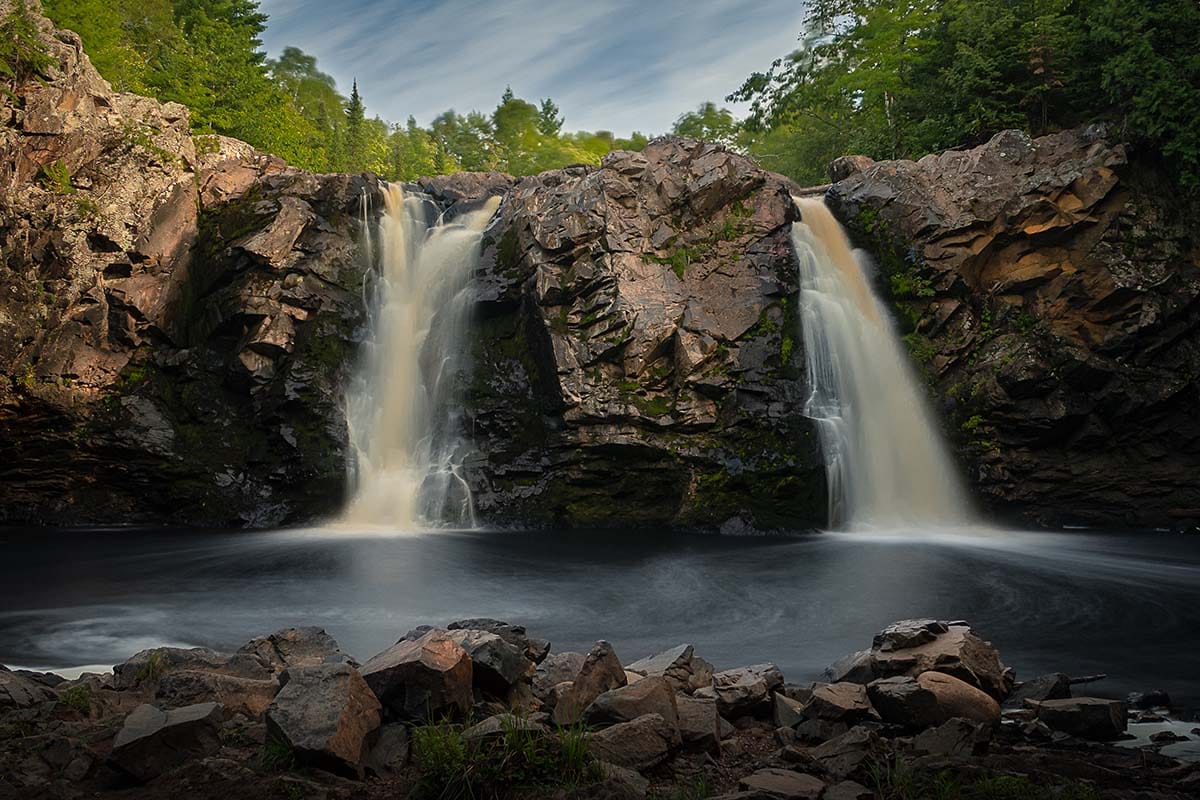 Shaped by advancing glaciers millions of years ago, Wisconsin's topography is characterized by the Great Lakes, smaller bodies of water, forest, rocky bluffs, and more. What's great about Wisconsin State Parks is that most feature campgrounds, picnic facilities, and trails that allow visitors to appreciate these unique landscapes. Plus, there are 66 state parks and protected natural areas to choose from, all of which are brimming with various things to do.
Some of the most popular state parks include Devil's Lake, where you'll find 500-foot bluffs and insane fall views. For boardwalk trails over windswept dunes and sandy beaches, head over to Kohler-Andrae State Park. At Pattison State Park, campers can witness the state's tallest waterfall. Other crowd favorites include Wyalusing nestled within the lush Mississippi River Valley and Copper Falls' rugged gorges and waterfalls.
Related Read: 10 Best Hikes in Wisconsin for Hitting the Trail Any Time of Year
Explore More of Wisconsin
Sign up for Weekend Wanderer to join 10,000+ readers getting epic travel ideas every week.
---