Fall marks the beginning of cold weather, but nature's spectacular shift of color makes bracing for the winter months a bit more bearable.
Part of Minnesota's charm is that the state experiences the magic of all four seasons. But the changing of the leaves that autumn brings makes it arguably one of the most exciting times to visit The Gopher State. And with the arrival of fall foliage comes exciting activities like apple picking, pumpkin patch visits, and harvest festivals.
In the spirit of helping people get out and experience the beauty of fall, the Minnesota DNR has created a Fall Color Finder. This incredibly helpful resource allows you to stay up to date with the changing leaves. The page features a color-coded map, a list of color percentages by location, and weekly updates to ensure you experience the short-lived season to the max.
Without further adieu, here are some of the best places to spot Minnesota's stunning fall colors.
Related Read: 10 Great Places to See Fall Colors in Wisconsin
1. The North Shore of Lake Superior
Why you should go: One of Minnesota's most scenic spots doubles as the best place to see fall colors.
Nearest town: Duluth or Lutsen
Peak foliage: Mid-September to early October
Minnesota's North Shore is a 150-mile stretch of Lake Superior coast that runs between Duluth to Grand Portage. Once September hits, the surrounding Superior National Forest and nearby Boundary Waters offer incredible color viewing opportunities. This area is also known for towering lookout points that come alive in autumn like Pincushion Mountain, Mt. Josephine, and Minnesota's tallest waterfall found at Grand Portage State Park.
Lutsen is a particularly fantastic area to enjoy Minnesota's fall colors, thanks to incredible spots like the Caribou Lake overlook and the 1,555-foot high Oberg Mountain. There's also an Alpine Slide that curves around Lutsen's mountains that gives riders an exhilarating look at the surrounding countryside. If you're seeking a more relaxed way to enjoy the views, take a leisurely drive along the North Shore Scenic Drive that follows the entire coast on Highway 61.
Related Read: 10 Secluded Cabins in Minnesota to Get Away from it All
2. Chippewa National Forest
Why you should go: Dense forest acres and scenic drives dotted with lakes mean an endless number of ways to enjoy autumn.
Nearest town: Cass Lake
Peak foliage: Mid-September to early October
What better place to spot colorful leaves than in the Chippewa National Forest, an area of land that spans an unbelievable 1.6 million acres! Situated in northern Minnesota, the forest is also home to the state's largest Native American reservations and more than 1,300 lakes.
Leech Lake is a top stop for water adventure and scenic hiking amongst the fall leaves. The Edge of Wilderness Scenic Byway is a 47-mile drive that passes through the forest and is often considered one of the best autumn drives in the country. The route follows a historic logging road near Grand Rapids, taking you through winding forest roads that transform to fiery reds and oranges in September.
Consider camping out in the forest to optimize your visit. There are 21 campgrounds and many backcountry sites available for those interested in sleeping amongst the leaves. If camping isn't your thing, some of the best places to stay in the national forest include Cass Lake and Grand Rapids.
Related Read: 9 Amazing Places to See Fall Colors in Michigan
3. Bemidji
Why you should go: A charming small town famous not only for pretty landscapes but for many family-friendly attractions.
Nearest town: Bemidji
Peak foliage: Mid-September to early October
Bemidji lies not far from the kaleidoscope of colors on display at the Chippewa National Forest. And you know the tree scene is fantastic when the mythic hero and giant lumberjack Paul Bunyan is rumored to be from there!
Your first stop for fantastic colors should be the 11 miles of hiking trails at Lake Bemidji State Park. Aspen, maples, and birch are amongst the most prolific trees in the area, which means vibrant yellows and oranges. Lake Bemidji is also an excellent place for bird watching, kayaking, and strolling the boardwalk trail.
Other excellent fall color spots lie not far from Bemidji, like Itasca State Park and the Mississippi Headwaters State Forest. The local tourism board has even put together fantastic Bemidji Color Tours offering unique ways to appreciate the colorful canopies of trees.
Related Read: 10 Best Places to Visit in the Fall Across the U.S.
4. Great River Bluffs State Park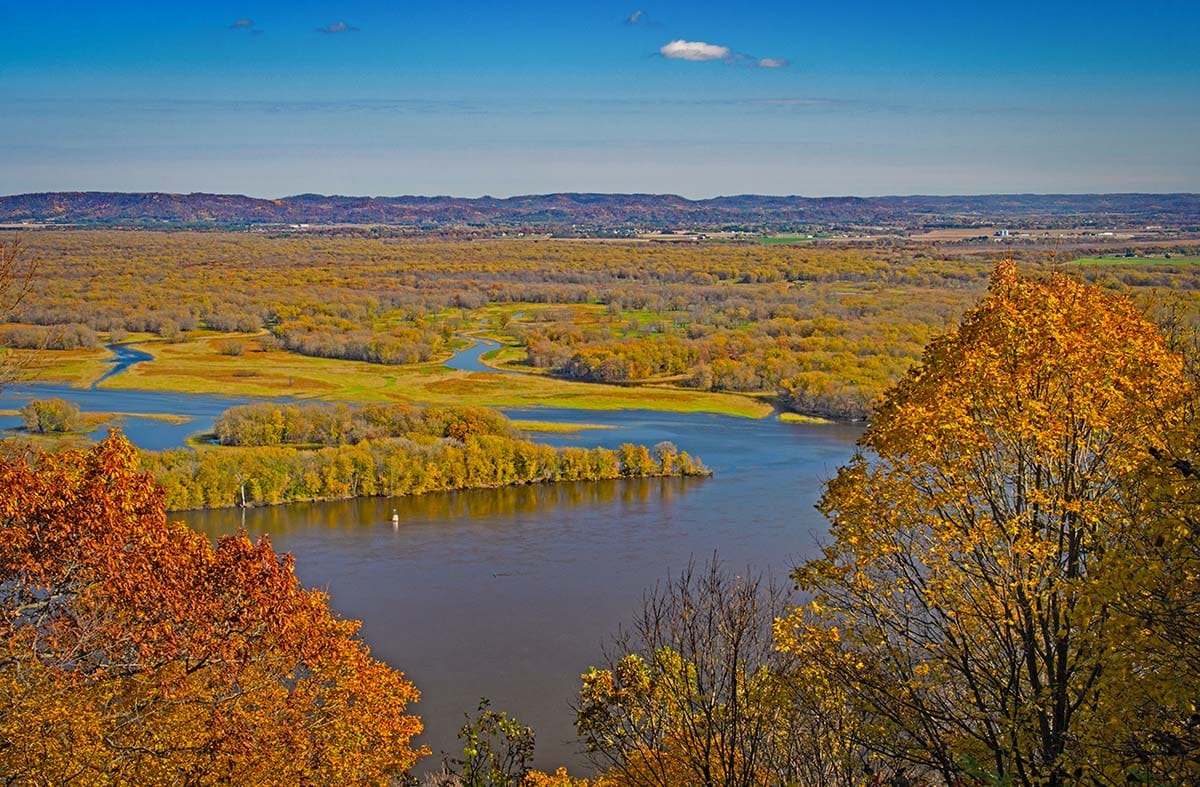 Why you should go: Striking bluffs are accented by eye-catching fall colors reflected in the passing Mississippi River.
Nearest town: Winona
Peak foliage: Late September to mid-October.
Venture to the Great River Bluffs State Park for an epic autumn adventure. The park protects a portion of the great Mississippi River Valley, a lush place to hike in the summer that transforms into a magnificent sight to behold in the fall.
Hike the Kings Bluff Trail for the best vantage point of the leaves and the rolling hills that surround the Mississippi River. Other things to do at Great River Bluffs is to learn about its unique goat prairies, marvel at the pretty wildflowers, and to try and spot rare birds like eagles and scarlet tanagers. The park is equipped with well-maintained campgrounds and facilities for those interested in a longer visit.
Related Read: 10 Best & Most Unique Airbnb Rentals in Minnesota
5. Interstate State Park
Why you should go: Soak up autumn views from scenic lookout points or a leisurely cruise on the St Croix River.
Nearest town: Taylors Falls
Peak foliage: Late September to mid-October
Interstate State Parks lies where Minnesota and Wisconsin meet along the St Croix River. The park is famous for its historical relevance as one of Minnesota's oldest state parks. It also boasts incredible glacial rock formations formed over 10,000 years ago. Two of the park's hiking trails should be on your to-do list, including the forested Walter F. Mondale River Trail and the Sandstone Bluffs Trail  that reward hikers with panoramic views above the trees.
Another unique way to see Minnesota's fall colors is a river cruise. The Taylors Falls Scenic Boat Tour is just down the road from the park and has been taking visitors out onto the river since 1906. The Pleasant Valley Orchard is also nearby and provides even more family-friendly fall fun. The orchard offers hayride tours, fall treats, and a chance to pick apples or pumpkins from their patch.
Related Read: 11 Charming Cabin Rentals in Alexandria, Minnesota
6. Whitewater State Park
Why you should go: Immerse yourself in southeastern Minnesota's famous Bluff Country through idyllic hiking trails and campgrounds.
Nearest town: St. Charles
Peak foliage: Late September to mid-October
With six scenic overlooks to choose from, Whitewater State Park offers many opportunities to witness the changing colors from above. Spots like Coyote Point, Inspiration Point, and Chimney Rock all take visitors through pretty forest and to the top of towering limestone bluffs. During your hikes, be on the lookout for the caves and depressions carved into the cliffs.
Fishing enthusiasts itching to get out and enjoy the season can head over to Trout Run Creek and Whitewater River, which passes through the state park. Swimming with rainbow and brown trout, fly fishing is a popular pastime.
Whitewater is located about 35 minutes from Rochester and features both drive-in and electric campsites where you can spend a lovely fall weekend away. Try to book one of the ten coveted sites perched on the edge of the river for the best view. The park is also just 25 minutes away from Sekapp Orchard, where you can pick your fill of ripening apples.
Related Read: 11 Best Cabin Rentals Near Duluth, Minnesota
7. Mille Lacs Lake
Why you should go: An outdoorsy destination that attracts visitors excited to indulge in fall fishing and lake living.
Nearest town: Aitkin
Peak foliage: Late September to early October
Mille Lacs Lake is Minnesota's second-largest inland lake and measures an astounding 18 miles long. Maple-basswood forest and thickets of tamarack trees surround the lake, which means bright red, orange, and golden hues that typically begin in late September. A visit to Mille Lacs Kathio State Park makes for the best way to see the local Minnesota fall colors, thanks to the 100-foot tall observation tower overlooking the trees. This state park also protects historic Native American mounds and features drive-in campsites and cabin rentals.
Father Hennepin State Park is another place where visitors can camp and marvel at the colors reflected in the lake's waters. Many leaf peppers should also consider driving the 68-mile Lake Mille Lacs Scenic Byway Loop. This ultimate road trip features elevated lookouts and stretches right up along the pretty shoreline. The most notable portions of the loop include Twilight Road, Vista Road, and Highway 18.
Related Read: 11 Waterfalls in Wisconsin Not to be Missed
8. Lake of the Woods
Why you should go: Escape the crowds with this off-the-beaten-path destination that shines during peak foliage.
Nearest town: Baudette
Peak foliage: Mid to late September
Lake of the Woods is so far north that it's split between Minnesota and Canada. This massive 70-mile lake gives the entire county its name, and helps make this "Up North" destination a favorite amongst campers, canoers, and anglers. Dubbed the "The Walleye Capital of the World", the lake offers fantastic fishing opportunities. In the fall, these activities become even more enticing thanks to the arrival of fresh, crisp air, and of course, fall foliage.
Some of the best color viewing opportunities are found along the county's top scenic drives. For example, the Rapid River Forest Road is considered one of the best thanks to the wide variety of tree species. Zippel Bay State Park and Beltrami Island State Forest are other major natural landmarks that boast unique ecosystems and autumnal views. The best way to visit is with a campsite reservation or a stay at one of the many wilderness resorts or hotels near Baudette.
Explore the Midwest
Get epic travel ideas delivered to your inbox with Weekend Wanderer, our newsletter inspiring more than 10,000 readers every week.
---