We research and recommend travel destinations based on a number of factors, including our writers' own experience, user reviews and more. We may earn a commission when you book or purchase through our links. See our editorial policy to learn more.
---
Soak up the luxury (get it?) with these Wisconsin cabins with hot tubs, perfect if you want to relax to the max in the beauty of the great outdoors.
If there's anything Wisconsinites appreciate, it's a quiet weekend away at the cabin. Whether to escape the daily grind or to indulge in a nature-based adventure, there's something special about a weekend "Up North" in the rolling, wooded landscapes of America's Dairyland. Add a hot tub into the mix, and you've got a recipe for a perfect trip that blends the beauty of nature with the comfort of an upscale stay.
Nothing screams relaxation more than a dip in the a bubbling hot tub during sunset, so check out these beautiful Wisconsin cabins with hot tubs to help you make the most of your upcoming time in Wisconsin.
Related read: 10 Amazing Small Towns in Wisconsin for a Charming Escape
1. Delavan Lake Cabin
Why you should stay: Cabin in a small town not far from the charming streets of Lake Geneva.
Location: Delavan Lake
Sleeps: 7
Minimum stay: 2 nights
Rates from: $250/night
This Delavan Lake cabin is filled with outdoorsy-but-high-end touches, including attractive log furnishings, a stone fireplace, and exposed wooden beams. Reviews left by past guests appreciate the hosts' attention to detail, including the complimentary coffee, pantry items, games, movies, and more.
The lush property also has an excellent outdoor space with a stone fire pit. On the deck, you'll find a new hot tub and a dining table surrounded by a thicket of trees for added privacy. The best things to do in the area include visiting Lake Geneva's Big Foot Beach State Park, sampling the local wine, and of course, hitting the beaches around Delavan Lake.
Check Availability
Related Read: 10 Cozy & Comfortable Wisconsin Tiny Home Vacation Rentals
2. Northwoods Getaway
Why you should stay: Chalet-style Wisconsin cabin with a hot tub and private swimming pond.
Location: New Lisbon
Sleeps: 10
Minimum stay: 3 nights
Rates from: $200/night
Treat yourself to a peaceful Northwoods Getaway at this quaint three-bedroom cabin. The home sits on an expansive 70-acre property lined with hiking trails and filled with wildlife. Warm-weather guests and Polar Bear Plungers can take a dip in the clear waters of the property's pond or borrow one of the two provided kayaks.
In the evenings, unwind in the hot tub or huddled around the fire pit. The home also has a screened-in porch with plush patio furniture for fresh-air lounging without the bugs. Castle Rock Lake and the snowmobile trails of Juneau County are close by.
Check Availability
Related Read: The 9 Best Airbnbs in Madison, Wisconsin
3. River Haven on the Wolf
Why you should stay: Historical log cabin on the water with modern updates.
Location: White Lake
Sleeps: 12
Minimum stay: 3 nights
Rates from: $508/night
The River Haven on the Wolf is a historical cabin that boasts vaulted ceilings, log beams, and an expansive open floor plan. The interior has everything needed for large groups, including a total of nine beds, a coffee corner and bar space, plus an outdoor deck with ample seating and a bubbling hot tub. Experience the beauty of the nearby Chequamegon-Nicolet National Forest with an adventurous day of white water rafting, skiing at Alpine Valley, or hiking one of the many trails in the area.
"The views are breathtaking, and the gardens on the property are simply gorgeous. Inside, the owners have thought of everything to make your trip feel as special as possible."
Check Availability
Follow 'em: @RiverHavenOnTheWolf
Related Read: The 10 Best Cabin Rentals in Iowa for a Weekend Away
4. The Lodge
Why you should stay: Five-bedroom cabin near Straight Lake State Parks in western Wisconsin.
Location: Comstock
Sleeps: 10
Minimum stay: 3 nights
Rates from: $280/night
Take in peaceful views of Pipe Lake at The Lodge, a Wisconsin cabin with a hot tub in the northern part of the state. Down the hill from the home, a fire circle in the woods welcomes family bonding under the stars, and stairs lead to the home's pier and a pontoon boat (which is available to rent.)
Inside, the interior is warm and inviting courtesy of the multiple fireplaces, plush furniture, and lake views. The largest bedroom has a private balcony and an en-suite bathroom with a soaking tub, though with five bedrooms, everyone gets their own space – there's no bunking on the couch with this rental. It's also near a huge wildlife area where you can do everything from hiking to foraging for edible mushrooms.
Check Availability
Related Read: 11 Incredible Airbnbs in Milwaukee, Wisconsin
5. Lakefront Log Cabin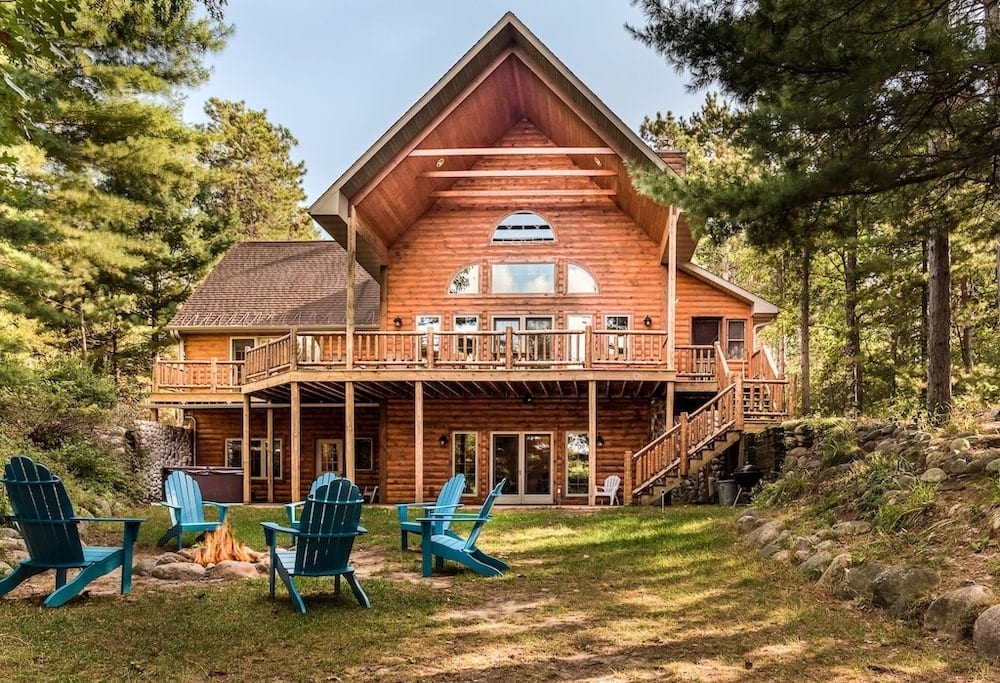 Why you should stay: Beautiful central Wisconsin cabin with a hot tub on the lake for large groups.
Location: Wild Rose
Sleeps: 22
Minimum stay: 2+ nights
Rates from: $325/night
This lakefront log cabin is a pet-friendly home overlooking the peaceful waters of Kusel Lake. Its shining features are the knotty pine vaulted walls and eye-catching wall of windows, though other enviable amenities include a hot tub, screened-in porch, foosball table, and a bar top, too.
Take advantage of the lakeside locale with swim or by paddling the available kayaks, paddleboat, or paddleboard from the property's pier. Skiers and snow tubers can hit the slopes at the Nordic Mountain Ski Area, which is only about 15 minutes away.
Check Availability
Related Read: 9 Amazing Weekend Getaways in Wisconsin
6. Log Cabin Getaway
Why you should stay: Semi-secluded cabin with a hot tub near Milwaukee and Lake Beulah.
Location: Mukwonago
Sleeps: 6
Minimum stay: 2 nights
Rates from: $325/night
Unwind surrounded by nothing but swaying crops and groves of trees at this log cabin getaway not far from beautiful Kettle Moraine State Forest. Inside, an eye-catching stone fireplace pairs beautifully with the knotty log walls and floor-to-ceiling windows looking out on the wraparound deck.
Outside, you'll be able to relax in the screened-in porch or sunken hot tub. Inside, enjoy a game of pool while a fire burns and enjoy the walk-out entrance to the spacious yard for a bit of fresh air. This is one of the more luxurious Wisconsin cabins with a hot tub, and while it feels secluded, you're only about 30 minutes from Milwaukee.
Check Availability
Related Read: 10 Incredible Dog-Friendly Cabins in Wisconsin
7. The Lake Superior Barn
Why you should stay: Barn on 320 acres overlooking Lake Superior.
Location: Maple
Sleeps: 20
Minimum stay: 3+ nights
Rates from: $800/night
The Lake Superior Barn is an design-lover's dream with an impressive six bedrooms. Reclaimed wood, stone elements, and the curved ceiling add a pleasant rustic touch true to its barn roots. However, modern updates like a fabulous wood-burning hot tub, sauna, and outside shower make it one of the more luxurious Wisconsin cabins with a hot tub, especially as it's on Lake Superior. It's also pet-friendly, so feel free to bring Sparky.
The home also features a game room with a foosball table, ping pong table, and a sizable collection of board games. The beautiful home is near popular tourist destinations like Duluth and the Apostle Islands National Lakeshore.
Check Availability
Related read: 7 Enchanting Treehouse Rentals in Wisconsin
8. Walnut Creek Cabin
Why you should stay: Explore Wisconsin's "Driftless Area" at this stylish cabin near the Mississippi River and Iowa state border.
Location: Ferryville
Sleeps: 6
Minimum stay: 2 nights
Rates from: $199/night
From the outside, the Walnut Creek Cabin appears to be like any other log cabin. But one step inside, and guests are immediately greeted with exquisitely modern interior design. Thoughtfully selected textiles and trendy furniture meld with rustic accents such as exposed log beams and wooden walls to create a downright cool "modern mountain" space.
Guests of the small cabin get a wood stove, a lofted seating area, and a screened-in porch overlooking the grassy lawn. Oh, and a relaxing hot tub sits out on the porch, protected from the elements. If you're looking for new places to break in your hiking shoes, Iowa's Yellow River State Forest and Mount Hosmer Park are both very close.
Check Availability
Follow 'em: @WalnutCreekCabin
9. The Cabin on Hidden Creek
Why you should stay: Cabin with a private stream practically on the mighty Mississippi.
Location: Ferryville
Sleeps: 6
Minimum stay: 2 nights
Rates from: $199/night
On the center of a sprawling eight-acre property near the scenic Mississippi River, The Cabin on Hidden Creek offers guests an outdoorsy stay without sacrificing comfortable amenities. Guests can also enjoy the covered front porch, unique lofted space with walkway, and the comfortable hot tub on the back patio. The cute cabin also has a great starting price considering how roomy it is. While the owners cap the guest count at six, it's big enough for many more.
"The Cabin on Hidden Creek is simply picturesque. The grounds are stunning, it's very remote and private. Everything was spotless when we arrived and we instantly felt at home."
Check Availability
Follow 'em: @CabinOnHiddenCreek
10. Lion Downe Cottage
Why you should stay: Enjoy waterfront views from the expansive deck and sky-high hot tub.
Location: Maiden Rock
Sleeps: 13
Minimum stay: 2 nights
Rates from: $275/night
The Lion Downe Cottage is an attractive stone-and-log cabin atop the bluffs of Lake Pepin, affording cabin goers unobstructed views of the stunning landscape and water below. While nearly all rooms have great views, the absolute best spot from which to enjoy the Lake Pepin views is from eight-person hot tub on the home's deck.
This cabin is near a variety of things to do that vary from nature-related to city-focused. Since you're just over an hour from Minneapolis, it's easy to spend a day or two in the city. But you'll be even closer to the farms, wineries, nature preserves, and beaches along the Wisconsin-Minnesota border. It's in a really great location.
Check Availability
Related Read: 13 Gorgeous Log Cabins with Private Hot Tubs Across the U.S.
Explore More in Wisconsin
Sign up for Weekend Wanderer to join thousands of readers getting epic travel ideas every week.
---