By nature, Colorado's capital city is a hiking mecca. With the epic Rocky Mountains to the west and historic grasslands to the east, there's something for everyone here.
Whether you are a local or a visitor, this list has everything from the classics to some rarely visited and surprisingly close-by getaways.
There are many state parks, national forests, and natural open spaces around Denver that all have different parking/entry regulations and trail rules. Please pay attention and abide by the designated rules of each area.
And as always, please follow Leave No Trace Principles when visiting Colorado's beautiful trails.
Related Read: 6 Scenic Drives Near Denver for When the Mountains are Calling
Weather and Altitude
The summer is the most popular time of year to venture outdoors and go on that epic hiking trip you've been planning; it can also be the most dangerous hiking season in Colorado. Colorado's Rocky Mountains are infamous for their afternoon thunderstorms that like to roll in unannounced.
If you're close to the very exposed summit of a 14'er, these lightening-intense thunderstorms can create a serious situation very quickly. The best way to avoid these situations: get an early start! Being early will not only save you from potential thunderstorms but will also give you some more solitude on the trail.
Along with unannounced thunderstorms, Colorado's weather is well-known for changing in an instant. While hiking, it is best to be prepared for anything. Always pack a rain jacket, even if the skies are clear when you start your hike.
It's not crazy to get hit with a hailstorm from spring-fall. I never leave for a hike (no matter how short) without my rain jacket. Most rain jackets nowadays pack down so small or fit into their own pockets that it's more silly not to bring one.
Layering is imperative when hiking in Colorado. If you start in the early mornings, you'll likely be chilly at the trailhead.
Once you get moving and ascending quickly, taking off those layers will be a must in order to control your core temperature appropriately. You'll be happy you brought those warm layers though, as any exposed summit will be drastically cooler and windier than the lower parts of the trail.
If you are visiting from a lower altitude, or even if you live on Colorado's Front Range between 5,000-6,000 feet above sea level, hiking at higher altitudes can still affect you. This is especially the case when "bagging" those 14'er summits.
It is imperative to become familiar with altitude sickness and dehydration before attempting an altitude-intensive hike in Colorado. Staying hydrated and being prepared with plenty of nutrient/protein-rich snacks will help prevent symptoms.
Related Read: The 7 Best Hikes in Estes Park, Colorado
1. Mount Flora Trail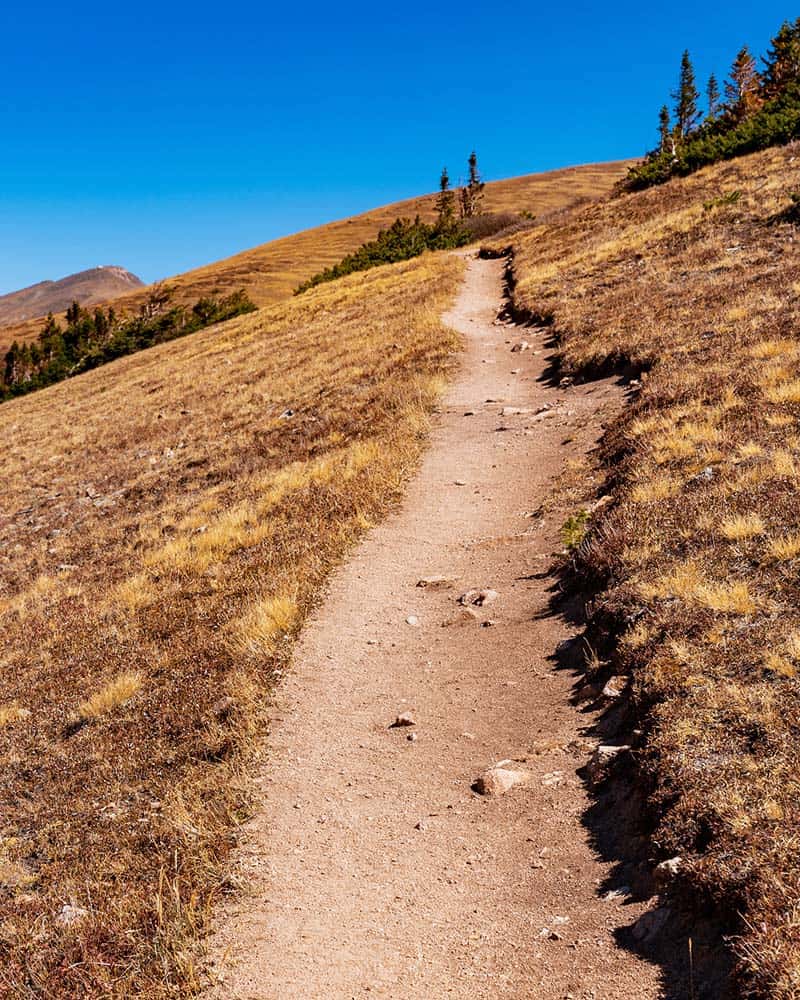 Why you should go: One of Colorado's most unique 13'er summits in just 6 miles.
Difficulty: Moderate
Distance: 6 miles
Elevation Gain: 1,765 feet
Mount Flora is a beautiful hike that offers stunning 360-degree views and a workout. The elevation gain is constant throughout the hike, but the relatively short distance is what keeps this hike's ranking as "moderate."
The wind is no joke…there are two rock shelters on the summit that allow you to get a breather and relax on the summit. There's another shelter at about the half-way point. The majority of this trail is above tree-line, so come prepared with extra layers, face protection, and gloves to handle the wind since you will be exposed the majority of the time.
Don't let the wind discourage you; you'll be so distracted with the amazing views the whole way up you won't mind it. Trekking poles are also recommended for this hike due to the larger talus you'll be maneuvering over as you near the summit.
This trailhead is open year-round, allowing you to (safely) challenge your snowshoeing/crampon hiking skills.
Related Read: The 9 Best Hikes Near Boulder, Colorado
2. Reservoir Loop Trail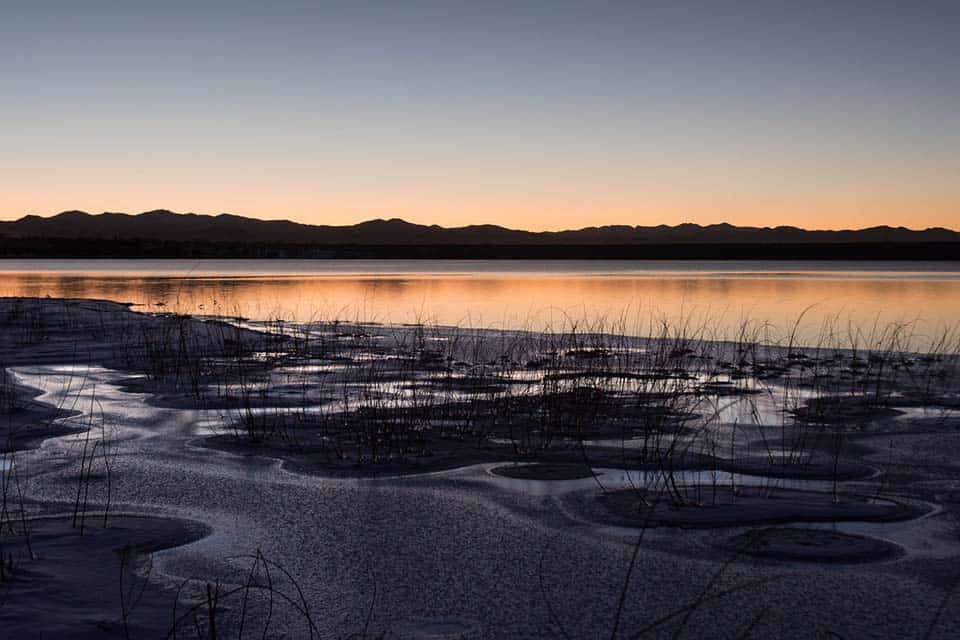 Why you should go: Easily get outside without going too far in Denver's Cherry Creek State Park.
Difficulty: Easy
Distance: 8.8 miles
Elevation Gain: 314 feet
Located in Cherry Creek State Park, you can enjoy this loop trail year-round and without traveling too far. This trail is perfect for a quick outing if you are short on time. The paved trails make this a very family-friendly location to walk around or bike.
The Reservoir Loop Trail is made by linking up the trails that skirt the perimeter of the park. It's highly recommended to hike this trail counterclockwise because there's one section that sits alongside a road and is nice to get out of the way first. By going this way, you'll also get stunning mountain views as you near the end.
Despite the closeness to the Denver-metro area, wildlife is abundant here. Birding is very popular around Cherry Creek; bald eagles are commonly spotted.
Related Read: 10 Best Hikes in Colorado for Getting Out into Nature
3. Square Top Mountain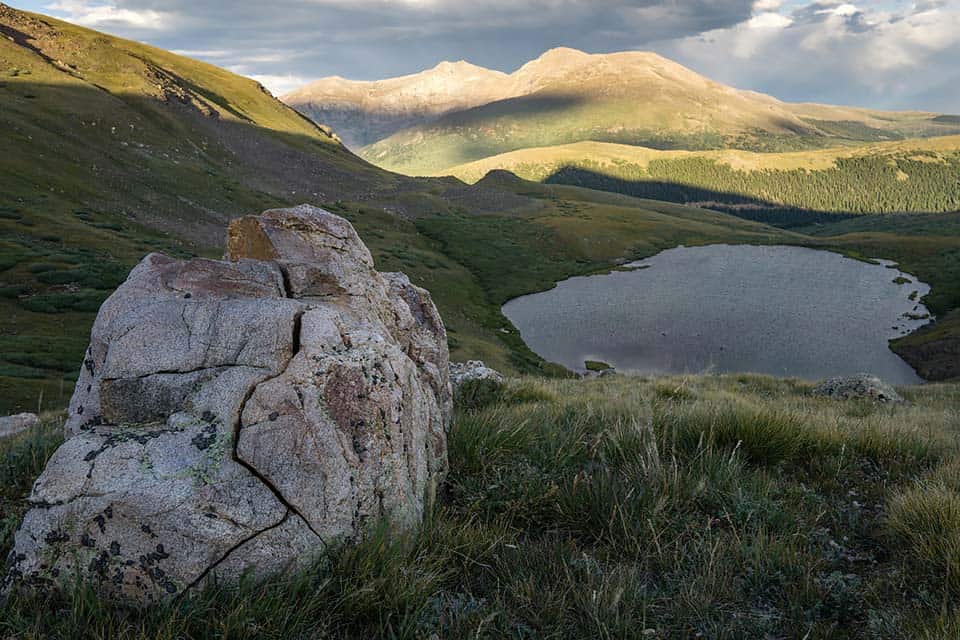 Why you should go: Dodge the crowds and find the views on Square Top Mountain's roomy summit.
Difficulty: Hard
Distance: 6.9 miles
Elevation Gain: 2,440 feet
Arapahoe National Forest offers some truly amazing trails within an hour drive of Denver. One of the most stunning peaks is Square Top Mountain. The elevation gain provides a tough workout, but the reward will be absolutely worth the pain. You'll gain views of the surrounding 14'ers that fill Guanella Pass.
This trail features alpine lakes, and remarkably unblocked views of the surrounding and even far off mountain peaks. On a clear day, you can see the Collegiate Peaks to the southwest. Located so close to the popular 14'ers, Mount Bierstadt and Evans, this trail sees very little traffic in comparison. If you are planning on visiting Guanella Pass during a summer weekend, I highly recommend hiking Square Top Mountain instead of its popular neighbors if you want to avoid crowds.
Related Read: 6 Scenic Drives Near Denver for When the Mountains are Calling
4. Trading Post Trail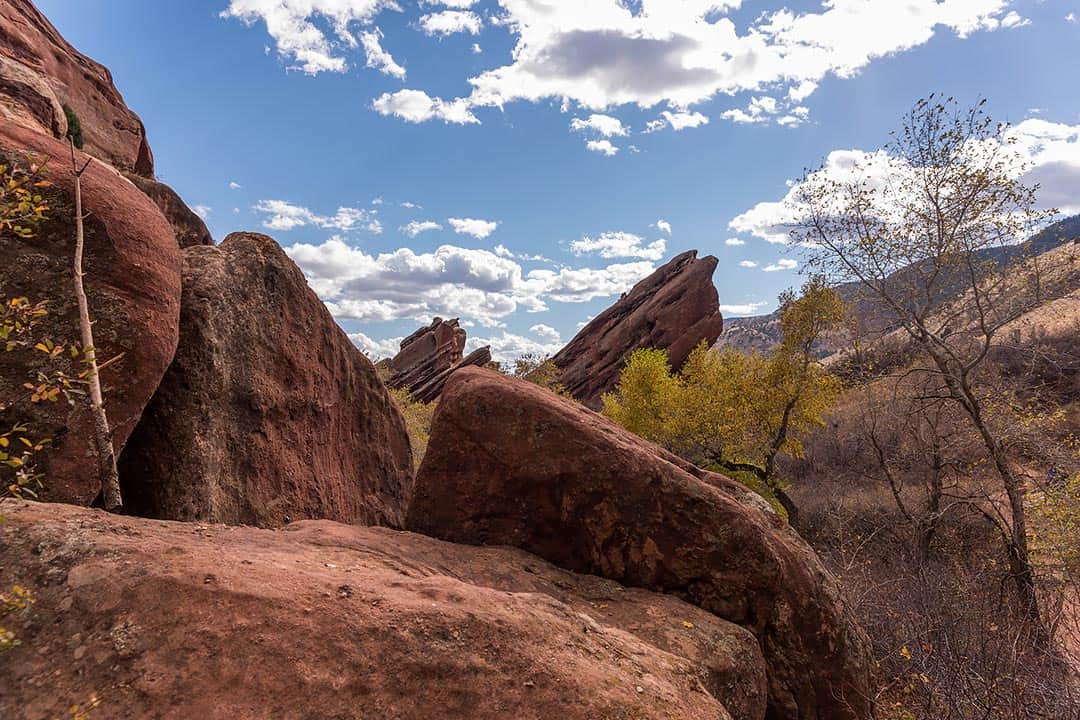 Why you should go: Visit Colorado's favorite music venue — it happens to be a geological wonder.
Difficulty: Easy
Distance: 1.5 miles
Elevation Gain: 357 feet
If you're visiting the Denver area, chances are you're already planning on checking out Red Rocks Park & Amphitheatre. And if you weren't, come and enjoy this historic park and its many trails around the unique 300-foot tall sandstone formations!
The Trading Post Trail is one of the more popular loop trails that take you around some of the main points of interest. If you are looking for a longer trip, you can easily link up with other trails. Dogs are welcome in this park as long as they are on leash.
The way these sandstone walls have been employed to create some of the best acoustics for large and small concerts is simply remarkable. The music venue is just as historic as the natural area and has been equally preserved and showcased. After your hike, be sure to stop in the Red Rocks Visitor Center to learn all about the geological and musical history of the area.
The Visitor Center is home to the Ship Rock Grille where you can enjoy famous Colorado-inspired fare after your hike. Red Rocks Park also hosts community events regularly. Yoga on the Rocks, Film on the Rocks, and a hunt for fossils are all a part of the park's busy schedule.
Related Read: 7 Beautiful Hikes Near Red Rocks Amphitheatre, Colorado
5. Legacy, Lake Mary, and Prairie Trail Loop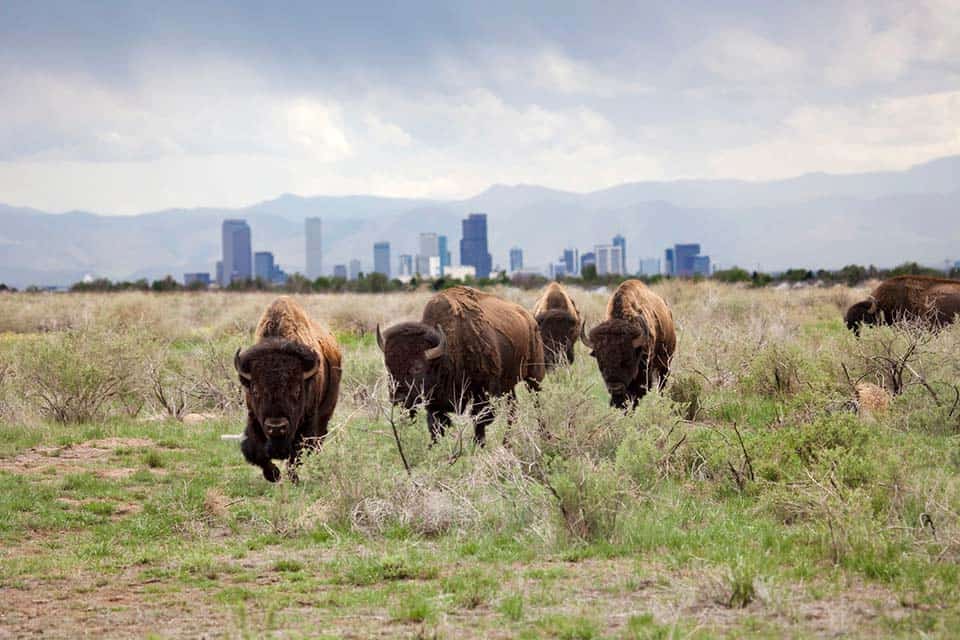 Why you should go: Cap off a busy day and witness Colorado's native wildlife with a beautiful sunset hike and wildlife drive.
Difficulty: Easy
Distance: 3.1 miles
Elevation Gain: 72 feet
Popular for bird and wildlife watching, Rocky Mountain Arsenal National Wildlife Refuge is a lightly trafficked natural area near Commerce City. The park has a total of 10 miles worth of hiking trails and a designated Wildlife Drive.
This wildlife refuge is home to bison, mule-deer, white-tailed deer, black-footed ferrets, bald eagles, coyotes and waterfowl. While the bison call this park home, they are in a separate area in the park that can only be accessed by the Wildlife Drive. So, don't worry about encountering one on the trail!
The prime times to view wildlife are at sunrise and sunset. When viewing wildlife, it is important to only observe and keep your distance as much as you can. Only service dogs are allowed on designated trails, all other pets are not allowed in order to minimize wildlife disturbance.
Related Read: 11 Best Winter Hiking Destinations in Colorado
6. Mount Bierstadt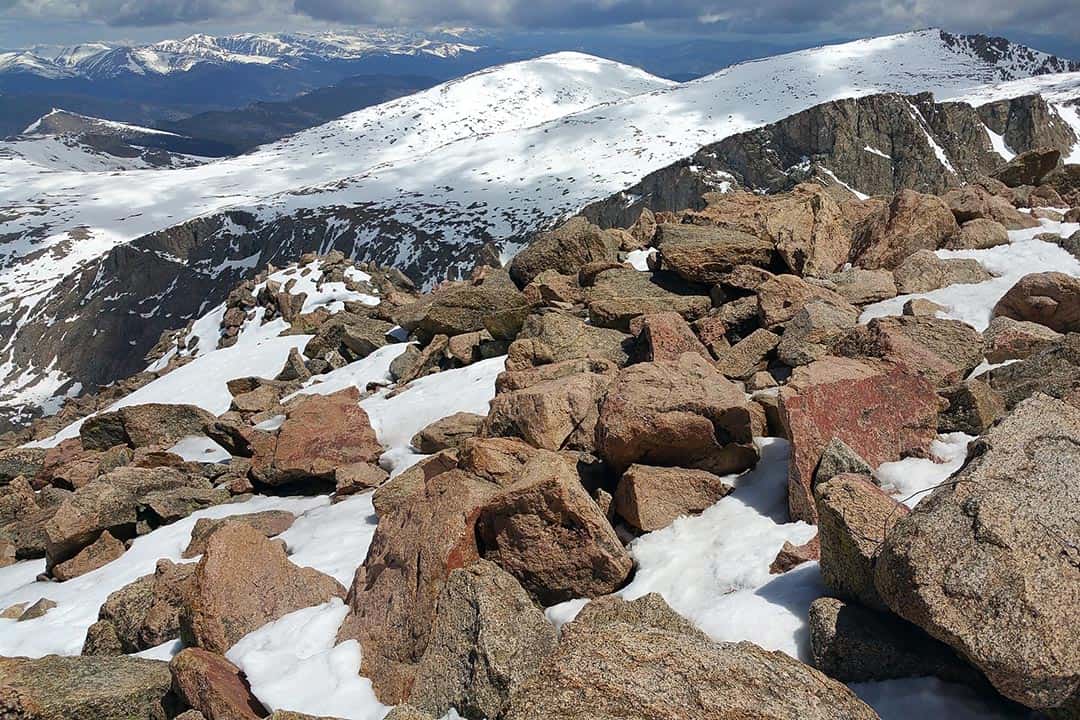 Why you should go: Ascend one of Colorado's most popular 14'ers.
Difficulty: Moderate-Hard
Distance: 7.2 miles
Elevation Gain: 2,625 feet
If your goal is to hike at least one 14'er during your trip to Colorado, Mount Bierstadt is the one for you! In relative terms, it is one of the easiest 14'er trails in Colorado and is probably the most popular.
Don't equate its relative easiness to being lame. Mount Bierstadt has incredible views throughout the entire hike. From the summit, you can look down at pristine alpine lakes and giant boulder fields. You can see the neighboring Mount Evans, Grays and Torreys 14'er summits.
While there is a lot of elevation gain, it is very gradual and mostly occurs near the summit. There are a couple break areas right before the trail picks up in elevation gain.
I recommend trekking poles if you have them. The summit is a large talus field and some scrambling and extra caution is required. Due to the larger talus, it can also be difficult for dogs to maneuver over.
If you are a more experienced hiker and looking to connect Mount Bierstadt and Mount Evans, you can find more information about the ridge that connects these two peaks (and my personal endeavor of this) HERE. PLEASE NOTE: this connection should only be made by experienced hikers or climbers comfortable with a bit of exposed 2nd-3rd class terrain.
Related Read: 11 Easiest 14ers in Colorado for Newbies to the High Peaks
7. Fountain Valley Trail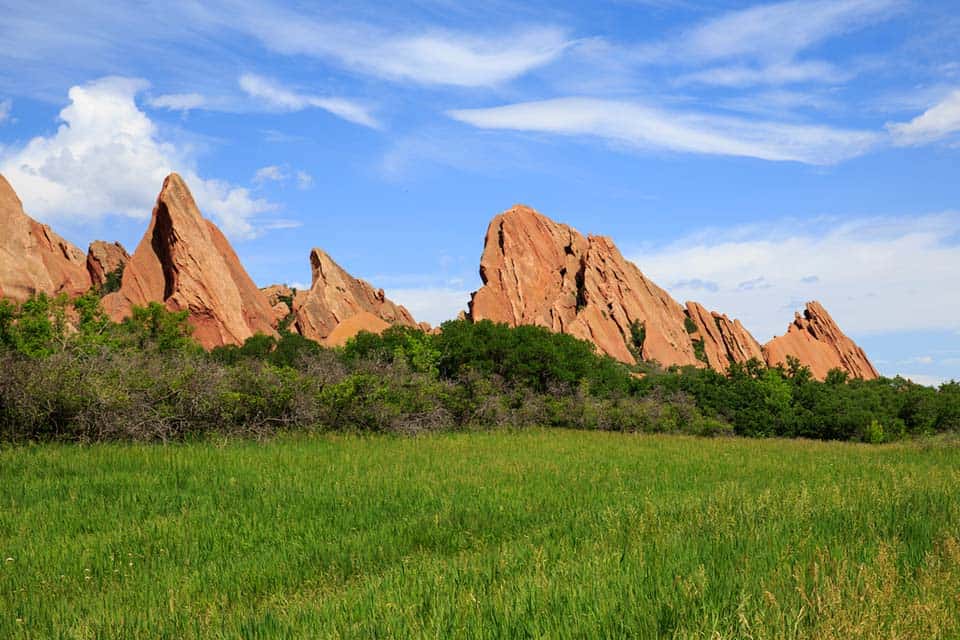 Why you should go: Get up close and personal with the stunning sandstone fins and hogbacks that make up Colorado's Front Range.
Difficulty: Easy
Distance: 2 miles
Elevation Gain: 208 feet
The Fountain Valley Trail is in Roxborough State Park, just southwest of Denver. This park is home to a plethora of Dakota Sandstone hogback fins. This trail is well-groomed and perfect for a family outing.
This is a light loop trail made to give you some of the best iconic views within the park. As Kyle Ross on Hiking Project wrote, "Great hike for an easy stroll through some beautiful rock formations. All the overlooks are a must-see when in the park."
There is a small entrance fee for Roxborough State Park, and unfortunately, dogs are not allowed on trails.
Related Read: 10 Best Hikes in Colorado Springs, Colorado
8. Mount Carbon Loop Trail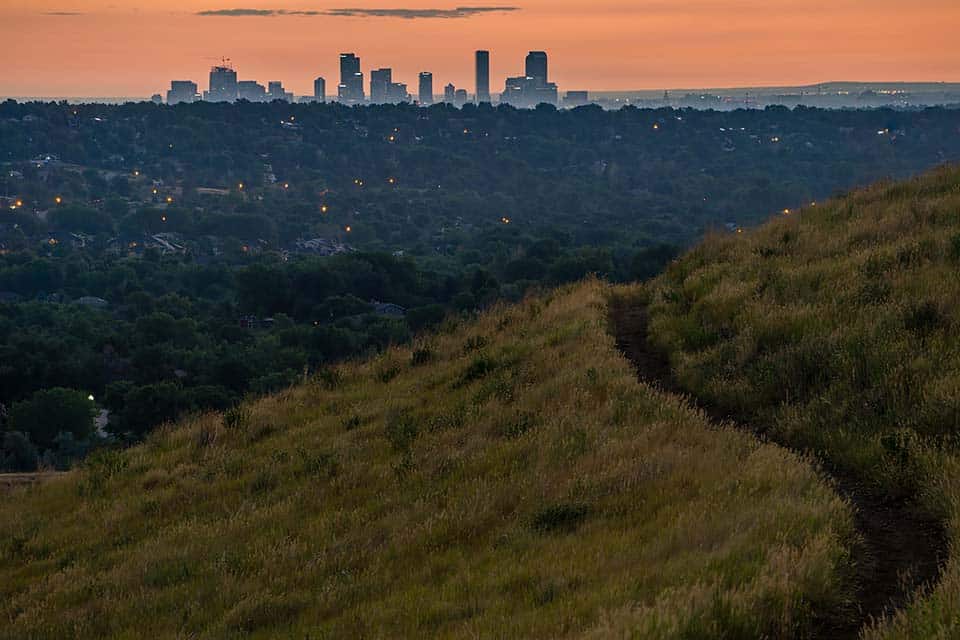 Why you should go: Overlook Denver's skyline and the famous Colorado Front Range while promoting environmental restoration.
Difficulty: Easy
Distance: 6.6 miles
Elevation Gain: 564 feet
Bear Creek Lake Park is more popular for its history than its views. It is well worth it to check out the Visitor Center during your trip to the park. This trail is very exposed, so bring lots of sunscreen and water if you are planning on visiting during the summer.
Mount Carbon is named for its history of once being a coal mine. This area was transformed into a natural area and restoration and conservation efforts are being made to bring native plants and animals back to the area.
The park is close to town but will not let you down as far as the views go. Along this hike, you'll catch amazing views of the Front Range as well as Denver's stunning skyline.
Related Read: The 10 Best Scenic Drives In Colorado
9. Falcon Castle Ruins via Castle Trail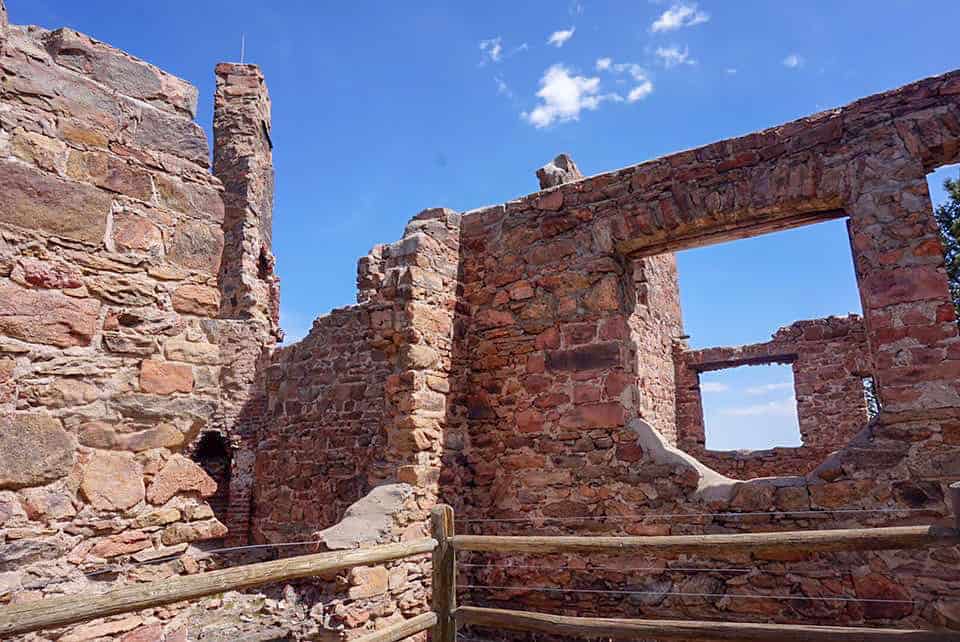 Why you should go: There's a castle in the woods!
Difficulty: Moderate
Distance: 8.3 miles
Elevation Gain: 1,853 feet
Another stunning hike in Colorado's Front Range! This trail will take you deep into pine forests and showcase some of the Denver area's prehistoric Dakota Sandstone. And as the name suggests, this trail features the ruins of John Brisben Walker's castle.
Mount Falcon Park is located near Morrison, just west of Denver. Along with castle ruins, there is a climbable lookout tower that can be found on the Tower Trail. This park and Castle Ruins trail is just so unique, it's a must-see on your trip to the Denver area!
The trail is well-groomed, but the elevation gain is what gives this trail its "moderate" rating. Dogs are also allowed to enjoy this unique outing with you as long as they are on leash.
Related Read: The 8 Best Hikes Near Fort Collins, Colorado
10. Mount Evans West Ridge via Chicago Creek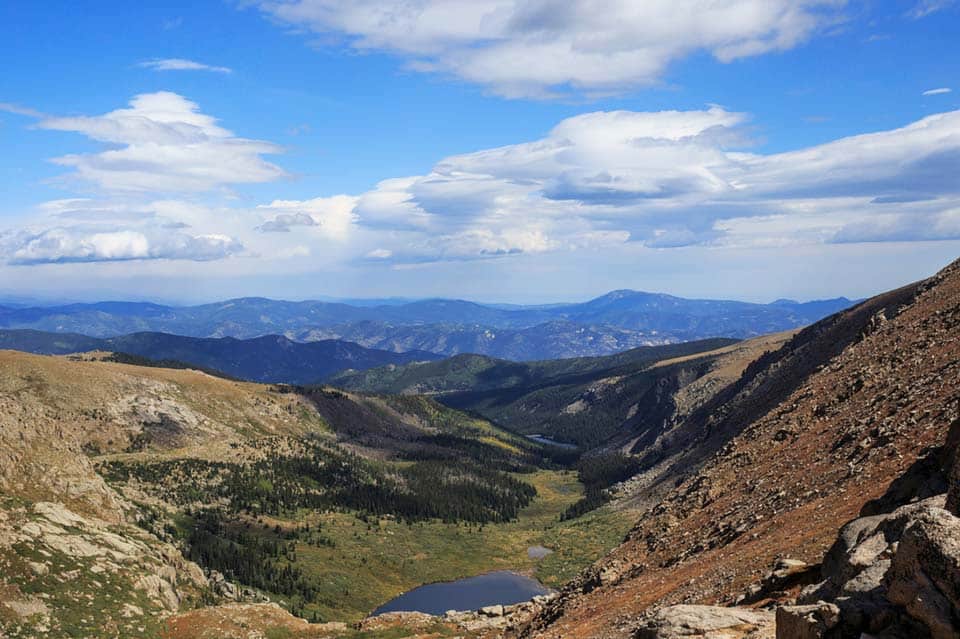 Why you should go: Explore pristine alpine lakes and ascend one of the most prominent 14'er peaks in Colorado.
Difficulty: Challenging
Distance: 15.6 miles
Elevation Gain: 5,337 feet
This trail to the summit of Mount Evans can be done as a long day hike, or as a backpacking trip. Either way, you are in for a great adventure!
Wildlife is abundant here, and you are bound to have many encounters with some sneaky marmots. Guanella Pass is simply a very windy place. Face protection, wind breaking clothing, and gloves are highly recommended for this arduous hike.
Since this hike is a long one, I recommend driving up the night before you plan on hiking and disperse camping somewhere in Arapahoe National Forest. This way, you can get an early start without traveling too far in the morning.
While Mount Evans neighbors Mount Bierstadt and they are both 14'ers, the Mount Evans trail is definitely less trafficked. It is a longer trail, but there is also a road that will take visitors to the summit of Mount Evans. A popular way of hiking this prominent 14'er is to arrange for someone to pick you up at the summit. If you aren't an early riser, this might be a good option for you to consider. Route finding in the dark on this trail can be quite difficult.
You'll spend the first 6 miles getting to Chicago Lakes, and this is a leisurely hike compared to what lies ahead. From there, you will ascend to Summit Lake. You still have a ways to go in distance and in elevation gain from Summit Lake. But the summit is absolutely worth this magnificent hike.
Related Read: Trekkin' Breck: 10 Best Hikes Near Breckenridge, Colorado
11. Hell's Hole Trail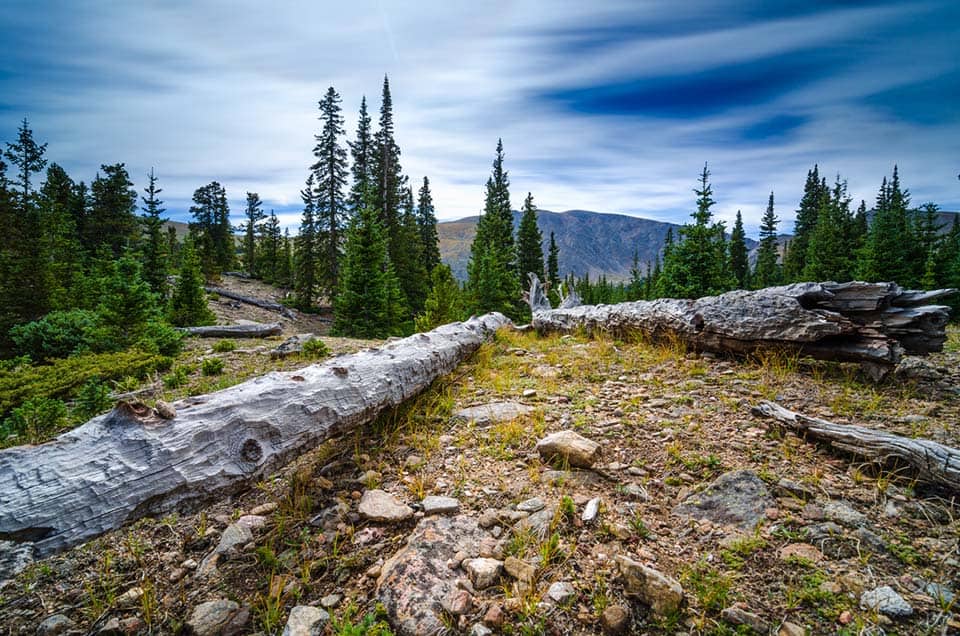 Why you should go: Find solitude in a glacial basin where wildflower filled meadows meet aspen groves.
Difficulty: Moderate
Distance: 9 miles
Elevation Gain: 1,860 feet
No matter what time of year you visit the Hell's Hole Trail, you are in for a treat! Vast aspen groves glow in the spring and fall, and the sweeping meadows are filled with wildflowers in the summer.
The trail's namesake is a glacial cirque that you reach as you follow Chicago Creek. This great basin is nothing short of epic. You'll end up right at timberline where dense aspen and pine forest turns into sprawling meadows and talus fields.
This trailhead is in Arapahoe National Forest, close to the popular Mount Evans and Mount Bierstadt trailheads. These popular 14'er trails definitely take traffic away from this hidden gem of a trail.
Related Read: The 10 Best Hikes in Crested Butte, Colorado
12. Dakota Ridge & Red Rocks Trail Loop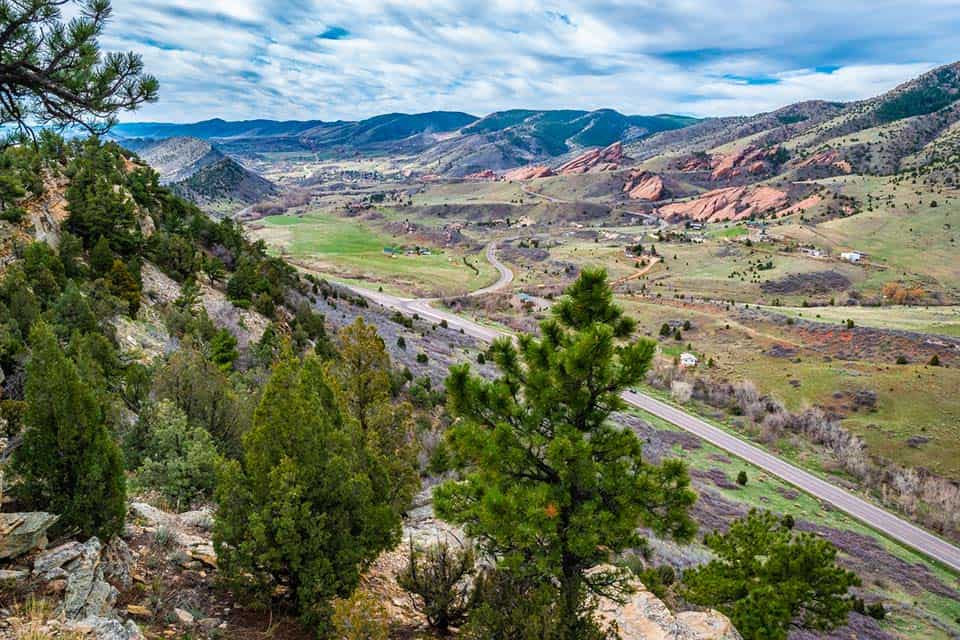 Why you should go: Get the big-picture view of Red Rocks Park on this outer perimeter trail.
Difficulty: Moderate
Distance: 7.4 miles
Elevation Gain: 1,538 feet
This loop trail is a great way to explore more of the Red Rocks Park area just west of Denver. Unlike the Trading Post Trail, you will skirt along the outer edges of the park and into South Dinosaur Park.
Remember to take plenty of breaks and stay hydrated! This trail offers very little shade from the sun. I suggest starting on the Ridge Trail so you can get the hard part over with first. If you decide to go the other way, you'll see a lot of elevation gain at the very end of your hike.
This is a great space to link up with other trails for a shorter or longer day since all the trails are well marked. Dogs are welcome in these parks. There are rattlesnakes in the area, so do keep a close eye on your furry friends or consider leaving them at home for this one.
Related Read: Traveler's Guide to the Best Colorado National Parks
13. South Rim & Willow Creek Loop Trail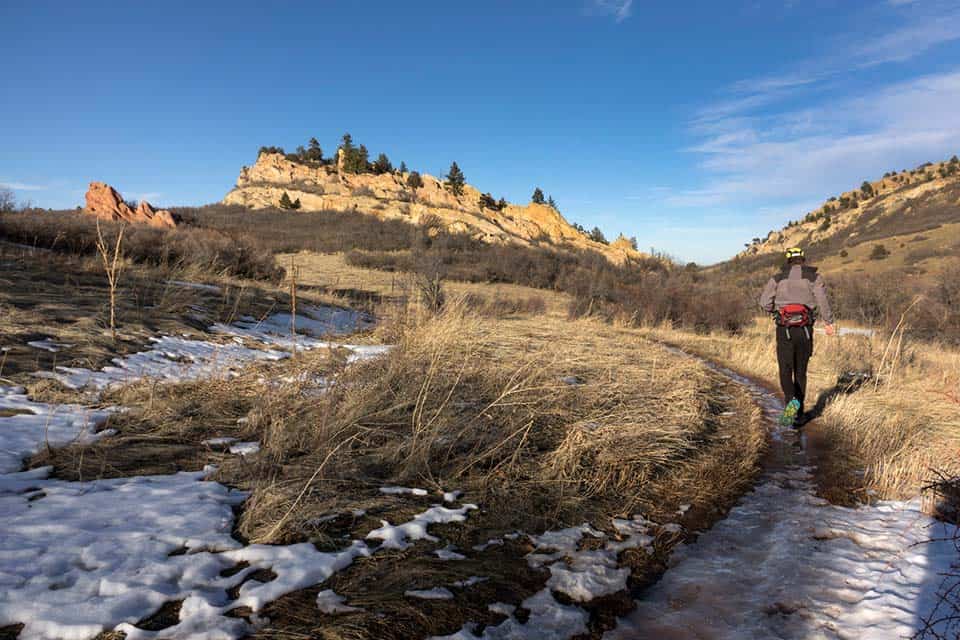 Why you should go: Explore Colorado's Front Range and learn how those giant sandstone fins got there.
Difficulty: Moderate
Distance: 2.7 miles
Elevation Gain: 465 feet
This trail offers a great alternative to the more popular Fountain Valley Trail in Roxborough State Park. Roxborough is a great park with abundant wildlife viewing opportunities and is close to Denver.
No matter where you go in this park, you are always in for some great views! The State Park preserves a part of Colorado's Dakota Sandstone formation that can be seen along the entire Front Range. Be sure to check out the Visitor Center to learn all about the geological and cultural history of this unique park.
If you are looking for a longer day in Roxborough, I highly recommend linking up with Carpenter Peak Trail. This will give you a total of about 8.7 miles.
Related Read: 9 Natural Hot Springs in Colorado for Soaking Away Your Troubles
14. Parmalee Trail Loop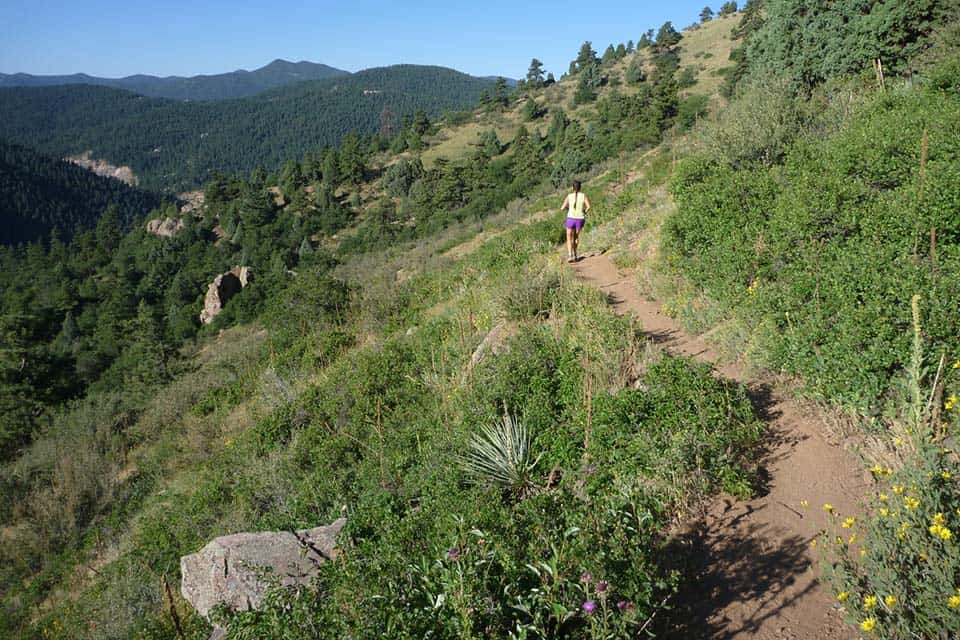 Why you should go: Enjoy easy but technical terrain on the most isolated trail in Mount Falcon Park.
Difficulty: Moderate
Distance: 3.4 miles
Elevation Gain: 554 feet
The Parmalee Loop makes for a quick outing into some dense Colorado pine forest. Wildlife can be seen here, including wild turkeys. This is a lightly trafficked trail in Mount Falcon Park, which makes it great a great option if you are looking for some solitude.
The Parmalee Trail takes you along the most western edge of the park through thick forest until you reach meadows. During the summer, wildflowers can be seen in full force.
Related Read: 12 Extraordinary Cabin Rentals in Colorado
15. Bear Creek & Bruin Bluff Trail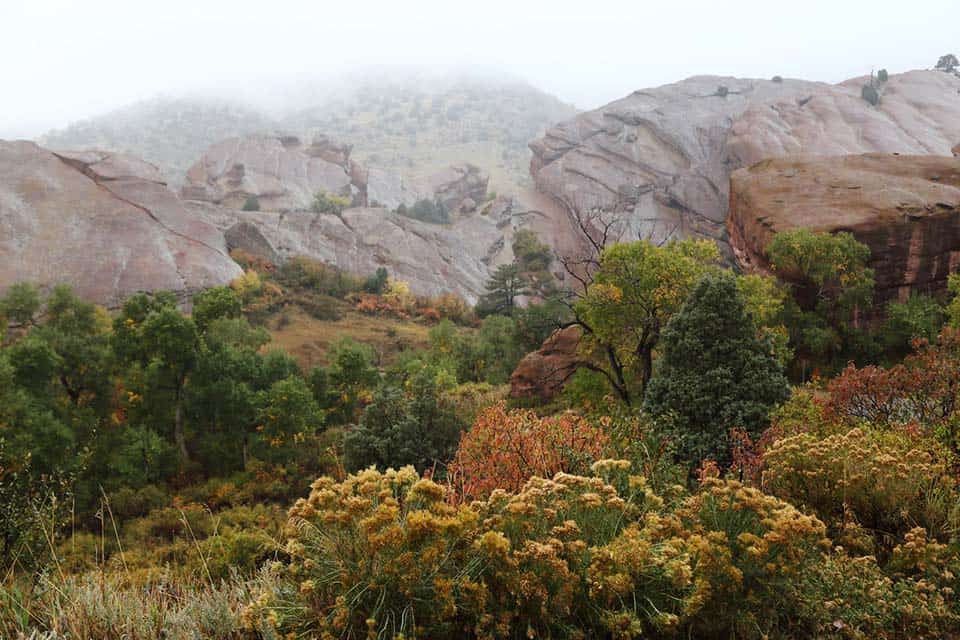 Why you should go: Go the distance on this breezy woodland trail.
Difficulty: Moderate
Distance: 14.6 miles
Elevation Gain: 2,280 feet
Located in Lair O' The Bear Park near Morrison, just west of Denver, this trail is a great option to get in some miles on some pretty smooth terrain. Often used for mountain biking and trail running, Bear Creek & Bruin Bluff Trail is littered with running streams, swimming holes, panoramic views, and the perfect amount of shade.
From the parking lot, you can see ruins of an old homestead, and within the first two miles you will see ruins of the old Dunafor Castle! This trail can get crowded at times, but you'll only really notice the amount of people within the first 2 miles. Fishers love this first part of the trail for easy access to the creek. To avoid any parking issues or running into too many people, I recommend coming here on a weekday or early in the morning.
Related Read: 11 Beautiful National Forests in Colorado for Outdoor Recreation
Explore Colorado
Get epic travel ideas delivered to your inbox with Weekend Wanderer, our newsletter inspiring more than 10,000 readers every week.
Was this article helpful?
---