Estes Park: the gateway to Rocky Mountain National Park is a small mountain town packed with history and charm.
If you are visiting Rocky Mountain National Park, I encourage you to explore outside the park as well! Estes Park is packed with its own epic trails and peaks.
Here's our list of the top hikes in RMNP if you're just looking for in-park options.
Also check out our guide to 10 epic things to do in RMNP as well!
Important Weather and Wildlife Advisory
If you have hiked in the northern Colorado area before, you've probably been warned about frequent afternoon thunderstorms during the summer months. These storms are very serious and develop quickly. If you are hiking through a canyon or in a pass that blocks your surrounding view, it is very easy to get caught in a very serious situation.
To avoid getting caught in a thunderstorm, the easiest solution is to begin your hike in the early morning, so you are hiking out by the time these storms have a chance to show up.
While it is always important to check the weather before you leave for a hike, unfortunately weather forecasts don't mean a whole lot in Colorado. Your best bet is to get familiar with weather patterns and be able to recognize any dangerous looking clouds. And when in doubt, head out!
While viewing wildlife might be your reason to travel to Estes Park and hike, always be cautious and keep your distance.
Black Bears are prominent in this area and are known to even take a stroll through town. These bears live close to humans and are pretty comfortable with being close to us; that doesn't mean you should take a selfie with them.
Moose are also very abundant in this area and are known to become aggressive when they feel threatened. Bottom line: don't make a moose feel threatened! Keep your distance, use the zoom on your camera if you want a picture, then move along.
And as always, please practice Leave No Trace Principles while on the trails of this beautiful Colorado mountain town!
Related Read: 11 Beautiful National Forests in Colorado for Outdoor Recreation
1. Kruger Rock Trail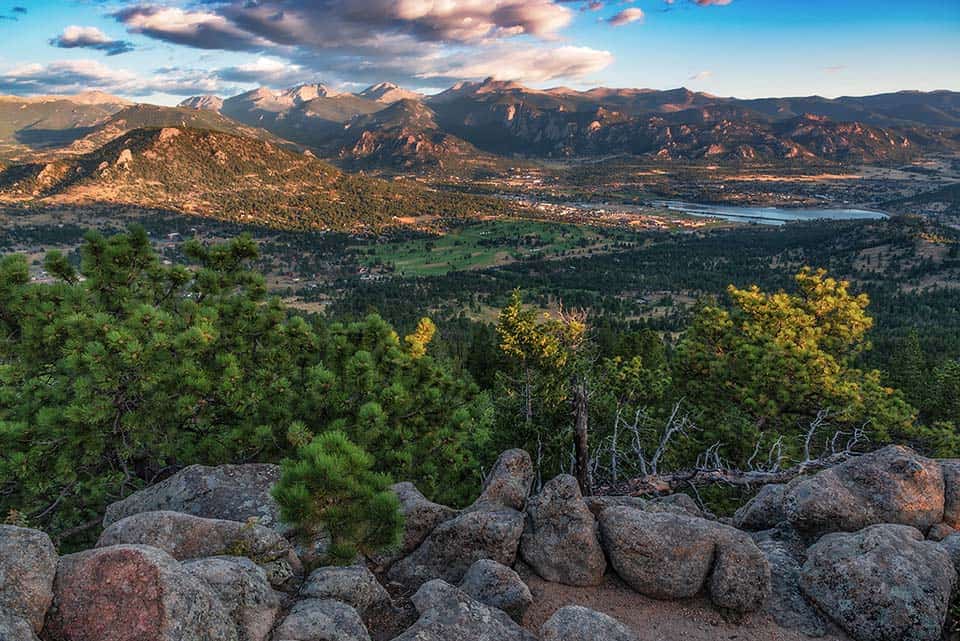 Why you should go: What better way to find some solitude than in a place called Hermit Park?
Difficulty: Moderate
Distance: 4 miles
Elevation Gain: 977 feet
Hermit Park is an Open Space located right outside Estes Park. Kruger Rock Trail is an out-and-back trail that is very popular among locals. This hike features sweeping fields of wildflowers in the spring.
Enjoy the pleasantries, because after these meadows, you'll be heading straight up a few steep sections through a forested mountain up to Kruger Rock.The view at the top will absolutely be worth the haul.
There is a small entrance fee you will have to pay, and dogs are allowed in the park on leash. This park does close in the winter due to seasonal moose and deer migrations.
More Information: AllTrails
2. Lily Mountain Trail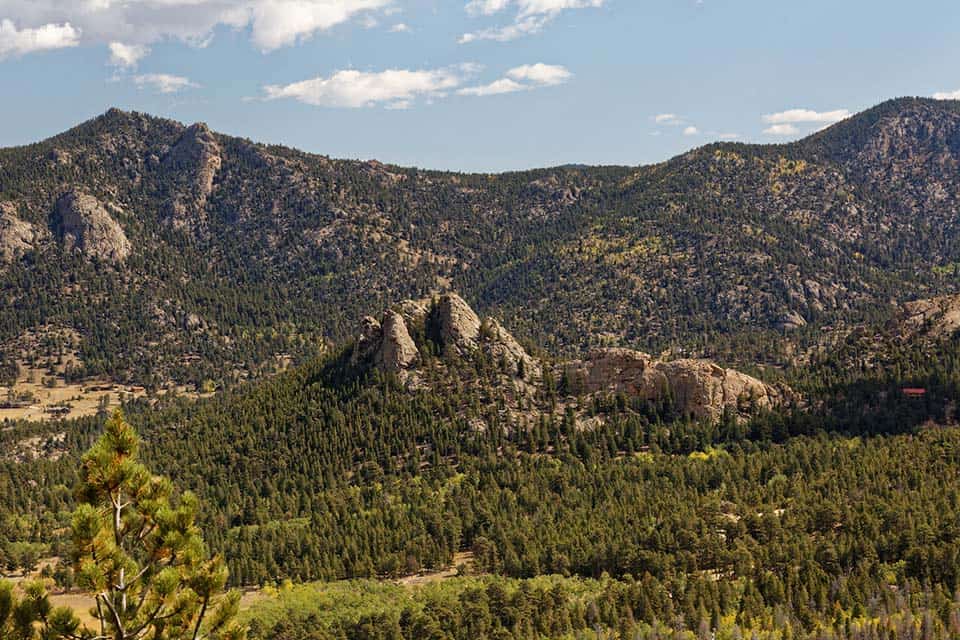 Why you should go: Enjoy a thick forest scene, great vistas, and amazing views at the top of this popular trail.
Difficulty: Moderate
Distance: 3.6 miles
Elevation Gain: 1,240 feet
Best hiked in March-September, Lily Mountain Trail is a great way to start or end a day exploring Estes Park. Views at the top will make for great sunrise/sunset hikes, and the wildflowers during the spring and summer months are certainly a sight to see.
This trail is in Roosevelt National Forest, so it is open year-round and is a popular winter trail here if you have micro-spikes or something similar. Wildlife is abundant on this trail, especially the unique birds and raptors that call this section of the Rocky Mountains home.
This trailhead is free to park and enter, but it is just a small pull-off on Highway 7 so parking can be limited. While it is a popular trail, you'll likely find spaces available early-mid morning. Dogs are allowed (on leash) on this trail.
More Information: AllTrails
3. Lion Gulch Trail A.K.A. Homestead Meadows Trail
Why you should go: Go back in time as you hike up through pristine alpine country to the remains of 8 homesteads that date back to 1889.
Difficulty: Challenging
Distance: 6.3 miles
Elevation Gain: 1,374 feet
Hike up through thick forest, listen to trickling waterfalls, then walk through high alpine meadows until you find yourself at the famous Walker and Griffith homesteads. The Walker and Griffith homesteads and cabins will be the first that you come to; you can go further and find the Irvin homestead and sawmill, Laycock, Hill, and Boren Homesteads. Some homesteads were burnt down in wildfires over the years, but most remain. The homesteads are well marked with information plaques, and you will see markers to other homesteads down shorter trails. Some of these trails will add another mile or so onto your hike, but this hike is more of an adventure anyway so why not?
The hike follows a creek through Lion Gulch then ascends and brings you up to Homestead Meadows. The trail crosses this creek several times, so come prepared with waterproof hiking shoes or Chacos! Homestead Meadows is now home to many moose and elk herds that just love roaming through this tucked away alpine wonder.
Not only have wildfires damaged homesteads in this area, but the trail was also taken out in 2013 by flooding and was reopened in 2017. It has since been mostly restored, but the trail can be difficult to find at times, especially in snow. A map and compass is highly recommended on this trail.
More Information: U.S. Forest Service
4. Lumpy Ridge – Twin Owls Loop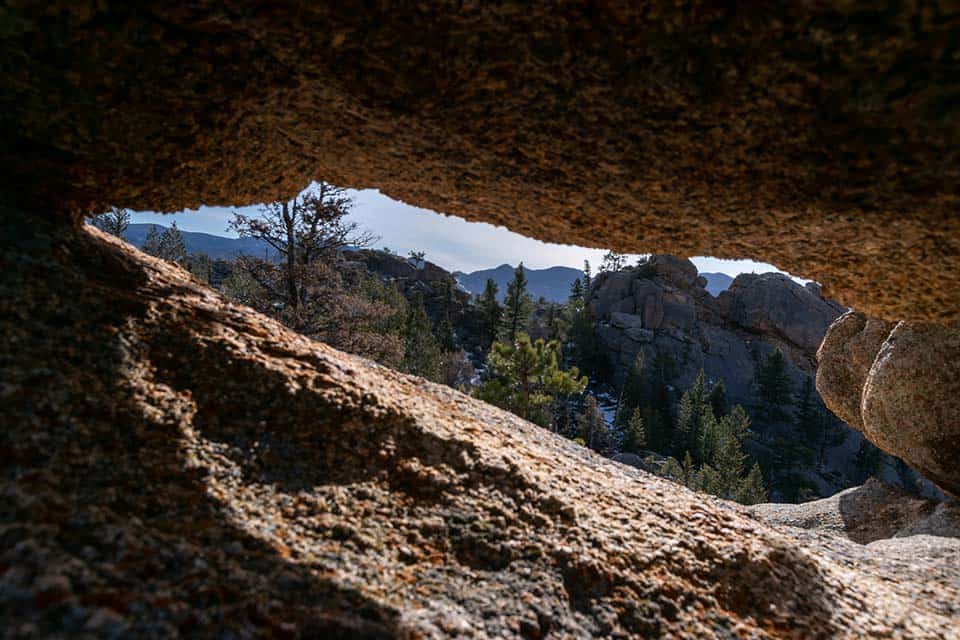 Why you should go: Experience true solitude and adventure on this all-encompassing loop that takes you through Rocky Mountain National Park's untouched northeast corner.
Difficulty: Moderate – Challenging
Distance: 11.1 miles
Elevation Gain: 2,584 feet
More popular among rock climbers than hikers, this trail is a lightly traveled local secret. Lumpy Ridge is a massive granite rock outcropping just to the north of Estes Park.
While Lumpy Ridge is technically part of Rocky Mountain National Park, the trailhead lies just outside the Park's borders and is free to park and enter. The "free-entry" aspect is what makes this area popular among climbers, but they leave the trail after the first 3-4 miles to scramble up to the rock faces.
Unlike other parts of Rocky Mountain National Park that are consistently busy and packed with people, the Lumpy Ridge area does not immediately connect with any trails that are popular among National Park hikers. Allowing you to find yourself some complete mountain solitude on this trail.
The Twin Owls Loop gives you ad complete tour of this Northeast corner of Rocky Mountain National Park. Through Black Canyon, descend into Cow Creek lined with thick aspen groves, and continue on to gain views of the distant Mummy Range and Mount Ypsilon.
Wildlife is quite abundant here; you can find deer, elk, black bears, foxes, coyotes, and even wild turkeys. The quick access to food and water from higher altitude canyons and mountains makes this an ideal spot for local wildlife to move through.
Since this trail does take you into Rocky Mountain National Park, you will have to follow Park rules. Dogs, unfortunately, are not allowed on trails. Backpacking or dispersed camping along this trail will also require a Parks camping permit and reservation that can be obtained here.
More information: ProTrails
5. Bierstadt Lake Trail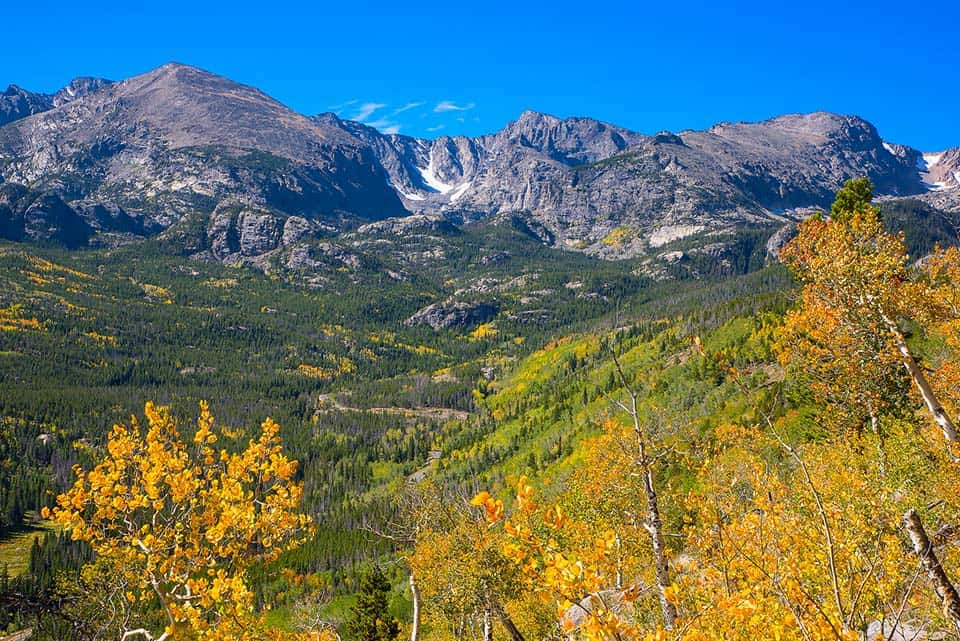 Why you should go: Hike up to one of the most accessible alpine lakes in the Estes Park area!
Difficulty: Moderate
Distance: 3 miles
Elevation Gain: 797 feet
Bierstadt Lake is a family favorite! This hike is very manageable for hikers of all ages and experience levels. Bierstadt Lake offers amazing alpine lake views and abundant chances to see wildlife up close without venturing too far. Moose especially love this lakeside spot to search for food.
This trail is quite shady and great for hot summer days. Bierstadt Lake is the perfect spot to enjoy a picnic or afternoon snack before your hike back. This trail is open year-round and is a great snow-shoe hike in the winter.
More Information: AllTrails
6. Lake Estes Trail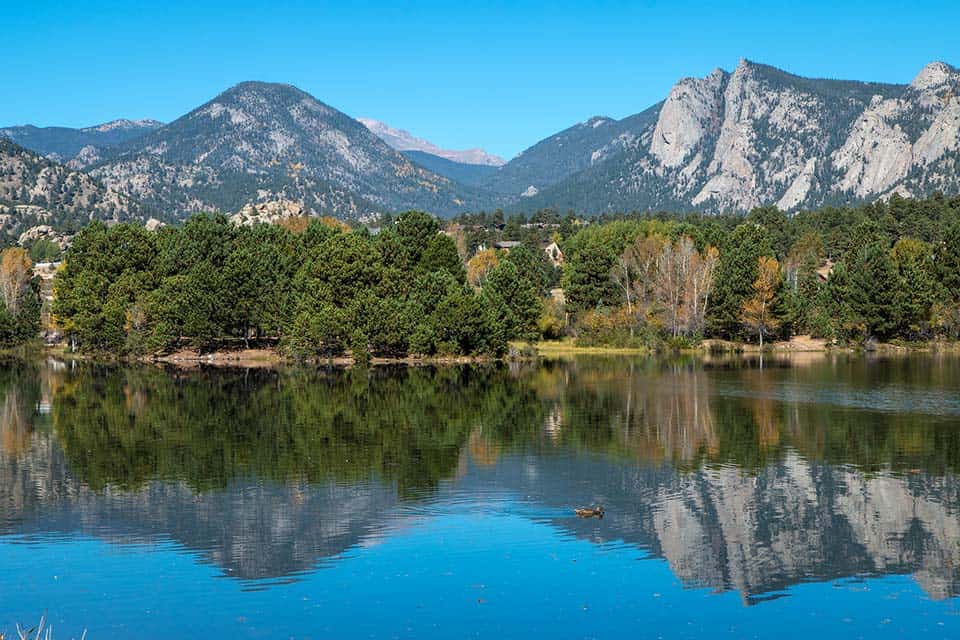 Why you should go: Experience the charm of Estes Park and take a stroll around its namesake.
Difficulty: Easy
Distance: 3.8 miles
Elevation Gain: 190 feet
Even when you are in town you can enjoy a leisurely nature walk around Lake Estes. While this paved trail isn't the most extreme or doesn't take you up an iconic summit, Lake Estes still makes the cut for this article because it's just fun.
A perfect rest day activity, or fun addition to walking around town, enjoying the Lake Estes Trail is fun for all ages and activities. You can even fish around Lake Estes!
Around the lake, you'll get views of Rocky Mountain National Park, the valleys that make up Estes Park, the infamous Stanley Hotel, and you can even catch a glimpse of the Lumpy Ridge rock formations to the north. The Estes Park Visitor Center is also right along this pathway, so take some time to stop in!
More Information: TrailLink
7. Donner Pass & Lookout Mountain Trail
Why you should go: Earn these epic views and summit the rightfully named Lookout Mountain!
Difficulty: Hard
Distance: 10.2 miles
Elevation Gain: 3,257 feet
No, not the same Donner Pass that led to the historic Donner Party's tragic demise. But this trail will make you sweat!
Best traveled between May and October, the Donner Pass Trail is a lightly trafficked out-and-back trail. Located in Roosevelt National Forest, this is a popular and relatively short trail used for backpacking.
The steep elevation gain is what deters most people, but don't be discouraged! This gain brings you high into the Rockies and provides vast 360-degree views of Rocky Mountain National Park, Big Thompson Canyon, the Cache La Poudre Canyon, and the meadows below.
Since the trail is lightly traveled, it isn't the most obvious in some areas. Cairns and survey tape can be found in spots by previous hikers to aid in finding the way. It is also recommended to bring a map and compass on this trail as backup.
Parking for this trail can be tricky. There is a trailhead named Miller Creek/Fork Trailhead that is where this trail begins; but currently, you can't park at this trailhead unless you have a resident pass. You must go down Dunraven-Glade Road and park at the Dunraven Trailhead. The Bulwark Ridge and Indian Trails will take you to Miller Fork Trail which will then take you to Donner Pass. Parking and entering is free, and dogs are allowed on leash in the area.
More Information: AllTrails
For After Your Hike
After a long day of hiking, enjoy a burger (or gyro) at Boss Burgers & Gyros. These burgers are the instant fix to any long, hard day on the trail.
More in the need of a classic cocktail? Check out the Stanley Hotel. This infamous hotel is said to have inspired Stephen King's "The Shining," and is one of the top places to visit during your stay in Estes Park. The hotel's bar and restaurant are open to the public and I highly recommend at least having one cocktail in their historically preserved bar.
Related Read: 9 Estes Park Cabins with Hot Tubs for Soakin' in the Mountains
Hike More in Colorado
Sign up for the Weekend Wanderer to join thousands of readers getting epic travel, hiking, camping and gear ideas every week.
---