Colorado is known for its massive mountains, remote terrain, and thin air.
And while all of that is true, it is also home to high deserts, unique archeological sites, splendid rivers, and national landmarks. With four national parks to explore, you'll think you've hit the jackpot on your national park tour.
Of course, if you add in the national monuments, national recreation areas, national heritage areas, and national historical sites, you could spend a lifetime exploring everything that the federal lands in Colorado have to offer.
Related Read:12 Best Places to Visit in Colorado for Unforgettable Adventures
Rocky Mountain National Park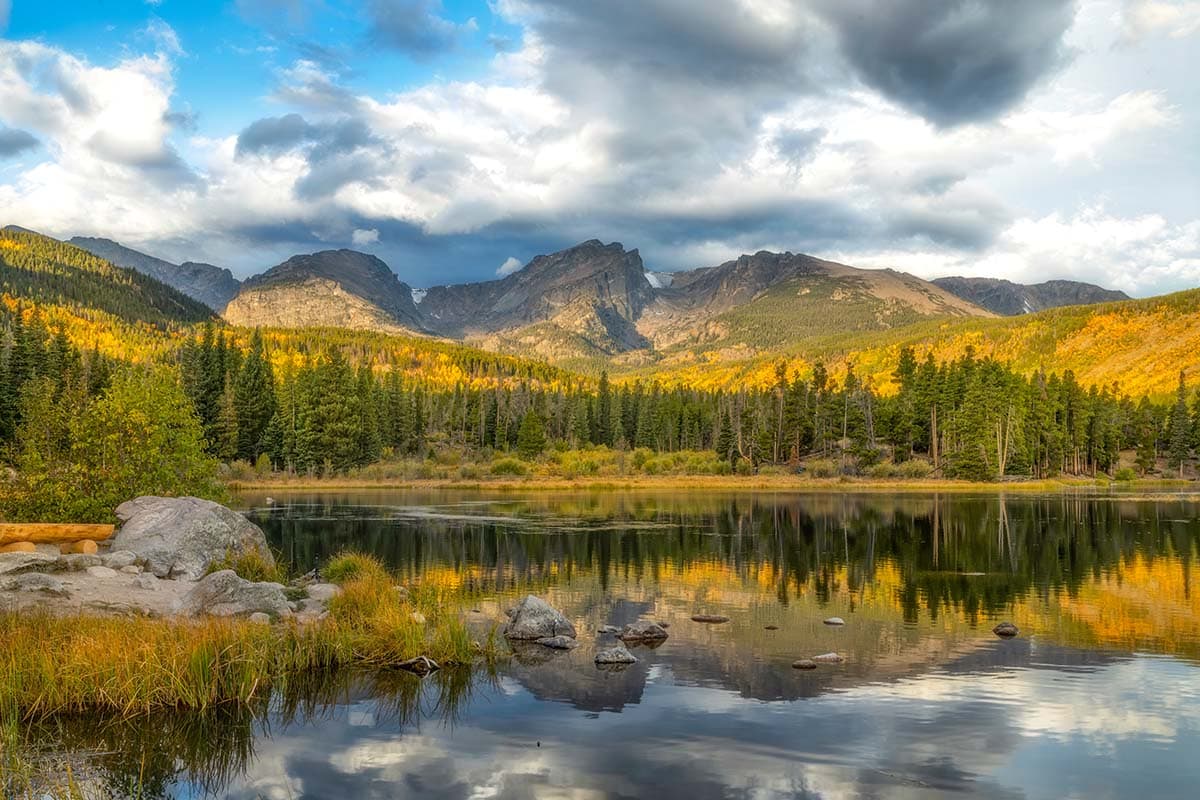 With lush alpine meadows and craggy mountain summits, it's no wonder that Rocky Mountain National Park (RMNP) is Colorado's most visited park.
Home to a section of the Continental Divide, a significant portion of the park is above the treeline and offers stunning views of the surrounding peaks. If wildlife viewing is more your style, you'll be pleased to find that RMNP is home to herds of elk, sheep, goats, coyotes, lions, and more!
Take a Hike
With 355 miles of hiking trails (plus more off-trail travel options along the divide), ranging from flat lakeside strolls to rugged summit ascents, RMNP has something for everyone. However, with elevations ranging from 7,630 feet to 14,259 feet at the summit of Longs Peak, the park is home to some of the highest hiking trails in the country. As such, it's best to warm up your lungs and hiking legs on something that isn't too strenuous as you get used to the altitude.
For an accessible trail or a more leisurely walk, choose the Coyote Valley Trail on the more remote west side of the park. It is a flat, paved path that leads the heart of the Kawuneeche Valley and offers opportunities for sightings of large fauna. Another option that is a bit more challenging is a peaceful stroll through the meadows of Moraine Park via the Cub Lake Loop. A six-mile loop that is generally gradual in both climb and descent, through meadows and forests, past Cub Lake, and along the Big Thompson River. Consider bringing your rod along to do a little sport fishing along this loop.
Of course, the iconic, though extremely strenuous, trek in the park is a summit of Long's Peak. If this is your goal, make sure you're fully acclimatized to the altitude and only attempt this on a perfect day. It is not uncommon to get chased off the mountain by afternoon thunderstorms. This is a strenuous hike and requires at least a 3 a.m. start if you're starting from the trailhead instead of camping in the backcountry. That said, the views from over 14,000 feet at the summit are pretty remarkable and not to be missed.
Things to Do
Hiking might be the main draw, but there are plenty of other things to do at Rocky Mountain National Park. The park also boasts a rich homesteader history, plentiful educational opportunities, rock climbing, fishing, camping, and even scenic drives.
Trail Ridge Road is not to be missed as it takes you through the park and up and over the Continental Divide.
Where to Stay
If you can get a spot, camping in the park is a must! Waking up to the birds chirping is a splendid way to start the day. However, if you want something a bit more upscale than a tent, then there are plenty of Airbnbs and cabins to rent in the gateway town of Estes Park.
Related Read: 9 Glorious Places to See Colorado's Fall Colors
Mesa Verde National Park
Deep in the desert of the southwest of Colorado, Mesa Verde National Park is the heart of the archeological side of Colorado, boasting deep canyons, expansive views, and cliff dwellings of ancestral pueblos.
With almost 5,000 archeological sites, including cliff dwellings, pithouses, and farming structures, the park protects the cultural sites of 26 tribes that connect their heritage with the ancient pueblos from 1,400 years ago.
Take a Hike
The best way to explore the park is to get out and trek it! However, before you venture out, consider the following statement from the park service "All of Mesa Verde is an ancestral home that is still inhabited by ancestral spirits and should be visited with respect. Please do your part in honoring Mesa Verde by staying on trails, leaving cultural and natural resources where you find them."
If you want to do a self-tour of the sites, there is plenty to see throughout the park, including Petroglyph Point Trail, a beautiful trail that leads to the remarkable petroglyphs left by the Ancestral Puebloans. The route is not for the faint of heart, as there are some scrambly sections and a challenging staircase at the end that you need to ascend to reach the rock art.
Another popular option is the trail to Step House, the only cliff dwelling accessible without a guided tour. The dwelling shows the occupation of two different groups, one at A.D. 626 and one at A.D. 1226. The one-mile route is well-maintained and generally considered a family-friendly hike. However, there are a few steep drop-offs, so it's probably best for older kids.
Things to Do
Without question, if you visit Mesa Verde, you must sign up for one of the ranger-led guided tours. The only way to access most cliff dwellings is via one of the ranger-assisted or ranger-guided tours.
Long House is one of the most accessible sites — however, it's still 2.25 miles of hiking, and ladders are needed to access areas within the dwelling. The more intimate and guided tours access remote sites that require some strenuous hiking. You can book your tickets for these programs online 14 days in advance.
Where to Stay
Though you can always book a stay at one of the amazing cabins in nearby Durango, there are a few other options closer to the park entrance. Morefield Campground is just four miles away and accommodates tents, trailers, and RVs, including 15 sites with full hookups.
If you want something a little more upscale, check out the Far View Lodge. Perched on the shoulder of Mesa Verde, you can enjoy panoramic views from your room's private balcony.
Related Read: 10 Best Hikes in Colorado for Getting Out into Nature
Great Sand Dunes National Park & Preserve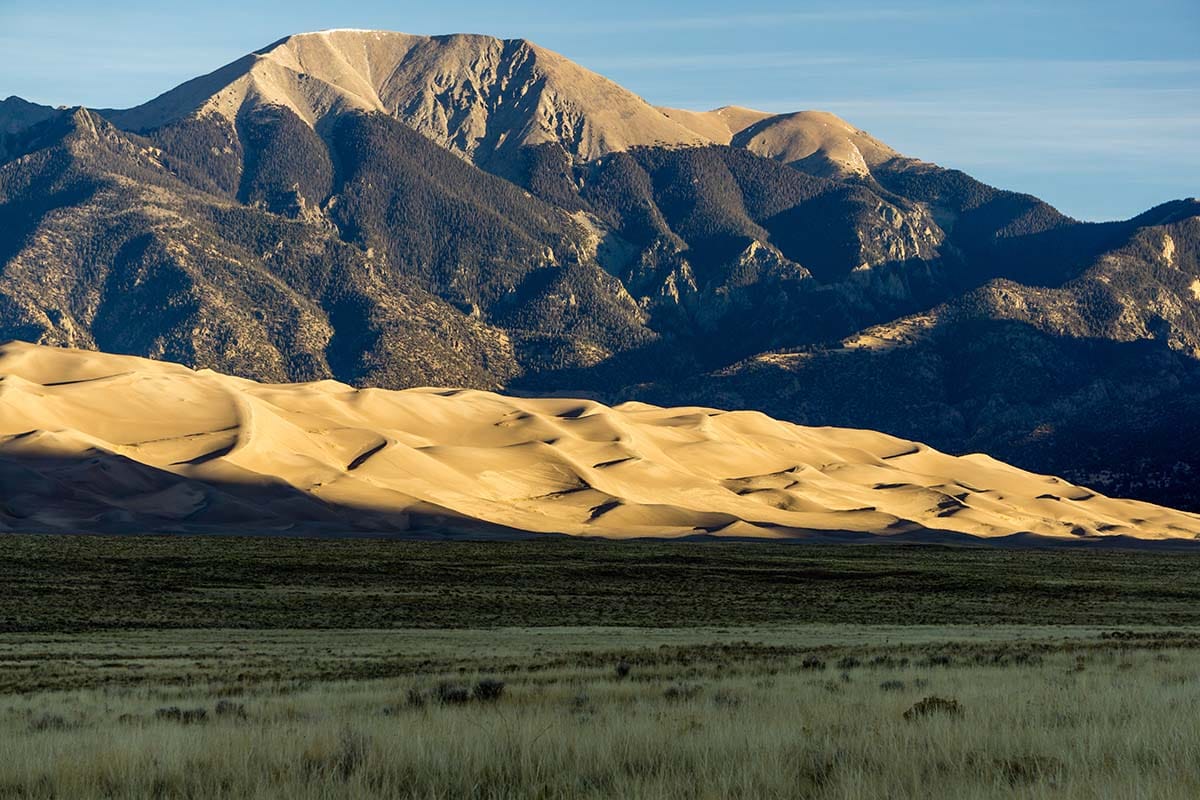 At the intersection of lush riparian environs, huge sand dunes, forested hills, and snow-capped peaks, Great Sand Dunes National Park & Preserve is one of the most visually stunning places to visit in Colorado.
Home to the tallest dunes in North America, the park is a popular destination for those traveling up and down the Colorado Front Range. Additionally, the park is also a key stop on the migration path of the Great Sandhill Crane.
Take a Hike
There are no officially designated trails within the 30 square mile dune field, and you are welcome to hike or backpack in any direction you wish. Be mindful that if you are hiking the dunes in the summer, the sand surface can reach upwards of 150-degrees Fahrenheit, and dangerous thunderstorms can pop up quickly. Plan your hikes for the morning the evening during this time.
The most popular hike is the High Dune on the first ridge. Though not the tallest dune in the park, it is more easily accessible from the parking lot than others and still provides outstanding views of the dune field and mountains above. Star Dune and Hidden Dune, at 741 feet, are tied as the tallest dune in North America. Both will require a 6 to 9 hour day of hiking across the dune field, so best to tackle these in the shoulder seasons rather than the height of summer.
If you want to explore the forests instead, consider the Mosca Pass Trail, which leads to a low pass in the Sangre de Cristo Mountains.
Things to Do
Besides hiking and backpacking, the park is a popular destination for birders to witness a stop on the Sand Hill Crane migration path. The birds, who winter in New Mexico, return to the valley every year between February to March and September to November.
For a truly unique experience, opt for some time outside at night! Designated an International Dark Sky Park by the International Dark-Sky Association in 2019, Great Sand Dunes is a beautiful spot to do some star gazing on a moonless night or take a walk on the dunes during a full moon.
Of course, no visit to the dunes would be complete without a bit of sandboarding or sand sledding! Though the park does not rent gear, you can pick up boards at several shops in the San Luis Valley. Regular snow equipment won't work on the sand, so be sure to pick up the right equipment at a local shop.
Where to Stay
A popular option is to stay at the seasonal Piñon Flats Campground within the park, which can accommodate tents and RV and trailers up to 33 feet long. For other options, there are plenty of campgrounds outside the park that offer full hookups for your more civilized desires.
If you want a roof overhead at night, check out some of the motels or cabins outside the park.
Related Read: 10 Unique Places to Stay in Colorado for a Memorable Vacation
Black Canyon of the Gunnison National Park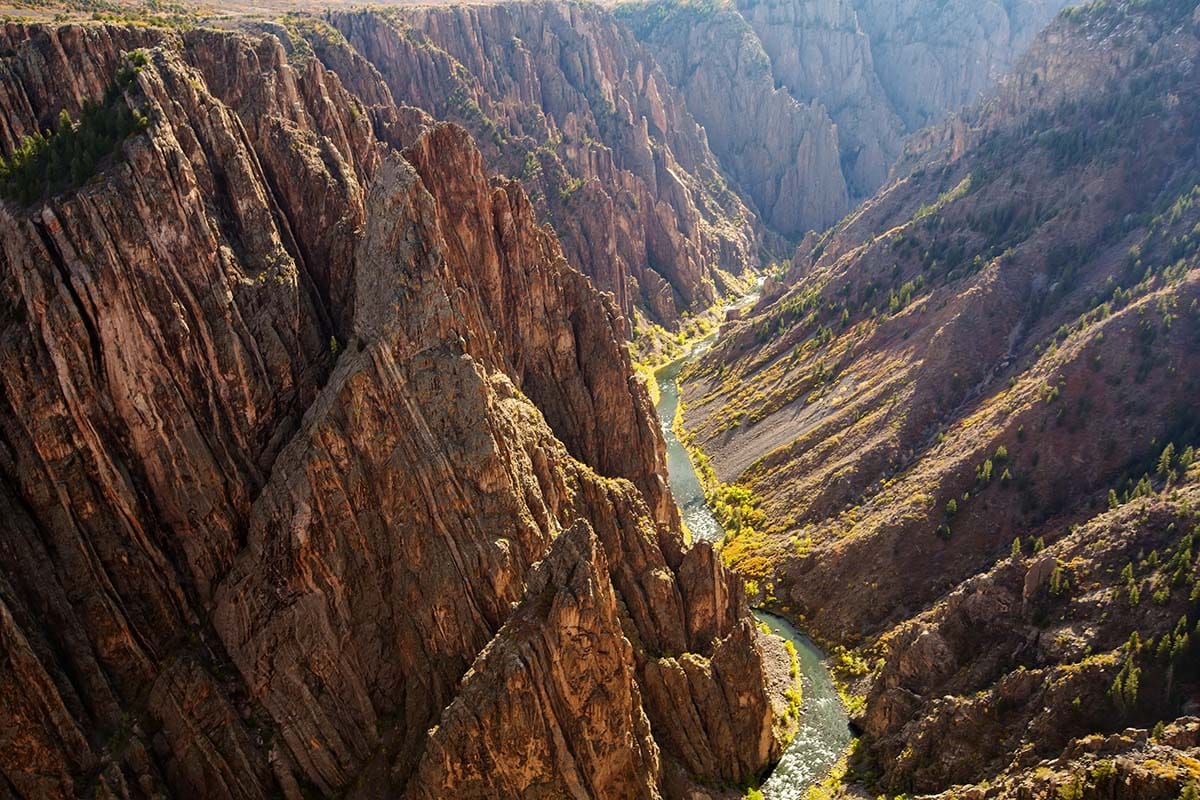 Over 2 million years, the Gunnison River carved its way down through the black metamorphic rock to form the 48-mile long, 2,722 feet deep canyon we know today.
The massive rock walls offer up legendary rock climbing opportunities, and the trails in Black Canyon of the Gunnison National Park wind the hiker along rims and to amazing overlooks of the enormous canyon walls.
Take a Hike
You have two options during your visit to the Black Canyon, hike along the top or venture into its depths. The Rim Rock Nature Trail is a very popular self-guided nature trail. The path is relatively flat and winds through the natural environs while also offering stunning views of the canyon and sheer rock walls.
Deadhorse Trail is another easier trail though a bit longer at five miles round trip. It also provides excellent views of Deadhorse Gultch and East Portal and has excellent birding opportunities.
The Long Draw is a popular path if you want to venture into the canyon depths. Remember to get your free permit and wear long pants to protect against poison ivy.
Things to Do
Besides hiking, the Black Canyon is a popular spot for star-gazing and is even host to the annual Black Canyon Astronomy Festival. If you're looking for a bit of adventure, the canyon offers excellent climbingopportunities for expert rock climbers (this is not a beginner zone).
If water is more your style, and you have the skills and experience, consider a kayaking trip down the Class V rapids of the river. If you want to stay shorebound, there are also some great catch and release fishing opportunities.
Where to Stay
Because the canyon is remote, staying at one of the three established campgrounds in the park is your best bet. However, if you just can't handle the thought of sleeping under the stars, you can find accommodation in Montrose to the west or Crawford to the north.
While the four national parks in Colorado are certainly enough to pack into a trip, there are numerous more places to visit around the state. For more suggestions on where to explore federal lands in Colorado, check out the options below.
Related Read: 10 Unique Swimming Holes in Colorado
National Monuments, Historic Sites, Heritage Areas, and Recreation Areas
Colorado is home to eight National Monuments, two National Historic Sites, one National Heritage Area, and two National Recreation Areas — which generally have the same level of protection as National Parks, just without the same level of funding.
These areas are often a great place to go to see world-class scenery and cultural sites without the crowds — although Dinosaur National Monument is quite popular. Learn more about these sites:
Related read: 7 Facts About Cheyenne Dog Soldiers & Their Warrior Legacies
More Colorado Adventures
Get epic travel ideas delivered to your inbox with Weekend Wanderer, our newsletter inspiring more than 10,000 readers every week.
Was this article helpful?
---