Just north of Denver, Fort Collins is home to Colorado State University, a historic and buzzing downtown, and countless trails between Public Natural Areas, Open Spaces, State Parks, and National Forest Lands.
Located at the base of the foothills, hiking is one of the most popular things to do around Fort Collins.
As a Fort Collins local, I have picked some of my favorites as well as the most iconic and historic hikes around this beautiful landscape!
Also take a look at these guides to hiking nearby areas: the best hikes near Denver, the best hikes near Boulder, and the best hikes in Rocky Mountain National Park.
1. Coyote Ridge Trail
Why you should go: On the outskirts of town, witness abundant wildlife and Colorado's unique geology while exploring the Coyote Ridge Open Space.
Distance: 4.1 miles
Elevation Gain: 564 feet
Difficulty: Easy
Coyote Ridge lies on the southwest edge of Fort Collins and connects to the popular Blue Sky, and Devil's Backbone trail system. This trail does climb back into a system of hogback ridgelines, but at a fairly low grade to give this trail an "easy" label. While the trail to the summit of Coyote Ridge is out-and-back and a total of 4.1 miles, you can link other trails from this summit for a longer trip. All trails are well marked.
Since this trail is lightly traveled compared to trails on the north side of town, wildlife is everywhere. You'll easily find Mountain Jays, Prairie Dogs, Red Tailed Hawks, Hummingbirds, Sharp-Shined Hawks, Deer and you guessed it, Coyotes. On that note, dogs are not allowed in this open space due to the presence of deer, prairie dogs, and coyotes.
2. The "A" Trail
Why you should go: Hike up to the Historic "A" landmark painted above Horsetooth Reservoir by Colorado State University Students in 1870 when their mascot was the "Aggies."
Distance: 4.1 miles
Elevation Gain: 565 feet
Difficulty: Easy-Moderate
Follow the Foothills Trail from Maxwell Natural Area up to the landmark and experience views of the massive Horsetooth Reservoir and city below. At the end of the trail, when you have reached the "A," you will be above the letter. Since it is so large, you won't immediately be able to recognize it. Look around for shrubs and rocks painted with white paint.
There are plenty of peaceful rest areas for picnics up here. There are rattlesnakes in the area, so please do not let dogs off leash for their safety. Due to its perch above the city and reservoir, this hike is an ideal and quick sunrise or sunset hike.
Related Read: 5 Awesome Hikes in the Lost Creek Wilderness, Colorado
3. Greyrock Trail
Why you should go: A local favorite; venture up the Poudre Canyon a short ways to summit the rightly named Greyrock Mountain.
Distance: 7.1 miles
Elevation Gain: 2,421 feet
Difficulty: Moderate-Hard
If you're looking for a full day hike, or a short backpacking adventure, Greyrock is the perfect place. Drive 17 miles west on Highway 14 to the well-marked Greyrock Trailhead.
This trail features everything from sweeping foothill and mountain views, creek crossings, to surreal valleys and meadows filled with wildflowers, butterflies and hummingbirds. Greyrock Trail is also a loop trail and while many take the shorter route to Greyrock, the Meadows Trail is absolutely worth the extra length. This side is also less steep compared to the shorter, Summit Trail.
Since this trail takes you deep into the Cache La Poudre wilderness and Roosevelt National Forest, it is important to check trail updates before heading out. What you can see from the highway trailhead is likely not what you'll be dealing with once you pass over the first ridge. Hiking here during thunderstorms can be dangerous as well; there is little to no shelter. Ideal conditions for this trail are within the months of April-November.
You can disperse camp along this trail since it is on National Forest land. It is very popular to camp right on the summit of Greyrock. Both the Meadows Trail and Summit Trail from the trailhead will take you to the base of the formation, where you will find a bench at the junction of these two trails. There is a very faint "climbers" trail that goes off from this junction toward Greyrock. While you can rock climb on Greyrock, you won't need any technical equipment to hike up/down the backside.
4. Arthur's Rock Trail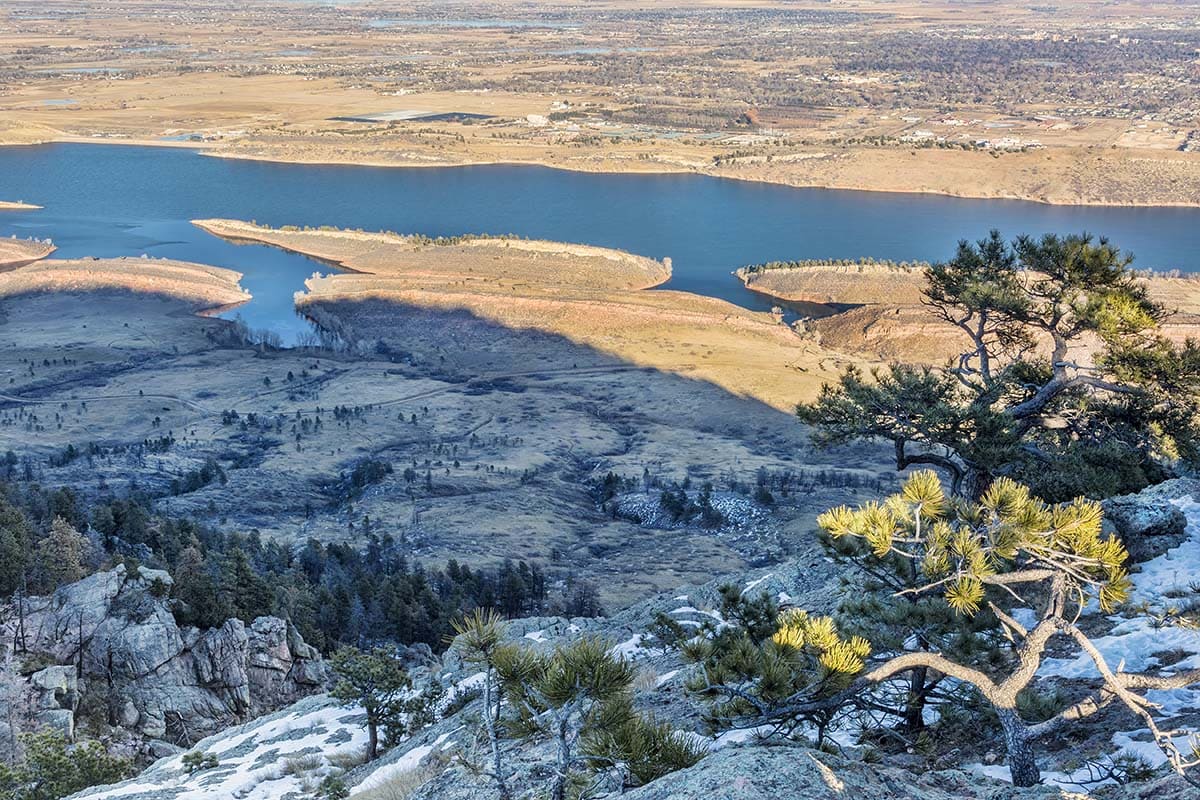 Why you should go: Hike deep into Lory State Park and to views over Horsetooth Reservoir, Horsetooth Rock, and the more tucked-away Arthur's Rock.
Distance: 3.4 miles
Elevation Gain: 1,100 feet
Difficulty: Moderate
Right outside of town, you'll find Lory State Park just west of Fort Collins. Lory State Park is on the West side of Horsetooth Reservoir and offers countless trails throughout the park. One of the most popular and must-do trails for visitors is Arthur's Rock Trail. This relatively short hike is the perfect day-hike outing if you're in search of stunning views.
Lory State Park is known for its incredible wildflower-filled valleys in the summer months. This hike does include a steep climb, giving this hike its "moderate" rating.
The hike to Arthur's Rock is relatively short, so don't be discouraged by the steepness! Keep on pushing and stop for breaks to take in the view and catch your breath when you need – especially those coming from lower altitudes.
Related Read: 9 Estes Park Cabins with Hot Tubs for Soakin' in the Mountains
5. Horsetooth Falls
Why you should go: A great addition to any summer day; take a quick hike to the Falls where you can adventure around and in the water!
Distance: 2.2 miles
Elevation Gain: 101 feet
Difficulty: Easy
One of the shortest hikes within Horsetooth Mountain Park, and yet one of the most stunning. The quick outing to Horsetooth Falls is the perfect family outing or a great way to view the sunset. Hikers are free to explore in this open space, and free to wade in the water under the Falls.
To the east, you will see views of the city below; to the west, you can see the tall peaks within Rocky Mountain National Park. There are plenty of other (well-marked) trails within Horsetooth Mountain Park, and I encourage you to explore further if you have the time!
6. Soapstone Prairie Trails – Pronghorn Loop Trail
Why you should go: Did someone say Bison? Witness living history and active restoration projects that have helped endangered animal and plant species of the Northern Colorado grasslands landscape.
Distance: 7.5 miles
Elevation Gain: 593 feet
Difficulty: Easy
While Soapstone Prairie Natural Area is 25 miles north of Fort Collins, this 19,000-acre property was purchased by the city of Fort Collins in 2004 as a restoration and conservation project. Since 2004, the restoration efforts have made a huge impact on this delicate landscape. Ecological systems, plant communities and vegetation have come back, and in more recent years, even the American Bison and Black Footed Ferret have been reintroduced into this booming environment.
This effort has played a large role in bringing back the American Bison from the brink of extinction, and it is worth a visit if you're are in the Fort Collins area! Soapstone is open from March-November, and you can witness this historic Bison herd within their 1,000+ acre fenced area during this time.
Pronghorn Loop Trail is one of the more popular trails in this vast natural area and offers amazing prairie views. You can connect to other trails from the Pronghorn Loop such as Plover Trail and Sand Wash Trail if you are looking for a longer day. These trails are family-friendly and abundant wildlife makes this a great location for the kiddos to experience.
7. Reservoir Ridge Trail
Why you should go: One of the lesser-trafficked trails in the foothills trail system lets you enjoy some peace, a prehistoric geological wonder, and stunning views while never leaving town!
Distance: 4.8 miles
Elevation Gain: 649 feet
Difficulty: Moderate
Lying on the very northern edge of Horsetooth Reservoir, you'll climb up to dramatic views of rock outcroppings, hogback ridgelines, and the open valleys in between. Reservoir Ridge offers views of both Horsetooth Reservoir and the smaller reservoirs to the north.
This system of hogback ridgelines is a part of the same Dakota Sandstone formation as Coyote Ridge and Devil's Backbone in Loveland, CO. These unique geological formations are the last remnants of an ancient seabed that filled the Northern Colorado area about 1.7 billion years ago. If you are lucky, you can find small fossils within these areas of Northern Colorado's open spaces.
Reservoir Ridge Natural Area is a part of the trail system that connects Maxwell, Pineridge, and Reservoir Ridge via the Foothills Trail. From the Foothills Trail, you can explore trails surrounding Horsetooth Reservoir and the surrounding foothills area. From the trailhead, you'll start on a gravel road, then come to a junction of two trails. The trail that joins this gravel road from the south is the Foothills Trail coming from Maxwell Natural Area.
8. South Ridge & Horsetooth Rock Trail Loop
Why you should go: Ever wonder why it's called Horsetooth Reservoir? Hike right up to the prominent rock formation that gives the lake its name!
Distance: 3.6 miles
Elevation Gain: 994 feet
Difficulty: Moderate
An article about hiking in Fort Collins would not be complete without Horsetooth Rock!
Horsetooth Rock is a must for any Fort Collins visitor! This well-maintained trail is very popular and is an absolute classic among locals and visitors. The views from the top speak for themselves. This loop is a variation of the heavily trafficked out-and-back Horsetooth Rock Trail. The South Ridge Trail is a bit of a local's secret approach to Horsetooth Rock as it is less traveled and easier to enjoy during busy seasons.
At the top, enjoy plenty of picnic and lounging space before heading back down. Birding is very popular in this area, as Blue Heron, Falcons, Gulls, Hummingbirds, and Mountain Jays all share this unique local scene.
Do Your Part
While I hope you enjoy this list of some of Fort Collins' best hikes, please hike responsibly and practice Leave No Trace Principles. Some of these trails are highly trafficked areas, and it takes everyone doing their part to keep these precious trails open and free!
Explore Colorado!
Sign up for our free email to join thousands of readers getting epic travel, hiking, camping and gear ideas every week.
---