Colorado Springs is the largest city by area in Colorado. That means there's a lot to do, especially outside!
With so much to see and do around Colorado Springs, it's easy to feel overwhelmed when it's time to plan your adventure itinerary. As a former Colorado Springs resident, I can tell you there are still plenty of things I never got around to…but I do know all the best hikes!
At just under 200 square miles, this beautiful city sits right against the foothills and knows how to make the most of their ideal location. There are hundreds of hiking trails in the area, including America's most famous 14er, Pikes Peak, and the stunning Garden of the Gods park.
Colorado Springs is a very dog-friendly city, too. Dogs are allowed in most areas (unless otherwise specified) as long as they are on a leash, so it's easy to find a local hike where your furry friend can join you for the adventure.
Here's a list of my favorite hikes around Colorado Springs, starting with the ever-popular St. Mary's Falls.
Related Read: 10 Free Things to Do in Colorado Springs, CO
1. St. Mary's Falls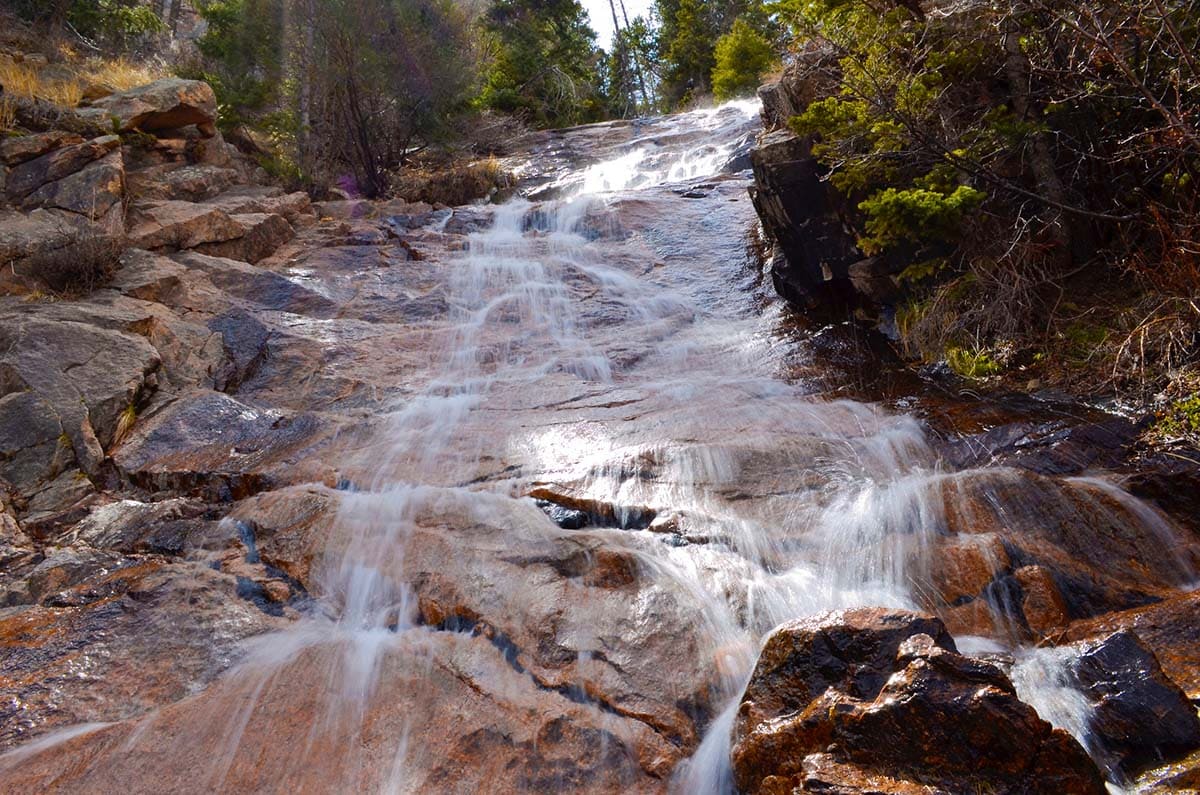 Why you should go: Let the sounds of the waterfall guide you into one of Colorado Springs' best canyons.
Distance: 6.3 miles
Elevation Gain: 1,400 feet
Difficulty: Moderate
North Cheyenne Canyon Park is a 10 minute drive from downtown Colorado Springs, but these canyon walls are tall enough to make you forget all about the bustling city.
St. Mary's Falls Trail provides a great workout with plenty of elevation gain, and the amazing views make the elevation gain worth every drop of sweat. At the waterfall, you'll enjoy an incredible view of the city and canyon below.
As with many hikes around Colorado Springs, there is a bit of scree you'll need to maneuver around in certain sections of the trail. The Pikes Peak Granite local to the area has had millions of years to erode, creating these scree piles throughout the surrounding mountains.
The trail is well marked the whole way, so route-finding shouldn't be an issue here.
Related Read: 12 Magical Cabin Rentals in Manitou Springs, Colorado
2. Mt. Herman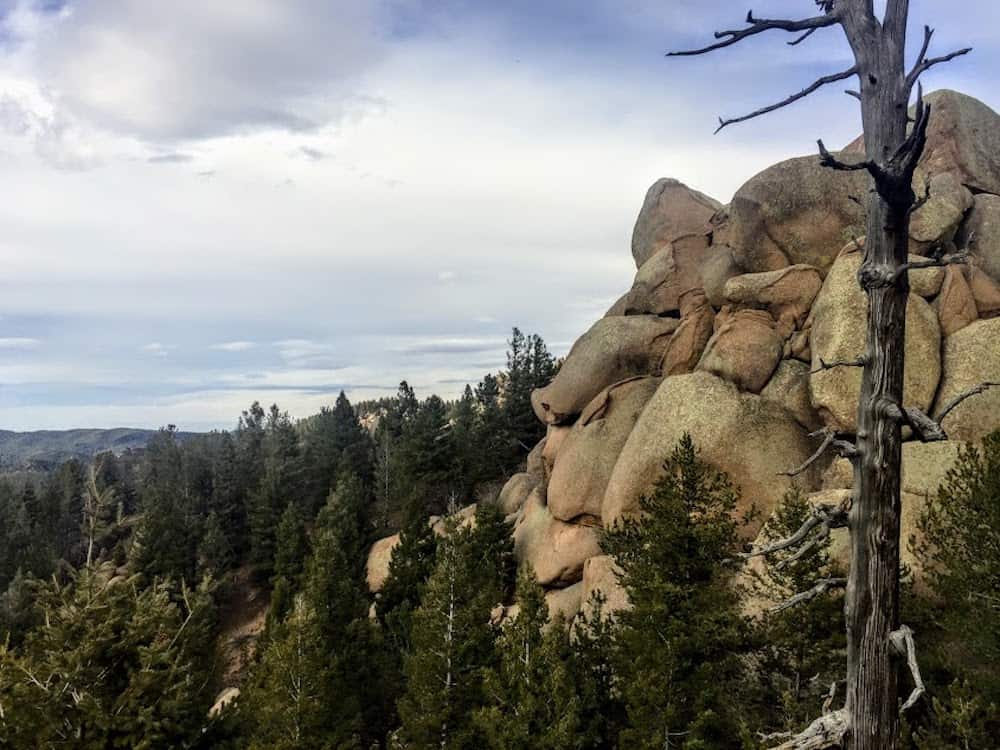 Why you should go: Find yourself in a hidden world in Pike National Forest.
Distance: 2.1 miles
Elevation Gain: 900 feet
Difficulty: Moderate
From the apex of Mt. Herman, you'll quickly see why so many indigenous people and pioneers were drawn to the area.
This short trail features gorgeous wildflowers and an amazing view of Pikes Peak. From this part of the national forest, you can see just how massive Pikes Peak is compared to the rolling hills and canyons below it.
The Mt. Herman Trail will lead you up to a vague summit. If you come to a point and feel you have lost the trail, the trail actually ends here! You might see a few subtle trails or markers used by people after leaving this point to camp or further explore the area, but the official trail stops here.
To the east, the forest continues downhill and camping here is great. To the west, you'll get a close-up view of Mt. Herman's massive boulder-stacked wall — a truly fascinating sight.
There are so many trails to explore right from Mt. Herman Road, it's easy to plan a day of adventure around here. I highly recommend checking out the nearby hikes, or at the very least following the scenic road for a while to soak in the beauty.
Related Read: 6 Best RV Campgrounds Near Colorado Springs, Colorado
3. Red Rock Canyon Loop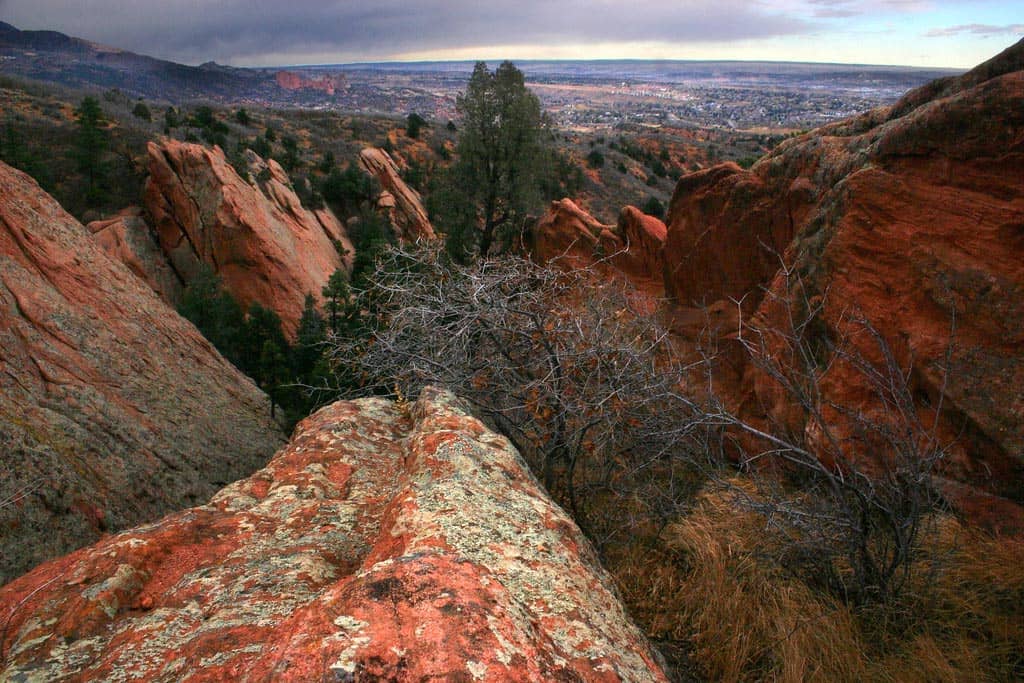 Why you should go: Explore this amazing red rock mystery of Colorado Springs, one of the city's favorite spots to enjoy the great outdoors!
Distance: 5.1 miles
Elevation Gain: 885 feet
Difficulty: Easy
Red Rock Canyon Open Space is composed of the same rock formation as Garden of the Gods. Long, sweeping sandstone walls have created an amazing spot for hikers, mountain bikers, and rock climbers to enjoy.
You can create this easy-going loop by connecting Sand Canyon, Mesa, Greenlee, and Red Rock Canyon Loop trails. The trails are wide, which makes it easy to share with mountain bikers, runners, and the occasional stroller.
From each vantage point here, you can see the otherworldly rock formations of Garden of the Gods jutting out from the middle of this bustling city. Located just minutes away from downtown, it's no wonder Colorado Springs is an outdoorsy tourist destination!
Related Read: 13 Best Camping Spots Near Colorado Springs, Colorado
4. Pikes Peak via Barr Trail
Why you should go: Enjoy fresh doughnuts and a latte from the summit of America's Mountain!
Distance: 21.3 miles
Elevation Gain: 7,400 feet
Difficulty: Challenging
The history of Pikes Peak is just as rich as the hike.
Humans have been in love with this mountain since 500 AD, when a tribe of Utes moved into the area. They gave the mountain the name "Tava," which means "sun" — a fitting name for the mountain's massive, crested peak that towers over the surrounding landscape.
Hiking to the summit of Pikes Peak is unlike any other 14er hike in Colorado. The trail features a waterfall, river, an abundance of wildlife, and even a few Sasquatch sightings.
About 6.5 miles up the trail you'll pass Barr Camp, where you can reserve a cabin, lean-to, or tent site. Barr Camp even cooks meals for their hikers!
In addition to spending the night at Barr Camp, free wilderness camping is permitted in Pike National Forest. There are quite a few areas with semi-established sites that are great for larger groups.
Since Pikes Peak also has a toll road and cog-railway that takes tourists to the summit, the viewpoint features a gift shop complete with a doughnut shop and café. Most summit snacks are limited to what you can fit in your pack, but not here!
An alternate route you could take is Crags Trail to the summit, then hike down Barr Trail. If you have someone else drop you off and pick you up, this is a great alternative to an out-and-back hike. That said, Crags Trail is difficult to follow in a lot of areas and typically recommended for very experienced hikers.
Related Read: 9 Natural Hot Springs in Colorado for Soaking Away Your Troubles
5. Blodgett Peak
View this post on Instagram
Why you should go: Blodgett Peak will (literally) take your breath away when you reach its gorgeous, exposed summit.
Distance: 3.4 miles
Elevation Gain: 2,150 feet
Difficulty: Challenging
You read that elevation gain correctly — Blodgett Peak makes you work for its views. The good news is they're absolutely worth the challenge!
You'll get a great workout up some scree on this trail. The path seems to dead-end, but don't worry — just follow the path of least resistance up the scree to the left.
DO NOT climb the rock face that will be on your right. This might sound like obvious advice, but a surprising number of people think scrambling up this crumbly rock is the only way to get to the summit.
Blodgett Peak's summit is nothing short of stunning. A small, rocky, and exposed summit makes for some spectacular views to enjoy snacks to. You can see into the Air Force Academy, the Rockrimmon area of Colorado Springs, and out into the Plains East of the Springs.
Related Read: The 10 Best Hikes Near Telluride, Colorado
6. Garden of the Gods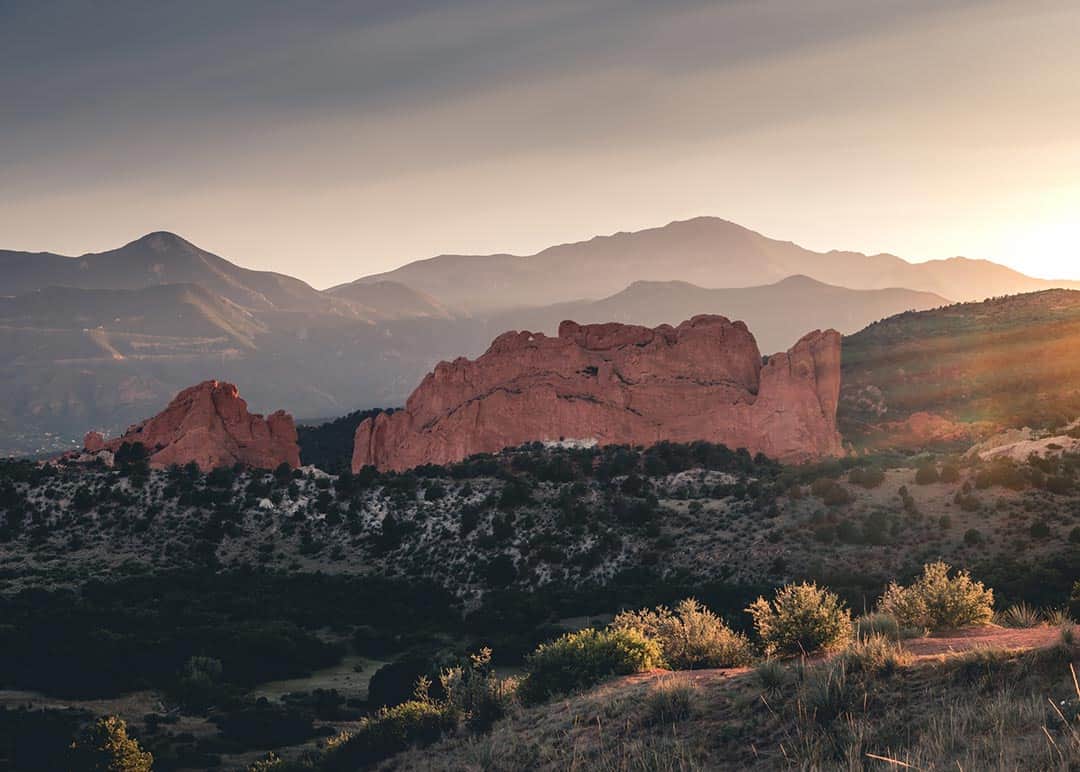 Why you should go: You'll be awestruck by these stunning sandstone formations, with Pikes Peak serving as the backdrop of this epic red rock park.
Distance: 1.1 miles
Elevation Gain: 75 feet
Difficulty: Easy
If you're visiting Colorado Springs for the first time, visiting the Garden of the Gods is absolutely a must!
Wander into the gateways of Garden of the Gods Park via the Perkins Central Garden Trail. This wide, paved trail connects to the primary (and largest) parking lot in the park, making it easily accessible for everyone.
There are several trails throughout the park that are worth checking out, but only the paved trails provide a full tour around the largest formations. If you are looking for some longer or more challenging trails, check the park's website or stop by the Visitor Center and pick up a free trail map.
The history of the park is just as fascinating as the red rock formations, so I highly recommend checking out the Visitor Center if you have time. The facility recently completed a massive renovation and now includes a wildlife and geology exhibit, interactive map of the park, 360-degree interactive movie (great for the kiddos), gift shop, and café.
Related Read: 10 Best Things to Do in Leadville, Colorado
7. Stanley Canyon Trail
View this post on Instagram
Why you should go: Head deep into Stanley Canyon to discover young aspen groves, vast meadows, and a large reservoir.
Distance: 5.8 miles
Elevation Gain: 2,150 feet
Difficulty: Challenging
Stanley Canyon is made of gorgeous granite walls that look like they've been cut with a knife.
The trail is technical in sections, and very steep in the beginning. With such steep canyon walls, expect to encounter some large drop-offs and scramble sections.
You'll notice a drastic difference in scenery when you begin to exit the canyon. The creek becomes very mellow, and you'll be instantly surrounded by colorful aspen trees. The trail skirts around a thicker aspen grove, then drops you into a fairytale-like meadow before reaching the reservoir.
Be sure to check the weather before leaving the trailhead. The canyon walls are unbelievably tall, so you won't be able to see inclement weather approaching from within the canyon. When the granite paths get wet, hiking out in the rain can be very slippery and dangerous.
Stanley Canyon Trail is part of Pike National Forest but the trailhead is actually within the Air Force Academy property lines, providing you with a great excuse to explore the grounds. You don't need a military ID to enter the base, just a valid ID or driver's license.
Related Read: 11 Easiest 14ers in Colorado for Newbies to the High Peaks
8. Paint Mines Interpretive Park
View this post on Instagram
Why you should go: Travel from vast grasslands to brightly colored clay canyons in this unique and historic location.
Distance: 3.4 miles
Elevation Gain: 330 feet
Difficulty: Easy
Just east of Colorado Springs, Paint Mines Interpretive Park is unlike anything in the area.
Eastern Colorado Springs is considered "the Plains" by the locals, who rarely give the area a second thought. That's good news for visitors, making the park a well-kept hidden gem.
The trail through Paint Mines Interpretive Park follows a figure eight around the unusual open space. The walls are made of intensely colored clay that was once collected by indigenous peoples for paint, with evidence of human activity dating back 9,000 years in the area.
Due to conservation efforts, no dogs, horses, or bikes are allowed here.
Related Read: 11 Best Winter Hiking Destinations in Colorado
9. Sundance Loop Trail
View this post on Instagram
Why you should go: Start your morning off right in Cheyenne Mountain State Park with this high-desert scenery.
Distance: 3.7 miles
Elevation Gain: 440 feet
Difficulty: Easy / Moderate
On the southern edge of Colorado Springs, Cheyenne Mountain hosts NORAD and the Cheyenne Mountain Zoo. Cheyenne Mountain State Park is located near the base of the mountain, where the landscape reminds you that Colorado Springs is a high-desert environment.
Thanks to less traffic on these trails, wildlife is abundant here. Hikers may even encounter black bears and mountain lions.
Due to wildlife concerns, dogs are not allowed on certain trails in the park (don't worry, the affected trails are well-marked).
The Sundance Loop is a great, rolling trail that's perfect for trail running and mountain biking. All trails here are well marked, so trail finding and connecting is very easy.
Mountain biking is very popular here, and I highly recommend riding these trails if you are a biker!
Cheyenne Mountain State Park is one of the only areas in Colorado Springs that you will have to pay a small entrance fee for, so be sure to bring cash for your adventure.
Related Read: 10 Unique Swimming Holes in Colorado
10. The Incline With Barr Trail Descent
Why you should go: Experience the grueling resident training grounds of Colorado Springs, then reward yourself with ice cream or pizza nearby.
Distance: 3.6 miles
Elevation Gain: 1,922 feet
Difficulty: Challenging
An article about Colorado Springs hiking would not be complete without The Incline.
This grueling trail demands a strenuous elevation gain of 1,922 feet, consisting of 2,744 large steps and railroad ties. Originally built as a cog railway to carry supplies for pipeline building on Pikes Peak, The Incline is now used as an extreme outdoor workout and a must-do for the athletic tourist.
After you reach the top of The Incline, follow the Barr Trail back to the bottom for your descent. The Barr Trail's switchbacks make for a fun trail run, and it's a lot easier on the knees than trying to walk down the steps.
The Incline was actually closed in 1990 due to a rock-slide that damaged sections of the track. The legality of this trail never seemed to be a deterrence, though, as people have been submitting themselves to the challenge regardless.
With funding following the Waldo Canyon Fire in 2012, Manitou Springs decided to renovate and legalize the trail in 2013. The trailhead is so close to downtown Manitou Springs, it's easy to reward yourself with great food and desserts after your hike!
Note that due to the extreme nature of this hike, dogs are not allowed on this trail.
Related Read: The 8 Best Hikes Near Fort Collins, Colorado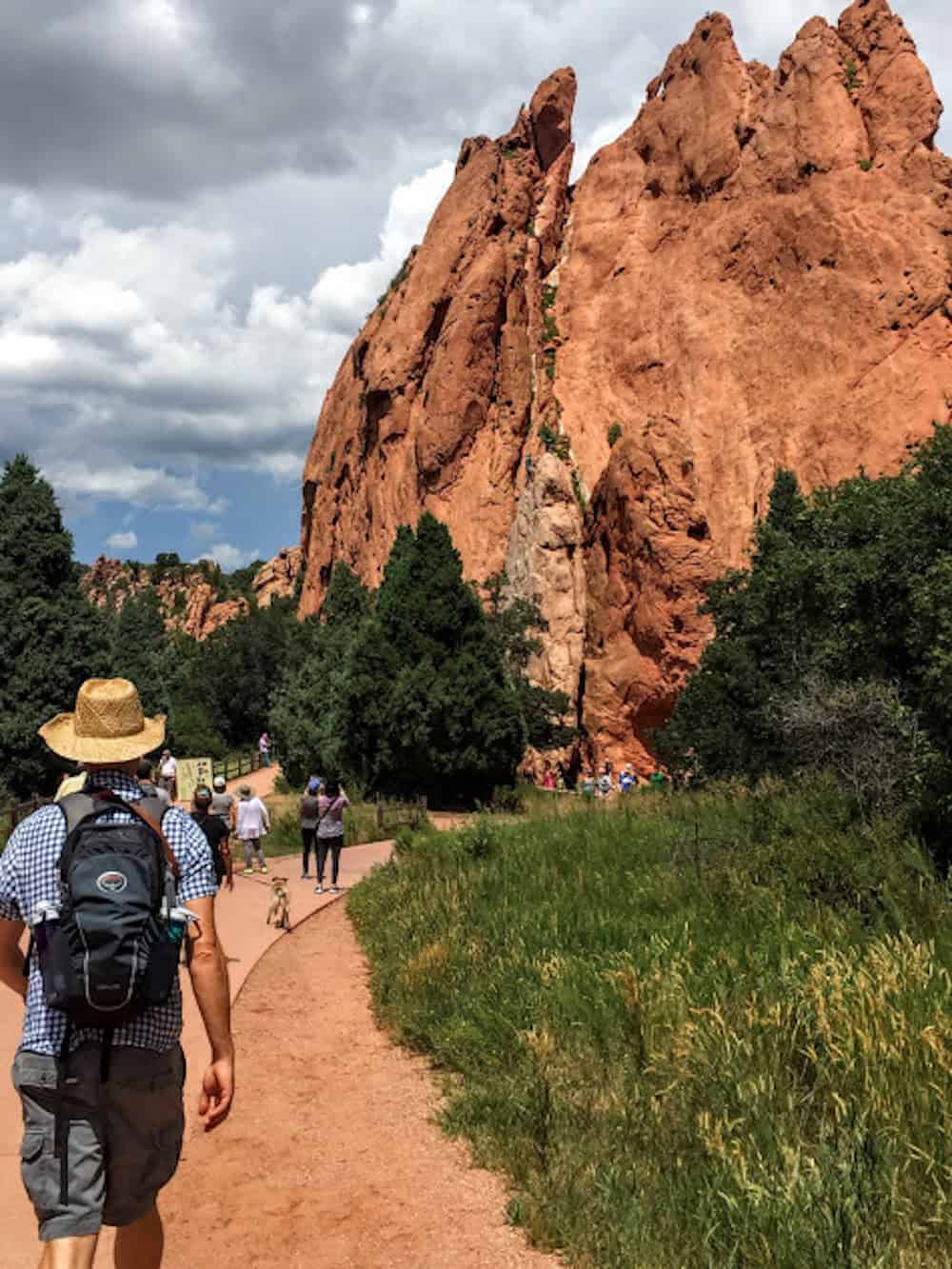 Colorado Springs is a city filled with trails for anyone to enjoy, no matter your skill level or goals! Whether you are planning a multi-day trip through Pike National Forest, or looking to explore the unusual red rock formations in the middle of town, enjoy your stay in this beautiful city!
Remember to follow Leave No Trace principles while on the trails so that others can continue to enjoy them! Only camp in designated areas or follow dispersed camping guidelines.
Related Read: 11 Beautiful National Forests in Colorado for Outdoor Recreation
Where To Stay Near Colorado Springs
Looking for a basecamp for your next Colorado adventure? Check out our guides to the best secluded cabin rentals and glamping resorts for tips on where to stay. You can also check out some of the best Colorado Springs cabin rentals available for your next trip.
If you're in the mood for an unforgettable glamping experience, head to the Black Tree Resort in Lake George.
Conveniently located about an hour west of Colorado Springs in Pike National Forest, it's the perfect spot for adventurous families and active couples.
Hike More of Colorado
Sign up for the Weekend Wanderer to join thousands of readers getting epic travel, hiking, camping and gear ideas every week.
---