We research, evaluate and select travel destinations based on a number of factors, including our writers' experience, user reviews and more. We may earn a commission when you book or purchase through our links. See our editorial policy to learn more.
---
If the mountains are calling, what better way to answer the call than with a stay at one of the Denver area's best cabins?
It's no secret that Colorado is a haven for outdoor exploration. And it's even more convenient that some of the state's best attractions, like the Rocky Mountains, Garden of the Gods, and sweeping national forests, are all within an hour or two from the capital city. Hike, bike, ski, and more — all you need is a sturdy pair of boots, a camera, a sense of adventure, and maybe a few downloaded maps.
One of the best ways to enjoy the beauty of the Colorado wilderness is by booking a cozy cabin rental stationed outside of the city. Airbnbs are an excellent way to experience the comforts of home coupled with luxury amenities for a price that's cheaper than crowded hotels.
And better yet, they're often tucked away in stunning natural locations that offer both small-town charm and front row seats to some of the best sunsets you'll find in the west. Below, you'll find a round up of some of the best cabin rentals near Denver so you can sleep in the wilderness while still getting the benefits of the big city.
Related Read: 7 Scenic Weekend Road Trips from Denver
1. Riverside Home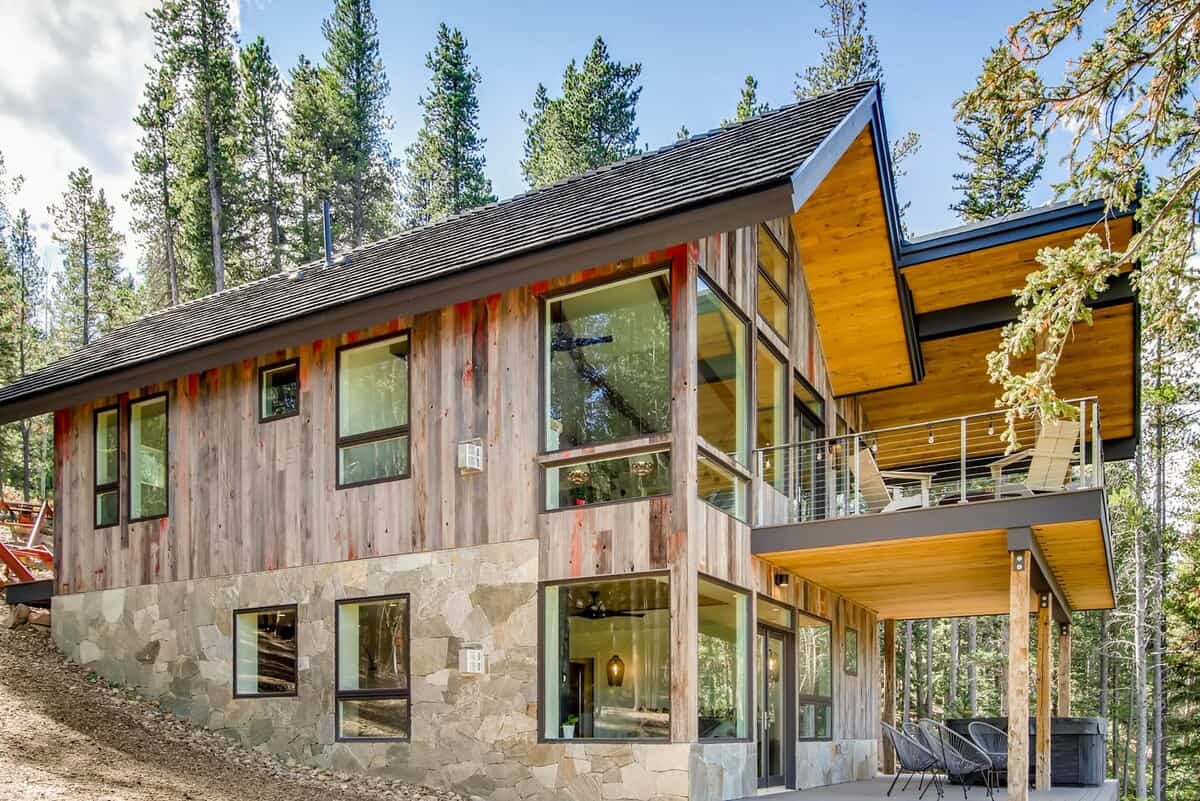 Why you should stay: A luxury cabin rental with five-star amenities and incredible views.
Nearest town: Black Hawk
Sleeps: 4
Minimum stay: 1 night
Rates from: $438/night
Drive to Denver: 49 minutes
This two-bedroom riverside home easily steals the title for one of the best cabin rentals near Denver for its immaculately clean interior, expertly designed decor, and peaceful location. Numerous windows allow natural light to spill into the home's vaulted ceilings and fill every corner of the kitchen and living room, which also features a natural case fireplace. There's another fireplace in the sweeping primary bedroom, too.
When you can tear yourself away from the beauty of the interior, the home's sweeping valley and river views from the spacious and partially covered deck will blow you away. Enjoy grilling out and dining al fresco before hopping into the four-person hot tub for a soothing soak. Eldora Mountain Resort and Eldorado Canyon State Park are a short drive away, and downtown Denver is just under an hour.
Check Availability
Related Read: 12 Amazing Cabins in Colorado with Hot Tubs
2. Classic Log Cabin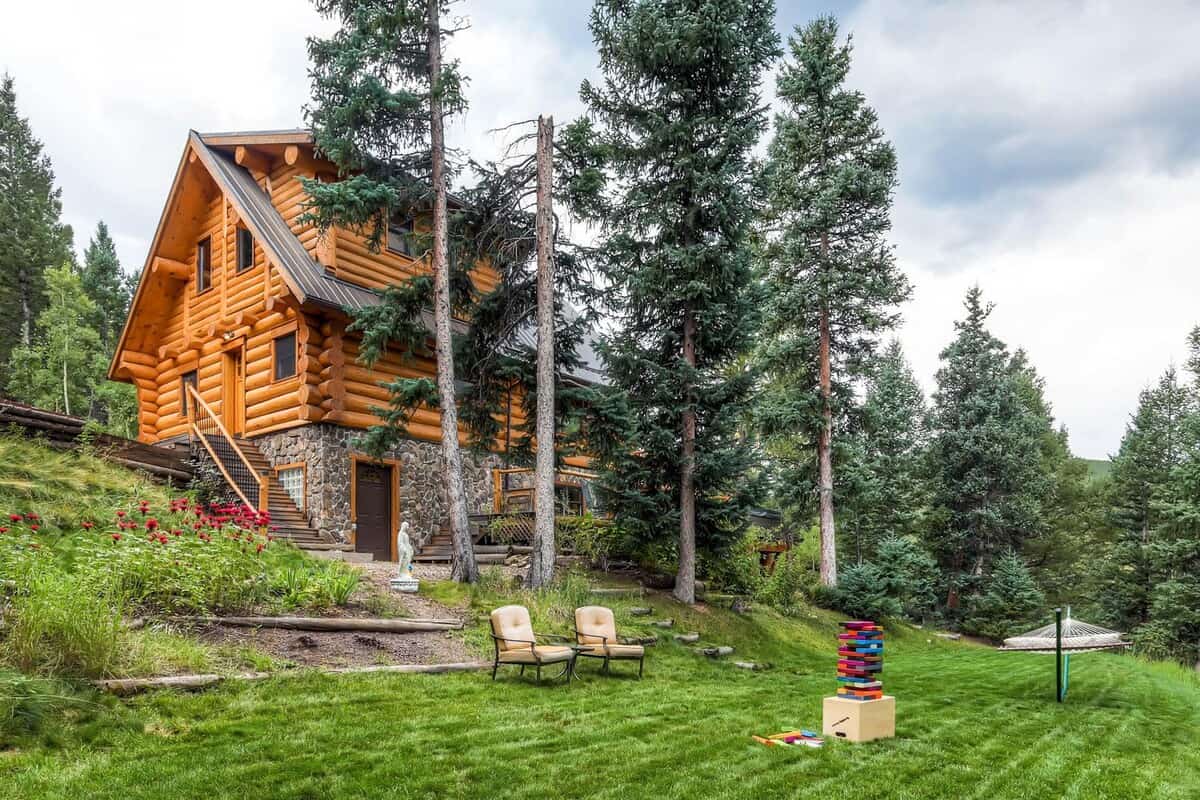 Why you should stay: Experience classic mountain living in a cabin overlooking a river.
Nearest town: Black Hawk
Sleeps: 4
Minimum stay: 1 night
Rates from: $378/night
Drive to Denver: 50 minutes
Serene mountain vistas await you at this Black Hawk log cabin. Spend your time lounging on this two-bedroom cabin's charming balcony strung with lights, or get warm and toasty in the bubbling hot tub. There's also a barbecue, fire pit, hammock, and yard games galore to ensure you're able to enjoy your time in nature.
Chalet-style windows and the thick log walls create an inviting interior that'll make you wish it was your permanent residence rather than just your temporary digs. The living room also features fabulous French doors that open to the mountain air, as well as a wood stove to keep you warm year-round. Nearby is the charming mountain town of Nederland, with great hiking, skiing, and tons of unique shops.
Check Availability
Related Read: 8 Small Towns in Colorado You Don't Want to Miss
3. River Bend Mountain Retreat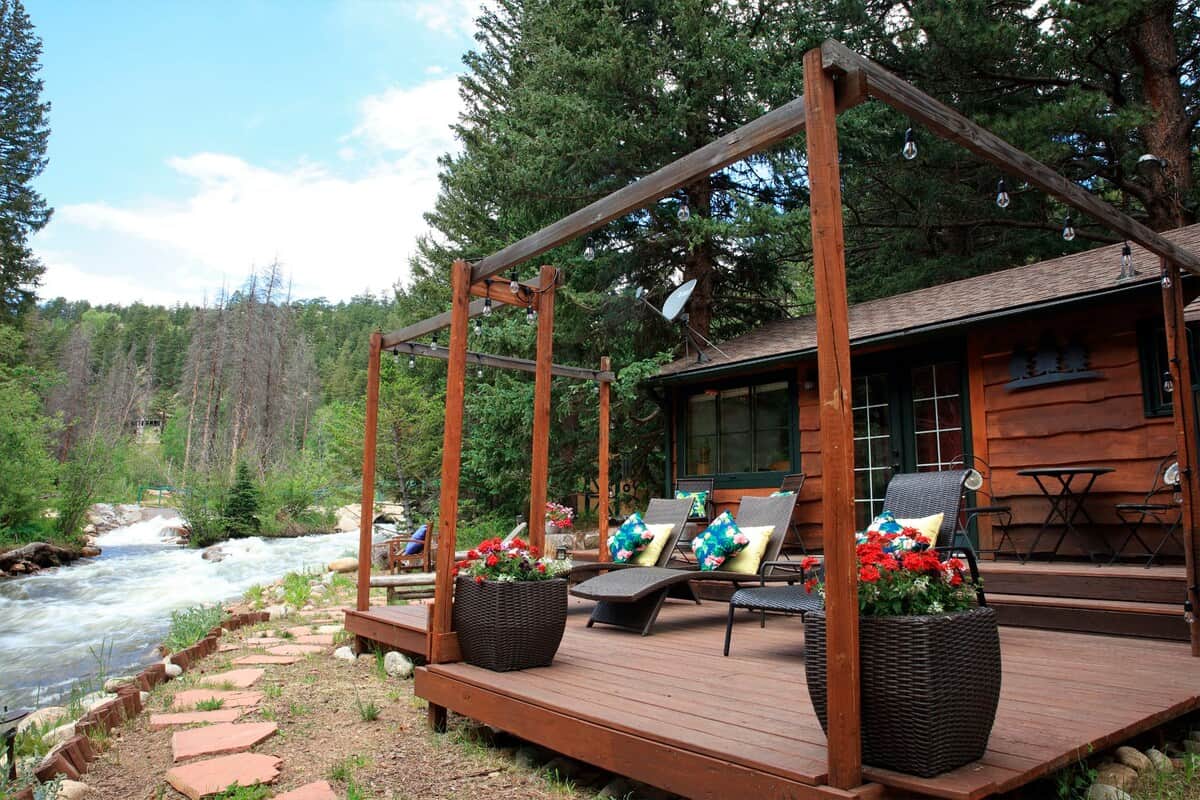 Why you should stay: Find peace and quiet in Lyons at a lovely little cabin rental situated in a river bend.
Nearest town: Lyons
Sleeps: 8
Minimum stay: 2 night
Rates from: $249/night
Drive to Denver: 55 minutes
Located about 30 minutes from Estes Park and the Rocky Mountains National Park entrance, this river bend mountain retreat is a wonderful rustic oasis that allows pups. It boasts a wooden deck with twinkling lights next to the picturesque passing river. And thanks for the comfortable reclining chairs, you could easily spend all day with a good book, listening to the sounds of nature.
Inside, a fireplace and wood-burning stove will keep you toasty warm. There are two bedrooms, as well as a third detached bunkhouse with a queen bed just feet from the main cabin that offers a bit of privacy for larger groups. Boulder Falls and Alberta Falls are nearby as well as other beautiful Estes Park hikes. Though it's close to Denver, there's enough to do near Lyons alone that you'd be forgiven for never actually heading into the city.
Check Availability
Related Read: 8 Small Towns in Colorado You Don't Want to Miss
4. Creekside Cabin
Why you should stay: Explore the best of Conifer while basecamping by calming pines and a creek.
Nearest town: Conifer
Sleeps: 6
Minimum stay: 3 nights
Rates from: $270/night
Drive to Denver: 37 minutes
Venture to the quiet foothills of West Denver in this creekside cabin. It has on-site laundry, a well-appointed kitchen, and a mudroom perfect for storing ski and hiking equipment. You'll also enjoy the spacious living room with wood burning stove, a spacious bathroom, and two bedrooms, plus a queen bed in the common area.
A covered deck provides shelter to enjoy your morning coffee, and there's no better place to spot wildlife, especially while you're still in your P.J.'s. The Flying J Ranch Park Trailhead is under a mile away, and Mount Evans and the Red Rocks Trading Post Trail are also super accessible.
Check Availability
Related Read: 10 Relaxing Cabin Rentals in Breckenridge, Colorado
5. Log Haven Lodge
Why you should stay: Homey cabin near Denver perfect for a large family trip.
Nearest town: Indian Hills
Sleeps: 10
Minimum stay: 1 night
Rates from: $335/night
Drive to Denver: 30 minutes
The Log Haven Lodge is a quaint four-bedroom log home complete with a rugged decor and a wood stove backed by a stone wall. Everything you need for a family vacation is provided, including a spacious dining room with seating for 10, a well-equipped kitchen, a kitchenette on the ground floor, and a roomy living room. There's even a sunroom turned into a fun entertainment space with a shuffleboard table and foosball table.
Indian Hills is a very small, very beautiful mountain town with excellent wildlife viewing opportunities.
Check Availability
Related Read: 6 Scenic Drives Near Denver for When the Mountains are Calling
6. The Retreat to the Enchanted Forest
Why you should stay: Escape to an updated mountain cabin less than a half-hour from downtown Denver.
Nearest town: Golden
Sleeps: 7
Minimum stay: 3 nights
Rates from: $392/night
Drive to Denver: 25 minutes
The Retreat at the Enchanted Forest is located at 7,000 feet in the forested foothills just above Golden. It's the perfect spot if you need a mountain getaway that's still an easy drive back down to the city. The four-level home is fully modernized and has lots of relaxing spaces to kick back, including an indoor hot tub facing view windows looking into the forest .
The cabin is located very close to the the APEX Trailhead, with the Enchanted Forest Trail running just beyond the property boundary, making this a great getaway for those looking to explore the forest from their doorstep.
Check Availability
Related Read: 7 Incredible Glamping Destinations Near Denver, Colorado
7. Luxury Log Cabin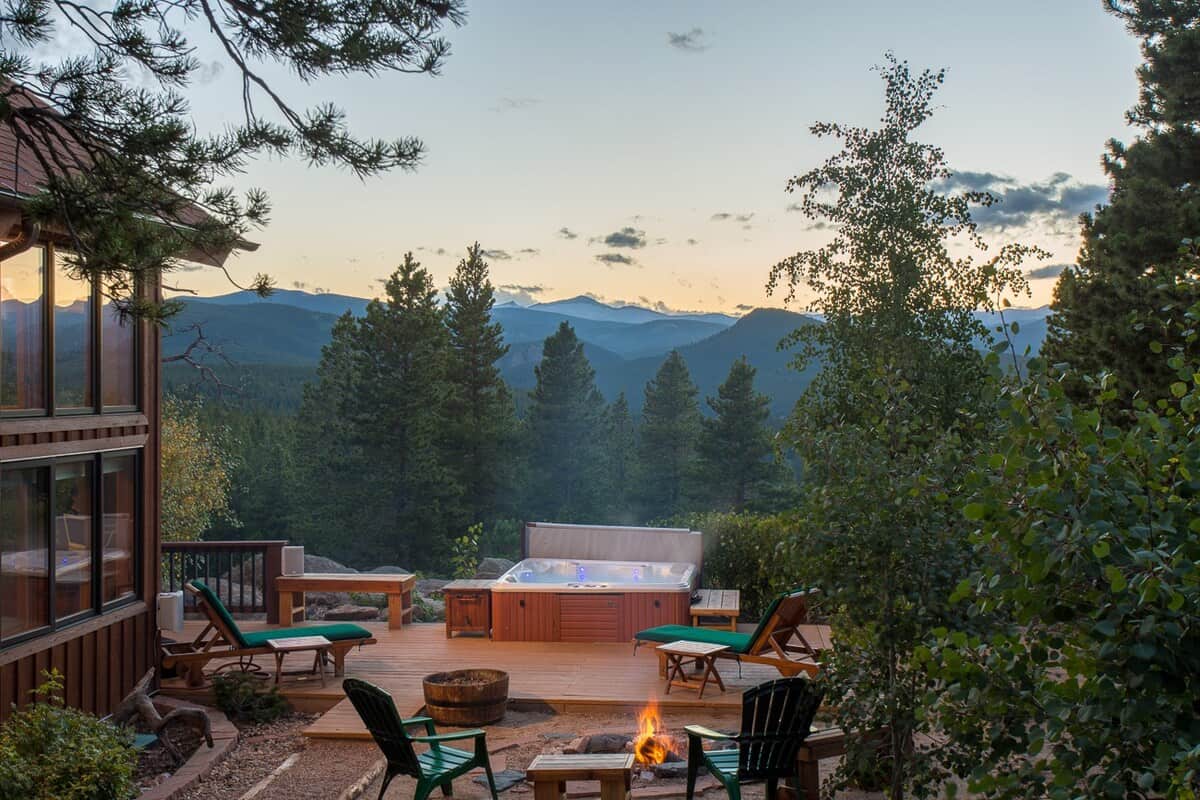 Why you should stay: A secluded 54-acre property with everything you need for a memorable romantic getaway.
Nearest town: Black Hawk
Sleeps: 2
Minimum stay: 3 nights
Rates from: $399/night
Drive to Denver: 49 minutes
This luxury log cabin outside of Denver may be an Airbnb, but it feels like a wilderness resort. The primary suite has a comfortable king bed and a spacious bathroom with a walk-in shower.  The home is on 54 acres and is a veritable outdoor playground, from the firepit and hammocks to the mountain-view hot tub to the on-site trails and paths.
But if the weather outdoors isn't ideal for lounging in the wilderness, no problem, as the home has a second indoor hot tub in the sunroom. There's even a theatre room, perfect for both rainy days and relaxing after an active day exploring Denver.
Check Availability
Related read: 5 Spectacular Native American Ruins in Colorado You Can Visit Today
8. Boho Mod Cabin
Why you should stay: A charming creekside stone cottage pulled from the pages of a fairytale.
Nearest town: Idaho Springs
Sleeps: 4
Minimum stay: 1 night
Rates from: $300/night
Drive to Denver: 40 minutes
Nestled next to a babbling creek just outside of Idaho Springs is the magical boho mod cabin. This owners renovated the vintage cabin with gleaming wooden floors, bohemian and neutral furnishings, a fireplace, and a lovely triple french door that connects the living room to the outside.
The home has a kitchenette complete with a microwave, fridge, and sink and one bedroom with a queen bed. There are two additional sleeping spaces in the living room. There isn't cell service to be found, and the Wi-Fi is spotty, but since it's only 40 minutes to Denver, you'll have plenty of service once you get a mile or so away from the house.
Check Availability
9. Front Range A-Frame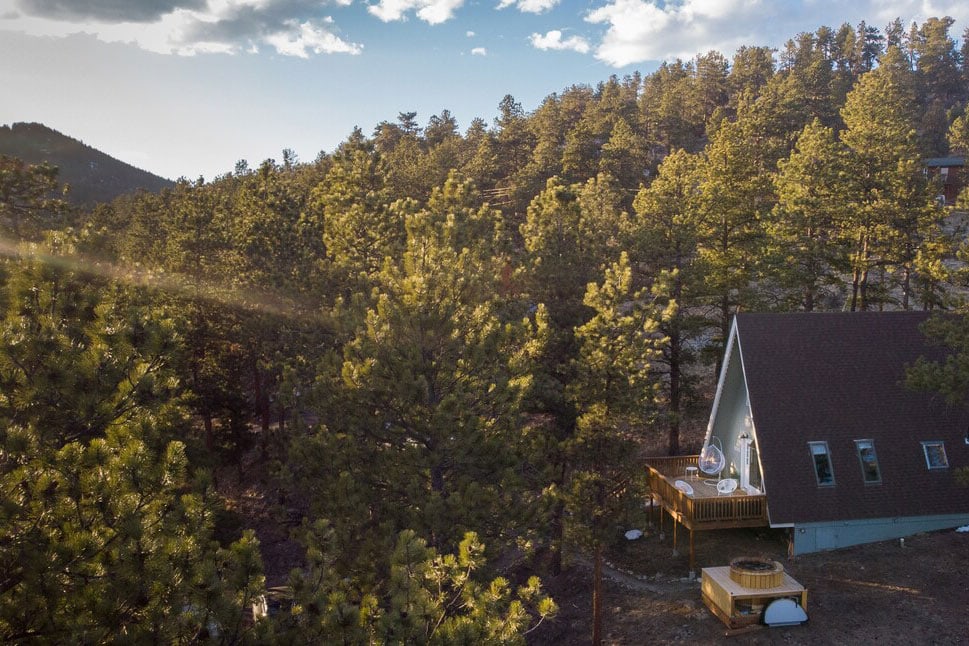 Why you should stay: Recently renovated with vintage mid-century vibes and a "cedar" hot tub.
Nearest Town: Bailey
Sleeps: 5
Minimum stay: 2 nights
Rates from: $173/night
Drive to Denver: 60 minutes
Originally built in the 1960s, the Front Range A-Frame offers up an awesomely quirky experience in the forest high above Denver — check out the before and after photos to see the home's recent transformation.
When you're not chillin' in the cozy living room, you'll love soaking up the woodsy smells of the "cedar" hot tub or lounging under the pines on the back porch. For those ready to get out into nature, there's plenty of options — like hiking the nearby trail to sweeping views atop Mount Bailey, fishing the neighborhood fishing pond, or playing around at the local disc golf course.
Check Availability
10. Cabin in the Pines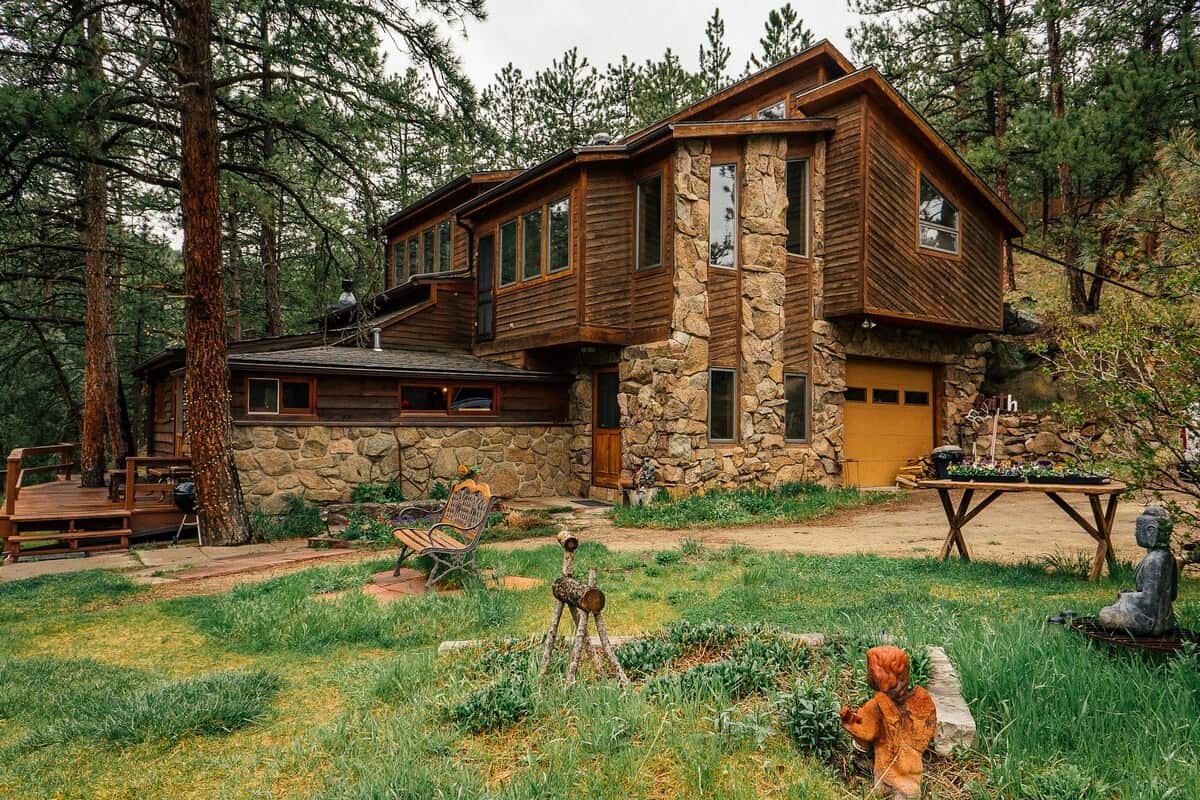 Why you should stay: A unique wood-and-stone home near Denver and Boulder.
Nearest town: Boulder
Sleeps: 6
Minimum stay: 3 nights
Rates from: $400/night
Drive to Denver: 35 minutes
See what Boulder has to offer in this semi-secluded cabin in the pines, peacefully located in the forest. This cabin has a wrap-around deck and multi-level patio seating looking out on a creek that attracts woodland wildlife.
Popular Boulder attractions like the Mount Sanitas Trailhead and Chautauqua Park are only a short drive away. It's a cool college town with amazing live music, including the world-famous Red Rocks amphitheater.
After a day of exploring, come home to tongue and groove pine paneling, geometric window panes, and skylights that let sun light up the house. Potted plants, string lights, and eclectic textiles dot the interior and help to amp up the cozy factor in this one-of-a-kind Denver and Boulder Airbnb.
Check Availability
Plan Your Trip to Denver
Some of Colorado's top attractions are just outside the city and include mountain hikes, skiing adventures, and scenic drives. Here are the best things to do near Denver during your stay — aside from exploring the entire city, of course.
Explore Colorado
Get epic travel ideas delivered to your inbox with Weekend Wanderer, our newsletter inspiring more than 10,000 readers every week.
---