We may earn a small commission when you make a purchase or booking through our links. It doesn't affect what we feature, but it does keep the lights on. Read our editorial policy to learn more.
---
Planning a vacation to Denver? Your cabin awaits.
When adventure calls, Denver answers year-round with world-class outdoor activities. During the warmer months, head to the mountains for some of the best hiking, climbing, mountain biking, and river rafting in the United States. Over winter you can grab your skis or snowboard and hit the slopes, or hop on a snowmobile for an epic backcountry tour.
After a day of adventure in the mountains, head to downtown Denver for an exciting evening with eclectic local cuisine, delicious craft beers, and live music. Rain, snow, or shine, there's always something to do around here.
Whether you're seeking entertainment in the city, adventure in the mountains, or hopefully a little bit of both, staying in a cabin is the best way to upgrade your Denver vacation. You'll enjoy the Rocky Mountains in true rustic fashion with plenty of space to wind down in privacy, far away from the busy hotels and resorts in town.
To help you find the best accommodations, we've scouted out the best cabins in and around Denver. Whether you're looking for small and simple or grand and spacious, we've got you covered.
Colorado Bear Creek Cabin
The Colorado Bear Creek Cabin in Evergreen is a beautiful log cabin that sits just twenty feet away from a stream. Enjoy the view from your deck, or sit a little closer to the creek on the lounge chairs a few feet from the water.
This cabin is number two in a family of four log cabins, so feel free to book two, three, or all four if you have a big group. The cabin has a beautiful handcrafted pine headboard on the queen bed, plus a flat screen TV with Comcast cable and WiFi.
The Colorado Bear Creek Cabin holds two guests. It's 350 square feet and has one bedroom and one bathroom, with log beam walls and a fully equipped kitchen area. The owners provide a coffee maker with fresh coffee, so you'll enjoy a hot cup of Joe every morning.
View Listing
Highlights:
Sits right next to a stream
Rustic look and feel
Flat screen TV with cable and WiFi
Three sister cabins nearby for coordinated bookings
Boho Chic Cottage
With excellent mountain views and a truly unique sense of style, the Boho Chic Cottage is perfect for your Denver vacation.
Outside, there's a covered front deck with a BBQ. Inside, the living room features a beautiful grand piano, multiple guitars, a sound system, a smart TV, and a wood-burning stove — the perfect place for a cozy night in. You'll even enjoy mountain views from the kitchen as you wash the dishes in the deep farmhouse-style sink.
With four bedrooms and three bathrooms, this cabin is the right size for six guests. The bedrooms have memory foam mattresses on the beds and room-darkening shades on the windows to help you sleep on vacation. One bedroom also has a travel crib. The full bathroom has heated floors and a walk-in shower.
The cabin is located between Denver, Boulder, and Golden, and is a 34-minute drive from Rocky Mountain Metropolitan Airport. The home is handicap accessible, featuring step-free access and a roll-in shower with a shower chair and handheld shower head.
View Listing
Highlights:
Mountain views from almost every room
Grand piano, guitars, smart TV, and a sound system
Creative decor and antiques throughout home
Handicap accessible
Log Haven Lodge
The 1937 hand-hewn Log Haven Lodge is adorable on the outside and surprisingly spacious indoors. Described as the "quintessential Colorado experience," it's the perfect place to relax and enjoy a cozy Colorado winter or a long summer night. The sun room has board games, a foosball table, and shuffleboard, and you'll enjoy lots of natural light throughout the cabin.
The 2,000-square foot cabin is a raised ranch with enough space for 10 guests between four bedrooms, seven beds, and two bathrooms. Given the space and capacity, it's an excellent choice for large groups.
The Log Haven Lodge sits west of Denver, about 15 minutes from Red Rocks and not far from Echo and Loveland Mountains. During the winter, a four wheel drive vehicle is recommended.
View Listing
Highlights:
Spacious cabin with enough room for 10 people
Game room with foosball, shuffleboard, and board games
Convenient location west of Denver
Mt. Evans Cabin
Mt. Evans Cabin sits on 150 acres at an elevation of 9,600 feet. It's an outdoor paradise with an amazing view of the continental divide, several private waterfalls on the property, and a variety of local wildlife including deer, elk, bears, foxes, and birds.
The closest neighbor to the Mt. Evans Cabin is a half-mile away, providing you plenty of privacy. Even better, while it feels private and in touch with nature, the cabin is actually just a few minutes away from some of the best skiing in the country.
The 2,000 square foot cabin also includes a traditional Finnish sauna, which is a separate building made of whole logs containing a cold water faucet and a hot water tank.
The Mt. Evans Cabin is located between Evergreen and Idaho Springs, less than an hour from Denver. There's plenty of space for eight people between three bedrooms and three bathrooms.
The kitchen has a gas range, cookware, and spices, and the cabin also features a washer and dryer. In the TV room, there's a 40-inch flat screen TV with satellite, a DVD collection, and a few games to keep you company on a rainy day. The deck faces the continental divide, so you can use the grill and fire pit while enjoying epic views of the surrounding area.
View Listing
Highlights:
150 acres of land filled with waterfalls and wildlife
Traditional Finnish sauna
Satellite TV and WiFi
Deck features a grill, fire pit, and views of the continental divide
Evergreen Log Cabin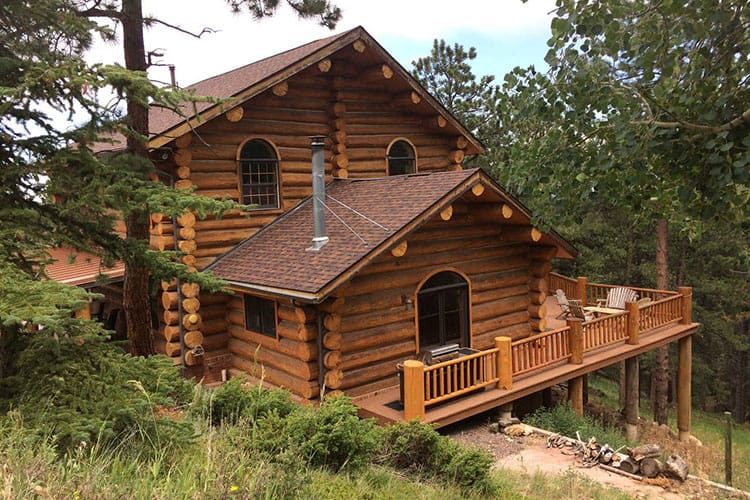 The four-bedroom Evergreen Log Cabin is a rustic-modern home that looks like it's made of Lincoln Logs. It's peaceful and quiet, tucked away in the mountains on 12.5 acres of private land. The cabin features a small library in the sun room, a wood-burning fireplace in the den, and a wraparound deck with two grills.
With 3,800 square feet, four bedrooms, and 3.5 bathrooms, there's plenty of space for eight guests. There's WiFi throughout the cabin, and movie channels available through DirecTV.
The cabin is 35 minutes away from Denver and 15 minutes from downtown Evergreen. It's a particularly popular vacation rental for wedding groups, though you'll want to book well in advance.
View Listing
Highlights:
Rustic feel with modern amenities
Situated on 12.5 acres of land
Great for large families
DirecTV and Internet
Remodeled Conifer Cabin
The Remodeled Conifer Cabin outside of Pleasant Park Corridor has one deck and plenty of mountain views. Inside, the cabin features beautiful hardwood floors, a cozy wood-burning stove, and a spacious island breakfast bar.
At 1,193 square feet, this cabin sleeps four guests with two bedrooms and one bathroom. An office space is available with a computer and printer, and both bedrooms have flat-screen TVs. The cabin also comes with a washer, dryer, and treadmill, though there's enough fresh countryside outside your doors that the latter shouldn't get much use.
View Listing
Highlights:
Large deck with beautiful views
Cabin includes a computer and printer for remote working
Laundry facilities on-site
Rocky Mountain Home
This romantic and rustic Rocky Mountain Home lives up to its name. Recently remodeled and filled with eclectic design features, the home is bright and welcoming with lots of wooden accents and greenery throughout. We particularly love the the aspen tree mosaic in the rain-style shower, which was designed by the homeowner.
Between the one bedroom, two bathrooms, and pullout sofa bed, there's enough space for four guests in this cabin. The fully equipped kitchen includes a new vintage refrigerator, and wireless internet is available. Guests also receive access to a washer/dryer combo and 2-3 parking spaces.
The back deck has a hammock and lots of seating, making it the perfect place to enjoy the fresh Colorado air. The cabin even has a cedar spa room with an indoor hot tub, and radiant-heated adobe floors throughout to keep you warm.
Originally built in 1973, the cabin sits on 1.6 acres in Coal Creek Canyon, about 45 minutes away from Denver. It's a great choice for hikers, rock climbers, and creatives who need a few days to get away and write, draw, paint, or compose.
View Listing
Highlights:
Beautiful, recently remodeled cabin
Cedar spa room with indoor hot tub
Backyard deck with a hammock and plenty of seating
Roosevelt National Park Cabin
The Roosevelt National Park Cabin looks like it belongs in a Hallmark Christmas movie. The secluded cabin is just minutes from Eldora Ski Resort, and the cabin's property borders Roosevelt National Park.
The cabin has a sun room and two outdoor decks with a gas barbecue. Inside, there's enough space for six guests with two bedrooms and one bathroom. You'll have access to high-speed internet, cable, Netflix, surround sound, and a wood-burning stove to keep warm.
If you start to get cabin fever, it's a short drive to the recreation center where you'll find two pools and a fitness area. The minimum stay is two nights, making this cabin a great weekend getaway from Friday to Sunday.
View Listing
Highlights:
Borders Roosevelt National Park
Pet friendly
Internet, cable, Netflix, surround sound
Pine Junction Cabin
Located about 50 minutes from Denver, the Pine Junction Cabin features beautiful mountain views. It's rustic and cozy, with ample sleeping and seating for just about anyone you want to bring along on vacation.
The Pine Junction Cabin is spacious and inviting with high ceilings and floor-to-ceiling windows in the great room. Outside, the balcony and garden tub are great places to relax. Inside, you'll enjoy a wood-burning fireplace (wood provided) and two flat screen TVs with cable and a DVD player.
With 2,040 square feet and two bedrooms, this cabin can hold up to 14 guests. There's plenty of parking, and you can approve large events with up to 50 people ahead of time with the homeowner.
View Listing
Highlights:
Spacious and roomy
Property is available to host events (with approval)
Amenities include cable, fireplace, balcony, and garden tub
Black Hawk Log Cabin
The Black Hawk Log Cabin sits on South Boulder Creek with a four-person hot tub, a BBQ grill, and a fire pit — the perfect ingredients for a mountain getaway. The front yard has a hammock, lounge chairs, and outdoor games, including corn hole.
The 1,200 square foot cabin holds four people and has two bedrooms and two bathrooms. There's an elliptical in one bedroom for morning workouts, but we recommend getting your cardio on one of the two private hiking trails within walking distance of the cabin. The entire home is 1,200 square feet and has free WiFi and a TV.
View Listing
Highlights:
Ideal for a family of four
Access to private hiking trails
TV and WiFi
Outdoor amenities include a hot tub, BBQ grill, fire pit, hammock, and corn hole
Morrison Log Cabin
The mammoth-sized Morrison Log Cabin is the ideal Denver retreat for large families who want to stay close to the city without losing the mountain vibes of a secluded cabin. The cabin is a short 15-minute drive from Red Rocks Ampitheatre, so it's perfect for travelers with an eye on an upcoming concert.
The Morrison Log Cabin sits on 8+ acres with a private pond, and there's a paddle boat available for an additional fee. You can rent the whole cabin, or you can just grab a single room if you want to keep your costs down. When you're not hiking around the property or paddling around the pond, enjoy the fresh mountain air from the hot tub or fire up the BBQ grill.
This cabin has four bedrooms, four bathrooms, and enough space to fit up to 10 guests. Pets are allowed for an additional fee.
View Listing
Highlights:
Sleeps up to 10 guests
8+ acres with a private pond
Multiple outdoor decks with seating and a hot tub
Pet-friendly (extra fee)
Things to Do
Denver has no shortage of activities. Many of the cabins on this list are surrounded by hiking and biking trails, while others are close to Red Rocks, Denver's famous open-air amphitheater. And don't forget about Rocky Mountain National Park — here's our guide to the park's 10 best hikes.
If you visit Denver during the winter, enjoy skiing at resorts like Keystone, Winter Park, and Breckenridge. In Conifer, Denver Adventures is a fun place for the kids to burn off some energy through rock climbing, whitewater rafting, mountain biking, and zip line tours. When the kids are done for the day, stop by Brooks Place Tavern for dinner on the way home.
Enjoy some of Denver's craft beer at a brewery like Mad Jack's Mountain Brewery in Bailey, or eat at Roy's Last Shot, a dog-friendly restaurant and bar in Black Hawk. If you're staying near Bailey, go to the Sasquatch Outpost for an immersive Bigfoot tour that's an experience like no other.
No matter where you're staying, visiting downtown Denver is a must. Get in some retail therapy at the 16th Street Mall before catching a Colorado Rockies baseball game in the summer. Museums like the Denver Museum of Nature and Science are the perfect way to round out your Colorado vacation, with IMAX and planetarium shows that can help you better appreciate the beauty of the state.
---