I went to see comedian and "Portlandia" co-creator, Fred Armisen, in Boulder last year. Even he said Boulder is basically Portland. It's weird, it's outdoorsy, it has that "isolationist" attitude, it's a bit of a hippie town, but what makes it "Colorado" is the iconic geology and proximity to so many trails and parks.
Boulder has gained a lot of popularity over recent years because it is a rock climber's paradise and a hiker's gateway to the Rocky Mountains. It is very easy to get outside in Boulder due to the amount of parks, trails, and giant rock formations around every corner. It's a community that simply loves to get outside and enjoy all that Colorado has to offer.
Best Hikes Near Boulder
This list of hikes in the Boulder area includes trails in state parks, National Forests, open spaces, etc. that all have different parking/entry fees and regulations. Please pay attention and abide by the designated rules of each area.
And as always, please follow Leave No Trace principles when visiting Colorado's beautiful trails.
1. First & Second Flatiron Trail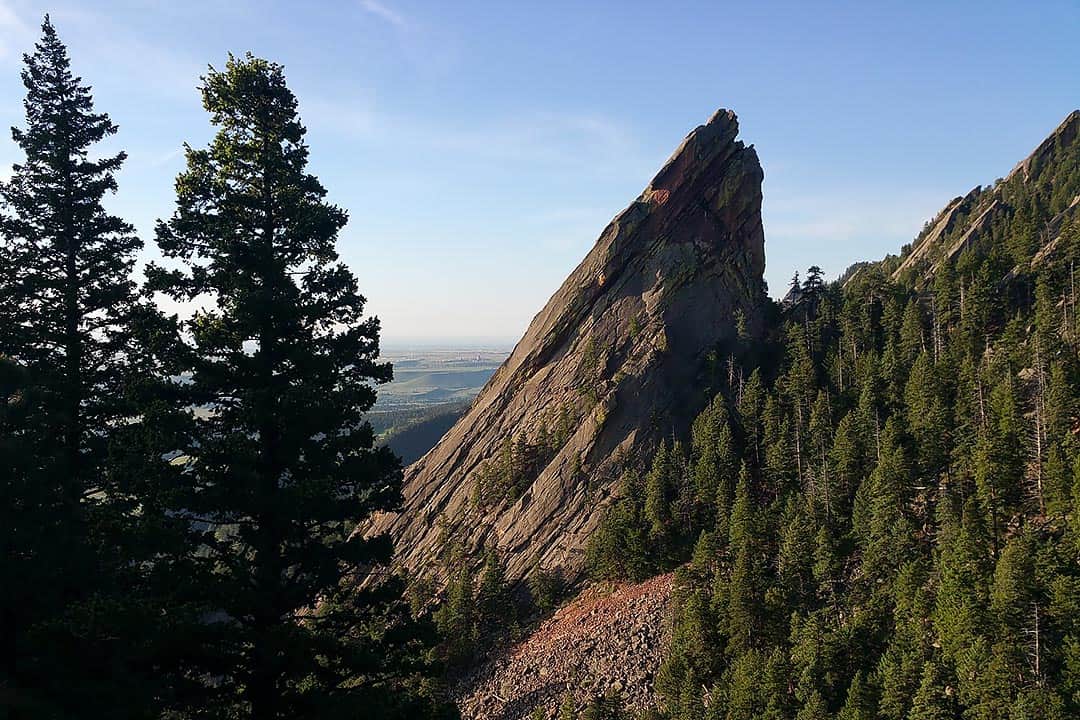 Why you should go: Get up close and personal to Boulder's iconic "Flatiron" rock formations.
Difficulty: Moderate
Distance: 2.4 miles
Elevation Gain: 1,446 feet
This trail is a must-see for anyone visiting the area! This is a quick trail you can add to any busy day of touring. The views of the city below makes for a great sunrise or sunset hike. For its distance, this trail does pack in a decent elevation gain. It's a great workout and certainly makes for a very rewarding trail run.
If you're new to the elevation, be sure to rest along the trail! There are several picturesque spots to take breaks along the way. All trails in the Boulder Open Space are well marked, making it easy to explore the surrounding trails. Dogs are welcome on this popular trail as well.
There are a few steep sections that could be considered "technical" hiking. There's never any intense exposure, but I highly recommend checking recent trail conditions on AllTrails or Hiking Project before heading out. These sections can often be slippery or still covered in snow and require some sort of micro-spike or trekking poles.
Related Read: Mile High Hiking: 15 Best Hikes Near Denver, Colorado
2. Eldorado Canyon Trail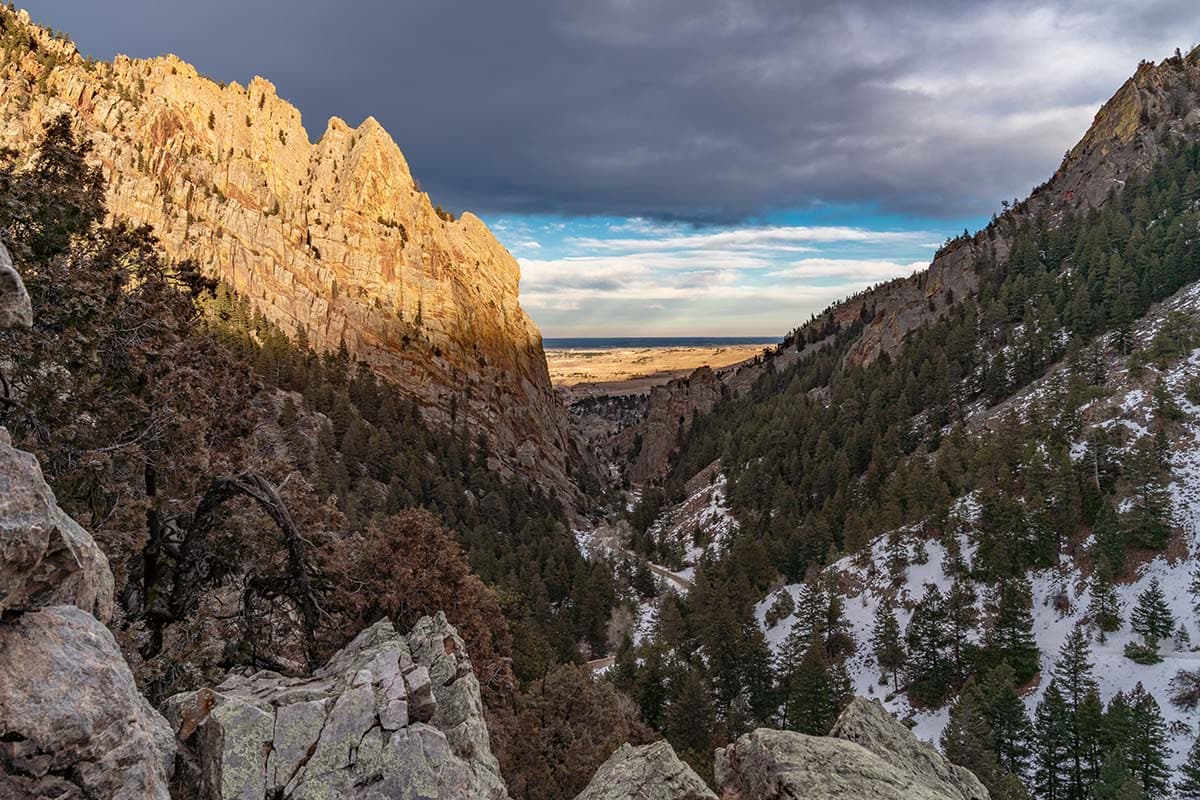 Why you should go: Explore all that Eldorado Canyon State Park has to offer, including the Continental Divide!
Difficulty: Moderate
Distance: 6.2 miles
Elevation Gain: 1,945 feet
Home to more mining claims than residents, the small town of Eldorado Springs will take you back in time. At the end of the town, you'll find Eldorado Canyon State Park. Eldorado Canyon Trail is this park's "staple" and its highest recommended trail for first-time visitors.
Most of the elevation gain is early on in the trail. After this steep section, the trail evens out and you'll see beautiful views throughout the trail. Among the prominent conglomerate sandstone cliffs, you'll get remarkable views of Denver and the surrounding Rocky Mountain foothills. And, of course, to the West you can see the Continental Divide.
Eldorado Canyon State Park is popular, but due to its isolated location, I've never experienced crowding on any trails. In general, this area is more popular among rock climbers than hikers.
Related Read: 10 Best Hikes in Colorado for Getting Out into Nature
3. Beaver Brook Trail
Why you should go: Adventure through meadows, pine forest, and boulder fields on Beaver Brook Trail.
Difficulty: Hard
Distance: 9.7 miles
Elevation Gain: 1,660 feet
Beaver Brook Trail is located near Golden, just southwest of Boulder. This trail's "hard" rating comes from some more technical sections along this trail. There are a few large boulders that must be climbed over (nothing that requires gear) and some steep scree sections that can be grueling.
This trail is lightly trafficked and is a great way to spend the day if you're looking for an all-day activity. Wildlife is very active in this part of the foothills. Hikers often see deer, raptors, bull snakes, black bears, and even one report of a mountain lion sighting! On that note, do be cautious on this trail and keep any unwanted guests at bay by hiking with company.
There is so much diversity along Beaver Brook Trail. Between brook crossings, lush meadows, thick pine forest, and boulder fields, this trail as it all.
Related Read: 7 Beautiful Hikes Near Red Rocks Amphitheatre, Colorado
4. Bear Peak via Shanahan Ridge Trail
Why you should go: Challenge yourself to the summit of Boulder's second tallest mountain!
Difficulty: Hard
Distance: 4.5 miles
Elevation Gain: 2,611 feet
This trail is in Boulder Open Space and is open year-round. The elevation gain is real and happens real fast! The trail has great shade, making this is a great summer outing.
The Shanahan Ridge Trail is less popular than the Open Space's Flatiron trails and a great way to skip the crowds. The Shanahan Ridge Trail is quite easy going — it's only when you split off for the summit when you really start to see some serious elevation gain.
The summit views explain why so many people love this trail despite the pain and scrambling. The last bit requires some bit of scrambling, so this trail might not be the best for dogs. Bear Peak's summit offers incredible 360-degree views of the foothills area and into Rocky Mountain National Park.
Related Read: The 10 Best Hikes in Crested Butte, Colorado
5. North Table Mountain & Rim Rock Loop
Why you should go: Make a quick getaway to Golden's North Table Mountain.
Difficulty: Easy–Moderate
Distance: 8.3 miles
Elevation Gain: 1,125 feet
This large loop trail takes you around Golden, CO's prominent North Table Mountain. The large mesa and its neighbor, South Table Mountain were formed by lava flows nearly 60 million years ago. Today, the mesas are home to much of Golden's wildlife.
This meandering loop is a great way to quickly get in a good hike or trail run without traveling too far. Its proximity to Denver and Boulder makes it a quick getaway. All trails are well marked, so larger or smaller loops are possible. The park's Lichen Peak Trail takes hikers to the highest point of North Table Mountain.
Related Read: The 10 Best Hikes Near Grand Junction, Colorado
6. Lake Isabelle via Long Lake Trail
Why you should go: Escape the crowds and find an epic escape in Indian Peaks Wilderness Area.
Difficulty: Moderate
Distance: 8.6 miles
Elevation Gain: 987 feet
The Indian Peaks Wilderness Area offers some of the most isolated trails and picturesque views. Unlike more popular areas, the Indian Peaks Wilderness sees little traffic in comparison. I would definitely consider it more of a local treasure. Only a short drive from Boulder, why not explore this unique space?
Backpacking is very popular in Indian Peaks — you can link up with trails throughout the surrounding Roosevelt National Forest to design any type of trip. The Lake Isabelle Trail is great for out-of-state visitors since it doesn't gain a lot of elevation. The incredible part of this hike? Are the views you get on a relatively low-incline hike! The lakeside and high mountain peak views of this area are nothing short of stunning.
While enjoying the views, keep an eye out for wildlife! Moose are frequently seen near the lakes and, although rare, on the trail itself. Do be cautious and do your best to keep your distance. If you are looking for more of a workout, you can link up with Isabelle Glacier Trail from Lake Isabelle. This trail ascends about 1500 feet in only 2.1 miles! After hiking in to Lake Isabelle, this addition is sure to leave you feeling accomplished.
Related Read: 10 Best Hikes in Rocky Mountain National Park, Colorado
7. Royal Arch Trail
Why you should go:  Hike up one of Boulder's favorite trails for epic town views.
Difficulty: Hard
Distance: 4 miles
Elevation Gain: 1,492 feet
Royal Arch is another popular trail that takes you into the Boulder Flatiron area. The elevation gain and stair climbing are what give this trail its "hard" rating. The trail starts off decently as you move through meadows and pine forest until you get closer to the rock formations.
The "stairs" become quite slippery in wet or snowy conditions and micro-spikes or any added traction is highly recommended. Be sure to hydrate and take as many breaks as you need on this trail! Birding is very popular in this area. There are many raptors and birds that are only local to the Colorado Rocky Mountains that call this area home.
Once you reach Royal Arch, you can see incredible views of the Flatiron rock formations, the town below, and even out over Denver. What makes this hike even more special are the wildflowers in the summer.
Related Read: Trekkin' Breck: 10 Best Hikes Near Breckenridge, Colorado
8. Apex & Enchanted Forest Loop Trail
Why you should go: Walk alongside a babbling brook in this rightfully named Enchanted Forest.
Difficulty: Moderate
Distance: 5.6 miles
Elevation Gain: 1,243 feet
Apex Open Space is near Golden, just southwest of Boulder and west of Denver. Its closeness to both cities makes this an easy trail to get outside if you're short on time. Due to gradual elevation gain, this loop is perfect for trail runs and easy-going hikes for the family.
The Enchanted Forest Loop is great if you are looking to avoid crowds. This specific linkup avoids the park's more well-known Gregory Wagon Road and Apex Road trails to take you through the park's most isolated spots.
This open space is open year-round, and this trail is perfect for snowshoeing! This part of the Front Range sees a lot of wildlife action. Deer, elk, raptors, moose, and foxes are often seen.
Related Read: 10 Unique Things to Do with Kids in Denver, Colorado
9. Green Mountain Loop
Why you should go: Hike this classic Boulder peak summit trail to gain incredible views.
Difficulty: Hard
Distance: 9.7 miles
Elevation Gain: 2,705 feet
At just under 3,000 feet of elevation gain, you won't ever forget this peak! Measuring in at 8,144 feet tall, Green Mountain may not be the tallest peak around, but the views from its summit speak for themselves.
Starting from the same Chautauqua Trailhead in Boulder Open Space as the Flatiron trails, you'll be able to overlook the geological wonder as well as the town below and into Indian Peaks Wilderness Area. This loop is a big linkup with several trails, so be sure to either bring a map or print off directions before heading out. All the trails are well marked in this park, so you'll just need the right trail names and where you'll be splitting off from each trail. The link below will provide all trail information.
This large loop trail is an all-encompassing trail of Boulder's wilderness. You'll dip into canyons, traverse ridge lines, dive deep into pine forest, walk through open meadows, oh…and summit a mountain. If you are acclimated to Boulder's altitude and only have time for one hike, I highly recommend this one!
Related Read: 11 Beautiful National Forests in Colorado for Outdoor Recreation
Explore More in Colorado
Sign up for the Weekend Wanderer to join thousands of readers getting epic travel ideas every week.
Was this article helpful?
---