The Rocky Mountains of Colorado are home to world-famous ski resorts, stunning alpine scenery, spectacular hiking and wildlife viewing opportunities — and numerous mineral hot springs.
As the mountains formed, the resulting deep faults and fractures connected groundwater heated deep within the bedrock to the pools you love to relax in. The hot springs in Colorado run the gamut from fully-developed, washed, and maintained indoor baths to free but primitive (and sometimes grimy) pools.
However, the water in all of them comes from deep within the Earth. Depending on which rock groups the water moved through alters the mineral composition of the spring — which is why some smell a bit more like sulfur than others. It may seem like a hot spring soak is only applicable during the part of the year when it's cold, snowy, and you want to warm up. But in Colorado, with pools of various temperatures and air temps that dip down low in the mountains even in the summer, a trip to the hot springs is great any time of year.
If you're looking for some of the nicest hot springs to enjoy in Colorado, here are 9 of the best to explore.
Related Read: 12 Best Places to Visit in Colorado for Unforgettable Adventures
1. Strawberry Park Hot Springs
Why you should go: A remote but beautifully built-up spot above Steamboat Springs.
Strawberry Park Hot Springs offers a remote and romantic atmosphere tucked into the forest above the town of Steamboat Springs. There are several open-air pools that vary in temperature, perfect for anyone's comfort level. Strawberry Park is the perfect way to unwind after a day of skiing or mountain biking.
It's always magical in the winter, but it's especially nice if there's a bit of light snow falling around you. If you're looking to stay up in the mountains for a bit, you can book one of the tent sites or cabins on the property for an overnight summer experience.
Keep in mind, this is a bit of a rustic experience, so there is no electricity, and you'll need to bring your own bedding, and there is a shared bathhouse with running water for guests to use.
2. The Springs Resort and Spa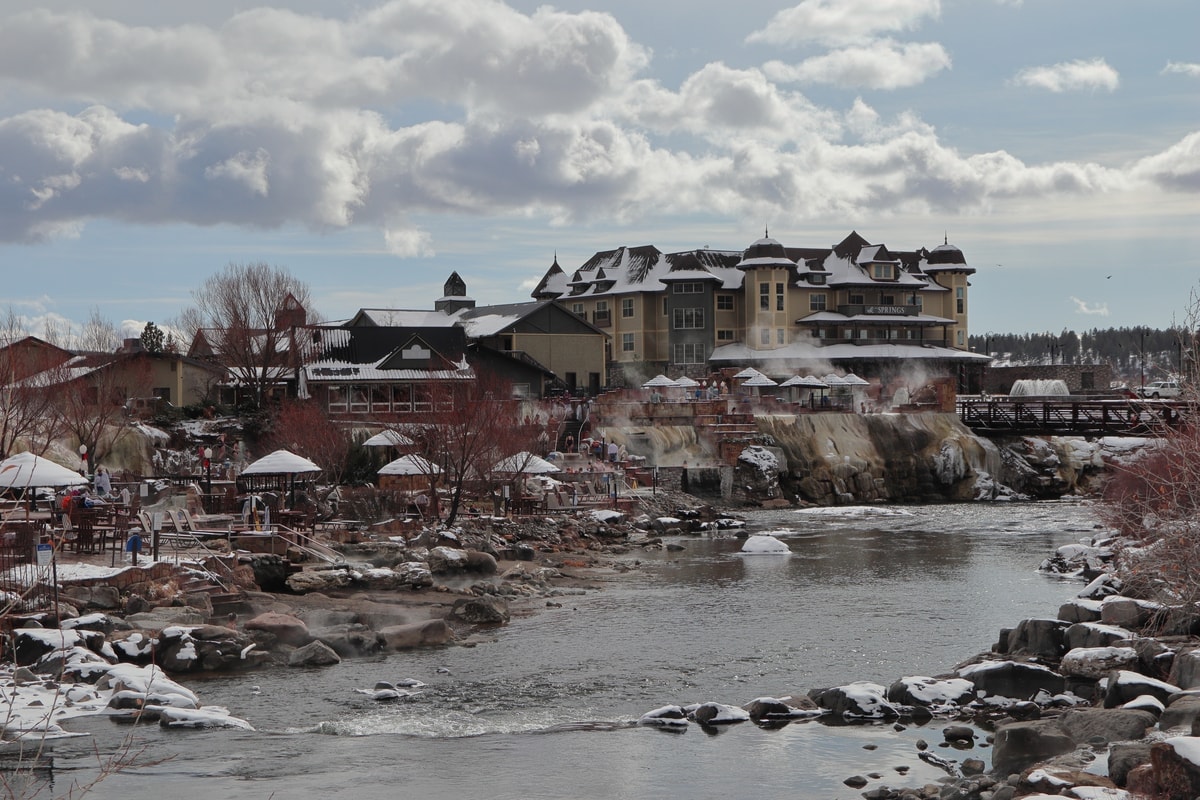 Why you should go: An all-encompassing experience complete with hot springs and carriage rides.
Right in the picturesque mountain town of Pagosa Springs — on the banks of the San Juan River — is the Springs Resort and Spa. Open to both day guests and overnight lodgers, there are 25 pools to choose from, so there is plenty of space to move around and find a pool suited to you.
There is even a large pool to play or swim laps! A soak in these waters, rich in 13 different minerals, is not only relaxing but is meant to be quite beneficial to the skin and overall health.
There is more to the resort than just the pools. You can grab food at the outdoor grill or schedule a massage to overlap with your soak. The resort even provides various packages for their guests, so if you're looking for a romantic experience, want to take a horse-drawn carriage ride, or just want to stay in one of the top-notch rooms to relax, you'll be able to find what you need.
Related read: 11 Best Winter Hiking Destinations in Colorado
3. Mount Princeton Hot Springs Resort
Why you should go: A luxurious location for a soak at the base of 14ers.
After a day of dog sled tours, backcountry skiing, golfing, or rock climbing, it's great to unwind with a soak at the Mount Princeton Hot Springs. Though you don't have to be an overnight guest to relax here, if you stay at the resort, the hosts will look after you and cater to your needs.
From planning any outdoor adventure you could imagine to offering exclusive access to the Spa & Club, an overnight stay at the resort is well worth it. As you soak in the pools, admire the stunning landscape and the lofty 14er mountains towering above you.
Open year-round, the resort is the perfect place to visit on a trip through the valley no matter what time of year you're passing through. Whether you're looking to book a family-friendly vacation, a romantic getaway, or host a business conference, the Mount Princeton Hot Springs Resort will cater to your every need.
4. Hot Sulphur Springs Resort and Spa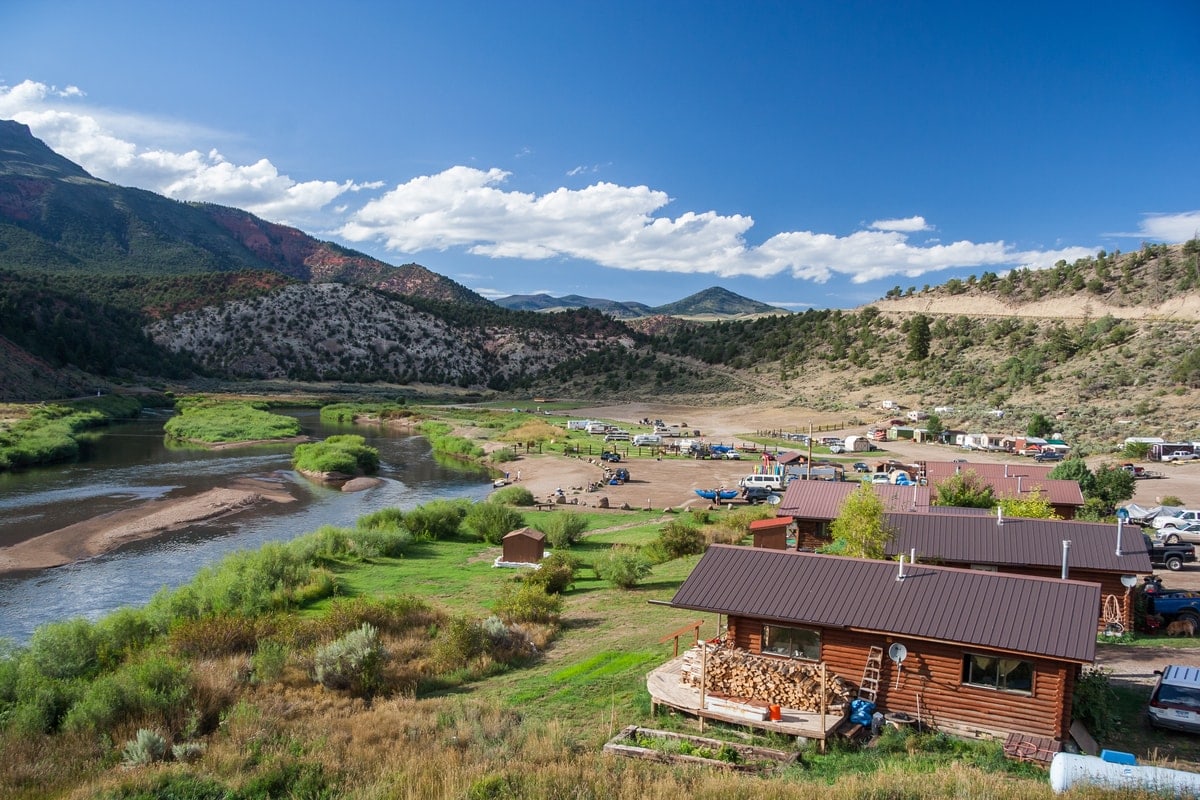 Why you should go: A quieter resort experience tucked back behind quiet mountain towns.
After a long day of fishing in the Williams Fork River or backcountry skiing some of the most remote terrain around, come home and relax with a soak in one of the 22 pools at Hot Sulfur Springs.
A historic spot, this section of the river was frequented by Ute and Arapahoe hunting parties before westerner hunting and trapping parties began to visit the area in the 1800s. By the early-1900s, the sporting locale had become a popular resort town.
Now, a bit quieter, with a little less bustle, Hot Sulpher Springs is the perfect place to unwind over a long weekend. You can even book a massage to work out those knots after a long day of fly-casting or hiking.
Related read: 11 Best Lake Camping Destinations in Colorado
5. Glenwood Hot Springs Resort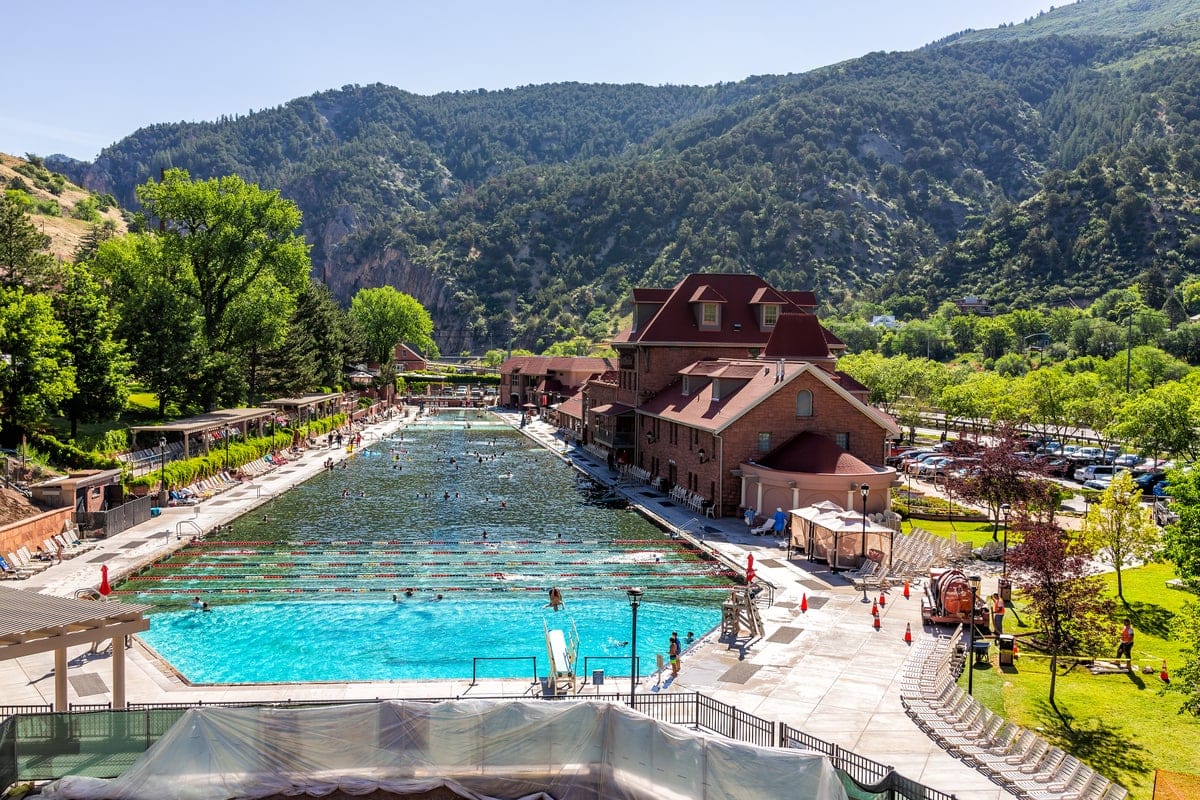 Why you should go: An easily accessible spot right off the interstate, known for its pools and lodging.
Built-up, above I-70, this resort is probably the easiest to access hot spring on the list. As such, it can be a little busy. Parties of all ages flock to the resort after a long day of skiing or adventuring in the mountains. It is also one of the only resorts to offer season passes for those who want to soak throughout the year!
If you're looking for something different, check out the nearby Yampah Spa and Vapor Caves. Not a hot spring per se, the Yampah Vapor Caves next door to the Glenwood Resort, are a unique experience.
Unlike so many other caves and caverns, the vapor caves are warmed from natural geothermal heating, making this a bit of an underground steam room. The rooms vary in temperature, and the humid atmosphere will warm up those chilled bones.
6. Iron Mountain Hot Springs
Why you should go: A quick, easy stop as you pass through town.
Another great option in Glenwood Springs is the relaxing Iron Mountain Hot Springs. Not a resort, like the other site in Glenwood, Ironwood is a beautifully designed hot spring for day-users, with 16 natural pools of varying temperatures from warm to hot.
If you're looking for a quick and easy spot to relax on your way through town, Ironwood checks the boxes. The pools offer great views of the Colorado River, and it's a truly relaxing spot to unwind. The bathhouse makes this an easy stop on your trip through town, and lockers for your belongings keep your mind at ease, so you don't need to worry about keeping track of your valuables.
Related Read: 9 Best Resorts in Colorado for Rocky Mountain R&R
7. Ouray Hot Springs Pool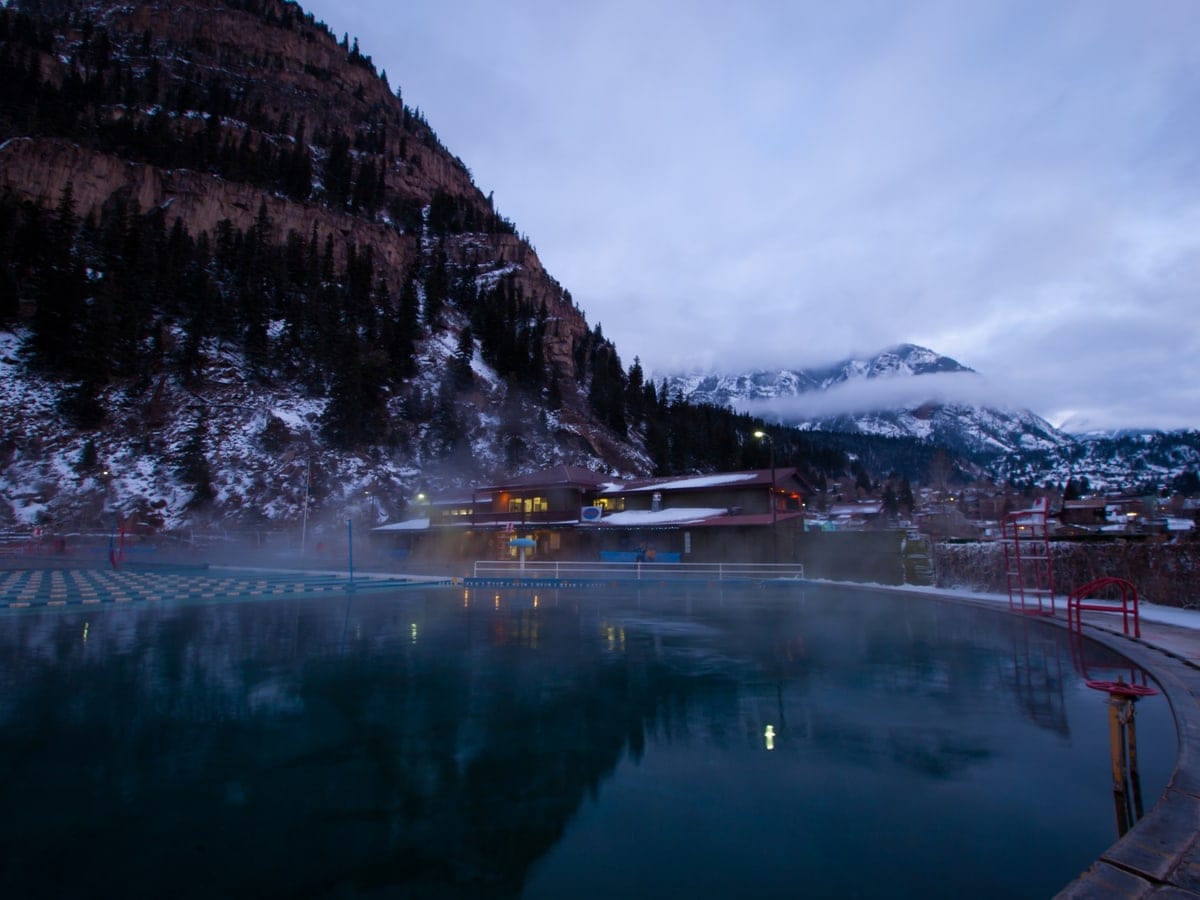 Why you should go: A family-friendly spot complete with waterslides.
Unlike so many other options on the list, the pools at Ouray Hot Springs have no lodging option. Known for its rugged terrain, ice climbing, and backcountry skiing, Ouray is a winter lovers' paradise. And what better way to warm up after a cold day out than jumping into the hots pools here!
With several different pools complete with volleyball nets, rock climbing walls, and even water slides, the Ouray hot spring pools are great for the family any time of year! For those adults looking to get away from the chaos, there is an adults-only section so you can relax without the worry of kids jumping on your head.
Though there isn't any lodging at this spot, Ouray has plenty of dining and lodging options. If you're looking for a more all-inclusive experience during your stay, check out Twin Peaks Lodge and Hot Springs or the Historic Wiesbaden Hot Spring Spa and Lodgings. Both have lodging, hot springs, and spa services, and the latter even has a vapor cave to enjoy.
Related Read: 10 Classic Mountain Cabins in Ouray, Colorado
8. Avalanche Ranch Cabins and Hot Springs
Why you should go: A very remote and rustic getaway with all the luxury of a resort
South of Glenwood Springs, and south of Carbondale, in the canyon of the Redstone Historic District, is Avalanche Ranch. This small side-trip getaway will rejuvenate you, unlike any other spot.
This spot is perfectly situated for a natural getaway with stunning views of Mt. Sopris, Elephant Mountain, and Avalanche Creek Valley. An easy drive to backcountry skiing, town, and a plethora of hiking, the ranch is a great stop as you pass through.
Avalanche Ranch is family-friendly but is generally uncrowded. The three pools are built into the natural landscape and flow from one to the next. The lodging is warm and comfortable and ranges from a covered wagon to large cabins.
Book a massage to truly relax into this pleasant atmosphere and unwind. Cell service is limited here, so you can disconnect and leave your distractions behind.
Related read: 11 Easiest 14ers in Colorado for Newbies to the High Peaks
Maroon Bells-Snowmass Wilderness
9. Conundrum Hot Springs
Why you should go: A long hike to a remote but popular alpine hot spring.
Imagine soaking in a hot spring pool surrounded by snow-capped mountains and wildflowers as the sunset lights the mountains aglow. There aren't too many places you can experience this style of remote bliss, but it's going to require some effort to get to it.
Though day-use of the pools is not regulated, to stay overnight in the valley, you will need to get a mandatory $6 permit from the National Forest. Campsites are heavily controlled because of past over-use of the area. Additionally, the shortest hike in is 8.7 miles and climbs from 8,700 feet at the trailhead to 11,200 feet at the pools.
If you travel outside the prime time of July to September, you should be prepared for cold nights and be aware of avalanche danger. Despite the effort to get here, this is one of Colorado's most rewarding hikes and soaks.
Explore Colorado
Get epic travel ideas delivered to your inbox with Weekend Wanderer, our newsletter inspiring more than 10,000 readers every week.
Was this article helpful?
---