Red Rocks might be best known for its historic concert venue, but the area around the amphitheatre also boasts some stellar Front Range hikes.
Next time you're in the area whether for Yoga on the Rocks or to catch a live concert under the stars, add on one of these seven hikes to experience a side of Red Rocks Park & Amphitheatre not everyone gets to see.
From the towering red sandstone formations to the stellar views of downtown Denver, these easily accessible trails give you a little taste of Colorado hiking without having to spend hours driving to the mountains.
Related Read: Mile High Hiking: 15 Best Hikes Near Denver, Colorado
1. Red Rocks Park Trading Post Trail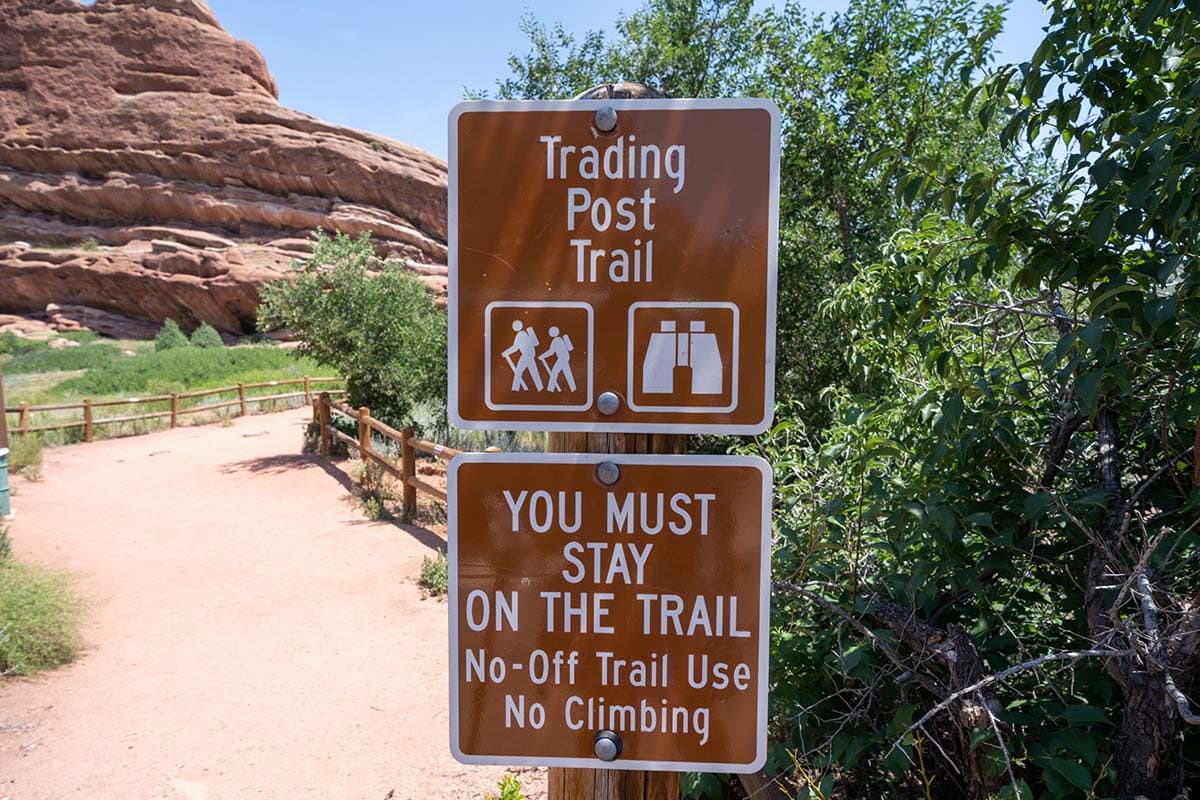 Why you should go: Enjoy an easy stroll with stunning views of Red Rock's impressive sandstone formations.
Location: Red Rocks Park & Amphitheatre
Difficulty: Easy
Distance: 1.5 miles
Elevation gain: 350 feet
This short loop trail winds through spectacular rock formations, valleys, and a natural meadow. Park at the Trading Post parking lot and hop on the trail heading in either direction. From this vantage point, you'll get a beautiful view down the valley as well as an up-close look at several of the park's eponymous red rock formations including Ship Rock, Frog Rock, and Picnic Rock.
The trail has a few steep and narrow sections to navigate and some of the terrain is rough and rocky, though the majority of the path is well-traveled and easy going. This hike is a great option for kids due to its length and fun sights. It is also dog-friendly though you might want to go at off-hours if you're bringing your pup since this is a popular route.
After you're done hiking be sure to stop in at the Trading Post which is home to a small gift shop as well as the Colorado Music Hall of Fame (admission is free). The museum showcases interesting music memorabilia with items like original sheet music, instruments, costumes, and awards on display.
Related Read: 11 Best Winter Hiking Destinations in Colorado
2. Red Rocks Park Geologic Overlook Trail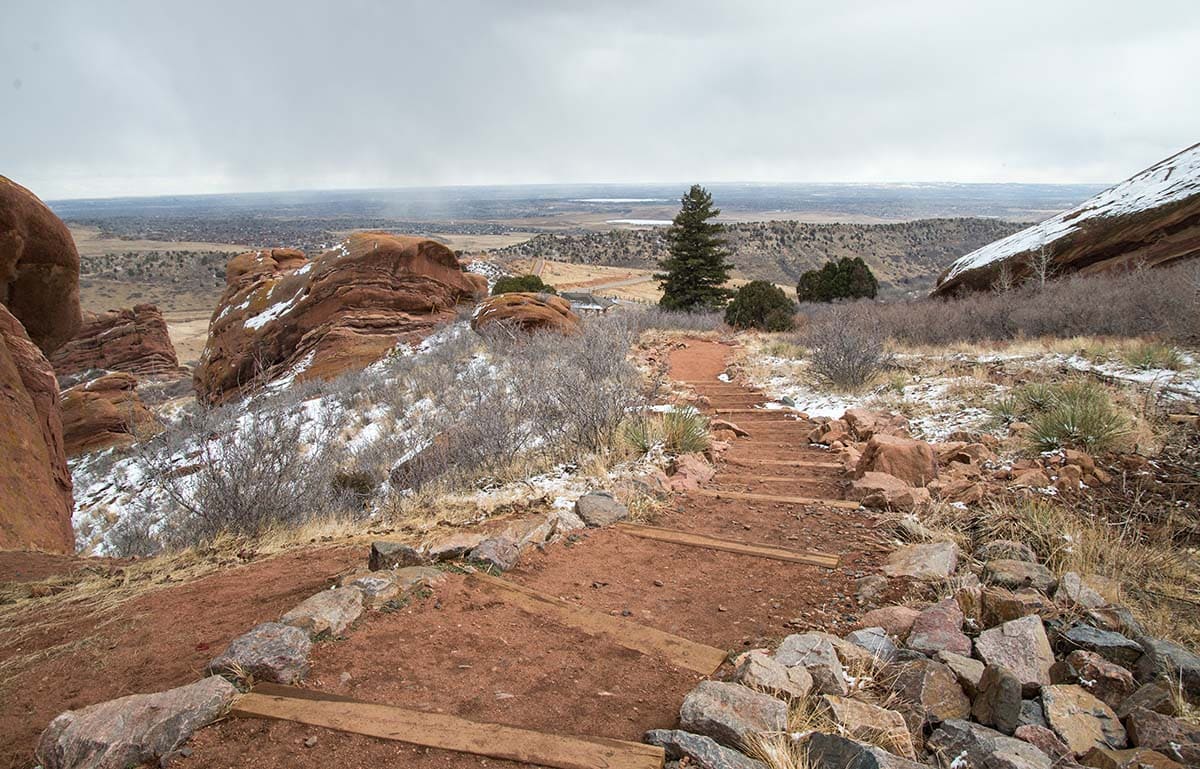 Why you should go: Tackle an easy climb to get a bird's eye view of Red Rocks Park & Amphitheatre.
Location: Red Rocks Park & Amphitheatre
Difficulty: Easy
Distance: 1 mile
Elevation gain: 450 feet
Another great short hike located at the north end of Red Rocks Park is the Geologic Overlook Trail. You have the option to make a loop using a short section of West Alameda Parkway (only recommended during off-hours when there is no event traffic) or hiking this trail as an out-and-back. Either way, the total mileage will be around one mile.
In general, the trail is wide, well-maintained, and easy to follow. Along the way, you'll find several interpretive signs explaining the history and geology of the area. On the northeast corner of the loop, you'll pass restrooms and a large picnic gazebo — the perfect spot for lunch if you packed a bite to eat.
As the trail climbs, you will encounter stairs and one steep section that is a bit rocky and eroded. The path can get muddy in the winter and spring which makes navigating this section more challenging. Keep an eye open for wildlife, like mule deer, in the surrounding meadows. In the spring and early summer, you'll be treated to wildflowers, too.
At the high point of the trail be sure to stop and take in the scenery — from here you have fabulous views down the valley and over to Dinosaur Ridge, Bear Creek Lake, as well as a great vantage point to look down on Creation Rock and Ship Rock, the two iconic buttresses which flank the amphitheatre.
Related Read: 7 Incredible Glamping Destinations Near Denver, Colorado
3. Owl Trail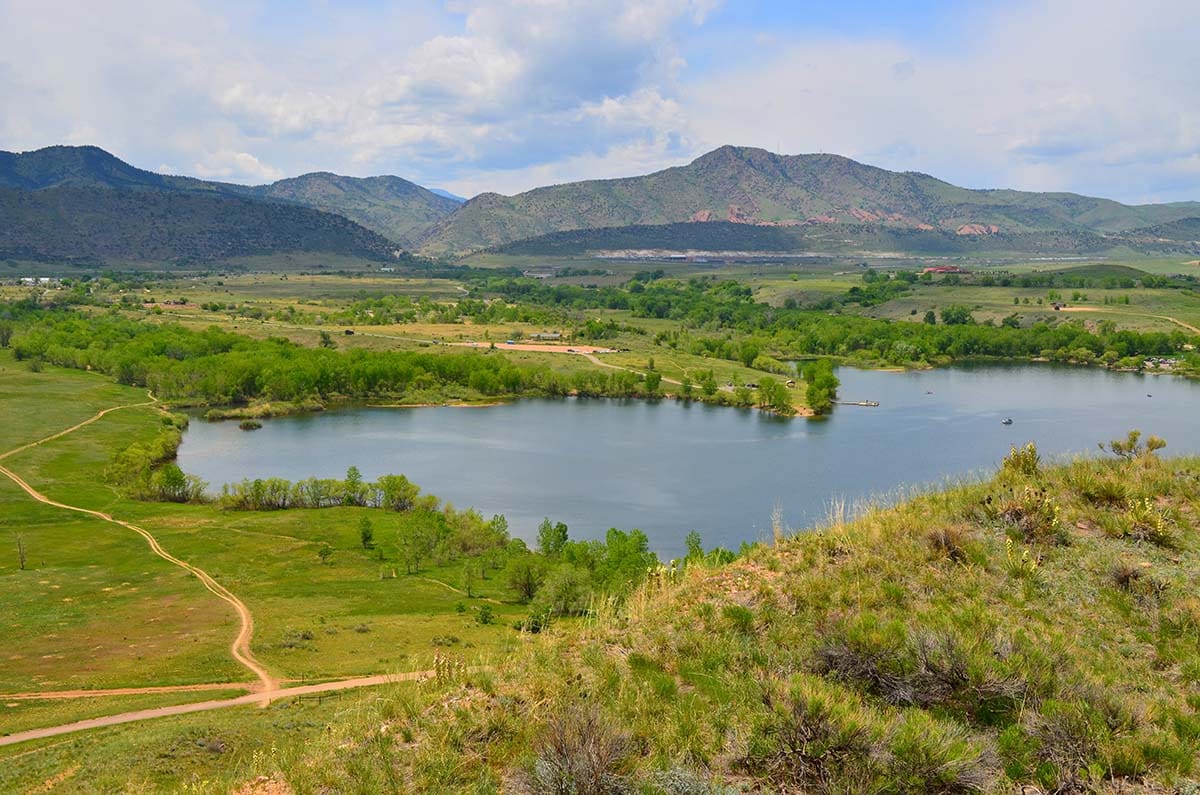 Why you should go: Soak up the scenery on this peaceful, shaded nature trail along Bear Creek.
Location: Bear Creek Lake Park
Difficulty: Easy
Distance: 2 miles
Elevation gain: 100 feet
For more easy hiking near Red Rocks Amphitheatre, Bear Creek Lake Park is right up the road and offers many miles of easy, well-maintained trails. The many connections and trailheads make it easy to customize your route depending on how far you want to hike. For an easy, scenic hike, an out-and-back on the Owl Trail is a great standalone outing or a good starting point for a longer hike at the park.
From the Visitor Center, the Owl Trail runs north briefly before turning to follow along Bear Creek. The terrain is easy with minimal elevation gain, and you'll enjoy a shaded route along the creek. The hiking-only nature trail is a bit quieter than some of the other trails that are popular with cyclists. The Owl Trail ends at the Fitness Trail where you can either retrace your steps or venture out on the other area trails to create your own loop.
In addition to the extensive trail network, the park also has a small swim beach at Big Soda Lake, several picnic shelters, and a playground, making it a great spot to spend an afternoon. Leashed pups, while not permitted on the sandy beach area, can join you on any of the park's trails if you're looking for an easy hike to get out some of their zoomies.
Related Read: 10 Unique Things to Do with Kids in Denver, Colorado
4. Red Rocks Trail to Morrison Slide Trail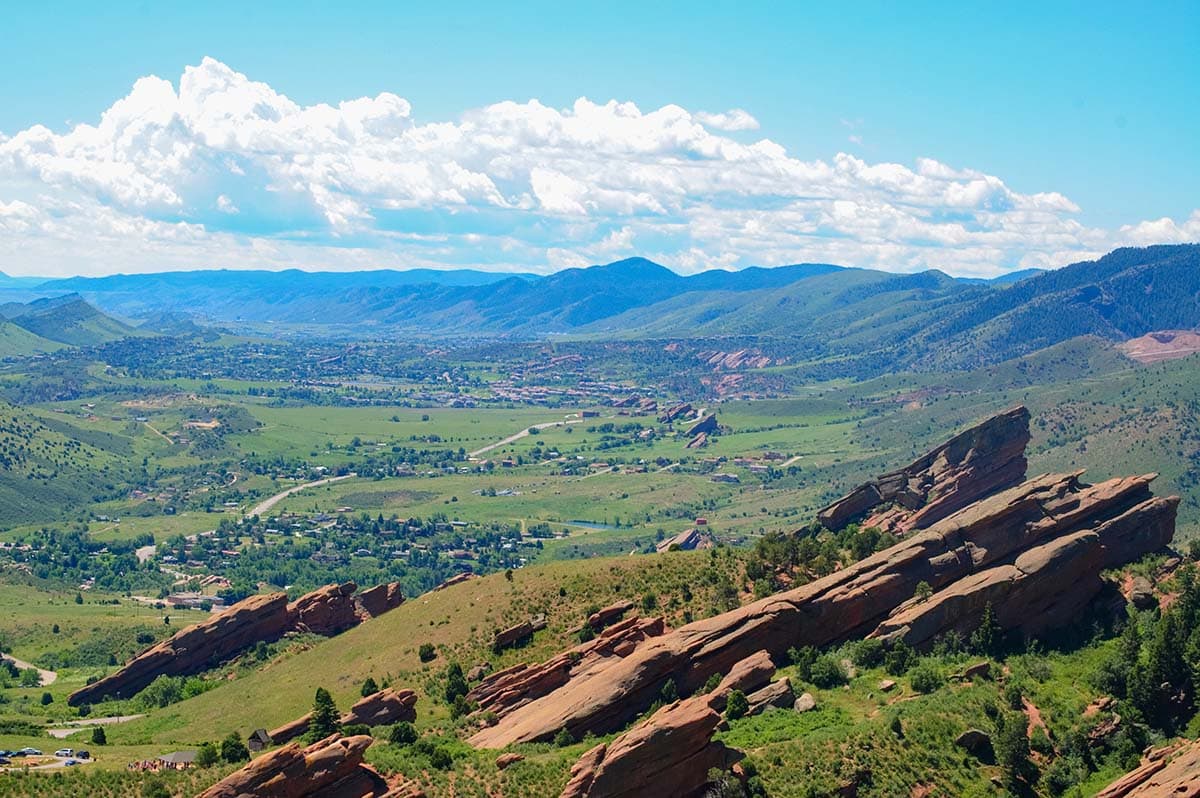 Why you should go: Earn some outstanding Red Rock views on this moderate loop hike.
Location: Matthews Winters Park
Difficulty: Moderate
Distance: 3 miles
Elevation gain: 770 feet
Venture into Matthews Winters Park from the northern edge of Red Rock on this adventurous loop. This trail starts from the parking lot at Alameda Parkway and Red Rocks Trail Road. Note that the parking area at this trailhead is small and will fill quickly during peak hours. If you can't snag a parking spot here, you can park in the Lower North Lot and pick up the Red Rocks Trail there (this will add about a mile onto your hike).
Starting on the Red Rocks Trail, you'll climb through scrubby woodlands and open hillsides—with a fair sprinkling of rock formations to keep things interesting. The climb isn't too steep, but it is steady with a few rocky sections where you'll want to watch your footing. You can opt to hike the loop in either direction, though counterclockwise will reward you with some well-earned views, which are definitely a big payoff on this hike.
From the switchbacks on the Morrison Slide Trail, you'll enjoy expansive views of Dinosaur Ridge with Green Mountain in the distance. And be sure to look south as you will be treated to a glorious view of the jutting slabs of Red Rocks Park from this elevation. This route is popular with hikers and mountain bikers, so be courteous and expect to share the trail on the weekends.
Related Read: 12 Epic Hiking Camps & Summer Backpacking Trips
5. Green Mountain Trail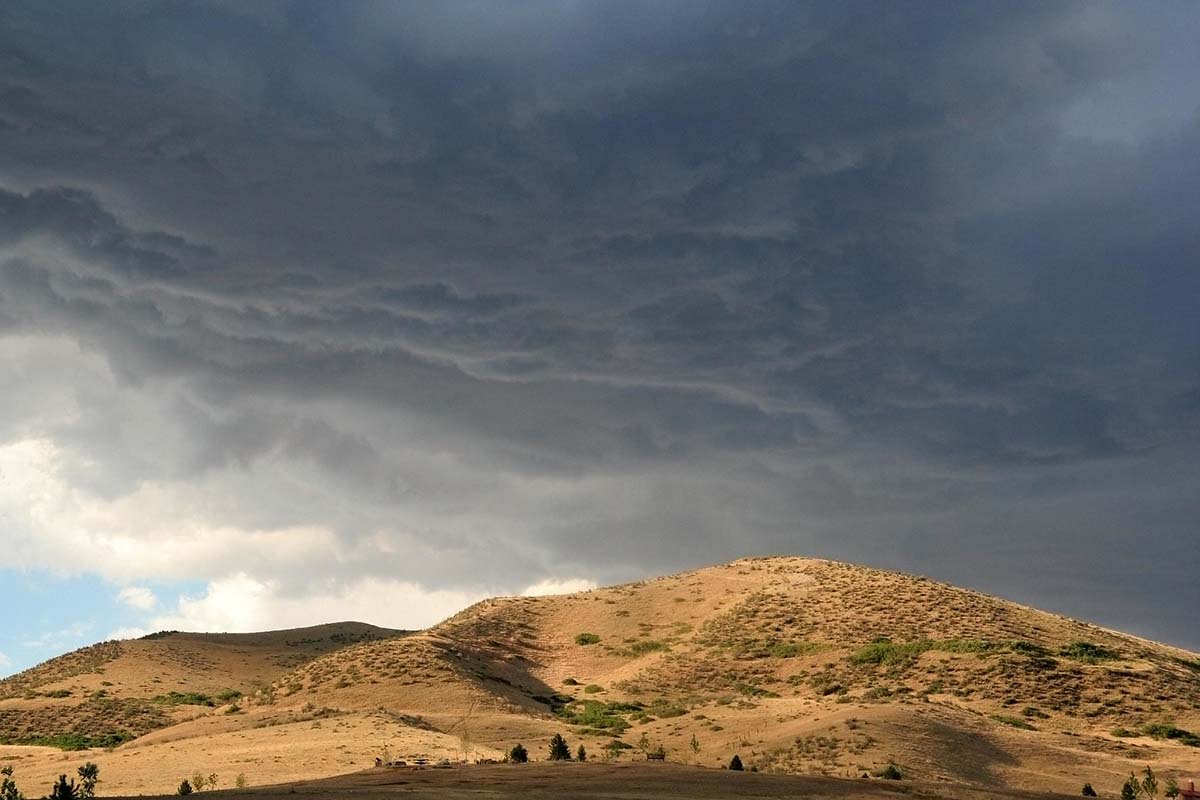 Why you should go: Climb the rolling hills for the chance to spot wildflowers and wildlife.
Location: William F. Hayden Park on Green Mountain
Difficulty: Moderate
Distance: 6.4 miles
Elevation gain: 1,000 feet
The popular trails at William F. Hayden Park are located northeast of Red Rocks Park across C-470. The aptly-named Green Mountain is a largely treeless hill that offers unobstructed views from its grassy slopes. Though you shouldn't count on much shade (best to skip this hike during the peak heat of summer), you can count on wildflowers in the spring as well the chance to spot local wildlife like rabbits, mule deer, coyotes, hawks, and other birds.
Parking for the Green Mountain Trail loop is located off of West Alameda Parkway where there are several small trailhead parking lots. Going clockwise on the loop gets the hard part over first, with the ascent up to the park's highest point running along a portion of the park service road.
After the first two miles of climbing, you'll be treated to a long downhill and a mellow section along the base of the mesa that is popular with beginner hikers, runners, and mountain bikers. Note that not all of the trail junctions are well-marked so you may want to bring a map along if it's your first time at the park.
Related Read: 7 Scenic Weekend Road Trips from Denver, Colorado
6. Red Rocks Trail to Dakota Ridge Trail Loop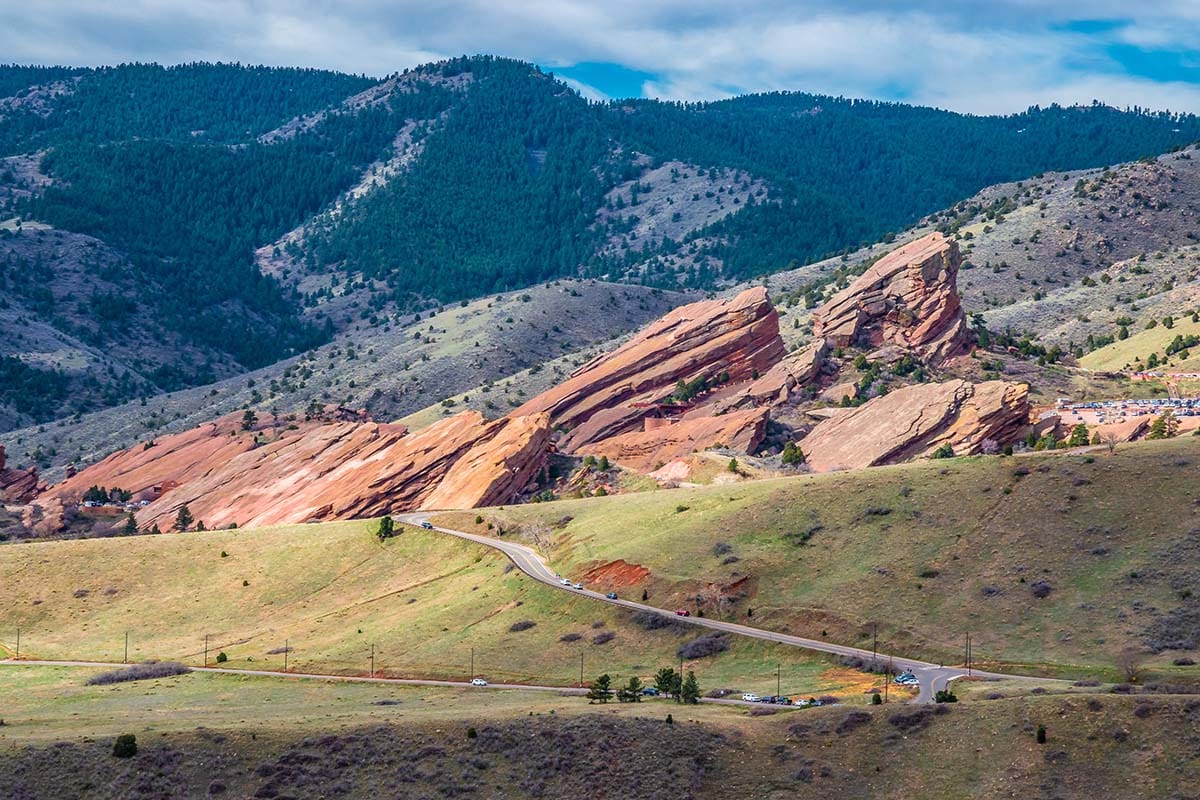 Why you should go: Put in some solid mileage to explore the area's hills, valleys, and rock formations.
Location: Matthews Winters Park
Difficulty: Moderate
Distance: 7 miles
Elevation gain: 1,200 feet
Looking for a longer hike to stretch your legs and take in all the Red Rocks scenery? This route connects the best trails of Matthews Winters Park for a seven-mile loop with enough elevation gain to give your legs and lungs a workout. Park at the north end at the Matthews Winters Park Trailhead. This large lot has restrooms, and should you find the lot is full, there is a second paved lot (the Stegosaurus Lot) just up the road.
From here, head out on the Dakota Ridge Trail for a pleasant meander that traverses the western slope of the Hogback. If you have time (and energy), take a few detours to check out the points of interest along the aptly-named Dinosaur Ridge. The area is known for its well-preserved fossils, the first of which was discovered by geologist Arthur Lakes in 1877. If you find yourself intrigued, plan a stop off at the Dinosaur Ridge Museum to fuel your Jurassic curiosities.
Once you cross the Hogback Road and pick up the Red Rocks Trail, you will climb to the north, back to the parking lot. This stretch winds through rock formations and wide-open meadows with views up and down the valley as well as across the way to the ridge you just traversed.
Related Read: 11 Beautiful National Forests in Colorado for Outdoor Recreation
7. Castle Trail to Summer White House Site
Why you should go: Hike into the foothills for a unique vista at a historic site.
Location: Mount Falcon Park
Difficulty: Moderate
Distance: 6.5 miles
Elevation gain: 1,700 feet
Do you love obscure historical stories? If so, a hike to the Summer White House site at Mount Falcon Park is a fun way to mix historical tidbits with mountain scenery. This out-and-back hike climbs to a site where a would-be summer White House for the U.S. Presidents was proposed by entrepreneur John Brisben Walker.
Though Walker's vision for a 22-room castle for presidential summer getaways was never realized, a large white marble cornerstone still sits at the site, where hikers can use their imaginations to visualize the rest. The stunning views of Red Rocks and Denver from this vantage point certainly provide an inspirational backdrop.
Park on the east side of the park at the Mount Falcon Park Morrison Trailhead. From here, the hike is a steady climb on the Castle Trail until you reach a junction with the Walker's Dream Trail. This final push will bring you up to 7,600 feet and the Summer White House site.
If history isn't necessarily your thing, this hike still delivers plenty of scenery. Unlike the other hikes near Red Rocks, this one climbs from the grasslands into the ponderosa pine forests more typical of Colorado's higher elevations. Along with the gain in elevation — which will also give you a good workout if that's what you are after — you'll enjoy some great views over the Hogback and out onto the eastern plains. On the way back, you can stick to the Castle Trail or hop on the Turkey Trot Trail for a change of scenery on your way back to the trailhead.
More Colorado Adventures
Get epic travel ideas delivered to your inbox with Weekend Wanderer, our newsletter inspiring more than 10,000 readers every week.
Was this article helpful?
---