With the most stunning mountains, incredible vistas, and unique geologic formations, Colorado has a lot of places you have to see to believe.
The Centennial State is more than just the mile-high city. The signs that greet you on the road entering into the state are correct when they say "Welcome to Colorful Colorado." There are purple mountains, red rock, green grasslands, and the bluest of skies. You won't be able to see more of the color spectrum in any other place.
Colorado has a little something for everybody too. Maybe you're up for a unique dining experience or want to visit all the areas mentioned in the cartoon South Park. You'll be able to do both of those things with one item on this list. Or maybe you want to venture into the wilderness. Colorado has 11 national forests, eight national monuments, 42 state parks, and four national parks. The outdoor recreation activities are boundless.
So grab your hiking shoes and perhaps inhale a little deeper (Colorado is high in altitude remember!) and head on out this incredible state!
Related Read: 12 Extraordinary Cabin Rentals in Colorado
1. Rocky Mountain National Park
It's not a list of the best places to see in Colorado if Rocky Mountain National Park isn't just mentioned but first on the list. There's a reason over four million people visit each year during all seasons with the number going up every year. There are so many different things to see in the Park including ones you don't even have to get out of your car for.
Trail Ridge Road is a must-do item when visiting the Park and is the highest continuously paved road in the United States. The road offers epic alpine vistas and the potential to see some wildlife including the cute and cuddly marmots (although, please Leave No Trace and give animals space) and mountain goats! But also make sure to get out of the car and explore on your feet to get the most of your time in this gorgeous spot.
Related Read: Traveler's Guide to the Best Colorado National Parks
2. Casa Bonita
It really means something when a restaurant is listed on one of the top places to see in a state. Casa Bonita, however, isn't just a restaurant — it's an experience. The name might sound familiar to some of you and for good reason. It's featured in South Park and isn't the only place referenced in the politically incorrect cartoon series that made this list.
Known for its cliff jumpers (you read that right) and not-so-wonderful dining, Casa Bonita has been a staple of the mile-high city for decades. It's been almost bankrupted a few times over the years but saved every time. Recently, it was bought by none other than the South Park creators themselves, Trey Parker and Matt Stone.
The restaurant is currently closed but will reopen under "new management" soon. Even if the food isn't something to write home about, the eccentric atmosphere and all-around fun family time will keep you coming back for more.
Related Read: 10 Adventurous Things To Do in Colorado in the Fall
3. Ouray & the Million Dollar Highway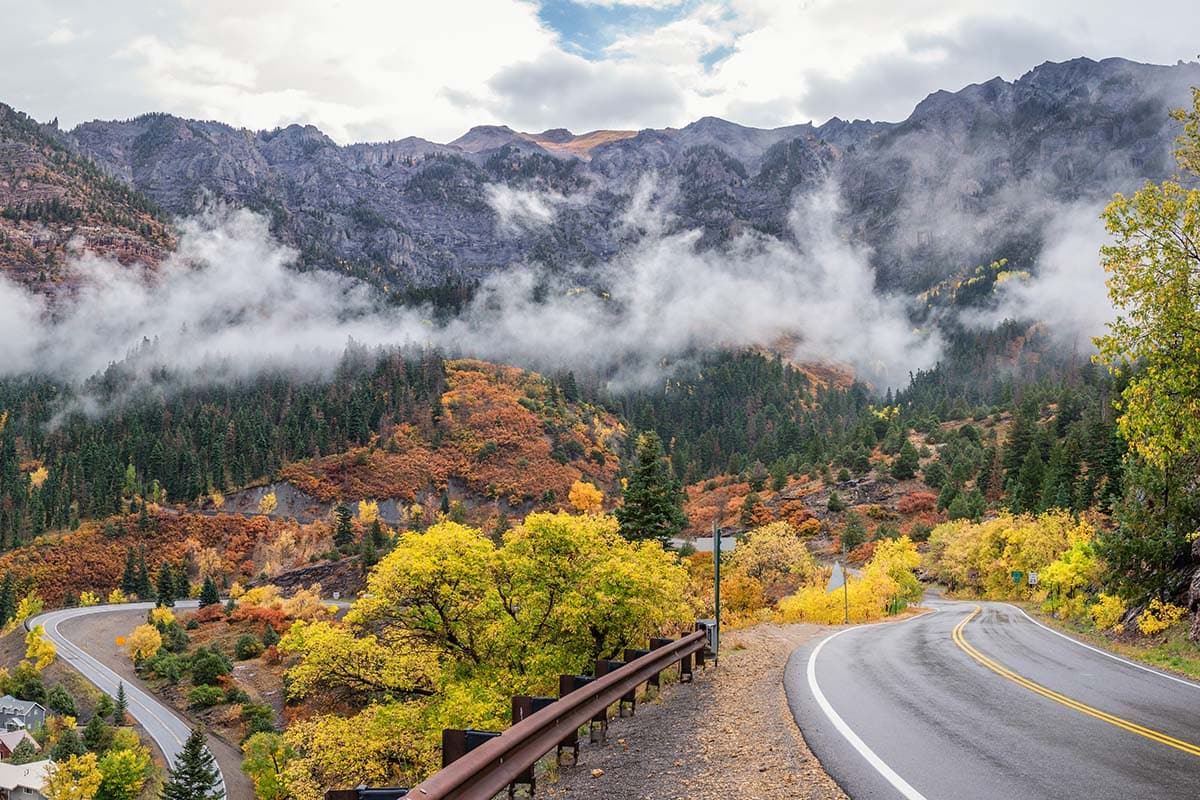 Known as the Little Switzerland of Colorado, the views from Ouray are never-ending. The town itself is wedged between the towering cliffs within Uncompahgre National Forest. To get the full picture of the town, take a walk along the Ouray Perimeter Trail. It brings you, not surprisingly, on a loop around the entire mountain town.
Make sure to pop into Box Cañon Falls Park to see the 285-foot waterfall that plummets like a drain into the canyon. It's also home to a colony of Black Swifts and is a protected area for the species.
For a truly magical journey, get your feet in the car and travel down the Million Dollar Highway. The best views are between Ouray and Silverton — a total of about 25 miles. It's alright if you blink along the way since the views are not only stunning, but infinite. Make sure you have enough storage on your phone or camera to take a gazillion photos though.
Related Read: 7 Rad Campgrounds in San Juan National Forest, Colorado
4. Nederland
Nederland sits nestled in the foothills about 30 minutes west of Boulder. The name sounds a lot like Neverland and I'd argue it has the same essence of the fictional island from Peter Pan. Let your inner child run wild and hop on the Carousel of Happiness or meet a salamander at the Wild Bear Nature Center or grab a frozen yogurt in a train car. You can also drive the Peak to Peak Scenic Byway to Brainard Lake Recreation Area where adventure awaits!
But if you want to get real weird, head over to see a frozen dead guy. That's right! Nederland is home to the body of Bredo Morstoel — a Norwegian man who's been dead since 1989. You can visit the area where he's housed in a Tuff Shed near Barker Reservoir in town.
Or you could make your way to downtown in mid-March every year when the Frozen Dead Guy Days festival occurs. It involves a race with several groups where one person in the group is carried in a coffin. The more outlandish the outfits and the coffin, the better!
Related Read: 14 Pros and Cons of Living in Colorado
5. Great Sand Dunes National Park & Preserve
Did you ever think that the tallest sand dunes in North America were in Colorado? Well, they are, more specifically at Great Sand Dunes National Park and Preserve. Star Dune rises 750 feet from its base to its summit and is a feat to sit on top of. Think of hiking in sand like taking one step forward and two steps back — it's hard! But not impossible. If hiking isn't your prerogative, there's plenty of other things to do while you're there too.
If you happen to visit the area around late May or early June, you might get to witness Medano Creek's "surge flow." I say you "might" since the timing changes every year and sometimes it doesn't happen at all. The natural phenomenon occurs when three things happen. It's a trifecta of sorts that creates an illusion of waves coming down the creek bed.
First you've got to have a relatively steep gradient for enough water to flow down, a smooth creek bed free of large rocks and other immobile things, and a boatload of water. When all three of these manifest (and some years it doesn't), you'll be able to tube down Medano Creek. It's fun for the whole family.
Related Read: 10 Best Hikes in Colorado for Getting Out into Nature
6. McInnis Canyons National Conservation Area
If you'd rather skip the crowds of Arches National Park but still want to see the red rocks and famed arches its known for, look no further than McInnis Canyons National Conservation Area in western Colorado. It's home to the second largest concentration of natural arches in North America without the hordes of people trying to take their pictures. Plus, you can bring Fido!
The trail to get the best bang for your buck is the Rattlesnake Arches Trail. It's not an easy hike by any means, clocking in at just over 14 miles long. There is very little shade and minimal water sources so make sure to come prepared if you attempt this trail.
7. Colorado National Monument
There are eight national monuments scattered throughout Colorado, all of which are some of the least-visited areas in the state. Colorado National Monument is just one of them and reminiscent of Utah's Castle Valley.
Rim Rock Drive winds its way through the Monument on its 23-mile traverse and is a must-see. For the best experience though, get out on foot to view the incredible overlooks spanning across the valley.
Related Read: The 10 Best Hikes Near Grand Junction, Colorado
8. Manitou Springs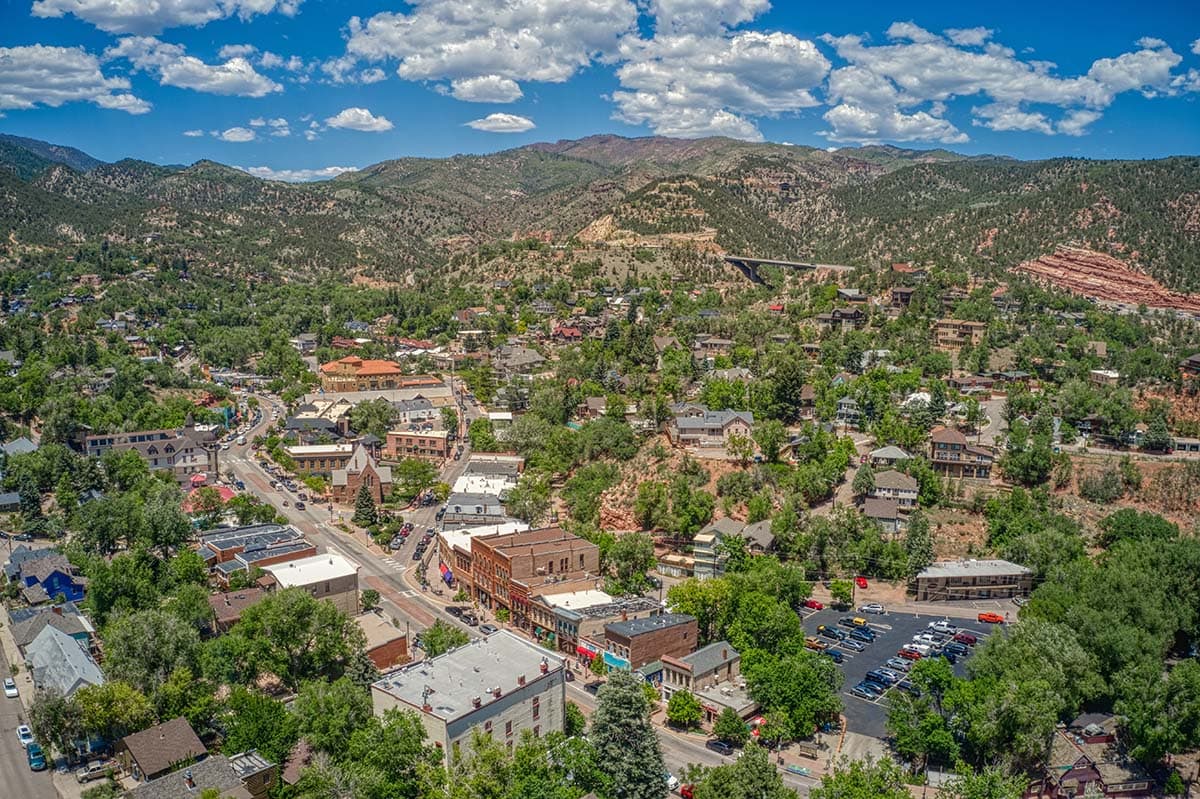 This quirky and artsy town just west of Colorado Springs is a gem of a town. It's home to a plethora of charming shops, eclectic people, and even an old school arcade complete with a black and white peep show — don't worry, it's nothing too scandalous.
If you're a fan of the epic cartoon series, South Park, make sure to go searching for the ManBearPig up in Cave of the Winds just north of town. Perhaps walking amongst the giants is more your style. If so, take a romp around Garden of the Gods to take in the geologic wonders of southern Colorado.
Or if you'd rather be up where the air is thinner, take the Cog Railway from downtown Manitou Springs and head up to the towering Pikes Peak — you can also drive up it though.
9. Crystal Mill
Ghost towns are abundant throughout the Centennial State but none is more photogenic than Crystal Mill. It's argued to be the most photographed landmark in all of Colorado. Its top competition is with the Maroon Bells — and those majestic mountains are also mentioned in this list too!
To get to the iconic photograph, there are several ways to access the trail to Crystal Mill. You can get there with a high-clearance 4WD vehicle (and I mean high-clearance!), on two wheels (aka a rugged mountain bike), an off-road vehicle, on four hooves (preferably of the equine nature), or two feet.
If you choose the latter, beware that it can get somewhat frustrating to get out of the way of cars especially if it's a dusty, hot day. Wear a neck gaiter or mask of some sort, if that's the case. For an even better photograph spot, pay the $10 fee to cross the rope and head down to the water. It's well worth the moola!
Related Read: The 10 Best Hikes Near Telluride, Colorado
10. Maroon Bells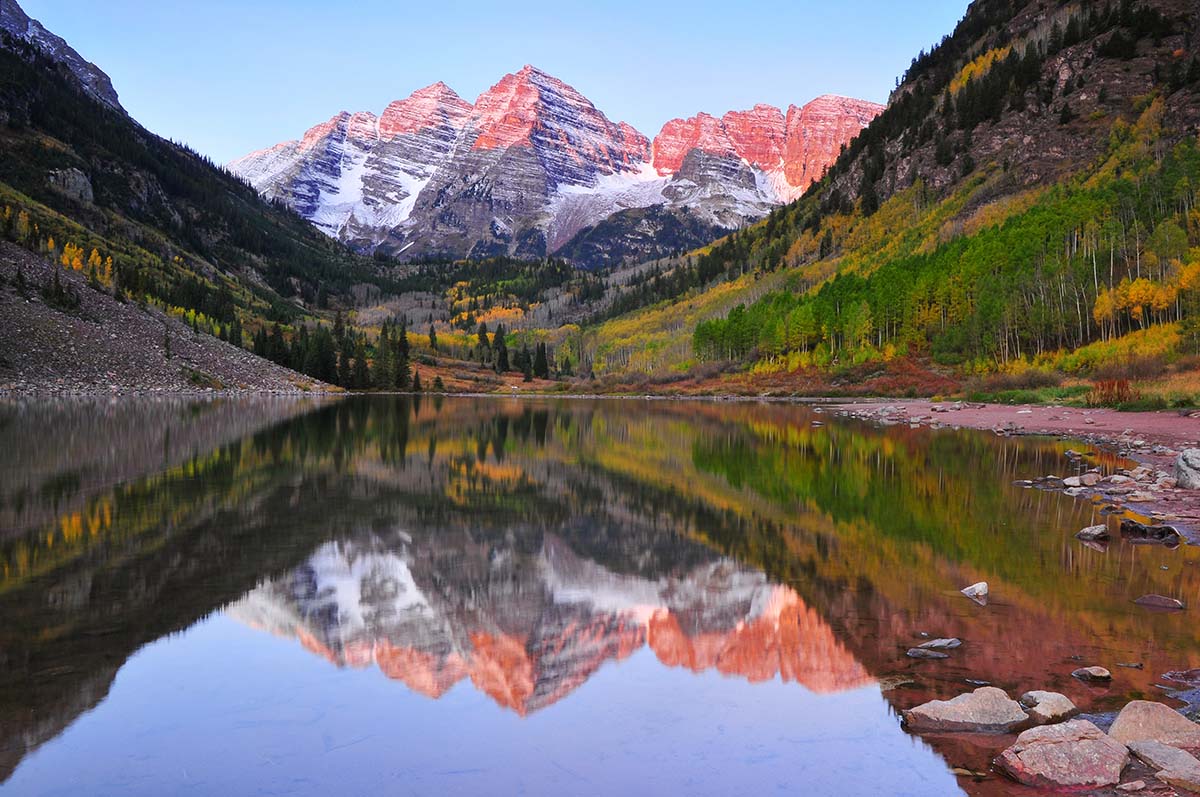 Nothing is more iconic than the two towering mountains that make up the Maroon Bells. Located in Aspen, these incredible masterpieces have attracted visitors to Colorado for decades. There's a shuttle that you are required to take now due to its rising popularity. If you or someone in your party are handicapped or under the age of two, you are allowed an exemption. Also, if you're backpacking overnight you can park your personal vehicle at the trailhead.
Most stick around Maroon Lake where the shuttle drops you off but it's worth the extra hike to Crater Lake to get away from the crowds. Extend your adventure by taking the trail to Crested Butte from where the shuttle drops you off. There is no direct road between the two mountain towns, so it takes hours to travel between them by vehicle. But if you're up for an alpine excursion by foot, they're only about 10 miles apart!
11. Denver's Union Station
After its establishment in 1881, Denver's Union Station welcomed hundreds of visitors every year. It was first called Union Depot and the largest building of its kind at the time. The 180-foot clock tower has always been a staple to the historic structure. Train travel ramped up during the early 1900s so the newly rebuilt building was actually demolished to make way for a "Renaissance Revival-style" to invite the thousands of people flocking to the city.
And it's stayed that way since except now it's full of world-renowned dining, high-class hotels, and classic bars. No wonder it's known as the city's "crown jewel" complete with a neon sign. You won't need to leave Union Station if you don't want to, to get a real Denver experience. Just make sure to grab a drink at The Cooper Lounge on the mezzanine to get the full essence of the station.
Related Read: 10 Unique Things to Do with Kids in Denver, Colorado
12. Mount Evans
You can't come to Colorado without making your way up a 14er: a mountain whose summit surpasses 14,000 feet above sea level. You can try your hand (or should I say foot) at attempting to hike one of the easier 14ers, but why walk when you can just drive?
There are actually two fourteeners that you can drive your car right up to the top. The better one is definitely Mount Evans (the other being Pikes Peak). It can get crowded at the top, as you might suspect. If you go in the early morning hours, you'll have no problem finding a parking spot. Plus, you'll get a front row seat of the sun coming up over the horizon.
Explore More in the Rockies
Get epic travel ideas delivered to your inbox with Weekend Wanderer, our newsletter inspiring more than 10,000 readers every week.
Was this article helpful?
---