Coloradans thrive on getting outdoors, taking scenic drives and strolling through music venue, brewery-filled downtowns.
While many instantly think of mountainous landscapes when they think of Colorado, there is everything from high desert plains to isolated alpine lakes — you'll find plateaus, sand dunes, sandstone spires, and flatirons too.
As far as enjoying Colorado's great outdoors, the state has four beautiful National Parks, 41 worthy-of-exploring State Parks and eight historic National Monuments on 8.3 million acres of public land.
Not only is this state full of breathtaking landscapes and wildlife, it's also home to 26 scenic byways! Out of those, 11 are designated as America's Byways making Colorado the most nationally recognized in the country.
While the Mile High City itself has a lot to offer its residents, its central location makes it easy to get the most out of the Rocky Mountain West. With some amazing Colorado attractions within a couple hours of the city we've put together an adventure-packed list of seven of our favorite day trips from Denver.
Related Read: 7 Scenic Weekend Road Trips from Denver
1. Mount Evans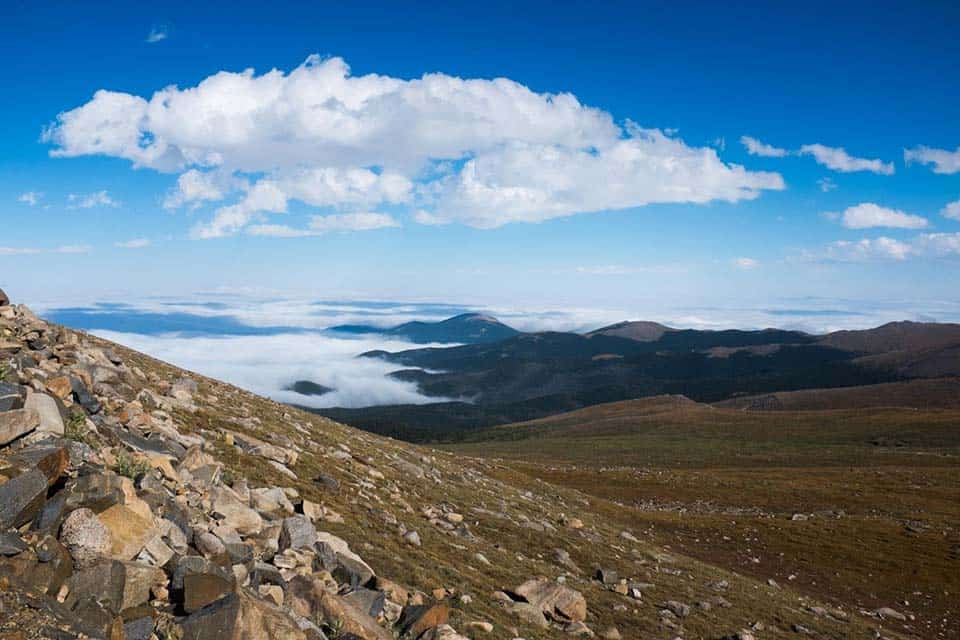 Denver's closest 14er lies only 40 minutes away in Idaho Springs. Whether you are looking to drive on North America's highest paved road, hike Mount Evans Wilderness Area's trails or enjoy a scenic picnic, you will not be disappointed.
Mount Evans Scenic Byway
Want to drive up the highest paved road in all of North America? Mount Evans Scenic Byway gradually takes drivers up through several climate zones and brings you just below the 14,264-foot summit of one of Colorado's favorite 14ers.
In 28 miles, this epic scenic byway climbs 7,000 feet.. The drive begins in Idaho Springs and is easy to find. Idaho Springs is about 33 miles from Denver, making this a simple last-minute day trip.
There is a small fee to use one of the day-use park areas along the road, but there is no fee just to drive the highway. You can find information on prices, road closures and conditions here.
Other activities on the Mount Evans Highway include cycling, wildlife viewing, stopping at Interpretive Areas and picnicking. When hiking or picnicking, please be a wise visitor and clean up all food and trash — marmots are all over Mount Evans and these giant ground squirrels may try to ask you for some of your food.
Please don't feed them tasty human food as this leads to negative impacts on animal health and our environment too.
Related Read: 6 Scenic Drives Near Denver for When the Mountains are Calling
Hiking Mount Evans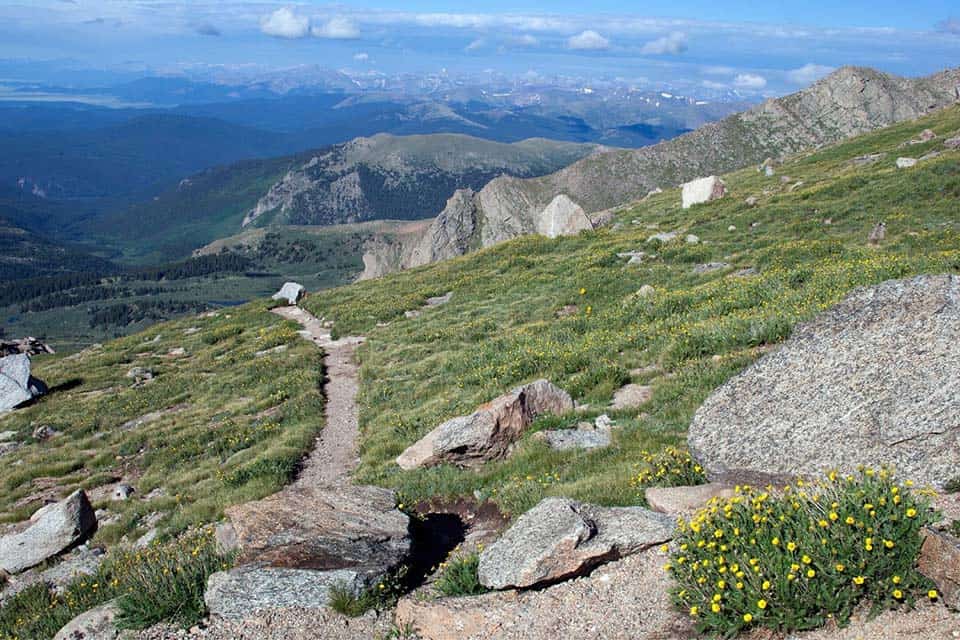 Mount Evans Wilderness Area contains a total of 120 miles of maintained trails, many of which are accessible via the Mount Evans Scenic Byway. If the road is closed due to poor seasonal conditions, you will still find an abundance of hiking trails in the surrounding area of Arapaho National Forest.
For the easy way to the top of Mount Evans, consider the Mount Evans National Recreational Trail. This half-mile long trail will take you from the Mount Evans Interpretive Site parking lot to the true summit of Mount Evans. This trail is a short one, but is a must if you want to truly make it to the peak, or "bag a 14er!"
If you are looking for a true hike to summit Mount Evans, sadly there are no direct trails from a trailhead to the top. The only way to summit Mount Evans is to approach from either Mount Spalding or Mount Bierstadt. I only recommend coming from Mount Bierstadt if you are an experienced hiker. There are some technical moves and exposed scrambling involved along the rightfully named Sawtooth Ridge.
The most popular trail and standard route begins at the Summit Lake day-use area located off the Mount Evans Highway. This trail is only 5.3 miles to summit Mount Spalding and Mount Evans (but is great for an easy day hike). And the longer trail, Mount Evans West Ridge via Chicago Creek is a whopping 15.6 mile trail. The best thing about a long day on the trail here is that your drive back to Denver is only about 30 minutes!
Related Read: 7 Beautiful Hikes Near Red Rocks Amphitheatre, Colorado
2. Colorado Springs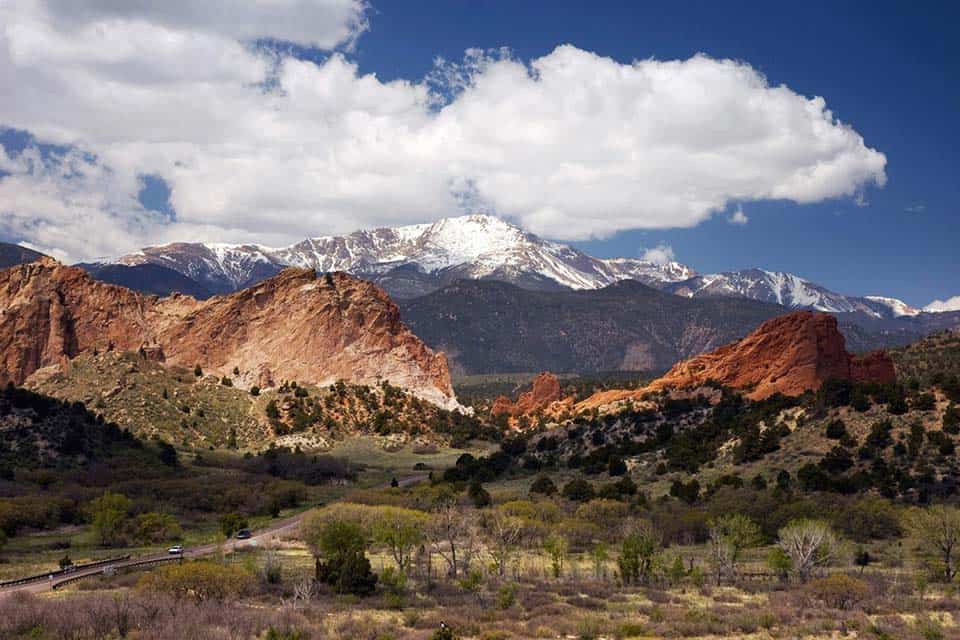 Colorado Springs is one of Colorado's most visited tourist destinations. There is an abundance of activities and amazing sites. You can plan several day trips to The Springs! Lucky for you, this adventure is only an hour away from Denver.
Garden of the Gods Park
One of Colorado's most iconic sites lies right in the middle of this bustling city! Garden of the Gods has drawn visitors to the base of its spires for years. In fact, evidence of human activity goes back over 3,000 years.
Activities at Garden of the Gods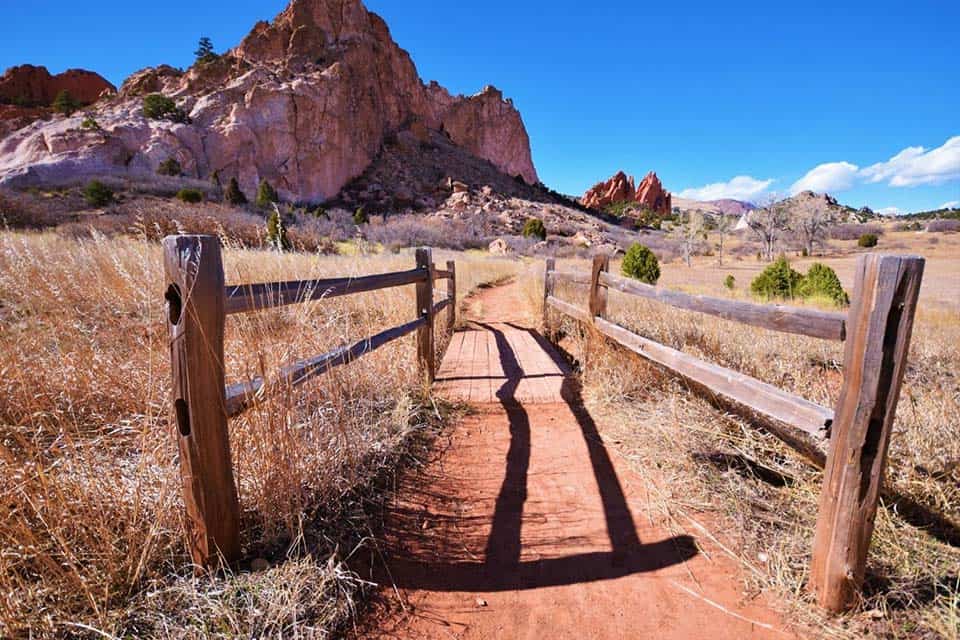 You won't believe this park is free once you learn all you can do in the park. On your own, you can drive the scenic road loop around the park's major formations, hike around the 21 miles of trails, picnic and much more.
For instance, there are guide services that offer different touring activities. These include horseback riding, Segway, e-bike, Trolly and Jeep Tours, and even rock climbing — definitely some of the best ways to enjoy the park.
Related Read: Take the Scenic Route on an Epic Denver to Albuquerque Road Trip
Garden of the Gods Visitor & Nature Center
For the full experience and more information about the geological and human history of this wonder, head over to the Visitor & Nature Center. Recently renovated, it offers state-of-the-art museum exhibits to learn all there is to know about the park's history.
The Visitor's Center includes a unique café awarded for their healthy and (very) kid-friendly menu. Don't worry, the Beansprouts Café has an equally tasty adult-friendly menu.
The park itself and the Visitor & Nature Center are free to enter, but any contributions or purchases made there or at the guide services we've linked in the "Activities" section contribute to the park's maintenance, so that it can remain free.
Pikes Peak
Nicknamed "America's Mountain," Pikes Peak is another 14er within easy driving distance of Denver. You certainly can't miss it once you enter Colorado Springs.
Hiking Pikes Peak
Hiking Pikes Peak is a right-of-passage. This is not only because of the mountain's history, but because this trail is considered one of the easier 14er hikes.
The Barr Trail is typically the route hikers take to the summit. It begins in Manitou Springs and ascends 13 miles to the summit of Pikes Peak. It is common for hikers to arrange for another driver to pick them up at the summit. Otherwise, you are looking at a 24.5-mile day.
The best part? Fresh doughnuts and coffee are for sale at the summit!
Pike's Peak Highway
Due to its popularity, there are all sorts of ways to stand on the top of Pikes Peak. The Pikes Peak Highway is a must-do if you are a first-time visitor to Colorado Springs. At the summit sits a gift shop that wouldn't be complete without its famous doughnuts and fudge.
You can drive in your car, take a shuttle, or ditch the road altogether and take the Cog Railway. The most extreme option to enjoy summiting Pikes Peak is to go with Pikes Peak Bike Tours. With them, you will be shuttled to the summit, have some time to gear up and enjoy the summit, then bike down the mountain.
Other Colorado Springs Activities
Garden of the Gods and Pikes Peak are simply must-do's if you are a first-time visitor to The Springs. But Colorado Springs is full of other activities and public lands to keep you busy every time you visit.
If you are looking for some epic Colorado Springs day hikes, the Paint Mines Interpretive Park, Pike National Forest, North Cheyenne Cañon Park, and Red Rock Canyon Open Space contain some of The Spring's favorite trails. For the ultimate challenge, there's always The Incline.
Other relaxing attractions include Cave of the Winds, Manitou Springs, Old Colorado City, and Cheyenne Mountain Zoo.
Related read: 7 Best State Parks Near Denver, Colorado
3. Glenwood Springs
Glenwood Springs is an outdoor playground offering up rafting, mountain biking, rock climbing, hiking, and fishing. While Glenwood might be one of the longer day trips from Denver, you will not be disappointed. From romantic hot springs to family-friendly adventure parks, there is something for everyone here.
Hanging Lake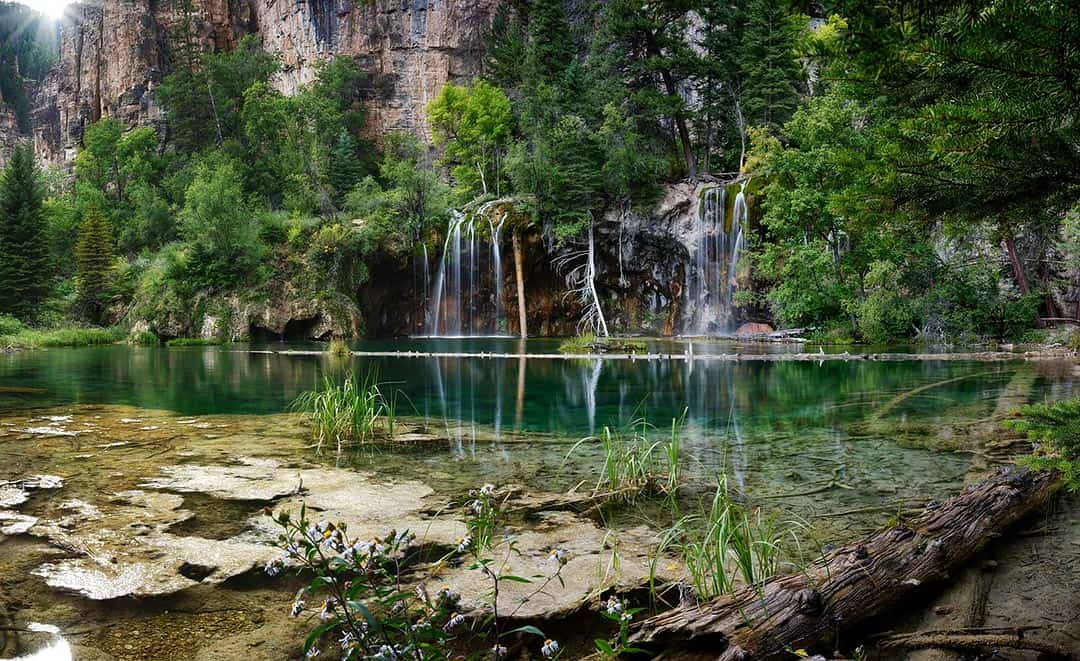 Hanging Lake is the most popular hike in Glenwood Springs — maybe even the entire state of Colorado. While it's certainly a site to see, it has recently been "loved-to-death" by visitors going to extreme lengths for photos. When visiting, please follow all posted rules, stay on the trail, and Leave No Trace.
If you're looking to skip the crowd found at Hanging Lake, here is a list of other day hikes in the area.
The Colorado River
As you approach Glenwood Springs in the summertime, you can see the Colorado River filled with rafters and kayakers. Whether you are experienced and have your own raft, or have zero experience, enjoying the river is easy to do in Glenwood Springs! There are several outfitters here to gear you up and take you out.
Glenwood Caverns Adventure Park
This is a true Colorado gem. Not only can you explore the underground caverns, but you can enjoy theme park rides and attractions at this unique park. In typical mountain-town fashion, Glenwood Caverns Adventure Park can be reached via gondola.
4. Estes Park & Rocky Mountain National Park
The gateway to Rocky Mountain National Park (RMNP) lies within a short 1.5-hour drive from Denver. Estes Park's mountain town charm is matched with the epic and dramatic peaks within the National Park.
Hiking RMNP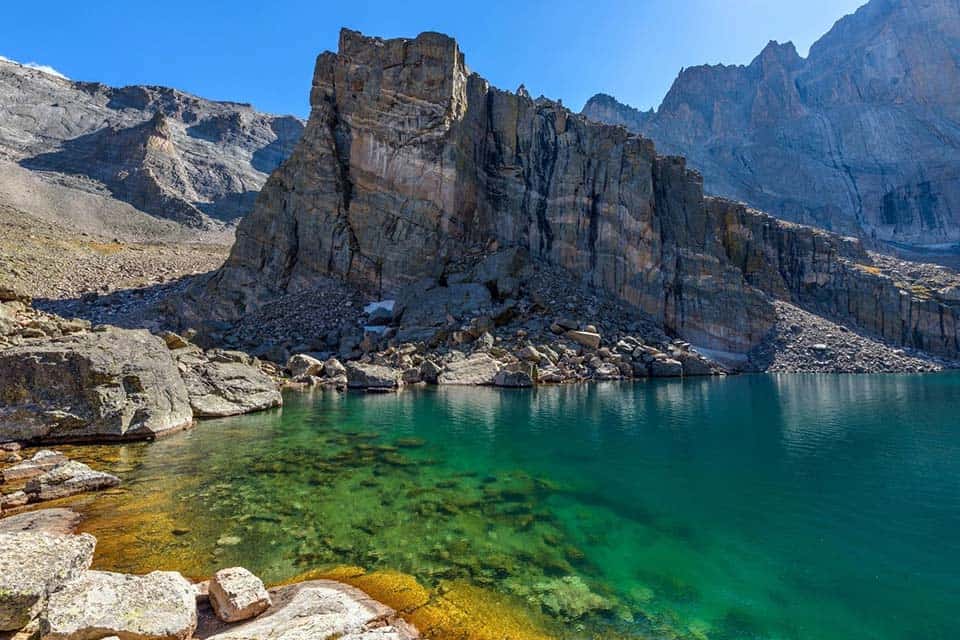 The best hikes in RMNP include Emerald Lake, Alberta Falls, Chasm Lake, Bear Lake, and many more. The roads in the park take you close to the most iconic attractions making for some short hikes. This allows travelers to visit or combine many trailheads within a day.
For the ultimate scenic trip, I highly recommend visiting the park in early autumn. Not only will the aspen leaves be changing, but this is when moose migrate through the area.
As with much of Colorado, RMNP contains some pretty unique geology. The most obvious features of this are its sharp, jagged peaks and glacier-carved valleys. But there is one feature that is a fairly new attraction.
In 1982, the Lawn Lake Dam gave way and created a mass flood within the park and town of Estes Park. Today, you can see just how powerful this disturbance was to the area at the Alluvial Fan that was created. Boulders and trees were torn up from the ground and misplaced along the way.
If you don't want to hassle with limited parking or crowds, check out our guide to hikes outside the park in the Estes Park area.
Scenic Drives at RMNP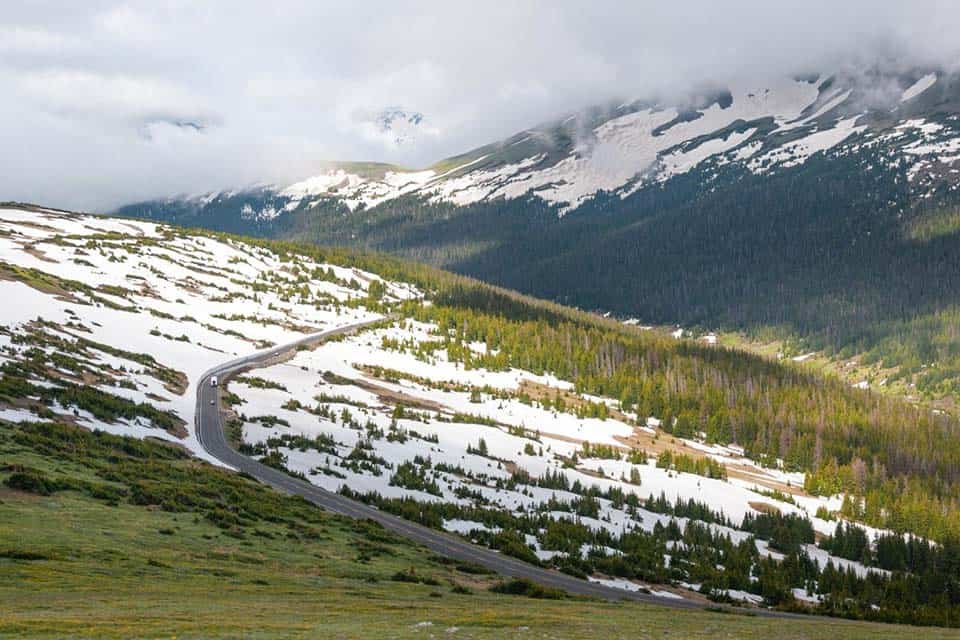 Only open during the summer months due to heavy snow-pack in the winter, Trail Ridge Road National Scenic Byway travels 48 miles between the Estes Park RMNP entrance to Grand Lake's park entrance in the west — 11 of those 48 miles are above treeline!
There are many pullouts along the highway, so feel free to take your time and take in the alpine scenery.
The showcase of the Front Range, the Peak to Peak Highway travels 55 miles along the Continental Divide. Established in 1918, Peak to Peak is Colorado's oldest Scenic Byway. Since this route stretches from Blackhawk to Estes Park, visitors from Denver can use this route to drive to Estes Park or vice versa.
5. Grand County
The Lake Granby and Grand Lake area has been a favorite Colorado escape for many families over the years. Essentially, it's the "quiet" side of Rocky Mountain National Park. Buried deep within the Rockies, Granby and Grand Lake do not fall short of its busier counterparts.
Grand Lake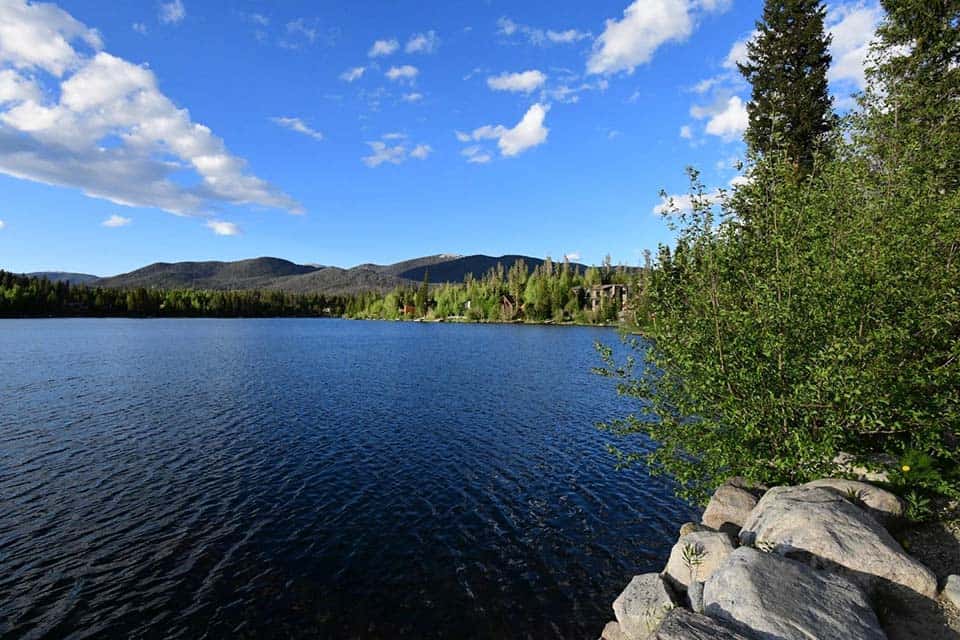 I honestly think there are more campsites at Grand Lake than its 471 residents. The town might be small, but it is designed to be enjoyed by thousands of visitors every year! The town sits on its namesake, Grand Lake, which is the largest natural body of water in the state of Colorado.
Day-trip-worthy activities in Grand Lake include boating, paddle boarding, canoeing, kayaking, fishing, walking around the famous Boardwalk downtown, and hiking. Paddling on Grand Lake is one of the most relaxing things I have ever done in Colorado. Surrounded by the Rocky Mountains and pristine lakes, there's just nothing that compares.
Some favorite trails in the area include Shadow Mountain Trail, Adams Falls Trail, and Cascade Falls. The National Park's Kawuneeche Visitor Center is also worth a visit on your trip. For the reader in your family, this Visitor Center boasts a Rocky Mountain Conservancy Bookstore.
Lake Granby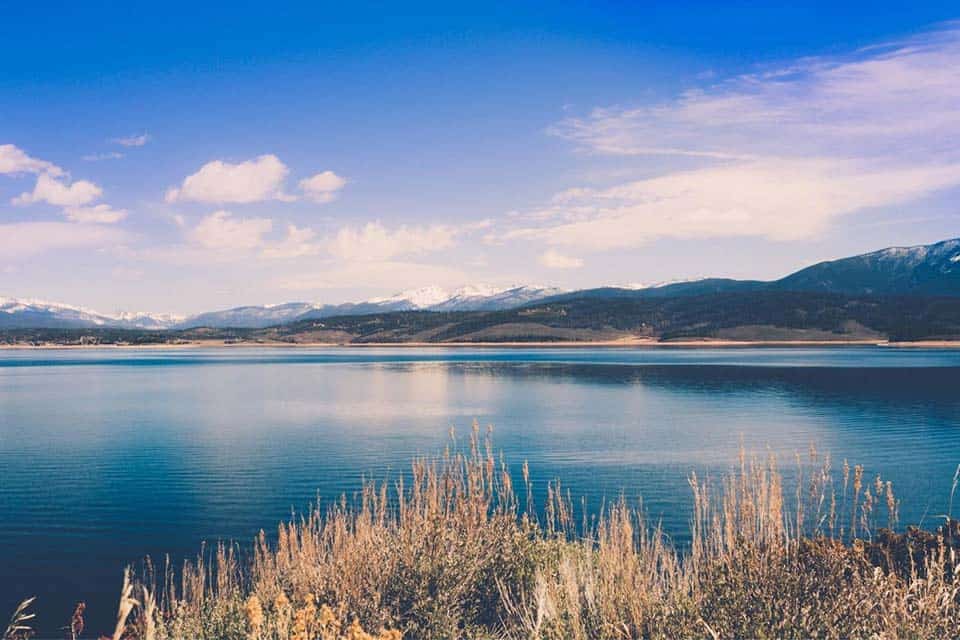 Grand Lake's big brother, Granby is home to four golf courses, the Winter Park Ski Resort, and several outfitters for horseback riding, dog-sledding and even another lake. Lake Granby is a reservoir and is the third largest manmade lake in Colorado — and is much larger than natural lakes like Grand Lake.
Lake Granby is so big, on a windy day it can be difficult to paddle board or kayak — so boating is a prime activity here. The smaller, more tucked away Monarch Lake is perfect for paddle boarding or peaceful fishing. Monarch Lake lies at the very end of County Road 6 that runs along the southeastern corner of Lake Granby.
In town, you can enjoy shopping, eating and even a weekend rodeo throughout the summer. After a long day of skiing, hiking, or paddling, travel five minutes down the highway to Hot Sulphur Springs to let help relax in a natural hot tub.
Related Read: 7 Incredible Glamping Destinations Near Denver, Colorado
6. Fort Collins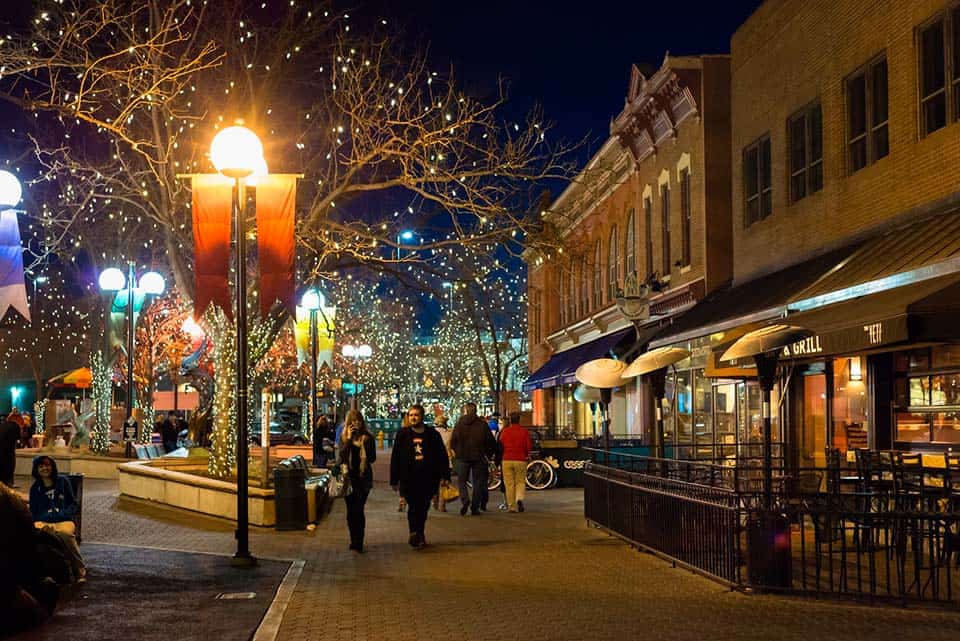 Just over an hour away from Denver, the brewery mecca of Colorado is full of endless possibilities. From Horsetooth Reservoir to Poudre Canyon, finding something to do is never an issue.
After a day of fun, be sure to take a stroll down the Historic Old Town. There, you will find an ever-booming food and beverage scene. Fort Collins' most iconic breweries, Odell and New Belgium, offer large patio spaces with yard games and live music for the ultimate summer evening.
Hiking Fort Collins
Some of my personal favorite day hikes in Fort Collins include Grey Rock, Mount McConnel, Diamond Peaks, and Lower Dadd Gulch Trail. But of course, the must-do trails for any first time visitors should be Horsetooth Rock and Arthur's Rock.
Between the abundant amount of open spaces, state park trails, and National Forest land in the area, the list of hiking trails is endless.
Poudre Canyon
Going "up the Poudre" might sound weird if you're not from Fort Collins, but Cache La Poudre Canyon is home to our favorite day trips. Northwest of town you can find rafting, rock climbing, hiking, fly fishing, and even some extreme tubing fun can be had in the canyon.
There are several outfitters in town for rafting and kayaking adventures. No matter your experience level, these guide services have you covered and will teach you the ropes.
There are several day-use areas in the canyon such as Picnic Rock and Poudre Park that are perfect for family gatherings or splashing in the water.
Horsetooth Reservoir
If you're not ready for any white water or just want to relax, Horsetooth Reservoir has you covered. Visitors can easily set out from Satanka Cove with any non-motorized watercraft. During the summer months, you'll typically find rental companies here offering paddle board and kayak rentals.
Boating or simply enjoying the many beaches around the reservoir are some of the best ways to cool down in the summer heat. There are a lot of trails surrounding the reservoir that are fun to explore.
7. Summit County
Colorado's winter wonderland, Summit County, contains world-class skiing/snowboarding terrain and resorts. Summit County boasts names, such as Breckenridge, Vail, Keystone, and others.
Whether you are looking to visit in the winter for prime skiing, or in the summer for some extreme mountain biking or golfing, you're in for a good time.
Summit County Winter Fun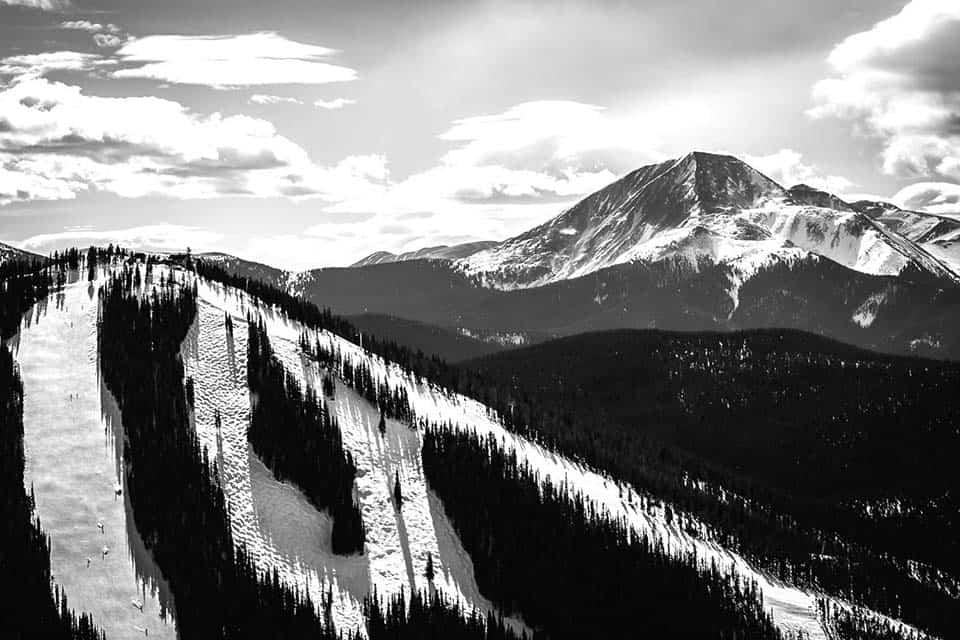 Skiing and snowboarding are the obvious activities of choice for many visitors to Summit County's famous resorts. Notably, Keystone is one of the few resorts in Colorado that offers night-skiing, so riders can get the most out of a day on the slopes. Keystone also has a giant snow-tubing operation that stays open during the night-skiing hours.
Each mountain ski resort in the area is known for their different terrain parks. Arapahoe Basin has a more natural terrain park that makes you feel like you're deep in the forest.
Breckenridge, on the other hand, boasts one of the largest terrain parks in the world. With a terrain park built for national and international competitions, a part of the entertainment here is just watching riders attempt stunts.
Throughout Summit County, visitors can find miles and miles of backcountry skiing/snowboarding, cross-country ski trails, and snowshoe trails. Ice skating is also a great rest-day activity in between hitting the slopes.
Summit County Summer Activities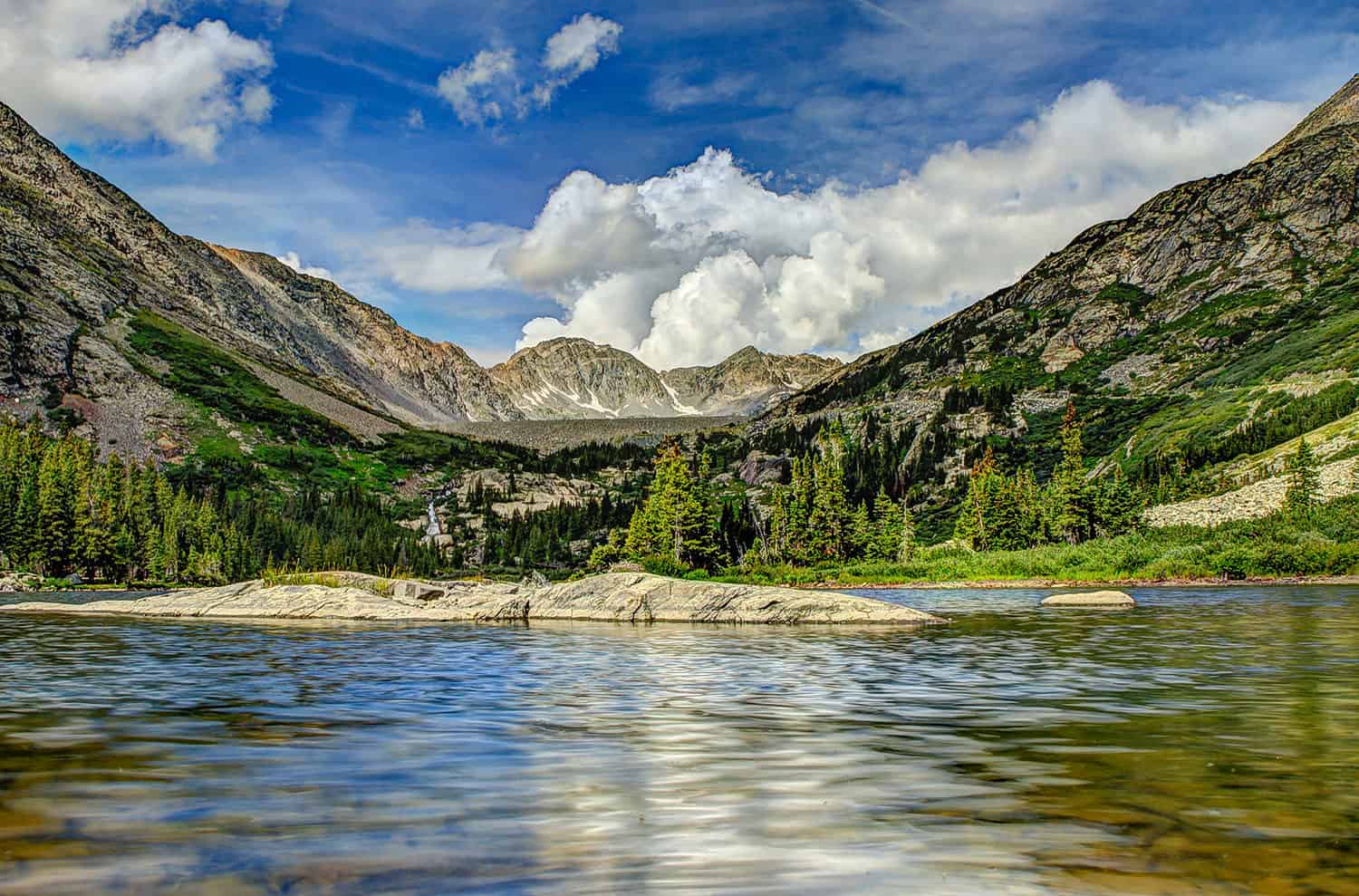 Most ski resorts turn their slopes into epic mountain bike parks for the summer. In Breckenridge, summer activities white water rafting, hiking trails, fly-fishing, ropes courses, ghost tours, and one of the largest gold mines in Colorado, the Country Boy Mine.
Dillon Reservoir offers boating and non-motorized watercraft fun. Around the reservoir, you will find day-use areas perfect for relaxing by the water. Nearby, the Frisco Adventure Park is full of activities such as mountain biking, disc golf, skate park, and lounging in the Day Lodge.
To wrap up the day, Breckenridge's downtown offers spectacular food and beverage locations right on the Blue River.
Explore More of Colorado
Sign up for the Weekend Wanderer to join 85,000+ readers getting epic travel, hiking, camping and gear ideas every week.
---